I am running manjaro-i3 on my computer. I have tried optimus-manager, prime-run, optirun, DRI_PRIME=1 (and 0), and numerous other things. I cannot find an article anywhere online that matches my issue, so I am forced to post an article here if I want help.
When I run prime-run supertuxkart, I get the error:
I also get this error upon launching other games/programs with prime-run.
..:: Antarctica Rendering Engine 2.0 ::..
X Error of failed request:  BadWindow (invalid Window parameter)
  Major opcode of failed request:  155 (NV-GLX)
  Minor opcode of failed request:  4 ()
  Resource id in failed request:  0x2600002
  Serial number of failed request:  106
  Current serial number in output stream:  106

prime-run minecraft-launcher has no errors, but upon launching the game I get ~5 FPS and pressing F3 shows that my nvidia gpu is nowhere to be found. (Gtx 1050 1GB) So clearly it is not using my GPU, as I would normally get around 150-200 fps on medium-high settings.
As far as I know, DRI_PRIME does not break anything, but also does not change anything.
Upon running optimus-manager --print-mode, I get:
ERROR: the latest GPU setup attempt failed at Xorg pre-start hook.
Log at /var/log/optimus-manager/switch/switch-20210529T110624.log
Cannot execute command because of previous errors.

Any attempt to use optirun to do anything produces this error, or something very similar if not the same:
[ 1546.578258] [ERROR]The Bumblebee daemon has not been started yet or the socket path /var/run/bumblebee.socket was incorrect.
[ 1546.578285] [ERROR]Could not connect to bumblebee daemon - is it running?

Please note I have also tried using stuff such as systemctl to restart, enable, and disable various services including bumblebee/bumblebeed.
Here is a screenshot of my drivers: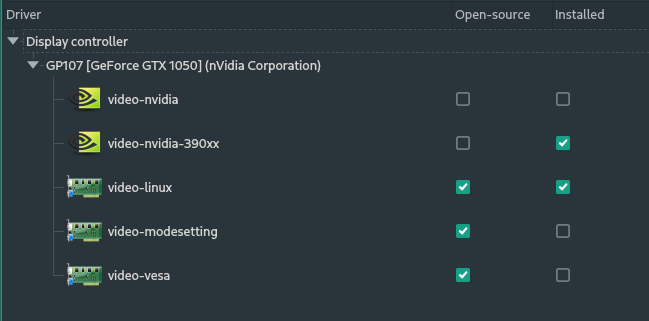 If anyone can help me, please respond as I have looked everywhere for a solution but nobody seems to have the same issue as me. Thanks!