Hi,
I am trying to use the nm-connection-editor with xfce to setup a vpnc connection.
I am trying:
Left Click Network-Manager → VPN-Connection → Add a vpn-connection… → select vpnc → set Gateway, Username, Groupname and Passwords → Save-Button is grayed out
Right Click Network-Manager → Edit Connections → ± Button> same as above
run gksu nm-connection-editor → same as above
It seems like I am missing an mandatory field but I cannot imagine which one.
Please let me know if I am doing something wrong or if you may face the same problem.
Inxi-Output:
  Kernel: 5.15.28-1-MANJARO x86_64 bits: 64 compiler: gcc v: 11.2.0
    parameters: BOOT_IMAGE=/boot/vmlinuz-5.15-x86_64
  Desktop: Xfce 4.16.0 tk: Gtk 3.24.29 info: xfce4-panel wm: xfwm 4.16.1
    dm: LightDM 1.30.0 Distro: Manjaro Linux base: Arch Linux
Info:
  Processes: 388 Uptime: 54m wakeups: 10119 Init: systemd v: 250
  tool: systemctl Compilers: gcc: 11.2.0 clang: 13.0.1 Packages: pacman: 1353
  lib: 411 flatpak: 0 Shell: Bash (sudo) v: 5.1.16 running-in: xfce4-terminal
  inxi: 3.3.13

network-manager window with grayed out save-button: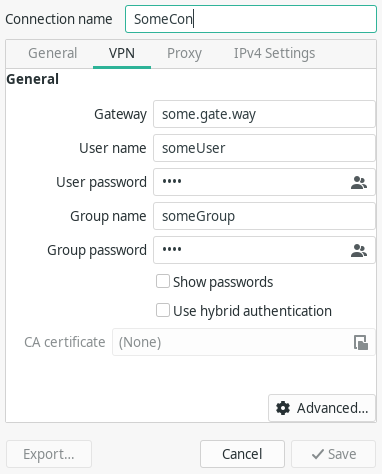 Thank you,
teet