How to fix it?
I use Manjaro Testing
---
Moderator edit: Screenshot of text removed, please paste terminal output instead.
Hello @itnativa

Please copy the content and paste it here in a codeblock in markdown style, like:
~~~
code
~~~
Thanks.
---
From what I see it is waiting for unfinished jobs, that took to long to react and result in an error.
Check this:
grep "MAKEFLAGS=" /etc/makepkg.conf

The packages wasn't updated since 2018 and it downloads the source from a OpenSuse RPM distribution. (which I believe is weird.)
The official URL for the package isn't available anymore ( http://kde-look.org/content/show.php/FFMpegThumbs-MattePaint?content=153902) so I guess you're mostly out of luck for it to receive any fixes.
You could try to locate the error more detailed and ask the AUR maintainer about it.
Looks like you are right, the package is just outdated. It's sad, I liked the program removed ugly frames from video thumbnails in Dolphin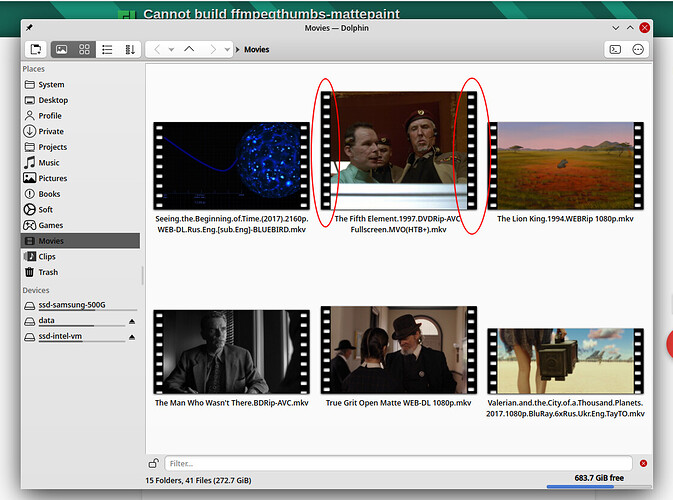 I could have sworn in an older version of ffmpegthumbs they gave you this option within Dolphin. (To enable/disable the "film strip" borders.)
I noticed ffmpegthumbs was updated recently, and they might have removed such an option. (Or removed it from Dolphin outright.)
---
EDIT: Just checked their GitHub, and they most certainty removed the button to configure video thumbnails.

Not only that, but now they made the "film strip" borders the default.
Who needs choice?

I would be glad even the option in a text config…
I tried to do this myself, but to no avail.
Either it ignores the .cfg file, or it's some sort of hard-coded option now.