Hello,
i recently bought a Tuxedo Pulse 15 Gen1, with AMD Ryzen™ 7 4800H with Radeon™ Graphics × 16 and 1TB Samsung SSD 980 pro nvme. I installed Manjaro Gnome Stable from ISO, because I would like to use btrfs as my filesystem and the preinstalled system uses ext4.
The laptop supports PCIe 3.0, the nvme even PCIe 4.0, so i would expect PCIe 3.0 speeds. But what I get are read rates under 700MB and write rates about 1.5GB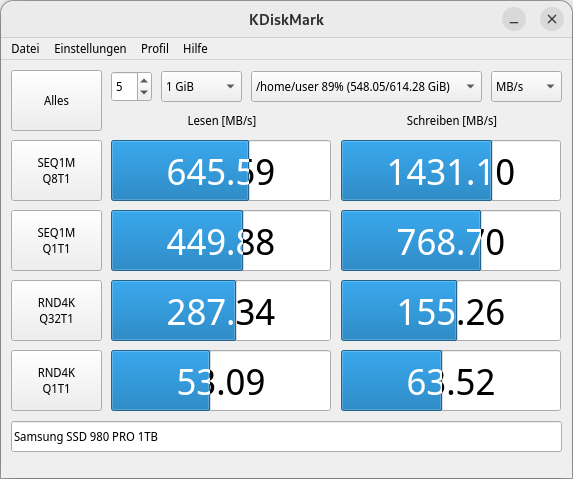 So I installed a second Manjaro Gnome from the same USB-drive next to the main system with ext4 filesystem and I get mutch higher rates. Read speed about 3.3GB and write speed about 3GB (screenshot2).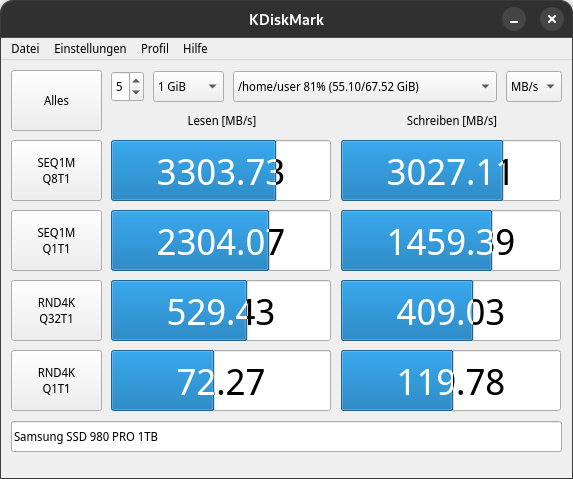 I tested both systems with kdiskmark 2.3.0 (appimage). Both systems are up to date. It doesn't matter if tuxedo-control-center with kernel-headers is installed or not.
Is there a solution to increase the speed of btrfs?
Please let me know if you need any further information.
Best regards