Hello,
I'm trying to connect my mouse to my bluetooth device but it keeps disconnecting and reconnecting. It appears in the Bluez and Bluetooth. Its notifications appear in the following format: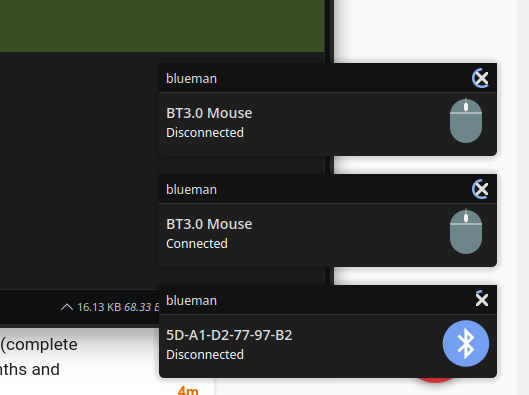 Here is a Bluetoothctl snapshot.

Here's a Bluez snapshot

So it appears to be recognized but each time it fails to respond and the bluetooth scan of the mouse times out. I've tried the following advice, but it fails to work.
The strange thing is that the mouse worked before, but after a bad disconnection or something (I think I shut down without turning off the bluetooth or the computer ran out of power before then) it started to react this way to the mouse.
Output of Inxi -Fazy
[user@user ~]$ inxi -Fazy
System:
  Kernel: 5.18.19-3-MANJARO arch: x86_64 bits: 64 compiler: gcc v: 12.2.0
    parameters: BOOT_IMAGE=/boot/vmlinuz-5.18-x86_64
    root=UUID=799acea8-83e9-4271-880a-119665f23be5 rw quiet apparmor=1
    security=apparmor udev.log_priority=3
  Desktop: KDE Plasma v: 5.26.2 tk: Qt v: 5.15.6 wm: kwin_x11 vt: 1 dm: SDDM
    Distro: Manjaro Linux base: Arch Linux
Machine:
  Type: Laptop System: HP product: HP Pavilion Laptop 15-cs3xxx
    v: Type1ProductConfigId serial: <superuser required> Chassis: type: 10
    serial: <superuser required>
  Mobo: HP model: 86E2 v: 95.32 serial: <superuser required> UEFI: Insyde
    v: F.06 date: 04/08/2020
Battery:
  ID-1: BAT0 charge: 33.9 Wh (100.0%) condition: 33.9/33.9 Wh (100.0%)
    volts: 12.8 min: 11.4 model: HP Primary type: Li-ion serial: N/A status: full
CPU:
  Info: model: Intel Core i5-1035G1 bits: 64 type: MT MCP arch: Ice Lake
    gen: core 10 level: v4 note: check built: 2019-21 process: Intel 10nm
    family: 6 model-id: 0x7E (126) stepping: 5 microcode: 0xB2
  Topology: cpus: 1x cores: 4 tpc: 2 threads: 8 smt: enabled cache:
    L1: 320 KiB desc: d-4x48 KiB; i-4x32 KiB L2: 2 MiB desc: 4x512 KiB L3: 6 MiB
    desc: 1x6 MiB
  Speed (MHz): avg: 842 high: 967 min/max: 400/3600 scaling:
    driver: intel_pstate governor: powersave cores: 1: 879 2: 934 3: 790 4: 759
    5: 967 6: 874 7: 813 8: 726 bogomips: 19048
  Flags: avx avx2 ht lm nx pae sse sse2 sse3 sse4_1 sse4_2 ssse3 vmx
  Vulnerabilities:
  Type: itlb_multihit status: KVM: VMX disabled
  Type: l1tf status: Not affected
  Type: mds status: Not affected
  Type: meltdown status: Not affected
  Type: mmio_stale_data mitigation: Clear CPU buffers; SMT vulnerable
  Type: retbleed mitigation: Enhanced IBRS
  Type: spec_store_bypass mitigation: Speculative Store Bypass disabled via
    prctl
  Type: spectre_v1 mitigation: usercopy/swapgs barriers and __user pointer
    sanitization
  Type: spectre_v2 mitigation: Enhanced IBRS, IBPB: conditional, RSB
    filling, PBRSB-eIBRS: SW sequence
  Type: srbds mitigation: Microcode
  Type: tsx_async_abort status: Not affected
Graphics:
  Device-1: Intel Iris Plus Graphics G1 vendor: Hewlett-Packard driver: i915
    v: kernel arch: Gen-11 process: Intel 10nm built: 2019-21 ports:
    active: eDP-1 empty: HDMI-A-1 bus-ID: 00:02.0 chip-ID: 8086:8a56
    class-ID: 0300
  Device-2: NVIDIA GM108M [GeForce MX130] vendor: Hewlett-Packard driver: N/A
    alternate: nouveau non-free: 520.xx+ status: current (as of 2022-10)
    arch: Maxwell code: GMxxx process: TSMC 28nm built: 2014-19 pcie: gen: 3
    speed: 8 GT/s lanes: 4 bus-ID: 06:00.0 chip-ID: 10de:174d class-ID: 0302
  Device-3: Chicony HP Wide Vision HD Camera type: USB driver: uvcvideo
    bus-ID: 1-3:4 chip-ID: 04f2:b627 class-ID: 0e02
  Display: x11 server: X.Org v: 21.1.4 with: Xwayland v: 22.1.4
    compositor: kwin_x11 driver: X: loaded: modesetting alternate: fbdev,vesa
    dri: iris gpu: i915 display-ID: :0 screens: 1
  Screen-1: 0 s-res: 1920x1080 s-dpi: 96 s-size: 508x285mm (20.00x11.22")
    s-diag: 582mm (22.93")
  Monitor-1: eDP-1 model: Najing CEC Panda 0x003c built: 2018 res: 1920x1080
    hz: 60 dpi: 142 gamma: 1.2 size: 344x194mm (13.54x7.64") diag: 395mm (15.5")
    ratio: 16:9 modes: 1920x1080
  API: OpenGL v: 4.6 Mesa 22.2.1 renderer: Mesa Intel UHD Graphics (ICL GT1)
    direct render: Yes
Audio:
  Device-1: Intel Ice Lake-LP Smart Sound Audio vendor: Hewlett-Packard
    driver: snd_hda_intel v: kernel alternate: snd_sof_pci_intel_icl
    bus-ID: 00:1f.3 chip-ID: 8086:34c8 class-ID: 0403
  Sound API: ALSA v: k5.18.19-3-MANJARO running: yes
  Sound Server-1: JACK v: 1.9.21 running: no
  Sound Server-2: PulseAudio v: 16.1 running: no
  Sound Server-3: PipeWire v: 0.3.59 running: yes
Network:
  Device-1: Intel Ice Lake-LP PCH CNVi WiFi driver: iwlwifi v: kernel
    bus-ID: 00:14.3 chip-ID: 8086:34f0 class-ID: 0280
  IF: wlo1 state: up mac: <filter>
  Device-2: Realtek RTL8111/8168/8411 PCI Express Gigabit Ethernet
    vendor: Hewlett-Packard driver: r8169 v: kernel pcie: gen: 1 speed: 2.5 GT/s
    lanes: 1 port: 3000 bus-ID: 10:00.0 chip-ID: 10ec:8168 class-ID: 0200
  IF: eno1 state: down mac: <filter>
  IF-ID-1: docker0 state: down mac: <filter>
  IF-ID-2: ipv6leakintrf0 state: unknown speed: N/A duplex: N/A mac: <filter>
  IF-ID-3: proton0 state: unknown speed: 10 Mbps duplex: full mac: N/A
Bluetooth:
  Device-1: Intel AX201 Bluetooth type: USB driver: btusb v: 0.8 bus-ID: 1-10:5
    chip-ID: 8087:0026 class-ID: e001
  Report: hciconfig ID: hci0 rfk-id: 1 state: up address: <filter> bt-v: 3.0
    lmp-v: 5.2 sub-v: 2014 hci-v: 5.2 rev: 2014
  Info: acl-mtu: 1021:4 sco-mtu: 96:6 link-policy: rswitch sniff
    link-mode: peripheral accept service-classes: rendering, capturing, object
    transfer, audio, telephony
RAID:
  Hardware-1: Intel 82801 Mobile SATA Controller [RAID mode] driver: ahci
    v: 3.0 port: 7060 bus-ID: 00:17.0 chip-ID: 8086:282a rev: N/A class-ID: 0104
Drives:
  Local Storage: total: 931.51 GiB used: 322.47 GiB (34.6%)
  SMART Message: Unable to run smartctl. Root privileges required.
  ID-1: /dev/sda maj-min: 8:0 vendor: Toshiba model: MQ04ABF100
    size: 931.51 GiB block-size: physical: 4096 B logical: 512 B speed: 6.0 Gb/s
    type: HDD rpm: 5400 serial: <filter> rev: 7C scheme: GPT
Partition:
  ID-1: / raw-size: 288.06 GiB size: 282.47 GiB (98.06%)
    used: 207.06 GiB (73.3%) fs: ext4 dev: /dev/sda4 maj-min: 8:4
  ID-2: /boot/efi raw-size: 100 MiB size: 96 MiB (96.00%)
    used: 25.3 MiB (26.3%) fs: vfat dev: /dev/sda1 maj-min: 8:1
Swap:
  Kernel: swappiness: 60 (default) cache-pressure: 100 (default)
  ID-1: swap-1 type: partition size: 4.91 GiB used: 0 KiB (0.0%) priority: -2
    dev: /dev/sda7 maj-min: 8:7
Sensors:
  System Temperatures: cpu: 46.0 C mobo: N/A
  Fan Speeds (RPM): N/A
Info:
  Processes: 288 Uptime: 45m wakeups: 3 Memory: 15.42 GiB
  used: 5.62 GiB (36.5%) Init: systemd v: 251 default: graphical
  tool: systemctl Compilers: gcc: 12.2.0 clang: 14.0.6 Packages: 2557
  pm: pacman pkgs: 2492 libs: 517 tools: pamac,yay pm: flatpak pkgs: 38
  pm: snap pkgs: 27 Shell: Bash v: 5.1.16 running-in: yakuake inxi: 3.3.23


I've also tried setting AutoEnable in etc/bluetooth/main.conf to true.
I'm thinking of trying to reset bluetooth settings completely, but I'm not having much luck. Would appreciate any advice.