Hi,
I am using a Logitech MX Master 2, which uses Bluetooth LE and can therefore not be discovered when scanning with bluetoothctl. I already found the corresponding Wiki Article here:
and a fix for this issue here:
However, this fix is not working for me or I am doing something very wrong (probably the latter). It tells me to install bluez-utils-compat from the AUR, which I did, and then, during a bluetoothctl scan to do this in another terminal:
hcitool lescan

Which… works, my MX Master shows up, as you can see here: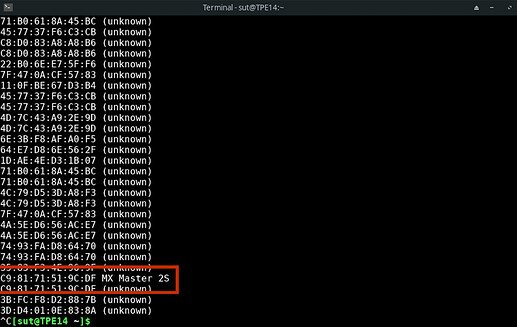 It then tells me to Ctrl+C, which I did, and bluetoothctl should then be able to see my device, which is not the case though. I tried this several times now but I just cannot pair my mouse.
As you can probably tell, I am a complete pleb (been using Linux for 3 days now) who has no idea what he's doing, so please keep that in mind if you have a solution.