Currently stuck on kernel 5.13 as my audio devices disappear when running 5.14 or 5.15 .
Edit: Thought I was losing my mind when this thread vanished too, but it appears the post has been moved from KDE to sound. Which also means it's not overtly obvious that I am using KDE plasma.
Attached screen shots and outputs of 'pacmd list-cards' below. Results obtained by switching to kernel 5.15 for testing and reverting to state using 5.13 via time-shift. Any insight on what is going on here would be greatly appreciated.
Devices on kernel 5.13 (EPOS GSA 70 = USB headset)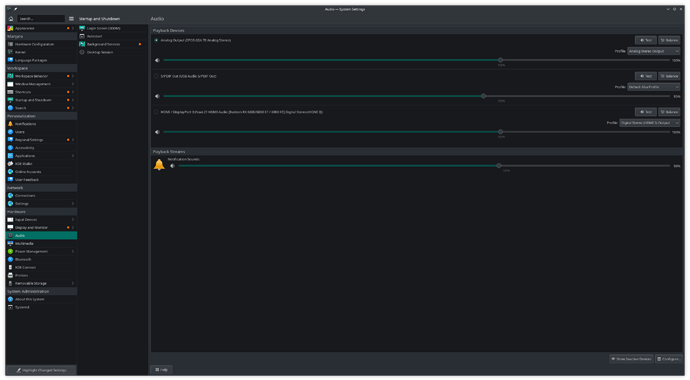 Devices on kernel 5.14 & 5.15

pacmd list-cards (5.13)
3 card(s) available.
    index: 0
        name: <alsa_card.pci-0000_03_00.1>
        driver: <module-alsa-card.c>
        owner module: 6
        properties:
                alsa.card = "0"
                alsa.card_name = "HDA ATI HDMI"
                alsa.long_card_name = "HDA ATI HDMI at 0xe6224000 irq 175"
                alsa.driver_name = "snd_hda_intel"
                device.bus_path = "pci-0000:03:00.1"
                sysfs.path = "/devices/pci0000:00/0000:00:01.1/0000:01:00.0/0000:02:00.0/0000:03:00.1/sound/card0"
                device.bus = "pci"
                device.vendor.id = "1002"
                device.vendor.name = "Advanced Micro Devices, Inc. [AMD/ATI]"
                device.product.id = "ab28"
                device.product.name = "Navi 21 HDMI Audio [Radeon RX 6800/6800 XT / 6900 XT]"
                device.string = "0"
                device.description = "Navi 21 HDMI Audio [Radeon RX 6800/6800 XT / 6900 XT]"
                module-udev-detect.discovered = "1"
                device.icon_name = "audio-card-pci"
        profiles:
                output:hdmi-stereo: Digital Stereo (HDMI) Output (priority 5900, available: no)
                output:hdmi-surround: Digital Surround 5.1 (HDMI) Output (priority 800, available: no)
                output:hdmi-surround71: Digital Surround 7.1 (HDMI) Output (priority 800, available: no)
                output:hdmi-stereo-extra1: Digital Stereo (HDMI 2) Output (priority 5700, available: no)
                output:hdmi-surround-extra1: Digital Surround 5.1 (HDMI 2) Output (priority 600, available: no)
                output:hdmi-surround71-extra1: Digital Surround 7.1 (HDMI 2) Output (priority 600, available: no)
                output:hdmi-stereo-extra2: Digital Stereo (HDMI 3) Output (priority 38468, available: unknown)
                output:hdmi-stereo-extra3: Digital Stereo (HDMI 4) Output (priority 5700, available: no)
                output:hdmi-surround-extra3: Digital Surround 5.1 (HDMI 4) Output (priority 600, available: no)
                output:hdmi-surround71-extra3: Digital Surround 7.1 (HDMI 4) Output (priority 600, available: no)
                output:hdmi-stereo-extra4: Digital Stereo (HDMI 5) Output (priority 5700, available: no)
                output:hdmi-surround-extra4: Digital Surround 5.1 (HDMI 5) Output (priority 600, available: no)
                output:hdmi-surround71-extra4: Digital Surround 7.1 (HDMI 5) Output (priority 600, available: no)
                output:hdmi-stereo-extra5: Digital Stereo (HDMI 6) Output (priority 5700, available: no)
                output:hdmi-surround-extra5: Digital Surround 5.1 (HDMI 6) Output (priority 600, available: no)
                output:hdmi-surround71-extra5: Digital Surround 7.1 (HDMI 6) Output (priority 600, available: no)
                off: Off (priority 0, available: unknown)
        active profile: <output:hdmi-stereo-extra2>
        sinks:
                alsa_output.pci-0000_03_00.1.hdmi-stereo-extra2/#0: Navi 21 HDMI Audio [Radeon RX 6800/6800 XT / 6900 XT] Digital Stereo (HDMI 3)
        sources:
                alsa_output.pci-0000_03_00.1.hdmi-stereo-extra2.monitor/#0: Monitor of Navi 21 HDMI Audio [Radeon RX 6800/6800 XT / 6900 XT] Digital Stereo (HDMI 3)
        ports:
                hdmi-output-0: HDMI / DisplayPort (priority 5900, latency offset 0 usec, available: no)
                        properties:
                                device.icon_name = "video-display"
                hdmi-output-1: HDMI / DisplayPort 2 (priority 5800, latency offset 0 usec, available: no)
                        properties:
                                device.icon_name = "video-display"
                hdmi-output-2: HDMI / DisplayPort 3 (priority 5700, latency offset 0 usec, available: yes)
                        properties:
                                device.icon_name = "video-display"
                                device.product.name = "VA24D"
                hdmi-output-3: HDMI / DisplayPort 4 (priority 5600, latency offset 0 usec, available: no)
                        properties:
                                device.icon_name = "video-display"
                hdmi-output-4: HDMI / DisplayPort 5 (priority 5500, latency offset 0 usec, available: no)
                        properties:
                                device.icon_name = "video-display"
                hdmi-output-5: HDMI / DisplayPort 6 (priority 5400, latency offset 0 usec, available: no)
                        properties:
                                device.icon_name = "video-display"
    index: 1
        name: <alsa_card.usb-Sennheiser_EPOS_GSA_70_A002731203400643-00>
        driver: <module-alsa-card.c>
        owner module: 7
        properties:
                alsa.card = "1"
                alsa.card_name = "EPOS GSA 70"
                alsa.long_card_name = "Sennheiser EPOS GSA 70 at usb-0000:46:00.3-2.1, full speed"
                alsa.driver_name = "snd_usb_audio"
                device.bus_path = "pci-0000:46:00.3-usb-0:2.1:1.0"
                sysfs.path = "/devices/pci0000:40/0000:40:01.1/0000:41:00.0/0000:42:08.0/0000:46:00.3/usb9/9-2/9-2.1/9-2.1:1.0/sound/card1"
                udev.id = "usb-Sennheiser_EPOS_GSA_70_A002731203400643-00"
                device.bus = "usb"
                device.vendor.id = "1395"
                device.vendor.name = "Sennheiser Communications"
                device.product.id = "0300"
                device.product.name = "EPOS GSA 70"
                device.serial = "Sennheiser_EPOS_GSA_70_A002731203400643"
                device.string = "1"
                device.description = "EPOS GSA 70"
                module-udev-detect.discovered = "1"
                device.icon_name = "audio-card-usb"
        profiles:
                output:analog-stereo: Analog Stereo Output (priority 6500, available: unknown)
                output:iec958-stereo: Digital Stereo (IEC958) Output (priority 5500, available: unknown)
                off: Off (priority 0, available: unknown)
        active profile: <output:analog-stereo>
        sinks:
                alsa_output.usb-Sennheiser_EPOS_GSA_70_A002731203400643-00.analog-stereo/#1: EPOS GSA 70 Analog Stereo
        sources:
                alsa_output.usb-Sennheiser_EPOS_GSA_70_A002731203400643-00.analog-stereo.monitor/#1: Monitor of EPOS GSA 70 Analog Stereo
        ports:
                analog-output: Analog Output (priority 9900, latency offset 0 usec, available: unknown)
                        properties:

                iec958-stereo-output: Digital Output (S/PDIF) (priority 0, latency offset 0 usec, available: unknown)
                        properties:

    index: 2
        name: <alsa_card.usb-Generic_USB_Audio-00>
        driver: <module-alsa-card.c>
        owner module: 8
        properties:
                alsa.card = "2"
                alsa.card_name = "ALC1220-VB-DT"
                alsa.long_card_name = "Realtek-ALC1220-VB-Desktop"
                alsa.driver_name = "snd_usb_audio"
                device.bus_path = "pci-0000:46:00.3-usb-0:6:1.0"
                sysfs.path = "/devices/pci0000:40/0000:40:01.1/0000:41:00.0/0000:42:08.0/0000:46:00.3/usb9/9-6/9-6:1.0/sound/card2"
                udev.id = "usb-Generic_USB_Audio-00"
                device.bus = "usb"
                device.vendor.id = "0b05"
                device.vendor.name = "ASUSTek Computer, Inc."
                device.product.id = "1917"
                device.product.name = "USB Audio"
                device.serial = "Generic_USB_Audio"
                device.string = "2"
                device.description = "USB Audio"
                module-udev-detect.discovered = "1"
                device.icon_name = "audio-card-usb"
        profiles:
                HiFi: Default Alsa Profile (priority 8000, available: unknown)
                off: Off (priority 0, available: unknown)
        active profile: <HiFi>
        sinks:
                alsa_output.usb-Generic_USB_Audio-00.HiFi__hw_ALC1220VBDT_2__sink/#2: USB Audio S/PDIF Out
                alsa_output.usb-Generic_USB_Audio-00.HiFi__hw_ALC1220VBDT_1__sink/#3: USB Audio Front Headphones
                alsa_output.usb-Generic_USB_Audio-00.HiFi__hw_ALC1220VBDT__sink/#4: USB Audio Speakers
        sources:
                alsa_output.usb-Generic_USB_Audio-00.HiFi__hw_ALC1220VBDT_2__sink.monitor/#2: Monitor of USB Audio S/PDIF Out
                alsa_output.usb-Generic_USB_Audio-00.HiFi__hw_ALC1220VBDT_1__sink.monitor/#3: Monitor of USB Audio Front Headphones
                alsa_output.usb-Generic_USB_Audio-00.HiFi__hw_ALC1220VBDT__sink.monitor/#4: Monitor of USB Audio Speakers
                alsa_input.usb-Generic_USB_Audio-00.HiFi__hw_ALC1220VBDT_2__source/#5: USB Audio Front Microphone
                alsa_input.usb-Generic_USB_Audio-00.HiFi__hw_ALC1220VBDT_1__source/#6: USB Audio Microphone
                alsa_input.usb-Generic_USB_Audio-00.HiFi__hw_ALC1220VBDT__source/#7: USB Audio Line In
        ports:
                [Out] SPDIF: S/PDIF Out (priority 100, latency offset 0 usec, available: unknown)
                        properties:

                [Out] Headphones: Front Headphones (priority 300, latency offset 0 usec, available: no)
                        properties:

                [Out] Speaker: Speakers (priority 200, latency offset 0 usec, available: no)
                        properties:

                [In] Mic2: Front Microphone (priority 300, latency offset 0 usec, available: no)
                        properties:

                [In] Mic1: Microphone (priority 200, latency offset 0 usec, available: no)
                        properties:

                [In] Line: Line In (priority 100, latency offset 0 usec, available: no)
                        properties:


pacmd list-cards (5.15)
 $ pacmd list-cards
3 card(s) available.
    index: 0
        name: <alsa_card.pci-0000_03_00.1>
        driver: <module-alsa-card.c>
        owner module: 6
        properties:
                alsa.card = "0"
                alsa.card_name = "HDA ATI HDMI"
                alsa.long_card_name = "HDA ATI HDMI at 0xe6224000 irq 192"
                alsa.driver_name = "snd_hda_intel"
                device.bus_path = "pci-0000:03:00.1"
                sysfs.path = "/devices/pci0000:00/0000:00:01.1/0000:01:00.0/0000:02:00.0/0000:03:00.1/sound/card0"
                device.bus = "pci"
                device.vendor.id = "1002"
                device.vendor.name = "Advanced Micro Devices, Inc. [AMD/ATI]"
                device.product.id = "ab28"
                device.product.name = "Navi 21 HDMI Audio [Radeon RX 6800/6800 XT / 6900 XT]"
                device.string = "0"
                device.description = "Navi 21 HDMI Audio [Radeon RX 6800/6800 XT / 6900 XT]"
                module-udev-detect.discovered = "1"
                device.icon_name = "audio-card-pci"
        profiles:
                output:hdmi-stereo: Digital Stereo (HDMI) Output (priority 5900, available: no)
                output:hdmi-surround: Digital Surround 5.1 (HDMI) Output (priority 800, available: no)
                output:hdmi-surround71: Digital Surround 7.1 (HDMI) Output (priority 800, available: no)
                output:hdmi-stereo-extra1: Digital Stereo (HDMI 2) Output (priority 5700, available: no)
                output:hdmi-surround-extra1: Digital Surround 5.1 (HDMI 2) Output (priority 600, available: no)
                output:hdmi-surround71-extra1: Digital Surround 7.1 (HDMI 2) Output (priority 600, available: no)
                output:hdmi-stereo-extra2: Digital Stereo (HDMI 3) Output (priority 38468, available: unknown)
                output:hdmi-stereo-extra3: Digital Stereo (HDMI 4) Output (priority 5700, available: no)
                output:hdmi-surround-extra3: Digital Surround 5.1 (HDMI 4) Output (priority 600, available: no)
                output:hdmi-surround71-extra3: Digital Surround 7.1 (HDMI 4) Output (priority 600, available: no)
                output:hdmi-stereo-extra4: Digital Stereo (HDMI 5) Output (priority 5700, available: no)
                output:hdmi-surround-extra4: Digital Surround 5.1 (HDMI 5) Output (priority 600, available: no)
                output:hdmi-surround71-extra4: Digital Surround 7.1 (HDMI 5) Output (priority 600, available: no)
                output:hdmi-stereo-extra5: Digital Stereo (HDMI 6) Output (priority 5700, available: no)
                output:hdmi-surround-extra5: Digital Surround 5.1 (HDMI 6) Output (priority 600, available: no)
                output:hdmi-surround71-extra5: Digital Surround 7.1 (HDMI 6) Output (priority 600, available: no)
                off: Off (priority 0, available: unknown)
        active profile: <output:hdmi-stereo-extra2>
        sinks:
                alsa_output.pci-0000_03_00.1.hdmi-stereo-extra2/#0: Navi 21 HDMI Audio [Radeon RX 6800/6800 XT / 6900 XT] Digital Stereo (HDMI 3)
        sources:
                alsa_output.pci-0000_03_00.1.hdmi-stereo-extra2.monitor/#0: Monitor of Navi 21 HDMI Audio [Radeon RX 6800/6800 XT / 6900 XT] Digital Stereo (HDMI 3)
        ports:
                hdmi-output-0: HDMI / DisplayPort (priority 5900, latency offset 0 usec, available: no)
                        properties:
                                device.icon_name = "video-display"
                hdmi-output-1: HDMI / DisplayPort 2 (priority 5800, latency offset 0 usec, available: no)
                        properties:
                                device.icon_name = "video-display"
                hdmi-output-2: HDMI / DisplayPort 3 (priority 5700, latency offset 0 usec, available: yes)
                        properties:
                                device.icon_name = "video-display"
                                device.product.name = "VA24D"
                hdmi-output-3: HDMI / DisplayPort 4 (priority 5600, latency offset 0 usec, available: no)
                        properties:
                                device.icon_name = "video-display"
                hdmi-output-4: HDMI / DisplayPort 5 (priority 5500, latency offset 0 usec, available: no)
                        properties:
                                device.icon_name = "video-display"
                hdmi-output-5: HDMI / DisplayPort 6 (priority 5400, latency offset 0 usec, available: no)
                        properties:
                                device.icon_name = "video-display"
    index: 1
        name: <alsa_card.usb-Sennheiser_EPOS_GSA_70_A002731203400643-00>
        driver: <module-alsa-card.c>
        owner module: 7
        properties:
                alsa.card = "1"
                alsa.card_name = "EPOS GSA 70"
                alsa.long_card_name = "Sennheiser EPOS GSA 70 at usb-0000:46:00.3-2.1, full speed"
                alsa.driver_name = "snd_usb_audio"
                device.bus_path = "pci-0000:46:00.3-usb-0:2.1:1.0"
                sysfs.path = "/devices/pci0000:40/0000:40:01.1/0000:41:00.0/0000:42:08.0/0000:46:00.3/usb9/9-2/9-2.1/9-2.1:1.0/sound/card1"
                udev.id = "usb-Sennheiser_EPOS_GSA_70_A002731203400643-00"
                device.bus = "usb"
                device.vendor.id = "1395"
                device.vendor.name = "Sennheiser Communications"
                device.product.id = "0300"
                device.product.name = "EPOS GSA 70"
                device.serial = "Sennheiser_EPOS_GSA_70_A002731203400643"
                device.string = "1"
                device.description = "EPOS GSA 70"
                module-udev-detect.discovered = "1"
                device.icon_name = "audio-card-usb"
        profiles:
                input:mono-fallback: Mono Input (priority 1, available: unknown)
                output:mono-fallback: Mono Output (priority 100, available: unknown)
                output:mono-fallback+input:mono-fallback: Mono Output + Mono Input (priority 101, available: unknown)
                off: Off (priority 0, available: unknown)
        active profile: <input:mono-fallback>
        sources:
                alsa_input.usb-Sennheiser_EPOS_GSA_70_A002731203400643-00.mono-fallback/#1: EPOS GSA 70 Mono
        ports:
                analog-input: Analog Input (priority 10000, latency offset 0 usec, available: unknown)
                        properties:

                analog-output: Analog Output (priority 9900, latency offset 0 usec, available: unknown)
                        properties:

    index: 2
        name: <alsa_card.usb-Generic_USB_Audio-00>
        driver: <module-alsa-card.c>
        owner module: 8
        properties:
                alsa.card = "2"
                alsa.card_name = "ALC1220-VB-DT"
                alsa.long_card_name = "Realtek-ALC1220-VB-Desktop"
                alsa.driver_name = "snd_usb_audio"
                device.bus_path = "pci-0000:46:00.3-usb-0:6:1.0"
                sysfs.path = "/devices/pci0000:40/0000:40:01.1/0000:41:00.0/0000:42:08.0/0000:46:00.3/usb9/9-6/9-6:1.0/sound/card2"
                udev.id = "usb-Generic_USB_Audio-00"
                device.bus = "usb"
                device.vendor.id = "0b05"
                device.vendor.name = "ASUSTek Computer, Inc."
                device.product.id = "1917"
                device.product.name = "USB Audio"
                device.serial = "Generic_USB_Audio"
                device.string = "2"
                device.description = "USB Audio"
                module-udev-detect.discovered = "1"
                device.icon_name = "audio-card-usb"
        profiles:
                HiFi: Default Alsa Profile (priority 8000, available: unknown)
                off: Off (priority 0, available: unknown)
        active profile: <HiFi>
        sinks:
                alsa_output.usb-Generic_USB_Audio-00.HiFi__hw_ALC1220VBDT_2__sink/#1: USB Audio S/PDIF Out
                alsa_output.usb-Generic_USB_Audio-00.HiFi__hw_ALC1220VBDT_1__sink/#2: USB Audio Front Headphones
                alsa_output.usb-Generic_USB_Audio-00.HiFi__hw_ALC1220VBDT__sink/#3: USB Audio Speakers
        sources:
                alsa_output.usb-Generic_USB_Audio-00.HiFi__hw_ALC1220VBDT_2__sink.monitor/#2: Monitor of USB Audio S/PDIF Out
                alsa_output.usb-Generic_USB_Audio-00.HiFi__hw_ALC1220VBDT_1__sink.monitor/#3: Monitor of USB Audio Front Headphones
                alsa_output.usb-Generic_USB_Audio-00.HiFi__hw_ALC1220VBDT__sink.monitor/#4: Monitor of USB Audio Speakers
                alsa_input.usb-Generic_USB_Audio-00.HiFi__hw_ALC1220VBDT_2__source/#5: USB Audio Front Microphone
                alsa_input.usb-Generic_USB_Audio-00.HiFi__hw_ALC1220VBDT_1__source/#6: USB Audio Microphone
                alsa_input.usb-Generic_USB_Audio-00.HiFi__hw_ALC1220VBDT__source/#7: USB Audio Line In
        ports:
                [Out] SPDIF: S/PDIF Out (priority 100, latency offset 0 usec, available: unknown)
                        properties:

                [Out] Headphones: Front Headphones (priority 300, latency offset 0 usec, available: no)
                        properties:

                [Out] Speaker: Speakers (priority 200, latency offset 0 usec, available: no)
                        properties:

                [In] Mic2: Front Microphone (priority 300, latency offset 0 usec, available: no)
                        properties:

                [In] Mic1: Microphone (priority 200, latency offset 0 usec, available: no)
                        properties:

                [In] Line: Line In (priority 100, latency offset 0 usec, available: no)
                        properties: