When I adjust the volume using the keyboard, The screen shows an indicator bar of the volume level, see below.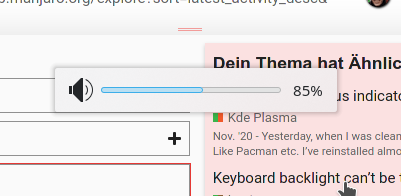 On my laptop, there's also one for screen brightness. When I turn up the keyboard backlight (it has 5 brightness levels), nothing happens on the screen.
I also have Ubuntu (Gnome) on the same laptop, which also shows a kbd brightness indicator when I adjust it.
Does something like this exist also KDE for Manjaro, and how can I install it?