Hello,
i am not certain how do i as a Linux amateur configure swap in Architect installer. On partitioning page, it said i should configure swap when mounting the drive or partition. This seems like a vague description - do not know when(post-install manually?)/where in Architect.
Note that i prefer encrypted swap, see below about encryption:

In Architect the encryption tab i selected custom cypher entry, and proceed with root partition, it said it is missing something like xsv/cryptsetup then it said: "Opened and ready for LVM (recommended) or direct mounting."
LVM? I do not know how to proceed regarding LVM, on LVM page is written that the LVM can be used with encrypted partition to create multiple logical volumes (e.g. /root and /home) in it. So what do you suggest here? I have only one small internal drive and large external drive. I want to be using swap and suspend to disk (hibernation) can be plus and prefer encrypted swap (zswap). How do i go about this LVM thing and how LVM is beneficial in swap regard and in encryption regard?
In the LVM wizard, one have to select partitions that should be part of it and i do not know if i should select all three: root, cryptroot and boot - there is no hint.
The GUI installer gives impression (disk visualisation) that when swap with hibernate support is enabled and enctyption too, it create single LUKS partition - that looks good: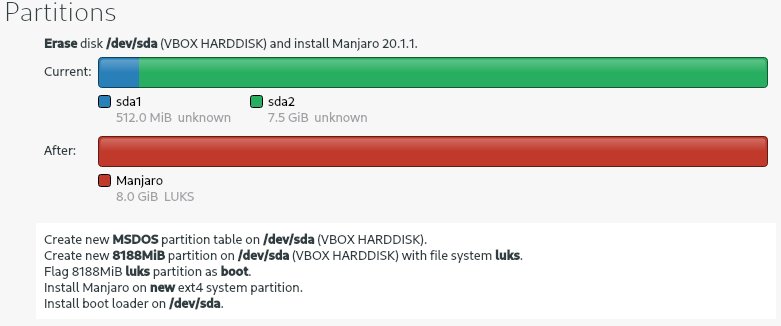 Btw. partitioning in Architect seems impossible to make right once i made a LUKS root partition on sda2, i tried to repartition by deleting partitions and creating sda2 as swap in cfdisk, but "List devices" shows different shceme. gfdisk, says something about broken partition table on saving. I do not want to use option to wipe the disk securely, i would use just quick wipe.