So with Nvidia control panel I can do it in windows, what is a good way in linux?
Perhaps search a bit on your own - or try the things I mentioned.
Only you know what is "good" for you.
Another thing I found when looking for two minutes …
May be available for other DE's as well.
One can also use the command line tools, create a script and bind it to a key combination - no GUI needed …
If you were using KDE, you can find the gamma adjustment in Systemsettings-hardware-display and monitor-Gamma.
A simple solution , independent of the DE or WM is "xgamma" …
Although is a terminal program , once you know the correct gamma settings you can at it at the startup profile …
Personally I call it whenever I need it via terminal …
I downloaded Gammastep, not sure where it put it. I searched gamma, nothing & menu nothing.
It is a command line program - has no GUI, just an indicator.
It seems to be similar to Redshift.
Being a command line program, there will be no entry for it in your menu.
… it's not a lot of fun trying to help you because you are always so terse in your questions and replies.
use more words
You can install monica from the AUR. It is a bit tricky, the installation will error, but you can follow the instructions in the comments from the link.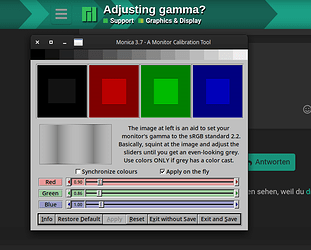 Just adjusted gamma with Xgamma. How do I keep the setting through reboots?
Any good gamma adjusting apps (GUI(