I run Manjaro-ARM XFCE on a Raspberry Pi 400. I have 3 issues.
I received the notification in matray for this update, but never received the push notification to pamac. I also checked pamac manually and nothing was there. Why didn't I get the push notification or anything?

The last few times I did receive updates, I started seeing this error message. Once when it started the update and again when it finished. (A total of 2 of these popped up each time with the same info in them.)
The first appearance of this message was on the 11th of July. Why am I getting this. Is this causing issue 1 above?

I recently downloaded GIMP through pamac along with all the files and progames that were needed for it. It had been working as expected until today. I launched it, and it was fully maximized with the maximize button small as expected when a window is in this state. When I opened a jpeg or png file GIMP unmaxzimized but the top and sides still touched the edged of the screen with the bottom under the XFCE panel. I tried clicking on the maximize button, but it wouldn't return to a fully maximized state. I closed the file I had opened in GIMP, and then I could click on the maximize button and GIMP would return to a maximized state till I opened another file.
To try to solve this issue, I uninstalled GIMP and the files and programs it added to Manjaro through pamac. I was careful to check to see if any were needed by other programs or XFCE. If I found that they were optional for other programs or only needed by GIMP, then I uninstalled them. I restarted my Pi and then went about reinstalling GIMP through pamac. Pamac asked me for my system password to start the install. After I did that, pamac asked me to choose an optional dependency. (There is only one, and it is to allow GIMP to print. I didn't select it and clicked the choose button.) Pamac then informed me that additional programs would be installed that would help GIMP run properly. I clicked the apply button and pamac started the download and installation process. It stopped early in the process with a popup saying "Failed to commit transaction: failed to retrieve some files". Here is the full output of what it did when it tried to load and install GIMP.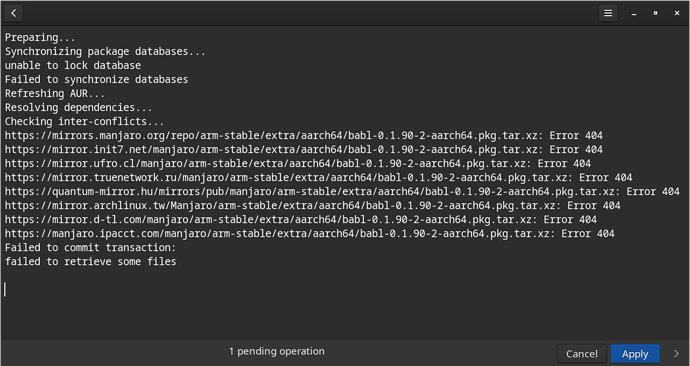 I would like to reinstall GIMP. Will solving issues 1 and 2 solve the issue with GIMP?
Please help.