I am a new Manjaro user since 6 weeks and the experience is fantastic. I had someone do the installation of Manjaro KDE plasma on my new computer. The computer has a 1000 gig drive for Manjaro and a second 1000gig drive for Windows.
However I am experiencing memory issues as my 40Gig space allocated for Manjaro and my application programs is running out of space. I installed les than 10 applications ( libre office, Darktable, ART …) and I do not understand why so much memory is required.
My system config is :
SW is : KDE plasma
Processor : 12x AMD Rysen 5 5500
RAM : 31gig
memory space :
600 gigs shared with Windows
250 gigs for Majaro data and application files
40 gigs for applacations and Manjaro See attached file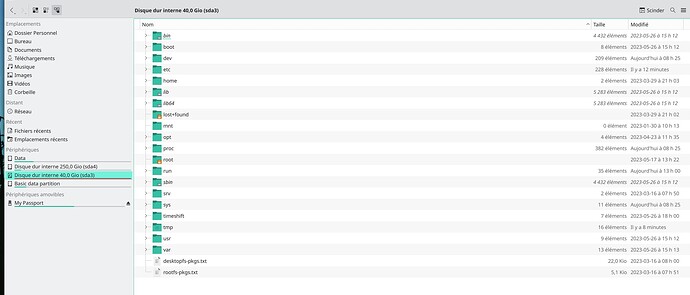 Two weeks ago, I notice that the system could not perform updates because of a lack of memory space.
I have reviewed the forum and found similar issues and found some usefull information : Running out of space, looking for a way to remove unnecessary files
I executed the following commands :
sudo pacman -Scc
paccache -rvk3
sudo pacman -Rns $(pacman -Qtdq)
After running these commands, I only gained about 4 Gig out of 40 Gigs. One week later, I received a notice that updates could not be done because of lack of memory space.
Now, when I repeat the following commands, no memory space is gained. 0 Gigs remouved.
sudo pacman -Scc
paccache -rvk3
sudo pacman -Rns $(pacman -Qtdq)
Would anybody have suggestions to help me with my memory space issue or to point me in the righ direction ?
Should I increase the memoty space to 60 Gigs?
Is there other things that can be done to resolve the situation?
Thank you for taking time to read my post and to provide me with directions.
Kind regards
Michel