Why does the package (kdeconnect) appear twice in Pamac GUI?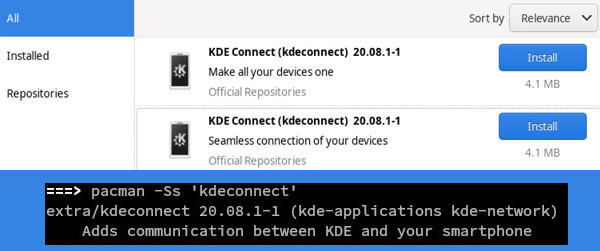 Good question for this one.
Often, you can find multiple entries for one package because Arch-based distros put multiple functionalities in the same package, compared to e.g. Debian or Ubuntu where it is usually much more split among several packages.
But here, I don't know, these two entries look very similar. 🤷
This comes from the implementation of Appstream.
yes, exists 2 kdeconnect in appstream-data (+ KDE Connect SMS and KDE Connect Indicator), 4 entries with "desktop-application" tag ; and for majaro all is in one package
KDE Connect: Make all your devices one : org.kde.kdeconnect.app
KDE Connect: Seamless connection of your devices : org.kde.kdeconnect.kcm.desktop (kcm is setting !)
$ appstreamcli search kdeconnect

All right, so it is also a case of "two pieces of software actually shipped in one package instead of two like we would likely find on a different distro", but less obvious at first glance.