5.10.7-3-MANJARO; FXCE 4.16
Hello, I see the CPU usage is around 50% but every maybe 10-20 second it spike to 100% apparently per the htop, glances output by the processes
/usr/lib/tracker-extract-3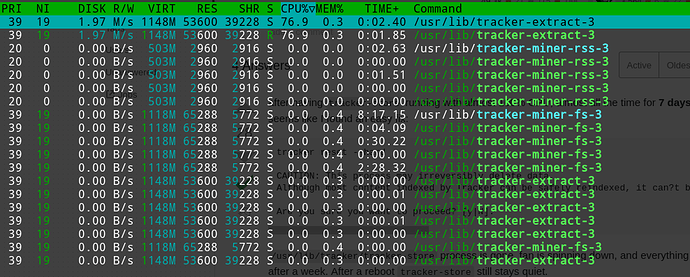 I am not aware what this process is or how much it is needed.
pacman -Qi tracker tracker-miners command output suggests the project URL Projects/Tracker - GNOME Wiki! and "Required By" column does not suggest it is other app dependency, right? The project URL says: Tracker is a filesystem indexer, metadata storage system and search tool."
tracker-extract - The meta-data extraction application used on each file
gsettings list-recursively | grep -i org.freedesktop.Tracker | sort | uniq lists some data about this "tracker" configuration
$ for i in $(find ~/ -name tracker);do du -h $i --max-depth=0;done
70M ./.local/share/tracker
664M ./.cache/tracker
I remember that i have several apps that i have installed to help with file search. (Fsearch, ANGRYsearch, Recoll), i think only Recoll index file contents which this tracker also is doing…?
I think that this temporarily stopped the tracker:
$ tracker daemon -t
Found 3 PIDs…
Terminated process 1405 — "tracker-miner-rss-3"
Terminated process 1497 — "tracker-miner-fs-3"
Terminated process 1712325 — "tracker-extract-3"
but next day on un-suspending PC, i see tracker processes are back
Questions: Why this tracker is there, why the above mentioned pacman command does not shown that the package depends on other app/package and if a good idea, how to disable/remove this tracker please? Thank you in advance for the feedback…
btw. similar topic with some suggested commands: