Hello community,
Another unstable branch update with some usual updates for you.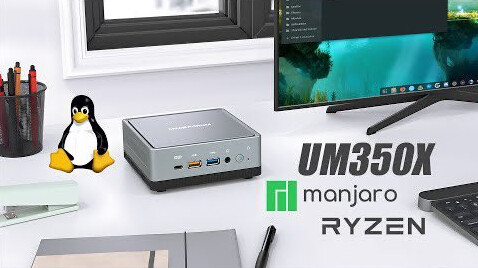 Checkout what ETAPRIME has to say about our UM350 MiniPC!
KDE Frameworks got updated to 5.97.0
Regular KDE-git, Haskell and Python updates
Additional Info
Info about AUR packages

AUR (Arch User Repository) packages are neither supported by Arch nor Manjaro. Posts about them in Announcement topics are off-topic and will be flagged, moved or removed without warning.

You may need to rebuild any AUR packages that install files to site-packages …
Get our latest daily developer images now from Github: Plasma, GNOME, XFCE. You get the latest stable releases of Manjaro from CDN77.
---
Our current supported kernels
linux419 4.19.255
linux54 5.4.210
linux510 5.10.136
linux515 5.15.60
linux518 5.18.17
linux519 5.19.1
linux515-rt 5.15.55_rt48
linux518-rt 5.18.0_rt11
linux519-rt 5.19.0_rt10
Package Changes (Wed Aug 17 15:52:41 CEST 2022)
:: Different overlay package(s) in repository community x86_64

-------------------------------------------------------------------------------
                             PACKAGE           2022-08-15           2022-08-17
-------------------------------------------------------------------------------
                               bmenu               0.18-1               0.19-1
                       discover-snap             5.24.6-1             5.25.4-1
              manjaro-gnome-settings           20220811-1           20220815-1
                       plasma-mobile             5.24.6-1             5.25.3-1
                         plasma-nano             5.24.6-1             5.25.2-1
                   surfshark-gui-bin                    -              1.1.0-1


:: Different sync package(s) in repository community x86_64

-------------------------------------------------------------------------------
                             PACKAGE           2022-08-15           2022-08-17
-------------------------------------------------------------------------------
                                agda            2.6.2.2-7            2.6.2.2-8
                          aliyun-cli            3.0.123-1            3.0.124-1
                             arch-hs          0.10.2.0-19          0.10.2.0-20
                   arch-repro-status              1.2.8-1              1.2.9-1
                                 bcc             0.24.0-2             0.25.0-1
                           bcc-tools             0.24.0-2             0.25.0-1
                          cabal-plan          0.7.2.0-174          0.7.2.0-175
                               charm             0.12.3-1             0.12.4-1
                           clash-ghc              1.6.3-5              1.6.3-6
                             cryptol             2.13.0-9            2.13.0-10
                              dagger             0.2.29-1             0.2.30-1
                         dark-reader             4.9.55-1             4.9.56-1
                         deepin-draw           5.8.0.22-4             5.10.6-1
                          dhall-bash            1.0.40-71            1.0.40-72
                    dhall-lsp-server              1.1.1-8              1.1.1-9
                               doctl             1.78.0-1             1.79.0-1
                        emby-theater             3.0.15-5             3.0.16-1
                            feeluown              3.8.7-1              3.8.8-1
                           findomain              8.1.1-1              8.2.0-1
                 firefox-dark-reader             4.9.55-1             4.9.56-1
               firefox-ublock-origin             1.43.0-1             1.44.0-1
                              gifski              1.7.0-1              1.7.1-1
                           git-annex        10.20220724-6        10.20220724-8
                           git-cliff              0.8.1-1              0.9.0-1
                               gopls              0.9.3-1              0.9.4-1
                             grafana              9.0.7-1              9.1.0-1
                 haskell-adjunctions             4.4.1-20              4.4.2-1
                    haskell-arch-web             0.1.1-17             0.1.1-18
                    haskell-arithmoi          0.12.0.1-90          0.12.0.1-91
               haskell-binary-parser           0.5.7.2-21           0.5.7.2-22
                     haskell-butcher          1.3.3.2-224          1.3.3.2-225
                    haskell-bv-sized             1.0.4-37             1.0.4-38
   haskell-bytestring-strict-builder            0.4.5.6-7            0.4.5.6-8
       haskell-cabal-install-parsers            0.4.2-142            0.4.2-143
                     haskell-chimera           0.3.2.0-80           0.3.2.0-81
                          haskell-ci           0.12.1-278           0.12.1-279
                   haskell-clash-lib              1.6.3-5              1.6.3-6
               haskell-clash-prelude              1.6.3-5              1.6.3-6
              haskell-classy-prelude            1.5.0.2-2            1.5.0.2-3
                     haskell-concise          0.1.0.1-402          0.1.0.1-403
                         haskell-dav            1.3.4-487            1.3.4-488
                        haskell-dbus            1.2.22-78            1.2.22-79
               haskell-dbus-hslogger          0.1.0.1-345          0.1.0.1-346
              haskell-deferred-folds          0.9.18.2-10          0.9.18.2-11
                       haskell-deque             0.4.4-89             0.4.4-90
                 haskell-equivalence           0.4.0.1-11              0.4.1-1
                   haskell-esqueleto            3.5.3.0-5            3.5.3.0-6
                  haskell-fdo-notify            0.3.1-594            0.3.1-595
                haskell-generic-data           0.9.2.1-96           0.9.2.1-97
                haskell-generic-lens           2.2.1.0-47           2.2.1.0-48
            haskell-ghc-trace-events            0.1.2.5-1            0.1.2.6-1
                      haskell-ghcide           1.4.2.3-15           1.4.2.3-17
                       haskell-gsasl             0.3.7-10             0.3.7-11
             haskell-haddock-library           1.10.0-151           1.10.0-152
                      haskell-hakyll          4.15.1.1-97          4.15.1.1-98
                       haskell-hasql            1.5.0.3-5            1.5.0.3-6
    haskell-hasql-dynamic-statements            0.3.1-150            0.3.1-152
             haskell-hasql-implicits           0.1.0.4-12           0.1.0.4-13
         haskell-hasql-notifications           0.2.0.1-23           0.2.0.1-24
                  haskell-hasql-pool           0.5.2.2-72           0.5.2.2-73
           haskell-hasql-transaction           1.0.1.1-90           1.0.1.1-91
   haskell-hls-call-hierarchy-plugin            1.0.1.0-7            1.0.1.0-9
             haskell-hls-eval-plugin          1.1.2.0-211          1.1.2.0-213
 haskell-hls-explicit-imports-plugin          1.0.1.0-207          1.0.1.0-209
         haskell-hls-floskell-plugin          1.0.0.1-210          1.0.0.1-212
         haskell-hls-fourmolu-plugin          1.0.0.2-217          1.0.0.2-219
 haskell-hls-haddock-comments-plugin          1.0.0.3-208          1.0.0.3-210
            haskell-hls-hlint-plugin          1.0.1.1-207          1.0.1.1-209
      haskell-hls-module-name-plugin          1.0.0.1-208          1.0.0.1-210
           haskell-hls-ormolu-plugin          1.0.1.0-214          1.0.1.0-216
              haskell-hls-plugin-api            1.2.0.1-9           1.2.0.1-11
          haskell-hls-pragmas-plugin            1.0.1.1-5            1.0.1.1-7
           haskell-hls-retrie-plugin          1.0.1.1-207          1.0.1.1-209
  haskell-hls-stylish-haskell-plugin          1.0.0.2-210          1.0.0.2-212
              haskell-hls-test-utils          1.1.0.0-208          1.1.0.0-210
                    haskell-hopenpgp             2.9.8-12             2.9.8-13
   haskell-insert-ordered-containers           0.2.5.1-72           0.2.5.1-73
                 haskell-ixset-typed           0.5.1.0-30           0.5.1.0-31
                        haskell-jose            0.8.5.1-6            0.8.5.1-7
              haskell-kan-extensions              5.2.5-9             5.2.5-10
             haskell-language-server          1.3.0.0-246          1.3.0.0-248
                        haskell-lens             5.1.1-22             5.1.1-23
                 haskell-lens-action             0.2.6-70             0.2.6-71
                  haskell-lens-aeson             1.1.3-73             1.1.3-74
                         haskell-lsp          1.2.0.1-111          1.2.0.1-112
                    haskell-lsp-test         0.14.0.1-126         0.14.0.1-127
                   haskell-lsp-types          1.3.0.1-101          1.3.0.1-102
  haskell-mono-traversable-instances          0.1.1.0-110          0.1.1.0-111
                    haskell-mustache             2.4.1-45             2.4.1-46
          haskell-neat-interpolation           0.5.1.3-68           0.5.1.3-69
       haskell-network-protocol-xmpp            0.4.10-43            0.4.10-44
               haskell-opentelemetry             0.7.0-67             0.7.0-68
                      haskell-pantry              0.5.6-7              0.5.6-8
         haskell-parameterized-utils           2.1.5.0-54           2.1.5.0-55
            haskell-persistent-mysql         2.13.0.1-192         2.13.0.1-193
       haskell-persistent-postgresql         2.13.0.3-181         2.13.0.3-182
               haskell-persistent-qq          2.12.0.2-48          2.12.0.2-49
           haskell-persistent-sqlite         2.13.0.3-173         2.13.0.3-174
             haskell-persistent-test           2.13.1.0-7           2.13.1.2-1
                     haskell-pointed             5.0.4-32             5.0.4-33
           haskell-postgresql-binary         0.12.4.1-122         0.12.4.1-123
                         haskell-ptr          0.16.8.2-13           0.16.8.3-2
                         haskell-ral             0.2.1-55             0.2.1-56
                      haskell-rebase          1.15.0.3-39          1.15.0.3-40
                        haskell-rere              0.2-117              0.2-118
                    haskell-rerebase          1.15.0.3-39          1.15.0.3-40
                    haskell-safecopy         0.10.4.2-149         0.10.4.2-150
              haskell-servant-client           0.18.3-187           0.18.3-188
             haskell-servant-swagger             1.1.11-8             1.1.11-9
                     haskell-streams              3.3-105              3.3-106
                 haskell-strict-list             0.1.7-28             0.1.7-29
                    haskell-summoner          2.0.1.1-338          2.0.1.1-339
                haskell-summoner-tui          2.0.1.1-380          2.0.1.1-381
                    haskell-swagger2            2.6.1-119            2.6.1-120
             haskell-tasty-checklist          1.0.3.0-112          1.0.3.0-113
                haskell-text-builder              0.6.7-1              0.6.7-2
            haskell-text-builder-dev              0.3.2-5              0.3.2-6
                   haskell-tree-diff           0.2.1.1-76           0.2.1.1-77
                    haskell-trifecta             2.1.2-79             2.1.2-80
                         haskell-vec             0.4.1-50             0.4.1-51
              haskell-vector-builder           0.3.8.4-12           0.3.8.4-13
            haskell-vector-instances              3.4-385              3.4-386
                haskell-vector-sized             1.5.0-77             1.5.0-78
                       haskell-what4                1.3-9               1.3-10
                        haskell-wreq          0.5.3.3-229          0.5.3.3-230
                       haskell-yesod             1.6.2-79             1.6.2-80
                  haskell-yesod-auth             1.6.11-2             1.6.11-3
                  haskell-yesod-form            1.7.0-243            1.7.0-244
            haskell-yesod-persistent           1.6.0.8-51           1.6.0.8-52
                haskell-yesod-static          1.6.1.0-482          1.6.1.0-483
                  haskell-yesod-test            1.6.14-25            1.6.14-26
                              hcloud             1.30.2-1             1.30.3-1
                             hindent              5.3.3-4              5.3.4-1
                         hledger-web               1.26-4               1.26-5
                      hopenpgp-tools            0.23.7-10            0.23.7-11
                             jenkins              2.363-1              2.364-1
                                juce              7.0.1-1              7.0.2-1
                           juce-docs              7.0.1-1              7.0.2-1
                       kiwix-desktop              2.2.2-1              2.2.2-2
                         kiwix-tools              3.3.0-1              3.3.0-2
                             klayout            0.27.10-1            0.27.11-1
                         libinfinity              0.7.2-1              0.7.2-2
                            libkiwix             11.0.0-1             11.0.0-2
                              libxdp              1.2.5-1              1.2.6-1
                              libzim              7.2.2-1              8.0.0-1
                           mailutils               3.15-1               3.15-2
                      matrix-synapse             1.63.1-1             1.64.0-1
                          mattermost              7.1.2-1              7.2.0-1
                               mmctl              7.1.2-1              7.2.0-1
                                 mvt              2.1.2-1              2.1.4-1
                             neovide              0.9.0-3             0.10.1-1
                   npm-check-updates             15.0.2-1             15.0.3-1
                             nushell             0.66.2-1             0.67.0-1
                        openethereum              3.3.5-1              3.3.5-2
                               opera       89.0.4447.83-1       89.0.4447.91-1
                              pandoc              2.18-19              2.18-20
                     pandoc-crossref         0.3.12.2-146         0.3.12.2-147
                     plantuml-server           1.2022.6-2           1.2022.6-3
                           postgrest              9.0.1-6              9.0.1-8
                    python-asttokens              2.0.7-1              2.0.8-1
                          python-bcc             0.24.0-2             0.25.0-1
                python-dogpile.cache              1.1.7-1              1.1.8-1
                    python-fonttools             4.34.4-1             4.35.0-1
     python-google-api-python-client             2.56.0-1             2.57.0-1
          python-importlib_resources              5.8.0-1              5.9.0-1
                  python-jaraco.text              3.8.1-1              3.9.0-1
                 python-profilestats               2.0-10               2.0-11
                 python-setproctitle              1.2.3-1              1.3.1-1
                         qpid-proton             0.37.0-1             0.37.0-2
               react-native-debugger             0.12.1-4             0.13.0-1
                                rofi              1.7.3-1              1.7.4-1
                ruby-rack-protection              2.2.0-1              2.2.2-2
                        ruby-sinatra              2.2.0-1              2.2.2-2
                            rubygems             3.3.15-1             3.3.19-1
                       rust-analyzer           20220808-1           20220815-1
                                 sbt            1:1.6.2-1            1:1.7.0-1
                          serverless             3.21.0-1             3.22.0-1
                          shellcheck            0.8.0-156            0.8.0-157
                            solidity             0.8.15-1             0.8.16-1
                             sonivox          3.6.10.14-1             3.6.11-1
                    spotify-launcher              0.2.1-1              0.3.0-1
                               stack            2.7.5-110            2.7.5-112
                          streamlink              4.2.0-1              4.3.0-1
                                suil            0.10.16-1            0.10.16-2
                           suil-docs            0.10.16-1            0.10.16-2
                              sysdig             0.29.2-6             0.29.3-1
                         sysdig-dkms             0.29.2-6             0.29.3-1
                      tamarin-prover            1.6.1-190            1.6.1-191
                             taskell           1.11.4-199           1.11.4-200
                    telegram-desktop              4.1.0-1              4.1.1-1
             thunderbird-dark-reader             4.9.55-1             4.9.56-1
                              tinygo             0.24.0-1             0.25.0-1
                           towncrier             21.3.0-3             21.9.0-1
                               trivy             0.30.4-1             0.31.2-1
                       ublock-origin             1.43.0-1             1.44.0-1
                           uglify-js             3.16.3-1             3.17.0-1
                               ugrep              3.9.0-1              3.9.1-1
         v2ray-domain-list-community     20220813040114-1     20220815063900-1
                             vivaldi        5.4.2753.28-1        5.4.2753.33-1
                           xdp-tools              1.2.5-1              1.2.6-1
                              xmobar               0.41-4               0.41-5
                              xmonad            0.17.0-16            0.17.0-17
                      xmonad-contrib            0.17.0-16            0.17.0-17
                           zim-tools              3.1.1-1              3.1.1-2
                                zola             0.16.0-2             0.16.1-1
  python-sphinxcontrib-programoutput                    -               0.17-3
                ruby-sinatra-contrib                    -              2.2.2-2


:: Different sync package(s) in repository core x86_64

-------------------------------------------------------------------------------
                             PACKAGE           2022-08-15           2022-08-17
-------------------------------------------------------------------------------
                              python             3.10.5-2             3.10.6-1
                        python-tests             3.10.5-2             3.10.6-1


:: Different overlay package(s) in repository extra x86_64

-------------------------------------------------------------------------------
                             PACKAGE           2022-08-15           2022-08-17
-------------------------------------------------------------------------------
                   apparmor-profiles              3.0.6-1                    -
                           bluedevil           1:5.24.6-1                    -
                              breeze             5.24.6-1                    -
                         breeze-grub             5.24.6-1                    -
                          breeze-gtk             5.24.6-1                    -
                            discover             5.24.6-1                    -
                             drkonqi             5.24.6-1                    -
                   kactivitymanagerd             5.24.6-1                    -
                       kde-cli-tools             5.24.6-1                    -
                      kde-gtk-config             5.24.6-1                    -
                         kdecoration             5.24.6-1                    -
                    kdeplasma-addons             5.24.6-1                    -
                            kdisplay             5.24.0-1             5.25.0-1
                             kgamma5             5.24.6-1                    -
                            khotkeys             5.24.6-1                    -
                         kinfocenter             5.24.6-1                    -
                           kmenuedit             5.24.6-1                    -
                             kscreen             5.24.6-1                    -
                       kscreenlocker             5.24.6-1                    -
                         ksshaskpass             5.24.6-1                    -
                           ksysguard             5.22.0-1                    -
                        ksystemstats             5.24.6-1                    -
                         kwallet-pam             5.24.6-1                    -
                kwayland-integration             5.24.6-1                    -
                     kwayland-server             5.24.6-1                    -
                                kwin             5.24.6-1                    -
                              kwinft             5.24.0-1             5.25.0-1
                             kwrited             5.24.6-1                    -
                      layer-shell-qt             5.24.6-1                    -
                          libkscreen             5.24.6-1                    -
                        libksysguard             5.24.6-1                    -
                               milou             5.24.6-1                    -
                              oxygen             5.24.6-1                    -
          plasma-browser-integration             5.24.6-1                    -
                      plasma-desktop             5.24.6-1                    -
                        plasma-disks             5.24.6-1                    -
                     plasma-firewall             5.24.6-1                    -
                  plasma-integration             5.24.6-1                    -
                         plasma-meta               5.24-1                    -
                           plasma-nm             5.24.6-1                    -
                           plasma-pa             5.24.6-1                    -
                          plasma-sdk             5.24.6-1                    -
                plasma-systemmonitor             5.24.6-1                    -
                  plasma-thunderbolt             5.24.6-1                    -
                        plasma-vault             5.24.6-1                    -
              plasma-wayland-session             5.24.6-1                    -
                    plasma-workspace             5.24.6-1                    -
         plasma-workspace-wallpapers             5.24.6-1                    -
                            plymouth          22.02.122-4          22.02.122-5
                    polkit-kde-agent             5.24.6-1                    -
                          powerdevil             5.24.6-1                    -
                   qqc2-breeze-style             5.24.6-1             5.25.3-1
                            sddm-kcm             5.24.6-1                    -
                      systemsettings             5.24.6-3                    -
              xdg-desktop-portal-kde             5.24.6-1                    -
                    xkeyboard-config             2.36-2.1                    -


:: Different sync package(s) in repository extra x86_64

-------------------------------------------------------------------------------
                             PACKAGE           2022-08-15           2022-08-17
-------------------------------------------------------------------------------
                              attica             5.96.0-1             5.97.0-1
                               baloo             5.96.0-1             5.97.0-1
                            bluez-qt             5.96.0-1             5.97.0-1
                        breeze-icons             5.96.0-1             5.97.0-1
                            chromium      104.0.5112.79-1     104.0.5112.101-1
                               cmake             3.23.3-1             3.24.0-1
                 extra-cmake-modules             5.96.0-1             5.97.0-1
                frameworkintegration             5.96.0-1             5.97.0-1
                                glew              2.2.0-3              2.2.0-4
                               gsasl             1.10.0-1              2.0.0-1
                       jdk17-openjdk          17.0.4.u8-2        17.0.4.1.u1-2
                       jre17-openjdk          17.0.4.u8-2        17.0.4.1.u1-2
              jre17-openjdk-headless          17.0.4.u8-2        17.0.4.1.u1-2
                         kactivities             5.96.0-1             5.97.0-1
                   kactivities-stats             5.96.0-1             5.97.0-1
                             kapidox             5.96.0-1             5.97.0-1
                            karchive             5.96.0-1             5.97.0-1
                               kauth             5.96.0-1             5.97.0-1
                          kbookmarks             5.96.0-1             5.97.0-1
                       kcalendarcore             5.96.0-1             5.97.0-1
                            kcmutils             5.96.0-1             5.97.0-1
                             kcodecs             5.96.0-1             5.97.0-1
                         kcompletion             5.96.0-1             5.97.0-1
                             kconfig             5.96.0-1             5.97.0-1
                      kconfigwidgets             5.96.0-1             5.97.0-1
                           kcontacts           1:5.96.0-1           1:5.97.0-1
                         kcoreaddons             5.96.0-1             5.97.0-1
                              kcrash             5.96.0-1             5.97.0-1
                                kdav           1:5.96.0-1           1:5.97.0-1
                         kdbusaddons             5.96.0-1             5.97.0-1
                        kdeclarative             5.96.0-1             5.97.0-1
                                kded             5.96.0-1             5.97.0-1
                     kdelibs4support             5.96.0-1             5.97.0-1
                     kdesignerplugin             5.96.0-1             5.97.0-1
                               kdesu             5.96.0-1             5.97.0-1
                           kdewebkit             5.96.0-1             5.97.0-1
                              kdnssd             5.96.0-1             5.97.0-1
                           kdoctools             5.96.0-1             5.97.0-1
                          kemoticons             5.96.0-1             5.97.0-1
                       kfilemetadata             5.96.0-1             5.97.0-1
                        kglobalaccel             5.96.0-1             5.97.0-1
                          kguiaddons             5.96.0-1             5.97.0-1
                           kholidays           1:5.96.0-1           1:5.97.0-1
                               khtml             5.96.0-1             5.97.0-1
                               ki18n             5.96.0-1             5.97.0-1
                         kiconthemes             5.96.0-1             5.97.0-1
                           kidletime             5.96.0-1             5.97.0-1
                       kimageformats             5.96.0-1             5.97.0-1
                               kinit             5.96.0-1             5.97.0-1
                                 kio             5.96.0-1             5.97.0-1
                           kirigami2             5.96.0-1             5.97.0-1
                         kitemmodels             5.96.0-1             5.97.0-1
                          kitemviews             5.96.0-1             5.97.0-1
                         kjobwidgets             5.96.0-1             5.97.0-1
                                 kjs             5.96.0-1             5.97.0-1
                            kjsembed             5.96.0-1             5.97.0-1
                        kmediaplayer             5.96.0-1             5.97.0-1
                           knewstuff             5.96.0-1             5.97.0-1
                      knotifications             5.96.0-1             5.97.0-1
                       knotifyconfig             5.96.0-1             5.97.0-1
                            kpackage             5.96.0-1             5.97.0-1
                              kparts             5.96.0-1             5.97.0-1
                             kpeople             5.96.0-1             5.97.0-1
                           kplotting             5.96.0-1             5.97.0-1
                                kpty             5.96.0-1             5.97.0-1
                        kquickcharts             5.96.0-1             5.97.0-1
                               kross             5.96.0-1             5.97.0-1
                             krunner             5.96.0-1             5.97.0-1
                            kservice             5.96.0-1             5.97.0-1
                         ktexteditor             5.96.0-1             5.97.0-1
                        ktextwidgets             5.96.0-1             5.97.0-1
                     kunitconversion             5.96.0-1             5.97.0-1
                             kwallet             5.96.0-1             5.97.0-2
                            kwayland             5.96.0-1             5.97.0-1
                      kwidgetsaddons             5.96.0-1             5.97.0-1
                       kwindowsystem             5.96.0-1             5.97.0-1
                             kxmlgui             5.96.0-1             5.97.0-1
                       kxmlrpcclient             5.96.0-1             5.97.0-1
                               libva             2.15.0-1             2.15.0-2
                               meson             0.63.1-1             0.63.1-2
                     modemmanager-qt             5.96.0-1             5.97.0-1
                                most              5.1.0-2              5.2.0-1
                               msmtp             1.8.22-1             1.8.22-2
                           msmtp-mta             1.8.22-1             1.8.22-2
                   networkmanager-qt             5.96.0-1             5.97.0-1
                       openjdk17-doc          17.0.4.u8-2        17.0.4.1.u1-2
                       openjdk17-src          17.0.4.u8-2        17.0.4.1.u1-2
                        oxygen-icons           1:5.96.0-1           1:5.97.0-1
                    oxygen-icons-svg           1:5.96.0-1           1:5.97.0-1
                    plasma-framework             5.96.0-1             5.97.0-1
                              prison             5.96.0-2             5.97.0-1
                          prometheus             2.37.0-1             2.38.0-1
                             purpose             5.96.0-1             5.97.0-1
                   python-setuptools           1:61.3.1-1           1:62.1.0-1
                     qemu-audio-alsa             7.0.0-10             7.0.0-12
                     qemu-audio-dbus             7.0.0-10             7.0.0-12
                     qemu-audio-jack             7.0.0-10             7.0.0-12
                      qemu-audio-oss             7.0.0-10             7.0.0-12
                       qemu-audio-pa             7.0.0-10             7.0.0-12
                      qemu-audio-sdl             7.0.0-10             7.0.0-12
                    qemu-audio-spice             7.0.0-10             7.0.0-12
                           qemu-base             7.0.0-10             7.0.0-12
                     qemu-block-curl             7.0.0-10             7.0.0-12
                      qemu-block-dmg             7.0.0-10             7.0.0-12
                  qemu-block-gluster             7.0.0-10             7.0.0-12
                    qemu-block-iscsi             7.0.0-10             7.0.0-12
                      qemu-block-nfs             7.0.0-10             7.0.0-12
                      qemu-block-ssh             7.0.0-10             7.0.0-12
                   qemu-chardev-baum             7.0.0-10             7.0.0-12
                  qemu-chardev-spice             7.0.0-10             7.0.0-12
                         qemu-common             7.0.0-10             7.0.0-12
                        qemu-desktop             7.0.0-10             7.0.0-12
                           qemu-docs             7.0.0-10             7.0.0-12
                 qemu-emulators-full             7.0.0-10             7.0.0-12
                           qemu-full             7.0.0-10             7.0.0-12
                    qemu-guest-agent             7.0.0-10             7.0.0-12
                 qemu-hw-display-qxl             7.0.0-10             7.0.0-12
          qemu-hw-display-virtio-gpu             7.0.0-10             7.0.0-12
       qemu-hw-display-virtio-gpu-gl             7.0.0-10             7.0.0-12
      qemu-hw-display-virtio-gpu-pci             7.0.0-10             7.0.0-12
   qemu-hw-display-virtio-gpu-pci-gl             7.0.0-10             7.0.0-12
          qemu-hw-display-virtio-vga             7.0.0-10             7.0.0-12
       qemu-hw-display-virtio-vga-gl             7.0.0-10             7.0.0-12
        qemu-hw-s390x-virtio-gpu-ccw             7.0.0-10             7.0.0-12
                    qemu-hw-usb-host             7.0.0-10             7.0.0-12
                qemu-hw-usb-redirect             7.0.0-10             7.0.0-12
               qemu-hw-usb-smartcard             7.0.0-10             7.0.0-12
                            qemu-img             7.0.0-10             7.0.0-12
                      qemu-pr-helper             7.0.0-10             7.0.0-12
                 qemu-system-aarch64             7.0.0-10             7.0.0-12
                   qemu-system-alpha             7.0.0-10             7.0.0-12
                     qemu-system-arm             7.0.0-10             7.0.0-12
                     qemu-system-avr             7.0.0-10             7.0.0-12
                    qemu-system-cris             7.0.0-10             7.0.0-12
                    qemu-system-hppa             7.0.0-10             7.0.0-12
                    qemu-system-m68k             7.0.0-10             7.0.0-12
              qemu-system-microblaze             7.0.0-10             7.0.0-12
                    qemu-system-mips             7.0.0-10             7.0.0-12
                   qemu-system-nios2             7.0.0-10             7.0.0-12
                    qemu-system-or1k             7.0.0-10             7.0.0-12
                     qemu-system-ppc             7.0.0-10             7.0.0-12
                   qemu-system-riscv             7.0.0-10             7.0.0-12
                      qemu-system-rx             7.0.0-10             7.0.0-12
                   qemu-system-s390x             7.0.0-10             7.0.0-12
                     qemu-system-sh4             7.0.0-10             7.0.0-12
                   qemu-system-sparc             7.0.0-10             7.0.0-12
                 qemu-system-tricore             7.0.0-10             7.0.0-12
                     qemu-system-x86             7.0.0-10             7.0.0-12
                  qemu-system-xtensa             7.0.0-10             7.0.0-12
                          qemu-tests             7.0.0-10             7.0.0-12
                          qemu-tools             7.0.0-10             7.0.0-12
                      qemu-ui-curses             7.0.0-10             7.0.0-12
                        qemu-ui-dbus             7.0.0-10             7.0.0-12
                qemu-ui-egl-headless             7.0.0-10             7.0.0-12
                         qemu-ui-gtk             7.0.0-10             7.0.0-12
                      qemu-ui-opengl             7.0.0-10             7.0.0-12
                         qemu-ui-sdl             7.0.0-10             7.0.0-12
                   qemu-ui-spice-app             7.0.0-10             7.0.0-12
                  qemu-ui-spice-core             7.0.0-10             7.0.0-12
                           qemu-user             7.0.0-10             7.0.0-12
                 qemu-vhost-user-gpu             7.0.0-10             7.0.0-12
                      qemu-virtiofsd             7.0.0-10             7.0.0-12
                  qqc2-desktop-style             5.96.0-1             5.97.0-1
                               rsync          3.2.5pre2-1              3.2.5-2
                             seabios             1.16.0-2             1.16.0-3
                        seabios-docs             1.16.0-2             1.16.0-3
                               solid             5.96.0-1             5.97.0-1
                              sonnet             5.96.0-1             5.97.0-1
                              strace               5.18-1               5.19-1
                         syndication             5.96.0-1             5.97.0-1
                 syntax-highlighting             5.96.0-1             5.97.0-1
                        threadweaver             5.96.0-1             5.97.0-1
                           bluedevil                    -           1:5.25.4-1
                              breeze                    -             5.25.4-1
                         breeze-grub                    -             5.25.4-1
                          breeze-gtk                    -             5.25.4-1
                            discover                    -             5.25.4-1
                             drkonqi                    -             5.25.4-1
                   kactivitymanagerd                    -             5.25.4-1
                       kde-cli-tools                    -             5.25.4-1
                      kde-gtk-config                    -             5.25.4-1
                         kdecoration                    -             5.25.4-1
                    kdeplasma-addons                    -             5.25.4-1
                             kgamma5                    -             5.25.4-1
                            khotkeys                    -             5.25.4-1
                         kinfocenter                    -             5.25.4-1
                           kmenuedit                    -             5.25.4-1
                             kscreen                    -             5.25.4-1
                       kscreenlocker                    -             5.25.4-1
                         ksshaskpass                    -             5.25.4-1
                        ksystemstats                    -             5.25.4-1
                         kwallet-pam                    -             5.25.4-1
                kwayland-integration                    -             5.25.4-1
                                kwin                    -             5.25.4-1
                             kwrited                    -             5.25.4-1
                      layer-shell-qt                    -             5.25.4-1
                          libkscreen                    -             5.25.4-1
                        libksysguard                    -             5.25.4-1
                               milou                    -             5.25.4-1
                              oxygen                    -             5.25.4-1
                       oxygen-sounds                    -             5.25.4-1
          plasma-browser-integration                    -             5.25.4-1
                      plasma-desktop                    -             5.25.4-1
                        plasma-disks                    -             5.25.4-1
                     plasma-firewall                    -             5.25.4-1
                  plasma-integration                    -             5.25.4-1
                         plasma-meta                    -               5.25-1
                           plasma-nm                    -             5.25.4-1
                           plasma-pa                    -             5.25.4-1
                          plasma-sdk                    -             5.25.4-1
                plasma-systemmonitor                    -             5.25.4-1
                  plasma-thunderbolt                    -             5.25.4-1
                        plasma-vault                    -             5.25.4-1
              plasma-wayland-session                    -             5.25.4-1
                    plasma-workspace                    -             5.25.4-1
         plasma-workspace-wallpapers                    -             5.25.4-1
                    polkit-kde-agent                    -             5.25.4-1
                          powerdevil                    -             5.25.4-1
                            sddm-kcm                    -             5.25.4-1
                      systemsettings                    -             5.25.4-1
              xdg-desktop-portal-kde                    -             5.25.4-1


:: Different overlay package(s) in repository kde-unstable x86_64

-------------------------------------------------------------------------------
                             PACKAGE           2022-08-15           2022-08-17
-------------------------------------------------------------------------------
                             akonadi22.04.3.r12799.g00999d2ce-122.04.3.r12800.g55859b9a7-1
                    akonadi-calendar22.04.3.r2150.g6ea1ae1-122.04.3.r2151.gae47dd5-1
              akonadi-calendar-tools22.04.3.r960.g7c23324-122.04.3.r961.gb650494-1
                    akonadi-contacts22.04.3.r3234.gc4518d3e-122.04.3.r3235.g842b6797-1
               akonadi-import-wizard22.04.3.r1843.gceab58e-122.04.3.r1844.g933741b-1
                        akonadi-mime22.04.3.r1749.g53c13b4-122.04.3.r1750.g50d4de5-1
                       akonadi-notes22.04.3.r1083.g6a1a413-122.04.3.r1084.g4dd012a-1
                      akonadi-search22.04.3.r1255.gf0ff77d-122.04.3.r1256.g063d4b8-1
                      akonadiconsole22.04.3.r1603.g1a81412-122.04.3.r1604.gc16cc7a-1
                           akregator22.04.3.r6457.g517e080e-122.04.3.r6460.g22244773-1
                           alligator 22.06.r33.g20a0436-1 22.06.r35.g0ca39ec-1
                           angelfish 22.06.r39.g9b73ea9-1 22.06.r42.g806062b-1
                              attica5.96.0.r879.g1544fae-15.97.0.r879.g1544fae-1
                               baloo5.96.0.r3060.gfaed70bc-15.97.0.r3060.gfaed70bc-1
                             blinken22.04.3.r678.g98892b1-122.04.3.r680.g1d3fae9-1
                            bluez-qt5.96.0.r717.ge5c36f0-15.97.0.r717.ge5c36f0-1
                        breeze-icons5.96.0.r1911.g788ff4e0-15.97.0.r1911.g788ff4e0-1
                     calendarsupport22.04.3.r723.g9d51240-122.04.3.r724.gb88e131-1
                             drkonqi5.25.4.r813.g489dac6b-15.25.4.r814.gdf9c831a-1
                               elisa22.04.3.r3004.g7670077b-122.04.3.r3005.ge6b0c721-1
                          elisa-qtmm22.04.3.r3004.g7670077b-122.04.3.r3005.ge6b0c721-1
                          eventviews22.04.3.r863.g340af1a-122.04.3.r864.g82aa16d-1
                 extra-cmake-modules5.96.0.r3510.ga7e2d05a-15.97.0.r3511.gbb63ba94-1
                frameworkintegration5.96.0.r650.gaf506e7-15.97.0.r650.gaf506e7-1
                     grantlee-editor22.04.3.r832.g2a1698e-122.04.3.r834.gdda7e4c-1
                       grantleetheme22.04.3.r407.g2bc2e26-122.04.3.r408.ga520d36-1
                     incidenceeditor22.04.3.r913.g7c3c44e-122.04.3.r914.g7654b45-1
                            index-fm 2.1.2.r41.gc28d301-1 2.1.2.r43.g45fa2e9-1
                           itinerary22.04.3.r1983.gee1af6a-122.04.3.r1988.g9886baf-1
                         kactivities5.96.0.r1405.g7de15f9d-15.97.0.r1405.g7de15f9d-1
                   kactivities-stats5.96.0.r413.g76ef2ca-15.97.0.r413.g76ef2ca-1
                        kaddressbook22.04.3.r6228.g3361e056-122.04.3.r6229.g3d27dabe-1
                              kalarm22.04.3.r7981.g01f64924-122.04.3.r7993.g5e8452d0-1
                             kapidox5.96.0.r574.g13f1157-15.97.0.r574.g13f1157-1
                            karchive5.96.0.r551.g5337dcf-15.97.0.r551.g5337dcf-1
                                kate22.04.3.r19391.g3068a738e-122.04.3.r19403.gf6084b80c-1
                               kauth5.96.0.r504.g463ce9b-15.97.0.r504.g463ce9b-1
                          kbookmarks5.96.0.r466.gb7c7b99-15.97.0.r466.gb7c7b99-1
                       kcalendarcore5.96.0.r1336.g5c2c1ff23-15.97.0.r1336.g5c2c1ff23-1
                           kcalutils22.04.3.r980.ge39d4f073-122.04.3.r981.g46267d8a0-1
                              kclock 22.06.r25.g0d6633d-1 22.06.r26.g41832f1-1
                            kcmutils5.96.0.r656.gbd521f3-15.97.0.r656.gbd521f3-1
                             kcodecs5.96.0.r427.geab5287-15.97.0.r427.geab5287-1
                         kcompletion5.96.0.r507.g1196686-15.97.0.r507.g1196686-1
                      kconfigwidgets5.96.0.r754.ge4b6cb0-15.97.0.r755.g3bdf71e-1
                           kcontacts1:5.96.0.r3343.ga7f93d4c-11:5.97.0.r3343.ga7f93d4c-1
                         kcoreaddons5.96.0.r1543.g231c98e2-15.97.0.r1543.g231c98e2-1
                              kcrash5.96.0.r452.g72cd5b4-15.97.0.r452.g72cd5b4-1
                                kdav1:5.96.0.r1351.gea558bc-11:5.97.0.r1351.gea558bc-1
                         kdbusaddons5.96.0.r422.g5e8a7bd-15.97.0.r423.gdbc7e4e-1
                       kde-cli-tools5.25.4.r1949.g2986931-15.25.4.r1950.gd9067e8-1
                        kdeclarative5.96.0.r1020.g0a1f77c-15.97.0.r1022.gc79115c-1
                          kdeconnect22.04.3.r3513.g7f0b03f2-122.04.3.r3514.gbf56ef0e-1
                                kded5.96.0.r470.g143cbf3-15.97.0.r470.g143cbf3-1
                     kdelibs4support5.96.0.r1103.gc04ca84a-15.97.0.r1104.g6d562b67-1
              kdenetwork-filesharing22.04.3.r973.g901d29b-122.04.3.r976.g4e26a7f-1
                       kdepim-addons22.04.3.r4741.g14ad5a25b-122.04.3.r4742.ge5b0858a5-1
                    kdeplasma-addons5.25.4.r8995.gff4bda441-15.25.4.r8997.g5e4fa2282-1
                     kdesignerplugin5.96.0.r359.g65341e2-15.97.0.r359.g65341e2-1
                               kdesu5.96.0.r513.g8bf4ac2-15.97.0.r513.g8bf4ac2-1
                           kdewebkit5.96.0.r306.g3ca78da-15.97.0.r306.g3ca78da-1
                              kdnssd5.96.0.r356.gfb07d29-15.97.0.r356.gfb07d29-1
                           kdoctools5.96.0.r673.g602065c-15.97.0.r673.g602065c-1
                          kemoticons5.96.0.r423.g9ca93ce-15.97.0.r423.g9ca93ce-1
                       kfilemetadata5.96.0.r870.ge85d971-15.97.0.r870.ge85d971-1
                        kglobalaccel5.96.0.r538.g27624db-15.97.0.r539.g625b53f-1
                          kguiaddons5.96.0.r483.g6493b29-15.97.0.r483.g6493b29-1
                         khelpcenter22.04.3.r2771.g3bb2fb14-122.04.3.r2772.gb9dfda05-1
                           kholidays1:5.96.0.r1052.gb883a37-11:5.97.0.r1052.gb883a37-1
                               khtml5.96.0.r593.g9712a64-15.97.0.r593.g9712a64-1
                               ki18n5.96.0.r565.g7c12a65-15.97.0.r565.g7c12a65-1
                         kiconthemes5.96.0.r620.g41fb2ae-15.97.0.r620.g41fb2ae-1
                 kidentitymanagement22.04.3.r3897.gf6c899fe-122.04.3.r3898.g5bc34c72-1
                           kidletime5.96.0.r363.g11d238e-15.97.0.r363.g11d238e-1
                       kimageformats5.96.0.r422.ge6955e1-15.97.0.r423.g62e477a-1
                               kimap22.04.3.r1203.g85c570f-122.04.3.r1204.g8f4d492-1
                               kinit5.96.0.r445.g85ca4b6-15.97.0.r445.g85ca4b6-1
                                 kio5.96.0.r5642.g5e2dc5a18-15.97.0.r5642.g5e2dc5a18-1
                           kirigami25.96.0.r3281.g9bc69a8e-15.97.0.r3298.gf978c61d-1
                         kitemmodels5.96.0.r615.g78cde10-15.97.0.r615.g78cde10-1
                          kitemviews5.96.0.r380.ge4d9fcd-15.97.0.r380.ge4d9fcd-1
                         kjobwidgets5.96.0.r424.gc096275-15.97.0.r425.g2e73bd8-1
                                 kjs5.96.0.r368.gfd9252e-15.97.0.r368.gfd9252e-1
                            kjsembed5.96.0.r333.gef9ea48-15.97.0.r333.gef9ea48-1
                               kldap22.04.3.r960.gf0ea918-122.04.3.r961.ga64fe77-1
                           kleopatra22.04.3.r6785.g22cc7a6f-122.04.3.r6792.g3c5248f9-1
                               kmail22.04.3.r26499.g9f8759235-122.04.3.r26500.gfe8db657a-1
                kmail-account-wizard22.04.3.r894.gf27b1fb-122.04.3.r895.g9e7ffab-1
                      kmailtransport22.04.3.r1754.g8572801-122.04.3.r1755.g1758b48-1
                               kmbox22.04.3.r605.g818a148-122.04.3.r606.g4e5a864-1
                        kmediaplayer5.96.0.r322.g014a259-15.97.0.r322.g014a259-1
                               kmime22.04.3.r1523.ge9ebffa-122.04.3.r1524.g29afea9-1
                        knavalbattle22.04.3.r1441.ga31fd57-122.04.3.r1442.g317f0da-1
                           knewstuff5.96.0.r1369.ga97b882d-15.97.0.r1369.ga97b882d-1
                              knotes22.04.3.r3688.g72d23770-122.04.3.r3689.g0f7e89c4-1
                      knotifications5.96.0.r753.g04dbd95-15.97.0.r753.g04dbd95-1
                       knotifyconfig5.96.0.r390.gbd78f1a-15.97.0.r390.gbd78f1a-1
                             konsole22.04.3.r8570.ga27a22ff-122.04.3.r8580.g295d42a4-1
                             kontact22.04.3.r5559.gd677e97e-122.04.3.r5560.ga6ed7e13-1
                    kontactinterface22.04.3.r703.gf628539-122.04.3.r704.gb2d186c-1
                          korganizer22.04.3.r11788.g9fee35d00-122.04.3.r11791.gdd3d3fd58-1
                            kpackage5.96.0.r761.g5f69b4a-15.97.0.r761.g5f69b4a-1
                              kparts5.96.0.r595.g8f564bc-15.97.0.r595.g8f564bc-1
                             kpeople5.96.0.r1382.g22c5339-15.97.0.r1382.g22c5339-1
                        kpimtextedit22.04.3.r1610.gcd1a992-122.04.3.r1611.g7fb3ab0-1
                             kpkpass22.04.3.r303.gb52e9dd-122.04.3.r304.g001643d-1
                           kplotting5.96.0.r329.gc67bc59-15.97.0.r329.gc67bc59-1
                                kpty5.96.0.r381.g99d043f-15.97.0.r381.g99d043f-1
                        kquickcharts5.96.0.r528.g7d72fc0-15.97.0.r528.g7d72fc0-1
                               kross5.96.0.r364.gcca187e-15.97.0.r364.gcca187e-1
                             krunner5.96.0.r779.gbe6e416-15.97.0.r780.gdd0b54b-1
                            kservice5.96.0.r1027.g19eb760-15.97.0.r1027.g19eb760-1
                               ksmtp22.04.3.r454.g7efcbbb-122.04.3.r455.ge9031da-1
                         ktexteditor5.96.0.r3484.g18cd4752-15.97.0.r3488.g88ce720d-1
                        ktextwidgets5.96.0.r454.g608c190-15.97.0.r455.gddb0806-1
                               ktnef22.04.3.r725.gcde8001-122.04.3.r726.ged92d48-1
                     kunitconversion5.96.0.r424.g7456dc5-15.97.0.r424.g7456dc5-1
                             kwallet5.96.0.r1166.g8c458cc-15.97.0.r1168.g9107a91-1
                      kwalletmanager22.04.3.r1283.g3b2a55b-122.04.3.r1284.g62c7e15-1
                            kwayland5.96.0.r1175.g57cf099-15.97.0.r1175.g57cf099-1
                            kweather 22.06.r40.g7855c6a-1 22.06.r45.gcd5b5bd-1
                      kwidgetsaddons5.96.0.r965.gecc211bc-15.97.0.r967.g93921248-1
                                kwin5.25.4.r22980.gf4e917f73-15.25.4.r22982.g6cdb1e6f6-1
                       kwindowsystem5.96.0.r690.gf543b42-15.97.0.r690.gf543b42-1
                              kwrite22.04.3.r19391.g3068a738e-122.04.3.r19403.gf6084b80c-1
                             kxmlgui5.96.0.r900.gb9104169-15.97.0.r900.gb9104169-1
                       kxmlrpcclient5.96.0.r486.g4f9239727-15.97.0.r486.g4f9239727-1
                          libakonadi22.04.3.r12799.g00999d2ce-122.04.3.r12800.g55859b9a7-1
                         libgravatar22.04.3.r432.g9cbfbfe-122.04.3.r433.gbd0d72e-1
                           libkdepim22.04.3.r920.g4a76d55-122.04.3.r921.g27cdd98-1
                            libkgapi22.04.3.r1372.g87bdfc1-122.04.3.r1373.ga7ecca0-1
                             libkleo22.04.3.r1249.g0386040-122.04.3.r1250.g14785b3-1
                           libksieve22.04.3.r1736.g37e547f4-122.04.3.r1737.ge1b0a1c1-1
                          mailcommon22.04.3.r1287.g9f0aad7-122.04.3.r1288.g40e981d-1
                        mailimporter22.04.3.r528.g077ecad-122.04.3.r530.g2875f01-1
                       mbox-importer22.04.3.r576.gd246cc1-122.04.3.r577.g5312c7a-1
                          messagelib22.04.3.r6651.g0291e64e4-122.04.3.r6658.ga88f82e91-1
                     modemmanager-qt5.96.0.r559.gd870646-15.97.0.r559.gd870646-1
                   networkmanager-qt5.96.0.r1159.g5f9316a-15.97.0.r1159.g5f9316a-1
                        oxygen-icons1:5.96.0.r5.gbff159d-11:5.97.0.r5.gbff159d-1
                    oxygen-icons-svg1:5.96.0.r5.gbff159d-11:5.97.0.r5.gbff159d-1
                            palapeli22.04.3.r1302.g68993bb-122.04.3.r1304.g1048316-1
                    partitionmanager22.04.3.r1639.gf33e780-122.04.3.r1641.ge1336b1-1
                   pim-data-exporter22.04.3.r2779.gfc0c86a8-122.04.3.r2780.gc4189ba7-1
                    pim-sieve-editor22.04.3.r1647.g7234f18-122.04.3.r1648.g8a86357-1
                           pimcommon22.04.3.r1262.gf3d5251-122.04.3.r1263.g89b005e-1
          plasma-browser-integration5.25.4.r1342.g9ba3362d-15.25.4.r1344.g8dc99f32-1
                      plasma-desktop5.25.4.r9540.g5d2dd88aa-15.25.4.r9545.g52bb40636-1
                    plasma-framework5.96.0.r16387.gca97fada4-15.97.0.r16391.gbaad1fc19-1
                       plasma-mobile5.25.4.r1933.g4ad9688b3-15.25.4.r1934.g7ba564fde-1
                    plasma-mobile-nm5.25.4.r3316.g700fd979-15.25.4.r3318.gfffa9e38-1
                           plasma-nm5.25.4.r3317.gac471643-15.25.4.r3319.ge4652292-1
                     plasma-settings 22.06.r66.gcab3275-1 22.06.r68.gd5ebb11-1
                plasma-systemmonitor5.25.4.r609.gfbb508e-15.25.4.r610.g9e096e2-1
            plasma-wayland-protocols1.4.0.r1055.gbcb428f-11.4.0.r1056.gf882bd9-1
              plasma-wayland-session5.25.4.r12201.ga096cf1ae-15.25.4.r12206.g59ce2e70f-1
                    plasma-workspace5.25.4.r12201.ga096cf1ae-15.25.4.r12206.g59ce2e70f-1
                              prison5.96.0.r396.g7f359b9-15.97.0.r396.g7f359b9-1
                             purpose5.96.0.r989.g0acb6e7-15.97.0.r989.g0acb6e7-1
                  qqc2-desktop-style5.96.0.r647.g138b675-15.97.0.r647.g138b675-1
                               solid5.96.0.r785.gf7391d6-15.97.0.r785.gf7391d6-1
                              sonnet5.96.0.r708.g0b11814-15.97.0.r708.g0b11814-1
                         syndication5.96.0.r879.g6a9c9de-15.97.0.r879.g6a9c9de-1
                 syntax-highlighting5.96.0.r1899.gd109fd23-15.97.0.r1900.g342a65c5-1
                        threadweaver5.96.0.r548.gec07224-15.97.0.r548.gec07224-1
                             tokodon 22.06.r27.gfce2e50-1 22.06.r30.g1c436d6-1
                             yakuake22.04.3.r813.g0a559f0-122.04.3.r817.g574af67-1


:: Different sync package(s) in repository multilib x86_64

-------------------------------------------------------------------------------
                             PACKAGE           2022-08-15           2022-08-17
-------------------------------------------------------------------------------
                         lib32-libva             2.15.0-1             2.15.0-2

No issue, everything went smoothly
Yes there was an issue. I was able to resolve it myself.(Please post your solution)
Yes i am currently experiencing an issue due to the update. (Please post about it)
Check if your mirror has already synced: