I've just clean installed Ruah & set up my apps, extensions, prefs etc. I'm not sure if this is a personal issue or system bug, but the UNDO option after deleting a file no longer works in Nautilus.
Oddly, If I manually drag the file back from the wastebasket the 'Redo restore' & subsequent 'Undo restore' do function normally.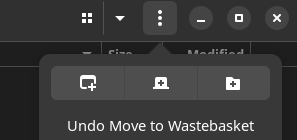 I could not find such an issue on Gitlab Gnome Nautilus.