I read the answer here: Ebook-convert install problems - #2 by Yochanan
Yochanan seems to imply that the only way to get epub->mobi on Manjaro is via Calibre.
However, in other distros there is a tool called ebook-tools that can convert from epub->mobi: source
However, I do seem to have ebook-tools installed on Manjaro, but I believe this is some other package entirely: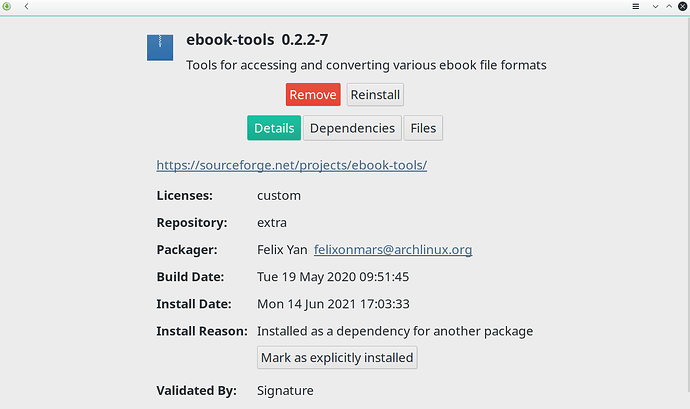 And now that I investigate further, I'm not even sure what this package is doing because …
when I type ebook2text, I get:
ebook2text --help                                                        
`ebook2text' converts e-books to plain text.
Supported formats include FictionBook 2, BBeB and various Palm-based formats.

Usage: ebook2text [OPTION] FILE

Options:
        --info                display document metadata instead of the text
        --help                show this help message
        --version             show version information

Report bugs to <https://sourceforge.net/p/libebook/tickets/> or <https://bugs.documentfoundation.org/>.

and the same for ebook2raw & ebook2html.
What exactly is ebook-tools for? Is it for Okular?