Hello community,
Another testing branch update with some usual package updates for you.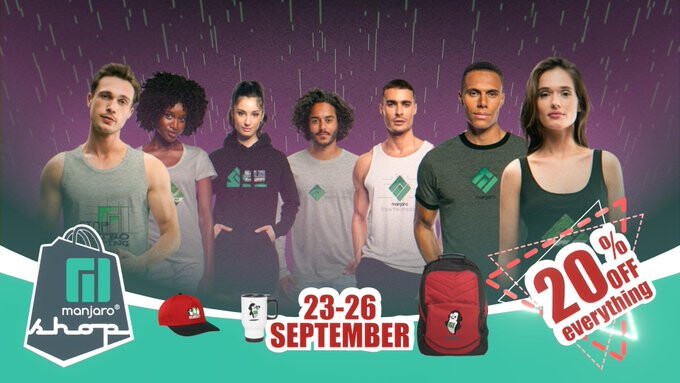 Don't miss out on 20% discount this weekend on all of our Merch! manjaro.myspreadshop.net
Some of our Kernels got updated
Wine is now at 7.18
Some KDE-git updates as usual
Additional Info
Info about AUR packages

AUR (Arch User Repository) packages are neither supported by Arch nor Manjaro. Posts about them in Announcement topics are off-topic and will be flagged, moved or removed without warning.

You may need to rebuild any AUR packages that install files to site-packages …
Get our latest daily developer images now from Github: Plasma, GNOME, XFCE. You can get the latest stable releases of Manjaro from CDN77.
---
Our current supported kernels
linux419 4.19.259
linux54 5.4.214
linux510 5.10.145
linux515 5.15.70
linux518 5.18.19 [EOL]
linux519 5.19.11
linux60 6.0.0rc6
linux515-rt 5.15.55_rt48
linux519-rt 5.19.0_rt10
Package changes ( Sat Sep 24 09:08:54 CEST 2022)
testing community x86_64: 168 new and 168 removed package(s)
testing core x86_64: 6 new and 6 removed package(s)
testing extra x86_64: 38 new and 41 removed package(s)
testing kde-unstable x86_64: 35 new and 35 removed package(s)
testing multilib x86_64: 1 new and 1 removed package(s)
:: Different overlay package(s) in repository community x86_64

-------------------------------------------------------------------------------
                             PACKAGE           2022-09-23           2022-09-24
-------------------------------------------------------------------------------
                   dynamic-wallpaper              0.0.3-1              0.0.4-1
       gnome-shell-extension-arcmenu                 38-1                 39-1
                             gtkhash                1.4-6                1.5-1
                        gtkhash-caja                1.4-6                1.5-1
                    gtkhash-nautilus                1.4-6                1.5-1
                        gtkhash-nemo                1.4-6                1.5-1
                      gtkhash-thunar                1.4-6                1.5-1


:: Different sync package(s) in repository community x86_64

-------------------------------------------------------------------------------
                             PACKAGE           2022-09-23           2022-09-24
-------------------------------------------------------------------------------
                        ansible-lint              6.6.1-1              6.7.0-1
                            buildbot              3.6.0-1              3.6.1-1
                     buildbot-common              3.6.0-1              3.6.1-1
                       buildbot-docs              3.6.0-1              3.6.1-1
                     buildbot-worker              3.6.0-1              3.6.1-1
                          cherrytree            0.99.47-2            0.99.49-1
                                deno             1.25.3-1             1.25.4-1
                          diffoscope                221-1                222-1
                              eslint             8.23.1-1             8.24.0-1
           firefox-developer-edition            106.0b2-1            106.0b3-1
  firefox-developer-edition-i18n-ach            106.0b2-1            106.0b3-1
   firefox-developer-edition-i18n-af            106.0b2-1            106.0b3-1
   firefox-developer-edition-i18n-an            106.0b2-1            106.0b3-1
   firefox-developer-edition-i18n-ar            106.0b2-1            106.0b3-1
  firefox-developer-edition-i18n-ast            106.0b2-1            106.0b3-1
   firefox-developer-edition-i18n-az            106.0b2-1            106.0b3-1
   firefox-developer-edition-i18n-be            106.0b2-1            106.0b3-1
   firefox-developer-edition-i18n-bg            106.0b2-1            106.0b3-1
   firefox-developer-edition-i18n-bn            106.0b2-1            106.0b3-1
   firefox-developer-edition-i18n-br            106.0b2-1            106.0b3-1
   firefox-developer-edition-i18n-bs            106.0b2-1            106.0b3-1
   firefox-developer-edition-i18n-ca            106.0b2-1            106.0b3-1
firefox-developer-edition-i18n-ca-valencia      106.0b2-1            106.0b3-1
  firefox-developer-edition-i18n-cak            106.0b2-1            106.0b3-1
   firefox-developer-edition-i18n-cs            106.0b2-1            106.0b3-1
   firefox-developer-edition-i18n-cy            106.0b2-1            106.0b3-1
   firefox-developer-edition-i18n-da            106.0b2-1            106.0b3-1
   firefox-developer-edition-i18n-de            106.0b2-1            106.0b3-1
  firefox-developer-edition-i18n-dsb            106.0b2-1            106.0b3-1
   firefox-developer-edition-i18n-el            106.0b2-1            106.0b3-1
firefox-developer-edition-i18n-en-ca            106.0b2-1            106.0b3-1
firefox-developer-edition-i18n-en-gb            106.0b2-1            106.0b3-1
firefox-developer-edition-i18n-en-us            106.0b2-1            106.0b3-1
   firefox-developer-edition-i18n-eo            106.0b2-1            106.0b3-1
firefox-developer-edition-i18n-es-ar            106.0b2-1            106.0b3-1
firefox-developer-edition-i18n-es-cl            106.0b2-1            106.0b3-1
firefox-developer-edition-i18n-es-es            106.0b2-1            106.0b3-1
firefox-developer-edition-i18n-es-mx            106.0b2-1            106.0b3-1
   firefox-developer-edition-i18n-et            106.0b2-1            106.0b3-1
   firefox-developer-edition-i18n-eu            106.0b2-1            106.0b3-1
   firefox-developer-edition-i18n-fa            106.0b2-1            106.0b3-1
   firefox-developer-edition-i18n-ff            106.0b2-1            106.0b3-1
   firefox-developer-edition-i18n-fi            106.0b2-1            106.0b3-1
   firefox-developer-edition-i18n-fr            106.0b2-1            106.0b3-1
firefox-developer-edition-i18n-fy-nl            106.0b2-1            106.0b3-1
firefox-developer-edition-i18n-ga-ie            106.0b2-1            106.0b3-1
   firefox-developer-edition-i18n-gd            106.0b2-1            106.0b3-1
   firefox-developer-edition-i18n-gl            106.0b2-1            106.0b3-1
   firefox-developer-edition-i18n-gn            106.0b2-1            106.0b3-1
firefox-developer-edition-i18n-gu-in            106.0b2-1            106.0b3-1
   firefox-developer-edition-i18n-he            106.0b2-1            106.0b3-1
firefox-developer-edition-i18n-hi-in            106.0b2-1            106.0b3-1
   firefox-developer-edition-i18n-hr            106.0b2-1            106.0b3-1
  firefox-developer-edition-i18n-hsb            106.0b2-1            106.0b3-1
   firefox-developer-edition-i18n-hu            106.0b2-1            106.0b3-1
firefox-developer-edition-i18n-hy-am            106.0b2-1            106.0b3-1
   firefox-developer-edition-i18n-ia            106.0b2-1            106.0b3-1
   firefox-developer-edition-i18n-id            106.0b2-1            106.0b3-1
   firefox-developer-edition-i18n-is            106.0b2-1            106.0b3-1
   firefox-developer-edition-i18n-it            106.0b2-1            106.0b3-1
   firefox-developer-edition-i18n-ja            106.0b2-1            106.0b3-1
   firefox-developer-edition-i18n-ka            106.0b2-1            106.0b3-1
  firefox-developer-edition-i18n-kab            106.0b2-1            106.0b3-1
   firefox-developer-edition-i18n-kk            106.0b2-1            106.0b3-1
   firefox-developer-edition-i18n-km            106.0b2-1            106.0b3-1
   firefox-developer-edition-i18n-kn            106.0b2-1            106.0b3-1
   firefox-developer-edition-i18n-ko            106.0b2-1            106.0b3-1
  firefox-developer-edition-i18n-lij            106.0b2-1            106.0b3-1
   firefox-developer-edition-i18n-lt            106.0b2-1            106.0b3-1
   firefox-developer-edition-i18n-lv            106.0b2-1            106.0b3-1
   firefox-developer-edition-i18n-mk            106.0b2-1            106.0b3-1
   firefox-developer-edition-i18n-mr            106.0b2-1            106.0b3-1
   firefox-developer-edition-i18n-ms            106.0b2-1            106.0b3-1
   firefox-developer-edition-i18n-my            106.0b2-1            106.0b3-1
firefox-developer-edition-i18n-nb-no            106.0b2-1            106.0b3-1
firefox-developer-edition-i18n-ne-np            106.0b2-1            106.0b3-1
   firefox-developer-edition-i18n-nl            106.0b2-1            106.0b3-1
firefox-developer-edition-i18n-nn-no            106.0b2-1            106.0b3-1
   firefox-developer-edition-i18n-oc            106.0b2-1            106.0b3-1
firefox-developer-edition-i18n-pa-in            106.0b2-1            106.0b3-1
   firefox-developer-edition-i18n-pl            106.0b2-1            106.0b3-1
firefox-developer-edition-i18n-pt-br            106.0b2-1            106.0b3-1
firefox-developer-edition-i18n-pt-pt            106.0b2-1            106.0b3-1
   firefox-developer-edition-i18n-rm            106.0b2-1            106.0b3-1
   firefox-developer-edition-i18n-ro            106.0b2-1            106.0b3-1
   firefox-developer-edition-i18n-ru            106.0b2-1            106.0b3-1
   firefox-developer-edition-i18n-si            106.0b2-1            106.0b3-1
   firefox-developer-edition-i18n-sk            106.0b2-1            106.0b3-1
   firefox-developer-edition-i18n-sl            106.0b2-1            106.0b3-1
  firefox-developer-edition-i18n-son            106.0b2-1            106.0b3-1
   firefox-developer-edition-i18n-sq            106.0b2-1            106.0b3-1
   firefox-developer-edition-i18n-sr            106.0b2-1            106.0b3-1
firefox-developer-edition-i18n-sv-se            106.0b2-1            106.0b3-1
   firefox-developer-edition-i18n-ta            106.0b2-1            106.0b3-1
   firefox-developer-edition-i18n-te            106.0b2-1            106.0b3-1
   firefox-developer-edition-i18n-th            106.0b2-1            106.0b3-1
   firefox-developer-edition-i18n-tl            106.0b2-1            106.0b3-1
   firefox-developer-edition-i18n-tr            106.0b2-1            106.0b3-1
  firefox-developer-edition-i18n-trs            106.0b2-1            106.0b3-1
   firefox-developer-edition-i18n-uk            106.0b2-1            106.0b3-1
   firefox-developer-edition-i18n-ur            106.0b2-1            106.0b3-1
   firefox-developer-edition-i18n-uz            106.0b2-1            106.0b3-1
   firefox-developer-edition-i18n-vi            106.0b2-1            106.0b3-1
   firefox-developer-edition-i18n-xh            106.0b2-1            106.0b3-1
firefox-developer-edition-i18n-zh-cn            106.0b2-1            106.0b3-1
firefox-developer-edition-i18n-zh-tw            106.0b2-1            106.0b3-1
golang-github-linuxdeepin-go-dbus-factory       1.10.22-1            1.10.23-1
                  haskell-ghc-parser            0.2.3.0-1            0.2.4.0-1
                              icmake           10.03.00-1           10.03.01-2
                            ihaskell           0.10.3.0-5           0.10.3.0-6
                         msgpack-cxx              4.1.1-1              4.1.2-1
                              nodejs             18.9.0-1             18.9.1-1
                   npm-check-updates             16.2.1-1             16.3.1-1
                             openui5            1.102.7-1            1.106.0-1
                            parallel           20220822-1           20220922-1
                       parallel-docs           20220822-1           20220922-1
                           powerline              2.8.2-4              2.8.3-1
                    powerline-common              2.8.2-4              2.8.3-1
                     powerline-fonts              2.8.2-4              2.8.3-1
                       powerline-vim              2.8.2-4              2.8.3-1
                      python-awkward              1.9.0-1             1.10.1-1
              python-boost-histogram              1.3.1-2              1.3.2-1
              python-buildbot-badges              3.6.0-1              3.6.1-1
        python-buildbot-console-view              3.6.0-1              3.6.1-1
           python-buildbot-grid-view              3.6.0-1              3.6.1-1
      python-buildbot-waterfall-view              3.6.0-1              3.6.1-1
     python-buildbot-wsgi-dashboards              3.6.0-1              3.6.1-1
                 python-buildbot-www              3.6.0-1              3.6.1-1
                         python-hist              2.6.1-2              2.6.2-1
                    python-powerline              2.8.2-4              2.8.3-1
          python-scikit-hep-testdata             0.4.20-1             0.4.21-1
                       python-uproot              4.3.4-1              4.3.5-2
                  python-uproot-docs              4.3.4-1              4.3.5-2
                       python-vector              0.8.5-2             0.10.0-1
                              reaper               6.67-1               6.68-1
                         ttc-iosevka             16.1.0-1             16.2.0-1
                    ttc-iosevka-aile             16.1.0-1             16.2.0-1
                   ttc-iosevka-curly             16.1.0-1             16.2.0-1
              ttc-iosevka-curly-slab             16.1.0-1             16.2.0-1
                  ttc-iosevka-etoile             16.1.0-1             16.2.0-1
                    ttc-iosevka-slab             16.1.0-1             16.2.0-1
                    ttc-iosevka-ss01             16.1.0-1             16.2.0-1
                    ttc-iosevka-ss02             16.1.0-1             16.2.0-1
                    ttc-iosevka-ss03             16.1.0-1             16.2.0-1
                    ttc-iosevka-ss04             16.1.0-1             16.2.0-1
                    ttc-iosevka-ss05             16.1.0-1             16.2.0-1
                    ttc-iosevka-ss06             16.1.0-1             16.2.0-1
                    ttc-iosevka-ss07             16.1.0-1             16.2.0-1
                    ttc-iosevka-ss08             16.1.0-1             16.2.0-1
                    ttc-iosevka-ss09             16.1.0-1             16.2.0-1
                    ttc-iosevka-ss10             16.1.0-1             16.2.0-1
                    ttc-iosevka-ss11             16.1.0-1             16.2.0-1
                    ttc-iosevka-ss12             16.1.0-1             16.2.0-1
                    ttc-iosevka-ss13             16.1.0-1             16.2.0-1
                    ttc-iosevka-ss14             16.1.0-1             16.2.0-1
                    ttc-iosevka-ss15             16.1.0-1             16.2.0-1
                    ttc-iosevka-ss16             16.1.0-1             16.2.0-1
                    ttc-iosevka-ss17             16.1.0-1             16.2.0-1
                    ttc-iosevka-ss18             16.1.0-1             16.2.0-1
         v2ray-domain-list-community     20220922103909-1     20220923145559-1
                            wakatime           1:1.54.0-1           1:1.55.1-1


:: Different overlay package(s) in repository core x86_64

-------------------------------------------------------------------------------
                             PACKAGE           2022-09-23           2022-09-24
-------------------------------------------------------------------------------
                            linux510           5.10.144-1           5.10.145-1
                    linux510-headers           5.10.144-1           5.10.145-1
                            linux515            5.15.69-1            5.15.70-1
                    linux515-headers            5.15.69-1            5.15.70-1
                            linux519            5.19.10-1            5.19.11-1
                    linux519-headers            5.19.10-1            5.19.11-1


:: Different overlay package(s) in repository extra x86_64

-------------------------------------------------------------------------------
                             PACKAGE           2022-09-23           2022-09-24
-------------------------------------------------------------------------------
                  linux510-acpi_call             1.2.2-64             1.2.2-65
                   linux510-bbswitch              0.8-165              0.8-166
                linux510-broadcom-wl     6.30.223.271-167     6.30.223.271-168
               linux510-nvidia-390xx           390.154-11           390.154-12
               linux510-nvidia-470xx        470.141.03-11        470.141.03-12
                     linux510-nvidia             515.76-1             515.76-2
                      linux510-r8168          8.050.03-13          8.050.03-14
                  linux510-rtl8723bu           20220818-3           20220818-4
                   linux510-tp_smapi             0.43-165             0.43-166
                linux510-vhba-module          20211218-60          20211218-61
    linux510-virtualbox-host-modules             6.1.38-5             6.1.38-6
                        linux510-zfs             2.1.5-21             2.1.5-22
                  linux515-acpi_call             1.2.2-68             1.2.2-69
                   linux515-bbswitch               0.8-83               0.8-84
                linux515-broadcom-wl      6.30.223.271-83      6.30.223.271-84
               linux515-nvidia-390xx           390.154-12           390.154-13
               linux515-nvidia-470xx        470.141.03-12        470.141.03-13
                     linux515-nvidia            515.76-11            515.76-12
                      linux515-r8168          8.050.03-14          8.050.03-15
                  linux515-rtl8723bu           20220818-4           20220818-5
                   linux515-tp_smapi              0.43-83              0.43-84
                linux515-vhba-module          20211218-64          20211218-65
    linux515-virtualbox-host-modules             6.1.38-6             6.1.38-7
                        linux515-zfs             2.1.5-24             2.1.5-25
                  linux519-acpi_call             1.2.2-17             1.2.2-18
                   linux519-bbswitch               0.8-17               0.8-18
                linux519-broadcom-wl      6.30.223.271-17      6.30.223.271-18
               linux519-nvidia-390xx           390.154-16           390.154-17
               linux519-nvidia-470xx        470.141.03-16        470.141.03-17
                     linux519-nvidia             515.76-1             515.76-2
                      linux519-r8168          8.050.03-16          8.050.03-17
                  linux519-rtl8723bu           20220818-3           20220818-4
                   linux519-tp_smapi              0.43-17              0.43-18
                linux519-vhba-module          20211218-17          20211218-18
    linux519-virtualbox-host-modules             6.1.38-5             6.1.38-6
                        linux519-zfs             2.1.5-17             2.1.5-18
            manjaro-documentation-en           20181009-1                    -
            manjaro-documentation-fr           20181009-1                    -
                    manjaro-firmware           20160419-1                    -


:: Different sync package(s) in repository extra x86_64

-------------------------------------------------------------------------------
                             PACKAGE           2022-09-23           2022-09-24
-------------------------------------------------------------------------------
                                lsof             4.95.0-1             4.96.3-1
                   python-virtualenv            20.14.0-1            20.14.1-1


:: Different overlay package(s) in repository kde-unstable x86_64

-------------------------------------------------------------------------------
                             PACKAGE           2022-09-23           2022-09-24
-------------------------------------------------------------------------------
                            discover5.25.5.r8842.gecb14532d-15.25.5.r8843.g84b316a5c-1
                               elisa22.08.1.r3036.g01f63956-122.08.1.r3037.g32f5640b-1
                          elisa-qtmm22.08.1.r3036.g01f63956-122.08.1.r3037.g32f5640b-1
                                kate22.08.1.r19581.gd650cd552-122.08.1.r19586.g20c8b60ea-1
                               kcalc22.08.1.r1632.gf5f967a-122.08.1.r1633.g0a89eec-1
                         kcharselect22.08.1.r542.gef794bb-122.08.1.r544.g28c1abb-1
                       kcolorchooser22.08.1.r282.g146cff8-122.08.1.r283.gb247fe8-1
                                kdav1:5.98.0.r1356.gc8fb1d7-11:5.98.0.r1357.g79ca85d-1
                     kde-dev-scripts22.08.1.r4153.gebd2fd2-122.08.1.r4158.gd1575f5-1
                          kdeconnect22.08.1.r3541.g6e679320-122.08.1.r3542.gdbf8b07c-1
            kdegraphics-thumbnailers22.08.1.r281.gb5b329a-122.08.1.r282.g60bc567-1
                    kdeplasma-addons5.25.5.r9038.g221dadaef-15.25.5.r9039.g4353fcb11-1
                               kdesu5.98.0.r519.g3e2efce-15.98.0.r521.gbda57d5-1
                             kdialog22.08.1.r1240.g076549769-122.08.1.r1241.gba56917ee-1
                         kiconthemes5.98.0.r634.gd8ca344-15.98.0.r636.g1f48af6-1
                       kimageformats5.98.0.r433.g6f3a326-15.98.0.r435.g2f27dff-1
                          kitinerary22.08.1.r2394.g903ea188-122.08.1.r2396.g3410116a-1
                           kleopatra22.08.1.r6850.g8e527a1d-122.08.1.r6852.g1dac90d9-1
                                koko 22.06.r24.g6719be6-1 22.06.r25.g9f352ee-1
                        kquickcharts5.98.0.r535.g907e6f7-15.98.0.r536.gfec03c3-1
                             kscreen5.25.5.r1537.g58b71b4-15.25.5.r1538.g07f2f68-1
                            kwayland5.98.0.r1187.gd02188a-15.98.0.r1188.ga59a303-1
                        kweathercore   0.6.r24.gbed7445-1   0.6.r25.g5f915f8-1
                                kwin5.25.5.r23216.g7b3ae310e-15.25.5.r23219.g16a5831fe-1
                              kwrite22.08.1.r19581.gd650cd552-122.08.1.r19586.g20c8b60ea-1
                    maliit-framework 2.3.0.r4.g19a763cb-1 2.3.0.r6.g5b0d1a0c-1
                             neochat22.06.r135.gd2ed1cfb-122.06.r141.ge28d1918-1
                   networkmanager-qt5.98.0.r1165.gbdae716-15.98.0.r1166.g7e4ada1-1
                           pimcommon22.08.1.r1363.g1f85cbf-122.08.1.r1365.gf4bf3c9-1
                      plasma-desktop5.25.5.r9653.g7204c2c95-15.25.5.r9658.gbd676333c-1
                       plasma-dialer22.06.r118.gfaa6e37-122.06.r119.g3461f97-1
              plasma-wayland-session5.25.5.r12379.gda38d4b03-15.25.5.r12389.gef57cd3d5-1
                    plasma-workspace5.25.5.r12379.gda38d4b03-15.25.5.r12389.gef57cd3d5-1
                  qqc2-desktop-style5.98.0.r671.ga6612fb-15.98.0.r675.ga03c9b4-1
                                rocs22.08.1.r3123.gb07c1833-122.08.1.r3128.g7f23a916-1


:: Different sync package(s) in repository multilib x86_64

-------------------------------------------------------------------------------
                             PACKAGE           2022-09-23           2022-09-24
-------------------------------------------------------------------------------
                                wine               7.17-1               7.18-1


No issue, everything went smoothly
Yes there was an issue. I was able to resolve it myself.(Please post your solution)
Yes i am currently experiencing an issue due to the update. (Please post about it)
Check if your mirror has already synced: