Hello community,
Another testing branch update with some usual updates for you.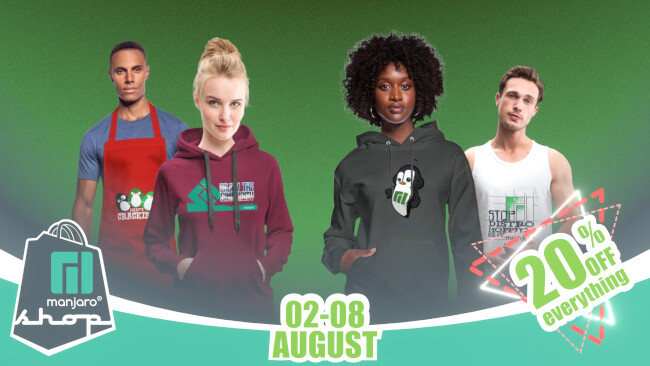 Checkout the store. From 2nd till 8th we offer 20% discount!
Some of our Kernels got updated
Firefox-Dev got a new beta release
Secure messengers Signal and Wire got updated clients
Steam-Client got renewed to 1.0.0.75
Qt5 updates
Regular Python updates
Additional Info
Info about AUR packages

AUR (Arch User Repository) packages are neither supported by Arch nor Manjaro. Posts about them in Announcement topics are off-topic and will be flagged, moved or removed without warning.

You may need to rebuild any AUR packages that install files to site-packages …
Get our latest daily developer images now from Github: Plasma, GNOME, XFCE. You get the latest stable releases of Manjaro from CDN77.
---
Our current supported kernels
linux419 4.19.254
linux54 5.4.208
linux510 5.10.134
linux515 5.15.58
linux517 5.17.15 (EOL)
linux518 5.18.15
linux519 5.19-rc8
linux515-rt 5.15.55_rt48
linux518-rt 5.18.0_rt11
Package Changes (Sat Jul 30 07:27:56 CEST 2022)
testing core x86_64: 2 new and 3 removed package(s)
testing multilib x86_64: 8 new and 8 removed package(s)
testing extra x86_64: 12 new and 12 removed package(s)
testing community x86_64: 163 new and 163 removed package(s)
Overlay Changes
testing core x86_64: 10 new and 10 removed package(s)
testing multilib x86_64: 2 new and 1 removed package(s)
testing extra x86_64: 65 new and 66 removed package(s)
testing community x86_64: 2 new and 2 removed package(s)
:: Different overlay package(s) in repository community x86_64

-------------------------------------------------------------------------------
                             PACKAGE           2022-07-27           2022-07-30
-------------------------------------------------------------------------------
                                pnpm              7.6.0-1              7.7.0-1
                              ventoy             1.0.78-1             1.0.79-1


:: Different sync package(s) in repository community x86_64

-------------------------------------------------------------------------------
                             PACKAGE           2022-07-27           2022-07-30
-------------------------------------------------------------------------------
                               bmake           20220418-1           20220726-1
                               brial             1.2.10-2             1.2.11-1
                             calibre              6.1.0-1              6.2.1-1
                          cargo-edit             0.10.2-1             0.10.4-1
                    cargo-flamegraph              0.4.0-1              0.5.1-1
                       cargo-nextest             0.9.30-1             0.9.31-1
                             chezmoi             2.19.0-1             2.20.0-1
                               clasp              3.3.7-2              3.3.8-1
                        cozy-desktop             3.35.0-1             3.36.0-1
                              cython            0.29.31-1            0.29.32-1
                             cython2            0.29.31-1            0.29.32-1
                                deno             1.24.0-1             1.24.1-1
                            diffstat               1.64-1               1.64-2
                            electron             19.0.9-2            19.0.10-1
                               fcitx            4.2.9.8-1            4.2.9.9-1
           firefox-developer-edition            104.0b2-1            104.0b3-1
  firefox-developer-edition-i18n-ach            104.0b2-1            104.0b3-1
   firefox-developer-edition-i18n-af            104.0b2-1            104.0b3-1
   firefox-developer-edition-i18n-an            104.0b2-1            104.0b3-1
   firefox-developer-edition-i18n-ar            104.0b2-1            104.0b3-1
  firefox-developer-edition-i18n-ast            104.0b2-1            104.0b3-1
   firefox-developer-edition-i18n-az            104.0b2-1            104.0b3-1
   firefox-developer-edition-i18n-be            104.0b2-1            104.0b3-1
   firefox-developer-edition-i18n-bg            104.0b2-1            104.0b3-1
   firefox-developer-edition-i18n-bn            104.0b2-1            104.0b3-1
   firefox-developer-edition-i18n-br            104.0b2-1            104.0b3-1
   firefox-developer-edition-i18n-bs            104.0b2-1            104.0b3-1
   firefox-developer-edition-i18n-ca            104.0b2-1            104.0b3-1
firefox-developer-edition-i18n-ca-valencia      104.0b2-1            104.0b3-1
  firefox-developer-edition-i18n-cak            104.0b2-1            104.0b3-1
   firefox-developer-edition-i18n-cs            104.0b2-1            104.0b3-1
   firefox-developer-edition-i18n-cy            104.0b2-1            104.0b3-1
   firefox-developer-edition-i18n-da            104.0b2-1            104.0b3-1
   firefox-developer-edition-i18n-de            104.0b2-1            104.0b3-1
  firefox-developer-edition-i18n-dsb            104.0b2-1            104.0b3-1
   firefox-developer-edition-i18n-el            104.0b2-1            104.0b3-1
firefox-developer-edition-i18n-en-ca            104.0b2-1            104.0b3-1
firefox-developer-edition-i18n-en-gb            104.0b2-1            104.0b3-1
firefox-developer-edition-i18n-en-us            104.0b2-1            104.0b3-1
   firefox-developer-edition-i18n-eo            104.0b2-1            104.0b3-1
firefox-developer-edition-i18n-es-ar            104.0b2-1            104.0b3-1
firefox-developer-edition-i18n-es-cl            104.0b2-1            104.0b3-1
firefox-developer-edition-i18n-es-es            104.0b2-1            104.0b3-1
firefox-developer-edition-i18n-es-mx            104.0b2-1            104.0b3-1
   firefox-developer-edition-i18n-et            104.0b2-1            104.0b3-1
   firefox-developer-edition-i18n-eu            104.0b2-1            104.0b3-1
   firefox-developer-edition-i18n-fa            104.0b2-1            104.0b3-1
   firefox-developer-edition-i18n-ff            104.0b2-1            104.0b3-1
   firefox-developer-edition-i18n-fi            104.0b2-1            104.0b3-1
   firefox-developer-edition-i18n-fr            104.0b2-1            104.0b3-1
firefox-developer-edition-i18n-fy-nl            104.0b2-1            104.0b3-1
firefox-developer-edition-i18n-ga-ie            104.0b2-1            104.0b3-1
   firefox-developer-edition-i18n-gd            104.0b2-1            104.0b3-1
   firefox-developer-edition-i18n-gl            104.0b2-1            104.0b3-1
   firefox-developer-edition-i18n-gn            104.0b2-1            104.0b3-1
firefox-developer-edition-i18n-gu-in            104.0b2-1            104.0b3-1
   firefox-developer-edition-i18n-he            104.0b2-1            104.0b3-1
firefox-developer-edition-i18n-hi-in            104.0b2-1            104.0b3-1
   firefox-developer-edition-i18n-hr            104.0b2-1            104.0b3-1
  firefox-developer-edition-i18n-hsb            104.0b2-1            104.0b3-1
   firefox-developer-edition-i18n-hu            104.0b2-1            104.0b3-1
firefox-developer-edition-i18n-hy-am            104.0b2-1            104.0b3-1
   firefox-developer-edition-i18n-ia            104.0b2-1            104.0b3-1
   firefox-developer-edition-i18n-id            104.0b2-1            104.0b3-1
   firefox-developer-edition-i18n-is            104.0b2-1            104.0b3-1
   firefox-developer-edition-i18n-it            104.0b2-1            104.0b3-1
   firefox-developer-edition-i18n-ja            104.0b2-1            104.0b3-1
   firefox-developer-edition-i18n-ka            104.0b2-1            104.0b3-1
  firefox-developer-edition-i18n-kab            104.0b2-1            104.0b3-1
   firefox-developer-edition-i18n-kk            104.0b2-1            104.0b3-1
   firefox-developer-edition-i18n-km            104.0b2-1            104.0b3-1
   firefox-developer-edition-i18n-kn            104.0b2-1            104.0b3-1
   firefox-developer-edition-i18n-ko            104.0b2-1            104.0b3-1
  firefox-developer-edition-i18n-lij            104.0b2-1            104.0b3-1
   firefox-developer-edition-i18n-lt            104.0b2-1            104.0b3-1
   firefox-developer-edition-i18n-lv            104.0b2-1            104.0b3-1
   firefox-developer-edition-i18n-mk            104.0b2-1            104.0b3-1
   firefox-developer-edition-i18n-mr            104.0b2-1            104.0b3-1
   firefox-developer-edition-i18n-ms            104.0b2-1            104.0b3-1
   firefox-developer-edition-i18n-my            104.0b2-1            104.0b3-1
firefox-developer-edition-i18n-nb-no            104.0b2-1            104.0b3-1
firefox-developer-edition-i18n-ne-np            104.0b2-1            104.0b3-1
   firefox-developer-edition-i18n-nl            104.0b2-1            104.0b3-1
firefox-developer-edition-i18n-nn-no            104.0b2-1            104.0b3-1
   firefox-developer-edition-i18n-oc            104.0b2-1            104.0b3-1
firefox-developer-edition-i18n-pa-in            104.0b2-1            104.0b3-1
   firefox-developer-edition-i18n-pl            104.0b2-1            104.0b3-1
firefox-developer-edition-i18n-pt-br            104.0b2-1            104.0b3-1
firefox-developer-edition-i18n-pt-pt            104.0b2-1            104.0b3-1
   firefox-developer-edition-i18n-rm            104.0b2-1            104.0b3-1
   firefox-developer-edition-i18n-ro            104.0b2-1            104.0b3-1
   firefox-developer-edition-i18n-ru            104.0b2-1            104.0b3-1
   firefox-developer-edition-i18n-si            104.0b2-1            104.0b3-1
   firefox-developer-edition-i18n-sk            104.0b2-1            104.0b3-1
   firefox-developer-edition-i18n-sl            104.0b2-1            104.0b3-1
  firefox-developer-edition-i18n-son            104.0b2-1            104.0b3-1
   firefox-developer-edition-i18n-sq            104.0b2-1            104.0b3-1
   firefox-developer-edition-i18n-sr            104.0b2-1            104.0b3-1
firefox-developer-edition-i18n-sv-se            104.0b2-1            104.0b3-1
   firefox-developer-edition-i18n-ta            104.0b2-1            104.0b3-1
   firefox-developer-edition-i18n-te            104.0b2-1            104.0b3-1
   firefox-developer-edition-i18n-th            104.0b2-1            104.0b3-1
   firefox-developer-edition-i18n-tl            104.0b2-1            104.0b3-1
   firefox-developer-edition-i18n-tr            104.0b2-1            104.0b3-1
  firefox-developer-edition-i18n-trs            104.0b2-1            104.0b3-1
   firefox-developer-edition-i18n-uk            104.0b2-1            104.0b3-1
   firefox-developer-edition-i18n-ur            104.0b2-1            104.0b3-1
   firefox-developer-edition-i18n-uz            104.0b2-1            104.0b3-1
   firefox-developer-edition-i18n-vi            104.0b2-1            104.0b3-1
   firefox-developer-edition-i18n-xh            104.0b2-1            104.0b3-1
firefox-developer-edition-i18n-zh-cn            104.0b2-1            104.0b3-1
firefox-developer-edition-i18n-zh-tw            104.0b2-1            104.0b3-1
                                fish              3.4.1-1              3.5.1-1
                             freecad             0.19.4-5               0.20-1
                         geoipupdate              4.9.0-2              4.9.0-3
                               iaito 5.5beta0.r16.g24a2eba2-2          5.7.0-1
                         jami-daemon           20220719-1           20220722-1
                             jami-qt           20220719-1           20220726-1
                                jmol           14.32.64-1           14.32.65-1
                            joyutils              1.7.1-3              1.8.1-1
                               jsmol           14.32.64-1           14.32.65-1
                               julia            2:1.7.3-2            2:1.7.3-3
                              kotlin             1.6.20-2              1.7.0-1
                              kstars            1:3.5.9-1            1:3.6.0-1
                               kubie             0.17.1-1             0.17.2-1
                             libindi              1.9.6-2              1.9.7-1
                          metasploit              6.2.7-1              6.2.8-1
                     mysql-workbench             8.0.29-2             8.0.30-1
                                ncnn           20220721-1           20220729-1
         noise-suppression-for-voice               1.02-1               1.03-1
                               opera       89.0.4447.51-1       89.0.4447.71-1
                 opera-ffmpeg-codecs     103.0.5060.114-1     103.0.5060.134-1
                           osdlyrics             0.5.10-2             0.5.11-1
                           osinfo-db           20220516-1           20220727-1
                                pass              1.7.4-2              1.7.4-3
                           plan9port           20211019-2           20220720-1
                            powerdns              4.6.2-2              4.6.3-1
                               procs             0.12.3-1             0.13.0-1
                       python-gitlab              3.6.0-1              3.7.0-1
                     python-httplib2             0.20.3-1             0.20.4-1
                       python-manuel             1.10.1-7             1.12.4-1
              python-memory-profiler             0.58.0-3               0.60-1
                  python-precis_i18n              1.0.3-4              1.0.4-1
                      python-pypugjs             5.9.11-1             5.9.12-1
                       python-r2pipe              5.4.0-2              5.7.0-1
                       python-rzpipe              0.1.0-2              0.4.0-1
                        python-scipy              1.8.1-1              1.9.0-1
                        python-tftpy              0.8.0-4              0.8.2-1
                               rekor              0.9.1-1             0.10.0-1
                          rofi-emoji              2.3.0-1              3.0.1-1
                         shellharden              4.2.0-2              4.3.0-1
                      signal-desktop             5.51.1-1             5.52.0-1
                               sndio              1.8.1-2              1.9.0-1
                         superslicer         1:2.4.58.3-1         1:2.4.58.3-2
                     taskwarrior-tui             0.23.4-1             0.23.5-1
                       ttf-joypixels              6.6.0-2              7.0.0-1
         v2ray-domain-list-community     20220726112658-1     20220728161132-1
                         v2ray-geoip       202207210057-1       202207280056-1
                 waifu2x-ncnn-vulkan           20220419-2           20220728-1
                        wire-desktop          3.27.2944-1          3.28.2946-1
                           wordpress              5.9.3-2              6.0.1-1
                              zellij             0.30.0-1             0.31.0-1
                               zutty               0.11-2               0.12-1


:: Different overlay package(s) in repository core x86_64

-------------------------------------------------------------------------------
                             PACKAGE           2022-07-27           2022-07-30
-------------------------------------------------------------------------------
                            linux419           4.19.253-1           4.19.254-1
                    linux419-headers           4.19.253-1           4.19.254-1
                            linux510           5.10.133-1           5.10.134-1
                    linux510-headers           5.10.133-1           5.10.134-1
                            linux515            5.15.57-2            5.15.58-1
                    linux515-headers            5.15.57-2            5.15.58-1
                            linux518            5.18.14-1            5.18.15-1
                    linux518-headers            5.18.14-1            5.18.15-1
                             linux54            5.4.207-1            5.4.208-1
                     linux54-headers            5.4.207-1            5.4.208-1


:: Different sync package(s) in repository core x86_64

-------------------------------------------------------------------------------
                             PACKAGE           2022-07-27           2022-07-30
-------------------------------------------------------------------------------
                   archlinux-keyring           20220713-2           20220727-1
                                base                  3-1                    -
                          cryptsetup              2.4.3-2              2.5.0-1


:: Different overlay package(s) in repository extra x86_64

-------------------------------------------------------------------------------
                             PACKAGE           2022-07-27           2022-07-30
-------------------------------------------------------------------------------
                           calamares             3.2.60-5             3.2.60-6
                  linux419-acpi_call             1.2.2-40             1.2.2-41
                   linux419-bbswitch              0.8-253              0.8-254
                linux419-broadcom-wl     6.30.223.271-253     6.30.223.271-254
                linux419-ndiswrapper             1.63-143             1.63-144
               linux419-nvidia-390xx           390.151-16           390.151-17
               linux419-nvidia-470xx        470.129.06-14        470.129.06-15
                     linux419-nvidia             515.57-7             515.57-8
                   linux419-nvidiabl             0.88-252             0.88-253
                      linux419-r8168          8.049.02-64          8.049.02-65
                  linux419-rtl8723bu          20220114-35          20220114-36
                   linux419-tp_smapi             0.43-202             0.43-203
                linux419-vhba-module          20211218-36          20211218-37
    linux419-virtualbox-host-modules             6.1.36-2             6.1.36-3
                        linux419-zfs              2.1.5-8              2.1.5-9
                  linux510-acpi_call             1.2.2-51             1.2.2-52
                   linux510-bbswitch              0.8-152              0.8-153
                linux510-broadcom-wl     6.30.223.271-154     6.30.223.271-155
               linux510-nvidia-390xx           390.151-20           390.151-21
               linux510-nvidia-470xx        470.129.06-19        470.129.06-20
                     linux510-nvidia             515.57-8             515.57-9
                      linux510-r8168          8.049.02-89          8.049.02-90
                  linux510-rtl8723bu          20220114-45          20220114-46
                   linux510-tp_smapi             0.43-152             0.43-153
                linux510-vhba-module          20211218-47          20211218-48
    linux510-virtualbox-host-modules             6.1.36-3             6.1.36-4
                        linux510-zfs              2.1.5-9             2.1.5-10
                  linux515-acpi_call             1.2.2-54             1.2.2-55
                   linux515-bbswitch               0.8-69               0.8-70
                linux515-broadcom-wl      6.30.223.271-69      6.30.223.271-70
               linux515-nvidia-390xx           390.151-54           390.151-55
               linux515-nvidia-470xx        470.129.06-21        470.129.06-22
                     linux515-nvidia             515.57-9            515.57-10
                      linux515-r8168          8.049.02-69          8.049.02-70
                  linux515-rtl8723bu          20220114-48          20220114-49
                   linux515-tp_smapi              0.43-69              0.43-70
                linux515-vhba-module          20211218-50          20211218-51
    linux515-virtualbox-host-modules             6.1.36-4             6.1.36-5
                        linux515-zfs             2.1.5-10             2.1.5-11
                  linux518-acpi_call             1.2.2-18             1.2.2-19
                   linux518-bbswitch               0.8-18               0.8-19
                linux518-broadcom-wl      6.30.223.271-17      6.30.223.271-18
               linux518-nvidia-390xx           390.151-19           390.151-20
               linux518-nvidia-470xx        470.129.06-19        470.129.06-20
                     linux518-nvidia            515.57-10            515.57-11
                      linux518-r8168          8.049.02-18          8.049.02-19
                  linux518-rtl8723bu          20220522-18          20220522-19
                   linux518-tp_smapi              0.43-18              0.43-19
                linux518-vhba-module          20211218-18          20211218-19
    linux518-virtualbox-host-modules             6.1.36-3             6.1.36-4
                        linux518-zfs             2.1.5-11             2.1.5-12
                   linux54-acpi_call             1.2.2-46             1.2.2-47
                    linux54-bbswitch              0.8-220              0.8-221
                 linux54-broadcom-wl     6.30.223.271-221     6.30.223.271-222
                 linux54-ndiswrapper             1.63-176             1.63-177
                linux54-nvidia-390xx           390.151-16           390.151-17
                linux54-nvidia-470xx        470.129.06-16        470.129.06-17
                      linux54-nvidia             515.57-7             515.57-8
                    linux54-nvidiabl             0.88-220             0.88-221
                       linux54-r8168          8.049.02-82          8.049.02-83
                   linux54-rtl8723bu          20220114-40          20220114-41
                    linux54-tp_smapi             0.43-220             0.43-221
                 linux54-vhba-module          20211218-42          20211218-43
     linux54-virtualbox-host-modules             6.1.36-2             6.1.36-3
                         linux54-zfs              2.1.5-8              2.1.5-9


:: Different sync package(s) in repository extra x86_64

-------------------------------------------------------------------------------
                             PACKAGE           2022-07-27           2022-07-30
-------------------------------------------------------------------------------
                           aiksaurus              1.2.1-7              1.2.1-9
                               cmake             3.23.2-2             3.23.3-1
                               gedit               42.1-1               42.2-1
                           mercurial                6.2-1              6.2.1-1
                            qt5-base    5.15.5+kde+r173-1    5.15.5+kde+r174-1
                         qt5-wayland     5.15.5+kde+r38-2     5.15.5+kde+r38-3
             qt5-xcb-private-headers    5.15.5+kde+r173-1    5.15.5+kde+r174-1
                           uhttpmock              0.5.3-1              0.5.5-1
                          webkit2gtk             2.36.4-2             2.36.5-1
                      webkit2gtk-4.1             2.36.4-2             2.36.5-1
                      webkit2gtk-5.0             2.36.4-2             2.36.5-1
                           wpewebkit             2.36.4-2             2.36.5-1


:: Different overlay package(s) in repository multilib x86_64

-------------------------------------------------------------------------------
                             PACKAGE           2022-07-27           2022-07-30
-------------------------------------------------------------------------------
                       steam-manjaro           1.0.0.74-1           1.0.0.75-1
              lib32-libxcrypt-compat                    -             4.4.28-4


:: Different sync package(s) in repository multilib x86_64

-------------------------------------------------------------------------------
                             PACKAGE           2022-07-27           2022-07-30
-------------------------------------------------------------------------------
                         lib32-boost             1.78.0-4             1.79.0-1
                    lib32-boost-libs             1.78.0-4             1.79.0-1
                         lib32-libva             2.14.0-1             2.15.0-1
                        lib32-libvpx             1.11.0-2             1.12.0-1
                    lib32-sdl2_image              2.0.5-2              2.6.0-1
                    lib32-sdl2_mixer              2.0.4-2              2.6.1-1
                      lib32-sdl2_ttf             2.0.18-1             2.20.0-1
                       lib32-wayland             1.20.0-2             1.21.0-1


No issue, everything went smoothly
Yes there was an issue. I was able to resolve it myself.(Please post your solution)
Yes i am currently experiencing an issue due to the update. (Please post about it)
Check if your mirror has already synced: