Hello community,
Another testing branch update with some usual updates for you.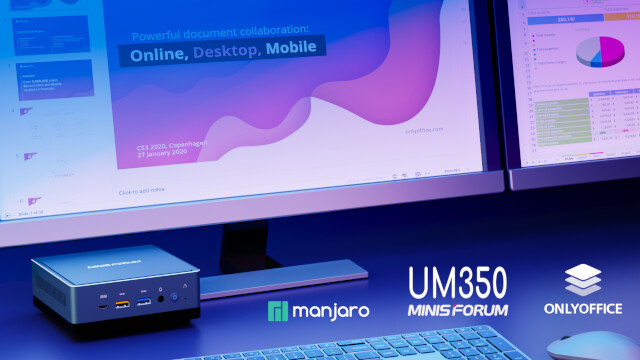 In need an Office-ready MiniPC? Check out the UM350 shipping with KDE Plasma and OnlyOffice pre-installed!
Mesa got updated to 22.0.4
Latest Firefox 100.0.2 and beta release
Thunderbird 91.9.1
Qemu got some fixes for virtio-scsi fixing 100% CPU consumption in IOThread added
Daily KDE-git updates
Some regular updates from upstream incl. haskell
Additional Info
Info about AUR packages

AUR (Arch User Repository) packages are neither supported by Arch nor Manjaro. Posts about them in Annoucement topics are off-topic and will be flagged, moved or removed without warning.

You may need to rebuild any AUR packages that install files to site-packages …
Get our latest daily developer images now from Github: Plasma, GNOME, XFCE. You get the latest stable releases of Manjaro from CDN77.
---
Our current supported kernels
linux49 4.9.315
linux414 4.14.280
linux419 4.19.244
linux54 5.4.195
linux510 5.10.117
linux515 5.15.41
linux516 5.16.20 [EOL]
linux517 5.17.9
linux518 5.18-rc7
linux515-rt 5.15.36_rt41
linux517-rt 5.17.1_rt17
Package Changes (Thu May 19 06:51:40 CEST 2022)
testing community x86_64: 545 new and 542 removed package(s)
testing core x86_64: 14 new and 14 removed package(s)
testing extra x86_64: 108 new and 108 removed package(s)
testing kde-unstable x86_64: 38 new and 38 removed package(s)
testing multilib x86_64: 1 new and 1 removed package(s)
:: Different overlay package(s) in repository community x86_64

-------------------------------------------------------------------------------
                             PACKAGE           2022-05-19           2022-05-21
-------------------------------------------------------------------------------
     gnome-shell-extension-pop-shell 1.2.0+247+g034fb14-1 1.2.0+251+g0358b15-1
                  switcheroo-control                2.5-1                2.5-3
                   system76-firmware             1.0.36-1  1.0.36+1+gfeb9a46-1
            system76-firmware-daemon             1.0.36-1  1.0.36+1+gfeb9a46-1
                                 tlp              1.5.0-3              1.5.0-4
                             tlp-rdw              1.5.0-3              1.5.0-4


:: Different sync package(s) in repository community x86_64

-------------------------------------------------------------------------------
                             PACKAGE           2022-05-19           2022-05-21
-------------------------------------------------------------------------------
                             acsccid              1.1.8-1              1.1.8-2
                             ansible              5.7.1-1              5.8.0-1
                        ansible-lint              6.2.0-1              6.2.1-1
                              argocd              2.3.3-2              2.3.4-1
                               cacti             1.2.20-1             1.2.21-1
                                cage              0.1.4-5              0.1.4-7
                          cargo-deny             0.12.0-1             0.12.1-1
                             chezmoi             2.15.4-1             2.16.0-1
                                code             1.67.1-1             1.67.2-1
                               cri-o             1.23.2-2             1.24.0-1
                              crictl             1.23.0-2             1.24.1-1
                             critest             1.23.0-2             1.24.1-1
                                deno             1.21.3-1             1.22.0-1
                          diffoscope                212-1                213-1
                           drumstick              2.6.0-1              2.6.1-1
                             e-antic              1.2.0-1              1.2.1-1
                         emby-server            4.6.7.0-4           4.7.0.60-1
                              evtest               1.34-2               1.35-1
           firefox-developer-edition            101.0b8-1            101.0b9-1
  firefox-developer-edition-i18n-ach            101.0b8-1            101.0b9-1
   firefox-developer-edition-i18n-af            101.0b8-1            101.0b9-1
   firefox-developer-edition-i18n-an            101.0b8-1            101.0b9-1
   firefox-developer-edition-i18n-ar            101.0b8-1            101.0b9-1
  firefox-developer-edition-i18n-ast            101.0b8-1            101.0b9-1
   firefox-developer-edition-i18n-az            101.0b8-1            101.0b9-1
   firefox-developer-edition-i18n-be            101.0b8-1            101.0b9-1
   firefox-developer-edition-i18n-bg            101.0b8-1            101.0b9-1
   firefox-developer-edition-i18n-bn            101.0b8-1            101.0b9-1
   firefox-developer-edition-i18n-br            101.0b8-1            101.0b9-1
   firefox-developer-edition-i18n-bs            101.0b8-1            101.0b9-1
   firefox-developer-edition-i18n-ca            101.0b8-1            101.0b9-1
firefox-developer-edition-i18n-ca-valencia      101.0b8-1            101.0b9-1
  firefox-developer-edition-i18n-cak            101.0b8-1            101.0b9-1
   firefox-developer-edition-i18n-cs            101.0b8-1            101.0b9-1
   firefox-developer-edition-i18n-cy            101.0b8-1            101.0b9-1
   firefox-developer-edition-i18n-da            101.0b8-1            101.0b9-1
   firefox-developer-edition-i18n-de            101.0b8-1            101.0b9-1
  firefox-developer-edition-i18n-dsb            101.0b8-1            101.0b9-1
   firefox-developer-edition-i18n-el            101.0b8-1            101.0b9-1
firefox-developer-edition-i18n-en-ca            101.0b8-1            101.0b9-1
firefox-developer-edition-i18n-en-gb            101.0b8-1            101.0b9-1
firefox-developer-edition-i18n-en-us            101.0b8-1            101.0b9-1
   firefox-developer-edition-i18n-eo            101.0b8-1            101.0b9-1
firefox-developer-edition-i18n-es-ar            101.0b8-1            101.0b9-1
firefox-developer-edition-i18n-es-cl            101.0b8-1            101.0b9-1
firefox-developer-edition-i18n-es-es            101.0b8-1            101.0b9-1
firefox-developer-edition-i18n-es-mx            101.0b8-1            101.0b9-1
   firefox-developer-edition-i18n-et            101.0b8-1            101.0b9-1
   firefox-developer-edition-i18n-eu            101.0b8-1            101.0b9-1
   firefox-developer-edition-i18n-fa            101.0b8-1            101.0b9-1
   firefox-developer-edition-i18n-ff            101.0b8-1            101.0b9-1
   firefox-developer-edition-i18n-fi            101.0b8-1            101.0b9-1
   firefox-developer-edition-i18n-fr            101.0b8-1            101.0b9-1
firefox-developer-edition-i18n-fy-nl            101.0b8-1            101.0b9-1
firefox-developer-edition-i18n-ga-ie            101.0b8-1            101.0b9-1
   firefox-developer-edition-i18n-gd            101.0b8-1            101.0b9-1
   firefox-developer-edition-i18n-gl            101.0b8-1            101.0b9-1
   firefox-developer-edition-i18n-gn            101.0b8-1            101.0b9-1
firefox-developer-edition-i18n-gu-in            101.0b8-1            101.0b9-1
   firefox-developer-edition-i18n-he            101.0b8-1            101.0b9-1
firefox-developer-edition-i18n-hi-in            101.0b8-1            101.0b9-1
   firefox-developer-edition-i18n-hr            101.0b8-1            101.0b9-1
  firefox-developer-edition-i18n-hsb            101.0b8-1            101.0b9-1
   firefox-developer-edition-i18n-hu            101.0b8-1            101.0b9-1
firefox-developer-edition-i18n-hy-am            101.0b8-1            101.0b9-1
   firefox-developer-edition-i18n-ia            101.0b8-1            101.0b9-1
   firefox-developer-edition-i18n-id            101.0b8-1            101.0b9-1
   firefox-developer-edition-i18n-is            101.0b8-1            101.0b9-1
   firefox-developer-edition-i18n-it            101.0b8-1            101.0b9-1
   firefox-developer-edition-i18n-ja            101.0b8-1            101.0b9-1
   firefox-developer-edition-i18n-ka            101.0b8-1            101.0b9-1
  firefox-developer-edition-i18n-kab            101.0b8-1            101.0b9-1
   firefox-developer-edition-i18n-kk            101.0b8-1            101.0b9-1
   firefox-developer-edition-i18n-km            101.0b8-1            101.0b9-1
   firefox-developer-edition-i18n-kn            101.0b8-1            101.0b9-1
   firefox-developer-edition-i18n-ko            101.0b8-1            101.0b9-1
  firefox-developer-edition-i18n-lij            101.0b8-1            101.0b9-1
   firefox-developer-edition-i18n-lt            101.0b8-1            101.0b9-1
   firefox-developer-edition-i18n-lv            101.0b8-1            101.0b9-1
   firefox-developer-edition-i18n-mk            101.0b8-1            101.0b9-1
   firefox-developer-edition-i18n-mr            101.0b8-1            101.0b9-1
   firefox-developer-edition-i18n-ms            101.0b8-1            101.0b9-1
   firefox-developer-edition-i18n-my            101.0b8-1            101.0b9-1
firefox-developer-edition-i18n-nb-no            101.0b8-1            101.0b9-1
firefox-developer-edition-i18n-ne-np            101.0b8-1            101.0b9-1
   firefox-developer-edition-i18n-nl            101.0b8-1            101.0b9-1
firefox-developer-edition-i18n-nn-no            101.0b8-1            101.0b9-1
   firefox-developer-edition-i18n-oc            101.0b8-1            101.0b9-1
firefox-developer-edition-i18n-pa-in            101.0b8-1            101.0b9-1
   firefox-developer-edition-i18n-pl            101.0b8-1            101.0b9-1
firefox-developer-edition-i18n-pt-br            101.0b8-1            101.0b9-1
firefox-developer-edition-i18n-pt-pt            101.0b8-1            101.0b9-1
   firefox-developer-edition-i18n-rm            101.0b8-1            101.0b9-1
   firefox-developer-edition-i18n-ro            101.0b8-1            101.0b9-1
   firefox-developer-edition-i18n-ru            101.0b8-1            101.0b9-1
   firefox-developer-edition-i18n-si            101.0b8-1            101.0b9-1
   firefox-developer-edition-i18n-sk            101.0b8-1            101.0b9-1
   firefox-developer-edition-i18n-sl            101.0b8-1            101.0b9-1
  firefox-developer-edition-i18n-son            101.0b8-1            101.0b9-1
   firefox-developer-edition-i18n-sq            101.0b8-1            101.0b9-1
   firefox-developer-edition-i18n-sr            101.0b8-1            101.0b9-1
firefox-developer-edition-i18n-sv-se            101.0b8-1            101.0b9-1
   firefox-developer-edition-i18n-ta            101.0b8-1            101.0b9-1
   firefox-developer-edition-i18n-te            101.0b8-1            101.0b9-1
   firefox-developer-edition-i18n-th            101.0b8-1            101.0b9-1
   firefox-developer-edition-i18n-tl            101.0b8-1            101.0b9-1
   firefox-developer-edition-i18n-tr            101.0b8-1            101.0b9-1
  firefox-developer-edition-i18n-trs            101.0b8-1            101.0b9-1
   firefox-developer-edition-i18n-uk            101.0b8-1            101.0b9-1
   firefox-developer-edition-i18n-ur            101.0b8-1            101.0b9-1
   firefox-developer-edition-i18n-uz            101.0b8-1            101.0b9-1
   firefox-developer-edition-i18n-vi            101.0b8-1            101.0b9-1
   firefox-developer-edition-i18n-xh            101.0b8-1            101.0b9-1
firefox-developer-edition-i18n-zh-cn            101.0b8-1            101.0b9-1
firefox-developer-edition-i18n-zh-tw            101.0b8-1            101.0b9-1
                            flashrom                1.2-3                1.2-4
                           git-annex       10.20220504-15       10.20220504-16
                               gopls              0.8.3-1              0.8.4-1
                             grafana              8.4.6-1              8.5.3-1
                            gunicorn             20.1.0-3             20.1.0-4
                         gupnp-tools             0.10.2-1             0.10.3-1
                          haskell-ci           0.12.1-227           0.12.1-228
                    haskell-citeproc           0.6.0.1-46           0.6.0.1-47
                      haskell-hakyll          4.15.1.1-42          4.15.1.1-43
           haskell-unicode-collation           0.1.3.1-39            0.1.3.2-1
                       haskell-yesod             1.6.2-43             1.6.2-44
                  haskell-yesod-auth          1.6.10.5-23          1.6.10.5-24
                  haskell-yesod-core             1.6.23-9           1.6.23.1-1
                  haskell-yesod-form            1.7.0-207            1.7.0-208
            haskell-yesod-persistent           1.6.0.8-16           1.6.0.8-17
                haskell-yesod-static          1.6.1.0-444          1.6.1.0-445
                  haskell-yesod-test           1.6.12-316           1.6.12-317
                         hledger-web              1.25-65              1.25-66
               intel-compute-runtime        22.19.23136-1        22.20.23198-1
             intel-graphics-compiler        1:1.0.11104-1        1:1.0.11222-1
                                ipxe             1.21.1-3             1.21.1-4
                                  jc             1.18.8-1             1.19.0-1
                                jmol           14.32.56-1           14.32.57-1
                               jsmol           14.32.56-1           14.32.57-1
                      kube-apiserver             1.23.6-2             1.24.0-1
             kube-controller-manager             1.23.6-2             1.24.0-1
                          kube-proxy             1.23.6-2             1.24.0-1
                      kube-scheduler             1.23.6-2             1.24.0-1
                             kubeadm             1.23.6-2             1.24.0-1
                             kubectl             1.23.6-2             1.24.0-1
                             kubelet             1.23.6-2             1.24.0-1
     kubernetes-control-plane-common             1.23.6-2             1.24.0-1
                            libressl              3.5.2-1              3.5.3-1
                            libretls              3.4.2-1              3.5.2-1
                       libspecbleach              0.1.5-1              0.1.6-1
                          lua-dkjson                2.5-5                2.6-1
                        lua51-dkjson                2.5-5                2.6-1
                        lua52-dkjson                2.5-5                2.6-1
                        lua53-dkjson                2.5-5                2.6-1
                             mathjax              3.2.0-1              3.2.1-1
                               mdcat             0.26.1-1             0.27.1-1
                             nerdctl             0.19.0-2             0.20.0-1
               netfilter-fullconenat      r73.0cf3b48-204      r73.0cf3b48-205
                    nextcloud-client            2:3.5.0-1            2:3.5.1-2
     nextcloud-client-cloudproviders            2:3.5.0-1            2:3.5.1-2
                                 nix              2.8.0-1              2.8.1-1
                            nix-docs              2.8.0-1              2.8.1-1
                     noise-repellent              0.2.2-1              0.2.3-1
                               nomad              1.2.6-3              1.3.0-1
                   npm-check-updates            12.5.12-1             13.0.0-1
                              nuitka              0.7.7-1                0.8-1
                              pandoc          2.17.1.1-29          2.17.1.1-30
                     pandoc-crossref         0.3.12.2-100         0.3.12.2-101
                                pdal              2.4.0-1              2.4.1-1
                               pdfjs           2.13.216-1           2.14.305-1
                         pmbootstrap             1.43.0-2             1.43.1-1
                     python-cmarkgfm              0.7.0-1              0.8.0-1
                      python-dulwich            0.20.38-1            0.20.40-1
                        python-fints              3.0.1-2              3.1.0-1
                        python-gnupg              0.4.8-2              0.4.9-1
              python-google-api-core              2.7.2-1              2.8.0-1
     python-google-api-python-client             2.46.0-1             2.48.0-1
                     python-identify              2.5.0-1              2.5.1-1
                     python-paramiko              2.9.2-1             2.11.0-1
                   python-pynitrokey             0.4.21-1             0.4.22-1
                 python-scikit-learn              1.1.0-1              1.1.1-1
                        python-spsdk              1.6.3-2              1.6.3-3
                        python-ujson              5.2.0-1              5.3.0-1
                        python-utils              3.2.2-1              3.2.3-1
                               reuse             0.14.0-1              1.0.0-1
               riscv64-linux-gnu-gcc             11.1.0-1             12.1.0-1
                          serverless             3.17.0-1             3.18.1-1
                          shellcheck            0.8.0-107            0.8.0-108
                         staticcheck           2022.1.1-2           2022.1.2-1
                                sway              1:1.7-2              1:1.7-9
                      tamarin-prover            1.6.1-152            1.6.1-153
                           terraform              1.1.9-1              1.2.0-1
                  ukui-window-switch              3.0.1-3              3.0.1-4
         v2ray-domain-list-community     20220517114214-1     20220519111546-1
                         v2ray-geoip       202205120051-1       202205190058-1
                             vst3sdk     3.7.4_build_25-1     3.7.5_build_44-1
                             yoshimi            2.1.2.2-1              2.2.0-1
                               zcash              4.7.0-1              5.0.0-1
                       cl-alexandria                    -   1.4.r17.g2f39fbf-1
                               cl-rt               - 1990.12.19.r19.ga6a7503-2


:: Different sync package(s) in repository core x86_64

-------------------------------------------------------------------------------
                             PACKAGE           2022-05-19           2022-05-21
-------------------------------------------------------------------------------
                            iptables            1:1.8.7-1            1:1.8.8-1
                        iptables-nft            1:1.8.7-1            1:1.8.8-1


:: Different overlay package(s) in repository extra x86_64

-------------------------------------------------------------------------------
                             PACKAGE           2022-05-19           2022-05-21
-------------------------------------------------------------------------------
                gnome-control-center               42.1-4               42.1-5


:: Different sync package(s) in repository extra x86_64

-------------------------------------------------------------------------------
                             PACKAGE           2022-05-19           2022-05-21
-------------------------------------------------------------------------------
                              amdvlk          2022.Q2.1-1          2022.Q2.2-1
                                bind             9.18.2-1             9.18.3-1
                             firefox            100.0.1-1            100.0.2-1
                    firefox-i18n-ach            100.0.1-1            100.0.2-1
                     firefox-i18n-af            100.0.1-1            100.0.2-1
                     firefox-i18n-an            100.0.1-1            100.0.2-1
                     firefox-i18n-ar            100.0.1-1            100.0.2-1
                    firefox-i18n-ast            100.0.1-1            100.0.2-1
                     firefox-i18n-az            100.0.1-1            100.0.2-1
                     firefox-i18n-be            100.0.1-1            100.0.2-1
                     firefox-i18n-bg            100.0.1-1            100.0.2-1
                     firefox-i18n-bn            100.0.1-1            100.0.2-1
                     firefox-i18n-br            100.0.1-1            100.0.2-1
                     firefox-i18n-bs            100.0.1-1            100.0.2-1
                     firefox-i18n-ca            100.0.1-1            100.0.2-1
            firefox-i18n-ca-valencia            100.0.1-1            100.0.2-1
                    firefox-i18n-cak            100.0.1-1            100.0.2-1
                     firefox-i18n-cs            100.0.1-1            100.0.2-1
                     firefox-i18n-cy            100.0.1-1            100.0.2-1
                     firefox-i18n-da            100.0.1-1            100.0.2-1
                     firefox-i18n-de            100.0.1-1            100.0.2-1
                    firefox-i18n-dsb            100.0.1-1            100.0.2-1
                     firefox-i18n-el            100.0.1-1            100.0.2-1
                  firefox-i18n-en-ca            100.0.1-1            100.0.2-1
                  firefox-i18n-en-gb            100.0.1-1            100.0.2-1
                  firefox-i18n-en-us            100.0.1-1            100.0.2-1
                     firefox-i18n-eo            100.0.1-1            100.0.2-1
                  firefox-i18n-es-ar            100.0.1-1            100.0.2-1
                  firefox-i18n-es-cl            100.0.1-1            100.0.2-1
                  firefox-i18n-es-es            100.0.1-1            100.0.2-1
                  firefox-i18n-es-mx            100.0.1-1            100.0.2-1
                     firefox-i18n-et            100.0.1-1            100.0.2-1
                     firefox-i18n-eu            100.0.1-1            100.0.2-1
                     firefox-i18n-fa            100.0.1-1            100.0.2-1
                     firefox-i18n-ff            100.0.1-1            100.0.2-1
                     firefox-i18n-fi            100.0.1-1            100.0.2-1
                     firefox-i18n-fr            100.0.1-1            100.0.2-1
                  firefox-i18n-fy-nl            100.0.1-1            100.0.2-1
                  firefox-i18n-ga-ie            100.0.1-1            100.0.2-1
                     firefox-i18n-gd            100.0.1-1            100.0.2-1
                     firefox-i18n-gl            100.0.1-1            100.0.2-1
                     firefox-i18n-gn            100.0.1-1            100.0.2-1
                  firefox-i18n-gu-in            100.0.1-1            100.0.2-1
                     firefox-i18n-he            100.0.1-1            100.0.2-1
                  firefox-i18n-hi-in            100.0.1-1            100.0.2-1
                     firefox-i18n-hr            100.0.1-1            100.0.2-1
                    firefox-i18n-hsb            100.0.1-1            100.0.2-1
                     firefox-i18n-hu            100.0.1-1            100.0.2-1
                  firefox-i18n-hy-am            100.0.1-1            100.0.2-1
                     firefox-i18n-ia            100.0.1-1            100.0.2-1
                     firefox-i18n-id            100.0.1-1            100.0.2-1
                     firefox-i18n-is            100.0.1-1            100.0.2-1
                     firefox-i18n-it            100.0.1-1            100.0.2-1
                     firefox-i18n-ja            100.0.1-1            100.0.2-1
                     firefox-i18n-ka            100.0.1-1            100.0.2-1
                    firefox-i18n-kab            100.0.1-1            100.0.2-1
                     firefox-i18n-kk            100.0.1-1            100.0.2-1
                     firefox-i18n-km            100.0.1-1            100.0.2-1
                     firefox-i18n-kn            100.0.1-1            100.0.2-1
                     firefox-i18n-ko            100.0.1-1            100.0.2-1
                    firefox-i18n-lij            100.0.1-1            100.0.2-1
                     firefox-i18n-lt            100.0.1-1            100.0.2-1
                     firefox-i18n-lv            100.0.1-1            100.0.2-1
                     firefox-i18n-mk            100.0.1-1            100.0.2-1
                     firefox-i18n-mr            100.0.1-1            100.0.2-1
                     firefox-i18n-ms            100.0.1-1            100.0.2-1
                     firefox-i18n-my            100.0.1-1            100.0.2-1
                  firefox-i18n-nb-no            100.0.1-1            100.0.2-1
                  firefox-i18n-ne-np            100.0.1-1            100.0.2-1
                     firefox-i18n-nl            100.0.1-1            100.0.2-1
                  firefox-i18n-nn-no            100.0.1-1            100.0.2-1
                     firefox-i18n-oc            100.0.1-1            100.0.2-1
                  firefox-i18n-pa-in            100.0.1-1            100.0.2-1
                     firefox-i18n-pl            100.0.1-1            100.0.2-1
                  firefox-i18n-pt-br            100.0.1-1            100.0.2-1
                  firefox-i18n-pt-pt            100.0.1-1            100.0.2-1
                     firefox-i18n-rm            100.0.1-1            100.0.2-1
                     firefox-i18n-ro            100.0.1-1            100.0.2-1
                     firefox-i18n-ru            100.0.1-1            100.0.2-1
                    firefox-i18n-sco            100.0.1-1            100.0.2-1
                     firefox-i18n-si            100.0.1-1            100.0.2-1
                     firefox-i18n-sk            100.0.1-1            100.0.2-1
                     firefox-i18n-sl            100.0.1-1            100.0.2-1
                    firefox-i18n-son            100.0.1-1            100.0.2-1
                     firefox-i18n-sq            100.0.1-1            100.0.2-1
                     firefox-i18n-sr            100.0.1-1            100.0.2-1
                  firefox-i18n-sv-se            100.0.1-1            100.0.2-1
                    firefox-i18n-szl            100.0.1-1            100.0.2-1
                     firefox-i18n-ta            100.0.1-1            100.0.2-1
                     firefox-i18n-te            100.0.1-1            100.0.2-1
                     firefox-i18n-th            100.0.1-1            100.0.2-1
                     firefox-i18n-tl            100.0.1-1            100.0.2-1
                     firefox-i18n-tr            100.0.1-1            100.0.2-1
                    firefox-i18n-trs            100.0.1-1            100.0.2-1
                     firefox-i18n-uk            100.0.1-1            100.0.2-1
                     firefox-i18n-ur            100.0.1-1            100.0.2-1
                     firefox-i18n-uz            100.0.1-1            100.0.2-1
                     firefox-i18n-vi            100.0.1-1            100.0.2-1
                     firefox-i18n-xh            100.0.1-1            100.0.2-1
                  firefox-i18n-zh-cn            100.0.1-1            100.0.2-1
                  firefox-i18n-zh-tw            100.0.1-1            100.0.2-1
                               krita              5.0.6-1              5.0.6-2
                     lib32-rust-libs           1:1.60.0-1           1:1.61.0-1
                       libjpeg-turbo              2.1.3-1              2.1.3-2
               libnetfilter_cthelper              1.0.0-4              1.0.1-1
              libnetfilter_cttimeout              1.0.0-6              1.0.1-1
                      libphonenumber          1:8.12.47-1          1:8.12.48-1
                   libva-mesa-driver             22.0.3-1             22.0.4-1
                                llvm             13.0.1-3             13.0.1-4
                           llvm-libs             13.0.1-3             13.0.1-4
                          llvm-ocaml             13.0.1-3             13.0.1-4
                          malcontent             0.10.3-2             0.10.4-1
                                mesa             22.0.3-1             22.0.4-1
                          mesa-vdpau             22.0.3-1             22.0.4-1
                         opencl-mesa             22.0.3-1             22.0.4-1
                     qemu-audio-alsa              7.0.0-9             7.0.0-10
                     qemu-audio-dbus              7.0.0-9             7.0.0-10
                     qemu-audio-jack              7.0.0-9             7.0.0-10
                      qemu-audio-oss              7.0.0-9             7.0.0-10
                       qemu-audio-pa              7.0.0-9             7.0.0-10
                      qemu-audio-sdl              7.0.0-9             7.0.0-10
                    qemu-audio-spice              7.0.0-9             7.0.0-10
                           qemu-base              7.0.0-9             7.0.0-10
                     qemu-block-curl              7.0.0-9             7.0.0-10
                      qemu-block-dmg              7.0.0-9             7.0.0-10
                  qemu-block-gluster              7.0.0-9             7.0.0-10
                    qemu-block-iscsi              7.0.0-9             7.0.0-10
                      qemu-block-nfs              7.0.0-9             7.0.0-10
                      qemu-block-rbd              7.0.0-9             7.0.0-10
                      qemu-block-ssh              7.0.0-9             7.0.0-10
                   qemu-chardev-baum              7.0.0-9             7.0.0-10
                  qemu-chardev-spice              7.0.0-9             7.0.0-10
                         qemu-common              7.0.0-9             7.0.0-10
                        qemu-desktop              7.0.0-9             7.0.0-10
                           qemu-docs              7.0.0-9             7.0.0-10
                 qemu-emulators-full              7.0.0-9             7.0.0-10
                           qemu-full              7.0.0-9             7.0.0-10
                    qemu-guest-agent              7.0.0-9             7.0.0-10
                 qemu-hw-display-qxl              7.0.0-9             7.0.0-10
          qemu-hw-display-virtio-gpu              7.0.0-9             7.0.0-10
       qemu-hw-display-virtio-gpu-gl              7.0.0-9             7.0.0-10
      qemu-hw-display-virtio-gpu-pci              7.0.0-9             7.0.0-10
   qemu-hw-display-virtio-gpu-pci-gl              7.0.0-9             7.0.0-10
          qemu-hw-display-virtio-vga              7.0.0-9             7.0.0-10
       qemu-hw-display-virtio-vga-gl              7.0.0-9             7.0.0-10
        qemu-hw-s390x-virtio-gpu-ccw              7.0.0-9             7.0.0-10
                    qemu-hw-usb-host              7.0.0-9             7.0.0-10
                qemu-hw-usb-redirect              7.0.0-9             7.0.0-10
               qemu-hw-usb-smartcard              7.0.0-9             7.0.0-10
                            qemu-img              7.0.0-9             7.0.0-10
                      qemu-pr-helper              7.0.0-9             7.0.0-10
                 qemu-system-aarch64              7.0.0-9             7.0.0-10
                   qemu-system-alpha              7.0.0-9             7.0.0-10
                     qemu-system-arm              7.0.0-9             7.0.0-10
                     qemu-system-avr              7.0.0-9             7.0.0-10
                    qemu-system-cris              7.0.0-9             7.0.0-10
                    qemu-system-hppa              7.0.0-9             7.0.0-10
                    qemu-system-m68k              7.0.0-9             7.0.0-10
              qemu-system-microblaze              7.0.0-9             7.0.0-10
                    qemu-system-mips              7.0.0-9             7.0.0-10
                   qemu-system-nios2              7.0.0-9             7.0.0-10
                    qemu-system-or1k              7.0.0-9             7.0.0-10
                     qemu-system-ppc              7.0.0-9             7.0.0-10
                   qemu-system-riscv              7.0.0-9             7.0.0-10
                      qemu-system-rx              7.0.0-9             7.0.0-10
                   qemu-system-s390x              7.0.0-9             7.0.0-10
                     qemu-system-sh4              7.0.0-9             7.0.0-10
                   qemu-system-sparc              7.0.0-9             7.0.0-10
                 qemu-system-tricore              7.0.0-9             7.0.0-10
                     qemu-system-x86              7.0.0-9             7.0.0-10
                  qemu-system-xtensa              7.0.0-9             7.0.0-10
                          qemu-tests              7.0.0-9             7.0.0-10
                          qemu-tools              7.0.0-9             7.0.0-10
                      qemu-ui-curses              7.0.0-9             7.0.0-10
                        qemu-ui-dbus              7.0.0-9             7.0.0-10
                qemu-ui-egl-headless              7.0.0-9             7.0.0-10
                         qemu-ui-gtk              7.0.0-9             7.0.0-10
                      qemu-ui-opengl              7.0.0-9             7.0.0-10
                         qemu-ui-sdl              7.0.0-9             7.0.0-10
                   qemu-ui-spice-app              7.0.0-9             7.0.0-10
                  qemu-ui-spice-core              7.0.0-9             7.0.0-10
                           qemu-user              7.0.0-9             7.0.0-10
                 qemu-vhost-user-gpu              7.0.0-9             7.0.0-10
                      qemu-virtiofsd              7.0.0-9             7.0.0-10
                            rinutils             0.10.0-1             0.10.1-1
                                rust           1:1.60.0-1           1:1.61.0-1
                           rust-musl           1:1.60.0-1           1:1.61.0-1
                            rust-src           1:1.60.0-1           1:1.61.0-1
                           rust-wasm           1:1.60.0-1           1:1.61.0-1
                                 sip              6.6.1-3 6.6.2dev2205162316-1
                                  vc              1.4.2-1              1.4.3-1
                                vde2             2.3.2-21              2.3.3-1
                        vulkan-intel             22.0.3-1             22.0.4-1
                  vulkan-mesa-layers             22.0.3-1             22.0.4-1
                       vulkan-radeon             22.0.3-1             22.0.4-1
                       vulkan-swrast             22.0.3-1             22.0.4-1
                                 aha                    -              0.5.1-2
                       libmalcontent                    -             0.10.4-1
                            openpmix                    -              4.1.2-1
                               prrte                    -              2.0.2-1
                             wolfssl                    -              5.3.0-1


:: Different overlay package(s) in repository kde-unstable x86_64

-------------------------------------------------------------------------------
                             PACKAGE           2022-05-19           2022-05-21
-------------------------------------------------------------------------------
                             akonadi22.04.1.r12744.gfcf44d2e0-122.04.1.r12746.gccf678278-1
                        akonadi-mime22.04.1.r1720.gc38eb9c-122.04.1.r1722.gaf78ae4-1
                           angelfish 22.04.r19.gf52caba-1 22.04.r20.gd8d9e5f-1
                           bluedevil1:5.24.5.r2393.gdedbba3f-11:5.24.5.r2395.g76c9e11a-1
                              breeze5.24.5.r2394.ga6188267-15.24.5.r2396.g1c137f7f-1
                          breeze-gtk5.24.5.r479.g04b86e0-15.24.5.r481.gcb7c58f-1
                            discover5.24.5.r8672.g873da9f8-15.24.5.r8675.g5fd8916a-1
                             drkonqi5.24.5.r780.gf218c8d9-15.24.5.r783.gca434b56-1
                               elisa22.04.1.r2965.gf80d24b9-122.04.1.r2966.g9c8ab409-1
                          elisa-qtmm22.04.1.r2965.gf80d24b9-122.04.1.r2966.g9c8ab409-1
                           filelight22.04.1.r1110.g603a966-122.04.1.r1111.ge1c480f-1
                frameworkintegration5.94.0.r633.ga37dcd9-15.94.0.r634.gb9c372a-1
                     incidenceeditor22.04.1.r892.g59380e6-122.04.1.r893.g220e095-1
                           itinerary22.04.1.r1823.g76eb203-122.04.1.r1827.g63e1745-1
                                 k3b1:22.04.1.r6777.gdbc9964c9-11:22.04.1.r6778.g1fca5a50b-1
                             kalzium22.04.1.r4351.g4a331111-122.04.1.r4353.g7765b7e7-1
                               kasts 22.04.r14.ga745a07-1 22.04.r15.g4bea5e4-1
                       kcalendarcore5.94.0.r1315.g71ecc4421-15.94.0.r1316.gef750582d-1
                       kde-cli-tools5.24.5.r1933.ge3fdf1e-15.24.5.r1935.g6e0ddcc-1
                      kde-gtk-config5.24.5.r930.g687ee79-15.24.5.r932.g691d1cc-1
                         kdecoration5.24.5.r288.g4123ec8-15.24.5.r290.gde4e9d4-1
                       kdepim-addons22.04.1.r4640.g6de855df7-122.04.1.r4641.gd3fb21239-1
                    kdeplasma-addons5.24.5.r8795.g5a9dc8449-15.24.5.r8823.g6400fc163-1
                             kgamma55.24.5.r473.ge593e27-15.24.5.r475.g1d5fa88-1
                            khotkeys5.24.5.r2129.g58171c2-15.24.5.r2131.g41ac365-1
                         kinfocenter5.24.5.r2081.ged3cbbb7-15.24.5.r2083.g8332360c-1
                                 kio5.94.0.r5470.g88ecd063a-15.94.0.r5471.g2efb17e34-1
                          kitinerary22.04.1.r2184.gc9cecdc-122.04.1.r2189.g7e7bac5-1
                           kleopatra22.04.1.r6478.g72999509-122.04.1.r6481.g04d95345-1
                               kmail22.04.1.r26368.g0f1a2565b-122.04.1.r26376.g610c02ce8-1
                      kmailtransport22.04.1.r1742.g8648351-122.04.1.r1743.gdf00209-1
                           kmenuedit5.24.5.r1036.g25669cd-15.24.5.r1038.ga358a14-1
                            knetwalk22.04.1.r695.ge900c4a-122.04.1.r696.g477fea1-1
                             knights22.04.1.r1130.g2f0f72a-122.04.1.r1132.gdb2a440-1
                                koko 22.04.r12.gab1e5bc-1 22.04.r13.g18c0560-1
                                kolf22.04.1.r1495.g2d75b5d-122.04.1.r1496.g5caa1ca-1
                             kscreen5.24.5.r1452.g718af37-15.24.5.r1464.g280efc8-1
                       kscreenlocker5.24.5.r940.g6778253-15.24.5.r942.g8faa92d-1
                         ksshaskpass5.24.5.r207.g5110d15-15.24.5.r209.gd906c9e-1
                        ksystemstats5.24.5.r224.g679c508-15.24.5.r226.g6aa1f57-1
                         ktexteditor5.94.0.r3403.gdf44da08-15.94.0.r3405.g49e5e884-1
                              ktouch22.04.1.r2177.g52883f6-122.04.1.r2178.g3380ebe-1
                               ktrip  22.04.r5.g395c735-1  22.04.r6.g38cb6d2-1
                         kwallet-pam5.24.5.r266.gbc69453-15.24.5.r268.g445e1e4-1
                               kwave22.04.1.r3785.gdf5832a0-122.04.1.r3786.g5ef43e16-1
                kwayland-integration5.24.5.r203.g53704d8-15.24.5.r206.g28e7a11-1
                            kweather 22.04.r12.gafc5508-1 22.04.r14.g98a2526-1
                                kwin5.24.5.r22488.gbcbbbc561-15.24.5.r22500.gefece0a30-1
                              kwinft5.23.5.r19972.g6185c5b33-15.24.5.r20608.gc6af0068f-1
                             kwrited5.24.5.r504.g4050519-15.24.5.r506.g97a673a-1
                      layer-shell-qt5.24.5.r56.g345676a-15.24.5.r58.g563b61c-1
                          libakonadi22.04.1.r12744.gfcf44d2e0-122.04.1.r12746.gccf678278-1
                          libkscreen5.24.5.r1623.g167b699-15.24.5.r1626.g9091762-1
                        libksysguard5.24.5.r2395.g3456133-15.24.5.r2397.g26fe280-1
                              marble22.04.1.r13434.gfbfff4bde-122.04.1.r13435.g2e0c96db7-1
                       marble-common22.04.1.r13434.gfbfff4bde-122.04.1.r13435.g2e0c96db7-1
                           marble-qt22.04.1.r13434.gfbfff4bde-122.04.1.r13435.g2e0c96db7-1
                               milou5.24.5.r770.g0dbf227-15.24.5.r772.gaced252-1
                             neochat22.04.r34.g0d00d420-122.04.r36.gb7e4c2c6-1
                              oxygen5.24.5.r4466.ge1babdde-15.24.5.r4468.g5c9b252a-1
                   pim-data-exporter22.04.1.r2664.g6a6ec3d4-122.04.1.r2671.g652d1bfd-1
                           pimcommon22.04.1.r1224.g29bdfe7-122.04.1.r1237.gb4551ec-1
          plasma-browser-integration5.24.5.r1316.gf2086f25-15.24.5.r1318.g123fb8b1-1
                      plasma-desktop5.24.5.r9270.g035f5490b-15.24.5.r9275.ge18577665-1
                       plasma-dialer 22.04.r18.g50b4339-1 22.04.r20.g7ae77ca-1
                        plasma-disks5.24.5.r269.g70787f1-15.24.5.r271.g16520e6-1
                     plasma-firewall5.24.5.r620.g3515962-15.24.5.r622.gb10887a-1
                  plasma-integration5.24.5.r563.g32a2f51-15.24.5.r565.ge380201-1
                       plasma-mobile5.24.5.r1780.g1c6db427a-15.24.5.r1783.g76a92aee1-1
                    plasma-mobile-nm5.24.5.r3243.g2364014a-15.24.5.r3246.gf1006bfc-1
                           plasma-nm5.24.5.r3243.g2364014a-15.24.5.r3246.gf1006bfc-1
                           plasma-pa5.24.5.r1050.g47f8338-15.24.5.r1052.g14a5ceb-1
            plasma-remotecontrollers       r84.g4ada532-2       r87.g93cea8d-1
                          plasma-sdk5.24.5.r2347.g66396363-15.24.5.r2349.g2a2303fc-1
                     plasma-settings 22.04.r21.g61d77ad-1 22.04.r23.g38d878d-1
                plasma-systemmonitor5.24.5.r567.g0ca0b4f-15.24.5.r569.g401cd77-1
                        plasma-vault5.24.5.r379.g94d2ab3-15.24.5.r381.g5d8ad5f-1
              plasma-wayland-session5.24.5.r11788.gc668a641e-15.24.5.r11810.g1e498d074-1
                    plasma-workspace5.24.5.r11788.gc668a641e-15.24.5.r11810.g1e498d074-1
         plasma-workspace-wallpapers5.24.5.r336.g685fa57-15.24.5.r338.g81f1253-1
                    polkit-kde-agent5.24.5.r520.gd6360ed-15.24.5.r522.g1b42f89-1
                          powerdevil5.24.5.r2539.g7a407326-15.24.5.r2541.ge3f1a593-1
                          qmlkonsole 22.04.r19.g355754d-1 22.04.r20.gdda723d-1
                            sddm-kcm5.24.5.r647.g2ea254d-15.24.5.r649.gd12c6e3-1
                 syntax-highlighting5.94.0.r1830.g12e610d0-15.94.0.r1831.g7c54fd90-1
                      systemsettings5.24.5.r2656.ge373a9a9-15.24.5.r2658.g8284bb4c-1
                             tokodon 22.04.r31.ged776f2-1 22.04.r32.g1cddd98-1
                         vakzination 22.04.r14.g89ad8ee-1 22.04.r15.gd0db6da-1
              xdg-desktop-portal-kde5.24.5.r477.gf15399f-15.24.5.r479.gf0193bb-1


:: Different sync package(s) in repository multilib x86_64

-------------------------------------------------------------------------------
                             PACKAGE           2022-05-19           2022-05-21
-------------------------------------------------------------------------------
                        lib32-amdvlk          2022.Q2.1-1          2022.Q2.2-1
             lib32-libva-mesa-driver             22.0.3-1             22.0.4-1
                          lib32-mesa             22.0.3-1             22.0.4-1
                    lib32-mesa-vdpau             22.0.3-1             22.0.4-1
                   lib32-opencl-mesa             22.0.3-1             22.0.4-1
                  lib32-vulkan-intel             22.0.3-1             22.0.4-1
            lib32-vulkan-mesa-layers             22.0.3-1             22.0.4-1
                 lib32-vulkan-radeon             22.0.3-1             22.0.4-1


No issue, everything went smoothly
Yes there was an issue. I was able to resolve it myself.(Please post your solution)
Yes i am currently experiencing an issue due to the update. (Please post about it)
Check if your mirror has already synced: