Hello community,
Another testing branch update with some usual updates for you.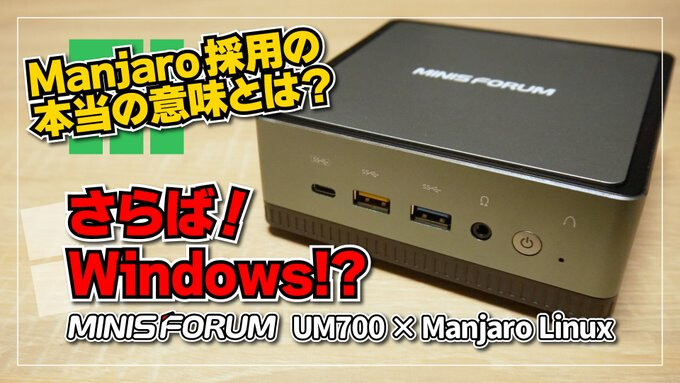 さらば!Windows!? Minisforum UM700 × Manjaro Linux の実機レビュー!Steam Deck に最も近いミニ PC はサイコーだよ!| Review - Buy here!
Some of our Kernels got updated
Mesa is now at 21.3.7
Pulseaudio got needed fixes
libxcrypt gained backward compatibility

You may need to rebuild any AUR packages that install files to site-packages …

You may need to rebuild any Python packages you've installed from the AUR. To get a list of them, you can run:

pacman -Qoq /usr/lib/python3.9


And to rebuild them all at once with an AUR helper such as yay, you can do:

yay -S $(pacman -Qoq /usr/lib/python3.9) --answerclean All


But if any of the packages don't work with Python 3.10 yet, this might fail halfway through and you'll have to do rebuild the remaining ones one or a few at a time.
Get our latest daily developer images now from Github: Plasma, Gnome, XFCE. You get the latest stable releases of Manjaro from CDN77.
---
Our current supported kernels
linux44 4.4.302 [EOL]
linux49 4.9.303
linux414 4.14.268
linux419 4.19.230
linux54 5.4.181
linux510 5.10.102
linux515 5.15.25
linux516 5.16.11
linux517 5.17-rc5
linux515-rt 5.15.24_rt31
linux516-rt 5.16.2_rt19
Package Updates (Fri Feb 25 14:13:19 CET 2022)
testing community x86_64: 103 new and 103 removed package(s)
testing core x86_64: 14 new and 12 removed package(s)
testing extra x86_64: 48 new and 48 removed package(s)
testing multilib x86_64: 9 new and 9 removed package(s)
:: Different overlay package(s) in repository community x86_64

-------------------------------------------------------------------------------
                             PACKAGE           2022-02-24           2022-02-25
-------------------------------------------------------------------------------
                       brave-browser           1.35.103-1           1.36.105-1
                  brave-browser-beta            1.36.97-1            1.37.72-1
                               dunst              1.7.3-1                    -
                            dunstify              1.7.3-1                    -
                         linux515-rt       5.15.21_rt30-2       5.15.24_rt31-1
               linux515-rt-acpi_call             1.2.2-14             1.2.2-15
                linux515-rt-bbswitch               0.8-16               0.8-17
             linux515-rt-broadcom-wl      6.30.223.271-16      6.30.223.271-17
                 linux515-rt-headers       5.15.21_rt30-2       5.15.24_rt31-1
            linux515-rt-nvidia-390xx            390.147-4            390.147-5
            linux515-rt-nvidia-470xx         470.103.01-5         470.103.01-6
                  linux515-rt-nvidia             510.54-1             510.54-2
                   linux515-rt-r8168          8.049.02-16          8.049.02-17
               linux515-rt-rtl8723bu           20220114-9          20220114-10
                linux515-rt-tp_smapi              0.43-16              0.43-17
             linux515-rt-vhba-module          20211218-10          20211218-11
 linux515-rt-virtualbox-host-modules             6.1.32-9            6.1.32-10
                       penguins-eggs             9.0.22-1             9.0.26-1
                     update-notifier              0.7.8-1                    -


:: Different sync package(s) in repository community x86_64

-------------------------------------------------------------------------------
                             PACKAGE           2022-02-24           2022-02-25
-------------------------------------------------------------------------------
                        aardvark-dns              1.0.0-1              1.0.1-1
                           aspell-da             1.6.36-1             1.6.36-2
                             aws-cli            1.22.47-1            1.22.61-1
                           bash-bats              1.5.0-1              1.6.0-1
                              bchunk              1.2.2-6              1.2.2-7
                browserpass-chromium              3.7.2-1              3.7.2-2
                 browserpass-firefox              3.7.2-1              3.7.2-2
                          cargo-msrv             0.15.0-1             0.15.1-1
                      cargo-zigbuild              0.5.4-1              0.5.5-1
                              catch2             2.13.7-1             2.13.8-1
                         cni-plugins              1.0.1-2              1.1.0-1
                              cobalt             0.17.1-1             0.17.5-1
                    cockpit-machines                261-1                262-1
                                croc              9.5.1-1              9.5.2-1
                              curlie              1.6.7-1              1.6.7-2
                          diffoscope                205-1                206-1
                               dmenu                5.0-1                5.1-1
                              fdupes            1:2.1.2-1            1:2.1.2-2
                           findomain              7.0.0-1              7.0.1-1
                             freerdp            2:2.5.0-2            2:2.6.0-1
                   gentium-plus-font              6.001-1              6.001-2
                           gocryptfs              2.2.1-1              2.2.1-2
                        goimapnotify              2.3.7-1              2.3.7-2
                               gping              1.2.7-1              1.3.0-1
                             grafana              8.4.1-1              8.4.2-1
                          grub-btrfs               4.11-1               4.11-2
                               hydra                9.2-1                9.3-1
                               icewm              2.9.5-1              2.9.6-1
                     libertinus-font              7.040-1              7.040-2
                       libtraceevent            1:1.5.0-1            1:1.5.1-1
                  libtraceevent-docs            1:1.5.0-1            1:1.5.1-1
                          libtracefs              1.2.5-1              1.3.0-1
                               light              1.2.2-2              1.2.2-3
                            lilypond             2.22.2-1             2.22.2-2
                           limesuite            20.10.0-2            20.10.0-3
                             lv2file               0.93-2               0.95-1
                           mediaelch             2.8.12-1             2.8.14-1
                            mednafen             1.27.1-1             1.29.0-1
                           miniupnpd              2.2.3-1              2.3.0-1
                     multipath-tools              0.8.8-1              0.8.9-1
                            netavark              1.0.0-2              1.0.1-1
               netfilter-fullconenat      r73.0cf3b48-184      r73.0cf3b48-185
                           non-mixer              1.3.0-1              1.3.0-2
                       non-sequencer              1.9.5-3             1.10.0-1
                        non-timeline              1.3.0-1              1.3.0-2
                          obs-studio             27.1.3-4             27.2.1-1
                          open-iscsi              2.1.5-1              2.1.6-1
                             pam-u2f              1.2.0-1              1.2.0-2
                               pegtl              3.2.2-1              3.2.5-1
                                pigz                2.6-1                2.7-1
                           playerctl              2.4.1-1              2.4.1-2
                 python-aioitertools              0.9.0-1             0.10.0-1
                     python-autobahn             22.1.1-1             22.2.2-1
                        python-boto3            1.20.47-1             1.21.6-1
                     python-botocore            1.23.47-1             1.24.6-1
                        python-click              8.0.3-3              8.0.4-1
                       python-distro              1.6.0-4              1.7.0-1
               python-django-allauth             0.48.0-1             0.49.0-1
                     python-engineio              4.2.1-3              4.3.1-1
               python-flask-compress              1.8.0-3             1.10.1-1
               python-flask-socketio              5.1.0-3              5.1.1-1
                     python-oauthlib              3.1.1-3              3.2.0-1
                       python-pygit2              1.8.0-2              1.9.0-2
                     python-pynetbox              6.1.3-2              6.6.1-1
                    python-pywlroots             0.15.9-1            0.15.10-1
                       python-ropper             1.13.6-2             1.13.7-1
                   python-s3transfer              0.5.0-3              0.5.1-1
                     python-socketio              5.4.0-3              5.5.2-1
                        python-txaio             21.2.1-3             22.2.1-1
                              ropper             1.13.6-2             1.13.7-1
                                ropr             0.2.14-1             0.2.20-1
                               sigil              1.8.0-2              1.9.0-1
                      signal-desktop             5.31.1-1             5.33.0-1
                              sqlmap              1.5.9-2              1.6.2-1
                           tailscale             1.20.4-1             1.22.0-1
                          testssl.sh              3.0.6-1              3.0.7-1
                               tilix              1.9.4-7              1.9.5-1
                                tldr              3.0.0-1              3.1.0-1
                           veracrypt       1.24.update7-1             1.25.9-1
                  vim-airline-themes      r1386.63b66df-1      r1435.97cf3e6-1
                        vim-fugitive                3.4-2                3.6-1
                            websocat              1.8.1-1              1.9.0-1
                              wpscan           1:3.8.20-1           1:3.8.21-1
                                yara              4.1.1-1              4.1.3-1
                               dunst                    -              1.8.0-1
                     libtracefs-docs                    -              1.3.0-1
                              udevil                    -              0.4.4-4


:: Different sync package(s) in repository core x86_64

-------------------------------------------------------------------------------
                             PACKAGE           2022-02-24           2022-02-25
-------------------------------------------------------------------------------
                   archlinux-keyring           20220125-1           20220224-1
                               expat              2.4.5-2              2.4.6-1
                               lemon             3.37.2-1             3.38.0-1
                          libnghttp2             1.46.0-1             1.47.0-1
                           libsecret             0.20.4-1             0.20.5-1
                           libxcrypt             4.4.28-1             4.4.28-2
                             openssh              8.8p1-1              8.9p1-1
                              sqlite             3.37.2-1             3.38.0-1
                     sqlite-analyzer             3.37.2-1             3.38.0-1
                          sqlite-doc             3.37.2-1             3.38.0-1
                          sqlite-tcl             3.37.2-1             3.38.0-1
                      wpa_supplicant             2:2.10-2             2:2.10-3
                      libsecret-docs                    -             0.20.5-1
                    libxcrypt-compat                    -             4.4.28-2


:: Different sync package(s) in repository extra x86_64

-------------------------------------------------------------------------------
                             PACKAGE           2022-02-24           2022-02-25
-------------------------------------------------------------------------------
                          bubblewrap              0.5.0-1              0.6.0-1
                     bubblewrap-suid              0.5.0-1              0.6.0-1
                               clang             13.0.1-1             13.0.1-2
                              gpaste             3.42.5-1             3.42.6-1
                                gvim           8.2.4106-1           8.2.4464-1
                         jdk-openjdk         17.0.1.u12-1          17.0.3.u3-1
                         jre-openjdk         17.0.1.u12-1          17.0.3.u3-1
                jre-openjdk-headless         17.0.1.u12-1          17.0.3.u3-1
                              kismet         2022_01_R1-1         2022_02_R1-1
                     lib32-rust-libs           1:1.58.1-1           1:1.59.0-1
                               libnm             1.34.0-1             1.36.0-1
                            libpulse               15.0-2               15.0-4
                   libva-mesa-driver             21.3.6-1             21.3.7-1
                           memcached             1.6.12-1             1.6.14-1
                                mesa             21.3.6-1             21.3.7-1
                          mesa-vdpau             21.3.6-1             21.3.7-1
                                 mtr               0.94-1               0.95-1
                             mtr-gtk               0.94-1               0.95-1
                      networkmanager             1.34.0-1             1.36.0-1
                             nghttp2             1.46.0-2             1.47.0-1
                      nm-cloud-setup             1.34.0-1             1.36.0-1
                        ocaml-ctypes             0.20.0-1             0.20.0-2
                         opencl-mesa             21.3.6-1             21.3.7-1
                         openconnect             1:8.10-1             1:8.20-1
                         openjdk-doc         17.0.1.u12-1          17.0.3.u3-1
                         openjdk-src         17.0.1.u12-1          17.0.3.u3-1
                          pulseaudio               15.0-2               15.0-4
                pulseaudio-bluetooth               15.0-2               15.0-4
                pulseaudio-equalizer               15.0-2               15.0-4
                     pulseaudio-jack               15.0-2               15.0-4
                     pulseaudio-lirc               15.0-2               15.0-4
                      pulseaudio-rtp               15.0-2               15.0-4
                 pulseaudio-zeroconf               15.0-2               15.0-4
                                rust           1:1.58.1-1           1:1.59.0-1
                           rust-musl           1:1.58.1-1           1:1.59.0-1
                            rust-src           1:1.58.1-1           1:1.59.0-1
                           rust-wasm           1:1.58.1-1           1:1.59.0-1
                               socat            1.7.4.1-1            1.7.4.3-1
               system-config-printer             1.5.15-2             1.5.16-1
                            usbguard              1.0.0-6              1.1.0-1
                                 vim           8.2.4106-1           8.2.4464-1
                         vim-runtime           8.2.4106-1           8.2.4464-1
                                vpnc  1:0.5.3.r496.r153-2  1:0.5.3.r501.r196-1
                        vulkan-intel             21.3.6-1             21.3.7-1
                  vulkan-mesa-layers             21.3.6-1             21.3.7-1
                       vulkan-radeon             21.3.6-1             21.3.7-1
                       vulkan-swrast             21.3.6-1             21.3.7-1
                   xf86-video-amdgpu             21.0.0-2             22.0.0-1


:: Different sync package(s) in repository multilib x86_64

-------------------------------------------------------------------------------
                             PACKAGE           2022-02-24           2022-02-25
-------------------------------------------------------------------------------
                         lib32-expat              2.4.5-1              2.4.6-1
                    lib32-libnghttp2             1.46.0-1             1.47.0-1
             lib32-libva-mesa-driver             21.3.6-1             21.3.7-1
                          lib32-mesa             21.3.6-1             21.3.7-1
                    lib32-mesa-vdpau             21.3.6-1             21.3.7-1
                   lib32-opencl-mesa             21.3.6-1             21.3.7-1
                  lib32-vulkan-intel             21.3.6-1             21.3.7-1
            lib32-vulkan-mesa-layers             21.3.6-1             21.3.7-1
                 lib32-vulkan-radeon             21.3.6-1             21.3.7-1

No issue, everything went smoothly
Yes there was an issue. I was able to resolve it myself.(Please post your solution)
Yes i am currently experiencing an issue due to the update. (Please post about it)
Check if your mirror has already synced: