Hello community,
Another testing branch update with some usual updates for you.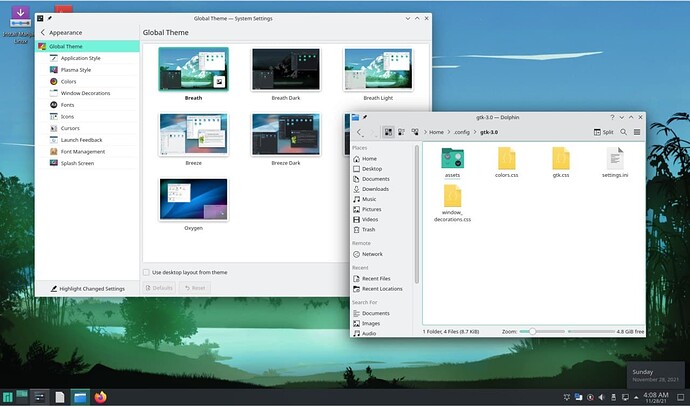 Most of our Kernels got updated
We reorganized our default Plasma Theme Breath. Find more information about the move in a separate thread: Testers needed: Manjaro KDE massive cleanup/rename
We updated some of our gnome-shell-extensions
Some more Python2 cleanup was done
Mkinitcpio got updated. Report back any issues you may have
Plasma is now at 5.23.4
There is now a new split-package call mesa-utils
Other regular upstream updates
Get our latest daily developer images now from Github: Plasma, Gnome, XFCE. You get the latest stable releases of Manjaro from CDN77.
---
Our current supported kernels
linux44 4.4.293
linux49 4.9.291
linux414 4.14.256
linux419 4.19.219
linux54 5.4.163
linux510 5.10.83
linux514 5.14.21 [EOL]
linux515 5.15.6
linux516 5.16-rc2
linux510-rt 5.10.78_rt55
linux515-rt 5.15.5_rt22
Package Updates (Thu Dec 2 20:10:03 CET 2021)
Upstream
testing core x86_64: 10 new and 10 removed package(s)
testing multilib x86_64: 4 new and 3 removed package(s)
testing community x86_64: 1111 new and 1121 removed package(s)
testing extra x86_64: 133 new and 149 removed package(s)
Manjaro
testing core x86_64: 16 new and 16 removed package(s)
testing kde-unstable x86_64: 337 new and 337 removed package(s)
testing extra x86_64: 65 new and 65 removed package(s)
testing community x86_64: 31 new and 30 removed package(s)
:: Different overlay package(s) in repository community x86_64

-------------------------------------------------------------------------------
                             PACKAGE           2021-11-27           2021-12-02
-------------------------------------------------------------------------------
                  brave-browser-beta            1.33.90-1            1.33.94-1
                           crossover             21.0.0-1             21.1.0-1
                              etcher              1.7.0-1              1.7.1-1
                            geogebra          6.0.676.0-2                    -
gnome-shell-extension-nightthemeswitcher             54-1                 55-1
     gnome-shell-extension-pop-shell 1.2.0+165+g9b75a37-2 1.2.0+168+gad86626-1
   gnome-shell-extension-x11gestures                 12-1                 13-1
                                inxi           3.3.09.1-1           3.3.09.1-2
                         linux515-rt        5.15.3_rt21-1        5.15.5_rt22-1
               linux515-rt-acpi_call              1.1.0-3              1.1.0-4
                linux515-rt-bbswitch                0.8-3                0.8-4
             linux515-rt-broadcom-wl       6.30.223.271-3       6.30.223.271-4
                 linux515-rt-headers        5.15.3_rt21-1        5.15.5_rt22-1
            linux515-rt-nvidia-470xx             470.86-3             470.86-4
                  linux515-rt-nvidia             495.44-3             495.44-4
                   linux515-rt-r8168           8.049.02-3           8.049.02-4
               linux515-rt-rtl8723bu           20211104-2           20211104-3
                linux515-rt-tp_smapi               0.43-3               0.43-4
             linux515-rt-vhba-module           20211023-3           20211023-4
 linux515-rt-virtualbox-host-modules             6.1.30-1             6.1.30-2
                manjaro-kde-settings           20210813-2           20211130-1
                    matcha-gtk-theme           20210924-1           20211129-1
                           mintstick              1.4.6-1              1.4.7-1
               plasma5-themes-breath              0.4.0-2             21.2.0-0
                   sddm-breath-theme              0.4.0-2             21.2.0-0
                                 tlp              1.4.0-3              1.4.0-5
                             tlp-rdw              1.4.0-3              1.4.0-5
                              ventoy             1.0.61-1             1.0.62-2
               vivaldi-ffmpeg-codecs        98.0.4710.4-1                    -
                             xviewer              3.0.2-1              3.2.1-1
                   breath-wallpapers                    -             21.2.0-0
       qt5-virtualkeyboard-bigscreen                    -      5.15.2+kde+r4-1
                              thingy                    -              1.0.1-1


:: Different sync package(s) in repository community x86_64

-------------------------------------------------------------------------------
                             PACKAGE           2021-11-27           2021-12-02
-------------------------------------------------------------------------------
                          abseil-cpp         20210324.2-1         20211102.0-1
                                agda             2.6.2-34             2.6.2-35
                          aliyun-cli             3.0.97-1            3.0.100-1
                             ansible              4.9.0-1              5.0.0-1
                anything-sync-daemon               5.85-3               5.86-1
                             arch-hs           0.9.1.0-62           0.9.1.0-64
                               arrow              6.0.1-1              6.0.1-2
                         baidupcs-go              3.8.3-1              3.8.4-1
                              batctl             2021.3-1             2021.4-1
                               beets              1.5.0-1              1.6.0-1
                                bnfc              2.9.3-7              2.9.3-8
                                btop              1.1.1-1              1.1.2-1
                                c2hs            0.28.8-29            0.28.8-30
                           cabal-fmt           0.1.5.1-18           0.1.5.1-19
                       cabal-install           3.4.0.0-54           3.4.0.0-56
                          cabal-plan           0.7.2.0-71           0.7.2.0-72
                        cargo-expand              1.0.9-1             1.0.10-1
                          cargo-sort              1.0.6-1              1.0.6-2
                               cgrep           6.6.32-227           6.6.32-228
                             chezmoi              2.8.0-1              2.9.1-1
                           clash-ghc             1.4.3-32             1.4.3-33
                             clojure        1.10.3.1029-1        1.10.3.1040-1
                             cryptol            2.11.0-91            2.11.0-92
                               darcs            2.16.4-75            2.16.4-77
                             datovka             4.18.0-1             4.19.0-1
                             dbeaver             21.2.5-1             21.3.0-1
                               dhall            1.40.1-21            1.40.1-22
                          dhall-bash            1.0.38-35            1.0.38-36
                          dhall-docs             1.0.7-38             1.0.7-39
                          dhall-json             1.7.8-37             1.7.8-38
                    dhall-lsp-server            1.0.16-39            1.0.16-40
                          dhall-yaml             1.2.8-38             1.2.8-39
                             diffuse              0.7.2-1              0.7.3-1
                      docker-compose              2.1.1-1              2.2.0-1
                               drone              2.5.0-1              2.6.0-1
                           drone-oss              2.5.0-1              2.6.0-1
                            electron             16.0.2-1             16.0.3-1
                          electron13             13.6.2-2             13.6.3-1
                          electron14             14.2.1-1             14.2.2-1
                          electron15             15.3.2-1             15.3.3-1
                              erlang             24.1.2-1             24.1.7-1
                          erlang-nox             24.1.2-1             24.1.7-1
                     erlang-unixodbc             24.1.2-1             24.1.7-1
                                  fd              8.2.1-1              8.3.0-1
           firefox-developer-edition            95.0b10-1            95.0b12-1
  firefox-developer-edition-i18n-ach            95.0b10-1            95.0b12-1
   firefox-developer-edition-i18n-af            95.0b10-1            95.0b12-1
   firefox-developer-edition-i18n-an            95.0b10-1            95.0b12-1
   firefox-developer-edition-i18n-ar            95.0b10-1            95.0b12-1
  firefox-developer-edition-i18n-ast            95.0b10-1            95.0b12-1
   firefox-developer-edition-i18n-az            95.0b10-1            95.0b12-1
   firefox-developer-edition-i18n-be            95.0b10-1            95.0b12-1
   firefox-developer-edition-i18n-bg            95.0b10-1            95.0b12-1
   firefox-developer-edition-i18n-bn            95.0b10-1            95.0b12-1
   firefox-developer-edition-i18n-br            95.0b10-1            95.0b12-1
   firefox-developer-edition-i18n-bs            95.0b10-1            95.0b12-1
   firefox-developer-edition-i18n-ca            95.0b10-1            95.0b12-1
firefox-developer-edition-i18n-ca-valencia      95.0b10-1            95.0b12-1
  firefox-developer-edition-i18n-cak            95.0b10-1            95.0b12-1
   firefox-developer-edition-i18n-cs            95.0b10-1            95.0b12-1
   firefox-developer-edition-i18n-cy            95.0b10-1            95.0b12-1
   firefox-developer-edition-i18n-da            95.0b10-1            95.0b12-1
   firefox-developer-edition-i18n-de            95.0b10-1            95.0b12-1
  firefox-developer-edition-i18n-dsb            95.0b10-1            95.0b12-1
   firefox-developer-edition-i18n-el            95.0b10-1            95.0b12-1
firefox-developer-edition-i18n-en-ca            95.0b10-1            95.0b12-1
firefox-developer-edition-i18n-en-gb            95.0b10-1            95.0b12-1
firefox-developer-edition-i18n-en-us            95.0b10-1            95.0b12-1
   firefox-developer-edition-i18n-eo            95.0b10-1            95.0b12-1
firefox-developer-edition-i18n-es-ar            95.0b10-1            95.0b12-1
firefox-developer-edition-i18n-es-cl            95.0b10-1            95.0b12-1
firefox-developer-edition-i18n-es-es            95.0b10-1            95.0b12-1
firefox-developer-edition-i18n-es-mx            95.0b10-1            95.0b12-1
   firefox-developer-edition-i18n-et            95.0b10-1            95.0b12-1
   firefox-developer-edition-i18n-eu            95.0b10-1            95.0b12-1
   firefox-developer-edition-i18n-fa            95.0b10-1            95.0b12-1
   firefox-developer-edition-i18n-ff            95.0b10-1            95.0b12-1
   firefox-developer-edition-i18n-fi            95.0b10-1            95.0b12-1
   firefox-developer-edition-i18n-fr            95.0b10-1            95.0b12-1
firefox-developer-edition-i18n-fy-nl            95.0b10-1            95.0b12-1
firefox-developer-edition-i18n-ga-ie            95.0b10-1            95.0b12-1
   firefox-developer-edition-i18n-gd            95.0b10-1            95.0b12-1
   firefox-developer-edition-i18n-gl            95.0b10-1            95.0b12-1
   firefox-developer-edition-i18n-gn            95.0b10-1            95.0b12-1
firefox-developer-edition-i18n-gu-in            95.0b10-1            95.0b12-1
   firefox-developer-edition-i18n-he            95.0b10-1            95.0b12-1
firefox-developer-edition-i18n-hi-in            95.0b10-1            95.0b12-1
   firefox-developer-edition-i18n-hr            95.0b10-1            95.0b12-1
  firefox-developer-edition-i18n-hsb            95.0b10-1            95.0b12-1
   firefox-developer-edition-i18n-hu            95.0b10-1            95.0b12-1
firefox-developer-edition-i18n-hy-am            95.0b10-1            95.0b12-1
   firefox-developer-edition-i18n-ia            95.0b10-1            95.0b12-1
   firefox-developer-edition-i18n-id            95.0b10-1            95.0b12-1
   firefox-developer-edition-i18n-is            95.0b10-1            95.0b12-1
   firefox-developer-edition-i18n-it            95.0b10-1            95.0b12-1
   firefox-developer-edition-i18n-ja            95.0b10-1            95.0b12-1
   firefox-developer-edition-i18n-ka            95.0b10-1            95.0b12-1
  firefox-developer-edition-i18n-kab            95.0b10-1            95.0b12-1
   firefox-developer-edition-i18n-kk            95.0b10-1            95.0b12-1
   firefox-developer-edition-i18n-km            95.0b10-1            95.0b12-1
   firefox-developer-edition-i18n-kn            95.0b10-1            95.0b12-1
   firefox-developer-edition-i18n-ko            95.0b10-1            95.0b12-1
  firefox-developer-edition-i18n-lij            95.0b10-1            95.0b12-1
   firefox-developer-edition-i18n-lt            95.0b10-1            95.0b12-1
   firefox-developer-edition-i18n-lv            95.0b10-1            95.0b12-1
   firefox-developer-edition-i18n-mk            95.0b10-1            95.0b12-1
   firefox-developer-edition-i18n-mr            95.0b10-1            95.0b12-1
   firefox-developer-edition-i18n-ms            95.0b10-1            95.0b12-1
   firefox-developer-edition-i18n-my            95.0b10-1            95.0b12-1
firefox-developer-edition-i18n-nb-no            95.0b10-1            95.0b12-1
firefox-developer-edition-i18n-ne-np            95.0b10-1            95.0b12-1
   firefox-developer-edition-i18n-nl            95.0b10-1            95.0b12-1
firefox-developer-edition-i18n-nn-no            95.0b10-1            95.0b12-1
   firefox-developer-edition-i18n-oc            95.0b10-1            95.0b12-1
firefox-developer-edition-i18n-pa-in            95.0b10-1            95.0b12-1
   firefox-developer-edition-i18n-pl            95.0b10-1            95.0b12-1
firefox-developer-edition-i18n-pt-br            95.0b10-1            95.0b12-1
firefox-developer-edition-i18n-pt-pt            95.0b10-1            95.0b12-1
   firefox-developer-edition-i18n-rm            95.0b10-1            95.0b12-1
   firefox-developer-edition-i18n-ro            95.0b10-1            95.0b12-1
   firefox-developer-edition-i18n-ru            95.0b10-1            95.0b12-1
   firefox-developer-edition-i18n-si            95.0b10-1            95.0b12-1
   firefox-developer-edition-i18n-sk            95.0b10-1            95.0b12-1
   firefox-developer-edition-i18n-sl            95.0b10-1            95.0b12-1
  firefox-developer-edition-i18n-son            95.0b10-1            95.0b12-1
   firefox-developer-edition-i18n-sq            95.0b10-1            95.0b12-1
   firefox-developer-edition-i18n-sr            95.0b10-1            95.0b12-1
firefox-developer-edition-i18n-sv-se            95.0b10-1            95.0b12-1
   firefox-developer-edition-i18n-ta            95.0b10-1            95.0b12-1
   firefox-developer-edition-i18n-te            95.0b10-1            95.0b12-1
   firefox-developer-edition-i18n-th            95.0b10-1            95.0b12-1
   firefox-developer-edition-i18n-tl            95.0b10-1            95.0b12-1
   firefox-developer-edition-i18n-tr            95.0b10-1            95.0b12-1
  firefox-developer-edition-i18n-trs            95.0b10-1            95.0b12-1
   firefox-developer-edition-i18n-uk            95.0b10-1            95.0b12-1
   firefox-developer-edition-i18n-ur            95.0b10-1            95.0b12-1
   firefox-developer-edition-i18n-uz            95.0b10-1            95.0b12-1
   firefox-developer-edition-i18n-vi            95.0b10-1            95.0b12-1
   firefox-developer-edition-i18n-xh            95.0b10-1            95.0b12-1
firefox-developer-edition-i18n-zh-cn            95.0b10-1            95.0b12-1
firefox-developer-edition-i18n-zh-tw            95.0b10-1            95.0b12-1
                   firefox-tridactyl             1.21.1-2             1.22.0-1
               firefox-ublock-origin             1.39.0-1             1.39.2-1
                             fluxctl             1.24.2-1             1.24.3-1
                            geogebra          6.0.676.0-1          6.0.676.0-2
                           git-annex        8.20210803-51        8.20210803-53
                           git-delta             0.10.1-1             0.10.2-1
                          git-repair        1.20210629-23        1.20210629-24
                        gitlab-shell          3:13.20.0-1          3:13.22.0-1
                             glances              3.2.3-2              3.2.4-1
                          goreleaser              1.0.0-1              1.1.0-1
                              gradle                7.3-1              7.3.1-1
                          gradle-doc                7.3-1              7.3.1-1
                          gradle-src                7.3-1              7.3.1-1
                             grafana              8.2.5-1              8.3.0-1
                                grpc             1.41.1-1             1.42.0-1
                            grpc-cli             1.41.1-1             1.42.0-1
                           gscan2pdf             2.12.3-1             2.12.4-1
              haskell-abstract-deque              0.3-119              0.3-120
                 haskell-adjunctions              4.4-270              4.4-271
                       haskell-aeson           1.5.6.0-56           1.5.6.0-57
         haskell-aeson-better-errors          0.9.1.0-328          0.9.1.0-329
                haskell-aeson-compat            0.3.9-247            0.3.9-248
                  haskell-aeson-diff          1.1.0.9-235          1.1.0.9-236
                haskell-aeson-pretty              0.8.9-6              0.8.9-7
                    haskell-aeson-qq            0.8.3-223            0.8.3-224
                  haskell-aeson-yaml          1.1.0.0-198          1.1.0.0-199
            haskell-algebraic-graphs              0.5-122              0.5-123
               haskell-ansi-terminal             0.11-180             0.11-181
              haskell-ansi-wl-pprint            0.6.9-238            0.6.9-239
                haskell-apply-refact           0.9.3.0-45           0.9.3.0-46
                    haskell-arch-web            0.1.0-164            0.1.0-166
                    haskell-arithmoi          0.12.0.1-12          0.12.0.1-13
                      haskell-arrows           0.4.4.2-39           0.4.4.2-40
               haskell-asn1-encoding            0.9.6-137            0.9.6-138
                  haskell-asn1-parse            0.9.5-137            0.9.5-138
                  haskell-asn1-types            0.3.4-116            0.3.4-117
                       haskell-assoc            1.0.2-107            1.0.2-108
                       haskell-async             2.2.3-87             2.2.3-88
              haskell-atomic-primops             0.8.4-89             0.8.4-90
                haskell-atomic-write          0.2.0.7-115          0.2.0.7-116
                  haskell-attoparsec            0.14.1-36            0.14.1-37
          haskell-attoparsec-iso8601           1.0.2.0-70           1.0.2.0-71
                haskell-authenticate            1.3.5-401            1.3.5-403
          haskell-authenticate-oauth               1.7-32               1.7-33
                 haskell-auto-update            0.1.6-196            0.1.6-197
                         haskell-aws             0.22-332             0.22-334
       haskell-base-compat-batteries           0.11.2-160           0.11.2-161
                haskell-base-orphans             0.8.5-13             0.8.5-14
           haskell-base16-bytestring           1.0.1.0-73           1.0.1.0-74
           haskell-base64-bytestring           1.2.1.0-14           1.2.1.0-15
               haskell-basic-prelude            0.7.0-131            0.7.0-132
                     haskell-bencode          0.6.1.1-113          0.6.1.1-114
                  haskell-bifunctors            5.5.11-32            5.5.11-33
                       haskell-bimap            0.4.0-105            0.4.0-106
                         haskell-bin             0.1.1-34             0.1.1-35
              haskell-binary-conduit            1.3.1-255            1.3.1-256
            haskell-binary-instances            1.0.1-108            1.0.1-109
              haskell-binary-orphans            1.0.1-146            1.0.1-147
               haskell-binary-parser             0.5.7-65             0.5.7-66
               haskell-binary-tagged              0.3.1-3              0.3.1-4
                     haskell-bitwise          1.0.0.1-105          1.0.0.1-106
                  haskell-blaze-html          0.9.1.2-137          0.9.1.2-138
                haskell-blaze-markup           0.8.2.8-43           0.8.2.8-44
               haskell-blaze-textual            0.2.2.1-8            0.2.2.1-9
                  haskell-bower-json          1.0.0.1-326          1.0.0.1-327
                       haskell-boxes            0.1.5-149            0.1.5-150
                       haskell-brick             0.64.1-5             0.64.1-6
            haskell-bsb-http-chunked          0.0.0.4-241          0.0.0.4-242
                     haskell-butcher          1.3.3.2-142          1.3.3.2-143
                    haskell-bv-sized             1.0.3-52             1.0.3-53
         haskell-bytestring-encoding           0.1.1.0-28           0.1.1.0-29
           haskell-bytestring-handle           0.1.0.6-78           0.1.0.6-79
   haskell-bytestring-strict-builder           0.4.5.4-66           0.4.5.4-67
     haskell-bytestring-tree-builder           0.2.7.9-42           0.2.7.9-43
                         haskell-bz2          1.0.1.0-122          1.0.1.0-123
       haskell-cabal-install-parsers             0.4.2-42             0.4.2-43
                       haskell-cairo         0.13.8.1-111         0.13.8.1-112
                  haskell-call-stack             0.4.0-22             0.4.0-23
                 haskell-casa-client            0.0.1-344            0.0.1-346
                  haskell-casa-types            0.0.2-157            0.0.2-158
            haskell-case-insensitive          1.2.1.0-116          1.2.1.0-117
                     haskell-cassava          0.5.2.0-164          0.5.2.0-165
          haskell-cassava-megaparsec              2.0.3-8              2.0.3-9
                       haskell-cborg           0.2.5.0-42           0.2.5.0-43
                  haskell-cborg-json            0.2.3.0-3            0.2.3.0-4
                     haskell-charset              0.3.9-3              0.3.9-4
              haskell-chasingbottoms          1.3.1.10-58          1.3.1.10-59
                  haskell-cheapskate          0.1.1.2-356          0.1.1.2-357
                    haskell-checkers            0.5.6-120            0.5.6-121
                       haskell-chell              0.5-146              0.5-147
            haskell-chell-quickcheck          0.2.5.2-145          0.2.5.2-146
                     haskell-chimera           0.3.2.0-17           0.3.2.0-18
                haskell-chunked-data            0.3.1-164            0.3.1-165
                          haskell-ci            0.12.1-77            0.12.1-79
                  haskell-cipher-aes           0.2.11-233           0.2.11-234
                    haskell-citeproc             0.4.1-42             0.4.1-43
                   haskell-clash-lib             1.4.3-30             1.4.3-31
               haskell-clash-prelude             1.4.3-22             1.4.3-23
              haskell-classy-prelude            1.5.0-188            1.5.0-189
               haskell-clientsession          0.9.1.2-262          0.9.1.2-263
                       haskell-clock            0.8.2-104            0.8.2-105
                   haskell-cmark-gfm             0.2.2-92             0.2.2-93
                      haskell-colour             2.3.6-37             2.3.6-38
                  haskell-colourista           0.1.0.1-33           0.1.0.1-34
                  haskell-commonmark             0.2.1-21             0.2.1-22
       haskell-commonmark-extensions           0.2.1.2-28           0.2.1.2-29
           haskell-commonmark-pandoc           0.2.1.1-25           0.2.1.1-26
                     haskell-comonad            5.0.8-111            5.0.8-112
                     haskell-concise          0.1.0.1-329          0.1.0.1-330
           haskell-concurrent-output          1.10.12-111          1.10.12-112
           haskell-concurrent-supply            0.1.8-121            0.1.8-122
                     haskell-conduit            1.3.4.2-8            1.3.4.2-9
               haskell-conduit-extra            1.3.5-177            1.3.5-178
               haskell-conduit-parse          0.2.1.0-163          0.2.1.0-164
                  haskell-config-ini          0.2.4.0-263          0.2.4.0-264
                haskell-configurator          0.3.0.0-234          0.3.0.0-235
             haskell-configurator-pg             0.2.5-92             0.2.5-93
                  haskell-connection            0.3.1-151            0.3.1-152
                 haskell-constraints              0.13-41              0.13-42
          haskell-constraints-extras           0.3.1.0-45           0.3.1.0-46
                   haskell-cprng-aes            0.6.1-239            0.6.1-240
                    haskell-cracknum               3.2-32               3.2-33
                     haskell-critbit          0.2.0.0-167          0.2.0.0-168
                   haskell-criterion          1.5.10.0-19          1.5.10.0-20
       haskell-criterion-measurement           0.1.3.0-23           0.1.3.0-24
            haskell-crypto-api-tests              0.3-165              0.3-166
         haskell-crypto-cipher-types            0.0.9-233            0.0.9-234
               haskell-crypto-enigma           0.1.1.6-10           0.1.1.6-11
         haskell-crypto-pubkey-types            0.4.3-243            0.4.3-244
               haskell-crypto-random            0.0.9-240            0.0.9-241
                  haskell-cryptohash           0.11.9-249           0.11.9-250
        haskell-cryptohash-cryptoapi            0.1.4-205            0.1.4-206
              haskell-cryptohash-md5         0.11.101.0-9        0.11.101.0-10
           haskell-cryptohash-sha256         0.11.102.1-3         0.11.102.1-4
                  haskell-cryptonite              0.29-30              0.29-31
          haskell-cryptonite-conduit            0.2.2-428            0.2.2-429
                    haskell-css-text          0.1.3.0-194          0.1.3.0-195
                  haskell-data-clist          0.1.2.3-134          0.1.2.3-135
                haskell-data-default          0.7.1.1-176          0.7.1.1-177
haskell-data-default-instances-dlist            0.0.1-189            0.0.1-190
                  haskell-data-dword            0.3.2-111            0.3.2-112
                    haskell-data-fix             0.3.2-15             0.3.2-16
             haskell-data-serializer             0.3.5-44             0.3.5-45
                haskell-data-textual          0.3.0.3-166          0.3.0.3-167
             haskell-data-tree-print           0.1.0.2-60           0.1.0.2-61
                         haskell-dav            1.3.4-368            1.3.4-369
                        haskell-dbus            1.2.21-77            1.2.21-78
               haskell-dbus-hslogger          0.1.0.1-255          0.1.0.1-256
                     haskell-decimal             0.5.2-39             0.5.2-40
              haskell-deferred-folds            0.9.17-78            0.9.17-79
        haskell-dense-linear-algebra          0.1.0.0-156          0.1.0.0-157
               haskell-dependent-map           0.4.0.0-52           0.4.0.0-53
               haskell-dependent-sum           0.7.1.0-52           0.7.1.0-53
      haskell-dependent-sum-template           0.1.0.3-52           0.1.0.3-53
                       haskell-deque              0.4.4-9             0.4.4-10
              haskell-deriving-aeson              0.2.8-5              0.2.8-6
             haskell-deriving-compat                0.6-7                0.6-8
                 haskell-descriptive            0.9.5-259            0.9.5-260
               haskell-direct-sqlite            2.3.26-50            2.3.26-51
                haskell-distributive          0.6.2.1-115          0.6.2.1-116
                       haskell-dlist              1.0-112              1.0-113
             haskell-dlist-instances          0.1.1.1-126          0.1.1.1-127
                         haskell-dns            4.0.1-187            4.0.1-188
                   haskell-doclayout           0.3.0.2-38           0.3.0.2-39
                haskell-doctemplates           0.10.0.1-6           0.10.0.1-7
                     haskell-doctest             0.18.2-9            0.18.2-10
          haskell-doctest-driver-gen           0.3.0.4-22           0.3.0.4-23
      haskell-doctest-exitcode-stdio               0.0-39               0.0-40
           haskell-double-conversion          2.0.2.0-135          2.0.2.0-136
                        haskell-drbg            0.5.5-209            0.5.5-210
                  haskell-edisoncore          1.3.2.1-151          1.3.2.1-152
               haskell-edit-distance          0.2.2.1-120          0.2.2.1-121
        haskell-edit-distance-vector          1.0.0.4-189          1.0.0.4-190
                      haskell-either          5.0.1.1-184          5.0.1.1-185
              haskell-email-validate          2.3.2.15-18          2.3.2.15-19
                      haskell-emojis              0.1-124              0.1-125
         haskell-enclosed-exceptions            1.0.3-166            1.0.3-167
                 haskell-equivalence            0.3.5-132            0.3.5-133
                   haskell-esqueleto           3.5.2.1-43           3.5.2.1-44
                    haskell-exact-pi           0.5.0.1-18           0.5.0.1-19
          haskell-expiring-cache-map          0.0.6.1-180          0.0.6.1-181
                       haskell-extra            1.7.10-11            1.7.10-12
                 haskell-fast-logger             3.0.5-37             3.0.5-38
                    haskell-fclabels           2.0.5.1-25           2.0.5.1-26
                  haskell-fdo-notify            0.3.1-505            0.3.1-506
                        haskell-feed           1.3.2.0-65           1.3.2.0-66
                         haskell-fgl          5.7.0.3-104          5.7.0.3-105
               haskell-fgl-arbitrary           0.2.0.6-39           0.2.0.6-40
                    haskell-filelock          0.1.1.5-105          0.1.1.5-106
         haskell-filepath-bytestring         1.4.2.1.8-14         1.4.2.1.8-15
                 haskell-filepattern            0.1.2-156            0.1.2-157
                   haskell-filtrable           0.1.6.0-96           0.1.6.0-97
                         haskell-fin               0.2-34               0.2-35
                  haskell-fingertree          0.1.4.2-144          0.1.4.2-145
           haskell-flexible-defaults             0.0.3-61             0.0.3-62
                    haskell-floskell           0.10.5-141           0.10.5-142
               haskell-fold-debounce          0.2.0.9-125          0.2.0.9-126
                       haskell-foldl            1.4.12-24            1.4.12-25
                  haskell-foundation          0.0.26.1-30          0.0.26.1-31
                    haskell-fourmolu          0.3.0.0-105          0.3.0.0-106
                        haskell-free             5.1.7-39             5.1.7-40
                    haskell-fsnotify          0.3.0.1-235          0.3.0.1-236
                       haskell-fuzzy           0.1.0.1-10           0.1.0.1-11
                       haskell-gauge            0.2.5-133            0.2.5-134
                haskell-generic-data            0.9.2.1-9           0.9.2.1-10
            haskell-generic-deriving            1.14.1-11            1.14.1-12
                haskell-generic-lens           2.2.0.0-29           2.2.0.0-30
              haskell-generic-random           1.5.0.0-18           1.5.0.0-19
                 haskell-genvalidity          0.11.0.2-19          0.11.0.2-20
           haskell-genvalidity-hspec          0.7.0.4-126          0.7.0.4-127
        haskell-genvalidity-property          0.5.0.1-126          0.5.0.1-127
             haskell-getopt-generics         0.13.0.4-102         0.13.0.4-103
                   haskell-ghc-check           0.5.0.6-12           0.5.0.6-13
              haskell-ghc-exactprint             0.6.4-50             0.6.4-51
           haskell-ghc-lib-parser-ex           9.0.0.4-25           9.0.0.4-26
              haskell-ghc-source-gen           0.4.2.0-11           0.4.2.0-12
          haskell-ghc-typelits-extra             0.4.3-19             0.4.3-20
       haskell-ghc-typelits-knownnat             0.7.6-18             0.7.6-19
   haskell-ghc-typelits-natnormalise             0.7.6-19             0.7.6-20
                      haskell-ghcide           1.4.1.0-23           1.4.1.0-25
                          haskell-gi            0.25.0-61            0.25.0-62
                    haskell-gi-cairo            1.0.25-61            1.0.25-62
                     haskell-git-lfs            1.1.1-131            1.1.1-132
                     haskell-githash           0.1.6.2-15           0.1.6.2-16
                        haskell-glib         0.13.8.1-111         0.13.8.1-112
                        haskell-glob             0.10.2-3             0.10.2-4
                    haskell-graphite          0.10.0.1-51          0.10.0.1-52
                    haskell-graphviz      2999.20.1.0-106      2999.20.1.0-107
           haskell-gtk2hs-buildtools         0.13.8.0-129         0.13.8.0-130
                        haskell-gtk3            0.15.5-93            0.15.5-94
                  haskell-hackage-db             2.1.2-22             2.1.2-23
            haskell-hackage-security          0.6.0.1-241          0.6.0.1-242
             haskell-haddock-library            1.10.0-64            1.10.0-65
                      haskell-hakyll         4.14.0.0-147         4.14.0.0-149
                        haskell-half             0.3.1-64             0.3.1-65
                    haskell-hashable            1.3.4.0-3            1.3.4.0-4
               haskell-hashable-time               0.3-27               0.3-28
                  haskell-hashtables            1.2.4.2-5            1.2.4.2-6
                       haskell-hasql            1.4.5.3-9           1.4.5.3-10
    haskell-hasql-dynamic-statements             0.3.1-29             0.3.1-30
             haskell-hasql-implicits           0.1.0.2-29           0.1.0.2-30
         haskell-hasql-notifications           0.2.0.0-31           0.2.0.0-32
                  haskell-hasql-pool            0.5.2-260            0.5.2-261
           haskell-hasql-transaction             1.0.1-47             1.0.1-48
                    haskell-heapsize           0.3.0.1-78           0.3.0.1-79
                    haskell-hedgehog             1.0.5-65             1.0.5-66
                        haskell-here           1.2.13-254           1.2.13-255
              haskell-hi-file-parser           0.1.2.0-39           0.1.2.0-40
                    haskell-hie-bios             0.7.6-12             0.7.6-13
                       haskell-hiedb           0.4.1.0-10           0.4.1.0-11
                    haskell-hinotify             0.4.1-84             0.4.1-85
                        haskell-hint           0.9.0.4-39           0.9.0.4-40
                      haskell-hjsmin          0.2.0.4-136          0.2.0.4-137
                haskell-hjsonpointer            1.5.0-244            1.5.0-245
                 haskell-hledger-lib            1.22.2-27            1.22.2-28
   haskell-hls-call-hierarchy-plugin           1.0.0.0-23           1.0.0.0-25
             haskell-hls-eval-plugin           1.1.2.0-24           1.1.2.0-26
 haskell-hls-explicit-imports-plugin           1.0.1.0-23           1.0.1.0-25
         haskell-hls-floskell-plugin           1.0.0.1-23           1.0.0.1-25
         haskell-hls-fourmolu-plugin           1.0.0.2-24           1.0.0.2-26
                   haskell-hls-graph           1.4.0.0-56           1.4.0.0-58
 haskell-hls-haddock-comments-plugin           1.0.0.3-23           1.0.0.3-25
            haskell-hls-hlint-plugin           1.0.1.1-23           1.0.1.1-25
      haskell-hls-module-name-plugin           1.0.0.1-23           1.0.0.1-25
           haskell-hls-ormolu-plugin           1.0.1.0-23           1.0.1.0-25
              haskell-hls-plugin-api           1.2.0.0-17           1.2.0.0-19
          haskell-hls-pragmas-plugin           1.0.1.0-23           1.0.1.0-25
           haskell-hls-retrie-plugin           1.0.1.1-23           1.0.1.1-25
  haskell-hls-stylish-haskell-plugin           1.0.0.2-24           1.0.0.2-26
              haskell-hls-test-utils           1.1.0.0-24           1.1.0.0-26
                    haskell-hopenpgp            2.9.5-194            2.9.5-195
                        haskell-hosc            0.19.1-21            0.19.1-22
                   haskell-hourglass           0.2.12-159           0.2.12-160
                       haskell-hpack            0.34.4-87            0.34.4-88
                 haskell-hs-bibutils          6.10.0.0-63          6.10.0.0-64
                    haskell-hslogger          1.3.1.0-137          1.3.1.0-138
                       haskell-hslua           1.3.0.1-73           1.3.0.1-74
           haskell-hslua-module-path           0.1.0.1-58           0.1.0.1-59
         haskell-hslua-module-system          0.2.2.1-129          0.2.2.1-130
           haskell-hslua-module-text          0.3.0.1-117          0.3.0.1-118
                   haskell-hsopenssl           0.11.7.2-7           0.11.7.2-8
                       haskell-hspec             2.8.3-71             2.8.3-72
            haskell-hspec-attoparsec           0.1.0.2-92           0.1.0.2-93
               haskell-hspec-contrib            0.5.1-153            0.5.1-154
                  haskell-hspec-core             2.8.3-66             2.8.3-67
              haskell-hspec-discover             2.8.3-27             2.8.3-28
          haskell-hspec-expectations            0.8.2-172            0.8.2-173
   haskell-hspec-expectations-lifted            0.10.0-81            0.10.0-82
                haskell-hspec-golden           0.2.0.0-32           0.2.0.0-33
              haskell-hspec-hedgehog          0.0.1.2-120          0.0.1.2-121
            haskell-hspec-megaparsec             2.2.0-82             2.2.0-83
                  haskell-hspec-meta            2.7.8-133            2.7.8-134
            haskell-hspec-smallcheck            0.5.2-189            0.5.2-190
                   haskell-hspec-wai           0.11.1-142           0.11.1-143
              haskell-hspec-wai-json           0.11.0-189           0.11.0-190
                      haskell-hsyaml          0.2.1.0-129          0.2.1.0-130
                haskell-hsyaml-aeson            0.2.0.1-3            0.2.0.1-4
                haskell-html-conduit           1.3.2.2-23           1.3.2.2-24
             haskell-html-entity-map           0.1.0.0-31           0.1.0.0-32
                  haskell-html-parse           0.2.0.2-25           0.2.0.2-26
                        haskell-http         4000.3.16-87         4000.3.16-89
               haskell-http-api-data             0.4.3-77             0.4.3-78
                 haskell-http-client             0.7.9-12             0.7.9-13
      haskell-http-client-restricted            0.0.4-101            0.0.4-102
             haskell-http-client-tls          0.3.5.3-460          0.3.5.3-461
                 haskell-http-common           0.8.3.4-13           0.8.3.4-14
                haskell-http-conduit             2.3.8-96             2.3.8-98
                   haskell-http-date            0.0.11-46            0.0.11-47
               haskell-http-download          0.2.0.0-348          0.2.0.0-350
                  haskell-http-media          0.8.0.0-117          0.8.0.0-118
                haskell-http-streams           0.8.9.4-26           0.8.9.4-28
                  haskell-http-types           0.12.3-191           0.12.3-192
                       haskell-http2             3.0.2-40             3.0.2-41
                  haskell-httpd-shed          0.4.1.1-362          0.4.1.1-363
                       haskell-hunit           1.6.2.0-60           1.6.2.0-61
                         haskell-hxt          9.3.1.22-38          9.3.1.22-39
                 haskell-hyphenation             0.8.2-20             0.8.2-21
                haskell-implicit-hie           0.1.2.6-35           0.1.2.6-36
         haskell-implicit-hie-cradle           0.3.0.5-45           0.3.0.5-46
          haskell-incremental-parser           0.5.0.2-62           0.5.0.2-63
       haskell-indexed-list-literals           0.2.1.3-18           0.2.1.3-19
haskell-indexed-traversable-instances               0.1-49               0.1-50
               haskell-infer-license            0.2.0-161            0.2.0-162
                         haskell-ini            0.4.1-171            0.4.1-172
               haskell-input-parsers             0.2.3-22             0.2.3-23
   haskell-insert-ordered-containers             0.2.5-36             0.2.5-37
               haskell-integer-roots           1.0.0.1-12           1.0.0.1-13
                 haskell-interpolate            0.2.1-152            0.2.1-153
    haskell-interpolatedstring-perl6            1.0.2-169            1.0.2-170
                   haskell-invariant             0.5.4-98             0.5.4-99
                  haskell-io-streams           1.5.2.1-32           1.5.2.1-33
          haskell-io-streams-haproxy          1.0.1.0-176          1.0.1.0-177
                     haskell-iproute            1.7.11-40            1.7.11-41
                       haskell-ipynb          0.1.0.1-248          0.1.0.1-249
                 haskell-ixset-typed              0.5-201              0.5-202
            haskell-jira-wiki-markup             1.4.0-26             1.4.0-27
                        haskell-jose              0.8.5-8              0.8.5-9
                   haskell-js-jquery            3.3.1-712            3.3.1-714
                        haskell-json              0.10-65              0.10-66
                    haskell-json-ast            0.3.1-178            0.3.1-179
                 haskell-juicypixels              3.3.6-3              3.3.6-4
              haskell-kan-extensions             5.2.3-21             5.2.3-22
                        haskell-keys           3.12.3-152           3.12.3-153
                        haskell-knob             0.1.1-39             0.1.1-40
                    haskell-kvitable           1.0.0.0-28           1.0.0.0-29
    haskell-language-haskell-extract             0.2.4-13             0.2.4-14
         haskell-language-javascript           0.7.1.0-70           0.7.1.0-71
             haskell-language-python             0.5.8-67             0.5.8-68
             haskell-language-server           1.3.0.0-25           1.3.0.0-27
                    haskell-lattices            2.0.2-119            2.0.2-120
                        haskell-lens             5.0.1-49             5.0.1-50
                 haskell-lens-action             0.2.5-66             0.2.5-67
                  haskell-lens-aeson              1.1.2-7              1.1.2-8
                       haskell-libbf             0.6.2-46             0.6.2-47
                      haskell-libmpd          0.10.0.0-54          0.10.0.0-55
                     haskell-libyaml            0.1.2-172            0.1.2-173
                haskell-lifted-async          0.10.2.1-26          0.10.2.1-27
                 haskell-lifted-base         0.2.3.12-180         0.2.3.12-181
                 haskell-linear-base             0.1.0-27             0.1.0-28
                    haskell-listlike             4.7.6-10             4.7.6-11
              haskell-logging-facade            0.3.0-248            0.3.0-249
                      haskell-logict           0.7.1.0-81           0.7.1.0-82
                        haskell-loop            0.3.0-159            0.3.0-160
                         haskell-lsp           1.2.0.1-12           1.2.0.1-13
                    haskell-lsp-test          0.14.0.1-16          0.14.0.1-17
                   haskell-lsp-types            1.3.0.1-8            1.3.0.1-9
                        haskell-lsp0          0.24.0.0-62          0.24.0.0-63
                   haskell-lsp0-test          0.11.0.7-75          0.11.0.7-76
                  haskell-lsp0-types          0.24.0.0-61          0.24.0.0-62
                       haskell-lucid          2.9.12.1-50          2.9.12.1-51
                       haskell-lukko           0.1.1.3-46           0.1.1.3-47
                  haskell-lumberjack           1.0.0.1-30           1.0.0.1-31
              haskell-markdown-unlit             0.5.1-72             0.5.1-73
              haskell-math-functions           0.3.4.2-73           0.3.4.2-74
                  haskell-megaparsec              9.2.0-6              9.2.0-7
                      haskell-memory            0.16.0-30            0.16.0-31
                    haskell-memotrie           0.6.10-130           0.6.10-131
      haskell-mersenne-random-pure64           0.2.2.0-92           0.2.2.0-93
             haskell-microlens-aeson            2.3.1-143            2.3.1-144
          haskell-microlens-platform             0.4.2-73             0.4.2-74
                   haskell-microspec          0.2.1.3-131          0.2.1.3-132
                 haskell-microstache           1.0.1.2-98           1.0.1.2-99
                   haskell-mime-mail             0.5.1-46             0.5.1-47
                       haskell-mmark           0.0.7.3-57           0.0.7.3-58
                     haskell-mockery            0.3.5-324            0.3.5-325
                         haskell-mod           0.1.2.2-26           0.1.2.2-27
                  haskell-modern-uri            0.3.4.2-8            0.3.4.2-9
               haskell-monad-control           1.0.3.1-15           1.0.3.1-16
              haskell-monad-dijkstra          0.1.1.3-160          0.1.1.3-161
               haskell-monad-journal            0.8.1-182            0.8.1-183
                haskell-monad-logger           0.3.36-131           0.3.36-132
                  haskell-monad-memo             0.5.3-88             0.5.3-89
                   haskell-monad-par            0.3.5-132            0.3.5-133
            haskell-monad-par-extras            0.3.3-128            0.3.3-129
                 haskell-monadrandom             0.5.3-32             0.5.3-33
            haskell-mono-traversable           1.0.15.3-8           1.0.15.3-9
  haskell-mono-traversable-instances           0.1.1.0-41           0.1.1.0-42
           haskell-monoid-subclasses              1.1.2-3              1.1.2-4
                      haskell-mueval             0.9.3-94             0.9.3-95
                  haskell-multistate           0.8.0.3-91           0.8.0.3-92
                    haskell-mustache            2.3.1-388            2.3.1-389
          haskell-mutable-containers            0.3.4-165            0.3.4-166
                  haskell-mwc-random          0.15.0.2-22          0.15.0.2-23
                       haskell-mysql           0.2.0.1-30           0.2.0.1-31
                haskell-mysql-simple             0.4.6-34             0.4.6-35
                    haskell-nanospec            0.2.2-214            0.2.2-215
          haskell-neat-interpolation          0.5.1.2-172          0.5.1.2-173
                      haskell-nettle            0.3.0-183            0.3.0-184
                     haskell-network           3.1.2.2-21           3.1.2.2-22
                 haskell-network-bsd          2.8.1.0-117          2.8.1.0-118
          haskell-network-byte-order             0.1.6-91             0.1.6-92
                  haskell-network-ip          0.3.0.3-174          0.3.0.3-175
           haskell-network-multicast            0.3.2-119            0.3.2-120
                 haskell-network-run             0.2.4-32             0.2.4-33
                 haskell-network-uri           2.6.4.1-48           2.6.4.1-49
            haskell-newtype-generics              0.6.1-3              0.6.1-4
                haskell-non-negative            0.1.2-152            0.1.2-153
                       haskell-nonce            1.0.7-205            1.0.7-206
                   haskell-one-liner               2.0-32               2.0-33
          haskell-openpgp-asciiarmor            0.1.2-147            0.1.2-148
             haskell-openssl-streams          1.2.3.0-111          1.2.3.0-112
               haskell-opentelemetry             0.7.0-24             0.7.0-25
                haskell-optics-extra               0.4-50               0.4-51
        haskell-optparse-applicative         0.16.1.0-163         0.16.1.0-164
            haskell-optparse-generic              1.4.6-6              1.4.6-7
             haskell-optparse-simple           0.1.1.4-47           0.1.1.4-48
                      haskell-ormolu           0.2.0.0-19           0.2.0.0-20
                haskell-pandoc-types             1.22-112             1.22-113
                       haskell-pango         0.13.8.1-111         0.13.8.1-112
                      haskell-pantry           0.5.2.3-58           0.5.2.3-60
         haskell-parameterized-utils           2.1.3.0-62           2.1.3.0-63
                     haskell-parsers          0.12.10-183          0.12.10-184
                        haskell-path             0.9.0-26             0.9.0-27
                     haskell-path-io             1.6.3-29             1.6.3-30
                  haskell-pcre-heavy          1.0.0.2-202          1.0.0.2-203
                  haskell-pcre-light          0.4.1.0-142          0.4.1.0-143
                         haskell-pem            0.2.4-193            0.2.4-194
                  haskell-persistent          2.13.1.2-19          2.13.1.2-20
            haskell-persistent-mysql          2.13.0.1-65          2.13.0.1-66
       haskell-persistent-postgresql          2.13.0.3-57          2.13.0.3-58
               haskell-persistent-qq          2.12.0.1-63          2.12.0.1-64
           haskell-persistent-sqlite          2.13.0.3-58          2.13.0.3-59
             haskell-persistent-test          2.13.0.3-58          2.13.0.3-59
                haskell-pgp-wordlist          0.1.0.3-147          0.1.0.3-148
                       haskell-pipes            4.3.16-31            4.3.16-32
                  haskell-pipes-http            1.0.6-377            1.0.6-378
                     haskell-pointed              5.0.3-6              5.0.3-7
                    haskell-polysemy           1.6.0.0-20           1.6.0.0-21
           haskell-postgresql-binary          0.12.4.1-21          0.12.4.1-22
           haskell-postgresql-simple             0.6.4-44             0.6.4-45
               haskell-pretty-simple          4.0.0.0-114          4.0.0.0-115
               haskell-prettyprinter             1.7.1-10             1.7.1-11
 haskell-prettyprinter-ansi-terminal             1.1.3-12             1.1.3-13
haskell-prettyprinter-convert-ansi-wl-pprint             1.1.2-12             1.1.2-13
                   haskell-primitive           0.7.2.0-27           0.7.2.0-28
              haskell-primitive-addr           0.1.0.2-18           0.1.0.2-19
              haskell-process-extras            0.7.4-212            0.7.4-213
                 haskell-profunctors             5.6.2-52             5.6.2-53
            haskell-project-template          0.2.1.0-153          0.2.1.0-154
                   haskell-protolude            0.3.0-110            0.3.0-111
                    haskell-psqueues          0.2.7.2-136          0.2.7.2-137
                         haskell-ptr          0.16.8.1-17          0.16.8.1-18
                  haskell-quickcheck           2.14.2-233           2.14.2-234
       haskell-quickcheck-assertions            0.3.0-194            0.3.0-195
          haskell-quickcheck-classes           0.6.5.0-26           0.6.5.0-27
     haskell-quickcheck-classes-base           0.6.2.0-66           0.6.2.0-67
        haskell-quickcheck-instances          0.3.25.2-77          0.3.25.2-78
               haskell-quickcheck-io            0.2.0-395            0.2.0-396
             haskell-quickcheck-text           0.1.2.1-39           0.1.2.1-40
          haskell-quickcheck-unicode          1.0.1.0-151          1.0.1.0-152
                         haskell-ral               0.2-44               0.2-45
                      haskell-random             1.2.1-22             1.2.1-23
                   haskell-random-fu           0.2.7.7-93           0.2.7.7-94
              haskell-random-shuffle             0.0.4-93             0.0.4-94
               haskell-random-source          0.3.0.11-93          0.3.0.11-94
                 haskell-ranged-sets            0.4.0-141            0.4.0-142
                haskell-rank2classes              1.4.3-9             1.4.3-10
              haskell-raw-strings-qq              1.1-136              1.1-137
                      haskell-rebase          1.13.0.1-37          1.13.0.1-38
     haskell-record-dot-preprocessor            0.2.12-13            0.2.12-14
           haskell-recursion-schemes           5.2.2.1-48           5.2.2.1-49
                    haskell-reducers             3.12.4-1             3.12.4-2
                    haskell-refinery           0.4.0.0-25           0.4.0.0-26
                  haskell-reflection            2.1.6-109            2.1.6-110
           haskell-regex-applicative            0.3.4-106            0.3.4-107
      haskell-regex-applicative-text          0.1.0.1-126          0.1.0.1-127
                  haskell-regex-base           0.94.0.1-3           0.94.0.2-1
                haskell-regex-compat           0.95.2.1-4           0.95.2.1-5
           haskell-regex-compat-tdfa          0.95.1.4-57          0.95.1.4-58
                  haskell-regex-pcre          0.95.0.0-11          0.95.0.0-12
                 haskell-regex-posix           0.96.0.1-1           0.96.0.1-2
                  haskell-regex-tdfa           1.3.1.1-23           1.3.1.1-24
            haskell-reinterpret-cast            0.1.0-159            0.1.0-160
                      haskell-relude          0.7.0.0-123          0.7.0.0-124
                         haskell-req             3.9.1-48             3.9.1-49
                        haskell-rere               0.2-49               0.2-50
                    haskell-rerebase          1.13.0.1-37          1.13.0.1-38
                      haskell-resolv          0.1.2.0-113          0.1.2.0-114
               haskell-resource-pool          0.2.3.2-209          0.2.3.2-210
                   haskell-resourcet           1.2.4.3-15           1.2.4.3-16
                      haskell-retrie           1.0.0.0-29           1.0.0.0-30
                       haskell-retry           0.9.0.0-24           0.9.0.0-25
                         haskell-rio          0.1.21.0-19          0.1.21.0-20
                 haskell-rio-orphans           0.1.2.0-62           0.1.2.0-63
             haskell-rio-prettyprint          0.1.1.0-152          0.1.1.0-153
            haskell-rope-utf16-splay           0.3.2.0-50           0.3.2.0-51
                         haskell-rsa            2.4.1-133            2.4.1-134
                        haskell-rvar           0.2.0.6-93           0.2.0.6-94
             haskell-safe-exceptions           0.1.7.2-18           0.1.7.2-19
                    haskell-safecopy          0.10.4.2-61          0.10.4.2-62
                       haskell-sandi              0.5-262              0.5-263
                         haskell-say          0.1.0.1-129          0.1.0.1-130
                         haskell-sbv              8.16-23              8.16-24
                  haskell-scientific           0.3.7.0-26           0.3.7.0-27
                      haskell-scotty             0.12-194             0.12-196
                   haskell-securemem           0.1.10-195           0.1.10-196
                   haskell-selective             0.4.2-47             0.4.2-48
                   haskell-semialign               1.2-52               1.2-53
               haskell-semigroupoids              5.3.6-7              5.3.6-8
                   haskell-semirings               0.6-18               0.6-19
                   haskell-serialise          0.2.3.0-164          0.2.3.0-165
                     haskell-servant            0.18.3-25            0.18.3-26
              haskell-servant-client            0.18.3-52            0.18.3-54
         haskell-servant-client-core            0.18.3-31            0.18.3-32
              haskell-servant-server            0.18.3-50            0.18.3-52
             haskell-servant-swagger           1.1.10-195           1.1.10-196
                       haskell-shake            0.19.5-53            0.19.5-55
                 haskell-shakespeare           2.0.25-134           2.0.25-135
                haskell-shell-escape            0.2.0-113            0.2.0-114
                    haskell-shellmet           0.0.4.0-38           0.0.4.0-39
                      haskell-shelly            1.9.0-109            1.9.0-110
        haskell-should-not-typecheck            2.1.0-175            2.1.0-176
                        haskell-show               0.6-60               0.6-61
             haskell-simple-sendfile           0.2.30-221           0.2.30-222
                 haskell-skylighting              0.11-36              0.11-37
            haskell-skylighting-core              0.11-38              0.11-39
                  haskell-smallcheck             1.2.1-99            1.2.1-100
                   haskell-snap-core          1.0.4.2-183          1.0.4.2-184
                 haskell-snap-server          1.1.2.0-226          1.1.2.0-227
                       haskell-socks            0.6.1-139            0.6.1-140
                   haskell-sourcemap           0.1.6.1-39           0.1.6.1-40
                        haskell-spdx          1.0.0.2-112          1.0.0.2-113
              haskell-special-values          0.1.0.0-115          0.1.0.0-116
                       haskell-split          0.2.3.4-158          0.2.3.4-159
                    haskell-splitmix            0.1.0.4-5            0.1.0.4-6
               haskell-sqlite-simple          0.4.18.0-56          0.4.18.0-57
                    haskell-src-exts           1.23.1-113           1.23.1-114
               haskell-src-exts-util            0.2.5-175            0.2.5-176
                    haskell-src-meta             0.8.7-46             0.8.7-47
                  haskell-statistics         0.15.2.0-196         0.15.2.0-197
                haskell-stmonadtrans             0.4.6-11             0.4.6-12
            haskell-storable-complex          0.2.3.0-154          0.2.3.0-155
             haskell-storable-record             0.0.6-15             0.0.6-16
              haskell-storable-tuple          0.0.3.3-183          0.0.3.3-184
              haskell-storablevector         0.2.13.1-107         0.2.13.1-108
                       haskell-store            0.7.12-21            0.7.12-22
                  haskell-store-core           0.4.4.4-78           0.4.4.4-79
                      haskell-stream           0.4.7.2-39           0.4.7.2-40
           haskell-streaming-commons          0.2.2.1-107          0.2.2.1-108
                     haskell-streams               3.3-42               3.3-43
                      haskell-strict           0.4.0.1-81           0.4.0.1-82
                 haskell-strict-list             0.1.6-13             0.1.6-14
          haskell-string-conversions           0.4.0.1-83           0.4.0.1-84
                   haskell-string-qq            0.0.4-123            0.0.4-124
               haskell-stringbuilder            0.5.1-248            0.5.1-249
                  haskell-structured              0.1.1-7              0.1.1-8
                     haskell-success            0.2.6-189            0.2.6-190
                    haskell-summoner          2.0.1.1-225          2.0.1.1-226
                haskell-summoner-tui          2.0.1.1-249          2.0.1.1-250
                 haskell-svg-builder             0.1.1-41             0.1.1-42
                    haskell-swagger2             2.6.1-31             2.6.1-32
                         haskell-syb           0.7.2.1-86           0.7.2.1-87
               haskell-system-fileio         0.3.16.4-154         0.3.16.4-155
             haskell-system-filepath           0.4.14-159           0.4.14-160
                     haskell-tagsoup           0.14.8-139           0.14.8-140
           haskell-tagstream-conduit            0.5.6-172            0.5.6-173
        haskell-tamarin-prover-sapic             1.6.1-17             1.6.1-18
         haskell-tamarin-prover-term             1.6.1-13             1.6.1-14
       haskell-tamarin-prover-theory             1.6.1-17             1.6.1-18
        haskell-tamarin-prover-utils             1.6.1-13             1.6.1-14
                         haskell-tar           0.5.1.1-85           0.5.1.1-86
                 haskell-tar-conduit            0.3.2-241            0.3.2-242
                       haskell-tasty             1.4.2-30             1.4.2-31
               haskell-tasty-ant-xml             1.1.8-44             1.1.8-45
             haskell-tasty-checklist           1.0.3.0-19           1.0.3.0-20
              haskell-tasty-discover            4.2.2-111            4.2.2-112
      haskell-tasty-expected-failure           0.12.3-102           0.12.3-104
                haskell-tasty-golden            2.3.4-111            2.3.4-112
              haskell-tasty-hedgehog           1.1.0.0-64           1.1.0.0-65
                 haskell-tasty-hspec               1.2-26               1.2-27
                 haskell-tasty-hunit         0.10.0.3-225         0.10.0.3-226
    haskell-tasty-inspection-testing               0.1-19               0.1-20
                   haskell-tasty-kat             0.0.3-82             0.0.3-83
                   haskell-tasty-lua           0.2.3.2-92           0.2.3.2-93
            haskell-tasty-quickcheck         0.10.1.2-244         0.10.1.2-245
                 haskell-tasty-rerun            1.1.18-82            1.1.18-83
                haskell-tasty-silver              3.3.1-7              3.3.1-8
            haskell-tasty-smallcheck            0.8.2-198            0.8.2-199
                 haskell-tasty-sugar           1.1.1.0-33           1.1.1.0-34
                    haskell-tasty-th            0.1.7-224            0.1.7-225
                     haskell-tdigest           0.2.1.1-71           0.2.1.1-72
                   haskell-temporary              1.3-317              1.3-318
              haskell-test-framework          0.8.2.0-359          0.8.2.0-360
        haskell-test-framework-hunit          0.3.0.2-343          0.3.0.2-344
    haskell-test-framework-leancheck             0.0.4-19             0.0.4-20
  haskell-test-framework-quickcheck2          0.3.0.5-341          0.3.0.5-342
   haskell-test-framework-smallcheck              0.2-169              0.2-170
           haskell-test-framework-th            0.2.4-143            0.2.4-144
                    haskell-test-lib               0.3-23               0.3-24
                     haskell-texmath          0.12.3.1-18          0.12.3.1-19
                haskell-text-builder           0.6.6.3-12           0.6.6.3-13
            haskell-text-conversions             0.3.1-95             0.3.1-96
                 haskell-text-latin1            0.3.1-125            0.3.1-126
             haskell-text-manipulate           0.3.0.0-77           0.3.0.0-78
                haskell-text-metrics             0.3.1-12             0.3.1-13
                haskell-text-printer            0.5.0.2-6            0.5.0.2-7
                  haskell-text-short              0.1.4-7              0.1.4-8
                   haskell-text-show              3.9.1-6              3.9.1-7
                 haskell-text-zipper              0.11-63              0.11-64
                   haskell-tf-random              0.5-392              0.5-393
                   haskell-th-compat             0.1.3-10             0.1.3-11
                  haskell-th-desugar              1.12-43              1.12-44
                      haskell-th-env           0.1.0.2-59           0.1.0.2-60
              haskell-th-expand-syns           0.4.8.0-41           0.4.8.0-42
                   haskell-th-extras           0.0.0.4-61           0.0.0.4-62
           haskell-th-lift-instances            0.1.18-79            0.1.18-80
                  haskell-th-orphans            0.13.12-8            0.13.12-9
               haskell-th-reify-many            0.1.10-12            0.1.10-13
                haskell-th-utilities           0.2.4.3-36           0.2.4.3-37
                       haskell-these          1.1.1.1-108          1.1.1.1-109
                       haskell-tidal             1.7.8-21             1.7.8-22
                 haskell-time-compat           1.9.6.1-10           1.9.6.1-11
                haskell-time-manager            0.0.0-193            0.0.0-194
                         haskell-tls             1.5.5-55             1.5.5-56
         haskell-tls-session-manager            0.0.4-195            0.0.4-196
                     haskell-tomland           1.3.3.0-51           1.3.3.0-52
                   haskell-topograph           1.0.0.1-33           1.0.0.1-34
                     haskell-torrent        10000.1.1-136        10000.1.1-137
           haskell-transformers-base             0.4.6-15             0.4.6-16
                   haskell-tree-diff             0.2.1-11             0.2.1-12
                    haskell-trifecta             2.1.1-74             2.1.1-75
                      haskell-turtle            1.5.22-43            1.5.22-44
                 haskell-type-errors          0.2.0.0-135          0.2.0.0-136
          haskell-type-errors-pretty           0.0.1.2-16           0.0.1.2-17
               haskell-typed-process            0.2.7.0-6            0.2.7.0-7
                          haskell-tz           0.1.3.5-31           0.1.3.5-32
                      haskell-tzdata    0.2.20201021.0-87    0.2.20201021.0-88
                  haskell-unagi-chan           0.4.1.3-96           0.4.1.3-97
           haskell-unicode-collation            0.1.3.1-3            0.1.3.1-4
                haskell-unicode-show            0.1.0.5-3            0.1.0.5-4
          haskell-unicode-transforms             0.3.8-17             0.3.8-18
                    haskell-uniplate            1.6.13-83            1.6.13-84
               haskell-universe-base              1.1.3-6              1.1.3-7
  haskell-universe-reverse-instances             1.1.1-62             1.1.1-63
                   haskell-unix-time            0.4.7-141            0.4.7-142
                   haskell-unixutils            1.54.2-25            1.54.2-26
                    haskell-unliftio            0.2.20-12            0.2.20-13
        haskell-unordered-containers          0.2.14.0-26          0.2.14.0-27
              haskell-uri-bytestring           0.3.3.1-27           0.3.3.1-28
                  haskell-uri-encode          1.5.0.7-122          1.5.0.7-123
                         haskell-url             2.1.3-78             2.1.3-79
                 haskell-utf8-string             1.0.2-63             1.0.2-64
                  haskell-utility-ht            0.0.16-39            0.0.16-40
                        haskell-uuid            1.3.15-33            1.3.15-34
                  haskell-uuid-types             1.0.5-30             1.0.5-31
        haskell-validation-selective           0.1.0.1-46           0.1.0.1-47
                    haskell-validity          0.11.0.1-20          0.11.0.1-21
                       haskell-vault           0.3.1.5-46           0.3.1.5-47
                         haskell-vec               0.4-44               0.4-45
                      haskell-vector          0.12.3.1-13          0.12.3.1-14
           haskell-vector-algorithms           0.8.0.4-78           0.8.0.4-79
     haskell-vector-binary-instances           0.2.5.2-31           0.2.5.2-32
              haskell-vector-builder           0.3.8.2-34           0.3.8.2-35
            haskell-vector-instances              3.4-316              3.4-317
                haskell-vector-sized             1.5.0-14             1.5.0-15
             haskell-vector-th-unbox              0.2.2-6              0.2.2-7
                    haskell-versions             5.0.0-31             5.0.0-32
                        haskell-void            0.7.3-116            0.7.3-117
                         haskell-vty              5.33-50              5.33-51
                         haskell-wai             3.2.3-75             3.2.3-76
              haskell-wai-app-static          3.1.7.2-247          3.1.7.2-249
                 haskell-wai-conduit          3.0.0.4-369          3.0.0.4-370
                    haskell-wai-cors            0.2.7-189            0.2.7-190
                   haskell-wai-extra             3.1.7-20             3.1.7-22
          haskell-wai-handler-launch          3.0.3.1-327          3.0.3.1-329
                  haskell-wai-logger            2.3.6-447            2.3.6-449
       haskell-wai-middleware-static             0.9.1-10             0.9.1-12
              haskell-wai-websockets          3.0.1.2-291          3.0.1.2-292
                        haskell-warp            3.3.17-48             3.3.18-2
                    haskell-warp-tls             3.3.2-16             3.3.2-18
                  haskell-websockets          0.12.7.2-85          0.12.7.2-86
                       haskell-weigh           0.0.16-128           0.0.16-129
                       haskell-what4             1.2.1-45             1.2.1-46
               haskell-with-location            0.1.0-177            0.1.0-178
                   haskell-with-utf8            1.0.2.3-3            1.0.2.3-4
         haskell-wl-pprint-annotated          0.1.0.1-153          0.1.0.1-154
            haskell-wl-pprint-extras          3.5.0.5-269          3.5.0.5-270
          haskell-wl-pprint-terminfo          3.7.1.4-269          3.7.1.4-270
                   haskell-word-wrap                0.5-7                0.5-8
                        haskell-wreq          0.5.3.3-112          0.5.3.3-113
                     haskell-x11-xft            0.3.1-187            0.3.1-188
                        haskell-x509            1.7.5-173            1.7.5-174
                  haskell-x509-store            1.6.7-172            1.6.7-173
                 haskell-x509-system            1.6.6-240            1.6.6-241
             haskell-x509-validation           1.6.11-172           1.6.11-173
                      haskell-xcffib            0.11.1-91            0.11.1-92
                 haskell-xml-conduit           1.9.1.1-52           1.9.1.1-53
                  haskell-xml-hamlet          0.5.0.1-292          0.5.0.1-293
                haskell-xss-sanitize              0.3.7-9             0.3.7-10
                        haskell-yaml           0.11.7.0-8           0.11.7.0-9
                       haskell-yesod           1.6.1.2-65           1.6.1.2-67
                  haskell-yesod-auth          1.6.10.4-17          1.6.10.4-19
                  haskell-yesod-core          1.6.21.0-46          1.6.21.0-48
                  haskell-yesod-form             1.7.0-98            1.7.0-100
            haskell-yesod-persistent           1.6.0.7-84           1.6.0.7-86
                haskell-yesod-static          1.6.1.0-331          1.6.1.0-333
                  haskell-yesod-test           1.6.12-207           1.6.12-209
                        haskell-zenc             0.1.2-26             0.1.2-27
                       haskell-zinza               0.2-25               0.2-26
                 haskell-zip-archive            0.4.1-145            0.4.1-146
                        haskell-zlib           0.6.2.3-46           0.6.2.3-47
               haskell-zlib-bindings           0.1.1.5-70           0.1.1.5-71
                            hasktags           0.71.2-194           0.71.2-195
                           hedgewars            1.0.0-228            1.0.0-229
                              helvum              0.3.1-3              0.3.2-1
                             hindent             5.3.2-88             5.3.2-89
                             hledger            1.22.2-43            1.22.2-44
                        hledger-iadd            1.3.15-50            1.3.15-51
                          hledger-ui            1.22.2-46            1.22.2-47
                         hledger-web            1.22.2-55            1.22.2-57
                               hlint             3.3.1-37             3.3.1-38
                              hoogle          5.0.18.2-19          5.0.18.2-21
                      hopenpgp-tools           0.23.6-160           0.23.6-161
                            htmlhint             0.16.3-1              1.0.0-1
                              hwinfo              21.78-1              21.78-2
                                i2pd             2.39.0-1             2.40.0-1
                       i3status-rust             0.20.6-1             0.20.7-1
                               idris            1.3.3-285            1.3.3-286
                             ipython             7.29.0-1             7.30.0-1
                                jmol           14.31.62-1            14.32.1-1
                               jsmol           14.31.62-1            14.32.1-1
                                 k9s             0.25.5-1             0.25.7-1
                                kcov                 38-1                 39-1
                           leiningen              2.9.7-1              2.9.8-1
                          libdatovka              0.2.0-2              0.2.1-1
                             libsass              3.6.5-1              3.6.5-2
                             libspf2             1.2.10-7             1.2.11-1
                           libx86emu                3.4-1                3.5-1
                      lockfile-progs             0.1.18-2             0.1.19-1
                              lutris            0.5.9.1-1            0.5.9.1-2
                             mailman             2.1.37-1             2.1.38-1
                             maturin             0.12.1-1             0.12.3-1
                              mdbook             0.4.13-1             0.4.14-1
                         meilisearch             0.23.1-1             0.24.0-1
                          misfortune           0.1.1.2-98           0.1.1.2-99
                       mod_passenger             6.0.12-1             6.0.12-2
                             mtpaint            3.50.05-1            3.50.09-1
                              mumble              1.3.4-9             1.3.4-10
                              murmur              1.3.4-9             1.3.4-10
                              neovim              0.5.1-2              0.6.0-1
                             netdata             1.31.0-3             1.32.0-1
              nextcloud-app-calendar            1:2.4.0-1            1:3.0.0-1
                  nextcloud-app-mail             1.10.5-1             1.11.0-1
                    nextcloud-client            1:3.3.6-1            1:3.4.0-2
     nextcloud-client-cloudproviders            1:3.3.6-1            1:3.4.0-2
                      nginx-mainline             1.21.3-1             1.21.4-1
                  nginx-mainline-src             1.21.3-1             1.21.4-1
                  nginx-mod-auth-pam              1.5.3-1              1.5.3-2
                    nginx-mod-brotli          1:1.0.0rc-3          1:1.0.0rc-4
               nginx-mod-cache_purge              2.5.1-3              2.5.1-4
                      nginx-mod-echo               0.62-2               0.62-3
                    nginx-mod-geoip2                3.3-4                3.3-5
              nginx-mod-headers-more               0.33-9              0.33-11
                      nginx-mod-memc               0.19-8               0.19-9
               nginx-mod-modsecurity            1:1.0.2-2            1:1.0.2-3
                     nginx-mod-naxsi                1.3-4                1.3-5
                       nginx-mod-ndk         0.33+0.3.1-1         0.33+0.3.1-2
                       nginx-mod-njs              0.7.0-1              0.7.0-2
                 nginx-mod-pagespeed          1.13.35.2-9         1.13.35.2-10
                 nginx-mod-passenger             6.0.12-1             6.0.12-2
                     nginx-mod-redis              0.3.9-8              0.3.9-9
                    nginx-mod-redis2               0.15-8               0.15-9
                  nginx-mod-set-misc         0.33+0.3.1-1         0.33+0.3.1-2
                   nginx-mod-srcache               0.32-3               0.32-4
                       nginx-mod-vts             0.1.18-4             0.1.18-5
                                npm6            6.14.15-1                    -
                                ogre             13.1.1-1             13.2.0-1
                        openethereum              3.3.0-1              3.3.1-1
                               opera       81.0.4196.54-1       82.0.4227.23-1
                 opera-ffmpeg-codecs       95.0.4638.54-1       96.0.4664.45-1
                              pandoc            2.14.1-62            2.14.1-64
                     pandoc-crossref          0.3.12.0-76          0.3.12.0-78
                           passenger             6.0.12-1             6.0.12-2
                            php-grpc             1.41.1-1             1.42.0-1
                           php7-grpc             1.41.1-1             1.42.0-1
                         playonlinux              4.3.4-3              4.3.4-4
                              polyml              5.8.2-1                5.9-1
                           postgrest             8.0.0-49             8.0.0-51
                               pound              3.0.1-1              3.0.2-1
                            prettier              2.4.1-1              2.5.0-1
                              pulumi             3.18.0-1             3.18.1-1
                             pyright            1.1.190-1            1.1.191-1
                               pyrit              0.5.0-5                    -
                      python-aiohttp        3.7.4.post0-1              3.8.1-2
                python-aiohttp-socks              0.4.2-3              0.7.1-1
                python-async-timeout              3.0.1-5              4.0.1-2
           python-aws-sam-translator             1.40.0-1             1.42.0-1
                 python-cachecontrol             0.12.6-5           1:0.12.6-1
                     python-cfn-lint             0.56.1-1             0.56.2-1
                     python-colorama              0.4.4-3              0.4.4-4
                      python-cypari2              2.1.2-3              2.1.2-4
                    python-cysignals             1.11.0-1             1.11.1-1
            python-database-knotinfo          2021.11.1-1          2021.12.1-1
                      python-distlib              0.3.3-1              0.3.3-2
                       python-distro              1.6.0-1              1.6.0-2
                      python-dropbox            11.23.0-1            11.25.0-1
                     python-filelock             3.0.12-5              3.4.0-1
                        python-flaky              3.7.0-3              3.7.0-4
                       python-fpylll              0.5.6-1              0.5.6-5
                        python-genty              1.3.2-7              1.3.2-8
                       python-grpcio             1.41.1-1             1.42.0-1
                     python-html5lib                1.1-8                1.1-9
                      python-iso8601             0.1.16-1              1.0.2-1
              python-jinja_pluralize              0.2.1-3              0.3.0-1
                 python-libarchive-c                3.1-1                3.2-1
              python-ndg-httpsclient              0.5.1-7              0.5.1-8
                      python-pikepdf              4.0.2-1              4.1.0-1
                        python-pplpy              0.8.7-1              0.8.7-3
                     python-progress                1.6-1                1.6-2
                      python-pysocks              1.7.1-4              1.7.1-5
                 python-python-socks              1.2.4-1              2.0.0-2
                        python-pywal              3.3.0-3              3.3.0-4
                         python-rich            10.14.0-1            10.15.1-1
                          python-rsa              4.7.2-1                4.8-1
                       python-sphinx              4.3.0-1              4.3.1-1
                     python-toposort                1.6-1                1.7-1
                        python-ujson              4.2.0-1              4.3.0-1
                 python-webencodings              0.5.1-6              0.5.1-7
              python-xapian-haystack  2.1.0.r7.g2247b23-2              3.0.1-1
              python-zope-testrunner              5.3.0-2              5.4.0-1
                python2-cachecontrol             0.12.6-5                    -
                    python2-colorama              0.4.4-3                    -
                     python2-distlib              0.3.3-1                    -
                      python2-distro              1.6.0-1                    -
                      python2-enum34              1.1.9-1                    -
                    python2-filelock             3.0.12-5                    -
                       python2-flaky              3.7.0-3                    -
                       python2-genty              1.3.2-7                    -
                    python2-html5lib                1.1-8                    -
                     python2-msgpack              0.6.2-4                    -
             python2-ndg-httpsclient              0.5.1-7                    -
                    python2-progress                1.6-1                    -
                     python2-pysocks              1.7.1-4                    -
              python2-setuptools-scm              5.0.2-3              5.0.2-4
                python2-webencodings              0.5.1-6                    -
                                pyzo             4.11.2-1             4.11.4-1
                          rebuilderd             0.16.2-1             0.16.3-1
                    rebuilderd-tools             0.16.2-1             0.16.3-1
                                repo             2.17.3-1               2.18-1
                                rhit              1.5.3-1              1.5.4-1
               riscv64-linux-gnu-gdb               10.2-1               11.1-1
                                rofi              1.7.0-1              1.7.1-1
                       roundcubemail              1.5.0-1              1.5.1-1
                     ruby-concurrent              1.1.8-3              1.1.8-4
                         ruby-shadow              2.5.0-7              2.5.1-1
                             ruby2.6              2.6.8-2                    -
                             ruby2.7              2.7.4-2              2.7.5-1
                       rust-analyzer           20211122-1           20211129-1
        sage-data-conway_polynomials                0.5-4                0.5-5
                          serverless             2.66.2-1             2.68.0-1
                               sfizz              1.1.1-1              1.1.1-2
                          shellcheck            0.7.2-110            0.7.2-112
                               shfmt              3.4.0-2              3.4.1-1
                      signal-desktop             5.24.0-1             5.25.0-1
               singularity-container              3.8.4-1              3.8.5-1
                               stack             2.7.3-70             2.7.3-72
                     stylish-haskell          0.12.2.0-93          0.12.2.0-94
                         sweethome3d                6.6-2                6.6-3
                              sysdig             0.27.1-8            0.27.1-10
                         sysdig-dkms             0.27.1-8            0.27.1-10
                      tamarin-prover             1.6.1-35             1.6.1-37
                               tanka             0.18.2-1             0.19.0-1
                             taskell            1.11.4-35            1.11.4-37
                     taskwarrior-tui            0.14.14-1             0.15.0-1
                                tcsh            6.22.04-1            6.23.00-1
                          terragrunt            0.35.10-1            0.35.12-1
                         ttc-iosevka             11.1.0-1             11.1.1-1
                    ttc-iosevka-aile             11.1.0-1             11.1.1-1
                   ttc-iosevka-curly             11.1.0-1             11.1.1-1
              ttc-iosevka-curly-slab             11.1.0-1             11.1.1-1
                  ttc-iosevka-etoile             11.1.0-1             11.1.1-1
                    ttc-iosevka-slab             11.1.0-1             11.1.1-1
                    ttc-iosevka-ss01             11.1.0-1             11.1.1-1
                    ttc-iosevka-ss02             11.1.0-1             11.1.1-1
                    ttc-iosevka-ss03             11.1.0-1             11.1.1-1
                    ttc-iosevka-ss04             11.1.0-1             11.1.1-1
                    ttc-iosevka-ss05             11.1.0-1             11.1.1-1
                    ttc-iosevka-ss06             11.1.0-1             11.1.1-1
                    ttc-iosevka-ss07             11.1.0-1             11.1.1-1
                    ttc-iosevka-ss08             11.1.0-1             11.1.1-1
                    ttc-iosevka-ss09             11.1.0-1             11.1.1-1
                    ttc-iosevka-ss10             11.1.0-1             11.1.1-1
                    ttc-iosevka-ss11             11.1.0-1             11.1.1-1
                    ttc-iosevka-ss12             11.1.0-1             11.1.1-1
                    ttc-iosevka-ss13             11.1.0-1             11.1.1-1
                    ttc-iosevka-ss14             11.1.0-1             11.1.1-1
                    ttc-iosevka-ss15             11.1.0-1             11.1.1-1
                    ttc-iosevka-ss16             11.1.0-1             11.1.1-1
                    ttc-iosevka-ss17             11.1.0-1             11.1.1-1
                    ttc-iosevka-ss18             11.1.0-1             11.1.1-1
                       ublock-origin             1.39.0-1             1.39.2-1
                            usbredir             0.11.0-1             0.12.0-1
                                uusi           0.4.2.0-23           0.4.2.0-24
                        vim-spell-af           20200604-1           20200604-2
                        vim-spell-am           20200604-1           20200604-2
                        vim-spell-bg           20200604-1           20200604-2
                        vim-spell-br           20200604-1           20200604-2
                        vim-spell-ca           20200604-1           20200604-2
                        vim-spell-cs           20200604-1           20200604-2
                        vim-spell-cy           20200604-1           20200604-2
                        vim-spell-da           20200604-1           20200604-2
                        vim-spell-de           20200604-1           20200604-2
                        vim-spell-el           20200604-1           20200604-2
                        vim-spell-en           20200604-1           20200604-2
                        vim-spell-eo           20200604-1           20200604-2
                        vim-spell-es           20200604-1           20200604-2
                        vim-spell-fo           20200604-1           20200604-2
                        vim-spell-fr           20200604-1           20200604-2
                        vim-spell-ga           20200604-1           20200604-2
                        vim-spell-gd           20200604-1           20200604-2
                        vim-spell-gl           20200604-1           20200604-2
                        vim-spell-he           20200604-1           20200604-2
                        vim-spell-hr           20200604-1           20200604-2
                        vim-spell-hu           20200604-1           20200604-2
                        vim-spell-id           20200604-1           20200604-2
                        vim-spell-it           20200604-1           20200604-2
                        vim-spell-ku           20200604-1           20200604-2
                        vim-spell-la           20200604-1           20200604-2
                        vim-spell-lt           20200604-1           20200604-2
                        vim-spell-lv           20200604-1           20200604-2
                        vim-spell-mg           20200604-1           20200604-2
                        vim-spell-mi           20200604-1           20200604-2
                        vim-spell-ms           20200604-1           20200604-2
                        vim-spell-nb           20200604-1           20200604-2
                        vim-spell-nl           20200604-1           20200604-2
                        vim-spell-nn           20200604-1           20200604-2
                        vim-spell-ny           20200604-1           20200604-2
                        vim-spell-pl           20200604-1           20200604-2
                        vim-spell-pt           20200604-1           20200604-2
                        vim-spell-ro           20200604-1           20200604-2
                        vim-spell-ru           20200604-1           20200604-2
                        vim-spell-rw           20200604-1           20200604-2
                        vim-spell-sk           20200604-1           20200604-2
                        vim-spell-sl           20200604-1           20200604-2
                        vim-spell-sr           20200604-1           20200604-2
                        vim-spell-sv           20200604-1           20200604-2
                        vim-spell-sw           20200604-1           20200604-2
                       vim-spell-tet           20200604-1           20200604-2
                        vim-spell-th           20200604-1           20200604-2
                        vim-spell-tl           20200604-1           20200604-2
                        vim-spell-tn           20200604-1           20200604-2
                        vim-spell-tr           20200604-1           20200604-2
                        vim-spell-uk           20200604-1           20200604-2
                        vim-spell-yi           20200604-1           20200604-2
                        vim-spell-zu           20200604-1           20200604-2
                           virtualgl              2.6.5-2                3.0-2
                             vivaldi        4.3.2439.65-1        5.0.2497.24-1
               vivaldi-ffmpeg-codecs       95.0.4638.17-1        98.0.4710.4-1
                           vultr-cli             2.11.0-1             2.11.2-1
                             web-ext              6.5.0-1              6.6.0-1
                                  xa             2.3.11-1             2.3.12-1
                              xmobar              0.39-30              0.39-32
                              xmonad             0.15-155             0.15-156
                      xmonad-contrib             0.16-135             0.16-136
                        xmonad-utils          0.1.3.3-160          0.1.3.3-161
                               xonsh             0.10.1-1             0.11.0-1
                yaml-language-server              1.2.1-1              1.2.2-1
                             yoshimi            2.1.1.1-1              2.1.2-1
                              yt-dlp       2021.11.10.1-1         2021.12.01-1
                              zellij             0.20.1-1             0.21.0-1
                              direnv                    -             2.29.0-2
                   libblastrampoline                    -              3.1.0-2
                            libwhich                    -              1.1.0-1
                         mailman-web                    -              0.0.5-1
                        ruby-parslet                    -              1.8.2-1
                           ruby-toml                    -              0.3.0-1
                              scrcpy                    -               1.21-2


:: Different overlay package(s) in repository core x86_64

-------------------------------------------------------------------------------
                             PACKAGE           2021-11-27           2021-12-02
-------------------------------------------------------------------------------
                            linux419           4.19.218-1           4.19.219-1
                    linux419-headers           4.19.218-1           4.19.219-1
                            linux510            5.10.82-1            5.10.83-1
                    linux510-headers            5.10.82-1            5.10.83-1
                            linux515             5.15.5-2             5.15.6-1
                    linux515-headers             5.15.5-2             5.15.6-1
                            linux5165.16rc2.211124.g1360572-15.16rc3.211129.gd58071a-1
                    linux516-headers5.16rc2.211124.g1360572-15.16rc3.211129.gd58071a-1
                             linux54            5.4.162-1            5.4.163-1
                     linux54-headers            5.4.162-1            5.4.163-1
                          mkinitcpio                 30-3                 31-1
                      pacman-mirrors             4.22.0-3             4.23.1-4
                             systemd              249.7-1              249.7-2
                        systemd-libs              249.7-1              249.7-2
                  systemd-resolvconf              249.7-1              249.7-2
                  systemd-sysvcompat              249.7-1              249.7-2


:: Different sync package(s) in repository core x86_64

-------------------------------------------------------------------------------
                             PACKAGE           2021-11-27           2021-12-02
-------------------------------------------------------------------------------
             ca-certificates-mozilla               3.72-2               3.73-1
                       device-mapper            2.03.14-1            2.03.14-2
                               lemon             3.36.0-1             3.37.0-1
                                lvm2            2.03.14-1            2.03.14-2
                  mkinitcpio-busybox             1.33.1-1             1.34.1-1
                                 nss               3.72-2               3.73-1
                              sqlite             3.36.0-1             3.37.0-1
                     sqlite-analyzer             3.36.0-1             3.37.0-1
                          sqlite-doc             3.36.0-1             3.37.0-1
                          sqlite-tcl             3.36.0-1             3.37.0-1


:: Different overlay package(s) in repository extra x86_64

-------------------------------------------------------------------------------
                             PACKAGE           2021-11-27           2021-12-02
-------------------------------------------------------------------------------
                             ckbcomp              1.204-1              1.207-1
    gnome-control-center-x11-scaling             41.1-1.1               41.1-2
                  linux419-acpi_call            1.1.0-212            1.1.0-213
                   linux419-bbswitch              0.8-212              0.8-213
                linux419-broadcom-wl     6.30.223.271-212     6.30.223.271-213
                linux419-ndiswrapper             1.63-102             1.63-103
               linux419-nvidia-390xx           390.144-21           390.144-22
               linux419-nvidia-470xx             470.86-3             470.86-4
                     linux419-nvidia             495.44-6             495.44-7
                   linux419-nvidiabl             0.88-211             0.88-212
                      linux419-r8168          8.049.02-23          8.049.02-24
                  linux419-rtl8723bu           20211104-2           20211104-3
                   linux419-tp_smapi             0.43-161             0.43-162
                linux419-vhba-module           20211023-4           20211023-5
    linux419-virtualbox-host-modules             6.1.30-2             6.1.30-3
                        linux419-zfs             2.1.1-13             2.1.1-14
                  linux510-acpi_call             1.1.0-98             1.1.0-99
                   linux510-bbswitch               0.8-98               0.8-99
                linux510-broadcom-wl     6.30.223.271-100     6.30.223.271-101
               linux510-nvidia-390xx           390.144-31           390.144-32
               linux510-nvidia-470xx             470.86-5             470.86-6
                     linux510-nvidia             495.44-8             495.44-9
                      linux510-r8168          8.049.02-35          8.049.02-36
                  linux510-rtl8723bu           20211104-4           20211104-5
                   linux510-tp_smapi              0.43-98              0.43-99
                linux510-vhba-module           20211023-6           20211023-7
    linux510-virtualbox-host-modules             6.1.30-2             6.1.30-3
                        linux510-zfs             2.1.1-16             2.1.1-17
                  linux515-acpi_call             1.1.0-11             1.1.0-12
                   linux515-bbswitch               0.8-11               0.8-12
                linux515-broadcom-wl      6.30.223.271-11      6.30.223.271-12
               linux515-nvidia-390xx           390.144-11           390.144-12
               linux515-nvidia-470xx             470.86-8             470.86-9
                     linux515-nvidia            495.44-12            495.44-13
                      linux515-r8168          8.049.02-11          8.049.02-12
                  linux515-rtl8723bu           20211104-6           20211104-7
                   linux515-tp_smapi              0.43-11              0.43-12
                linux515-vhba-module          20211023-11          20211023-12
    linux515-virtualbox-host-modules             6.1.30-4             6.1.30-5
                        linux515-zfs             2.1.1-11             2.1.1-12
                  linux516-acpi_call            1.1.0-0.1            1.1.0-0.2
                   linux516-bbswitch              0.8-0.1              0.8-0.2
                linux516-broadcom-wl     6.30.223.271-0.1     6.30.223.271-0.2
               linux516-nvidia-470xx           470.86-0.2           470.86-0.3
                     linux516-nvidia           495.44-0.1           495.44-0.2
                      linux516-r8168         8.049.02-0.1         8.049.02-0.2
                  linux516-rtl8723bu         20211104-0.1         20211104-0.2
                   linux516-tp_smapi             0.43-0.1             0.43-0.2
    linux516-virtualbox-host-modules           6.1.30-0.1           6.1.30-0.2
                   linux54-acpi_call            1.1.0-171            1.1.0-172
                    linux54-bbswitch              0.8-171              0.8-172
                 linux54-broadcom-wl     6.30.223.271-172     6.30.223.271-173
                 linux54-ndiswrapper             1.63-127             1.63-128
                linux54-nvidia-390xx           390.144-29           390.144-30
                linux54-nvidia-470xx             470.86-5             470.86-6
                      linux54-nvidia             495.44-8             495.44-9
                    linux54-nvidiabl             0.88-171             0.88-172
                       linux54-r8168          8.049.02-33          8.049.02-34
                   linux54-rtl8723bu           20211104-4           20211104-5
                    linux54-tp_smapi             0.43-171             0.43-172
                 linux54-vhba-module           20211023-6           20211023-7
     linux54-virtualbox-host-modules             6.1.30-2             6.1.30-3
                         linux54-zfs             2.1.1-16             2.1.1-17
                  mutter-x11-scaling               41.1-141.1+r20+ge3931f7b8-1
                               snapd             2.53.2-2             2.53.2-3


:: Different sync package(s) in repository extra x86_64

-------------------------------------------------------------------------------
                             PACKAGE           2021-11-27           2021-12-02
-------------------------------------------------------------------------------
                           appstream             0.14.6-1             0.14.6-2
                        appstream-qt             0.14.6-1             0.14.6-2
             archboot-linux-firmware   20211027.1d00989-1   20211027.1d00989-2
            archlinux-appstream-data           20211122-1           20211122-2
                              assimp              5.1.1-1              5.1.2-1
                           bluedevil           1:5.23.3-1           1:5.23.4-1
                              breeze             5.23.3-1             5.23.4-1
                         breeze-grub             5.23.3-1             5.23.4-1
                          breeze-gtk             5.23.3-1             5.23.4-1
                            composer             2.1.12-1             2.1.14-1
                            discover             5.23.3-2             5.23.4-1
                             drkonqi             5.23.3-1             5.23.4-1
                             glslang             11.7.0-1             11.7.1-2
                                htop              3.1.1-1              3.1.2-1
                   kactivitymanagerd             5.23.3-1             5.23.4-1
                       kde-cli-tools             5.23.3-1             5.23.4-1
                      kde-gtk-config             5.23.3-1             5.23.4-1
                         kdecoration             5.23.3-1             5.23.4-1
                    kdeplasma-addons             5.23.3-1             5.23.4-1
                             kgamma5             5.23.3-1             5.23.4-1
                            khotkeys             5.23.3-1             5.23.4-1
                         kinfocenter             5.23.3-1             5.23.4-1
                           kmenuedit             5.23.3-1             5.23.4-1
                             kscreen             5.23.3-1             5.23.4-1
                       kscreenlocker             5.23.3-1             5.23.4-1
                         ksshaskpass             5.23.3-1             5.23.4-1
                        ksystemstats             5.23.3-1             5.23.4-1
                         kwallet-pam             5.23.3-1             5.23.4-1
                kwayland-integration             5.23.3-1             5.23.4-1
                     kwayland-server             5.23.3-1             5.23.4-1
                                kwin             5.23.3-1             5.23.4-1
                             kwrited             5.23.3-1             5.23.4-1
                      layer-shell-qt             5.23.3-1             5.23.4-1
                     lib32-rust-libs           1:1.56.1-3           1:1.57.0-1
                              libdrm            2.4.108-1            2.4.109-1
                          libkscreen             5.23.3-1             5.23.4-1
                        libksysguard             5.23.3-1             5.23.4-1
                        libqalculate             3.21.0-2             3.22.0-1
                          mesa-demos              8.4.0-4              8.4.0-6
                               milou             5.23.3-1             5.23.4-1
                  mkinitcpio-archiso                 58-1                 59-1
                                 mpc               0.33-3               0.34-1
                                 mpd             0.23.4-2             0.23.5-1
                              mutter               41.1-141.1+r20+ge3931f7b8-1
                               ncmpc               0.45-1               0.46-1
                               nginx             1.20.1-1             1.20.2-1
           nginx-prometheus-exporter              0.9.0-1              0.9.0-2
                           nginx-src             1.20.1-1             1.20.2-1
                            nss_ldap                265-8                265-9
                              oxygen             5.23.3-1             5.23.4-1
          plasma-browser-integration             5.23.3-1             5.23.4-1
                      plasma-desktop             5.23.3-1             5.23.4-1
                        plasma-disks             5.23.3-1             5.23.4-1
                     plasma-firewall             5.23.3-1             5.23.4-1
                  plasma-integration             5.23.3-1             5.23.4-1
                           plasma-nm             5.23.3-1             5.23.4-1
                           plasma-pa             5.23.3-1             5.23.4-1
                          plasma-sdk             5.23.3-1             5.23.4-1
                plasma-systemmonitor             5.23.3-1             5.23.4-1
                  plasma-thunderbolt             5.23.3-1             5.23.4-1
                        plasma-vault             5.23.3-1             5.23.4-1
              plasma-wayland-session             5.23.3-1             5.23.4-1
                    plasma-workspace             5.23.3-1             5.23.4-1
         plasma-workspace-wallpapers             5.23.3-1             5.23.4-1
                    polkit-kde-agent             5.23.3-1             5.23.4-1
                          powerdevil             5.23.3-1             5.23.4-1
                   python-asn1crypto              1.4.0-3              1.4.0-4
                         python-cffi             1.14.6-2             1.15.0-1
                      python-chardet              4.0.0-2              4.0.0-3
                       python-pep517             0.11.0-1             0.12.0-2
                          python-pip             20.3.4-1             20.3.4-2
                 python-platformdirs              2.0.2-1              2.0.2-2
                          python-ply               3.11-7               3.11-8
                       python-pyasn1              0.4.8-4              0.4.8-5
                    python-pycparser               2.20-3               2.21-1
                    python-pyopenssl             21.0.0-1             21.0.0-2
                     python-requests             2.26.0-1             2.26.0-2
                   python-resolvelib              0.5.5-1              0.5.5-2
                     python-retrying              1.3.3-9             1.3.3-10
                        python-tomli              1.2.2-1              1.2.2-2
                      python-urllib3             1.26.7-1             1.26.7-2
                  python-urllib3-doc             1.26.7-1             1.26.7-2
                   python-virtualenv             20.8.0-1             20.8.0-2
                  python2-asn1crypto              1.4.0-3                    -
python2-backports.entry-points-selectable              1.1.0-2                    -
                        python2-cffi             1.14.6-2                    -
                     python2-chardet              4.0.0-2                    -
                python2-cryptography              3.3.2-1                    -
                      python2-pep517             0.11.0-1                    -
                         python2-pip             20.3.4-1                    -
                python2-platformdirs              2.0.2-1                    -
                         python2-ply               3.11-7                    -
                      python2-pyasn1              0.4.8-4                    -
                   python2-pycparser               2.20-3                    -
                   python2-pyopenssl             21.0.0-1                    -
                    python2-requests             2.26.0-1                    -
                  python2-resolvelib              0.5.5-1                    -
                    python2-retrying              1.3.3-9                    -
                     python2-urllib3             1.26.7-1                    -
                  python2-virtualenv             20.8.0-1                    -
                       qalculate-gtk             3.21.0-1             3.22.0-1
                        qalculate-qt             3.21.0-1             3.22.0-1
                              qt5-3d     5.15.2+kde+r37-1     5.15.2+kde+r39-1
                              qt6-3d              6.2.1-2              6.2.2-1
                         qt6-5compat              6.2.1-2              6.2.2-1
                            qt6-base              6.2.1-3              6.2.2-1
                          qt6-charts              6.2.1-1              6.2.2-1
                    qt6-connectivity              6.2.1-1              6.2.2-1
                       qt6-datavis3d              6.2.1-1              6.2.2-1
                     qt6-declarative              6.2.1-1              6.2.2-1
                             qt6-doc              6.2.1-1              6.2.2-1
                        qt6-examples              6.2.1-1              6.2.2-1
                    qt6-imageformats              6.2.1-1              6.2.2-1
                        qt6-location              6.2.1-1                    -
                          qt6-lottie              6.2.1-1              6.2.2-1
                      qt6-multimedia              6.2.1-1              6.2.2-1
                     qt6-networkauth              6.2.1-1              6.2.2-1
                         qt6-quick3d              6.2.1-2              6.2.2-1
                   qt6-quicktimeline              6.2.1-1              6.2.2-1
                   qt6-remoteobjects              6.2.1-1              6.2.2-1
                           qt6-scxml              6.2.1-1              6.2.2-1
                         qt6-sensors              6.2.1-1              6.2.2-1
                       qt6-serialbus              6.2.1-1              6.2.2-1
                      qt6-serialport              6.2.1-1              6.2.2-1
                     qt6-shadertools              6.2.1-1              6.2.2-1
                             qt6-svg              6.2.1-1              6.2.2-1
                           qt6-tools              6.2.1-3              6.2.2-1
                    qt6-translations              6.2.1-1              6.2.2-1
                 qt6-virtualkeyboard              6.2.1-2              6.2.2-1
                         qt6-wayland              6.2.1-1              6.2.2-1
                      qt6-webchannel              6.2.1-1              6.2.2-1
                       qt6-webengine              6.2.1-2              6.2.2-1
                      qt6-websockets              6.2.1-1              6.2.2-1
                         qt6-webview              6.2.1-1              6.2.2-1
                           qtcreator              5.0.3-2              6.0.0-1
                                ruby              3.0.2-2              3.0.3-1
                           ruby-docs              3.0.2-2              3.0.3-1
                                rust           1:1.56.1-3           1:1.57.0-1
                           rust-musl           1:1.56.1-3           1:1.57.0-1
                            rust-src           1:1.56.1-3           1:1.57.0-1
                           rust-wasm           1:1.56.1-3           1:1.57.0-1
                            sddm-kcm             5.23.3-1             5.23.4-1
                                sdl2             2.0.16-4             2.0.18-1
                    shared-mime-info    2.0+57+gc1d1c70-1   2.0+115+gd74a913-1
                      systemsettings             5.23.3-1             5.23.4-1
                                vala             0.54.3-1             0.54.4-1
              xdg-desktop-portal-kde             5.23.3-1             5.23.4-1
                          xorg-xauth                1.1-2              1.1.1-1
                          mesa-utils                    -              8.4.0-6
                     qt6-positioning                    -              6.2.2-1


:: Different overlay package(s) in repository kde-unstable x86_64

-------------------------------------------------------------------------------
                             PACKAGE           2021-11-27           2021-12-02
-------------------------------------------------------------------------------
                             akonadi21.08.3.r12648.g3e4359f69-121.08.3.r12655.g337306625-1
                    akonadi-calendar21.08.3.r2007.g12048c7-121.08.3.r2014.g50adc02-1
              akonadi-calendar-tools21.08.3.r918.g8f21fc0-121.08.3.r923.gb39e032-1
                    akonadi-contacts21.08.3.r3089.g87cc52e5-121.08.3.r3096.gc208e5f8-1
               akonadi-import-wizard21.08.3.r1771.g1817ae9-121.08.3.r1775.g70aa5b1-1
                        akonadi-mime21.08.3.r1674.g1ae15d3-121.08.3.r1681.g8812aee-1
                       akonadi-notes21.08.3.r1040.g9cd5953-121.08.3.r1046.gf1b7d00-1
                      akonadi-search21.08.3.r1146.g77a8861-121.08.3.r1155.gaadaf23-1
                      akonadiconsole21.08.3.r1550.g188571e-121.08.3.r1555.g82a761f-1
                           akregator21.08.3.r6254.gca3ecf6b-121.08.3.r6259.gb4899e8a-1
                           angelfish 21.08.r39.g74300ab-1 21.08.r41.g264f22a-1
                                 ark21.08.3.r4647.g2d6fbadb-121.08.3.r4651.g1fe808a9-1
                              attica5.88.0.r845.gdb45008-15.88.0.r846.g4eed53e-1
                         audiocd-kio21.08.3.r1037.gc940048-121.08.3.r1038.gf0759b8-1
                        aura-browser        r35.f615dc7-1        r35.f615dc7-3
                               baloo5.88.0.r3017.g07c0227a-15.88.0.r3018.gff1b5dc8-1
                       baloo-widgets21.08.3.r711.gd9798fd-121.08.3.r712.g818572d-1
                             blinken21.08.3.r642.gff8383a-121.08.3.r644.g4bb9f89-1
                           bluedevil1:5.23.3.r2312.gac160eb6-11:5.23.4.r2315.g434b0464-1
                            bluez-qt5.88.0.r689.g7cb9ab9-15.88.0.r691.g3a2b65c-1
                              bomber21.08.3.r538.g9057b0b-121.08.3.r542.g284d68d-1
                                bovo21.08.3.r749.gf86aa73-121.08.3.r751.ga16cc32-1
                              breeze5.23.3.r2298.g56b2f1f2-15.23.4.r2298.g56b2f1f2-1
                         breeze-grub5.23.3.r11.g63136a9-15.23.4.r11.g63136a9-1
                          breeze-gtk5.23.3.r431.g19e285b-15.23.4.r431.g19e285b-1
                        breeze-icons5.88.0.r1848.g56f801f9-15.88.0.r1855.g5108a990-1
                                buho  2.1.0.r0.g5d6b3b4-1  2.1.0.r0.g5d6b3b4-2
                     calendarsupport21.08.1.r56.g10e902e-121.08.1.r62.g46c645b-1
                            cervisia21.08.3.r1645.gb665439-121.08.3.r1646.gae506a7-1
                            discover5.23.3.r8425.g96be2a33-15.23.4.r8434.ge814f2ea-1
                              disman5.23.3.r1811.gca36775-15.23.4.r1811.gca36775-1
                             dolphin21.08.3.r6734.gcdb4a7909-121.08.3.r6754.g2ef87708f-1
                     dolphin-plugins21.08.3.r613.gff6247a-121.08.3.r615.g131f5e1-1
                              dragon21.08.3.r1016.g89c76c9-121.08.3.r1017.g7386cf0-1
                             drkonqi5.23.3.r707.g2da7306b-15.23.4.r707.g2da7306b-1
                               elisa21.08.3.r2797.gf5c9f8da-121.08.3.r2807.g3c062ad5-1
                          eventviews21.11.80.r10.g4777296-121.11.90.r19.g65ba88c-1
                 extra-cmake-modules5.88.0.r3394.g9f51998-15.88.0.r3399.g4047638-1
                        ffmpegthumbs21.08.3.r200.g4da5496-121.08.3.r201.g0de9cba-1
                frameworkintegration5.88.0.r605.g9099300-15.88.0.r606.g31b6470-1
                           granatier21.08.3.r945.g4140f92-121.08.3.r948.ga6334c5-1
                     grantlee-editor21.08.3.r786.ge8a0fbb-121.08.3.r791.g9929290-1
                       grantleetheme21.08.3.r361.gce776f8-121.08.3.r367.g32b4c6d-1
                            gwenview21.08.3.r6693.ga6c80184-121.08.3.r6699.g3d0f70c8-1
                     incidenceeditor21.08.3.r805.g19b2eee-121.08.3.r810.g903ebe0-1
                           itinerary21.08.3.r1630.gcd81dfe-121.08.3.r1645.g1a32f33-1
                                 k3b1:21.08.3.r6687.g7e3b88800-11:21.08.3.r6690.gb62df5685-1
                 kaccounts-providers21.08.3.r385.g88a4a50-121.08.3.r386.g972a54d-1
                         kactivities5.88.0.r1370.gc4f1b30-15.88.0.r1372.gd84c34e-1
                   kactivities-stats5.88.0.r380.g16eb3de-15.88.0.r381.gf41aa0e-1
                   kactivitymanagerd5.23.3.r1375.gc66bf75-15.23.4.r1375.gc66bf75-1
                        kaddressbook21.08.3.r6073.gd7fb01c1-121.08.3.r6078.g06a9951b-1
                             kajongg21.08.3.r4204.g616965a3-121.08.3.r4206.g5a4caccf-1
                              kalarm21.08.3.r6519.g5ffefef2-121.08.3.r6527.g4dde50f7-1
                           kalarmcal21.08.3.r1165.g018b19f-121.08.3.r1169.g8a10c28-1
                            kalgebra21.08.3.r2045.g5b8694a-121.08.3.r2046.g3ca5dc9-1
                                kalk  21.08.r4.g5880f7a-1  21.08.r5.ga9a250e-1
                              kamera21.08.3.r672.g537fc7f-121.08.3.r673.g269b5a2-1
                              kamoso21.08.3.r1438.geb1cfbc-121.08.3.r1439.gf52d7ce-1
                            kanagram21.08.3.r1291.g65cda3b-121.08.3.r1293.gdd3b8b4-1
                             kapidox5.88.0.r558.gcca4aab-15.88.0.r559.gcc9f645-1
                              kapman21.08.3.r624.g716825c-121.08.3.r627.g0721044-1
                        kapptemplate21.08.3.r962.ga02f4f8-121.08.3.r963.g3c1ab5a-1
                            karchive5.88.0.r519.g0eebc2c-15.88.0.r520.g74320c2-1
                                kate21.08.3.r18454.gf6224985b-121.08.3.r18463.g9b3166651-1
                             katomic21.08.3.r933.g351bf1f-121.08.3.r936.gda77680-1
                               kauth5.88.0.r457.g70c2a5e-15.88.0.r458.g0263a0d-1
                             kbackup21.08.3.r401.g0e9739d-121.08.3.r402.g4a060a2-1
                           kblackbox21.08.3.r741.gd4307b6-121.08.3.r744.g345c7af-1
                             kblocks21.08.3.r682.g288c6d8-121.08.3.r686.g6aa5257-1
                          kbookmarks5.88.0.r435.gfc32b5f-15.88.0.r436.gd114a0d-1
                             kbounce21.08.3.r820.g0c66431-121.08.3.r823.g79ae850-1
                           kbreakout21.08.3.r880.g7a95091-121.08.3.r883.gf1ab7d0-1
                         kcachegrind21.08.3.r1160.g36185db-121.08.3.r1163.g231f0ec-1
                  kcachegrind-common21.08.3.r1160.g36185db-121.08.3.r1163.g231f0ec-1
                       kcalendarcore5.88.0.r1272.g336684ebe-15.88.0.r1273.g80ccb9803-1
                           kcalutils21.08.3.r900.g1abbb07ba-121.08.3.r906.g2339b4f51-1
                              kclock 21.08.r28.g6596b65-1 21.08.r30.g92bdf82-1
                            kcmutils5.88.0.r567.ga59c183-15.88.0.r571.g9aa95f7-1
                             kcodecs5.88.0.r397.g28fac03-15.88.0.r398.gff70db7-1
                         kcompletion5.88.0.r469.g77932c9-15.88.0.r470.g24dc5ce-1
                             kconfig5.88.0.r889.ge40531e-15.88.0.r894.g202b23c-1
                      kconfigwidgets5.88.0.r647.g5ad1407-15.88.0.r648.gd1d1574-1
                           kcontacts1:5.88.0.r3290.g9b416670-11:5.88.0.r3291.g31025bad-1
                         kcoreaddons5.88.0.r1348.gc738e3bf-15.88.0.r1351.ga07b8642-1
                               kcron21.08.3.r815.g81c0afc-121.08.3.r816.g295ba73-1
                                kdav1:5.88.0.r1309.g5954e1e-11:5.88.0.r1310.g7398b9e-1
                         kdbusaddons5.88.0.r389.g2e761e3-15.88.0.r390.g9f2dae3-1
                       kde-cli-tools5.23.3.r1876.g173befe-15.23.4.r1879.g3b8c6a5-1
                     kde-dev-scripts21.08.3.r4141.g0fbd8db-121.08.3.r4142.geb2ccba-1
                       kde-dev-utils21.08.3.r567.gc8e4a24-121.08.3.r568.g31d01d6-1
                      kde-gtk-config5.23.3.r916.g21d547e-15.23.4.r917.gf96bb2f-1
    kde-telephony-plugin-declarative21.08.2.r431.gc124c35-121.08.3.r431.g0e229a0-1
                      kdebugsettings21.08.3.r863.g81178ce-121.08.3.r868.g2adbb53-1
                        kdeclarative5.88.0.r946.g2caa62d-15.88.0.r948.g4ce30cc-1
                          kdeconnect21.08.3.r3363.gebfe0da7-121.08.3.r3368.g14633d44-1
                         kdecoration5.23.3.r280.ga84273e-15.23.4.r280.ga84273e-1
                                kded5.88.0.r428.g2dd450f-15.88.0.r431.g31e781f-1
                         kdeedu-data21.08.3.r15.g8dc3dee-121.08.3.r16.g8312b2d-1
            kdegraphics-thumbnailers21.08.3.r237.g2c062c3-121.08.3.r238.g28aeb62-1
                     kdelibs4support5.88.0.r1053.g1b393296-15.88.0.r1055.gccdb2c34-1
              kdenetwork-filesharing21.08.3.r895.g3d576da-121.08.3.r897.gd30447b-1
                       kdepim-addons21.08.3.r4425.gdf67fba8-121.08.3.r4429.gb54e51af-1
                      kdepim-runtime21.08.3.r15392.g1b45e95b3-121.08.3.r15399.g965260123-1
                    kdeplasma-addons5.23.3.r8608.g2484b96f6-15.23.4.r8610.ga994464a7-1
                    kdesdk-kioslaves21.08.3.r500.g069c3f8-121.08.3.r501.gaf87828-1
                 kdesdk-thumbnailers21.08.3.r86.g002e2df-121.08.3.r87.gf6b26e6-1
                               kdesu5.88.0.r482.g0424805-15.88.0.r483.g11d3b5e-1
                            kdiamond21.08.3.r684.g88cfdc8-121.08.3.r687.g13c8c56-1
                            kdisplay5.23.3.r1456.gc03ddcb-15.23.4.r1456.gc03ddcb-1
                              kdnssd5.88.0.r332.g5171df6-15.88.0.r333.g0bf36fd-1
                           kdoctools5.88.0.r636.g0a783f3-15.88.0.r637.gd4c7959-1
                          kemoticons5.88.0.r394.g7d544ea-15.88.0.r397.g9a82de8-1
                       kfilemetadata5.88.0.r825.gf920a31-15.88.0.r826.g7a4f523-1
                         kfourinline21.08.3.r995.gf7b42a0-121.08.3.r998.gdfaa0ea-1
                             kgamma55.23.3.r463.gc082f80-15.23.4.r464.g8b8358a-1
                          kgeography21.08.3.r1121.g7ef837a-121.08.3.r1122.gf64fb7c-1
                                kget21.08.3.r3132.g08cabf2e-121.08.3.r3134.gf9a9b5cf-1
                        kglobalaccel5.88.0.r481.gbf94e3e-15.88.0.r484.g4143227-1
                         kgoldrunner21.08.3.r1253.g1e9968f-121.08.3.r1257.g9554b35-1
                          kguiaddons5.88.0.r404.g0722df7-15.88.0.r405.ge20d4a4-1
                            khangman21.08.3.r1575.gd93791d-121.08.3.r1578.g96e05f8-1
                         khelpcenter21.08.3.r2686.g65fd4bc1-121.08.3.r2688.g2d62ec15-1
                           kholidays1:5.88.0.r978.gddc6dfa-11:5.88.0.r979.g8bad993-1
                            khotkeys5.23.3.r2102.g97f9339-15.23.4.r2105.ge1694e0-1
                               khtml5.88.0.r563.g2190241-15.88.0.r565.g1ed1005-1
                               ki18n5.88.0.r521.gbeca408-15.88.0.r522.g26dcbfa-1
                         kiconthemes5.88.0.r569.g0c42b55-15.88.0.r571.g59cce6d-1
                 kidentitymanagement21.08.3.r3844.g7c28e1fc-121.08.3.r3849.g2d5fa8e9-1
                           kidletime5.88.0.r330.g88ee5e4-15.88.0.r331.gbe1544f-1
                                 kig21.08.3.r3151.g7babddb9-121.08.3.r3154.g82a13516-1
                                kigo21.08.3.r535.g0ddaad2-121.08.3.r538.g6727482-1
                            killbots21.08.3.r749.ge5382fc-121.08.3.r752.gdf26ea7-1
                       kimageformats5.88.0.r366.gd3da56b-15.88.0.r368.g957c199-1
                     kimagemapeditor21.08.3.r475.g269bdaa-121.08.3.r476.g309cfa1-1
                               kimap21.08.3.r1143.g8ff8997-121.08.3.r1149.g81c050a-1
                         kinfocenter5.23.3.r1994.g5121cea-15.23.4.r2002.gdc4a45e-1
                               kinit5.88.0.r422.gea40949-15.88.0.r423.g5f881a7-1
                                 kio5.88.0.r5103.g24cef5b7-15.88.0.r5111.g847625f3-1
                          kio-extras21.08.3.r7168.ga126e22f-121.08.3.r7170.g380640a5-1
                          kio-gdrive21.08.3.r575.g69a062a-121.08.3.r576.g3230ae8-1
                        kipi-plugins21.08.3.r12068.g851648034-121.08.3.r12070.gf8e0cc870-1
                           kirigami25.88.0.r2964.g31efdd66-15.88.0.r2967.gd5fb7d5b-1
                              kiriki21.08.3.r429.gc9d53d6-121.08.3.r431.gf9a439c-1
                         kitemmodels5.88.0.r568.g036e47c-15.88.0.r569.g4af3caa-1
                          kitemviews5.88.0.r350.gbedc6e2-15.88.0.r351.ga131ef3-1
                          kitinerary21.08.3.r2024.gcf863fa-121.08.3.r2028.g15561ef-1
                         kjobwidgets5.88.0.r389.g0ea41c0-15.88.0.r390.g652d2ef-1
                        kjumpingcube21.08.3.r799.gf6d0b72-121.08.3.r802.gbe41691-1
                               kldap21.08.3.r907.g0d287be-121.08.3.r914.g6e55806-1
                           kleopatra21.08.3.r6090.g9cbc2269-121.08.3.r6113.g96928c1e-1
                            klickety21.08.3.r647.g2577443-121.08.3.r651.gfa8857b-1
                              klines21.08.3.r780.g1bdd4f6-121.08.3.r784.ge4193c6-1
                                kmag21.08.3.r702.g7137c9d-121.08.3.r703.g349f0f2-1
                           kmahjongg21.08.3.r1491.ga86ad79-121.08.3.r1494.g39dc7ba-1
                               kmail21.08.3.r26131.g997ceedb2-121.08.3.r26159.gf5f605f02-1
                kmail-account-wizard21.08.3.r840.gf7cc2a5-121.08.3.r846.g6c95bcf-1
                      kmailtransport21.08.3.r1687.g3056b89-121.08.3.r1692.g9fcec37-1
                               kmbox21.08.3.r555.gaa824f6-121.08.3.r565.gc7a9fa0-1
                           kmenuedit5.23.3.r979.g226cbaa-15.23.4.r981.g1932387-1
                               kmime21.08.3.r1473.g7f87a49-121.08.3.r1480.ge517b06-1
                              kmines21.08.3.r1733.g0946a64-121.08.3.r1736.g3d5e570-1
                                kmix21.08.3.r2411.g724f5b9a-121.08.3.r2412.g059fb0bf-1
                              kmplot21.08.3.r1469.g02df1a6-121.08.3.r1470.g9cec124-1
                        knavalbattle21.08.3.r1404.gab89187-121.08.3.r1407.ga0320b3-1
                            knetwalk21.08.3.r670.g99f382b-121.08.3.r672.g3ff6302-1
                           knewstuff5.88.0.r1234.g46b49168-15.88.0.r1236.gb54190bc-1
                             knights21.08.3.r1074.g61a38d9-121.08.3.r1076.g8c7e225-1
                              knotes21.08.3.r3548.g965fde67-121.08.3.r3553.ga21d39c4-1
                       knotifyconfig5.88.0.r361.g1b9a0a1-15.88.0.r362.g68804d6-1
                                kolf21.08.3.r1457.g5ee4533-121.08.3.r1459.ge3c4215-1
                           kollision21.08.3.r502.g74866d5-121.08.3.r507.g4c10f62-1
                             kompare21.08.3.r1113.gebd124b-121.08.3.r1114.g811460d-1
                           konqueror21.08.3.r15001.g028955b8d-121.08.3.r15005.g2b8e3c744-1
                            konquest21.08.3.r906.gaba7d97-121.08.3.r909.gb59002e-1
                             konsole21.08.3.r8081.ge09cbe21-121.08.3.r8126.g7d64c0ef-1
                             kontact21.08.3.r5422.gd011a877-121.08.3.r5439.g8446b4f8-1
                    kontactinterface21.08.3.r646.gd12da05-121.08.3.r652.ga87eaca-1
                        konversation21.08.3.r9010.g8aafaac7-121.08.3.r9012.gac40fb62-1
                       kopeninghours21.08.3.r286.g7fcfdec-121.08.3.r290.g46e72e4-1
                              kopete21.08.2.r16401.gb0c532ffa-121.08.3.r16404.g0a9b454ea-1
                          korganizer21.08.3.r11555.gdab612d20-121.08.3.r11561.gcf0e1eea4-1
                       kosmindoormap21.08.3.r675.gf3ca558-121.08.3.r679.ge5fbdd7-1
                            kpackage5.88.0.r711.gca489bc-15.88.0.r712.g8a8c115-1
                              kparts5.88.0.r543.g066e27e-15.88.0.r546.g8da6357-1
                                kpat21.08.3.r2572.g69af8f6-121.08.3.r2582.g1867738-1
                             kpeople5.88.0.r1354.g20f8b0d-15.88.0.r1355.ge1ed404-1
                        kpimtextedit21.08.3.r1479.g202a5af-121.08.3.r1484.g4cf10fb-1
                             kpkpass21.08.3.r249.g0f1c9ce-121.08.3.r254.g5a1170c-1
                           kplotting5.88.0.r303.g505bb37-15.88.0.r304.g0d495cd-1
                             kpmcore21.08.3.r1210.gc79f583-121.08.3.r1212.g65f986d-1
                                kpty5.88.0.r350.gfc8e502-15.88.0.r351.gbcae8cd-1
                    kpublictransport21.08.3.r1943.g5cd02188-121.08.3.r1946.gd2354e7a-1
                      kqtquickcharts21.08.3.r74.g264af68-121.08.3.r75.g188b79d-1
                                krdc21.08.3.r1548.gb9ef3f3-121.08.3.r1550.g5f3597b-1
                           krecorder 21.08.r10.g3d9f492-1 21.08.r11.gc57451c-1
                            kreversi21.08.3.r1239.ga41a878-121.08.3.r1243.g70248e5-1
                  kross-interpreters21.08.3.r723.g473116a-121.08.3.r724.g2a6213a-1
                             krunner5.88.0.r697.g4afed93-15.88.0.r698.g745c301-1
                             kscreen5.23.3.r1388.gde94daa-15.23.4.r1396.g6a6091d-1
                       kscreenlocker5.23.3.r889.g1f092a8-15.23.4.r889.g1f092a8-1
                            kservice5.88.0.r962.g43c0f90-15.88.0.r965.g9ce4454-1
                             kshisen21.08.3.r1211.g0d449f0-121.08.3.r1214.g593de49-1
                               ksirk21.08.3.r989.g7a7ccc1-121.08.3.r991.ga6bae9e-1
                               ksmtp21.08.3.r402.g21ef259-121.08.3.r409.g59f0842-1
                          ksnakeduel21.08.3.r820.g340dc6a-121.08.3.r823.g1c74ae0-1
                          kspaceduel21.08.3.r647.g719f1d4-121.08.3.r650.g433ac55-1
                            ksquares21.08.3.r531.g1bfa0ca-121.08.3.r534.gbf15605-1
                         ksshaskpass5.23.3.r202.g6f98560-15.23.4.r202.g6f98560-1
                             ksudoku21.08.3.r1071.ga488b7d-121.08.3.r1076.gc855b0f-1
                           ksysguard5.23.3.r3517.g1eba0028-15.23.4.r3519.g6a3c7e8a-1
                        ksystemstats5.23.3.r209.gb0086cb-15.23.4.r210.g03fa8a7-1
                         ktexteditor5.88.0.r3000.gda5fced4-15.88.0.r3002.gd88d9456-1
                        ktextwidgets5.88.0.r425.g4b86697-15.88.0.r426.g8a3ee73-1
                               ktnef21.08.3.r684.gecf0571-121.08.3.r689.gbdec818-1
                            ktorrent21.08.3.r2792.gc938a739-121.08.3.r2793.gb3a15a9a-1
                               ktrip  21.08.r3.gb93eeb7-1  21.08.r4.g8c0e880-1
                          ktuberling21.08.3.r1025.g44a17f9-121.08.3.r1026.g41fb93e-1
                             kturtle21.08.3.r1131.gbc34937-121.08.3.r1135.g4aace85-1
                             kubrick21.08.3.r380.g2fc3b3e-121.08.3.r382.gcdc3daa-1
                     kunitconversion5.88.0.r388.gfec5d42-15.88.0.r389.g1c6d067-1
                             kwallet5.88.0.r1098.g56b030b-15.88.0.r1101.g3b9e653-1
                         kwallet-pam5.23.3.r259.g1d65ed8-15.23.4.r259.g1d65ed8-1
                               kwave21.08.3.r3755.g4176cefc-121.08.3.r3757.ga178fe32-1
                            kwayland5.88.0.r1123.g10e3d60-15.88.0.r1124.ge8e06db-1
                kwayland-integration5.23.3.r194.g8cd4f71-15.23.4.r194.g8cd4f71-1
                     kwayland-server5.23.3.r1424.gbb4fe8e-15.23.4.r1426.g737074d-1
                            kweather 21.08.r28.g5976625-1 21.08.r35.g58b5a70-1
                      kwidgetsaddons5.88.0.r893.g294fe8dd-15.88.0.r894.gea8a1d85-1
                                kwin5.23.3.r20409.g1d95dd3ea-15.23.4.r20438.gbf7bdf0be-1
                       kwindowsystem5.88.0.r639.gb9a563b-15.88.0.r640.g58dcf23-1
                           kwordquiz21.08.3.r1156.g81b5a5c-121.08.3.r1159.g9b1040c-1
                              kwrite21.08.3.r18454.gf6224985b-121.08.3.r18463.g9b3166651-1
                             kwrited5.23.3.r489.g52a1aa0-15.23.4.r491.ga74515e-1
                             kxmlgui5.88.0.r825.gb9dfccb5-15.88.0.r826.gc616de05-1
                       kxmlrpcclient5.88.0.r464.g9d36e8a99-15.88.0.r466.g269fdafa2-1
                      layer-shell-qt5.23.3.r51.g80f6a62-15.23.4.r51.g80f6a62-1
                          libakonadi21.08.3.r12648.g3e4359f69-121.08.3.r12655.g337306625-1
                         libgravatar21.08.3.r384.g96b5592-121.08.3.r391.gff27a48-1
                     libkcompactdisc21.08.3.r388.gd787fba-121.08.3.r389.g4f2835f-1
                         libkdegames21.08.3.r2197.g231f757e-121.08.3.r2200.g547e5ce3-1
                           libkdepim21.08.3.r868.gf875a44-121.08.3.r873.g638a98a-1
                            libkgapi21.08.3.r1319.g7c286d7-121.08.3.r1324.g84998d4-1
                             libkleo21.08.3.r1028.g6509c50-121.08.3.r1035.g8dbf1f6-1
                        libkmahjongg21.08.3.r462.g10fdcc4-121.08.3.r465.g03b5763-1
                          libkscreen5.23.3.r1608.g8bb4b79-15.23.4.r1608.g8bb4b79-1
                           libksieve21.08.3.r1622.g4b59e7df-121.08.3.r1632.g74975a4e-1
                        libksysguard5.23.3.r2324.g6356303-15.23.4.r2325.g14e0bff-1
                            lokalize21.08.3.r1787.gfa2e35fc-121.08.3.r1788.g281f0ada-1
                               lskat21.08.3.r825.g876d5ff-121.08.3.r828.gcc30cb5-1
                          mailcommon21.08.3.r1157.gb7d1feb-121.08.3.r1163.g4ad54c3-1
                        mailimporter21.08.3.r486.g2875fa9-121.08.3.r491.gf3a137c-1
                           maui-clip  2.1.0.r2.ga09503d-1  2.1.0.r2.ga09503d-2
                           maui-nota  2.1.0.r1.g36c626a-1  2.1.0.r0.g36c626a-1
                            maui-pix  2.1.0.r2.g3fe0a8e-1  2.1.0.r3.g4c77aba-2
                             mauikit2.1.0.r16.gf62eca0f-12.1.0.r17.ge932ac27-2
                    mauikit-accounts  2.1.0.r1.g709da19-1  2.1.0.r1.g709da19-2
                mauikit-filebrowsing  2.1.0.r7.gccfc510-1  2.1.0.r9.g7c06d8a-1
                  mauikit-imagetools  2.1.0.r2.gc401dbb-1  2.1.0.r7.geb592bd-2
                  mauikit-texteditor  2.1.0.r0.g119b288-1  2.1.0.r1.ge150080-2
                       mbox-importer21.08.3.r532.gc31a1f0-121.08.3.r537.g0def3c9-1
                          messagelib21.08.3.r6299.gb051e85d-121.08.3.r6304.g14ee55e4-1
                               milou5.23.3.r754.gfe6e4e3-15.23.4.r755.gb962338-1
                              minuet21.08.3.r588.g4014033-121.08.3.r589.ge442f7b-1
                     modemmanager-qt5.88.0.r531.g52f68cb-15.88.0.r532.g2dee129-1
                             neochat    r1960.g8c0a6c10-1    r1964.g98bc0b8c-1
                   networkmanager-qt5.88.0.r1127.gd79e9a1-15.88.0.r1128.g3557a37-1
                              okular21.08.3.r9540.g8d078c419-121.08.3.r9544.g9144211ba-1
                              oxygen5.23.3.r4438.g11cf5483-15.23.4.r4440.g6d44c002-1
                            palapeli21.08.3.r1250.gb90750e-121.08.3.r1253.g84eb433-1
                              parley21.08.3.r4487.g7784a8d5-121.08.3.r4493.gda3310b0-1
                    partitionmanager21.08.3.r1535.g26ef5d3-121.08.3.r1538.g1c5d0f5-1
                               picmi21.08.3.r540.gad0e92e-121.08.3.r542.ge72c031-1
                   pim-data-exporter21.08.3.r2520.ge51b54b3-121.08.3.r2525.g64e47db5-1
                    pim-sieve-editor21.08.3.r1534.gf9d3a82-121.08.3.r1539.g7c3bc89-1
                           pimcommon21.07.80.r1148.gde5731e-121.07.80.r1153.g7acdffd-1
                    plasma-bigscreen      r418.gad2b98a-1      r418.gad2b98a-3
          plasma-browser-integration5.23.3.r1295.g51649511-15.23.4.r1295.g51649511-1
                      plasma-desktop5.23.3.r8816.g5ce435eee-15.23.3.r8830.gd41f32c5c-1
                    plasma-dialer-mm 21.08.r11.g2997fa9-121.08.r423.g9ee9188-1
                        plasma-disks5.23.3.r242.gafc0180-15.23.4.r243.g840dc45-1
                     plasma-firewall5.23.3.r541.g38ca729-15.23.4.r542.g934ca7f-1
                    plasma-framework5.88.0.r16107.gb27a365ec-15.88.0.r16111.g2b4025fcf-1
                  plasma-integration5.23.3.r540.g680d9e5-15.23.4.r540.g680d9e5-1
                    plasma-mobile-nm5.23.3.r3123.g7663885e-15.23.4.r3135.gcc11ebab-1
                         plasma-nano5.23.3.r169.gd386b77-15.23.4.r169.gd386b77-1
                           plasma-nm5.23.3.r3123.g7663885e-15.23.4.r3135.gcc11ebab-1
                           plasma-pa5.23.3.r1003.gd034998-15.23.4.r1005.g01e1a42-1
             plasma-phone-components5.23.3.r1527.gd544f70d-15.23.4.r1530.g8ea1e27d-1
                    plasma-phonebook 21.08.r15.g6151285-1 21.08.r19.g186b9b1-1
                          plasma-sdk5.23.3.r2290.gf1046280-15.23.4.r2292.gb13a413a-1
                plasma-systemmonitor5.23.3.r514.g09e92cf-15.23.4.r518.geb343ef-1
                  plasma-thunderbolt5.23.3.r156.g579cef8-15.23.4.r156.g579cef8-1
                        plasma-vault5.23.3.r354.gf8b184b-15.23.4.r356.g332b0b3-1
              plasma-wayland-session5.23.3.r10969.g0870f666f-15.23.4.r11008.g3a1603a4e-1
                    plasma-workspace5.23.3.r10969.g0870f666f-15.23.4.r11008.g3a1603a4e-1
         plasma-workspace-wallpapers5.23.3.r301.g6419f26-15.23.4.r301.g6419f26-1
                    polkit-kde-agent5.23.3.r509.gb843d78-15.23.4.r512.g4965ecb-1
                          powerdevil5.23.3.r2497.g5eccafda-15.23.4.r2499.g5ff9737c-1
                               poxml21.08.3.r278.g047949f-121.08.3.r279.g7b9c282-1
                       print-manager21.08.3.r1070.g91744cb-121.08.3.r1071.g0a25c00-1
                             purpose5.88.0.r913.g1a85e5e-15.88.0.r914.g8ddc7bf-1
                         qcachegrind21.08.3.r1160.g36185db-121.08.3.r1163.g231f0ec-1
                               qcoro0.3.0.r152.ged74dd8-10.3.0.r154.g82c2dc3-1
                          qmlkonsole 21.08.r11.g1c753e0-1 21.08.r12.gec760dd-1
                   qqc2-breeze-style5.23.3.r232.ga254696-15.23.4.r233.g94298f3-1
                  qqc2-desktop-style5.88.0.r546.gbe2c437-15.88.0.r547.g1c0b854-1
                                sddm0.19.0.r112.ge8e2a0f-20.19.0.r114.g0424283-1
                            sddm-kcm5.23.3.r619.g4b4875c-15.23.4.r619.g4b4875c-1
                               solid5.88.0.r727.g839c211-15.88.0.r728.g225f1bb-1
                              sonnet5.88.0.r658.gb6d376d-15.88.0.r659.g060e8dd-1
                            spacebar 21.08.r45.g87db1bb-1 21.08.r53.g35cfe68-1
                           spectacle21.08.3.r1215.g16ef5cc-121.08.3.r1218.g9a0b415-1
                                step21.08.3.r1163.gaaee8af-121.08.3.r1164.gefa884b-1
                         syndication5.88.0.r848.gd1aca33-15.88.0.r849.gf5776df-1
                 syntax-highlighting5.88.0.r1757.gd64893e5-15.88.0.r1758.g2a1693ab-1
                      systemsettings5.23.3.r2567.g2dcc904b-15.23.4.r2573.g36d5163b-1
          telepathy-kde-accounts-kcm21.08.3.r1199.g97ac460-121.08.3.r1200.ge41594b-1
              telepathy-kde-approver21.08.3.r296.gb977aa3-121.08.3.r297.g2bb8456-1
          telepathy-kde-auth-handler21.08.3.r278.ga91acfa-121.08.3.r279.gda5f3fe-1
               telepathy-kde-call-ui21.08.3.r445.g8815182-121.08.3.r446.g26d2798-1
      telepathy-kde-common-internals21.08.3.r1998.g87aed0a-121.08.3.r1999.g8bebfc9-1
          telepathy-kde-contact-list21.08.3.r1086.gcf85701-121.08.3.r1087.g9e69104-1
        telepathy-kde-contact-runner21.08.3.r254.gc9a7d36-121.08.3.r255.g9c4f404-1
       telepathy-kde-desktop-applets21.08.3.r996.gd101941-121.08.3.r997.gccefd31-1
  telepathy-kde-filetransfer-handler21.08.3.r221.g2a49068-121.08.3.r222.gd678e77-1
    telepathy-kde-integration-module21.08.3.r392.g16ab09b-121.08.3.r393.g8359889-1
             telepathy-kde-send-file21.08.2.r230.g34d5b10-121.08.2.r231.ge70899f-1
               telepathy-kde-text-ui21.08.3.r2027.g443bf31-121.08.3.r2028.g61bd7eb-1
                        threadweaver5.88.0.r520.g50372a3-15.88.0.r521.g37d8482-1
                             tokodon 21.08.r26.g3038bcb-1 21.08.r28.g2b89ca6-1
                            umbrello21.08.3.r8276.g88582909d-121.08.3.r8277.ga04917ddc-1
                         vakzination       r105.3dfac9d-1       r106.05f8f9b-1
                               vvave  2.1.0.r5.gbdb8743-1  2.1.0.r6.g4abef5d-2
                            wrapland5.23.3.r1685.g1a201798-15.23.4.r1707.ge14fe470-1
              xdg-desktop-portal-kde5.23.3.r397.gb07660a-15.23.4.r397.gb07660a-1
                    zeroconf-ioslave21.08.3.r362.g13a3f15-121.08.3.r363.g3dcd67f-1


:: Different sync package(s) in repository multilib x86_64

-------------------------------------------------------------------------------
                             PACKAGE           2021-11-27           2021-12-02
-------------------------------------------------------------------------------
                        lib32-libdrm            2.4.108-1            2.4.109-1
                    lib32-mesa-demos              8.4.0-2              8.4.0-3
                           lib32-nss               3.72-2               3.73-1
                    lib32-mesa-utils                    -              8.4.0-3

No issue, everything went smoothly
Yes there was an issue. I was able to resolve it myself.(Please post your solution)
Yes i am currently experiencing an issue due to the update. (Please post about it)
Check if your mirror has already synced: