Hello community,
Another testing branch update with some usual updates for you.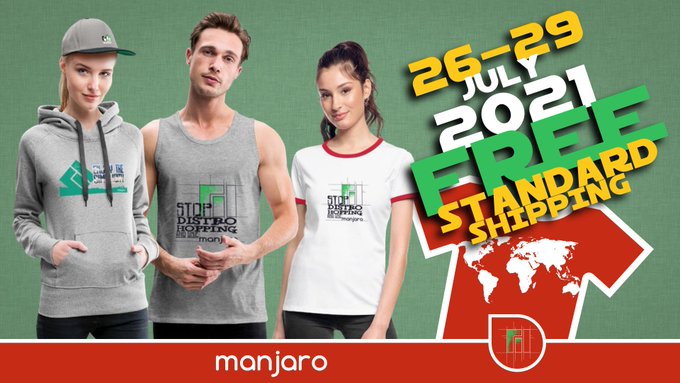 Don't miss free shipping of all our Merch. Visit one of our stores!
Most of our Kernels got updated. Note that 5.12 series is now marked EOL.
Virtualbox is now at 6.1.26
PulseAudio got renewed to 15.0, which brings Bluetooth improvements
We managed to update Xorg-Server to 1.20.12. This includes also fixes for an introduced regression with this release.
Plasma got renewed to 5.22.4
Other regular upstream updates
Get our latest daily developer images now from Github: Plasma, Gnome, XFCE. You get the latest stable releases of Manjaro from CDN77.
---
Our current supported kernels
linux44 4.4.276
linux49 4.9.276
linux414 4.14.240
linux419 4.19.198
linux54 5.4.135
linux510 5.10.53
linux512 5.12.19 [EOL]
linux513 5.13.5
linux510-rt 5.10.52_rt47
Package Updates (Tue Jul 27 10:34:40 CEST 2021)
testing community x86_64: 426 new and 405 removed package(s)
testing core x86_64: 24 new and 22 removed package(s)
testing extra x86_64: 336 new and 337 removed package(s)
testing kde-unstable x86_64: 156 new and 156 removed package(s)
testing multilib x86_64: 13 new and 14 removed package(s)
:: Different overlay package(s) in repository community x86_64

-------------------------------------------------------------------------------
                             PACKAGE           2021-07-27           2021-07-29
-------------------------------------------------------------------------------
                            cinnamon              5.0.5-5              5.0.5-6
     gnome-shell-extension-pop-shell 1.2.0+113+g9616931-2 1.2.0+113+g9616931-3
 linux510-rt-virtualbox-host-modules             6.1.24-3             6.1.26-1
                                nemo              5.0.3-3              5.0.3-4
                 python-grpcio-tools             1.38.1-1             1.39.0-1
                  timeshift-autosnap                0.9-1               0.10-1
                             vivaldi        4.1.2369.11-1                    -
               vivaldi-ffmpeg-codecs      92.0.4515.115-1                    -
                                xapp              2.2.3-1              2.2.3-2
                             catfish                    -           4.16.1-1.0


:: Different sync package(s) in repository community x86_64

-------------------------------------------------------------------------------
                             PACKAGE           2021-07-27           2021-07-29
-------------------------------------------------------------------------------
                               arrow              3.0.0-4              3.0.0-5
                  aspnet-runtime-3.1      3.1.16.sdk116-1      3.1.17.sdk117-1
                      aspnet-runtime       5.0.7.sdk204-2       5.0.8.sdk205-1
           aspnet-targeting-pack-3.1      3.1.16.sdk116-1      3.1.17.sdk117-1
               aspnet-targeting-pack       5.0.7.sdk204-2       5.0.8.sdk205-1
                                atom             1.57.0-1             1.58.0-1
                           borgmatic             1.5.16-1             1.5.17-1
                              camlp4               4.11-1             4.12+1-1
                              camlp5              7.12-11                8.0-1
                        cargo-expand              1.0.7-1              1.0.8-1
                    cargo-spellcheck              0.8.9-1             0.8.11-1
                               chuck            1.4.0.1-1            1.4.1.0-1
                             clojure         1.10.3.849-1         1.10.3.933-1
                                 coq             8.13.2-1             8.13.2-2
                             coq-doc             8.13.2-1             8.13.2-2
                              coqide             8.13.2-1             8.13.2-2
                       diff-so-fancy              1.4.2-1              1.4.3-1
                         dotnet-host       5.0.7.sdk204-2       5.0.8.sdk205-1
                  dotnet-runtime-3.1      3.1.16.sdk116-1      3.1.17.sdk117-1
                      dotnet-runtime       5.0.7.sdk204-2       5.0.8.sdk205-1
                      dotnet-sdk-3.1      3.1.16.sdk116-1      3.1.17.sdk117-1
                          dotnet-sdk       5.0.7.sdk204-2       5.0.8.sdk205-1
           dotnet-targeting-pack-3.1      3.1.16.sdk116-1      3.1.17.sdk117-1
               dotnet-targeting-pack       5.0.7.sdk204-2       5.0.8.sdk205-1
                                dune              2.9.0-1              2.9.0-2
                             element             0.46.1-1             0.46.3-1
                              erlang               24.0-1             24.0.4-1
                          erlang-nox               24.0-1             24.0.4-1
                     erlang-unixodbc               24.0-1             24.0.4-1
                           fetchmail             6.4.19-1             6.4.20-1
                           filezilla             3.55.0-1             3.55.0-2
           firefox-developer-edition             91.0b7-1             91.0b8-1
  firefox-developer-edition-i18n-ach             91.0b7-1             91.0b8-1
   firefox-developer-edition-i18n-af             91.0b7-1             91.0b8-1
   firefox-developer-edition-i18n-an             91.0b7-1             91.0b8-1
   firefox-developer-edition-i18n-ar             91.0b7-1             91.0b8-1
  firefox-developer-edition-i18n-ast             91.0b7-1             91.0b8-1
   firefox-developer-edition-i18n-az             91.0b7-1             91.0b8-1
   firefox-developer-edition-i18n-be             91.0b7-1             91.0b8-1
   firefox-developer-edition-i18n-bg             91.0b7-1             91.0b8-1
   firefox-developer-edition-i18n-bn             91.0b7-1             91.0b8-1
   firefox-developer-edition-i18n-br             91.0b7-1             91.0b8-1
   firefox-developer-edition-i18n-bs             91.0b7-1             91.0b8-1
   firefox-developer-edition-i18n-ca             91.0b7-1             91.0b8-1
firefox-developer-edition-i18n-ca-valencia       91.0b7-1             91.0b8-1
  firefox-developer-edition-i18n-cak             91.0b7-1             91.0b8-1
   firefox-developer-edition-i18n-cs             91.0b7-1             91.0b8-1
   firefox-developer-edition-i18n-cy             91.0b7-1             91.0b8-1
   firefox-developer-edition-i18n-da             91.0b7-1             91.0b8-1
   firefox-developer-edition-i18n-de             91.0b7-1             91.0b8-1
  firefox-developer-edition-i18n-dsb             91.0b7-1             91.0b8-1
   firefox-developer-edition-i18n-el             91.0b7-1             91.0b8-1
firefox-developer-edition-i18n-en-ca             91.0b7-1             91.0b8-1
firefox-developer-edition-i18n-en-gb             91.0b7-1             91.0b8-1
firefox-developer-edition-i18n-en-us             91.0b7-1             91.0b8-1
   firefox-developer-edition-i18n-eo             91.0b7-1             91.0b8-1
firefox-developer-edition-i18n-es-ar             91.0b7-1             91.0b8-1
firefox-developer-edition-i18n-es-cl             91.0b7-1             91.0b8-1
firefox-developer-edition-i18n-es-es             91.0b7-1             91.0b8-1
firefox-developer-edition-i18n-es-mx             91.0b7-1             91.0b8-1
   firefox-developer-edition-i18n-et             91.0b7-1             91.0b8-1
   firefox-developer-edition-i18n-eu             91.0b7-1             91.0b8-1
   firefox-developer-edition-i18n-fa             91.0b7-1             91.0b8-1
   firefox-developer-edition-i18n-ff             91.0b7-1             91.0b8-1
   firefox-developer-edition-i18n-fi             91.0b7-1             91.0b8-1
   firefox-developer-edition-i18n-fr             91.0b7-1             91.0b8-1
firefox-developer-edition-i18n-fy-nl             91.0b7-1             91.0b8-1
firefox-developer-edition-i18n-ga-ie             91.0b7-1             91.0b8-1
   firefox-developer-edition-i18n-gd             91.0b7-1             91.0b8-1
   firefox-developer-edition-i18n-gl             91.0b7-1             91.0b8-1
   firefox-developer-edition-i18n-gn             91.0b7-1             91.0b8-1
firefox-developer-edition-i18n-gu-in             91.0b7-1             91.0b8-1
   firefox-developer-edition-i18n-he             91.0b7-1             91.0b8-1
firefox-developer-edition-i18n-hi-in             91.0b7-1             91.0b8-1
   firefox-developer-edition-i18n-hr             91.0b7-1             91.0b8-1
  firefox-developer-edition-i18n-hsb             91.0b7-1             91.0b8-1
   firefox-developer-edition-i18n-hu             91.0b7-1             91.0b8-1
firefox-developer-edition-i18n-hy-am             91.0b7-1             91.0b8-1
   firefox-developer-edition-i18n-ia             91.0b7-1             91.0b8-1
   firefox-developer-edition-i18n-id             91.0b7-1             91.0b8-1
   firefox-developer-edition-i18n-is             91.0b7-1             91.0b8-1
   firefox-developer-edition-i18n-it             91.0b7-1             91.0b8-1
   firefox-developer-edition-i18n-ja             91.0b7-1             91.0b8-1
   firefox-developer-edition-i18n-ka             91.0b7-1             91.0b8-1
  firefox-developer-edition-i18n-kab             91.0b7-1             91.0b8-1
   firefox-developer-edition-i18n-kk             91.0b7-1             91.0b8-1
   firefox-developer-edition-i18n-km             91.0b7-1             91.0b8-1
   firefox-developer-edition-i18n-kn             91.0b7-1             91.0b8-1
   firefox-developer-edition-i18n-ko             91.0b7-1             91.0b8-1
  firefox-developer-edition-i18n-lij             91.0b7-1             91.0b8-1
   firefox-developer-edition-i18n-lt             91.0b7-1             91.0b8-1
   firefox-developer-edition-i18n-lv             91.0b7-1             91.0b8-1
   firefox-developer-edition-i18n-mk             91.0b7-1             91.0b8-1
   firefox-developer-edition-i18n-mr             91.0b7-1             91.0b8-1
   firefox-developer-edition-i18n-ms             91.0b7-1             91.0b8-1
   firefox-developer-edition-i18n-my             91.0b7-1             91.0b8-1
firefox-developer-edition-i18n-nb-no             91.0b7-1             91.0b8-1
firefox-developer-edition-i18n-ne-np             91.0b7-1             91.0b8-1
   firefox-developer-edition-i18n-nl             91.0b7-1             91.0b8-1
firefox-developer-edition-i18n-nn-no             91.0b7-1             91.0b8-1
   firefox-developer-edition-i18n-oc             91.0b7-1             91.0b8-1
firefox-developer-edition-i18n-pa-in             91.0b7-1             91.0b8-1
   firefox-developer-edition-i18n-pl             91.0b7-1             91.0b8-1
firefox-developer-edition-i18n-pt-br             91.0b7-1             91.0b8-1
firefox-developer-edition-i18n-pt-pt             91.0b7-1             91.0b8-1
   firefox-developer-edition-i18n-rm             91.0b7-1             91.0b8-1
   firefox-developer-edition-i18n-ro             91.0b7-1             91.0b8-1
   firefox-developer-edition-i18n-ru             91.0b7-1             91.0b8-1
   firefox-developer-edition-i18n-si             91.0b7-1             91.0b8-1
   firefox-developer-edition-i18n-sk             91.0b7-1             91.0b8-1
   firefox-developer-edition-i18n-sl             91.0b7-1             91.0b8-1
  firefox-developer-edition-i18n-son             91.0b7-1             91.0b8-1
   firefox-developer-edition-i18n-sq             91.0b7-1             91.0b8-1
   firefox-developer-edition-i18n-sr             91.0b7-1             91.0b8-1
firefox-developer-edition-i18n-sv-se             91.0b7-1             91.0b8-1
   firefox-developer-edition-i18n-ta             91.0b7-1             91.0b8-1
   firefox-developer-edition-i18n-te             91.0b7-1             91.0b8-1
   firefox-developer-edition-i18n-th             91.0b7-1             91.0b8-1
   firefox-developer-edition-i18n-tl             91.0b7-1             91.0b8-1
   firefox-developer-edition-i18n-tr             91.0b7-1             91.0b8-1
  firefox-developer-edition-i18n-trs             91.0b7-1             91.0b8-1
   firefox-developer-edition-i18n-uk             91.0b7-1             91.0b8-1
   firefox-developer-edition-i18n-ur             91.0b7-1             91.0b8-1
   firefox-developer-edition-i18n-uz             91.0b7-1             91.0b8-1
   firefox-developer-edition-i18n-vi             91.0b7-1             91.0b8-1
   firefox-developer-edition-i18n-xh             91.0b7-1             91.0b8-1
firefox-developer-edition-i18n-zh-cn             91.0b7-1             91.0b8-1
firefox-developer-edition-i18n-zh-tw             91.0b7-1             91.0b8-1
               firefox-ublock-origin             1.37.0-1             1.37.2-1
                             freecad             0.19.2-2             0.19.2-3
                             freerdp            2:2.3.2-1            2:2.4.0-1
                         geoipupdate              4.7.1-1              4.8.0-1
                              gitlab             14.0.5-1             14.1.0-1
                       gitlab-gitaly             14.0.4-1             14.1.0-1
                        gitlab-shell          2:13.19.0-1          2:13.20.0-1
                                grpc             1.38.1-1             1.39.0-1
                            grpc-cli             1.38.1-1             1.39.0-1
                                haxe              4.2.3-2              4.2.3-3
                               hivex             1.3.20-5             1.3.20-6
                      home-assistant           2021.5.3-2           2021.7.4-2
                             in-toto              1.0.1-1              1.1.1-1
                             jenkins              2.303-1              2.304-1
                                jmol           14.31.47-1           14.31.48-1
                               jsmol           14.31.47-1           14.31.48-1
                          jupyterlab             3.0.16-1              3.1.0-1
                             klavaro               3.11-1               3.13-1
                            lablgtk3              3.1.1-2              3.1.1-3
                        libfilezilla             0.30.0-1             0.31.0-1
                          libguestfs             1.44.1-5             1.44.1-6
            libretro-beetle-pce-fast               1127-1               1129-1
                 libretro-beetle-psx               2538-1               2544-1
              libretro-beetle-psx-hw               2538-1               2544-1
                  libretro-bsnes2014              1:566-1              1:577-1
                   libretro-gambatte                908-1                912-1
            libretro-genesis-plus-gx               1580-1               1786-1
                       libretro-mgba               7842-1               7979-1
           libretro-mupen64plus-next              1:343-1              1:374-1
                       libretro-play               6549-1               6630-1
                     libretro-ppsspp              29976-1              30121-1
              libretro-shaders-slang                814-1                816-1
                    libretro-yabause               3311-1               3312-1
        lightdm-gtk-greeter-settings              1.2.2-5              1.2.2-6
                                mame              0.233-1              0.234-1
                          mame-tools              0.233-1              0.234-1
                              mdbook             0.4.10-1             0.4.11-1
                              mumble              1.3.4-7              1.3.4-8
                              murmur              1.3.4-7              1.3.4-8
          netstandard-targeting-pack       5.0.7.sdk204-2       5.0.8.sdk205-1
             nomad-driver-containerd                0.8-2                0.9-1
                                 npm             7.20.1-1             7.20.2-1
                           nvchecker                2.3-4                2.4-1
                          ocaml-base             0.14.1-1             0.14.1-2
                         ocaml-cairo              0.6.2-1              0.6.2-2
      ocaml-compiler-libs-repackaged             0.12.3-1             0.12.3-2
                         ocaml-csexp              1.3.2-1              1.3.2-2
                       ocaml-findlib              1.9.1-1              1.9.1-2
                      ocaml-hashcons                1.3-1                1.3-2
                        ocaml-lablgl               1.06-8               1.06-9
                           ocaml-num                1.4-2                1.4-3
                  ocaml-ppx_derivers              1.2.1-5              1.2.1-6
                      ocaml-sexplib0             0.14.0-2             0.14.0-3
                         ocaml-stdio             0.14.0-2             0.14.0-3
                  ocaml-stdlib-shims              0.3.0-1              0.3.0-2
                        ocaml-zarith               1.11-1               1.11-2
                                 oha              0.4.4-1              0.4.6-1
                              onednn              2.2.2-1                2.3-1
                                opam              2.0.9-1              2.1.0-1
                         pcsx2 1.7.0.r1505.2e411a601-2 1.7.0.r1545.34e779a65-1
                            php-grpc             1.38.1-1             1.39.0-1
                           php7-grpc             1.38.1-1             1.39.0-1
                       python-abydos              0.5.0-1              0.5.0-2
                        python-btrfs                 12-2                 13-1
                       python-cftime              1.4.1-1              1.5.0-1
                      python-confuse              1.4.0-1              1.5.0-1
               python-discogs-client             2.3.12-1             2.3.12-2
                     python-django-q              1.3.9-1              1.3.9-2
                        python-fiona             1.8.20-1             1.8.20-2
                         python-flit              3.2.0-2              3.2.0-3
                    python-flit-core              3.2.0-2              3.2.0-3
                       python-grpcio             1.38.1-1             1.39.0-1
                   python-hypothesis             6.14.4-1             6.14.5-1
                   python-matplotlib              3.4.2-2              3.4.2-3
                   python-matrix-nio             0.18.5-1             0.18.6-1
                         python-moto              2.1.0-1              2.2.0-1
                          python-mss              6.0.0-3              6.1.0-1
                        python-param             1.10.1-1             1.11.1-1
                        python-partd              1.1.0-3              1.2.0-1
                     python-pdfminer           20201018-2           20201018-3
                      python-pikepdf             2.15.1-1             2.16.1-1
                         python-pivy              0.6.5-3              0.6.6-1
            python-py_stringmatching              0.4.2-1              0.4.2-2
                 python-pyscreenshot                2.3-1                3.0-1
                     python-pyspnego              0.1.5-1              0.1.6-1
                   python-pytest-mpi                0.4-3                0.5-1
             python-pyvirtualdisplay                2.1-1                2.2-1
        python-pyxdameraulevenshtein              1.6.1-1              1.7.0-1
                    python-qstylizer             0.1.10-1              0.2.0-1
                    python-schemdraw                0.8-2                0.9-1
             python-securesystemslib             0.20.0-1             0.20.1-1
                  python-sounddevice              0.4.1-2              0.4.2-1
                 python-textdistance              4.2.0-1              4.2.1-1
             python-virtualenv-clone              0.5.5-1              0.5.6-1
                     python-watchgod                0.6-2                0.7-1
                    python-wurlitzer              2.0.0-3              2.1.1-1
                               qt6ct                0.3-1                0.4-1
                               renpy              7.4.6-1              7.4.7-1
                         renpy-demos              7.4.6-1              7.4.7-1
                           retroarch              1.9.6-3              1.9.7-1
                               scrot                1.5-1                1.6-1
                      signal-desktop             5.10.0-1             5.11.0-1
                              spdlog              1.9.0-1              1.9.1-1
                             systemc              2.3.3-1              2.3.3-2
                           tailscale             1.10.2-1             1.12.0-1
                     taskwarrior-tui            0.13.27-1            0.13.29-1
                  ttf-jetbrains-mono              2.225-1              2.241-1
                   ttf-sarasa-gothic             0.33.0-1             0.33.1-1
                           uglify-js             3.14.0-1             3.14.1-1
                             uvicorn             0.14.0-1             0.14.0-2
         v2ray-domain-list-community     20210725030530-1     20210727125446-1
                         v2ray-geoip       202107220025-1       202107290023-1
                           verilator              4.210-1              4.210-2
                          virtualbox             6.1.24-1             6.1.26-1
                  virtualbox-ext-vnc             6.1.24-1             6.1.26-1
                virtualbox-guest-iso             6.1.24-1             6.1.26-1
              virtualbox-guest-utils             6.1.24-1             6.1.26-1
          virtualbox-guest-utils-nox             6.1.24-1             6.1.26-1
                virtualbox-host-dkms             6.1.24-1             6.1.26-1
                      virtualbox-sdk             6.1.24-1             6.1.26-1
                             vivaldi        4.0.2312.41-1        4.1.2369.11-1
               vivaldi-ffmpeg-codecs      91.0.4472.114-1      92.0.4515.115-1
                             whipper             0.10.0-2             0.10.0-3
                           wingpanel              3.0.0-1              3.0.0-2
                             wings3d              2.2.5-4                    -
                                 zaz              1.0.0-9              1.0.1-1
                          gtkdatabox                    -              1.0.0-1
                      libretro-pcsx2                    -              11900-1
              pantheon-notifications                    -              6.0.0-1
                 pantheon-onboarding                    -              6.0.0-1
                    python-geopandas                    -              0.9.0-2


:: Different overlay package(s) in repository core x86_64

-------------------------------------------------------------------------------
                             PACKAGE           2021-07-27           2021-07-29
-------------------------------------------------------------------------------
                            linux414           4.14.240-1           4.14.241-1
                    linux414-headers           4.14.240-1           4.14.241-1
                            linux419           4.19.198-1           4.19.199-1
                    linux419-headers           4.19.198-1           4.19.199-1
                             linux44            4.4.276-1            4.4.277-1
                     linux44-headers            4.4.276-1            4.4.277-1
                             linux49            4.9.276-1            4.9.277-1
                     linux49-headers            4.9.276-1            4.9.277-1
                            linux510            5.10.53-1            5.10.54-1
                    linux510-headers            5.10.53-1            5.10.54-1
                            linux513             5.13.5-1             5.13.6-1
                    linux513-headers             5.13.5-1             5.13.6-1
                             linux54            5.4.135-1            5.4.136-1
                     linux54-headers            5.4.135-1            5.4.136-1
                     manjaro-release          21.1.0rc1-2          21.1.0rc3-1
                             mhwd-db             0.6.5-14             0.6.5-15


:: Different sync package(s) in repository core x86_64

-------------------------------------------------------------------------------
                             PACKAGE           2021-07-27           2021-07-29
-------------------------------------------------------------------------------
                           libcap-ng              0.8.2-1              0.8.2-3
                                sudo           1.9.7.p1-1           1.9.7.p2-1
                        python-capng                    -              0.8.2-3


:: Different overlay package(s) in repository extra x86_64

-------------------------------------------------------------------------------
                             PACKAGE           2021-07-27           2021-07-29
-------------------------------------------------------------------------------
                  linux414-acpi_call            1.1.0-214            1.1.0-215
                   linux414-bbswitch              0.8-214              0.8-215
                linux414-broadcom-wl     6.30.223.271-214     6.30.223.271-215
                linux414-ndiswrapper              1.63-64              1.63-65
               linux414-nvidia-390xx            390.144-1            390.144-2
                     linux414-nvidia          470.57.02-1          470.57.02-2
                   linux414-nvidiabl             0.88-214             0.88-215
                      linux414-r8168           8.049.02-3           8.049.02-4
                  linux414-rt3562sta       2.4.1.1_r4-210       2.4.1.1_r4-211
                   linux414-tp_smapi             0.43-106             0.43-107
                linux414-vhba-module          20210418-12          20210418-13
    linux414-virtualbox-host-modules             6.1.24-1             6.1.26-1
                        linux414-zfs              2.1.0-3              2.1.0-4
                  linux419-acpi_call            1.1.0-192            1.1.0-193
                   linux419-bbswitch              0.8-192              0.8-193
                linux419-broadcom-wl     6.30.223.271-191     6.30.223.271-192
                linux419-ndiswrapper              1.63-82              1.63-83
               linux419-nvidia-390xx            390.144-1            390.144-2
                     linux419-nvidia          470.57.02-1          470.57.02-2
                   linux419-nvidiabl             0.88-191             0.88-192
                      linux419-r8168           8.049.02-3           8.049.02-4
                  linux419-rtl8723bu          20210519-13          20210519-14
                   linux419-tp_smapi             0.43-141             0.43-142
                linux419-vhba-module          20210418-14          20210418-15
    linux419-virtualbox-host-modules             6.1.24-1             6.1.26-1
                        linux419-zfs              2.1.0-3              2.1.0-4
                   linux44-acpi_call            1.1.0-208            1.1.0-209
                    linux44-bbswitch              0.8-208              0.8-209
                 linux44-broadcom-wl     6.30.223.271-178     6.30.223.271-179
                 linux44-ndiswrapper              1.63-56              1.63-57
                linux44-nvidia-390xx            390.144-1            390.144-2
                      linux44-nvidia          470.57.02-1          470.57.02-2
                    linux44-nvidiabl             0.88-208             0.88-209
                       linux44-r8168           8.049.02-3           8.049.02-4
                   linux44-rt3562sta       2.4.1.1_r4-165       2.4.1.1_r4-166
                    linux44-tp_smapi              0.43-87              0.43-88
                 linux44-vhba-module          20210418-12          20210418-13
     linux44-virtualbox-host-modules             6.1.24-1             6.1.26-1
                         linux44-zfs              2.1.0-3              2.1.0-4
                   linux49-acpi_call            1.1.0-222            1.1.0-223
                    linux49-bbswitch              0.8-222              0.8-223
                 linux49-broadcom-wl     6.30.223.271-222     6.30.223.271-223
                 linux49-ndiswrapper              1.63-56              1.63-57
                linux49-nvidia-390xx            390.144-1            390.144-2
                      linux49-nvidia          470.57.02-1          470.57.02-2
                    linux49-nvidiabl             0.88-222             0.88-223
                       linux49-r8168           8.049.02-3           8.049.02-4
                   linux49-rt3562sta       2.4.1.1_r4-206       2.4.1.1_r4-207
                    linux49-tp_smapi              0.43-90              0.43-91
                 linux49-vhba-module          20210418-12          20210418-13
     linux49-virtualbox-host-modules             6.1.24-1             6.1.26-1
                         linux49-zfs              2.1.0-3              2.1.0-4
                  linux510-acpi_call             1.1.0-69             1.1.0-70
                   linux510-bbswitch               0.8-69               0.8-70
                linux510-broadcom-wl      6.30.223.271-70      6.30.223.271-71
               linux510-nvidia-390xx            390.144-2            390.144-3
                     linux510-nvidia          470.57.02-2          470.57.02-3
                      linux510-r8168           8.049.02-6           8.049.02-7
                  linux510-rtl8723bu          20210519-17          20210519-18
                   linux510-tp_smapi              0.43-69              0.43-70
                linux510-vhba-module          20210418-24          20210418-25
    linux510-virtualbox-host-modules             6.1.24-2             6.1.26-1
                        linux510-zfs              2.1.0-6              2.1.0-7
    linux512-virtualbox-host-modules             6.1.24-1             6.1.26-1
                  linux513-acpi_call              1.1.0-8              1.1.0-9
                   linux513-bbswitch                0.8-8                0.8-9
                linux513-broadcom-wl       6.30.223.271-8       6.30.223.271-9
               linux513-nvidia-390xx            390.144-2            390.144-3
                     linux513-nvidia          470.57.02-2          470.57.02-3
                      linux513-r8168           8.049.02-7           8.049.02-8
                  linux513-rtl8723bu           20210519-9          20210519-10
                   linux513-tp_smapi               0.43-8               0.43-9
                linux513-vhba-module           20210418-8           20210418-9
    linux513-virtualbox-host-modules             6.1.24-2             6.1.26-1
                        linux513-zfs              2.1.0-7              2.1.0-8
    linux514-virtualbox-host-modules           6.1.24-0.3           6.1.26-0.2
                   linux54-acpi_call            1.1.0-144            1.1.0-145
                    linux54-bbswitch              0.8-144              0.8-145
                 linux54-broadcom-wl     6.30.223.271-144     6.30.223.271-145
                 linux54-ndiswrapper             1.63-100             1.63-101
                linux54-nvidia-390xx            390.144-2            390.144-3
                      linux54-nvidia          470.57.02-2          470.57.02-3
                    linux54-nvidiabl             0.88-144             0.88-145
                       linux54-r8168           8.049.02-6           8.049.02-7
                   linux54-rtl8723bu          20210519-17          20210519-18
                    linux54-tp_smapi             0.43-144             0.43-145
                 linux54-vhba-module          20210418-24          20210418-25
     linux54-virtualbox-host-modules             6.1.24-2             6.1.26-1
                         linux54-zfs              2.1.0-6              2.1.0-7
                               snapd             2.51.3-1             2.51.3-2
                         xorg-server            1.20.11-1            1.20.12-2
                  xorg-server-common            1.20.11-1            1.20.12-2
                   xorg-server-devel            1.20.11-1            1.20.12-2
                  xorg-server-xephyr            1.20.11-1            1.20.12-2
                   xorg-server-xnest            1.20.11-1            1.20.12-2
                    xorg-server-xvfb            1.20.11-1            1.20.12-2


:: Different sync package(s) in repository extra x86_64

-------------------------------------------------------------------------------
                             PACKAGE           2021-07-27           2021-07-29
-------------------------------------------------------------------------------
                                bind            9.16.18-1            9.16.19-1
                           bluedevil           1:5.22.3-1           1:5.22.4-1
                              breeze             5.22.3-1             5.22.4-1
                         breeze-grub             5.22.3-1             5.22.4-1
                          breeze-gtk             5.22.3-1             5.22.4-1
                              brltty                6.3-3                6.3-4
                              cantor            21.04.3-1            21.04.3-2
                               cmake             3.21.0-1             3.21.1-1
                            discover             5.22.3-1             5.22.4-1
                             drkonqi             5.22.3-1             5.22.4-1
                              facile             1.1.3-12             1.1.3-13
                                gegl             0.4.30-4             0.4.30-5
                      geoip-database           20210622-1           20210727-1
                geoip-database-extra           20210622-1           20210727-1
                            graphviz             2.48.0-1             2.48.0-2
                               ipset               7.12-1               7.14-1
                   kactivitymanagerd             5.22.3-1             5.22.4-1
                       kde-cli-tools             5.22.3-1             5.22.4-1
                      kde-gtk-config             5.22.3-1             5.22.4-1
                         kdecoration             5.22.3-1             5.22.4-1
                    kdeplasma-addons             5.22.3-1             5.22.4-1
                             kgamma5             5.22.3-1             5.22.4-1
                            khotkeys             5.22.3-1             5.22.4-1
                         kinfocenter             5.22.3-1             5.22.4-1
                           kmenuedit             5.22.3-1             5.22.4-1
                             kscreen             5.22.3-1             5.22.4-1
                       kscreenlocker             5.22.3-1             5.22.4-1
                         ksshaskpass             5.22.3-1             5.22.4-1
                        ksystemstats             5.22.3-1             5.22.4-1
                         kwallet-pam             5.22.3-1             5.22.4-1
                kwayland-integration             5.22.3-1             5.22.4-1
                     kwayland-server             5.22.3-1             5.22.4-1
                                kwin             5.22.3-1             5.22.4-1
                             kwrited             5.22.3-1             5.22.4-1
                            lablgtk2            2.18.11-6            2.18.11-7
                      layer-shell-qt             5.22.3-1             5.22.4-1
                                 ldb            1:2.4.0-1            2:2.3.0-1
                           libfprint             1.92.0-1             1.92.1-1
                              libgnt             2.14.1-1             2.14.2-1
                          libkscreen             5.22.3-1             5.22.4-1
                        libksysguard             5.22.3-1             5.22.4-1
                               libnm             1.32.4-1             1.32.6-1
                            libpulse               14.2-3               15.0-1
                        libqalculate             3.19.0-1             3.20.1-1
                                llvm             12.0.1-1             12.0.1-2
                           llvm-libs             12.0.1-1             12.0.1-2
                          llvm-ocaml             12.0.1-1             12.0.1-2
                          malcontent              0.9.0-1             0.10.1-1
                              maxima             5.45.1-1             5.45.1-2
                               milou             5.22.3-1             5.22.4-1
                      mkvtoolnix-cli             59.0.0-1             59.0.0-2
                      mkvtoolnix-gui             59.0.0-1             59.0.0-2
                      networkmanager             1.32.4-1             1.32.6-1
                            nftables            1:0.9.9-1            1:0.9.9-6
                      nm-cloud-setup             1.32.4-1             1.32.6-1
                               ocaml             4.11.1-1             4.12.0-1
                 ocaml-compiler-libs             4.11.1-1             4.12.0-1
                        ocaml-ctypes             0.17.1-5             0.17.1-6
                      ocaml-integers              0.4.0-3              0.4.0-4
                        ocaml-result                1.5-3                1.5-4
                         ocaml-topkg              1.0.3-1              1.0.3-2
                          ocamlbuild             0.14.0-9            0.14.0-10
                              oxygen             5.22.3-1             5.22.4-1
          plasma-browser-integration             5.22.3-1             5.22.4-1
                      plasma-desktop             5.22.3-1             5.22.4-1
                        plasma-disks             5.22.3-1             5.22.4-1
                     plasma-firewall             5.22.3-1             5.22.4-1
                  plasma-integration             5.22.3-1             5.22.4-1
                           plasma-nm             5.22.3-1             5.22.4-1
                           plasma-pa             5.22.3-1             5.22.4-1
                          plasma-sdk             5.22.3-1             5.22.4-1
                plasma-systemmonitor             5.22.3-2             5.22.4-1
                  plasma-thunderbolt             5.22.3-1             5.22.4-1
                        plasma-vault             5.22.3-1             5.22.4-1
              plasma-wayland-session             5.22.3-1             5.22.4-2
                    plasma-workspace             5.22.3-1             5.22.4-2
         plasma-workspace-wallpapers             5.22.3-1             5.22.4-1
                    polkit-kde-agent             5.22.3-1             5.22.4-1
                          powerdevil             5.22.3-1             5.22.4-1
                          pulseaudio               14.2-3               15.0-1
                pulseaudio-bluetooth               14.2-3               15.0-1
                pulseaudio-equalizer               14.2-3               15.0-1
                     pulseaudio-jack               14.2-3               15.0-1
                     pulseaudio-lirc               14.2-3               15.0-1
                      pulseaudio-rtp               14.2-3               15.0-1
                 pulseaudio-zeroconf               14.2-3               15.0-1
                        python-tomli              1.1.0-1              1.1.0-2
                       qalculate-gtk             3.19.0-1             3.20.1-1
                               rsync              3.2.3-3              3.2.3-4
                                sbcl              2.1.1-1              2.1.6-1
                            sddm-kcm             5.22.3-1             5.22.4-1
                                step            21.04.3-1            21.04.3-2
                      systemsettings             5.22.3-1             5.22.4-1
              xdg-desktop-portal-kde             5.22.3-1             5.22.4-1
                        qalculate-qt                    -             3.20.1-1


:: Different overlay package(s) in repository kde-unstable x86_64

-------------------------------------------------------------------------------
                             PACKAGE           2021-07-27           2021-07-29
-------------------------------------------------------------------------------
                                 ark21.04.3.r4606.g8330d104-121.04.3.r4607.gfd14c53b-1
                       baloo-widgets21.04.3.r681.gd686783-121.04.3.r682.g7c1aaf3-1
                           bluedevil1:5.22.3.r2271.gd506eedd-11:5.22.4.r2273.g1b7b91fe-1
                              bomber21.04.3.r519.g0902c55-121.04.3.r520.g3512757-1
                              breeze5.22.3.r2224.gb6374c27-15.22.3.r2225.g5c385621-1
                         breeze-grub5.22.3.r11.g63136a9-15.22.4.r11.g63136a9-1
                          breeze-gtk5.22.3.r420.gfccd7df-15.22.4.r420.gfccd7df-1
                        breeze-icons5.84.0.r1760.gbf37a9d3-15.84.0.r1761.g3771dae6-1
                     calendarsupport21.04.3.r575.g6d55d7f-121.07.80.r11.g033d562-1
                              cantor21.04.2.r3054.ge0a568f3-121.04.3.r3228.g2f453cea-1
                            discover5.22.3.r8240.gbcc7b53c-15.22.4.r8244.g1e06426b-1
                     dolphin-plugins21.04.3.r596.g773e4b2-121.04.3.r597.g81a72bf-1
                          eventviews21.04.3.r674.g4e41f50-121.07.80.r7.g4e41f50-1
                frameworkintegration5.84.0.r589.g4aa5e78-15.84.0.r590.g83123c6-1
                            gwenview21.04.3.r6649.gb10fe5b8-121.04.3.r6650.gb292af50-1
                            index-fm1.2.2.r109.ga923568-11.2.2.r113.g8398953-1
                                 k3b1:21.04.3.r6655.g3456f6562-11:21.04.3.r6656.gebb6283ae-1
               kaccounts-integration21.04.3.r1210.g7660f66-121.04.3.r1211.g90bb6da-1
                   kactivitymanagerd5.22.3.r1358.gc237fe5-15.22.3.r1360.gb3214fa-1
                           kalarmcal21.04.3.r1123.gc773ba4-121.04.3.r1129.g9260a4d-1
                                kalk  21.07.r0.g2412914-1  21.07.r2.g9bb86f2-1
                            karchive5.84.0.r496.ge657605-15.84.0.r497.g5dc3f84-1
                               kasts  21.07.r3.ga15e2db-1  21.07.r4.g9384f3c-1
                                kate21.04.3.r18299.g8328b53fb-121.04.3.r18306.gd3dd58cb9-1
                       kcalendarcore5.84.0.r1226.g92da321bd-15.84.0.r1227.gaa08db3d6-1
                              kclock 21.07.r19.g56f360a-1 21.07.r23.g34b2ae8-1
                            kcmutils5.84.0.r529.g431b5db-15.84.0.r530.g3124d83-1
                      kconfigwidgets5.84.0.r602.gbcde63c-15.84.0.r604.gddfa323-1
                              kcrash5.84.0.r402.g701cd36-15.84.0.r403.gdc45a01-1
                       kde-cli-tools5.22.3.r1851.gaa866b6-15.22.4.r1854.gc4df639-1
                      kde-gtk-config5.22.3.r896.g971adfc-15.22.4.r896.g971adfc-1
                        kdeclarative5.84.0.r903.g9f07247-15.84.0.r905.g5db5b88-1
                          kdeconnect21.04.3.r3295.gec88335b-121.04.3.r3299.ga3082de5-1
                       kdepim-addons21.04.3.r4239.g4180eccf-121.04.3.r4240.ge5f0b5ed-1
                      kdepim-runtime21.04.3.r15148.g47b49d185-121.04.3.r15149.gd47c29c4d-1
                    kdeplasma-addons5.22.3.r8562.g85a88ebc6-15.22.4.r8565.g6bd45a9d7-1
                            kdisplay5.22.0.r1448.g0cb3d65-15.22.0.r1450.g1fa20e2-1
                          kemoticons5.84.0.r378.gd8d5133-15.84.0.r379.gde2d0fb-1
                            keysmith  21.07.r1.g503fdde-1  21.07.r3.g3c0fc62-1
                             kgamma55.22.3.r456.g5885d2f-15.22.4.r456.g5885d2f-1
                           kholidays1:5.84.0.r947.ga0bb438-11:5.84.0.r952.g8b43e99-1
                            khotkeys5.22.3.r2086.g1b06be5-15.22.4.r2086.g1b06be5-1
                         kinfocenter5.22.3.r1862.ga30e76b-15.22.4.r1863.g53b7155-1
                                 kio5.84.0.r4869.g63df4f25-15.84.0.r4871.gc93a655b-1
                          kio-extras21.04.3.r7094.g5dff395e-121.04.3.r7095.g767d1ff8-1
                     kirigami-addons5.79.0.r26.gb87abcd-1  1:0.2.r6.gc4f3e01-1
                           kirigami25.84.0.r2842.g253eedef-15.84.0.r2843.g93aeece3-1
                          kitinerary21.04.3.r1843.gedce84c-121.04.3.r1844.g7057e14-1
                               kldap21.04.3.r870.g7b455c9-121.04.3.r871.ge0f59be-1
                               kmail21.04.3.r25853.g732cb2fb3-121.04.3.r25854.gfcf8afc62-1
                           kmenuedit5.22.3.r968.g2742003-15.22.4.r968.g2742003-1
                            knetwalk21.04.3.r653.g0fb8139-121.04.3.r654.g85a36d1-1
                             kontact21.04.3.r5347.gb9c29459-121.04.3.r5348.g3a26ab1b-1
                            kpackage5.84.0.r683.g0aaf95f-15.84.0.r684.g7b77a77-1
                           krecorder  21.07.r0.gb90079d-1  21.07.r2.gfd5e12a-1
                             krunner5.84.0.r648.g9fe605e-15.84.0.r650.gcc01f58-1
                             kscreen5.22.3.r1338.g845c8ab-15.22.4.r1338.g845c8ab-1
                       kscreenlocker5.22.3.r860.g5be21fb-15.22.3.r861.g7964776-1
                         ksshaskpass5.22.3.r196.gdaa2679-15.22.4.r196.gdaa2679-1
                           ksysguard5.22.3.r3507.g9bc6de87-15.22.3.r3508.g4d304e1e-1
                               ktrip  21.07.r0.g4e972de-1  21.07.r4.g0a2eba2-1
                         kwallet-pam5.22.3.r250.g3bdf94a-15.22.4.r250.g3bdf94a-1
                kwayland-integration5.22.3.r179.g5901512-15.22.4.r179.g5901512-1
                     kwayland-server5.22.3.r1354.gff642af-15.22.3.r1360.g7655551-1
                            kweather  21.07.r4.gf0e720e-1  21.07.r7.g15ebb4f-1
                        kweathercore 21.05.r12.g4690eee-1    0.4.r0.gd47574f-1
                                kwin5.22.3.r19688.g5317ca9da-15.22.3.r19695.gac438d6bb-1
                              kwrite21.04.3.r18299.g8328b53fb-121.04.3.r18306.gd3dd58cb9-1
                             kwrited5.22.3.r480.g682279c-15.22.4.r480.g682279c-1
                             kxmlgui5.84.0.r790.g917b743d-15.84.0.r791.gab6959ef-1
                            libksane21.04.3.r550.g8f338bd-121.04.3.r551.g0454ecf-1
                          libkscreen5.22.3.r1585.g19fb52b-15.22.3.r1586.g618f24d-1
                           maui-clip 1.1.1.r10.gdaaa293-1 1.1.1.r11.g619cd12-1
                            maui-pix 1.2.2.r67.g1736d0f-1 1.2.2.r69.g52ea825-1
                             mauikit1.2.2.r165.gfe6ccb40-11.2.2.r167.g21371ec4-1
                mauikit-filebrowsing 1.2.2.r71.ged8ac30-1 1.2.2.r72.g34d99f6-1
                  mauikit-imagetools 1.2.2.r18.ge45ee3c-1 1.2.2.r19.g977cd44-1
                          messagelib21.04.3.r6075.g1de22472-121.04.3.r6078.g53cf1bcc-1
                              okular21.04.3.r9403.g21bc8bd02-121.04.3.r9404.g0d15048e5-1
                            palapeli21.04.3.r1226.gd3f694b-121.04.3.r1227.g2df0f22-1
          plasma-browser-integration5.22.2.1.r1269.g4c28b9a1-15.22.4.r1269.g4c28b9a1-1
                      plasma-desktop5.22.3.r8559.g4dd957eb2-15.22.4.r8564.g8783a5b5a-1
                        plasma-disks5.22.3.r223.g83a08fd-15.22.4.r224.gd64d104-1
                     plasma-firewall5.22.3.r497.g8e86ae7-15.22.4.r499.gfe33df5-1
                    plasma-framework5.84.0.r15923.g32bfd1ed0-15.84.0.r15925.g4edb830f5-1
                    plasma-mobile-nm5.21.4.r3063.gf891c384-15.22.3.r3063.gf891c384-1
                           plasma-pa5.22.3.r953.ga765482-15.22.4.r953.ga765482-1
             plasma-phone-components5.22.3.r1440.g66411f24-15.22.4.r1441.g3922cd51-1
                          plasma-sdk5.22.3.r2272.g32b423a6-15.22.4.r2273.g3d24bfcc-1
                plasma-systemmonitor5.22.3.r470.g5ae5742-15.22.4.r471.g06b0ed9-1
                  plasma-thunderbolt5.22.3.r134.gff4b4f9-15.22.4.r134.gff4b4f9-1
                        plasma-vault5.22.3.r337.g299b13f-15.22.4.r338.g076e3f1-1
            plasma-wayland-protocols1.3.0.r1027.gad543cf-11.3.0.r1028.g8d33090-1
              plasma-wayland-session5.22.3.r10469.g32c9f4a5f-15.22.3.r10475.g5f43f741e-1
                    plasma-workspace5.22.3.r10469.g32c9f4a5f-15.22.3.r10475.g5f43f741e-1
         plasma-workspace-wallpapers5.22.3.r281.g4fc06b7-15.22.4.r281.g4fc06b7-1
                    polkit-kde-agent5.22.3.r499.g6aa608d-15.22.4.r499.g6aa608d-1
                          powerdevil5.22.3.r2449.ga2f04548-15.22.4.r2452.g30cf83f7-1
                             purpose5.84.0.r866.gdf5ee75-15.84.0.r867.g599e08d-1
                   qqc2-breeze-style5.22.3.r220.gdcfd65f-15.22.4.r220.gdcfd65f-1
                            sddm-kcm5.22.3.r590.gd77c138-15.22.4.r590.gd77c138-1
                           spectacle21.04.3.r1133.g56f50c5-121.04.3.r1134.g0aec65b-1
                      systemsettings5.22.3.r2456.gc7cbb9c9-15.22.4.r2460.gf5691ea6-1
              xdg-desktop-portal-kde5.22.3.r374.g96ead88-15.22.4.r374.g96ead88-1
                  khealthcertificate                    -        r67.735d6be-1
                         vakzination                    -        r65.aeffa11-1


:: Different sync package(s) in repository multilib x86_64

-------------------------------------------------------------------------------
                             PACKAGE           2021-07-27           2021-07-29
-------------------------------------------------------------------------------
                         lib32-libnm             1.32.4-1             1.32.6-1
                      lib32-libpulse               14.2-2               15.0-1

No issue, everything went smoothly
Yes there was an issue. I was able to resolve it myself.(Please post your solution)
Yes i am currently experiencing an issue due to the update. (Please post about it)
Check if your mirror has already synced: