Hello community,
Another testing branch update with some usual updates for you.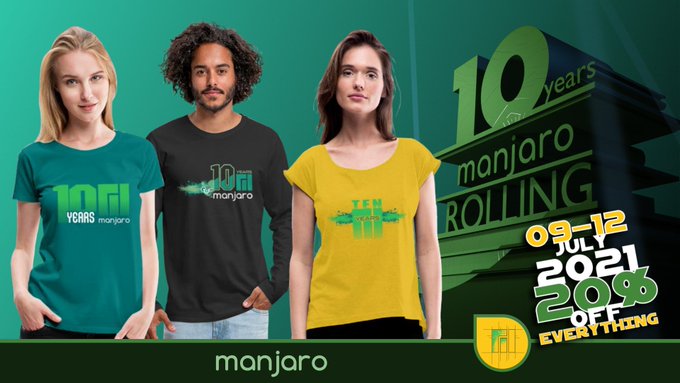 Don't miss out on our 10 years anniversary. Checkout our goodies…
Most of the Kernels got updated
Xorg-Server is now at 1.20.12
More Deepin updates
KDE Gear is now at 21.04.3
More KDE-git updates
Other regular upstream updates
Get our latest daily developer images now from Github: Plasma, Gnome, XFCE. You get the latest stable releases of Manjaro from CDN77.
---
Our current supported kernels
linux44 4.4.274
linux49 4.9.274
linux414 4.14.238
linux419 4.19.196
linux54 5.4.130
linux510 5.10.48
linux512 5.12.15
linux513 5.13.1
linux510-rt 5.10.35_rt39
linux511-rt 5.11.4_rt11
Package Updates (Fri Jul 9 20:16:45 CEST 2021)
testing community x86_64: 259 new and 254 removed package(s)
testing core x86_64: 9 new and 9 removed package(s)
testing extra x86_64: 298 new and 298 removed package(s)
testing kde-unstable x86_64: 269 new and 269 removed package(s)
testing multilib x86_64: 3 new and 3 removed package(s)
:: Different overlay package(s) in repository community x86_64

-------------------------------------------------------------------------------
                             PACKAGE           2021-07-07           2021-07-09
-------------------------------------------------------------------------------
                           bitwarden             1.27.0-2             1.27.1-1
                            cinnamon              5.0.4-1              5.0.4-2
         deepin-desktop-base-manjaro        2:2021.5.07-1       2:2021.06.16-1
                           fastfetch       r400.273d420-1       r406.0f916bb-1
                               ferdi             5.5.0-19             5.5.0-21
     ferdi-manjaro 5.6.0.beta.5.r356.g8fc02b90-1 5.6.0.beta.5.r383.gddbf1642-1
                                 gdu              5.1.1-1              5.2.0-1
  gnome-shell-extension-dash-to-dock     69+14+g302c693-1     69+14+g302c693-2
                          warpinator              1.2.3-4              1.2.3-5


:: Different sync package(s) in repository community x86_64

-------------------------------------------------------------------------------
                             PACKAGE           2021-07-07           2021-07-09
-------------------------------------------------------------------------------
                        apksigcopier              1.0.0-2              1.0.1-1
                             aws-cli            1.19.93-1           1.19.107-1
                           babel-cli             7.14.5-1             7.14.5-2
                           bctoolbox             4.5.22-1              5.0.0-1
                               boinc            7.16.17-1            7.16.18-1
                           boinc-nox            7.16.17-1            7.16.18-1
                               bzrtp             4.5.22-1              5.0.0-1
                             calibre             5.22.1-1             5.23.0-1
                    cargo-spellcheck              0.8.6-1              0.8.8-1
                              catch2             2.13.3-1             2.13.6-1
                certbot-dns-dnsimple             1.16.0-1             1.17.0-1
             certbot-dns-dnsmadeeasy             1.16.0-1             1.17.0-1
                  certbot-dns-gehirn             1.16.0-1             1.17.0-1
                  certbot-dns-google             1.16.0-1             1.17.0-1
                  certbot-dns-linode             1.16.0-1             1.17.0-1
                  certbot-dns-luadns             1.16.0-1             1.17.0-1
                   certbot-dns-nsone             1.16.0-1             1.17.0-1
                     certbot-dns-ovh             1.16.0-1             1.17.0-1
                 certbot-dns-rfc2136             1.16.0-1             1.17.0-1
                 certbot-dns-route53             1.16.0-1             1.17.0-1
             certbot-dns-sakuracloud             1.16.0-1             1.17.0-1
                       certbot-nginx             1.16.0-1             1.17.0-1
                                crun             0.20.1-1             0.20.1-2
                         dark-reader             4.9.33-1             4.9.34-1
                             dbeaver             21.1.1-1             21.1.2-1
                        deepin-album              5.8.9-1             5.8.12-1
                          deepin-api              5.4.6-1              5.4.9-1
               deepin-control-center             5.4.23-1             5.4.47-1
                       deepin-daemon            5.13.12-2            5.13.36-1
                 deepin-desktop-base        2:2021.5.07-1       2:2021.06.16-1
              deepin-desktop-schemas             5.9.11-1             5.9.16-1
                         deepin-dock             5.4.10-1             5.4.28-1
                         deepin-draw           5.8.0.20-2           5.8.0.21-1
                       deepin-editor           5.9.0.50-1           5.9.0.51-1
                 deepin-file-manager           1:5.2.18-1           1:5.2.24-1
                 deepin-font-manager           5.8.0.22-1           5.8.0.23-1
                 deepin-image-viewer              5.7.8-1             5.7.11-1
                     deepin-launcher             5.4.11-1             5.4.24-1
                        deepin-music              6.1.4-1              6.1.7-1
                deepin-network-utils              5.4.6-1              5.4.9-1
                       deepin-picker             5.0.16-1             5.0.18-1
                 deepin-polkit-agent              5.4.3-1              5.4.7-1
                      deepin-printer              0.8.6-1              0.8.7-1
                     deepin-pw-check             5.0.13-1             5.0.17-1
              deepin-qt-dbus-factory              5.4.5-1             5.4.10-1
               deepin-qt5integration             5.1.12-1              5.5.3-3
          deepin-qt5platform-plugins             5.0.23-2             5.0.23-3
                       deepin-reader           5.9.0.24-1              5.9.6-1
              deepin-screen-recorder              5.9.6-1             5.9.10-1
                deepin-session-shell             5.4.13-1             5.4.42-1
                   deepin-session-ui              5.4.7-1             5.4.20-1
              deepin-shortcut-viewer              5.0.2-1              5.0.3-1
                             drumkv1             0.9.22-1             0.9.23-1
                           dtkcommon              5.5.3-1             5.5.17-1
                             dtkcore           1:5.4.15-1         1:5.5.17.1-1
                              dtkgui              5.5.2-1           5.5.17.1-2
                           dtkwidget              5.5.7-1           5.5.17.1-1
                      efm-langserver             0.0.31-1             0.0.33-1
                            electron             13.1.5-1             13.1.6-1
                          electron11             11.4.9-1            11.4.10-1
                          electron12            12.0.13-1            12.0.14-1
                 firefox-dark-reader             4.9.33-1             4.9.34-1
              firefox-tree-style-tab              3.8.5-1              3.8.7-1
               firefox-ublock-origin             1.36.0-1             1.36.2-1
                                fish              3.2.2-2              3.3.1-1
                   gambas3-dev-tools             3.16.2-1             3.16.2-3
                     gambas3-gb-args             3.16.2-1             3.16.2-3
                    gambas3-gb-cairo             3.16.2-1             3.16.2-3
                    gambas3-gb-chart             3.16.2-1             3.16.2-3
                  gambas3-gb-clipper             3.16.2-1             3.16.2-3
                  gambas3-gb-complex             3.16.2-1             3.16.2-3
                 gambas3-gb-compress             3.16.2-1             3.16.2-3
                    gambas3-gb-crypt             3.16.2-1             3.16.2-3
                     gambas3-gb-data             3.16.2-1             3.16.2-3
                       gambas3-gb-db             3.16.2-1             3.16.2-3
                  gambas3-gb-db-form             3.16.2-1             3.16.2-3
                 gambas3-gb-db-mysql             3.16.2-1             3.16.2-3
                  gambas3-gb-db-odbc             3.16.2-1             3.16.2-3
            gambas3-gb-db-postgresql             3.16.2-1             3.16.2-3
               gambas3-gb-db-sqlite3             3.16.2-1             3.16.2-3
                     gambas3-gb-dbus             3.16.2-1             3.16.2-3
                  gambas3-gb-desktop             3.16.2-1             3.16.2-3
            gambas3-gb-desktop-gnome             3.16.2-1             3.16.2-3
              gambas3-gb-desktop-x11             3.16.2-1             3.16.2-3
           gambas3-gb-eval-highlight             3.16.2-1             3.16.2-3
                     gambas3-gb-form             3.16.2-1             3.16.2-3
              gambas3-gb-form-dialog             3.16.2-1             3.16.2-3
              gambas3-gb-form-editor             3.16.2-1             3.16.2-3
                 gambas3-gb-form-mdi             3.16.2-1             3.16.2-3
               gambas3-gb-form-stock             3.16.2-1             3.16.2-3
            gambas3-gb-form-terminal             3.16.2-1             3.16.2-3
                      gambas3-gb-gmp             3.16.2-1             3.16.2-3
                      gambas3-gb-gsl             3.16.2-1             3.16.2-3
                     gambas3-gb-gtk3             3.16.2-1             3.16.2-3
                    gambas3-gb-httpd             3.16.2-1             3.16.2-3
                    gambas3-gb-image             3.16.2-1             3.16.2-3
             gambas3-gb-image-effect             3.16.2-1             3.16.2-3
              gambas3-gb-image-imlib             3.16.2-1             3.16.2-3
                 gambas3-gb-image-io             3.16.2-1             3.16.2-3
                  gambas3-gb-inotify             3.16.2-1             3.16.2-3
                   gambas3-gb-libxml             3.16.2-1             3.16.2-3
                  gambas3-gb-logging             3.16.2-1             3.16.2-3
                      gambas3-gb-map             3.16.2-1             3.16.2-3
                 gambas3-gb-markdown             3.16.2-1             3.16.2-3
                    gambas3-gb-media             3.16.2-1             3.16.2-3
               gambas3-gb-media-form             3.16.2-1             3.16.2-3
                gambas3-gb-memcached             3.16.2-1             3.16.2-3
                     gambas3-gb-mime             3.16.2-1             3.16.2-3
                    gambas3-gb-mysql             3.16.2-1             3.16.2-3
                  gambas3-gb-ncurses             3.16.2-1             3.16.2-3
                      gambas3-gb-net             3.16.2-1             3.16.2-3
                 gambas3-gb-net-curl             3.16.2-1             3.16.2-3
                 gambas3-gb-net-pop3             3.16.2-1             3.16.2-3
                 gambas3-gb-net-smtp             3.16.2-1             3.16.2-3
                   gambas3-gb-openal             3.16.2-1             3.16.2-3
                   gambas3-gb-opengl             3.16.2-1             3.16.2-3
              gambas3-gb-opengl-glsl             3.16.2-1             3.16.2-3
               gambas3-gb-opengl-glu             3.16.2-1             3.16.2-3
               gambas3-gb-opengl-sge             3.16.2-1             3.16.2-3
                  gambas3-gb-openssl             3.16.2-1             3.16.2-3
                   gambas3-gb-option             3.16.2-1             3.16.2-3
                     gambas3-gb-pcre             3.16.2-1             3.16.2-3
                  gambas3-gb-poppler             3.16.2-1             3.16.2-3
                      gambas3-gb-qt5             3.16.2-1             3.16.2-3
               gambas3-gb-qt5-opengl             3.16.2-1             3.16.2-3
               gambas3-gb-qt5-webkit             3.16.2-1             3.16.2-3
                   gambas3-gb-report             3.16.2-1             3.16.2-3
                  gambas3-gb-scanner             3.16.2-1             3.16.2-3
                      gambas3-gb-sdl             3.16.2-1             3.16.2-3
                gambas3-gb-sdl-sound             3.16.2-1             3.16.2-3
                     gambas3-gb-sdl2             3.16.2-1             3.16.2-3
               gambas3-gb-sdl2-audio             3.16.2-1             3.16.2-3
                 gambas3-gb-settings             3.16.2-1             3.16.2-3
                   gambas3-gb-signal             3.16.2-1             3.16.2-3
                     gambas3-gb-term             3.16.2-1             3.16.2-3
                     gambas3-gb-util             3.16.2-1             3.16.2-3
                 gambas3-gb-util-web             3.16.2-1             3.16.2-3
                      gambas3-gb-v4l             3.16.2-1             3.16.2-3
                       gambas3-gb-vb             3.16.2-1             3.16.2-3
                      gambas3-gb-web             3.16.2-1             3.16.2-3
                 gambas3-gb-web-feed             3.16.2-1             3.16.2-3
                 gambas3-gb-web-form             3.16.2-1             3.16.2-3
                  gambas3-gb-web-gui             3.16.2-1             3.16.2-3
                      gambas3-gb-xml             3.16.2-1             3.16.2-3
                 gambas3-gb-xml-html             3.16.2-1             3.16.2-3
                  gambas3-gb-xml-rpc             3.16.2-1             3.16.2-3
                 gambas3-gb-xml-xslt             3.16.2-1             3.16.2-3
                         gambas3-ide             3.16.2-1             3.16.2-3
                     gambas3-runtime             3.16.2-1             3.16.2-3
                      gambas3-script             3.16.2-1             3.16.2-3
                              gio-qt             0.0.10-1             0.0.11-1
                              gitlab             14.0.3-1             14.0.5-1
                       gitlab-gitaly             14.0.0-1             14.0.1-1
                   golang-deepin-lib              5.7.6-1             5.7.10-1
golang-github-linuxdeepin-go-dbus-factory         1.9.6-1             1.9.17-1
                             gpg-tui              0.6.2-1              0.7.0-1
                             grafana              8.0.4-1              8.0.5-1
                              grails             4.0.10-1             4.0.11-1
                         grails-docs             4.0.10-1             4.0.11-1
                           gscan2pdf             2.12.1-2             2.12.2-1
                               gsoap            2.8.114-1            2.8.115-1
                              hotdoc             0.13.3-1             0.13.4-1
                                hugo             0.84.4-1             0.85.0-1
                               icewm              2.5.0-2              2.6.0-1
                jedi-language-server             0.33.1-1             0.34.0-1
                                kbfs              5.6.1-2              5.7.1-2
                             keybase              5.6.1-2              5.7.1-2
                         keybase-gui              5.6.1-2              5.7.1-2
                             kubectx              0.9.3-1              0.9.4-1
                                 lfs              0.7.5-1              0.7.6-1
                                mdk3                 v6-8                    -
                       mediastreamer             4.5.22-1              5.0.0-1
                            minikube             1.21.0-1             1.22.0-1
                               minio         2021.06.09-1         2021.07.08-1
                                mypy              0.910-1              0.910-2
               netfilter-fullconenat      r73.0cf3b48-128      r73.0cf3b48-129
             nextcloud-app-bookmarks            1:4.2.2-1            1:4.2.2-2
              nextcloud-app-calendar            1:2.3.0-1            1:2.3.0-3
              nextcloud-app-contacts              3.5.1-1              4.0.0-3
                  nextcloud-app-deck            1:1.4.2-1            1:1.4.2-2
                  nextcloud-app-mail              1.9.5-1              1.9.5-2
                 nextcloud-app-notes              4.0.4-1              4.1.0-3
                 nextcloud-app-tasks             0.13.6-1             0.13.6-2
                    nextcloud-client              3.2.3-1              3.2.4-1
     nextcloud-client-cloudproviders              3.2.3-1              3.2.4-1
                   npm-check-updates             11.8.0-1             11.8.2-1
                            nvme-cli               1.14-1               1.14-2
                               opera      77.0.4054.172-1      77.0.4054.203-1
                 opera-ffmpeg-codecs      91.0.4472.114-1      91.0.4472.124-1
                                ortp             4.5.22-1              5.0.0-1
                             padthv1             0.9.22-1             0.9.23-1
                            plantuml           1.2021.6-1           1.2021.8-1
                              podman              3.2.2-1              3.2.2-2
                      podman-dnsname              1.2.0-1              1.2.0-2
                       podman-docker              3.2.2-1              3.2.2-2
                               ponyc             0.41.2-1             0.42.0-1
                  python-aiobotocore              1.3.1-1              1.3.2-1
                      python-aiogram               2.14-1             2.14.1-1
                      python-apispec              4.7.0-1              4.7.1-1
           python-aws-sam-translator             1.36.0-1             1.37.0-1
                        python-boto3            1.17.93-1           1.17.107-1
                     python-botocore            1.20.93-1           1.20.107-1
                    python-cx-freeze                6.6-1                6.7-1
                        python-faker              8.9.1-1             8.10.0-1
                  python-flask-dance              3.3.1-1              5.0.0-1
                        python-gmpy2            2.1.0b5-3            2.1.0b6-1
                          python-hid              1.0.4-3              1.0.4-4
            python-jupyterlab_server              2.6.0-1              2.6.1-1
                         python-kivy              2.0.0-1              2.0.0-2
                  python-marshmallow             3.12.1-1             3.12.2-1
                         python-moto             2.0.10-1             2.0.11-1
                         python-nltk              3.6.2-1              3.6.2-4
                       python-orjson              3.5.4-1              3.6.0-1
                 python-phonenumbers            8.12.26-1            8.12.27-1
                      python-pikepdf             2.14.0-1             2.14.2-1
                    python-reportlab             3.5.68-1             3.5.68-2
             python-ruamel.yaml.clib              0.2.2-3              0.2.3-1
                         python-tqdm             4.61.1-1             4.61.2-1
               python-zita-jacktools              1.5.0-1              1.5.2-1
               python-zope-component              4.6.2-3              5.0.0-1
                  ruby-activesupport            6.1.3.2-1              6.1.4-1
                           ruby-i18n              1.8.1-3             1.8.10-1
                           ruby-json              2.5.1-2              2.5.1-3
                         ruby-rugged              1.1.0-2              1.1.1-1
                         ruby-tzinfo              2.0.3-2              2.0.4-1
                             ruby2.6              2.6.7-1              2.6.8-1
                                runc              1.0.0-1              1.0.0-2
                             samplv1             0.9.22-1             0.9.23-1
                          serverless             2.50.0-1             2.51.1-1
                      signal-desktop              5.7.1-1              5.8.0-1
                            startdde              5.8.9-1             5.8.22-1
                             synthv1             0.9.22-1             0.9.23-1
                               tanka             0.17.0-1             0.17.1-1
                             termite                 15-4                    -
                    termite-terminfo                 15-4                    -
                           terraform              1.0.1-1              1.0.2-1
             thunderbird-dark-reader             4.9.33-1             4.9.34-1
                         timescaledb              2.3.0-2              2.3.1-1
                         udisks2-qt5              5.0.5-1              5.0.6-1
                         v2ray-geoip       202107010026-1       202107080024-1
                           verilator              4.204-1              4.210-1
                           vultr-cli              2.5.3-1              2.6.0-1
                                wake             0.20.2-1             0.21.0-1
                             wlroots             0.14.0-1             0.14.1-1
                     yubikey-manager              4.0.3-1              4.0.3-2
                      deepin-wayland                    -              1.0.0-1
                   flatpak-xdg-utils                    -              1.0.4-4
                           git-delta                    -              0.8.2-2
                                mdk4                    -                4.2-1
                     python-aafigure                    -                0.6-1
                        python-oscpy                    -              0.6.0-1
                   python-pytest-env                    -              0.6.2-2
                           ttf-input                    -           20191031-3


:: Different overlay package(s) in repository core x86_64

-------------------------------------------------------------------------------
                             PACKAGE           2021-07-07           2021-07-09
-------------------------------------------------------------------------------
                            linux510            5.10.47-2            5.10.48-1
                    linux510-headers            5.10.47-2            5.10.48-1
                            linux512            5.12.14-2            5.12.15-1
                    linux512-headers            5.12.14-2            5.12.15-1
                            linux513             5.13.0-2             5.13.1-1
                    linux513-headers             5.13.0-2             5.13.1-1
                             linux54            5.4.129-2            5.4.130-1
                     linux54-headers            5.4.129-2            5.4.130-1


:: Different sync package(s) in repository core x86_64

-------------------------------------------------------------------------------
                             PACKAGE           2021-07-07           2021-07-09
-------------------------------------------------------------------------------
                              libcap               2.50-2               2.51-1


:: Different overlay package(s) in repository extra x86_64

-------------------------------------------------------------------------------
                             PACKAGE           2021-07-07           2021-07-09
-------------------------------------------------------------------------------
                  linux419-rtl8723bu          20210519-10          20210519-11
                  linux510-acpi_call             1.1.0-64             1.1.0-65
                   linux510-bbswitch               0.8-64               0.8-65
                linux510-broadcom-wl      6.30.223.271-65      6.30.223.271-66
               linux510-nvidia-390xx           390.143-19           390.143-20
                     linux510-nvidia          470.42.01-3          470.42.01-4
                      linux510-r8168           8.049.02-1           8.049.02-2
                  linux510-rtl8723bu          20210519-12          20210519-13
                   linux510-tp_smapi              0.43-64              0.43-65
                linux510-vhba-module          20210418-19          20210418-20
    linux510-virtualbox-host-modules            6.1.22-18            6.1.22-19
                        linux510-zfs              2.1.0-1              2.1.0-2
                  linux512-acpi_call             1.1.0-21             1.1.0-22
                   linux512-bbswitch               0.8-21               0.8-22
                linux512-broadcom-wl      6.30.223.271-21      6.30.223.271-22
               linux512-nvidia-390xx           390.143-21           390.143-22
                     linux512-nvidia          470.42.01-3          470.42.01-4
                      linux512-r8168           8.049.02-1           8.049.02-2
                  linux512-rtl8723bu          20210519-14          20210519-15
                   linux512-tp_smapi              0.43-21              0.43-22
                linux512-vhba-module          20210418-21          20210418-22
    linux512-virtualbox-host-modules            6.1.22-20            6.1.22-21
                        linux512-zfs              2.1.0-1              2.1.0-2
                  linux513-acpi_call              1.1.0-2              1.1.0-3
                   linux513-bbswitch                0.8-2                0.8-3
                linux513-broadcom-wl       6.30.223.271-2       6.30.223.271-3
               linux513-nvidia-390xx            390.143-2            390.143-3
                     linux513-nvidia          470.42.01-2          470.42.01-3
                      linux513-r8168           8.049.02-1           8.049.02-2
                  linux513-rtl8723bu           20210519-3           20210519-4
                   linux513-tp_smapi               0.43-2               0.43-3
                linux513-vhba-module           20210418-2           20210418-3
    linux513-virtualbox-host-modules             6.1.22-2             6.1.22-3
                        linux513-zfs              2.1.0-1              2.1.0-2
                   linux54-acpi_call            1.1.0-139            1.1.0-140
                    linux54-bbswitch              0.8-139              0.8-140
                 linux54-broadcom-wl     6.30.223.271-139     6.30.223.271-140
                 linux54-ndiswrapper              1.63-95              1.63-96
                linux54-nvidia-390xx           390.143-19           390.143-20
                      linux54-nvidia          470.42.01-3          470.42.01-4
                    linux54-nvidiabl             0.88-139             0.88-140
                       linux54-r8168           8.049.02-1           8.049.02-2
                   linux54-rtl8723bu          20210519-12          20210519-13
                    linux54-tp_smapi             0.43-139             0.43-140
                 linux54-vhba-module          20210418-19          20210418-20
     linux54-virtualbox-host-modules            6.1.22-18            6.1.22-19
                         linux54-zfs              2.1.0-1              2.1.0-2
                            qt5-base    5.15.2+kde+r207-1    5.15.2+kde+r207-2
             qt5-xcb-private-headers    5.15.2+kde+r207-1    5.15.2+kde+r207-2
                     tuxedo-keyboard              3.0.7-2              3.0.8-1
                         xorg-server            1.20.11-1            1.20.12-1
                  xorg-server-common            1.20.11-1            1.20.12-1
                   xorg-server-devel            1.20.11-1            1.20.12-1
                  xorg-server-xephyr            1.20.11-1            1.20.12-1
                   xorg-server-xnest            1.20.11-1            1.20.12-1
                    xorg-server-xvfb            1.20.11-1            1.20.12-1


:: Different sync package(s) in repository extra x86_64

-------------------------------------------------------------------------------
                             PACKAGE           2021-07-07           2021-07-09
-------------------------------------------------------------------------------
                             akonadi            21.04.2-1            21.04.3-1
                    akonadi-calendar            21.04.2-1            21.04.3-1
              akonadi-calendar-tools            21.04.2-1            21.04.3-1
                    akonadi-contacts            21.04.2-1            21.04.3-1
               akonadi-import-wizard            21.04.2-1            21.04.3-1
                        akonadi-mime            21.04.2-1            21.04.3-1
                       akonadi-notes            21.04.2-1            21.04.3-1
                      akonadi-search            21.04.2-1            21.04.3-1
                      akonadiconsole            21.04.2-1            21.04.3-1
                           akregator            21.04.2-1            21.04.3-1
                            analitza            21.04.2-1            21.04.3-1
                                 ark            21.04.2-1            21.04.3-1
                          artikulate            21.04.2-1            21.04.3-1
                         audiocd-kio            21.04.2-1            21.04.3-1
                       baloo-widgets            21.04.2-1            21.04.3-1
                             blinken            21.04.2-1            21.04.3-1
                               bluez               5.59-2               5.60-1
                          bluez-cups               5.59-2               5.60-1
                       bluez-hid2hci               5.59-2               5.60-1
                          bluez-libs               5.59-2               5.60-1
                       bluez-plugins               5.59-2               5.60-1
                         bluez-utils               5.59-2               5.60-1
                              bomber            21.04.2-1            21.04.3-1
                                bovo            21.04.2-1            21.04.3-1
                     calendarsupport            21.04.2-1            21.04.3-1
                              cantor            21.04.2-1            21.04.3-1
                            cervisia            21.04.2-1            21.04.3-1
                             dolphin            21.04.2-1            21.04.3-1
                     dolphin-plugins            21.04.2-1            21.04.3-1
                              dragon            21.04.2-1            21.04.3-1
                               elisa            21.04.2-1            21.04.3-1
                          eventviews            21.04.2-1            21.04.3-1
                        ffmpegthumbs            21.04.2-1            21.04.3-1
                           filelight            21.04.2-1            21.04.3-1
                               finch             2.14.5-1             2.14.6-1
                                  gn    0.1897.dba01723-1    0.1910.39a87c0b-1
                           granatier            21.04.2-1            21.04.3-1
                     grantlee-editor            21.04.2-1            21.04.3-1
                       grantleetheme            21.04.2-1            21.04.3-1
                            gwenview            21.04.2-1            21.04.3-1
                     incidenceeditor            21.04.2-1            21.04.3-1
                           itinerary            21.04.2-1            21.04.3-1
                                 juk            21.04.2-1            21.04.3-1
                                 k3b          1:21.04.2-1          1:21.04.3-1
               kaccounts-integration            21.04.2-1            21.04.3-1
                 kaccounts-providers            21.04.2-1            21.04.3-1
                        kaddressbook            21.04.2-1            21.04.3-1
                             kajongg            21.04.2-1            21.04.3-1
                              kalarm            21.04.2-1            21.04.3-1
                           kalarmcal            21.04.2-1            21.04.3-1
                            kalgebra            21.04.2-1            21.04.3-1
                             kalzium            21.04.2-1            21.04.3-1
                              kamera            21.04.2-1            21.04.3-1
                              kamoso            21.04.2-1            21.04.3-1
                            kanagram            21.04.2-1            21.04.3-1
                              kapman            21.04.2-1            21.04.3-1
                        kapptemplate            21.04.2-1            21.04.3-1
                                kate            21.04.2-1            21.04.3-1
                             katomic            21.04.2-1            21.04.3-1
                             kbackup            21.04.2-1            21.04.3-1
                           kblackbox            21.04.2-1            21.04.3-1
                             kblocks            21.04.2-1            21.04.3-1
                             kbounce            21.04.2-1            21.04.3-1
                           kbreakout            21.04.2-1            21.04.3-1
                              kbruch            21.04.2-1            21.04.3-1
                         kcachegrind            21.04.2-1            21.04.3-1
                  kcachegrind-common            21.04.2-1            21.04.3-1
                               kcalc            21.04.2-1            21.04.3-1
                           kcalutils            21.04.2-1            21.04.3-1
                         kcharselect            21.04.2-1            21.04.3-1
                       kcolorchooser            21.04.2-1            21.04.3-1
                               kcron            21.04.2-1            21.04.3-1
                     kde-dev-scripts            21.04.2-1            21.04.3-1
                       kde-dev-utils            21.04.2-1            21.04.3-1
                      kdebugsettings            21.04.2-1            21.04.3-1
                          kdeconnect            21.04.2-1            21.04.3-1
                         kdeedu-data            21.04.2-1            21.04.3-1
              kdegraphics-mobipocket            21.04.2-1            21.04.3-1
            kdegraphics-thumbnailers            21.04.2-1            21.04.3-1
              kdenetwork-filesharing            21.04.2-1            21.04.3-1
                            kdenlive            21.04.2-2            21.04.3-1
                       kdepim-addons            21.04.2-1            21.04.3-1
                      kdepim-runtime            21.04.2-1            21.04.3-1
                    kdesdk-kioslaves            21.04.2-1            21.04.3-1
                 kdesdk-thumbnailers            21.04.2-1            21.04.3-1
                                 kdf            21.04.2-1            21.04.3-1
                             kdialog            21.04.2-1            21.04.3-1
                            kdiamond            21.04.2-1            21.04.3-1
                      keditbookmarks            21.04.2-1            21.04.3-1
                               kfind            21.04.2-1            21.04.3-1
                             kfloppy            21.04.2-1            21.04.3-1
                         kfourinline            21.04.2-1            21.04.3-1
                          kgeography            21.04.2-1            21.04.3-1
                                kget            21.04.2-1            21.04.3-1
                         kgoldrunner            21.04.2-1            21.04.3-1
                                kgpg            21.04.2-1            21.04.3-1
                            khangman            21.04.2-1            21.04.3-1
                         khelpcenter            21.04.2-1            21.04.3-1
                 kidentitymanagement            21.04.2-1            21.04.3-1
                                 kig            21.04.2-1            21.04.3-1
                                kigo            21.04.2-1            21.04.3-1
                            killbots            21.04.2-1            21.04.3-1
                     kimagemapeditor            21.04.2-1            21.04.3-1
                               kimap            21.04.2-1            21.04.3-1
                          kio-extras            21.04.2-3            21.04.3-1
                          kio-gdrive            21.04.2-1            21.04.3-1
                        kipi-plugins            21.04.2-1            21.04.3-1
                    kirigami-gallery            21.04.2-1            21.04.3-1
                              kiriki            21.04.2-1            21.04.3-1
                               kiten            21.04.2-1            21.04.3-1
                          kitinerary            21.04.2-2            21.04.3-1
                        kjumpingcube            21.04.2-1            21.04.3-1
                               kldap            21.04.2-1            21.04.3-1
                           kleopatra            21.04.2-1            21.04.3-1
                            klettres            21.04.2-1            21.04.3-1
                            klickety            21.04.2-1            21.04.3-1
                              klines            21.04.2-1            21.04.3-1
                                kmag            21.04.2-1            21.04.3-1
                           kmahjongg            21.04.2-1            21.04.3-1
                               kmail            21.04.2-1            21.04.3-1
                kmail-account-wizard            21.04.2-1            21.04.3-1
                      kmailtransport            21.04.2-1            21.04.3-1
                               kmbox            21.04.2-1            21.04.3-1
                               kmime            21.04.2-1            21.04.3-1
                              kmines            21.04.2-1            21.04.3-1
                                kmix            21.04.2-1            21.04.3-1
                          kmousetool            21.04.2-1            21.04.3-1
                              kmouth            21.04.2-1            21.04.3-1
                              kmplot            21.04.2-1            21.04.3-1
                        knavalbattle            21.04.2-1            21.04.3-1
                            knetwalk            21.04.2-1            21.04.3-1
                             knights            21.04.2-1            21.04.3-1
                              knotes            21.04.2-1            21.04.3-1
                                kolf            21.04.2-1            21.04.3-1
                           kollision            21.04.2-1            21.04.3-1
                         kolourpaint            21.04.2-1            21.04.3-1
                             kompare            21.04.2-1            21.04.3-1
                           konqueror            21.04.2-1            21.04.3-1
                            konquest            21.04.2-1            21.04.3-1
                             konsole            21.04.2-1            21.04.3-1
                             kontact            21.04.2-1            21.04.3-1
                    kontactinterface            21.04.2-1            21.04.3-1
                            kontrast            21.04.2-1            21.04.3-1
                        konversation            21.04.2-1            21.04.3-1
                       kopeninghours            21.04.2-1            21.04.3-1
                              kopete            21.04.2-1            21.04.3-1
                          korganizer            21.04.2-1            21.04.3-1
                       kosmindoormap            21.04.2-2            21.04.3-1
                                kpat            21.04.2-1            21.04.3-1
                        kpimtextedit            21.04.2-1            21.04.3-1
                             kpkpass            21.04.2-1            21.04.3-1
                             kpmcore            21.04.2-1            21.04.3-1
                    kpublictransport            21.04.2-1            21.04.3-1
                      kqtquickcharts            21.04.2-1            21.04.3-1
                                krdc            21.04.2-1            21.04.3-1
                            kreversi            21.04.2-1            21.04.3-1
                                krfb            21.04.2-1            21.04.3-1
                  kross-interpreters            21.04.2-1            21.04.3-1
                              kruler            21.04.2-1            21.04.3-1
                             kshisen            21.04.2-1            21.04.3-1
                               ksirk            21.04.2-1            21.04.3-1
                               ksmtp            21.04.2-1            21.04.3-1
                          ksnakeduel            21.04.2-1            21.04.3-1
                          kspaceduel            21.04.2-1            21.04.3-1
                            ksquares            21.04.2-1            21.04.3-1
                             ksudoku            21.04.2-1            21.04.3-1
                          ksystemlog            21.04.2-1            21.04.3-1
                            kteatime            21.04.2-1            21.04.3-1
                              ktimer            21.04.2-1            21.04.3-1
                               ktnef            21.04.2-1            21.04.3-1
                            ktorrent            21.04.2-1            21.04.3-1
                              ktouch            21.04.2-1            21.04.3-1
                          ktuberling            21.04.2-1            21.04.3-1
                             kturtle            21.04.2-1            21.04.3-1
                             kubrick            21.04.2-1            21.04.3-1
                      kwalletmanager            21.04.2-1            21.04.3-1
                               kwave            21.04.2-1            21.04.3-1
                           kwordquiz            21.04.2-1            21.04.3-1
                              kwrite            21.04.2-1            21.04.3-1
                          libakonadi            21.04.2-1            21.04.3-1
                         libgravatar            21.04.2-1            21.04.3-1
                            libkcddb            21.04.2-1            21.04.3-1
                     libkcompactdisc            21.04.2-1            21.04.3-1
                           libkdcraw            21.04.2-1            21.04.3-1
                         libkdegames            21.04.2-1            21.04.3-1
                           libkdepim            21.04.2-1            21.04.3-1
                  libkeduvocdocument            21.04.2-1            21.04.3-1
                           libkexiv2            21.04.2-1            21.04.3-1
                            libkgapi            21.04.2-1            21.04.3-1
                             libkipi            21.04.2-1            21.04.3-1
                             libkleo            21.04.2-1            21.04.3-1
                        libkmahjongg            21.04.2-1            21.04.3-1
                     libkomparediff2            21.04.2-1            21.04.3-1
                            libksane            21.04.2-1            21.04.3-1
                           libksieve            21.04.2-1            21.04.3-1
                         libktorrent            21.04.2-1            21.04.3-1
                           libpurple             2.14.5-1             2.14.6-1
                            lokalize            21.04.2-1            21.04.3-1
                               lskat            21.04.2-1            21.04.3-1
                          mailcommon            21.04.2-1            21.04.3-1
                        mailimporter            21.04.2-1            21.04.3-1
                              marble            21.04.2-2            21.04.3-1
                       marble-common            21.04.2-2            21.04.3-1
                         marble-maps            21.04.2-2            21.04.3-1
                           marble-qt            21.04.2-2            21.04.3-1
                        markdownpart            21.04.2-1            21.04.3-1
                       mbox-importer            21.04.2-1            21.04.3-1
                          messagelib            21.04.2-1            21.04.3-1
                              minuet            21.04.2-2            21.04.3-1
                              okular            21.04.2-1            21.04.3-1
                            palapeli            21.04.2-1            21.04.3-1
                              parley            21.04.2-1            21.04.3-1
                    partitionmanager            21.04.2-1            21.04.3-1
                               picmi            21.04.2-1            21.04.3-1
                              pidgin             2.14.5-1             2.14.6-1
                   pim-data-exporter            21.04.2-1            21.04.3-1
                    pim-sieve-editor            21.04.2-1            21.04.3-1
                           pimcommon            21.04.2-1            21.04.3-1
                               poxml            21.04.2-1            21.04.3-1
                       print-manager            21.04.2-1            21.04.3-1
                         qcachegrind            21.04.2-1            21.04.3-1
                                rocs            21.04.2-1            21.04.3-1
            signon-kwallet-extension            21.04.2-1            21.04.3-1
                           spectacle            21.04.2-1            21.04.3-1
                                step            21.04.2-1            21.04.3-1
                             svgpart            21.04.2-1            21.04.3-1
                             sweeper            21.04.2-1            21.04.3-1
          telepathy-kde-accounts-kcm            21.04.2-1            21.04.3-1
              telepathy-kde-approver            21.04.2-1            21.04.3-1
          telepathy-kde-auth-handler            21.04.2-1            21.04.3-1
               telepathy-kde-call-ui            21.04.2-1            21.04.3-1
      telepathy-kde-common-internals            21.04.2-1            21.04.3-1
          telepathy-kde-contact-list            21.04.2-1            21.04.3-1
        telepathy-kde-contact-runner            21.04.2-1            21.04.3-1
       telepathy-kde-desktop-applets            21.04.2-1            21.04.3-1
  telepathy-kde-filetransfer-handler            21.04.2-1            21.04.3-1
    telepathy-kde-integration-module            21.04.2-1            21.04.3-1
             telepathy-kde-send-file            21.04.2-1            21.04.3-1
               telepathy-kde-text-ui            21.04.2-1            21.04.3-1
                            umbrello            21.04.2-1            21.04.3-1
                             yakuake            21.04.2-1            21.04.3-1
                    zeroconf-ioslave            21.04.2-1            21.04.3-1


:: Different overlay package(s) in repository kde-unstable x86_64

-------------------------------------------------------------------------------
                             PACKAGE           2021-07-07           2021-07-09
-------------------------------------------------------------------------------
                             akonadi21.04.2.r12512.ge9f90a3b0-121.04.2.r12515.g2e07fe28d-1
                    akonadi-calendar21.04.2.r1944.gf896763-121.04.2.r1954.gbf3d8b7-1
              akonadi-calendar-tools21.04.2.r869.g7e8b4be-121.04.2.r872.g7f21b70-1
                    akonadi-contacts21.04.2.r3019.g3ebd8c70-121.04.2.r3022.g1aa96c82-1
               akonadi-import-wizard21.04.2.r1713.g868f978-121.04.2.r1716.gbd54870-1
                        akonadi-mime21.04.2.r1623.g3edcb1b-121.04.2.r1626.g0006a8f-1
                       akonadi-notes21.04.2.r1007.gf075b89-121.04.2.r1010.gb743351-1
                      akonadi-search21.04.2.r1100.g19cde5a-121.04.2.r1103.gaee1f9e-1
                      akonadiconsole21.04.2.r1495.gbcbd584-121.04.2.r1498.gfc00c5a-1
                           akregator21.04.2.r6168.g0babd287-121.04.2.r6173.ge855484e-1
                           alligator  21.06.r3.g6494e0e-1  21.06.r5.g591f010-1
                            amazfish 2.0.0.r22.g35d2960-1 2.0.0.r24.g0224b18-1
                           angelfish 21.06.r10.g0861230-1 21.06.r12.gf37da52-1
                                 ark21.04.2.r4549.g179fb90e-121.04.2.r4557.gac44def3-1
                              attica5.83.0.r820.g040d354-25.83.0.r821.g4d990fe-1
                         audiocd-kio21.04.2.r1018.ge260225-121.04.2.r1023.g523fd27-1
                             blinken21.04.2.r623.g07b1991-121.04.2.r626.gb60beed-1
                           bluedevil1:5.22.2.1.r2268.g87b46065-11:5.22.3.r2268.g87b46065-1
                              bomber21.04.2.r516.g07153d2-121.04.2.r517.g428452c-1
                                bovo21.04.2.r729.gd1776ed-121.04.2.r730.gf5f31ba-1
                              breeze5.22.2.1.r2218.gfce6f4e0-15.22.3.r2218.gfce6f4e0-1
                         breeze-grub5.22.2.1.r11.g63136a9-15.22.3.r11.g63136a9-1
                          breeze-gtk5.22.2.1.r420.gfccd7df-15.22.3.r420.gfccd7df-1
                                buho 1.2.2.r29.g5cb0188-2 1.2.2.r30.gbb2429b-1
                     calendarsupport21.04.2.r558.g2215dc3-121.04.2.r563.g6540ad6-1
                           calindori  21.06.r5.gd655e21-1  21.06.r6.gf760462-1
                            cervisia21.04.2.r1637.g3e29b0d-121.04.2.r1638.g468380b-1
                            discover5.22.2.1.r8215.g725ae1f2-15.22.3.r8228.g97841f77-1
                             dolphin21.04.2.r6628.g7f562433c-121.04.2.r6642.g997977c67-1
                     dolphin-plugins21.04.2.r586.g18cabb0-121.04.2.r589.g2569d41-1
                              dragon21.04.2.r1003.g16c7b9f-121.04.2.r1005.g152fe4d-1
                             drkonqi5.22.2.1.r659.g59dceeb5-15.22.3.r665.gcaa06a2c-1
                               elisa21.04.2.r2727.gee28f06a-121.04.2.r2733.g0978dbcf-1
                          eventviews21.04.2.r662.gb75379f-121.04.2.r666.gd102fc0-1
                 extra-cmake-modules5.83.0.r3331.gf776d39-15.83.0.r3332.g462fe7f-1
                           filelight21.04.2.r976.g1702097-121.04.2.r977.ge0644d2-1
                           granatier21.04.2.r921.g9c7e554-121.04.2.r922.g3c125e9-1
                     grantlee-editor21.04.2.r748.g78d239e-121.04.2.r751.g3ddc43b-1
                       grantleetheme21.04.2.r326.g99e0d43-121.04.2.r329.g48f9dc4-1
                            gwenview21.04.2.r6628.g89bfe886-121.04.2.r6636.g8dba6c3a-1
                     incidenceeditor21.04.2.r733.gc4304cf-121.04.2.r738.g58d2f73-1
                            index-fm 1.2.2.r77.gd9d681e-2 1.2.2.r91.g530c161-1
                           itinerary21.04.2.r1344.gd34abb9-121.04.2.r1352.gb3e7315-1
                                 juk21.04.2.r3105.g3b94a681-121.04.2.r3106.gd34d716e-1
                                 k3b1:21.04.2.r6647.gc2809a887-11:21.04.2.r6650.gdff837e3d-1
                   kactivities-stats5.83.0.r358.gc6c3655-25.83.0.r359.gab7b28f-1
                   kactivitymanagerd5.22.2.1.r1355.g9cabb88-15.22.3.r1355.g9cabb88-1
                        kaddressbook21.04.2.r5991.gbb5f088e-121.04.2.r5995.g694cd8b1-1
                             kajongg21.04.2.r4192.g94794aef-121.04.2.r4193.g4a2b535d-1
                              kalarm21.04.2.r6390.g76656661-121.04.2.r6394.g2a57c2fb-1
                           kalarmcal21.04.2.r1116.gc3d0dc8-121.04.2.r1118.gbe911c1-1
                            kalgebra21.04.2.r2034.g8ccd627-121.04.2.r2038.g26158e2-1
                             kalzium21.04.2.r4251.gb7804b8b-121.04.2.r4252.g25d31c6e-1
                              kamoso21.04.2.r1425.g9a3017c-121.04.2.r1426.gd8d3254-1
                            kanagram21.04.2.r1278.gd2d336b-121.04.2.r1279.g3b442dd-1
                             kapidox5.83.0.r530.g0e9021e-25.83.0.r539.gb13f370-1
                              kapman21.04.2.r597.g4c0e4c3-121.04.2.r598.g38f1d17-1
                        kapptemplate21.04.2.r951.g57b0257-121.04.2.r952.gc75082b-1
                            karchive5.83.0.r490.ga765703-15.83.0.r491.g5a79756-1
                               kasts 21.06.r34.gd0bc5b2-1 21.06.r63.gbdfa9f0-1
                                kate21.04.2.r18261.g53e83185a-121.04.2.r18270.g843e009ff-1
                             katomic21.04.2.r911.g27db726-121.04.2.r912.g66bc837-1
                             kbackup21.04.2.r376.g79be946-121.04.2.r378.g9de6022-1
                           kblackbox21.04.2.r721.g77a58d5-121.04.2.r722.gd97346c-1
                             kblocks21.04.2.r637.g4ee95b8-121.04.2.r638.g05069aa-1
                             kbounce21.04.2.r799.gfdce48d-121.04.2.r800.g8d8e66d-1
                           kbreakout21.04.2.r855.gc80c29c-121.04.2.r857.g7e70d5d-1
                              kbruch21.04.2.r813.gce09ef3-121.04.2.r814.gf0555bf-1
                         kcachegrind21.04.2.r1147.g093b45f-121.04.2.r1148.g3bc2c89-1
                  kcachegrind-common21.04.2.r1147.g093b45f-121.04.2.r1148.g3bc2c89-1
                               kcalc21.04.2.r1507.gf4f095a-121.04.2.r1509.g37eeadb-1
                           kcalutils21.04.2.r849.g6a7b3bb6f-121.04.2.r851.gf5ee92268-1
                         kcharselect21.04.2.r466.g1846940-121.04.2.r467.gdd0fc94-1
                              kclock 21.06.r13.g5b8cf12-1 21.06.r15.g2385a20-1
                       kcolorchooser21.04.2.r222.g255ab9a-121.04.2.r223.g7c57f18-1
                             kconfig5.83.0.r841.g74a861c-25.83.0.r845.g3c78617-1
                      kconfigwidgets5.83.0.r591.geb4f326-25.83.0.r593.g3f57f96-1
                         kdbusaddons5.83.0.r367.g80a309c-25.83.0.r369.g26d6ff1-1
                       kde-cli-tools5.22.2.1.r1845.gddccf63-15.22.3.r1845.gddccf63-1
                       kde-dev-utils21.04.2.r553.g358a3de-121.04.2.r555.gacbb751-1
                      kde-gtk-config5.22.2.1.r895.g93da65a-15.22.3.r895.g93da65a-1
                      kdebugsettings21.04.2.r809.gf363133-121.04.2.r813.gd16ded4-1
                          kdeconnect21.04.2.r3272.gea8ed5c4-121.04.2.r3276.g71d47195-1
                         kdecoration5.22.2.1.r267.g7be8cbb-15.22.3.r268.g1dabf57-1
                                kded5.83.0.r407.g4eda499-15.83.0.r408.g0e14b77-1
                     kdelibs4support5.83.0.r1023.gee8bd6c6-25.83.0.r1025.gf8c3d986-1
                       kdepim-addons21.04.2.r4191.gb6b41223-121.04.2.r4225.g481cc71d-1
                      kdepim-runtime21.04.2.r15132.gdf1a495bb-121.04.2.r15140.g5c180193f-1
                    kdeplasma-addons5.22.2.1.r8549.g0b660afd1-15.22.3.r8552.g1caff68f9-1
                             kdialog21.04.2.r1181.g8b80e3786-121.04.2.r1182.g5d39b2258-1
                            kdiamond21.04.2.r663.g2e79b99-121.04.2.r664.ga52324f-1
                               kfind21.04.2.r2632.g4ebc96a8f-121.04.2.r2633.gdec396af2-1
                             kfloppy21.04.2.r750.g2aad2a3-121.04.2.r751.gebfcf7e-1
                         kfourinline21.04.2.r975.gcabd9a4-121.04.2.r976.g21f4b7b-1
                             kgamma55.22.2.1.r456.g5885d2f-15.22.3.r456.g5885d2f-1
                          kgeography21.04.2.r1108.g889d027-121.04.2.r1109.gc6e2f32-1
                                kget21.04.2.r3108.g85a2f746-121.04.2.r3115.g64fb2aae-1
                         kgoldrunner21.04.2.r1229.gdb4f81d-121.04.2.r1233.g79bb3ce-1
                                kgpg21.04.2.r3122.g9c45b462-121.04.2.r3127.g9f6a724f-1
                            khangman21.04.2.r1560.ge45af9d-121.04.2.r1561.gff4ae6e-1
                         khelpcenter21.04.2.r2671.g85c3f5a9-121.04.2.r2672.gc21f879e-1
                            khotkeys5.22.2.1.r2074.gcaad4c1-15.22.3.r2074.gcaad4c1-1
                         kiconthemes5.83.0.r528.g4dbe2df-25.83.0.r530.g7832968-1
                 kidentitymanagement21.04.2.r3785.ge6290153-121.04.2.r3788.g8d852666-1
                                 kig21.04.2.r3137.g532f432d-121.04.2.r3139.g162f8839-1
                                kigo21.04.2.r515.g8701c1b-121.04.2.r517.g01b1bf2-1
                            killbots21.04.2.r725.g11e9d29-121.04.2.r731.g8dd4bdf-1
                       kimageformats5.83.0.r343.g1b2bf6e-25.83.0.r344.g3266a9c-1
                     kimagemapeditor21.04.2.r465.ga69f3d1-121.04.2.r468.g0dcb81a-1
                               kimap21.04.2.r1094.g0fe0e54-121.04.2.r1097.g3eeb064-1
                         kinfocenter5.22.2.1.r1852.g5b06520-15.22.3.r1860.gcef3f0d-1
                                 kio5.83.0.r4822.gfb9bbb6f-15.83.0.r4828.gd971c12a-1
                          kio-extras21.04.2.r7063.ga5e17084-121.04.2.r7083.g044f1a13-1
                          kio-gdrive21.04.2.r556.g9824d74-121.04.2.r559.g6cb8190-1
                    kirigami-gallery21.04.2.r207.g38d56e0-121.04.2.r210.gfe235a2-1
                           kirigami25.83.0.r2820.ga7689f8d-25.83.0.r2826.gd4d85108-1
                              kiriki21.04.2.r414.g3eb1ea1-121.04.2.r416.g5aa16f6-1
                               kiten21.04.2.r1140.g10c4ca4-121.04.2.r1141.g64eed40-1
                          kitinerary21.04.2.r1813.gc0f6757-121.04.2.r1817.gf57a27f-1
                        kjumpingcube21.04.2.r777.g2a1f947-121.04.2.r780.g8a72b44-1
                               kldap21.04.2.r864.gda9332a-121.04.2.r866.g12b4073-1
                           kleopatra21.04.2.r5907.g08d42db6-121.04.2.r5910.gaed5d582-1
                            klettres21.04.2.r910.gffbe82f-121.04.2.r911.g0059da2-1
                            klickety21.04.2.r621.g8b95538-121.04.2.r625.g46a6720-1
                              klines21.04.2.r735.gc409f0c-121.04.2.r736.g1c355c2-1
                                kmag21.04.2.r687.g8a3d886-121.04.2.r688.g08e6700-1
                           kmahjongg21.04.2.r1464.g80e61ed-121.04.2.r1465.ge40db83-1
                               kmail21.04.2.r25817.gacfa81acf-121.04.2.r25831.g681e9fc63-1
                kmail-account-wizard21.04.2.r784.g4ff0660-121.04.2.r787.ge73547d-1
                      kmailtransport21.04.2.r1613.g5f549b4-121.04.2.r1616.gaf3c0a8-1
                               kmbox21.04.2.r522.g5d18026-121.04.2.r525.g0f42b07-1
                           kmenuedit5.22.2.1.r968.g2742003-15.22.3.r968.g2742003-1
                               kmime21.04.2.r1435.gd813506-121.04.2.r1438.gac029b6-1
                              kmines21.04.2.r1709.g4ca019d-121.04.2.r1710.g7f1be93-1
                                kmix21.04.2.r2369.g28a3450a-121.04.2.r2370.g0c1b292e-1
                        knavalbattle21.04.2.r1379.g70ebfeb-121.04.2.r1380.g137546b-1
                            knetwalk21.04.2.r648.ge3b8b85-121.04.2.r649.gaf2cc60-1
                           knewstuff5.83.0.r1179.gc1301e0f-15.83.0.r1181.ga18b1eb8-1
                             knights21.04.2.r1046.g9c41563-121.04.2.r1047.ga034f18-1
                              knotes21.04.2.r3466.g330d3c98-121.04.2.r3470.ga82ff2cf-1
                      knotifications5.83.0.r664.g8afb010-25.83.0.r665.ge25f1f5-1
                                koko 21.06.r14.gaee324e-1 21.06.r17.gdcd1ea2-1
                                kolf21.04.2.r1416.g255c4fc-121.04.2.r1417.g76c4941-1
                           kollision21.04.2.r483.gc56666d-121.04.2.r484.gc3c81e1-1
                         kolourpaint21.04.2.r2346.g32ab2886-121.04.2.r2347.ge1ccb280-1
                             kompare21.04.2.r1100.gc15db89-121.04.2.r1101.g90f8560-1
                            konquest21.04.2.r888.g8b6d0b6-121.04.2.r889.g8b64780-1
                             konsole21.04.2.r7867.gd468bbab-121.04.2.r7880.g2f1450d8-1
                             kontact21.04.2.r5328.g56050423-121.04.2.r5332.g9df4f1ae-1
                    kontactinterface21.04.2.r615.gd712c47-121.04.2.r618.g628c0f8-1
                            kontrast21.04.2.r167.gaf1bb0b-121.04.2.r168.g81ebf39-1
                        konversation21.04.2.r8982.g4be5cb00-121.04.2.r8985.geca4d255-1
                          korganizer21.04.2.r11395.ged70d5136-121.04.2.r11400.g81a19f7be-1
                       kosmindoormap21.04.2.r615.g8d46d30-121.04.2.r616.ga4f1f73-1
                            kpackage5.83.0.r671.gf617caf-25.83.0.r674.g1b54b0f-1
                                kpat21.04.2.r2555.g4e44cd3-121.04.2.r2556.g68ca11e-1
                             kpeople5.83.0.r1333.gb793989-25.83.0.r1334.g62992d8-1
                        kpimtextedit21.04.2.r1387.gc173318-121.04.2.r1390.gd2e1e5b-1
                             kpkpass21.04.2.r225.g3e64e9b-121.04.2.r227.g601832f-1
                             kpmcore21.04.2.r1192.gf018824-121.04.2.r1194.g4c32c38-1
                                kpty5.83.0.r328.gbbfabe3-25.83.0.r329.gff6fc7b-1
                    kpublictransport21.04.2.r1689.g558a5b5-121.04.2.r1690.g01b06da-1
                                krdc21.04.2.r1525.gd59e362-121.04.2.r1528.g941a660-1
                            kreversi21.04.2.r1214.g028f16e-121.04.2.r1215.g2e6ab59-1
                                krfb21.04.2.r1399.g0316c37-121.04.2.r1406.gc729e9e-1
                              kruler21.04.2.r689.g5d12ffa-121.04.2.r690.g74016c0-1
                             krunner5.83.0.r635.g8e246cc-25.83.0.r641.g99d4567-1
                             kscreen5.22.2.1.r1336.ge6feadd-15.22.3.r1337.g413adfe-1
                       kscreenlocker5.22.2.1.r857.gad1fa64-15.22.3.r857.gad1fa64-1
                             kshisen21.04.2.r1193.gaaf1e14-121.04.2.r1194.g3f86e15-1
                               ksirk21.04.2.r956.g4f0e5e8-121.04.2.r957.g4ba7a93-1
                               ksmtp21.04.2.r351.g169f0fe-121.04.2.r354.g4dfed27-1
                          ksnakeduel21.04.2.r794.g6dad1da-121.04.2.r795.gf98040c-1
                          kspaceduel21.04.2.r621.gf4072ce-121.04.2.r622.g6bc1c55-1
                            ksquares21.04.2.r509.g970e068-121.04.2.r510.g5b14a07-1
                         ksshaskpass5.22.2.1.r196.gdaa2679-15.22.3.r196.gdaa2679-1
                             ksudoku21.04.2.r1044.g19e3de6-121.04.2.r1045.gad36aa3-1
                           ksysguard5.22.2.1.r3507.g9bc6de87-15.22.3.r3507.g9bc6de87-1
                          ksystemlog21.04.2.r640.gae84fb5-121.04.2.r646.gd0f7cb7-1
                        ksystemstats5.22.2.1.r174.g0639a7f-15.22.3.r174.g0639a7f-1
                            kteatime21.04.2.r717.g94dd38e-121.04.2.r718.g6a17ff9-1
                         ktexteditor5.83.0.r2897.g0194c22d-15.83.0.r2898.g9fb98f04-1
                              ktimer21.04.2.r464.gd79dbc2-121.04.2.r465.gf36068f-1
                               ktnef21.04.2.r649.g0325699-121.04.2.r651.gb1a0ef1-1
                            ktorrent21.04.2.r2753.g81378576-121.04.2.r2754.g4e182028-1
                              ktouch21.04.2.r2134.g59d2fbf-121.04.2.r2135.gdbdcac3-1
                               ktrip 21.06.r22.g1c9b25a-1 21.06.r23.g57bd918-1
                          ktuberling21.04.2.r1001.ga0d2404-121.04.2.r1002.g1aebb73-1
                             kturtle21.04.2.r1111.gcd6a6f3-121.04.2.r1112.g5dbfdfd-1
                             kubrick21.04.2.r363.g6b31f81-121.04.2.r364.g3199178-1
                             kwallet5.83.0.r1072.g1725111-25.83.0.r1074.g245db08-1
                         kwallet-pam5.22.2.1.r248.ge91fcbe-15.22.3.r248.ge91fcbe-1
                      kwalletmanager21.04.2.r1197.g0cf5f7a-121.04.2.r1198.gfce848b-1
                               kwave21.04.2.r3735.gbe0fbd8d-121.04.2.r3736.gc640cb05-1
                kwayland-integration5.22.2.1.r179.g5901512-15.22.3.r179.g5901512-1
                     kwayland-server5.22.2.1.r1341.g63bd0e3-15.22.3.r1343.g893e4a1-1
                      kwidgetsaddons5.83.0.r830.g980f2242-25.83.0.r832.g9aff614b-1
                                kwin5.22.2.1.r19600.g8386a8bb6-15.22.3.r19626.geb62dbb9c-1
                           kwordquiz21.04.2.r1137.gae54e22-121.04.2.r1138.gb06599e-1
                              kwrite21.04.2.r18261.g53e83185a-121.04.2.r18270.g843e009ff-1
                             kwrited5.22.2.1.r479.g8d34f29-15.22.3.r479.g8d34f29-1
                          libakonadi21.04.2.r12512.ge9f90a3b0-121.04.2.r12515.g2e07fe28d-1
                         libgravatar21.04.2.r353.g8714f65-121.04.2.r355.g5d20b94-1
                           libkdepim21.04.2.r833.g148711e-121.04.2.r836.g890a699-1
                            libkgapi21.04.2.r1280.g4d67b6d-121.04.2.r1283.gb36dfec-1
                             libkleo21.04.2.r907.g33b28a9-121.04.2.r910.g2e86bc4-1
                            libksane21.04.2.r542.g42e0954-121.04.2.r547.g08ea3fb-1
                          libkscreen5.22.2.1.r1583.gd916c2a-15.22.3.r1585.g19fb52b-1
                           libksieve21.04.2.r1534.g7716481f-121.04.2.r1542.g8aac1d72-1
                        libksysguard5.22.2.1.r2245.g402b521-15.22.3.r2252.g375ee5b-1
                            lokalize21.04.2.r1765.gc4d0843-121.04.2.r1766.gb3ddfa4-1
                               lskat21.04.2.r803.g199b556-121.04.2.r804.g44c85ee-1
                          mailcommon21.04.2.r1041.g3e6fa73-121.04.2.r1050.g39bab20-1
                        mailimporter21.04.2.r456.g62c206b-121.04.2.r458.g45c9054-1
                        markdownpart21.04.2.r73.g9189ff3-121.04.2.r75.g316527e-1
                           maui-nota 1.2.2.r44.g82927e9-2 1.2.2.r49.gedc609a-1
                    mauikit-accounts         r6.8f01110-2         r8.3324a33-1
                mauikit-filebrowsing 1.2.2.r59.gbb9ca4c-2 1.2.2.r62.g7308f40-1
                       mbox-importer21.04.2.r497.g56b4d69-121.04.2.r499.gdefd5ca-1
                          messagelib21.04.2.r6054.g8274c804-121.04.2.r6058.g455c6161-1
                               milou5.22.2.1.r745.g65c72f4-15.22.3.r745.g65c72f4-1
                              minuet21.04.2.r575.g2ec077c-121.04.2.r576.g9a21ace-1
                     modemmanager-qt5.83.0.r510.gc2d3596-25.83.0.r512.g203eba9-1
                   networkmanager-qt5.83.0.r1107.g677b986-25.83.0.r1108.g515fd72-1
                              okular21.04.2.r9385.g7c9322ad7-121.04.2.r9391.g16da5cb4b-1
                              oxygen5.22.2.1.r4422.g5c8c3271-15.22.3.r4422.g5c8c3271-1
                            palapeli21.04.2.r1223.ga39f151-121.04.2.r1224.g8423eb3-1
                              parley21.04.2.r4412.g77e052c7-121.04.2.r4413.g0ad7c21c-1
                    partitionmanager21.04.2.r1526.g9212d74-121.04.2.r1527.ga3d219f-1
                   pim-data-exporter21.04.2.r2414.g54219a58-121.04.2.r2418.gaeb2a8d9-1
                    pim-sieve-editor21.04.2.r1483.g2acd06b-121.04.2.r1489.ge57c629-1
                           pimcommon21.04.2.r1056.ga49b86c-121.04.2.r1059.g5a84448-1
                      plasma-desktop5.22.2.1.r8533.g28723b62f-15.22.3.r8540.gec4ef922f-1
                       plasma-dialer  21.06.r4.gfa1d0ee-2  21.06.r5.g6566de5-1
                        plasma-disks5.22.2.1.r218.ga61c07c-15.22.3.r220.gc883001-1
                     plasma-firewall5.22.2.1.r496.gbdd33c0-15.22.3.r497.g8e86ae7-1
                    plasma-framework5.83.0.r15902.g2ad8174b4-15.83.0.r15906.g815ddd3fc-1
                  plasma-integration5.22.2.1.r519.gf7c25d9-15.22.3.r519.gf7c25d9-1
                           plasma-nm5.22.2.1.r3061.gf6e45d40-15.22.3.r3061.gf6e45d40-1
                           plasma-pa5.22.2.1.r949.g5a0d555-15.22.3.r950.g6ff7099-1
             plasma-phone-components5.22.2.1.r1423.g7c8fc779-15.22.3.r1423.g7c8fc779-1
                          plasma-sdk5.22.2.1.r2271.gfdb53f2b-15.22.3.r2272.g32b423a6-1
                plasma-systemmonitor5.22.2.1.r459.g03165f5-15.22.3.r463.g967d612-1
                  plasma-thunderbolt5.22.2.1.r133.g176fb93-15.22.3.r134.gff4b4f9-1
                        plasma-vault5.22.2.1.r336.g2b49118-15.22.3.r336.g2b49118-1
              plasma-wayland-session5.22.2.1.r10422.gfce72eea0-15.22.3.r10430.g9c5962eaa-1
                    plasma-workspace5.22.2.1.r10422.gfce72eea0-15.22.3.r10430.g9c5962eaa-1
         plasma-workspace-wallpapers5.22.2.1.r278.g90dc1bd-15.22.3.r278.g90dc1bd-1
                    polkit-kde-agent5.22.2.1.r498.g12157d1-15.22.3.r498.g12157d1-1
                          powerdevil5.22.2.1.r2442.g93e441d9-15.22.3.r2442.g93e441d9-1
                       print-manager21.04.2.r1028.ga67b660-121.04.2.r1032.g82890fb-1
                         qcachegrind21.04.2.r1147.g093b45f-121.04.2.r1148.g3bc2c89-1
                          qmlkonsole  21.06.r3.g8ec415c-1  21.06.r4.g13dd175-1
                  qqc2-desktop-style5.83.0.r493.ge224a1d-15.83.0.r496.g9d0a282-1
                            sddm-kcm5.22.2.1.r588.gc51c2a1-15.22.3.r588.gc51c2a1-1
                               solid5.83.0.r682.g8f12a27-25.83.0.r685.g52c8e26-1
                            spacebar 21.06.r18.g126ded9-1 21.06.r22.gecc0155-1
                           spectacle21.04.2.r1126.ged4e755-121.04.2.r1129.g10bdf72-1
                                step21.04.2.r1151.g311e188-121.04.2.r1152.g87e3f73-1
                             svgpart21.04.2.r168.gc4138f0-121.04.2.r169.g1eb8c63-1
                             sweeper21.04.2.r521.g6399bd3-121.04.2.r523.g4bea686-1
                 syntax-highlighting5.83.0.r1614.ga83a61be-15.83.0.r1618.g137dd800-1
                      systemsettings5.22.2.1.r2448.g9ee7b6d8-15.22.3.r2450.g7703f95b-1
          telepathy-kde-accounts-kcm21.04.2.r1192.g5a27a75-121.04.2.r1194.ga92f0c8-1
                             tokodon 21.06.r11.g99c47b5-1 21.06.r13.g1768eb9-1
                               vvave 1.2.2.r40.gd794531-2 1.2.2.r47.g3b5a993-1
                            wrapland5.22.0.r1474.g64c4443-15.22.0.r1497.ge908f22-1
              xdg-desktop-portal-kde5.22.2.1.r371.gdbfd020-15.22.3.r373.gaa01e6e-1
                    zeroconf-ioslave21.04.2.r351.g2df5266-121.04.2.r352.ge96d9ca-1


:: Different sync package(s) in repository multilib x86_64

-------------------------------------------------------------------------------
                             PACKAGE           2021-07-07           2021-07-09
-------------------------------------------------------------------------------
                        lib32-libcap               2.50-1               2.51-1
                        lib32-libdrm            2.4.106-1            2.4.107-1
                               zsnes              1.51-22              2.0.2-1


No issue, everything went smoothly
Yes there was an issue. I was able to resolve it myself.(Please post your solution)
Yes i am currently experiencing an issue due to the update. (Please post about it)
Check if your mirror has already synced: