Hello community,
here is another Testing Update.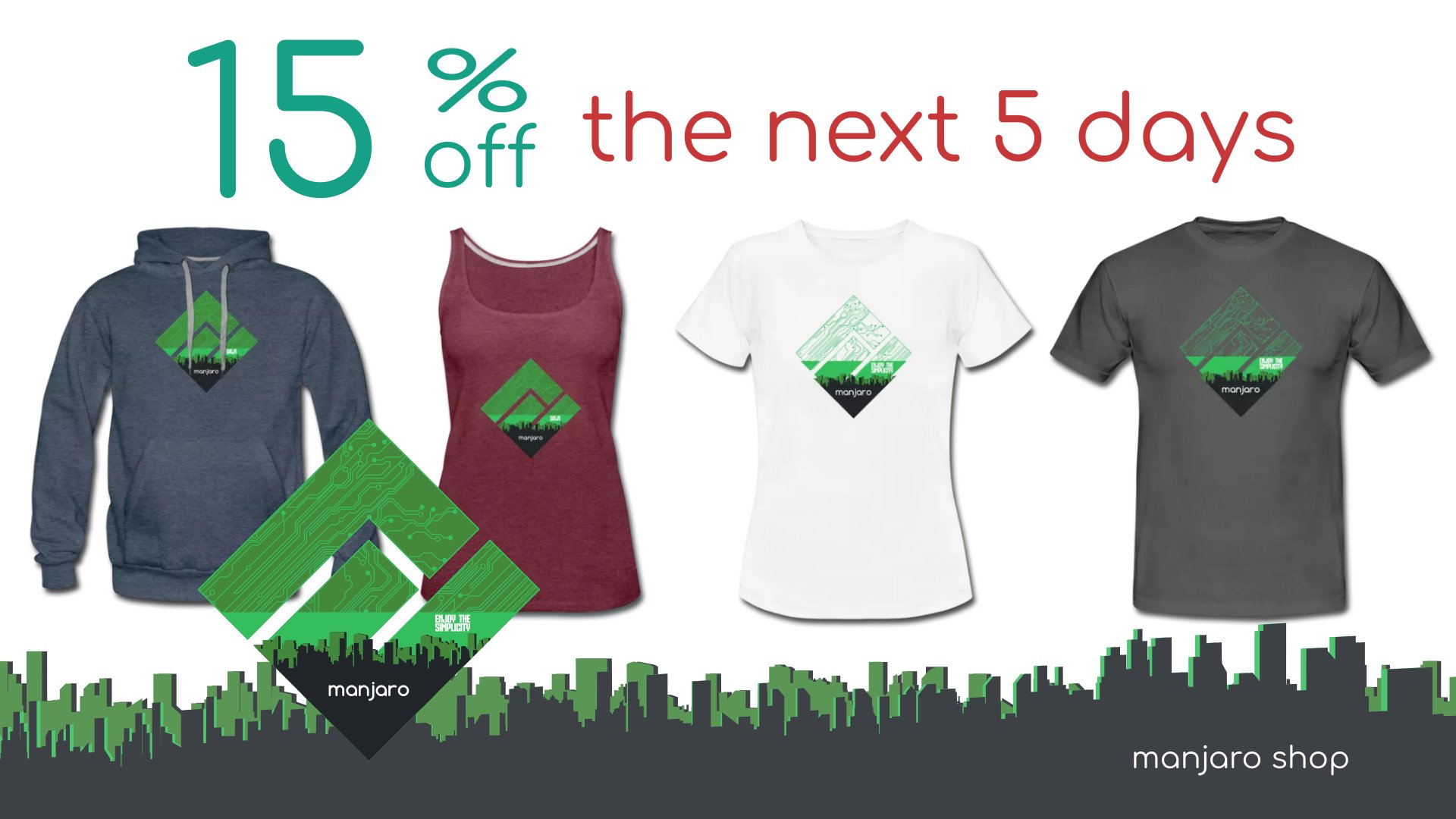 We currently have 15% off on all Manjaro Merch!
Some feature-updates:
LibreOffice got updated to 6.3.5
Some Kernels got updated
VirtualBox 6.1.4 added some needed fixes
Updates to our Calamares installer
A lot of python and haskell updates
If you like following latest Plasma development you may also like to check out our current version of manjaro-kde-dev, which we build on a regular basis against kde-git master packages. Also check out our current 19.0-rc2 ISOs and give us the needed feedback. You might also want to give our latest spin with NX-Desktop a try ...
As always we appreciate your input and feedback for the updates.
---
Upstream notice
Arch updated their default compression to zstd. We adopted to the same standard. More and more packages will have the zst extension from now on. If you get for what ever reason an error with ZSTD not supported as archive format you can do this:
wget https://pkgbuild.com/~eschwartz/repo/x86_64-extracted/pacman-static
chmod +x pacman-static
sudo ./pacman-static -Syyu

---
Our current supported kernels
linux316 3.16.82
linux44 4.4.214
linux49 4.9.214
linux414 4.14.171
linux419 4.19.105
linux54 5.4.21
linux55 5.5.5
linux56 5.6-rc2
linux419-rt 4.19.103_rt42
linux54-rt 5.4.19_rt11
Package Changes (Fri Feb 21 08:18:43 CET 2020)
testing community x86_64: 236 new and 225 removed package(s)
testing core x86_64: 10 new and 10 removed package(s)
testing extra x86_64: 207 new and 204 removed package(s)
testing multilib x86_64: 4 new and 4 removed package(s)
:: Different overlay package(s) in repository community x86_64

-------------------------------------------------------------------------------
                             PACKAGE           2020-02-19           2020-02-21
-------------------------------------------------------------------------------
                               brave            1.3.115-1            1.3.118-1
                          brave-beta             1.4.86-1             1.4.91-1
               debian-whois-mkpasswd              5.5.5-1              5.5.6-1
                              etcher             1.5.77-1             1.5.79-1
                            hw-probe 1.5+24.g48685f7197-1 1.5+25.gd01f123cb2-1
linux419-rt-virtualbox-guest-modules              6.1.2-5              6.1.4-1
 linux419-rt-virtualbox-host-modules              6.1.2-5              6.1.4-1
 linux54-rt-virtualbox-guest-modules              6.1.2-4              6.1.4-1
  linux54-rt-virtualbox-host-modules              6.1.2-4              6.1.4-1


:: Different sync package(s) in repository community x86_64

-------------------------------------------------------------------------------
                             PACKAGE           2020-02-19           2020-02-21
-------------------------------------------------------------------------------
          aarch64-linux-gnu-binutils             2.33.1-1               2.34-1
             aarch64-linux-gnu-glibc               2.30-1               2.31-1
                                agda  2.6.0.1.20191219-15  2.6.0.1.20191219-18
              arm-none-eabi-binutils             2.33.1-1               2.34-1
                                asar              2.0.3-1              2.1.0-1
                      aspnet-runtime       3.1.0.sdk100-2       3.1.2.sdk102-1
                        avr-binutils             2.33.1-1               2.34-2
                             aws-cli             1.18.0-1             1.18.3-1
                                c2hs            0.28.6-65            0.28.6-66
                       cabal-install           3.0.0.0-25           3.0.0.0-28
                   capitaine-cursors                  3-2                  4-1
                          cargo-crev             0.16.0-1             0.16.1-1
                      cargo-outdated              0.9.1-1              0.9.5-1
                             cockpit                212-1                213-1
                   cockpit-dashboard                212-1                213-1
                         cockpit-pcp                212-1                213-1
                                crun             0.12.1-1           0.12.2.1-1
                             cryptol             2.8.0-45             2.8.0-48
                               darcs           2.14.2-160           2.14.2-163
                          diffoscope                136-2                137-1
                         dotnet-host       3.1.0.sdk100-2       3.1.2.sdk102-1
                      dotnet-runtime       3.1.0.sdk100-2       3.1.2.sdk102-1
                          dotnet-sdk       3.1.0.sdk100-2       3.1.2.sdk102-1
                             element             0.42.0-2             0.43.1-1
                firefox-adblock-plus                3.7-1                3.8-1
                    firefox-noscript            11.0.12-1            11.0.13-1
                            flashrom                1.1-1                1.2-1
                             fscrypt              0.2.6-1              0.2.6-2
                           git-annex        7.20200204-24         7.20200219-1
                          git-repair        1.20200102-17        1.20200102-20
                             grafana              6.6.1-1              6.6.2-1
                                gtop              1.0.0-1              1.0.2-1
                  haskell-aeson-diff           1.1.0.8-36           1.1.0.8-39
                    haskell-aeson-qq             0.8.3-22             0.8.3-23
                  haskell-alsa-mixer             0.3.0-12             0.3.0-13
                haskell-authenticate             1.3.5-45             1.3.5-49
          haskell-authenticate-oauth           1.6.0.1-27           1.6.0.1-30
                 haskell-auto-update             0.1.6-29             0.1.6-30
                         haskell-aws           0.21.1-167           0.21.1-171
              haskell-binary-orphans          0.1.8.0-127              1.0.1-1
                       haskell-■■■■■               0.52-1               0.52-2
            haskell-bsb-http-chunked           0.0.0.4-68           0.0.0.4-69
                         haskell-bz2            1.0.0.2-1            1.0.0.2-2
                 haskell-casa-client    0.0.0.20191219-16    0.0.0.20191219-20
                  haskell-casa-types    0.0.0.20191219-12    0.0.0.20191219-13
                  haskell-cheapskate           0.1.1.2-16           0.1.1.2-19
                  haskell-config-ini           0.2.4.0-78           0.2.4.0-79
                  haskell-connection             0.3.1-20             0.3.1-21
                   haskell-criterion            1.5.6.0-5            1.5.6.0-8
                         haskell-dav             1.3.4-24             1.3.4-28
                         haskell-dns            3.0.4-113            3.0.4-114
                   haskell-esqueleto            3.3.1.1-6            3.3.1.1-7
                 haskell-fast-logger              3.0.1-3              3.0.1-4
                    haskell-fsnotify           0.3.0.1-76           0.3.0.1-77
                     haskell-githash           0.1.3.3-40           0.1.3.3-44
                      haskell-gnuidn            0.2.2-140            0.2.2-141
            haskell-hackage-security           0.6.0.0-15           0.6.0.0-18
                      haskell-hakyll         4.12.5.2-185           4.13.0.1-2
                    haskell-hedgehog              1.0.2-8              1.0.2-9
                        haskell-here           1.2.13-104           1.2.13-105
                    haskell-hopenpgp              2.9.3-2              2.9.3-5
                       haskell-hpack            0.33.0-53            0.33.0-57
            haskell-hspec-smallcheck             0.5.2-67             0.5.2-68
                   haskell-hspec-wai            0.9.2-107            0.9.2-108
              haskell-hspec-wai-json            0.9.2-121            0.9.2-122
                        haskell-http         4000.3.14-99        4000.3.14-102
                 haskell-http-client             0.6.4-52             0.6.4-55
             haskell-http-client-tls          0.3.5.3-167          0.3.5.3-171
                haskell-http-conduit           2.3.7.3-59           2.3.7.3-63
               haskell-http-download           0.1.0.1-36           0.1.0.1-40
                haskell-http-streams            0.8.7.1-8           0.8.7.1-12
                       haskell-http2             2.0.3-39             2.0.3-40
                  haskell-httpd-shed           0.4.1.1-33           0.4.1.1-36
                         haskell-hxt          9.3.1.18-10          9.3.1.18-13
                 haskell-interpolate            0.2.0-119            0.2.0-120
    haskell-interpolatedstring-perl6             1.0.2-19             1.0.2-20
                       haskell-ipynb              0.1-118              0.1-121
                        haskell-jose           0.8.2.0-27           0.8.2.0-30
                   haskell-js-jquery            3.3.1-343            3.3.1-346
                haskell-lifted-async          0.10.0.4-39          0.10.0.4-40
                      haskell-logict            0.6.0.3-3            0.7.0.0-1
                haskell-monad-logger            0.3.31-40            0.3.31-41
                    haskell-mustache             2.3.1-26             2.3.1-30
          haskell-neat-interpolation            0.3.2.5-3            0.3.2.6-1
       haskell-network-protocol-xmpp              0.4.9-2              0.4.9-3
                 haskell-network-uri            2.6.2.0-7            2.6.3.0-3
             haskell-optparse-simple          0.1.1.2-117          0.1.1.2-121
                      haskell-pantry  0.2.0.0.20200204-18  0.2.0.0.20200204-22
                  haskell-persistent           2.10.5.1-2           2.10.5.1-3
               haskell-persistent-qq           2.9.1.1-18           2.9.1.1-19
           haskell-persistent-sqlite             2.10.6-5             2.10.6-6
         haskell-persistent-template             2.7.3-50             2.7.3-51
             haskell-persistent-test           2.0.3.0-76           2.0.3.0-77
                  haskell-pipes-http             1.0.6-79             1.0.6-83
                       haskell-retry           0.8.1.0-19           0.8.1.0-20
                 haskell-rio-orphans           0.1.1.0-69           0.1.1.0-70
                       haskell-sandi               0.5-81               0.5-82
                         haskell-sbv                8.6-7               8.6-10
                     haskell-servant            0.16.2-37            0.16.2-40
              haskell-servant-server            0.16.2-91            0.16.2-94
             haskell-servant-swagger           1.1.7.1-64           1.1.7.1-67
                       haskell-shake            0.18.5-15            0.18.5-18
                      haskell-shelly             1.8.1-86             1.8.1-87
                 haskell-skylighting            0.8.3.2-8           0.8.3.2-11
            haskell-skylighting-core            0.8.3.2-8           0.8.3.2-11
                  haskell-smallcheck              1.1.5-9             1.1.5-10
                   haskell-snap-core           1.0.4.1-21           1.0.4.1-24
                 haskell-snap-server          1.1.1.1-117          1.1.1.1-122
                    haskell-src-exts            1.21.1-15            1.21.1-16
               haskell-src-exts-util             0.2.5-34             0.2.5-35
                    haskell-src-meta             0.8.3-11             0.8.3-12
                       haskell-store              0.7.2-7              0.7.2-8
              haskell-tasty-hedgehog            1.0.0.2-8            1.0.0.2-9
            haskell-tasty-smallcheck             0.8.1-58             0.8.1-59
                    haskell-tasty-th             0.1.7-86             0.1.7-87
   haskell-test-framework-smallcheck               0.2-48               0.2-49
           haskell-test-framework-th             0.2.4-11             0.2.4-12
                     haskell-texmath           0.12.0.1-1           0.12.0.1-4
                haskell-time-manager             0.0.0-26             0.0.0-27
                         haskell-tls              1.5.3-9              1.5.4-1
         haskell-tls-session-manager             0.0.4-11             0.0.4-13
                          haskell-tz           0.1.3.3-13           0.1.3.3-14
                      haskell-tzdata     0.1.20190911.0-9    0.1.20190911.0-10
              haskell-uri-bytestring           0.3.2.2-23           0.3.2.2-24
                  haskell-uri-encode           1.5.0.5-21           1.5.0.5-24
                         haskell-vty              5.26-16              5.26-17
              haskell-wai-app-static           3.1.7.1-21           3.1.7.1-24
                   haskell-wai-extra           3.0.29.1-1           3.0.29.1-2
          haskell-wai-handler-launch          3.0.2.4-277          3.0.2.4-280
                  haskell-wai-logger             2.3.6-30             2.3.6-31
                        haskell-warp             3.3.8-15             3.3.8-18
                    haskell-warp-tls             3.2.11-9            3.2.11-13
                        haskell-wreq          0.5.3.2-127          0.5.3.2-131
                haskell-xss-sanitize             0.3.6-58             0.3.6-61
                       haskell-yesod           1.6.0.1-12           1.6.0.1-15
                  haskell-yesod-auth              1.6.9-4              1.6.9-8
                  haskell-yesod-core           1.6.17.2-6           1.6.17.2-9
               haskell-yesod-default            1.2.0-665            1.2.0-668
                  haskell-yesod-form             1.6.7-92             1.6.7-95
            haskell-yesod-persistent           1.6.0.4-37           1.6.0.4-40
                haskell-yesod-static          1.6.0.1-290          1.6.0.1-293
                  haskell-yesod-test             1.6.9-52             1.6.9-55
                           hedgewars             1.0.0-34             1.0.0-35
                             hindent             5.3.1-52             5.3.1-53
                          hledger-ui             1.16.2-5             1.16.2-6
                         hledger-web             1.16.2-8            1.16.2-12
                               hlint              2.2.5-2              2.2.7-1
                              hoogle         5.0.17.11-82         5.0.17.11-86
                      hopenpgp-tools              0.23-46              0.23-50
                                hugo             0.64.1-1             0.65.0-1
                               idris             1.3.2-65             1.3.2-68
                               jruby            9.2.9.0-1           9.2.10.0-1
                    jupyter-notebook              6.0.2-1              6.0.3-1
                libsignal-protocol-c              2.3.2-1              2.3.2-2
                               nauty              26r12-5              26r12-6
                              nodejs             13.8.0-1             13.9.0-1
                               opera       66.0.3515.72-1      66.0.3515.103-1
                 opera-ffmpeg-codecs      79.0.3945.130-1      79.0.3945.130-2
                              pandoc              2.9.2-1              2.9.2-7
                     pandoc-citeproc          0.16.4.1-51          0.16.4.1-57
                     pandoc-crossref           0.3.6.0-20           0.3.6.0-26
                            pdf2djvu             0.9.15-3             0.9.16-1
                               peony              1.1.6-1              2.0.1-1
                perl-test-mockmodule            0.171.0-1            0.172.0-1
                            polymake                4.0-2             4.0.r1-1
                           postgrest             6.0.2-52             6.0.2-55
                          primecount                5.3-1                5.3-2
              python-aiohttp-apispec              1.5.0-1              2.2.0-1
                        python-boto3             1.12.0-1             1.12.3-1
                     python-botocore             1.15.0-1             1.15.3-1
                     python-django-q              1.2.0-1              1.2.1-1
                    python-fonttools              4.3.0-1              4.4.0-1
                    python-ipykernel              5.1.3-2              5.1.4-1
                 python-jupyter_core              4.6.1-1              4.6.3-1
                  python-marshmallow              3.4.0-1              3.5.0-1
                      python-mockito              1.2.0-1              1.2.1-1
               python-more-itertools              8.1.0-1              8.2.0-1
                  python-pastedeploy              2.0.1-3              2.1.0-1
                         python-pint             0.10.1-1               0.11-1
                       python-pyudev               0.22-1               0.22-2
                    python-stevedore             1.31.0-4             1.32.0-1
                    python-structlog             19.2.0-3             20.1.0-1
                 python-testfixtures             6.12.0-1             6.13.0-1
                         python-tqdm             4.42.1-1             4.43.0-1
                    python-webcolors               1.11-1             1.11.1-1
                python2-jupyter_core              4.6.1-1              4.6.3-1
                 python2-pastedeploy              2.0.1-3              2.1.0-1
                             redmine              4.0.5-1              4.0.5-2
                        riot-desktop              1.5.9-1             1.5.10-1
                            riot-web              1.5.9-1             1.5.10-1
                           rofi-pass              2.0.2-1              2.0.2-2
                          shellcheck            0.7.0-128            0.7.0-134
                           shorewall            5.2.3.5-1            5.2.3.6-1
                      shorewall-core            5.2.3.5-1            5.2.3.6-1
                          shorewall6            5.2.3.5-1            5.2.3.6-1
                      simplespectral              1.0.0-3              1.0.0-4
                         soapy_power              1.6.1-4              1.6.1-5
                  sqlite-replication           3.30.1.4-1           3.31.1.4-1
                               stack    2.1.3.20200209-22    2.1.3.20200209-27
                     stylish-haskell           0.10.0.0-3           0.10.0.0-4
                      tamarin-prover            1.4.1-253            1.4.1-256
                             taskell           1.9.2.0-16           1.9.2.0-20
                    telegram-desktop             1.9.13-1             1.9.14-1
         v2ray-domain-list-community       202002131220-1       202002190002-1
                         v2ray-geoip       202002120002-1       202002190002-1
                          virtualbox              6.1.2-1              6.1.4-2
                  virtualbox-ext-vnc              6.1.2-1              6.1.4-2
               virtualbox-guest-dkms              6.1.2-1              6.1.4-2
                virtualbox-guest-iso              6.1.2-1              6.1.4-1
              virtualbox-guest-utils              6.1.2-1              6.1.4-2
          virtualbox-guest-utils-nox              6.1.2-1              6.1.4-2
                virtualbox-host-dkms              6.1.2-1              6.1.4-2
                      virtualbox-sdk              6.1.2-1              6.1.4-2
                             xfsdump              3.1.8-6              3.1.9-1
                              xmobar              0.32-33              0.32-37
                      youtube-viewer            1:3.7.4-1            1:3.7.4-2
                               dev86                    -            0.16.21-4
                      gnome-firmware                    -             3.34.0-1
            haskell-binary-instances                    -                  1-1
                       nlohmann-json                    -              3.7.3-3
                          primesieve                    -                7.5-1
                      python-helpdev                    -             0.6.10-1
          python-pytest-lazy-fixture                    -              0.6.3-1
              python-pytest-ordering                    -                0.6-1
                   python-qdarkstyle                    -                2.8-1
                       python-xarray                    -             0.15.0-1
                             ruby2.6                    -              2.6.5-1


:: Different overlay package(s) in repository core x86_64

-------------------------------------------------------------------------------
                             PACKAGE           2020-02-19           2020-02-21
-------------------------------------------------------------------------------
                   amd-ucode 20200207.r1575.6f89735-2 20200219.r1579.2277987-1
              linux-firmware 20200207.r1575.6f89735-2 20200219.r1579.2277987-1
                            linux419           4.19.104-1           4.19.105-1
                    linux419-headers           4.19.104-1           4.19.105-1
                             linux54             5.4.20-1             5.4.21-1
                     linux54-headers             5.4.20-1             5.4.21-1
                             linux55              5.5.4-1              5.5.5-1
                     linux55-headers              5.5.4-1              5.5.5-1
                     manjaro-release             19.0.0-1             19.0.0-2


:: Different sync package(s) in repository core x86_64

-------------------------------------------------------------------------------
                             PACKAGE           2020-02-19           2020-02-21
-------------------------------------------------------------------------------
                               bison              3.5.1-1              3.5.2-1


:: Different overlay package(s) in repository extra x86_64

-------------------------------------------------------------------------------
                             PACKAGE           2020-02-19           2020-02-21
-------------------------------------------------------------------------------
                           calamares           3.2.18.1-1           3.2.18.2-1
               calamares-git 3.2.19.r7128.039940a13-2 3.2.19.r7298.c50726de2-1
   linux316-virtualbox-guest-modules              6.1.2-3              6.1.4-1
    linux316-virtualbox-host-modules              6.1.2-3              6.1.4-1
   linux414-virtualbox-guest-modules              6.1.2-7              6.1.4-1
    linux414-virtualbox-host-modules              6.1.2-7              6.1.4-1
                  linux419-acpi_call             1.1.0-94             1.1.0-95
                   linux419-bbswitch               0.8-94               0.8-95
                linux419-broadcom-wl      6.30.223.271-93      6.30.223.271-94
                linux419-ndiswrapper              1.62-43              1.62-44
               linux419-nvidia-340xx           340.108-14           340.108-15
               linux419-nvidia-390xx           390.132-23           390.132-24
               linux419-nvidia-418xx           418.113-22           418.113-23
               linux419-nvidia-430xx            430.64-22            430.64-23
               linux419-nvidia-435xx            435.21-33            435.21-34
               linux419-nvidia-440xx             440.59-4             440.59-5
                   linux419-nvidiabl              0.88-93              0.88-94
                      linux419-r8168           8.048.00-8           8.048.00-9
                  linux419-rtl8723bu           20200126-5           20200126-6
                   linux419-tp_smapi              0.43-43              0.43-44
                linux419-vhba-module           20200106-8           20200106-9
   linux419-virtualbox-guest-modules              6.1.2-9              6.1.4-1
    linux419-virtualbox-host-modules              6.1.2-9              6.1.4-1
                        linux419-zfs              0.8.3-7              0.8.3-8
    linux44-virtualbox-guest-modules              6.1.2-5              6.1.4-1
     linux44-virtualbox-host-modules              6.1.2-5              6.1.4-1
    linux49-virtualbox-guest-modules              6.1.2-5              6.1.4-1
     linux49-virtualbox-host-modules              6.1.2-5              6.1.4-1
                   linux54-acpi_call             1.1.0-24             1.1.0-25
                    linux54-bbswitch               0.8-24               0.8-25
                 linux54-broadcom-wl      6.30.223.271-24      6.30.223.271-25
                 linux54-ndiswrapper              1.62-24              1.62-25
                linux54-nvidia-340xx           340.108-16           340.108-17
                linux54-nvidia-390xx           390.132-24           390.132-25
                linux54-nvidia-418xx           418.113-24           418.113-25
                linux54-nvidia-430xx            430.64-24            430.64-25
                linux54-nvidia-435xx            435.21-24            435.21-25
                linux54-nvidia-440xx             440.59-5             440.59-6
                    linux54-nvidiabl              0.88-24              0.88-25
                       linux54-r8168           8.048.00-9          8.048.00-10
                   linux54-rtl8723bu           20200126-6           20200126-7
                    linux54-tp_smapi              0.43-24              0.43-25
                 linux54-vhba-module           20200106-9          20200106-10
    linux54-virtualbox-guest-modules             6.1.2-10              6.1.4-1
     linux54-virtualbox-host-modules             6.1.2-10              6.1.4-1
                         linux54-zfs              0.8.3-8              0.8.3-9
                   linux55-acpi_call              1.1.0-6              1.1.0-7
                    linux55-bbswitch                0.8-6                0.8-7
                 linux55-broadcom-wl       6.30.223.271-6       6.30.223.271-7
                 linux55-ndiswrapper               1.62-6               1.62-7
                linux55-nvidia-390xx            390.132-6            390.132-7
                linux55-nvidia-418xx            418.113-6            418.113-7
                linux55-nvidia-430xx             430.64-6             430.64-7
                linux55-nvidia-435xx             435.21-6             435.21-7
                linux55-nvidia-440xx             440.59-4             440.59-5
                    linux55-nvidiabl               0.88-6               0.88-7
                       linux55-r8168           8.048.00-6           8.048.00-7
                   linux55-rtl8723bu           20200126-6           20200126-7
                    linux55-tp_smapi               0.43-6               0.43-7
                 linux55-vhba-module           20200106-6           20200106-7
    linux55-virtualbox-guest-modules              6.1.2-6              6.1.4-1
     linux55-virtualbox-host-modules              6.1.2-6              6.1.4-1
                         linux55-zfs              0.8.3-2              0.8.3-3
                       manjaro-hello              0.6.5-2              0.6.5-3
                linux55-nvidia-340xx                    -            340.108-1


:: Different sync package(s) in repository extra x86_64

-------------------------------------------------------------------------------
                             PACKAGE           2020-02-19           2020-02-21
-------------------------------------------------------------------------------
                            alsa-lib            1.2.1.2-3              1.2.2-1
                        alsa-plugins              1.2.1-5              1.2.2-1
                  alsa-topology-conf              1.2.1-1              1.2.2-1
                       alsa-ucm-conf            1.2.1.2-1              1.2.2-1
                                bind            9.14.10-1             9.16.0-1
                          bind-tools            9.14.10-1             9.16.0-1
                               bluez               5.52-2               5.53-1
                          bluez-cups               5.52-2               5.53-1
                       bluez-hid2hci               5.52-2               5.53-1
                          bluez-libs               5.52-2               5.53-1
                       bluez-plugins               5.52-2               5.53-1
                         bluez-utils               5.52-2               5.53-1
                          fluidsynth              2.1.0-1              2.1.1-1
                         foomatic-db         3:20191127-1         3:20200220-1
                 foomatic-db-nonfree         3:20191127-1         3:20200220-1
            foomatic-db-nonfree-ppds         3:20191127-1         3:20200220-1
                    foomatic-db-ppds         3:20191127-1         3:20200220-1
                         gdk-pixbuf2             2.40.0-1             2.40.0-2
                                gimp            2.10.14-1            2.10.16-1
               gtk-update-icon-cache     1:3.24.14-1 1:3.24.14+9+g429a6287e0-1
                                gtk3     1:3.24.14-1 1:3.24.14+9+g429a6287e0-1
                   libreoffice-still              6.3.4-2              6.3.5-1
                libreoffice-still-af              6.3.4-1              6.3.5-1
                libreoffice-still-am              6.3.4-1              6.3.5-1
                libreoffice-still-ar              6.3.4-1              6.3.5-1
                libreoffice-still-as              6.3.4-1              6.3.5-1
               libreoffice-still-ast              6.3.4-1              6.3.5-1
                libreoffice-still-be              6.3.4-1              6.3.5-1
                libreoffice-still-bg              6.3.4-1              6.3.5-1
                libreoffice-still-bn              6.3.4-1              6.3.5-1
             libreoffice-still-bn-in              6.3.4-1              6.3.5-1
                libreoffice-still-bo              6.3.4-1              6.3.5-1
                libreoffice-still-br              6.3.4-1              6.3.5-1
               libreoffice-still-brx              6.3.4-1              6.3.5-1
                libreoffice-still-bs              6.3.4-1              6.3.5-1
                libreoffice-still-ca              6.3.4-1              6.3.5-1
       libreoffice-still-ca-valencia              6.3.4-1              6.3.5-1
                libreoffice-still-cs              6.3.4-1              6.3.5-1
                libreoffice-still-cy              6.3.4-1              6.3.5-1
                libreoffice-still-da              6.3.4-1              6.3.5-1
                libreoffice-still-de              6.3.4-1              6.3.5-1
               libreoffice-still-dgo              6.3.4-1              6.3.5-1
                libreoffice-still-dz              6.3.4-1              6.3.5-1
                libreoffice-still-el              6.3.4-1              6.3.5-1
             libreoffice-still-en-gb              6.3.4-1              6.3.5-1
             libreoffice-still-en-za              6.3.4-1              6.3.5-1
                libreoffice-still-eo              6.3.4-1              6.3.5-1
                libreoffice-still-es              6.3.4-1              6.3.5-1
                libreoffice-still-et              6.3.4-1              6.3.5-1
                libreoffice-still-eu              6.3.4-1              6.3.5-1
                libreoffice-still-fa              6.3.4-1              6.3.5-1
                libreoffice-still-fi              6.3.4-1              6.3.5-1
                libreoffice-still-fr              6.3.4-1              6.3.5-1
                libreoffice-still-ga              6.3.4-1              6.3.5-1
                libreoffice-still-gd              6.3.4-1              6.3.5-1
                libreoffice-still-gl              6.3.4-1              6.3.5-1
                libreoffice-still-gu              6.3.4-1              6.3.5-1
                libreoffice-still-he              6.3.4-1              6.3.5-1
                libreoffice-still-hi              6.3.4-1              6.3.5-1
                libreoffice-still-hr              6.3.4-1              6.3.5-1
                libreoffice-still-hu              6.3.4-1              6.3.5-1
                libreoffice-still-id              6.3.4-1              6.3.5-1
                libreoffice-still-is              6.3.4-1              6.3.5-1
                libreoffice-still-it              6.3.4-1              6.3.5-1
                libreoffice-still-ja              6.3.4-1              6.3.5-1
                libreoffice-still-ka              6.3.4-1              6.3.5-1
                libreoffice-still-kk              6.3.4-1              6.3.5-1
                libreoffice-still-km              6.3.4-1              6.3.5-1
          libreoffice-still-kmr-latn              6.3.4-1              6.3.5-1
                libreoffice-still-kn              6.3.4-1              6.3.5-1
                libreoffice-still-ko              6.3.4-1              6.3.5-1
               libreoffice-still-kok              6.3.4-1              6.3.5-1
                libreoffice-still-ks              6.3.4-1              6.3.5-1
                libreoffice-still-lb              6.3.4-1              6.3.5-1
                libreoffice-still-lo              6.3.4-1              6.3.5-1
                libreoffice-still-lt              6.3.4-1              6.3.5-1
                libreoffice-still-lv              6.3.4-1              6.3.5-1
               libreoffice-still-mai              6.3.4-1              6.3.5-1
                libreoffice-still-mk              6.3.4-1              6.3.5-1
                libreoffice-still-ml              6.3.4-1              6.3.5-1
                libreoffice-still-mn              6.3.4-1              6.3.5-1
               libreoffice-still-mni              6.3.4-1              6.3.5-1
                libreoffice-still-mr              6.3.4-1              6.3.5-1
                libreoffice-still-my              6.3.4-1              6.3.5-1
                libreoffice-still-nb              6.3.4-1              6.3.5-1
                libreoffice-still-ne              6.3.4-1              6.3.5-1
                libreoffice-still-nl              6.3.4-1              6.3.5-1
                libreoffice-still-nn              6.3.4-1              6.3.5-1
                libreoffice-still-nr              6.3.4-1              6.3.5-1
               libreoffice-still-nso              6.3.4-1              6.3.5-1
                libreoffice-still-oc              6.3.4-1              6.3.5-1
                libreoffice-still-om              6.3.4-1              6.3.5-1
                libreoffice-still-or              6.3.4-1              6.3.5-1
             libreoffice-still-pa-in              6.3.4-1              6.3.5-1
                libreoffice-still-pl              6.3.4-1              6.3.5-1
                libreoffice-still-pt              6.3.4-1              6.3.5-1
             libreoffice-still-pt-br              6.3.4-1              6.3.5-1
                libreoffice-still-ro              6.3.4-1              6.3.5-1
                libreoffice-still-ru              6.3.4-1              6.3.5-1
                libreoffice-still-rw              6.3.4-1              6.3.5-1
             libreoffice-still-sa-in              6.3.4-1              6.3.5-1
               libreoffice-still-sat              6.3.4-1              6.3.5-1
                libreoffice-still-sd              6.3.4-1              6.3.5-1
               libreoffice-still-sdk              6.3.4-2              6.3.5-1
                libreoffice-still-si              6.3.4-1              6.3.5-1
               libreoffice-still-sid              6.3.4-1              6.3.5-1
                libreoffice-still-sk              6.3.4-1              6.3.5-1
                libreoffice-still-sl              6.3.4-1              6.3.5-1
                libreoffice-still-sq              6.3.4-1              6.3.5-1
                libreoffice-still-sr              6.3.4-1              6.3.5-1
           libreoffice-still-sr-latn              6.3.4-1              6.3.5-1
                libreoffice-still-ss              6.3.4-1              6.3.5-1
                libreoffice-still-st              6.3.4-1              6.3.5-1
                libreoffice-still-sv              6.3.4-1              6.3.5-1
             libreoffice-still-sw-tz              6.3.4-1              6.3.5-1
                libreoffice-still-ta              6.3.4-1              6.3.5-1
                libreoffice-still-te              6.3.4-1              6.3.5-1
                libreoffice-still-tg              6.3.4-1              6.3.5-1
                libreoffice-still-th              6.3.4-1              6.3.5-1
                libreoffice-still-tn              6.3.4-1              6.3.5-1
                libreoffice-still-tr              6.3.4-1              6.3.5-1
                libreoffice-still-ts              6.3.4-1              6.3.5-1
                libreoffice-still-tt              6.3.4-1              6.3.5-1
                libreoffice-still-ug              6.3.4-1              6.3.5-1
                libreoffice-still-uk              6.3.4-1              6.3.5-1
                libreoffice-still-uz              6.3.4-1              6.3.5-1
                libreoffice-still-ve              6.3.4-1              6.3.5-1
                libreoffice-still-vi              6.3.4-1              6.3.5-1
                libreoffice-still-xh              6.3.4-1              6.3.5-1
             libreoffice-still-zh-cn              6.3.4-1              6.3.5-1
             libreoffice-still-zh-tw              6.3.4-1              6.3.5-1
                libreoffice-still-zu              6.3.4-1              6.3.5-1
                    plasma-framework             5.67.0-1             5.67.0-2
                            protobuf             3.11.3-1             3.11.4-1
                          protobuf-c              1.3.2-2              1.3.3-1
                     python-protobuf             3.11.3-1             3.11.4-1
                       virglrenderer              0.8.0-1              0.8.2-1
                      vulkan-headers          1:1.2.132-1          1:1.2.133-1
                    vulkan-html-docs          1:1.2.132-1          1:1.2.133-1
                        xorg-xkbcomp   1.4.2+7+g29fda8e-1              1.4.3-1
                             libavtp                    -              0.1.0-1
                        libinstpatch                    -              1.1.3-1


:: Different sync package(s) in repository multilib x86_64

-------------------------------------------------------------------------------
                             PACKAGE           2020-02-19           2020-02-21
-------------------------------------------------------------------------------
                               dev86            0.16.21-3                    -
                         lib32-clang              9.0.0-2              9.0.1-1
                    lib32-fluidsynth              2.1.0-1              2.1.1-1
                    lib32-libsndfile             1.0.28-2             1.0.28-3
                  lib32-libinstpatch                    -              1.1.3-1



No issue, everything went smoothly
Yes there was an issue. I was able to resolve it myself.(Please post your solution)
Yes i am currently experiencing an issue due to the update. (Please post about it)
Check if your mirror has already synced: