Hello community,
here is another Testing Update.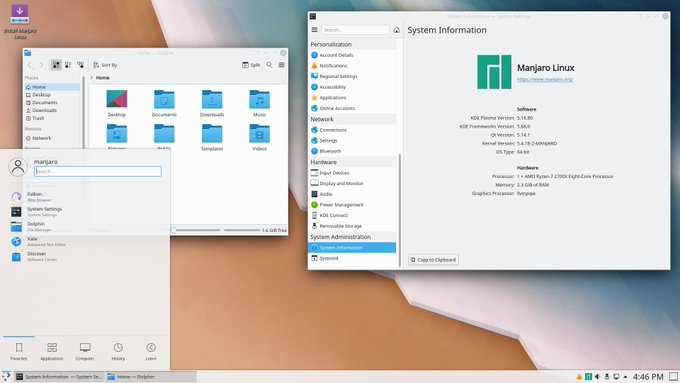 Plasma 5.18 is out now. See if the Developers of KDE already fixed some reported issues ...
Some feature-updates:
More Updates to KDE-Git packages
Flatpak got updated to 1.6.2
polkit and other small updates
Haskell and Python updates with regular upstream package changes got added
If you like following latest Plasma development you may also like to check out our current version of manjaro-kde-dev, which we build on a regular basis against kde-git master packages. Also check out our current 19.0-pre5 ISOs and give us the needed feedback. You might also want to give our latest spin with NX-Desktop a try ...
As always we appreciate your input and feedback for the updates.
---
Upstream notice
Arch updated their default compression to zstd. We adopted to the same standard. More and more packages will have the zst extension from now on. If you get for what ever reason an error with ZSTD not supported as archive format you can do this:
wget https://pkgbuild.com/~eschwartz/repo/x86_64-extracted/pacman-static
chmod +x pacman-static
sudo ./pacman-static -Syyu

---
Our current supported kernels
linux316 3.16.82
linux44 4.4.213
linux49 4.9.213
linux414 4.14.170
linux419 4.19.103
linux54 5.4.19
linux55 5.5.3
linux56 5.6-rc1
linux419-rt 4.19.94_rt39
linux54-rt 5.4.17_rt9
Package Changes (Fri Feb 14 08:22:04 CET 2020)
testing community x86_64: 411 new and 454 removed package(s)
testing core x86_64: 6 new and 6 removed package(s)
testing extra x86_64: 23 new and 22 removed package(s)
testing multilib x86_64: 1 new and 1 removed package(s)
:: Different overlay package(s) in repository community x86_64

-------------------------------------------------------------------------------
                             PACKAGE           2020-02-13           2020-02-14
-------------------------------------------------------------------------------
                               advcp               8.24-2                    -
                          attica-git5.68.0.r740.gbdca267-15.68.0.r743.g4db348a-1
                           baloo-git5.68.0.r2690.g17b13fa5-15.68.0.r2696.g6c4feee7-1
                                bauh              0.8.1-1              0.8.3-1
                       bluedevil-git5.18.80.r2049.g242a137e-15.18.80.r2050.gedbb2ac6-1
                        bluez-qt-git5.68.0.r581.g951a31d-15.68.0.r583.gd82c68c-1
                    breeze-icons-git5.68.0.r1466.gb894f1da-15.68.0.r1471.g96cf15e1-1
                    emacs-speechd-el   20141025.3d72981-1                    -
             extra-cmake-modules-git5.68.0.r3135.gda4c810-15.68.0.r3137.geaaba31-1
            frameworkintegration-git5.68.0.r505.g70c2f0d-15.68.0.r506.g410ee2d-1
                     kactivities-git5.68.0.r1271.gdf52a19f-15.68.0.r1273.g80cdab25-1
               kactivities-stats-git5.68.0.r268.gc55f145-15.68.0.r270.g99fcece-1
                         kapidox-git5.68.0.r452.g3f2cc2f-15.68.0.r453.g6739faa-1
                        karchive-git5.68.0.r408.g7ba2324-15.68.0.r410.g1be7c21-1
                           kauth-git5.68.0.r340.g4d241b3-15.68.0.r343.gc0df4f6-1
                      kbookmarks-git5.68.0.r315.g03bc359-15.68.0.r317.g319df07-1
                        kcmutils-git5.68.0.r369.g11f1b40-15.68.0.r370.g8315452-1
                         kcodecs-git5.68.0.r294.g489fcfe-15.68.0.r296.gcc30eb1-1
                     kcompletion-git5.68.0.r349.gdde7c78-15.68.0.r350.gd18ee9a-1
                         kconfig-git5.68.0.r658.g974a677-15.68.0.r661.g9941a69-1
                  kconfigwidgets-git5.68.0.r443.g13e3182-15.68.0.r445.ga949219-1
                     kcoreaddons-git5.68.0.r946.gfcb1eff-15.68.0.r947.ge42dcc1-1
                          kcrash-git5.68.0.r288.g06c3968-15.68.0.r290.gb412d02-1
                     kdbusaddons-git5.68.0.r294.g02ec5e8-15.68.0.r296.gf4716a2-1
                  kde-gtk-config-git5.18.80.r790.gf4313eb-15.18.80.r793.g16ce5ba-1
                    kdeclarative-git5.68.0.r749.g9127da0-15.68.0.r751.gd9b52d9-1
                            kded-git5.68.0.r297.g6c48c0b-15.68.0.r299.gb932c91-1
                 kdelibs4support-git5.68.0.r921.ge3711d1a-15.68.0.r922.gcc9450b8-1
                 kdesignerplugin-git5.68.0.r268.g401c438-15.68.0.r269.g3339c7c-1
                           kdesu-git5.68.0.r386.g0739d30-15.68.0.r387.g5c4d722-1
                       kdewebkit-git5.68.0.r218.gaa099f3-15.68.0.r219.g26ce948-1
                          kdnssd-git5.68.0.r246.g0721f1f-15.68.0.r247.g01b8601-1
                       kdoctools-git5.68.0.r524.gb05f529-15.68.0.r525.gec588d0-1
                      kemoticons-git5.68.0.r306.ge38b475-15.68.0.r308.g9d0bb72-1
                   kfilemetadata-git5.68.0.r679.gc2be962-15.68.0.r681.g2933831-1
                    kglobalaccel-git5.68.0.r345.g834a63a-15.68.0.r347.g063283f-1
                      kguiaddons-git5.68.0.r264.g9cdefdd-15.68.0.r265.g55e8c30-1
                       kholidays-git5.68.0.r841.gca0230e-15.68.0.r842.gaa6cfb7-1
                           khtml-git5.68.0.r484.g845800e-15.68.0.r486.gfb35a93-1
                           ki18n-git5.68.0.r380.ge309154-15.68.0.r382.ga79d327-1
                     kiconthemes-git5.68.0.r410.g617d782-15.68.0.r412.g8dae439-1
                       kidletime-git5.68.0.r236.g2dca767-15.68.0.r238.g3c42ff9-1
                   kimageformats-git5.57.0.r259.g5c66570-15.57.0.r260.g693bb34-1
                     kinfocenter-git5.18.80.r1633.g0ebbd9b-15.18.80.r1635.gc0be941-1
                           kinit-git5.68.0.r329.gb824f0f-15.68.0.r331.g5e9d583-1
                             kio-git5.68.0.r3776.gacc4f46a-15.68.0.r3777.g3fe6ccb6-1
                       kirigami2-git5.68.0.r2068.g3f55e649-15.68.0.r2071.gfc8c0fc8-1
                     kitemmodels-git5.68.0.r409.gf2ee1d5-15.68.0.r412.gbe32ab6-1
                      kitemviews-git5.68.0.r258.g25d31be-15.68.0.r259.g37bc425-1
                     kjobwidgets-git5.68.0.r282.g1b9e004-15.68.0.r284.gf6c22db-1
                             kjs-git5.68.0.r272.g295e924-15.68.0.r273.ga85bbb7-1
                        kjsembed-git5.68.0.r233.g9be4d20-15.68.0.r234.gcc6e269-1
                    kmediaplayer-git5.68.0.r227.g4a5fb71-15.68.0.r228.g8a21ac2-1
                      knetattach-git5.18.80.r7404.gf32f0f0c3-15.18.80.r7416.g41e9ac934-1
                       knewstuff-git5.68.0.r778.g68a26ad0-15.68.0.r781.g12b0dc5e-1
                  knotifications-git5.68.0.r503.gfd0bcf4-15.68.0.r505.g142c8fb-1
                   knotifyconfig-git5.68.0.r270.g0c40b2b-15.68.0.r271.gc689273-1
                        kpackage-git5.68.0.r563.g2616443-15.68.0.r565.gf6a575c-1
                          kparts-git5.68.0.r378.g41e5bb1-15.68.0.r379.g340bf3a-1
                         kpeople-git5.68.0.r1239.ge9b1d3a-15.68.0.r1241.g6bb201a-1
                       kplotting-git5.68.0.r223.g0c10bf1-15.68.0.r224.gcf68bc9-1
                            kpty-git5.68.0.r246.g502254a-15.68.0.r247.gfc3016a-1
                           kross-git5.68.0.r269.ge17c888-15.68.0.r270.gc4b0f63-1
                         krunner-git5.68.0.r406.gfe38be3-15.68.0.r408.ga57144f-1
                        kservice-git5.68.0.r736.g7ba125a-15.68.0.r737.ga4145fb-1
                     ktexteditor-git5.68.0.r2324.g0ace8fac-15.68.0.r2327.g0a08d45f-1
                    ktextwidgets-git5.68.0.r299.gc410c5e-15.68.0.r300.g22106c2-1
                 kunitconversion-git5.68.0.r293.g73ac267-15.68.0.r294.g5a8411c-1
                         kwallet-git5.68.0.r944.gdbc8db9-15.68.0.r946.g886540f-1
                        kwayland-git5.68.0.r978.g8525b95-15.68.0.r980.ga2d0920-1
                  kwidgetsaddons-git5.68.0.r628.gef206bb-15.68.0.r630.g2157e25-1
                            kwin-git5.18.80.r17713.g78c0095a5-15.18.80.r17738.g1b528c402-1
                   kwindowsystem-git5.68.0.r494.g9554f44-15.68.0.r496.gc284eac-1
                         kxmlgui-git5.68.0.r600.gae9fbd9-15.68.0.r602.gf7e594d-1
                   kxmlrpcclient-git5.68.0.r381.g6ad8ef811-15.68.0.r384.ga93e19bb5-1
                      libkscreen-git5.18.80.r1503.g8cd7ff9-15.18.80.r1504.g274d94e-1
               manjaro-arm-installer             1.2.12-1             1.2.13-1
                 modemmanager-qt-git5.68.0.r444.g76d92a6-15.68.0.r446.geaa6dd4-1
               networkmanager-qt-git5.68.0.r1030.g33e9a2a-15.68.0.r1032.ga8021e1-1
                    oxygen-icons-git5.68.0.r213.ge5f282d-15.68.0.r214.gce22df8-1
                oxygen-icons-svg-git5.68.0.r213.ge5f282d-15.68.0.r214.gce22df8-1
                  plasma-desktop-git5.18.80.r7404.gf32f0f0c3-15.18.80.r7416.g41e9ac934-1
                plasma-framework-git5.68.0.r15361.g9d27675c3-15.68.0.r15369.g1ed47e7c4-1
          plasma-wayland-session-git5.18.80.r8739.g531c647b9-15.18.80.r8743.g92839e403-1
                plasma-workspace-git5.18.80.r8739.g531c647b9-15.18.80.r8743.g92839e403-1
                          prison-git5.68.0.r236.g9c84a8b-15.68.0.r238.g3ba7133-1
                         purpose-git5.68.0.r736.g495adab-15.68.0.r738.g686d030-1
              qqc2-desktop-style-git5.68.0.r336.g6995b4a-15.68.0.r337.ga4ca3df-1
                         snapper-gui    0.1.r6.g960a948-2    0.1.r6.g960a948-3
                           solid-git5.68.0.r539.g49b728d-15.68.0.r541.g3aa4cc2-1
                          sonnet-git5.68.0.r513.g19cd6b1-15.68.0.r516.g816ec20-1
                     syndication-git5.68.0.r753.g21cc6ff-15.68.0.r755.gef6be6b-1
             syntax-highlighting-git5.68.0.r1070.g8069aab-15.68.0.r1074.g86e132a-1
                    threadweaver-git5.68.0.r429.g02cbff4-15.68.0.r430.gc59b57f-1


:: Different sync package(s) in repository community x86_64

-------------------------------------------------------------------------------
                             PACKAGE           2020-02-13           2020-02-14
-------------------------------------------------------------------------------
                                agda   2.6.0.1.20191219-9  2.6.0.1.20191219-11
                             arduino            1:1.8.9-3           1:1.8.12-1
                    arduino-avr-core             1.6.23-1              1.8.2-1
                     arduino-builder              1.4.4-2              1.5.1-3
                       cabal-install           3.0.0.0-19           3.0.0.0-21
                               cgrep            6.6.30-33            6.6.30-34
                                 cjs              4.2.0-1              4.4.0-1
                                code             1.41.1-1             1.42.0-1
                             cryptol             2.8.0-37             2.8.0-38
                               darcs           2.14.2-154           2.14.2-156
                               delve              1.3.2-1              1.4.0-1
                           git-annex         7.20200204-9        7.20200204-16
                          git-repair        1.20200102-11        1.20200102-13
                              gpxsee               7.18-1               7.22-1
                 haskell-adjunctions              4.4-122              4.4-123
                  haskell-aeson-diff           1.1.0.8-29           1.1.0.8-30
               haskell-asn1-encoding             0.9.6-15             0.9.6-16
                  haskell-asn1-parse             0.9.5-15             0.9.5-16
                  haskell-asn1-types             0.3.3-25             0.3.3-26
                haskell-authenticate             1.3.5-39             1.3.5-41
          haskell-authenticate-oauth           1.6.0.1-21           1.6.0.1-23
                         haskell-aws           0.21.1-161           0.21.1-163
              haskell-binary-conduit             1.3.1-87             1.3.1-88
                       haskell-■■■■■               0.51-6               0.51-8
            haskell-bsb-http-chunked           0.0.0.4-65           0.0.0.4-66
   haskell-bytestring-strict-builder           0.4.5.3-45           0.4.5.3-46
                 haskell-casa-client     0.0.0.20191219-8    0.0.0.20191219-11
                  haskell-casa-types     0.0.0.20191219-6     0.0.0.20191219-8
                  haskell-cheapskate            0.1.1.2-8           0.1.1.2-11
                    haskell-checkers             0.5.2-19             0.5.2-20
                  haskell-cipher-aes           0.2.11-112           0.2.11-113
               haskell-clash-prelude             1.0.1-15             1.0.1-16
              haskell-classy-prelude             1.5.0-14             1.5.0-15
               haskell-clientsession          0.9.1.2-130          0.9.1.2-131
                     haskell-concise          0.1.0.1-149          0.1.0.1-150
                     haskell-conduit           1.3.1.2-20           1.3.1.2-21
               haskell-conduit-extra             1.3.4-47             1.3.4-48
                  haskell-config-ini           0.2.4.0-75           0.2.4.0-76
                  haskell-connection             0.3.1-18             0.3.1-19
                   haskell-cprng-aes            0.6.1-118            0.6.1-119
                   haskell-criterion          1.5.5.0-123            1.5.6.0-1
         haskell-crypto-cipher-types            0.0.9-112            0.0.9-113
              haskell-crypto-numbers            0.2.7-117            0.2.7-118
               haskell-crypto-pubkey            0.2.8-136            0.2.8-137
         haskell-crypto-pubkey-types            0.4.3-121            0.4.3-122
               haskell-crypto-random            0.0.9-119            0.0.9-120
                  haskell-cryptohash           0.11.9-123           0.11.9-124
          haskell-cryptohash-conduit            0.1.1-337            0.1.1-338
        haskell-cryptohash-cryptoapi             0.1.4-77             0.1.4-78
                  haskell-cryptonite              0.26-27              0.26-28
          haskell-cryptonite-conduit            0.2.2-231            0.2.2-232
                         haskell-dav             1.3.4-18             1.3.4-20
                        haskell-dbus             1.2.7-78             1.2.7-79
              haskell-deferred-folds          0.9.10.1-52          0.9.10.1-53
                         haskell-dns            3.0.4-110            3.0.4-111
                     haskell-doctest             0.16.1-6             0.16.2-1
                        haskell-drbg             0.5.5-80             0.5.5-81
                      haskell-either           5.0.1.1-44           5.0.1.1-45
              haskell-email-validate          2.3.2.12-15          2.3.2.12-16
                   haskell-esqueleto              3.3.1-5            3.3.1.1-2
                 haskell-fast-logger             3.0.0-18              3.0.1-1
                  haskell-fdo-notify            0.3.1-238            0.3.1-239
                        haskell-feed           1.2.0.1-37           1.2.0.1-38
                       haskell-foldl             1.4.6-11             1.4.6-12
                  haskell-foundation            0.0.25-13            0.0.25-14
                        haskell-free             5.1.3-18             5.1.3-19
                       haskell-gauge             0.2.5-13             0.2.5-14
                haskell-generic-data           0.7.0.0-12           0.7.0.0-13
                haskell-generic-lens           1.2.0.1-12           1.2.0.1-13
                     haskell-githash           0.1.3.3-34           0.1.3.3-36
            haskell-hackage-security            0.6.0.0-9           0.6.0.0-11
             haskell-haddock-library             1.8.0-19             1.8.0-20
                      haskell-hakyll         4.12.5.2-169         4.12.5.2-172
                       haskell-hasql           1.4.0.1-20           1.4.0.1-21
                  haskell-hasql-pool             0.5.1-53             0.5.1-54
           haskell-hasql-transaction             0.7.2-49             0.7.2-50
                haskell-hjsonpointer             1.5.0-66             1.5.0-67
                 haskell-hledger-lib             1.16.1-4             1.16.1-5
                    haskell-hopenpgp             2.9.2-13             2.9.2-15
                        haskell-hosc              0.17-16              0.17-17
                       haskell-hpack            0.33.0-47            0.33.0-49
                    haskell-hslogger           1.3.1.0-14           1.3.1.0-15
                   haskell-hsopenssl         0.11.4.17-14         0.11.4.17-15
                   haskell-hspec-wai            0.9.2-102            0.9.2-104
              haskell-hspec-wai-json            0.9.2-116            0.9.2-118
                haskell-html-conduit           1.3.2.1-37           1.3.2.1-38
                        haskell-http         4000.3.14-92         4000.3.14-94
               haskell-http-api-data           0.4.1.1-16           0.4.1.1-17
                 haskell-http-client             0.6.4-45             0.6.4-47
             haskell-http-client-tls          0.3.5.3-161          0.3.5.3-163
                 haskell-http-common           0.8.2.0-75           0.8.2.0-76
                haskell-http-conduit           2.3.7.3-53           2.3.7.3-55
               haskell-http-download           0.1.0.1-30           0.1.0.1-32
                haskell-http-streams            0.8.7.1-2            0.8.7.1-4
                  haskell-http-types            0.12.3-42            0.12.3-43
                       haskell-http2             2.0.3-36             2.0.3-37
                  haskell-httpd-shed           0.4.1.1-27           0.4.1.1-29
                         haskell-hxt           9.3.1.18-4           9.3.1.18-6
          haskell-incremental-parser             0.3.3-24             0.3.3-25
   haskell-insert-ordered-containers              0.2.3-1              0.2.3-2
                  haskell-io-streams           1.5.1.0-44           1.5.1.0-45
          haskell-io-streams-haproxy           1.0.1.0-44           1.0.1.0-45
                     haskell-iproute             1.7.8-14             1.7.8-15
                       haskell-ipynb              0.1-111              0.1-112
                 haskell-ixset-typed           0.4.0.1-51           0.4.0.1-52
                        haskell-jose           0.8.2.0-21           0.8.2.0-23
                   haskell-js-jquery            3.3.1-336            3.3.1-338
              haskell-kan-extensions               5.2-92               5.2-93
                        haskell-keys             3.12.3-7             3.12.3-8
                        haskell-lens            4.18.1-10            4.18.1-11
                 haskell-lens-action             0.2.4-12             0.2.4-13
                  haskell-lens-aeson                1.1-1                1.1-2
                      haskell-libmpd            0.9.1.0-6            0.9.1.0-7
                     haskell-libyaml              0.1.2-4              0.1.2-5
                      haskell-memory             0.15.0-7             0.15.0-8
          haskell-microlens-platform              0.4.1-1              0.4.1-2
                haskell-microlens-th            0.4.3.2-4            0.4.3.4-1
                haskell-monad-logger            0.3.31-35            0.3.31-37
            haskell-mono-traversable          1.0.15.1-15          1.0.15.1-16
  haskell-mono-traversable-instances           0.1.0.0-14           0.1.0.0-15
                    haskell-mustache             2.3.1-20             2.3.1-22
          haskell-mutable-containers             0.3.4-13             0.3.4-14
                      haskell-nettle             0.3.0-61             0.3.0-62
                     haskell-network           2.8.0.1-11           2.8.0.1-12
                 haskell-network-bsd           2.8.0.0-33           2.8.0.0-34
          haskell-network-byte-order           0.1.1.1-13           0.1.1.1-14
           haskell-network-multicast             0.2.0-82             0.2.0-83
       haskell-network-protocol-xmpp            0.4.8-153            0.4.8-154
                 haskell-network-uri            2.6.2.0-1            2.6.2.0-3
             haskell-openssl-streams           1.2.2.0-46           1.2.2.0-47
             haskell-optparse-simple          0.1.1.2-111          0.1.1.2-113
                      haskell-pantry   0.2.0.0.20200204-8  0.2.0.0.20200204-12
                  haskell-pcre-heavy           1.0.0.2-78           1.0.0.2-79
                         haskell-pem             0.2.4-72             0.2.4-73
                  haskell-persistent             2.10.5-1             2.10.5-3
               haskell-persistent-qq           2.9.1.1-10           2.9.1.1-13
           haskell-persistent-sqlite          2.10.5.1-15          2.10.5.1-18
         haskell-persistent-template             2.7.3-44             2.7.3-46
             haskell-persistent-test           2.0.3.0-70           2.0.3.0-72
                haskell-pgp-wordlist           0.1.0.3-28           0.1.0.3-29
                  haskell-pipes-http             1.0.6-73             1.0.6-75
                     haskell-pointed            5.0.1-128            5.0.1-129
           haskell-postgresql-binary            0.12.2-11            0.12.2-12
               haskell-prettyprinter             1.3.0-27             1.3.0-28
 haskell-prettyprinter-ansi-terminal           1.1.1.2-73           1.1.1.2-74
haskell-prettyprinter-convert-ansi-wl-pprint       1.1-70               1.1-71
            haskell-project-template          0.2.0.1-201          0.2.0.1-202
                      haskell-rebase             1.4.1-23             1.4.1-24
                    haskell-reducers            3.12.3-81            3.12.3-82
                    haskell-rerebase             1.4.1-23             1.4.1-24
                 haskell-rio-orphans           0.1.1.0-64           0.1.1.0-66
                         haskell-rsa              2.4.1-8              2.4.1-9
                    haskell-safecopy            0.10.2-11            0.10.2-12
                       haskell-sandi               0.5-77               0.5-78
                         haskell-sbv               8.5-25               8.5-26
                   haskell-securemem            0.1.10-74            0.1.10-75
               haskell-semigroupoids             5.3.4-14             5.3.4-15
                     haskell-servant            0.16.2-31            0.16.2-33
              haskell-servant-server            0.16.2-83            0.16.2-86
             haskell-servant-swagger           1.1.7.1-57           1.1.7.1-59
                       haskell-shake             0.18.5-8            0.18.5-10
             haskell-simple-sendfile            0.2.30-30            0.2.30-31
                  haskell-singletons               2.6-14               2.6-15
                 haskell-skylighting            0.8.3.2-2            0.8.3.2-4
            haskell-skylighting-core            0.8.3.2-2            0.8.3.2-4
                   haskell-snap-core           1.0.4.1-15           1.0.4.1-17
                 haskell-snap-server          1.1.1.1-106          1.1.1.1-109
                       haskell-socks             0.6.1-14             0.6.1-15
                       haskell-store              0.7.2-4              0.7.2-5
           haskell-streaming-commons            0.2.1.2-8            0.2.1.2-9
                    haskell-swagger2           2.3.1.1-86           2.3.1.1-87
           haskell-tagstream-conduit          0.5.5.3-326          0.5.5.3-327
                 haskell-tar-conduit             0.3.2-48             0.3.2-49
                 haskell-tasty-rerun             1.1.16-1             1.1.17-1
                     haskell-texmath              0.12-14              0.12-16
                haskell-text-builder           0.6.6.1-13           0.6.6.1-14
                         haskell-tls              1.5.3-7              1.5.3-8
         haskell-tls-session-manager              0.0.4-8              0.0.4-9
                   haskell-tree-diff               0.1-51               0.1-52
                    haskell-trifecta               2.1-12               2.1-13
                      haskell-turtle            1.5.16-12            1.5.16-13
                 haskell-type-errors            0.2.0.0-9           0.2.0.0-10
                   haskell-unix-time             0.4.7-22             0.4.7-23
                  haskell-uri-encode           1.5.0.5-15           1.5.0.5-17
            haskell-vector-instances              3.4-162              3.4-163
                         haskell-vty              5.26-14              5.26-15
                         haskell-wai           3.2.2.1-27           3.2.2.1-28
              haskell-wai-app-static           3.1.7.1-13           3.1.7.1-16
                 haskell-wai-conduit          3.0.0.4-173          3.0.0.4-174
                    haskell-wai-cors             0.2.7-30             0.2.7-31
                   haskell-wai-extra            3.0.29-13            3.0.29-15
          haskell-wai-handler-launch          3.0.2.4-271          3.0.2.4-273
                  haskell-wai-logger             2.3.6-25             2.3.6-27
       haskell-wai-middleware-static             0.8.3-16             0.8.3-17
              haskell-wai-websockets          3.0.1.2-119          3.0.1.2-120
                        haskell-warp              3.3.8-9             3.3.8-11
                    haskell-warp-tls             3.2.11-3             3.2.11-5
                  haskell-websockets           0.12.7.0-9          0.12.7.0-10
            haskell-wl-pprint-extras          3.5.0.5-132          3.5.0.5-133
          haskell-wl-pprint-terminfo          3.7.1.4-132          3.7.1.4-133
                        haskell-wreq          0.5.3.2-121          0.5.3.2-123
                        haskell-x509             1.7.5-47             1.7.5-48
                  haskell-x509-store             1.6.7-46             1.6.7-47
                 haskell-x509-system            1.6.6-114            1.6.6-115
             haskell-x509-validation            1.6.11-46            1.6.11-47
                      haskell-xcffib             0.9.0-13             0.9.0-14
                 haskell-xml-conduit          1.8.0.1-119          1.8.0.1-120
                  haskell-xml-hamlet           0.5.0.1-43           0.5.0.1-44
                haskell-xss-sanitize             0.3.6-52             0.3.6-54
                        haskell-yaml          0.11.2.0-31          0.11.2.0-32
                       haskell-yesod            1.6.0-422            1.6.0.1-5
                  haskell-yesod-auth            1.6.8.1-7           1.6.8.1-12
                  haskell-yesod-core          1.6.17.1-16           1.6.17.2-1
               haskell-yesod-default            1.2.0-656            1.2.0-660
                  haskell-yesod-form             1.6.7-80             1.6.7-85
            haskell-yesod-persistent           1.6.0.4-25           1.6.0.4-30
                haskell-yesod-static          1.6.0.1-278          1.6.0.1-283
                  haskell-yesod-test             1.6.9-40             1.6.9-45
                            hasktags            0.71.2-58            0.71.2-59
                           hedgewars             1.0.0-30             1.0.0-31
                             hindent             5.3.1-48             5.3.1-49
                             hledger             1.16.1-4             1.16.1-5
                          hledger-ui             1.16.1-5             1.16.1-7
                         hledger-web             1.16.1-7            1.16.1-13
                               hlint              2.2.3-2              2.2.3-3
                              hoogle         5.0.17.11-72         5.0.17.11-75
                      hopenpgp-tools              0.23-37              0.23-39
                             httpbin              0.7.0-3              0.7.0-4
                               idris             1.3.2-56             1.3.2-60
                              kstars            1:3.3.9-1            1:3.4.0-1
                            lilypond            2.19.83-1            2.19.84-1
                              pandoc            2.9.1.1-3            2.9.1.1-5
                     pandoc-citeproc          0.16.4.1-37          0.16.4.1-39
                     pandoc-crossref            0.3.6.0-7            0.3.6.0-9
                         php-mongodb              1.7.1-1              1.7.2-1
                           postgrest             6.0.2-43             6.0.2-46
                          processing              3.5.3-3              3.5.4-1
                                proj              6.3.0-1              6.3.1-1
                 python-aioresponses              0.6.2-1              0.6.3-1
                       python-augeas              1.0.3-4              1.1.0-1
                    python-braintree             3.57.1-2             3.59.0-1
                     python-cfn-lint             0.27.4-1             0.27.5-1
                        python-cliff             2.18.0-1             2.18.0-3
                         python-cmd2             0.9.25-1             0.10.0-1
                    python-construct             2.9.49-1             2.9.50-1
                          python-ddt              1.2.2-1              1.2.2-2
                python-debtcollector              2.0.0-1              2.0.0-2
                  python-deprecation              2.0.7-1              2.0.7-2
                  python-elementpath              1.4.0-1              1.4.1-1
                      python-etesync              0.9.2-2              0.9.3-1
                     python-flasgger              0.9.4-1              0.9.4-2
                      python-hacking              2.0.0-1              2.0.0-2
                    python-httpretty              0.9.6-3              0.9.7-1
                     python-jmespath              0.9.4-3              0.9.4-4
                   python-jsonschema              3.2.0-1              3.2.0-2
                python-keystoneauth1             3.18.0-2             3.18.0-4
                         python-mox3              1.0.0-1              1.0.0-3
                      python-netaddr             0.7.19-4             0.7.19-5
                 python-openstacksdk             0.35.0-3             0.37.0-1
             python-os-client-config             1.33.0-1              2.0.0-1
             python-os-service-types              1.7.0-3              1.7.0-5
             python-oslo-concurrency              4.0.0-1              4.0.0-3
                  python-oslo-config             6.12.0-1              7.0.0-1
                 python-oslo-context              3.0.0-1              3.0.0-3
                      python-oslo-db              7.0.0-1              7.0.0-3
                    python-oslo-i18n             3.25.1-1             3.25.1-3
                     python-oslo-log              4.0.0-1              4.0.0-3
           python-oslo-serialization              3.0.0-1              3.0.0-3
                   python-oslo-utils              4.0.0-1              4.0.0-3
                   python-oslosphinx             4.18.0-4                    -
                     python-oslotest              3.9.0-1              3.9.0-2
                          python-pbr              5.4.4-1              5.4.4-2
                 python-phonenumbers             8.11.3-1             8.11.4-1
                  python-prettytable             0.7.2-11             0.7.2-12
                    python-pyinotify              0.9.6-6              0.9.6-7
               python-pytest-httpbin              1.0.0-3              1.0.0-4
                python-requests-mock              1.7.0-3              1.7.0-4
            python-requests-oauthlib              1.3.0-1              1.3.0-2
           python-requestsexceptions              1.4.0-4              1.4.0-5
                      python-rfc3986              1.3.2-3              1.3.2-4
                      python-rfc3987              1.3.8-3              1.3.8-4
                  python-ruamel-yaml             0.16.7-1            0.16.10-2
             python-semantic-version              2.6.0-4              2.8.2-1
           python-sqlalchemy-migrate             0.13.0-3             0.13.0-4
                     python-sqlparse              0.3.0-3              0.3.0-4
                  python-statsmodels             0.10.2-1             0.11.0-1
                       python-stestr              2.6.0-1              2.6.0-2
                    python-stevedore             1.31.0-3             1.31.0-4
               python-strict-rfc3339                0.7-4                0.7-5
                  python-subunit2sql             1.10.0-3             1.10.0-6
               python-testrepository             0.0.20-5             0.0.20-6
                python-testresources              2.0.1-5              2.0.1-6
                          python-tox             3.14.3-1             3.14.4-1
                         python-tqdm             4.32.0-1             4.35.0-1
                   python-voluptuous             0.11.7-3             0.11.7-4
                    python-webcolors               1.10-3               1.10-4
                        python-wheel             0.34.2-1             0.34.2-2
                         python-zipp              2.0.0-1              2.2.0-2
                       python2-cliff             2.18.0-1                    -
                         python2-ddt              1.2.2-1                    -
               python2-debtcollector              2.0.0-1              2.0.0-2
                 python2-deprecation              2.0.7-1                    -
                    python2-flasgger              0.9.4-1                    -
                     python2-hacking              2.0.0-1              2.0.0-2
                     python2-httpbin              0.7.0-3                    -
                   python2-httpretty              0.9.6-3              0.9.7-1
                    python2-jmespath              0.9.4-3                    -
                  python2-jsonschema              3.2.0-1                    -
               python2-keystoneauth1             3.18.0-2                    -
                        python2-mox3              1.0.0-1                    -
                     python2-netaddr             0.7.19-4                    -
                python2-openstacksdk             0.35.0-3                    -
            python2-os-client-config             1.33.0-1                    -
            python2-os-service-types              1.7.0-3                    -
            python2-oslo-concurrency              4.0.0-1                    -
                 python2-oslo-config             6.12.0-1                    -
                python2-oslo-context              3.0.0-1                    -
                     python2-oslo-db              7.0.0-1                    -
                   python2-oslo-i18n             3.25.1-1                    -
                    python2-oslo-log              4.0.0-1                    -
          python2-oslo-serialization              3.0.0-1                    -
                  python2-oslo-utils              4.0.0-1                    -
                  python2-oslosphinx             4.18.0-4                    -
                    python2-oslotest              3.9.0-1                    -
                         python2-pbr              5.4.4-1              5.4.4-2
                 python2-prettytable             0.7.2-11                    -
                   python2-pyinotify              0.9.6-6                    -
              python2-pytest-httpbin              1.0.0-3                    -
               python2-requests-mock              1.7.0-3                    -
           python2-requests-oauthlib              1.3.0-1                    -
          python2-requestsexceptions              1.4.0-4                    -
                     python2-rfc3986              1.3.2-3                    -
                     python2-rfc3987              1.3.8-3                    -
          python2-sqlalchemy-migrate             0.13.0-3                    -
                    python2-sqlparse              0.3.0-3                    -
                      python2-stestr              2.6.0-1                    -
                   python2-stevedore             1.31.0-3                    -
              python2-strict-rfc3339                0.7-4                    -
                 python2-subunit2sql             1.10.0-3                    -
                     python2-tempita   0.5.3dev20170202-4                    -
              python2-testrepository             0.0.20-5                    -
               python2-testresources              2.0.1-5                    -
                         python2-tox             3.14.3-1             3.14.4-1
                  python2-voluptuous             0.11.7-3                    -
                   python2-webcolors               1.10-3                    -
                       python2-wheel             0.34.2-1             0.34.2-2
                        python2-zipp              2.0.0-1            1:1.1.0-1
                                qcad           3.24.2.4-1           3.24.2.6-1
                                qgis             3.10.1-1             3.10.2-1
                                repo             1.13.8-2                2.3-1
                           s3fs-fuse               1.85-1               1.86-1
                          shellcheck            0.7.0-115            0.7.0-117
                         simple-scan             3.34.2-1             3.34.4-1
                          spectmorph              0.5.0-2              0.5.1-1
                               stack    2.1.3.20200209-11    2.1.3.20200209-15
                      tamarin-prover            1.4.1-241            1.4.1-246
                             taskell            1.9.2.0-8           1.9.2.0-11
                         tidalcycles              1.4.8-6              1.4.8-7
         v2ray-domain-list-community       202002121505-1       202002131220-1
                              xmobar              0.32-26              0.32-28
             python-ruamel.yaml.clib                    -              0.2.0-1
                            smartdns                    -                 28-1


:: Different overlay package(s) in repository core x86_64

-------------------------------------------------------------------------------
                             PACKAGE           2020-02-13           2020-02-14
-------------------------------------------------------------------------------
                     manjaro-release             18.1.5-1             19.0.0-1


:: Different sync package(s) in repository core x86_64

-------------------------------------------------------------------------------
                             PACKAGE           2020-02-13           2020-02-14
-------------------------------------------------------------------------------
                                 gmp              6.1.2-3              6.2.0-1
                          libarchive              3.4.1-1              3.4.2-1
                              libcap               2.30-1               2.31-1
                             libldap             2.4.48-2             2.4.49-1
                            openldap             2.4.48-2             2.4.49-1


:: Different overlay package(s) in repository extra x86_64

-------------------------------------------------------------------------------
                             PACKAGE           2020-02-13           2020-02-14
-------------------------------------------------------------------------------
               calamares-git 3.2.19.r7104.f0ab3a46d-1 3.2.19.r7128.039940a13-1
                   manjaro-arm-tools              2.7.3-1              2.8.0-1
                              polkit            0.116-1.1            0.116-4.1
                               snapd             2.43.3-1             2.43.3-2


:: Different sync package(s) in repository extra x86_64

-------------------------------------------------------------------------------
                             PACKAGE           2020-02-13           2020-02-14
-------------------------------------------------------------------------------
                          accerciser             3.34.3-1             3.34.4-1
                            chromium      80.0.3987.100-1      80.0.3987.106-1
                             flatpak              1.6.1-1              1.6.2-1
                                 gjs           2:1.58.4-1           2:1.58.4-2
                gnome-control-center             3.34.2-1             3.34.4-1
                                js52             52.9.0-3             52.9.0-4
                                js60             60.9.0-1             60.9.0-2
                    noto-fonts-emoji           20191016-1           20191016-3
                              polkit              0.116-3              0.116-4
                         python-cffi             1.13.2-2             1.14.0-1
                    python-packaging               20.0-1               20.1-1
                     python-requests             2.22.0-3             2.22.0-4
                   python-setuptools           1:44.0.0-1           1:45.2.0-1
                        python2-cffi             1.13.2-2             1.14.0-1
                   python2-packaging               20.0-1               20.1-1
                    python2-requests             2.22.0-3             2.22.0-4
                  python2-setuptools           1:44.0.0-1           2:44.0.0-1
                         thunderbird             68.4.2-1             68.5.0-1
                                js68                    -             68.5.0-2


:: Different sync package(s) in repository multilib x86_64

-------------------------------------------------------------------------------
                             PACKAGE           2020-02-13           2020-02-14
-------------------------------------------------------------------------------
                          lib32-zstd              1.4.4-1              1.4.4-2


No issue, everything went smoothly
Yes there was an issue. I was able to resolve it myself.(Please post your solution)
Yes i am currently experiencing an issue due to the update. (Please post about it)
Check if your mirror has already synced: