Hello community,
here is another Testing Update.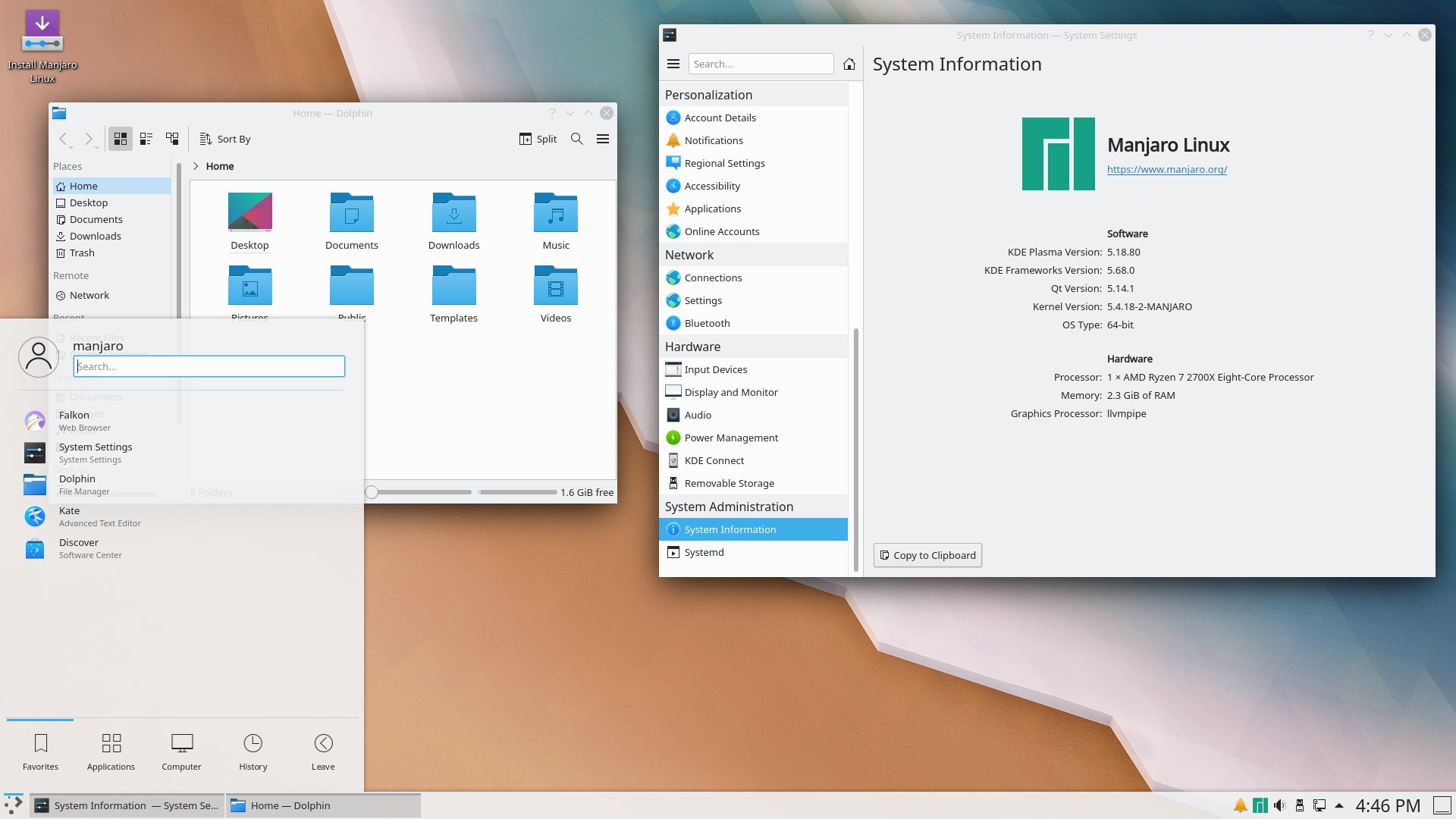 manjaro-kde-dev got updated with latest master packages
Some feature-updates:
We updated our RT-Kernel to 5.4.17_rt9 and added linux56 series
linux53 is now depreciated. Users will automatically update to linux54
Some more KDE-Git packages
KDE-Frameworks got updated to 5.67.0
Firefox is now at 73.0
Systemd is now at 244.2. Please test and report any regressions
If you like following latest Plasma development you may also like to check out our current version of manjaro-kde-dev, which we build on a regular basis against kde-git master packages. Also check out our current 19.0-pre4 ISOs and give us the needed feedback. You might also want to give our latest spin with NX-Desktop a try ...
As always we appreciate your input and feedback for the updates.
---
Upstream notice
Arch updated their default compression to zstd. We adopted to the same standard. More and more packages will have the zst extension from now on. If you get for what ever reason an error with ZSTD not supported as archive format you can do this:
wget https://pkgbuild.com/~eschwartz/repo/x86_64-extracted/pacman-static
chmod +x pacman-static
sudo ./pacman-static -Syyu

---
Our current supported kernels
linux316 3.16.81
linux44 4.4.213
linux49 4.9.213
linux414 4.14.170
linux419 4.19.102
linux54 5.4.18
linux55 5.5.2
linux56 5.6-rc1
linux419-rt 4.19.94_rt39
linux54-rt 5.4.17_rt9
Package Changes (Tue Feb 11 08:52:02 CET 2020)
testing community x86_64: 333 new and 330 removed package(s)
testing core x86_64: 16 new and 16 removed package(s)
testing extra x86_64: 226 new and 238 removed package(s)
testing multilib x86_64: 9 new and 9 removed package(s)
:: Different overlay package(s) in repository community x86_64

-------------------------------------------------------------------------------
                             PACKAGE           2020-02-07           2020-02-11
-------------------------------------------------------------------------------
                          attica-git5.67.0.r739.g5f799b9-15.68.0.r740.gbdca267-1
                           baloo-git5.67.0.r2688.gb0c68d67-15.68.0.r2690.g17b13fa5-1
                        bluez-qt-git5.67.0.r579.gc4fd104-15.68.0.r581.g951a31d-1
                          breeze-git5.18.80.r1960.g02c3c53f-15.18.80.r1963.g1770ac99-1
                    breeze-icons-git5.67.0.r1461.gdc8c5e4d-15.68.0.r1466.gb894f1da-1
                               cpu-x3.2.4.r180.g18c5027-13.2.4.r181.gd4d3237-1
                        discover-git5.18.80.r7573.gea0a8ac9-15.18.80.r7587.g41eefd8c-1
                         edid-decode       r388.b27dc54-1       r401.1932cfe-1
             extra-cmake-modules-git5.67.0.r3130.gee05317-15.68.0.r3135.gda4c810-1
            frameworkintegration-git5.67.0.r503.gfb623ca-15.68.0.r505.g70c2f0d-1
      gnome-shell-extension-arc-menu           40.8+dev-141+Stable+6+ged28ec8-1
gnome-shell-extension-desktop-icons-ng              0.8.0-2              0.9.1-1
                     kactivities-git5.67.0.r1269.g20014f7d-15.68.0.r1271.gdf52a19f-1
               kactivities-stats-git5.67.0.r266.g06f6f63-15.68.0.r268.gc55f145-1
               kactivitymanagerd-git5.15.80.r1256.g06c613c-15.15.80.r1259.gd032d81-1
                         kapidox-git5.67.0.r451.gc4a632a-15.68.0.r452.g3f2cc2f-1
                        karchive-git5.67.0.r406.ga7cfd80-15.68.0.r408.g7ba2324-1
                           kauth-git5.67.0.r335.gafbfd5d-15.68.0.r340.g4d241b3-1
                      kbookmarks-git5.67.0.r313.ge482bf5-15.68.0.r315.g03bc359-1
                        kcmutils-git5.67.0.r367.gc2697ba-15.68.0.r369.g11f1b40-1
                         kcodecs-git5.67.0.r293.g793eeb9-15.68.0.r294.g489fcfe-1
                     kcompletion-git5.67.0.r347.ga8c4e2d-15.68.0.r349.gdde7c78-1
                         kconfig-git5.67.0.r656.gd467392-15.68.0.r658.g974a677-1
                  kconfigwidgets-git5.67.0.r440.gdb85985-15.68.0.r443.g13e3182-1
                     kcoreaddons-git5.67.0.r943.gee3eaa8-15.68.0.r946.gfcb1eff-1
                          kcrash-git5.67.0.r286.ga267317-15.68.0.r288.g06c3968-1
                     kdbusaddons-git5.67.0.r292.gce0111a-15.68.0.r294.g02ec5e8-1
                    kdeclarative-git5.67.0.r746.gcacff0a-15.68.0.r749.g9127da0-1
                            kded-git5.67.0.r295.ga128711-15.68.0.r297.g6c48c0b-1
                 kdelibs4support-git5.67.0.r920.gb2287b64-15.68.0.r921.ge3711d1a-1
                kdeplasma-addons-git5.18.80.r8278.g19ee2d7a5-15.18.80.r8284.g30a5ea828-1
                 kdesignerplugin-git5.67.0.r266.g4b62026-15.68.0.r268.g401c438-1
                           kdesu-git5.67.0.r384.g0023641-15.68.0.r386.g0739d30-1
                       kdewebkit-git5.67.0.r217.g71cfa41-15.68.0.r218.gaa099f3-1
                          kdnssd-git5.67.0.r245.g28bcf26-15.68.0.r246.g0721f1f-1
                       kdoctools-git5.67.0.r522.g8dd0d2c-15.68.0.r524.gb05f529-1
                      kemoticons-git5.67.0.r304.g1740d54-15.68.0.r306.ge38b475-1
                   kfilemetadata-git5.67.0.r677.g33195ad-15.68.0.r679.gc2be962-1
                    kglobalaccel-git5.67.0.r343.gcad76e5-15.68.0.r345.g834a63a-1
                      kguiaddons-git5.67.0.r260.g61e37fd-15.68.0.r264.g9cdefdd-1
                       kholidays-git5.67.0.r839.g5cb0aca-15.68.0.r841.gca0230e-1
                           khtml-git5.67.0.r483.g4ab69fe-15.68.0.r484.g845800e-1
                           ki18n-git5.67.0.r379.g7cf2d02-15.68.0.r380.ge309154-1
                     kiconthemes-git5.67.0.r408.ge343bc8-15.68.0.r410.g617d782-1
                       kidletime-git5.67.0.r235.g11f5cd0-15.68.0.r236.g2dca767-1
                   kimageformats-git5.57.0.r258.gcba2328-15.57.0.r259.g5c66570-1
                     kinfocenter-git5.18.80.r1624.g99c7273-15.18.80.r1633.g0ebbd9b-1
                           kinit-git5.67.0.r327.g791fdec-15.68.0.r329.gb824f0f-1
                             kio-git5.67.0.r3769.g8f3e8be3-15.68.0.r3776.gacc4f46a-1
                       kirigami2-git5.67.0.r2060.g4b93444e-15.68.0.r2068.g3f55e649-1
                     kitemmodels-git5.67.0.r406.g4cea801-15.68.0.r409.gf2ee1d5-1
                      kitemviews-git5.67.0.r257.g1047d21-15.68.0.r258.g25d31be-1
                     kjobwidgets-git5.67.0.r280.gc5bbb32-15.68.0.r282.g1b9e004-1
                             kjs-git5.67.0.r271.ga3442ad-15.68.0.r272.g295e924-1
                        kjsembed-git5.67.0.r231.g099e626-15.68.0.r233.g9be4d20-1
                    kmediaplayer-git5.67.0.r225.ge1f9ca8-15.68.0.r227.g4a5fb71-1
                      knetattach-git5.18.80.r7380.g5bb3ebc94-15.18.80.r7404.gf32f0f0c3-1
                       knewstuff-git5.67.0.r773.g6ed4be8-15.68.0.r778.g68a26ad0-1
                  knotifications-git5.67.0.r500.g426f5d6-15.68.0.r503.gfd0bcf4-1
                   knotifyconfig-git5.67.0.r268.g8430353-15.68.0.r270.g0c40b2b-1
                        kpackage-git5.67.0.r561.g0c6a611-15.68.0.r563.g2616443-1
                          kparts-git5.67.0.r376.gaa89766-15.68.0.r378.g41e5bb1-1
                         kpeople-git5.67.0.r1236.g9af84c5-15.68.0.r1239.ge9b1d3a-1
                       kplotting-git5.67.0.r221.gad01e9f-15.68.0.r223.g0c10bf1-1
                            kpty-git5.67.0.r244.gd736995-15.68.0.r246.g502254a-1
                           kross-git5.67.0.r268.g70c15bb-15.68.0.r269.ge17c888-1
                         krunner-git5.67.0.r403.g3d182e3-15.68.0.r406.gfe38be3-1
                        kservice-git5.67.0.r733.g18c5a9e-15.68.0.r736.g7ba125a-1
                     ksshaskpass-git5.18.80.r150.ge191464-15.18.80.r151.gbc5badb-1
                       ksysguard-git5.18.80.r3211.g89637fcb-15.18.80.r3212.g3d27f5d9-1
                     ktexteditor-git5.67.0.r2319.g4bfb136f-15.68.0.r2324.g0ace8fac-1
                    ktextwidgets-git5.67.0.r297.gf9d5408-15.68.0.r299.gc410c5e-1
                 kunitconversion-git5.67.0.r291.gbeaeee4-15.68.0.r293.g73ac267-1
                         kwallet-git5.67.0.r942.ge22bc1b-15.68.0.r944.gdbc8db9-1
                        kwayland-git5.67.0.r976.gf1754ba-15.68.0.r978.g8525b95-1
                  kwidgetsaddons-git5.67.0.r627.g7bb6ee8-15.68.0.r628.gef206bb-1
                            kwin-git5.18.80.r17701.gbdd20f61e-15.18.80.r17713.g78c0095a5-1
                   kwindowsystem-git5.67.0.r493.gde05b09-15.68.0.r494.g9554f44-1
                         kxmlgui-git5.67.0.r598.g5eae4d9-15.68.0.r600.gae9fbd9-1
                   kxmlrpcclient-git5.67.0.r379.g5aa6e5651-15.68.0.r381.g6ad8ef811-1
                        linux-latest                5.4-1                5.4-4
              linux-latest-acpi_call                5.4-1                5.4-4
               linux-latest-bbswitch                5.4-1                5.4-4
            linux-latest-broadcom-wl                5.4-1                5.4-4
                linux-latest-headers                5.4-1                5.4-4
            linux-latest-ndiswrapper                5.4-1                5.4-4
           linux-latest-nvidia-340xx                5.4-1                5.4-4
           linux-latest-nvidia-390xx                5.4-1                5.4-4
           linux-latest-nvidia-418xx                5.4-1                5.4-4
           linux-latest-nvidia-430xx                5.4-1                5.4-4
           linux-latest-nvidia-435xx                5.4-1                5.4-4
           linux-latest-nvidia-440xx                5.4-1                5.4-4
               linux-latest-nvidiabl                5.4-1                5.4-4
                  linux-latest-r8168                5.4-1                5.4-4
              linux-latest-rt3562sta                5.4-1                5.4-4
              linux-latest-rtl8723bu                5.4-1                5.4-4
               linux-latest-tp_smapi                5.4-1                5.4-4
            linux-latest-vhba-module                5.4-1                5.4-4
linux-latest-virtualbox-guest-modules               5.4-1                5.4-4
linux-latest-virtualbox-host-modules                5.4-1                5.4-4
                    linux-latest-zfs                5.4-1                5.4-4
                          linux54-rt         5.4.13_rt7-1         5.4.17_rt9-1
                linux54-rt-acpi_call              1.1.0-4              1.1.0-5
                 linux54-rt-bbswitch                0.8-4                0.8-5
              linux54-rt-broadcom-wl       6.30.223.271-4       6.30.223.271-5
                  linux54-rt-headers         5.4.13_rt7-1         5.4.17_rt9-1
             linux54-rt-nvidia-340xx            340.108-3            340.108-4
             linux54-rt-nvidia-390xx            390.132-4            390.132-5
             linux54-rt-nvidia-418xx            418.113-4            418.113-5
             linux54-rt-nvidia-430xx             430.64-4             430.64-5
             linux54-rt-nvidia-435xx             435.21-3             435.21-4
             linux54-rt-nvidia-440xx             440.59-1             440.59-2
                 linux54-rt-nvidiabl               0.88-4               0.88-5
                    linux54-rt-r8168           8.048.00-1           8.048.00-2
                linux54-rt-rtl8723bu           20200126-1           20200126-2
                 linux54-rt-tp_smapi               0.43-4               0.43-5
              linux54-rt-vhba-module           20200106-1           20200106-2
 linux54-rt-virtualbox-guest-modules              6.1.2-2              6.1.2-3
  linux54-rt-virtualbox-host-modules              6.1.2-2              6.1.2-3
                 modemmanager-qt-git5.67.0.r443.g0234502-15.68.0.r444.g76d92a6-1
               networkmanager-qt-git5.67.0.r1029.g256cae5-15.68.0.r1030.g33e9a2a-1
                          oxygen-git5.18.80.r4359.g120fb3e0-15.18.80.r4360.g1c3884a7-1
                    oxygen-icons-git5.67.0.r212.g6b09ee0-15.68.0.r213.ge5f282d-1
                oxygen-icons-svg-git5.67.0.r212.g6b09ee0-15.68.0.r213.ge5f282d-1
                  plasma-desktop-git5.18.80.r7380.g5bb3ebc94-15.18.80.r7404.gf32f0f0c3-1
                plasma-framework-git5.67.0.r15353.gdccf6c4dd-15.68.0.r15361.g9d27675c3-1
                       plasma-nm-git5.18.80.r2760.gc5fcde97-15.18.80.r2763.g8c3300ad-1
                       plasma-pa-git5.18.80.r794.gbd7c146-15.18.80.r797.gd7ad97b-1
                      plasma-sdk-git5.18.80.r2148.gab316a3-15.18.80.r2152.g6b9aad7-1
                    plasma-vault-git5.18.80.r245.gda1d7ad-15.18.80.r248.g545f5e4-1
          plasma-wayland-session-git5.18.80.r8717.g3880695e6-15.18.80.r8739.g531c647b9-1
                plasma-workspace-git5.18.80.r8717.g3880695e6-15.18.80.r8739.g531c647b9-1
                      powerdevil-git5.18.80.r2251.gf8181035-15.18.80.r2257.g436714ec-1
                          prison-git5.67.0.r234.gee565b6-15.68.0.r236.g9c84a8b-1
                         purpose-git5.67.0.r733.g839fd4d-15.68.0.r736.g495adab-1
              qqc2-desktop-style-git5.67.0.r333.g1626d01-15.68.0.r336.g6995b4a-1
                        sddm-kcm-git5.18.80.r507.g6ea4d48-15.18.80.r511.g83c7fca-1
                           solid-git5.67.0.r538.g113f759-15.68.0.r539.g49b728d-1
                          sonnet-git5.67.0.r510.g266c8f7-15.68.0.r513.g19cd6b1-1
                     syndication-git5.67.0.r751.gdb087e1-15.68.0.r753.g21cc6ff-1
             syntax-highlighting-git5.67.0.r1066.g295a1ed-15.68.0.r1070.g8069aab-1
                  systemsettings-git5.18.80.r2188.g21b4de9c-15.18.80.r2191.ga1d44475-1
                    threadweaver-git5.67.0.r428.g8866145-15.68.0.r429.g02cbff4-1
                           timeshift19.08.1.r43.ge4139e6-119.08.1.r53.g8e51d05-1
                                 tlp            1.2.2-1.1              1.3.1-1
                             tlp-rdw            1.2.2-1.1              1.3.1-1
                    user-manager-git5.18.80.r478.g2739b8d-15.18.80.r479.g80ac93f-1
           gnome-layout-switcher-dev                    -              0.6.6-2
               linux-latest-catalyst                    -                5.4-4
                            minikube                    -              1.7.2-0


:: Different sync package(s) in repository community x86_64

-------------------------------------------------------------------------------
                             PACKAGE           2020-02-07           2020-02-11
-------------------------------------------------------------------------------
                             acme.sh              2.8.4-1              2.8.5-1
                           afl-utils              1.34a-2              1.34a-3
                                alot              0.8.1-2                0.9-1
                                atom             1.43.0-1             1.44.0-1
                            audacity            1:2.3.3-1            1:2.3.3-2
                          babeltrace              1.5.7-1              1.5.8-1
                               bazel              2.0.0-1              2.1.0-1
                               broot             0.13.0-1             0.13.1-1
                             buildah             1.13.2-1             1.14.0-1
                      bzr-fastimport        0.14.0.r361-2                    -
                               cacti              1.2.8-1              1.2.9-1
                             calibre              4.9.1-1             4.10.1-1
                      calibre-common              4.9.1-1             4.10.1-1
                     calibre-python3              4.9.1-1             4.10.1-1
                             caprine             2.43.0-1             2.44.0-1
                              choqok              1.7.0-1              1.7.0-2
                          containerd              1.3.2-1              1.3.3-1
                                crun               0.12-1             0.12.1-1
               elementary-icon-theme              5.1.0-1              5.2.0-1
                           exploitdb           20200117-1           20200208-1
                              faudio              20.01-1              20.02-1
                               faust             2.20.2-2             2.20.2-3
                           findomain              1.3.0-1              1.4.0-1
                                 fio               3.17-1               3.18-1
                            flyspray             1.0rc9-1             1.0rc9-2
                          freeradius             3.0.20-3             3.0.20-4
                              gifski              0.9.1-1             0.10.1-1
                    gimp-plugin-gmic              2.8.3-1              2.8.4-1
                           git-annex         7.20191230-7         7.20200204-1
                                gmic              2.8.3-1              2.8.4-1
                                gost              2.9.2-1             2.10.1-1
                                grpc             1.27.0-2             1.27.1-1
                            grpc-cli             1.27.0-2             1.27.1-1
                          gwenhywfar              5.1.2-1              5.1.3-1
                         hcxdumptool              6.0.0-1              6.0.1-1
                                 hey              0.1.2-2              0.1.3-1
                            homebank              5.3.1-1              5.3.2-1
                                hugo             0.64.0-1             0.64.1-1
                            influxdb              1.7.9-1             1.7.10-1
               intel-compute-runtime        20.04.15428-1        20.05.15524-1
                                 iwd                1.4-1                1.5-1
                                juce              5.4.6-1              5.4.7-1
                                kbfs              5.1.1-1              5.2.0-1
                             keybase              5.1.1-1              5.2.0-1
                         keybase-gui              5.1.1-1              5.2.0-1
                            keycloak              8.0.1-3              8.0.2-1
                                khal             0.10.1-2             0.10.1-3
        kodi-addon-audioencoder-flac            1:2.0.5-1            1:2.0.6-1
        kodi-addon-audioencoder-lame            1:2.0.3-2            1:2.0.4-1
      kodi-addon-audioencoder-vorbis            1:2.0.3-2            1:2.0.4-1
         kodi-addon-audioencoder-wav            1:2.0.2-2            1:2.0.3-1
         kodi-addon-inputstream-rtmp              2.0.8-1              2.0.9-1
                             kpmcore              4.0.1-1              4.1.0-1
                   krita-plugin-gmic              2.8.3-1              2.8.4-1
                                 ksh           2020.0.0-1           2020.0.0-2
                             libindi              1.8.3-1              1.8.4-1
                       libmicrohttpd             0.9.69-1             0.9.70-1
                        libquicktime             1.2.4-21             1.2.4-22
                           libratbag               0.12-1               0.13-1
                 libretro-beetle-psx               2228-1               2240-1
              libretro-beetle-psx-hw               2228-1               2240-1
                   libretro-bsnes-hd                 21-1                 22-1
                    libretro-flycast               4039-1               4065-1
                   libretro-gambatte                819-1                825-1
            libretro-genesis-plus-gx               1559-1               1576-1
                       libretro-mgba               6624-1               6674-1
           libretro-mupen64plus-next              1:192-1              1:194-1
               libretro-parallel-n64               5121-1               5126-1
                     libretro-ppsspp              26442-1              26463-1
              libretro-shaders-slang                701-1                704-1
                       libsemigroups              1.0.5-1              1.0.6-1
                        light-locker              1.8.0-3              1.9.0-1
                            lollypop             1.2.20-1             1.2.21-1
                         lsp-plugins             1.1.13-1             1.1.13-2
                           lttng-ust             2.11.0-2             2.11.0-3
                            luarocks              3.3.0-1              3.3.1-1
                             mathjax              3.0.0-1              3.0.1-1
                          metasploit             5.0.70-1             5.0.73-1
                            minikube              1.6.2-1              1.7.2-1
                      mongo-c-driver             1.16.0-1             1.16.1-1
                           moony.lv2             0.30.0-1             0.30.0-2
                           musescore              3.4.1-1              3.4.2-1
                                ncdu             1.14.1-1             1.14.2-1
                             neomutt           20191207-1           20191207-3
                  nextcloud-app-news             14.1.2-1             14.1.3-1
                 nextcloud-app-notes              3.1.2-1              3.1.4-1
                nextcloud-app-spreed            1:8.0.1-1            1:8.0.3-1
                              nikola              8.0.3-1              8.0.4-1
                                 nim              1.0.4-1              1.0.6-1
                              nodejs             13.7.0-1             13.8.0-1
                         nodejs-less             3.10.3-2             3.11.0-1
                    otf-font-awesome             5.12.0-1             5.12.1-1
                            pageedit              1.1.0-1              1.1.1-1
                         par2cmdline              0.8.0-2              0.8.1-1
                    partitionmanager              4.0.0-1              4.1.0-1
                         pdfarranger              1.4.0-1              1.4.1-1
         perl-alien-base-modulebuild               1.10-1               1.11-1
                    perl-ppix-regexp              0.068-1              0.069-1
          perl-shell-config-generate               0.33-2               0.34-1
                            pgadmin4               4.17-1               4.18-1
                            php-grpc             1.27.0-2             1.27.1-1
                               piper                0.3-2                0.4-1
                           plowshare              2.1.7-3              2.1.7-4
                              podman              1.7.0-1              1.8.0-1
                       podman-docker              1.7.0-1              1.8.0-1
                        postfixadmin              3.2.3-1              3.2.3-2
                           profanity            1:0.7.1-1            1:0.8.1-1
                       profanity-gtk            1:0.7.1-1            1:0.8.1-1
                              puppet             6.12.0-1             6.12.0-2
                           py3status               3.24-1               3.25-1
                    pyopencl-headers         1:2019.1.2-2         1:2019.1.2-3
                      python-alembic              1.3.2-1              1.3.3-1
                  python-argcomplete             1.10.0-3             1.11.1-1
                     python-autobahn             20.1.3-1             20.2.1-1
                     python-cfn-lint             0.27.3-1             0.27.4-1
                   python-diff-cover              2.5.2-2              2.6.0-1
            python-django-extensions              2.2.6-1              2.2.7-1
                        python-gdspy                1.5-2              1.5.1-1
                        python-gmpy2            2.1.0b3-1            2.1.0b4-1
                       python-grpcio             1.27.0-2             1.27.1-1
                       python-hidapi            0.9.0.1-1            0.9.0.2-1
                       python-igraph        0.7.1.post6-6              0.8.0-1
                        python-json5              0.9.0-1              0.9.1-1
                    python-jsonpatch               1.24-3               1.25-1
              python-language-server             0.31.7-1             0.31.8-1
                     python-lttngust             2.11.0-2             2.11.0-3
                         python-mox3             0.28.0-3              1.0.0-1
                      python-mutagen             1.43.0-1             1.44.0-1
             python-nose-progressive              1.5.2-2              1.5.2-3
                      python-osc-lib             1.15.0-1              2.0.0-1
                       python-pandas              1.0.0-1              1.0.1-1
                      python-pikepdf             1.10.0-1             1.10.1-1
                 python-pycryptodome              3.9.4-1              3.9.5-1
                     python-pyopencl         1:2019.1.2-2         1:2019.1.2-3
                 python-pytest-black              0.3.7-3              0.3.8-1
                python-pytest-pylint    0.14.1.20191107-1             0.15.0-1
                        python-quart             0.10.0-3             0.11.1-1
                   python-quart-cors              0.2.0-2              0.3.0-1
                         python-sane              2.8.3-3              2.8.3-4
               python-setuptools-scm              3.3.3-3              3.4.0-1
                       python-sphinx              2.2.1-2              2.4.0-1
                        python-tblib              1.5.0-1              1.6.0-1
                      python-tempora              2.1.0-1              2.1.1-1
                         python-tqdm             4.28.1-4             4.30.0-1
                     python-watchdog             0.10.1-1             0.10.2-1
                     python-werkzeug             0.16.1-1              1.0.0-1
                     python2-alembic              1.3.2-1              1.3.3-1
             python2-distutils-extra               2.39-5                    -
                  python2-fastimport              0.9.8-1                    -
                   python2-jsonpatch               1.24-3               1.25-1
                        python2-mox3             0.28.0-3              1.0.0-1
                     python2-mutagen             1.43.0-1             1.43.0-2
                python2-pycryptodome              3.9.4-1              3.9.5-1
                      python2-pygit2             0.28.2-2                    -
                        python2-sane              2.8.3-3                    -
              python2-setuptools-scm              3.3.3-3              3.4.0-1
                    python2-watchdog             0.10.1-1             0.10.2-1
                    python2-werkzeug             0.16.1-1              1.0.0-1
                                qcad           3.24.2.3-1           3.24.2.4-1
                              raylib              2.5.0-2              2.6.0-1
                              rclone             1.50.2-1             1.51.0-1
                           reprotest             0.7.12-1             0.7.13-1
                        ruby-msgpack              1.3.2-1              1.3.3-1
                                 sbt            1:1.3.7-1            1:1.3.8-1
            shadowsocks-v2ray-plugin              1.2.0-1              1.3.0-1
                      signal-desktop             1.30.1-1             1.31.0-1
                             signify                 27-1                 28-1
                              skopeo             0.1.40-1             0.1.41-1
                            spectrwm              3.2.0-1              3.3.0-1
                              sqlmap                1.4-1              1.4.2-1
                             stunnel               5.56-1               5.56-2
                               tilda              1.4.1-1              1.5.0-1
                    ttf-font-awesome             5.12.0-1             5.12.1-1
                        ttf-ibm-plex              4.0.2-1              4.0.2-2
                        ttf-ionicons              4.6.3-1              5.0.0-1
                  ttf-jetbrains-mono              1.0.2-1              1.0.3-1
                      ttf-liberation             2.00.5-2              2.1.0-1
         v2ray-domain-list-community       202002051516-1       202002100152-1
                      vim-latexsuite           1:1.10.0-2           1:1.10.0-3
                                 vis  0.5.r127.g17b83db-1  0.5.r136.gab3c613-1
                          winetricks           20191224-1           20191224-2
                    yubioath-desktop              5.0.1-2              5.0.2-1
                                zart              2.8.3-1              2.8.4-1
                         babeltrace2                    -              2.0.1-1
                         cgit-aurweb                    -              1.2.2-1
                 haskell-casa-client                    -     0.0.0.20191219-1
                  haskell-casa-types                    -     0.0.0.20191219-1
        python-flake8-typing-imports                    -              1.5.1-1
                       python-thrift                    -             0.13.0-2
                               sfizz                    -              0.2.0-2


:: Different overlay package(s) in repository core x86_64

-------------------------------------------------------------------------------
                             PACKAGE           2020-02-07           2020-02-11
-------------------------------------------------------------------------------
                   amd-ucode 20200206.r1574.5351afe-1 20200207.r1575.6f89735-2
              linux-firmware 20200206.r1574.5351afe-1 20200207.r1575.6f89735-2
                             linux53             5.3.18-1                    -
                     linux53-headers             5.3.18-1                    -
                             linux54             5.4.18-1             5.4.18-2
                     linux54-headers             5.4.18-1             5.4.18-2
                             linux55              5.5.2-1              5.5.2-2
                     linux55-headers              5.5.2-1              5.5.2-2
                             systemd            242.153-3              244.2-2
                        systemd-libs            242.153-3              244.2-2
                  systemd-resolvconf            242.153-3              244.2-2
                  systemd-sysvcompat            242.153-3              244.2-2
                             linux56                 - 5.6rc1.d0209.gbb6d3fb-2
                     linux56-headers                 - 5.6rc1.d0209.gbb6d3fb-2


:: Different sync package(s) in repository core x86_64

-------------------------------------------------------------------------------
                             PACKAGE           2020-02-07           2020-02-11
-------------------------------------------------------------------------------
                            autoconf               2.69-6               2.69-7
             ca-certificates-mozilla             3.49.2-3               3.50-1
                               hwids           20191025-2           20200204-1
                                 nss             3.49.2-3               3.50-1


:: Different overlay package(s) in repository extra x86_64

-------------------------------------------------------------------------------
                             PACKAGE           2020-02-07           2020-02-11
-------------------------------------------------------------------------------
                           boxit-arm              2.1.3-1              2.1.3-2
               calamares-git 3.2.19.r6995.70f370f0d-1 3.2.19.r7070.7333a925b-1
                   linux53-acpi_call             1.1.0-19                    -
                    linux53-bbswitch               0.8-19                    -
                 linux53-broadcom-wl      6.30.223.271-19                    -
                 linux53-ndiswrapper              1.62-19                    -
                linux53-nvidia-340xx            340.108-1                    -
                linux53-nvidia-390xx           390.132-10                    -
                linux53-nvidia-418xx            418.113-9                    -
                linux53-nvidia-430xx             430.64-8                    -
                linux53-nvidia-435xx            435.21-19                    -
                linux53-nvidia-440xx             440.59-1                    -
                    linux53-nvidiabl              0.88-19                    -
                       linux53-r8168           8.047.05-6                    -
                   linux53-rtl8723bu     4.3.9.3.13200-19                    -
                    linux53-tp_smapi              0.43-19                    -
                 linux53-vhba-module          20190831-19                    -
    linux53-virtualbox-guest-modules              6.1.0-4                    -
     linux53-virtualbox-host-modules              6.1.0-4                    -
                         linux53-zfs              0.8.3-1                    -
                    linux56-tp_smapi                    -             0.43-0.1
                 linux56-vhba-module                    -         20200106-0.1


:: Different sync package(s) in repository extra x86_64

-------------------------------------------------------------------------------
                             PACKAGE           2020-02-07           2020-02-11
-------------------------------------------------------------------------------
                        alsa-plugins              1.2.1-1              1.2.1-5
                              attica             5.66.0-1             5.67.0-1
                        avogadrolibs             1.93.0-1             1.93.0-2
                               baloo             5.66.0-1             5.67.0-1
                         bdf-unifont            12.1.03-1            12.1.04-1
                            bluez-qt             5.66.0-1             5.67.0-1
                        breeze-icons             5.66.0-1             5.67.0-1
                              breezy            3.0.2.3-1            3.0.2.3-2
                                 bzr              2.7.0-3                    -
                            cbindgen             0.13.0-1             0.13.1-1
                            chromium       80.0.3987.87-1       80.0.3987.87-2
                              clamav            0.102.1-1            0.102.2-1
                             digikam              6.4.0-6              6.4.0-7
                            enscript              1.6.6-3              1.6.6-4
                 extra-cmake-modules             5.66.0-1             5.67.0-1
                          fakechroot             2.20.1-1             2.20.1-2
                             firefox             72.0.2-1               73.0-1
                    firefox-i18n-ach             72.0.2-1               73.0-1
                     firefox-i18n-af             72.0.2-1               73.0-1
                     firefox-i18n-an             72.0.2-1               73.0-1
                     firefox-i18n-ar             72.0.2-1               73.0-1
                    firefox-i18n-ast             72.0.2-1               73.0-1
                     firefox-i18n-az             72.0.2-1               73.0-1
                     firefox-i18n-be             72.0.2-1               73.0-1
                     firefox-i18n-bg             72.0.2-1               73.0-1
                     firefox-i18n-bn             72.0.2-1               73.0-1
                     firefox-i18n-br             72.0.2-1               73.0-1
                     firefox-i18n-bs             72.0.2-1               73.0-1
                     firefox-i18n-ca             72.0.2-1               73.0-1
            firefox-i18n-ca-valencia             72.0.2-1               73.0-1
                    firefox-i18n-cak             72.0.2-1               73.0-1
                     firefox-i18n-cs             72.0.2-1               73.0-1
                     firefox-i18n-cy             72.0.2-1               73.0-1
                     firefox-i18n-da             72.0.2-1               73.0-1
                     firefox-i18n-de             72.0.2-1               73.0-1
                    firefox-i18n-dsb             72.0.2-1               73.0-1
                     firefox-i18n-el             72.0.2-1               73.0-1
                  firefox-i18n-en-ca             72.0.2-1               73.0-1
                  firefox-i18n-en-gb             72.0.2-1               73.0-1
                  firefox-i18n-en-us             72.0.2-1               73.0-1
                     firefox-i18n-eo             72.0.2-1               73.0-1
                  firefox-i18n-es-ar             72.0.2-1               73.0-1
                  firefox-i18n-es-cl             72.0.2-1               73.0-1
                  firefox-i18n-es-es             72.0.2-1               73.0-1
                  firefox-i18n-es-mx             72.0.2-1               73.0-1
                     firefox-i18n-et             72.0.2-1               73.0-1
                     firefox-i18n-eu             72.0.2-1               73.0-1
                     firefox-i18n-fa             72.0.2-1               73.0-1
                     firefox-i18n-ff             72.0.2-1               73.0-1
                     firefox-i18n-fi             72.0.2-1               73.0-1
                     firefox-i18n-fr             72.0.2-1               73.0-1
                  firefox-i18n-fy-nl             72.0.2-1               73.0-1
                  firefox-i18n-ga-ie             72.0.2-1               73.0-1
                     firefox-i18n-gd             72.0.2-1               73.0-1
                     firefox-i18n-gl             72.0.2-1               73.0-1
                     firefox-i18n-gn             72.0.2-1               73.0-1
                  firefox-i18n-gu-in             72.0.2-1               73.0-1
                     firefox-i18n-he             72.0.2-1               73.0-1
                  firefox-i18n-hi-in             72.0.2-1               73.0-1
                     firefox-i18n-hr             72.0.2-1               73.0-1
                    firefox-i18n-hsb             72.0.2-1               73.0-1
                     firefox-i18n-hu             72.0.2-1               73.0-1
                  firefox-i18n-hy-am             72.0.2-1               73.0-1
                     firefox-i18n-ia             72.0.2-1               73.0-1
                     firefox-i18n-id             72.0.2-1               73.0-1
                     firefox-i18n-is             72.0.2-1               73.0-1
                     firefox-i18n-it             72.0.2-1               73.0-1
                     firefox-i18n-ja             72.0.2-1               73.0-1
                     firefox-i18n-ka             72.0.2-1               73.0-1
                    firefox-i18n-kab             72.0.2-1               73.0-1
                     firefox-i18n-kk             72.0.2-1               73.0-1
                     firefox-i18n-km             72.0.2-1               73.0-1
                     firefox-i18n-kn             72.0.2-1               73.0-1
                     firefox-i18n-ko             72.0.2-1               73.0-1
                    firefox-i18n-lij             72.0.2-1               73.0-1
                     firefox-i18n-lt             72.0.2-1               73.0-1
                     firefox-i18n-lv             72.0.2-1               73.0-1
                     firefox-i18n-mk             72.0.2-1               73.0-1
                     firefox-i18n-mr             72.0.2-1               73.0-1
                     firefox-i18n-ms             72.0.2-1               73.0-1
                     firefox-i18n-my             72.0.2-1               73.0-1
                  firefox-i18n-nb-no             72.0.2-1               73.0-1
                  firefox-i18n-ne-np             72.0.2-1               73.0-1
                     firefox-i18n-nl             72.0.2-1               73.0-1
                  firefox-i18n-nn-no             72.0.2-1               73.0-1
                     firefox-i18n-oc             72.0.2-1               73.0-1
                  firefox-i18n-pa-in             72.0.2-1               73.0-1
                     firefox-i18n-pl             72.0.2-1               73.0-1
                  firefox-i18n-pt-br             72.0.2-1               73.0-1
                  firefox-i18n-pt-pt             72.0.2-1               73.0-1
                     firefox-i18n-rm             72.0.2-1               73.0-1
                     firefox-i18n-ro             72.0.2-1               73.0-1
                     firefox-i18n-ru             72.0.2-1               73.0-1
                     firefox-i18n-si             72.0.2-1               73.0-1
                     firefox-i18n-sk             72.0.2-1               73.0-1
                     firefox-i18n-sl             72.0.2-1               73.0-1
                    firefox-i18n-son             72.0.2-1               73.0-1
                     firefox-i18n-sq             72.0.2-1               73.0-1
                     firefox-i18n-sr             72.0.2-1               73.0-1
                  firefox-i18n-sv-se             72.0.2-1               73.0-1
                     firefox-i18n-ta             72.0.2-1               73.0-1
                     firefox-i18n-te             72.0.2-1               73.0-1
                     firefox-i18n-th             72.0.2-1               73.0-1
                     firefox-i18n-tl             72.0.2-1               73.0-1
                     firefox-i18n-tr             72.0.2-1               73.0-1
                    firefox-i18n-trs             72.0.2-1               73.0-1
                     firefox-i18n-uk             72.0.2-1               73.0-1
                     firefox-i18n-ur             72.0.2-1               73.0-1
                     firefox-i18n-uz             72.0.2-1               73.0-1
                     firefox-i18n-vi             72.0.2-1               73.0-1
                     firefox-i18n-xh             72.0.2-1               73.0-1
                  firefox-i18n-zh-cn             72.0.2-1               73.0-1
                  firefox-i18n-zh-tw             72.0.2-1               73.0-1
                frameworkintegration             5.66.0-1             5.67.0-1
                                  gv              3.7.4-4              3.7.4-5
                         imagemagick           7.0.9.21-1           7.0.9.22-1
                     imagemagick-doc           7.0.9.21-1           7.0.9.22-1
                         kactivities             5.66.0-1             5.67.0-1
                   kactivities-stats             5.66.0-1             5.67.0-1
                             kapidox             5.66.0-1             5.67.0-1
                            karchive             5.66.0-1             5.67.0-1
                               kauth             5.66.0-1             5.67.0-1
                          kbookmarks             5.66.0-1             5.67.0-1
                         kcachegrind            19.12.2-1            19.12.2-2
                  kcachegrind-common            19.12.2-1            19.12.2-2
                       kcalendarcore             5.66.0-1             5.67.0-1
                            kcmutils             5.66.0-1             5.67.0-1
                             kcodecs             5.66.0-1             5.67.0-1
                         kcompletion             5.66.0-1             5.67.0-1
                             kconfig             5.66.0-1             5.67.0-1
                      kconfigwidgets             5.66.0-1             5.67.0-2
                           kcontacts           1:5.66.0-1           1:5.67.0-1
                         kcoreaddons             5.66.0-1             5.67.0-1
                              kcrash             5.66.0-1             5.67.0-1
                         kdbusaddons             5.66.0-1             5.67.0-1
                     kde-dev-scripts            19.12.2-1            19.12.2-2
                        kdeclarative             5.66.0-1             5.67.0-1
                                kded             5.66.0-1             5.67.0-1
                     kdelibs4support             5.66.0-1             5.67.0-2
                     kdesignerplugin             5.66.0-1             5.67.0-1
                               kdesu             5.66.0-1             5.67.0-1
                           kdewebkit             5.66.0-1             5.67.0-1
                              kdnssd             5.66.0-1             5.67.0-1
                           kdoctools             5.66.0-1             5.67.0-1
                          kemoticons             5.66.0-1             5.67.0-1
                       kfilemetadata             5.66.0-1             5.67.0-1
                        kglobalaccel             5.66.0-1             5.67.0-1
                          kguiaddons             5.66.0-1             5.67.0-1
                           kholidays           1:5.66.0-1           1:5.67.0-1
                               khtml             5.66.0-1             5.67.0-1
                               ki18n             5.66.0-1             5.67.0-1
                         kiconthemes             5.66.0-1             5.67.0-1
                           kidletime             5.66.0-1             5.67.0-1
                       kimageformats             5.66.0-1             5.67.0-1
                               kinit             5.66.0-1             5.67.0-1
                                 kio             5.66.0-1             5.67.0-1
                           kirigami2             5.66.0-1             5.67.1-1
                         kitemmodels             5.66.0-1             5.67.0-1
                          kitemviews             5.66.0-1             5.67.0-1
                         kjobwidgets             5.66.0-1             5.67.0-1
                                 kjs             5.66.0-1             5.67.0-1
                            kjsembed             5.66.0-1             5.67.0-1
                        kmediaplayer             5.66.0-1             5.67.0-1
                           knewstuff             5.66.0-1             5.67.0-1
                      knotifications             5.66.0-1             5.67.0-1
                       knotifyconfig             5.66.0-1             5.67.0-1
                            kpackage             5.66.0-1             5.67.0-1
                              kparts             5.66.0-1             5.67.0-1
                             kpeople             5.66.0-1             5.67.0-1
                           kplotting             5.66.0-1             5.67.0-1
                                kpty             5.66.0-1             5.67.0-1
                        kquickcharts             5.66.0-1             5.67.0-1
                               kross             5.66.0-1             5.67.0-1
                             krunner             5.66.0-1             5.67.0-1
                            kservice             5.66.0-1             5.67.0-1
                         ktexteditor             5.66.0-1             5.67.0-1
                        ktextwidgets             5.66.0-1             5.67.0-1
                     kunitconversion             5.66.0-1             5.67.0-1
                             kwallet             5.66.0-2             5.67.0-1
                            kwayland             5.66.0-1             5.67.0-1
                      kwidgetsaddons             5.66.0-1             5.67.0-1
                       kwindowsystem             5.66.0-1             5.67.0-1
                             kxmlgui             5.66.0-1             5.67.0-1
                       kxmlrpcclient             5.66.0-1             5.67.0-1
                              libgee             0.20.2-1             0.20.3-1
                             libkate              0.4.1-6              0.4.1-7
                           libsmbios              2.4.2-2              2.4.3-1
                       libusb-compat              0.1.5-2              0.1.7-1
                          libusbmuxd              2.0.0-2              2.0.1-1
                     modemmanager-qt             5.66.0-1             5.67.0-1
                   networkmanager-qt             5.66.0-1             5.67.0-1
                                 ntp          4.2.8.p13-2          4.2.8.p13-3
                             numactl             2.0.13-1             2.0.13-2
                        oxygen-icons           1:5.66.0-1           1:5.67.0-1
                    oxygen-icons-svg           1:5.66.0-1           1:5.67.0-1
                               pango        1:1.44.7-1 1:1.44.7+11+g73b46b04-1
                    plasma-framework             5.66.0-1             5.67.0-1
                              prison             5.66.0-1             5.67.0-1
                             psutils               1.93-1               1.93-2
                             purpose             5.66.0-1             5.67.0-1
                   python-pyelftools               0.25-3               0.26-1
                         qcachegrind            19.12.2-1            19.12.2-2
                  qqc2-desktop-style             5.66.0-1             5.67.1-1
                              qt5-3d             5.14.1-1             5.14.1-2
                            qt5-base             5.14.1-1             5.14.1-2
             qt5-xcb-private-headers             5.14.1-1             5.14.1-2
                                sane             1.0.28-3             1.0.29-1
                              screen              4.7.0-1              4.8.0-1
                 seahorse-nautilus 3.11.92+57+g390364d-1 3.11.92+66+g02c81f1-1
                               solid             5.66.0-1             5.67.0-1
                              sonnet             5.66.0-1             5.67.0-1
                              strace                5.4-1                5.5-1
                         syndication             5.66.0-1             5.67.0-1
                 syntax-highlighting             5.66.0-1             5.67.0-1
                        threadweaver             5.66.0-1             5.67.0-1
                             tomcat8             8.5.41-1             8.5.50-1
                                vala             0.46.5-1             0.46.6-1
                            visualvm              1.4.3-1              1.4.4-1
                      wpebackend-fdo              1.4.0-2              1.4.1-1
                           xournalpp             1.0.16-1             1.0.17-1
                       genxrdpattern                    -                1.1-1
                                loki                    -              1.3.0-1
                            mmtf-cpp                    -              1.0.0-2


:: Different overlay package(s) in repository multilib x86_64

-------------------------------------------------------------------------------
                             PACKAGE           2020-02-07           2020-02-11
-------------------------------------------------------------------------------
                       lib32-systemd            242.153-2              244.2-1


:: Different sync package(s) in repository multilib x86_64

-------------------------------------------------------------------------------
                             PACKAGE           2020-02-07           2020-02-11
-------------------------------------------------------------------------------
                  lib32-alsa-plugins              1.2.1-1              1.2.1-2
                        lib32-faudio              20.01-1              20.02-1
                        lib32-gnutls           3.6.11.1-1             3.6.12-1
                       lib32-libidn2              2.2.0-1              2.3.0-1
                           lib32-nss             3.49.2-3               3.50-1
                         lib32-pango        1:1.44.7-1 1:1.44.7+11+g73b46b04-1
                          lib32-zstd              1.4.3-1              1.4.4-1
                               pcsx2              1.4.0-8              1.4.0-9


No issue, everything went smoothly
Yes there was an issue. I was able to resolve it myself.(Please post your solution)
Yes i am currently experiencing an issue due to the update. (Please post about it)
Check if your mirror has already synced: