Hello community,
I am happy to announce another Testing Update.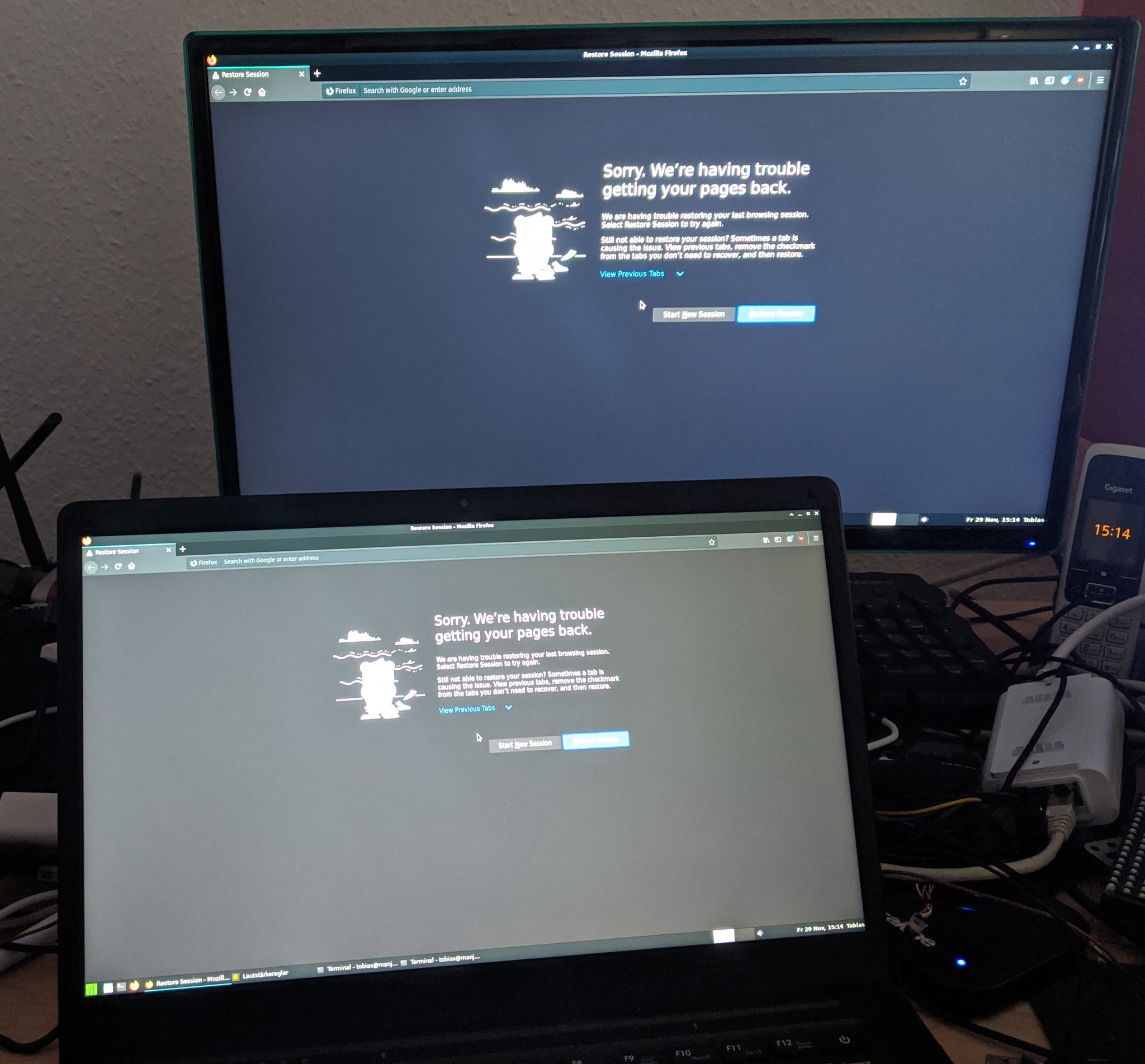 PinebookPro: USB-C Display Port alternate mode is now working!
Some feature-updates:
We updated KDE-git packages
Some of the Kernels got updated. Note: 5.3 series is now marked EOL!
SystemD is now back at v242 series, since we had still issues with newer series
php got updated to 7.4.1
KDE Frameworks are at 5.65.0
Mesa got its first point-release for 19.3 series
the usual upstream fixes
If you like following latest Plasma development you may also like to check out our current version of mnjaro-kde-vanilla, which we build on a regular basis against kde-git master packages. Also check out our current 18.1.4 ISOs and give us the needed feedback.
As always we appreciate your input and feedback for the updates.
---
Our current supported kernels:
linux316 3.16.78
linux44 4.4.206
linux49 4.9.206
linux414 4.14.159
linux419 4.19.90
linux53 5.3.18 [EOL]
linux54 5.4.5
linux55 5.5-rc2
linux419-rt 4.19.72_rt26
linux52-rt 5.2.21_rt15
Package Changes (Thu Dec 19 12:19:32 CET 2019)
testing community x86_64: 304 new and 320 removed package(s)
testing core x86_64: 16 new and 16 removed package(s)
testing extra x86_64: 219 new and 219 removed package(s)
testing multilib x86_64: 15 new and 15 removed package(s)
:: Different overlay package(s) in repository community x86_64

-------------------------------------------------------------------------------
                             PACKAGE           2019-12-16           2019-12-19
-------------------------------------------------------------------------------
                           baloo-git5.66.0.r2671.g2d7f6ddc-15.66.0.r2673.g681bd3fc-1
                       bluedevil-git5.17.80.r2033.g6f27fd50-15.17.80.r2034.g0fd34f04-1
                          breeze-git5.17.80.r1908.gc88da6e7-15.17.80.r1909.g2c8e7782-1
                               cpu-x3.2.4.r148.g80e3f35-13.2.4.r152.g4671b06-1
                            hw-probe                1.4-31.4+191.gaa1fcf261a-1
                        kcmutils-git5.66.0.r355.gc6a2a18-15.66.0.r356.g3f5a287-1
                     kcoreaddons-git5.66.0.r914.g735cbb3-15.66.0.r915.g8e2768a-1
                   kde-cli-tools-git5.17.80.r1738.g664a7ac-15.17.80.r1739.g14fd6b2-1
                  kde-gtk-config-git5.17.80.r763.g338ce24-15.17.80.r767.gcd68046-1
                    kdeclarative-git5.66.0.r734.g9f0b0fb-15.66.0.r735.g555a091-1
                kdeplasma-addons-git5.17.80.r8239.gfda9250e0-15.17.80.r8241.g0861d488e-1
                    kglobalaccel-git5.66.0.r336.gc63c1b9-15.66.0.r337.gcc21d06-1
                      kguiaddons-git5.66.0.r255.g924ca9e-15.66.0.r256.gc53ba2b-1
                     kiconthemes-git5.66.0.r400.gc97bdaa-15.66.0.r401.g3e668c7-1
                             kio-git5.66.0.r3706.g9aae31b8-15.66.0.r3708.gb039b874-1
                      kitemviews-git5.66.0.r250.gbe8fccb-15.66.0.r252.g494e2e5-1
                      knetattach-git5.17.80.r7165.gee95e76df-15.17.80.r7170.g5ff5d1c3c-1
                       knewstuff-git5.66.0.r757.gb922082-15.66.0.r759.g8a1da98-1
                        kpackage-git5.66.0.r553.gfb4d0d7-15.66.0.r554.g6353e10-1
                         krunner-git5.65.0.r393.gb6aed33-15.66.0.r398.g6fc25a0-1
                       ksysguard-git5.17.80.r3196.ga7ad99a4-15.17.80.r3197.gb618fe43-1
                     ktexteditor-git5.65.0.r2293.gcee9d964-15.66.0.r2297.g446ce9f7-1
                  kwidgetsaddons-git5.66.0.r615.gf58a1a5-15.66.0.r616.g2916a1a-1
                    libksysguard-git5.17.80.r1755.g72453e3-15.17.80.r1756.g3f2fab7-1
                          linux52-rt        5.2.21_rt14-3        5.2.21_rt15-3
                  linux52-rt-headers        5.2.21_rt14-3        5.2.21_rt15-3
                           milou-git5.17.80.r665.gca27d46-15.17.80.r666.g0b32db3-1
                  plasma-desktop-git5.17.80.r7165.gee95e76df-15.17.80.r7170.g5ff5d1c3c-1
                plasma-framework-git5.66.0.r15322.g991ecb5ed-15.66.0.r15323.g6756d00fb-1
                       plasma-nm-git5.17.80.r2718.g00be92a5-15.17.80.r2727.gacbb2650-1
                      plasma-sdk-git5.17.80.r2126.gdbded19-15.17.80.r2128.gea38458-1
          plasma-wayland-session-git5.17.80.r8544.g6d2fa8e6b-15.17.80.r8551.g88c8e4b0d-1
                plasma-workspace-git5.17.80.r8544.g6d2fa8e6b-15.17.80.r8551.g88c8e4b0d-1
                           solid-git5.66.0.r525.ge2d5382-15.66.0.r526.gda0ee3d-1
                          sonnet-git5.66.0.r505.g0ba03ed-15.66.0.r506.ge6fd2c5-1
                     syndication-git5.66.0.r744.gcb8d4bd-15.66.0.r745.g3c565c0-1
                               tlpui       r109.703bade-1       r110.372463b-1
                    user-manager-git5.17.80.r464.ga2f7d30-15.17.80.r466.g39ce0e8-1


:: Different sync package(s) in repository community x86_64

-------------------------------------------------------------------------------
                             PACKAGE           2019-12-16           2019-12-19
-------------------------------------------------------------------------------
                             absl-py              0.8.1-3              0.8.1-4
                      acpi_call-dkms            1.1.0-265            1.1.0-267
                                atom             1.41.0-1             1.42.0-1
                       cabal-install          2.4.0.0-164          2.4.0.0-165
                               cgrep            6.6.30-10            6.6.30-11
                    cinnamon-desktop              4.4.0-1              4.4.1-1
               cinnamon-translations              4.4.0-1              4.4.1-1
                             cockpit                208-1                209-1
                   cockpit-dashboard                208-1                209-1
                         cockpit-pcp                208-1                209-1
                          cozy-stack            1:1.4.1-1            1:1.4.2-1
                                croc              6.4.6-1              6.4.7-1
                             cryptol             2.8.0-13             2.8.0-14
                             crystal             0.32.0-1             0.32.1-1
                               darcs           2.14.2-135           2.14.2-136
                        emptyepsilon         2019.09.10-1         2019.11.01-1
                                 fio               3.16-1               3.17-1
           firefox-developer-edition             72.0b6-1             72.0b8-1
  firefox-developer-edition-i18n-ach             72.0b6-1             72.0b8-1
   firefox-developer-edition-i18n-af             72.0b6-1             72.0b8-1
   firefox-developer-edition-i18n-an             72.0b6-1             72.0b8-1
   firefox-developer-edition-i18n-ar             72.0b6-1             72.0b8-1
  firefox-developer-edition-i18n-ast             72.0b6-1             72.0b8-1
   firefox-developer-edition-i18n-az             72.0b6-1             72.0b8-1
   firefox-developer-edition-i18n-be             72.0b6-1             72.0b8-1
   firefox-developer-edition-i18n-bg             72.0b6-1             72.0b8-1
   firefox-developer-edition-i18n-bn             72.0b6-1             72.0b8-1
   firefox-developer-edition-i18n-br             72.0b6-1             72.0b8-1
   firefox-developer-edition-i18n-bs             72.0b6-1             72.0b8-1
   firefox-developer-edition-i18n-ca             72.0b6-1             72.0b8-1
  firefox-developer-edition-i18n-cak             72.0b6-1             72.0b8-1
   firefox-developer-edition-i18n-cs             72.0b6-1             72.0b8-1
   firefox-developer-edition-i18n-cy             72.0b6-1             72.0b8-1
   firefox-developer-edition-i18n-da             72.0b6-1             72.0b8-1
   firefox-developer-edition-i18n-de             72.0b6-1             72.0b8-1
  firefox-developer-edition-i18n-dsb             72.0b6-1             72.0b8-1
   firefox-developer-edition-i18n-el             72.0b6-1             72.0b8-1
firefox-developer-edition-i18n-en-ca             72.0b6-1             72.0b8-1
firefox-developer-edition-i18n-en-gb             72.0b6-1             72.0b8-1
firefox-developer-edition-i18n-en-us             72.0b6-1             72.0b8-1
   firefox-developer-edition-i18n-eo             72.0b6-1             72.0b8-1
firefox-developer-edition-i18n-es-ar             72.0b6-1             72.0b8-1
firefox-developer-edition-i18n-es-cl             72.0b6-1             72.0b8-1
firefox-developer-edition-i18n-es-es             72.0b6-1             72.0b8-1
firefox-developer-edition-i18n-es-mx             72.0b6-1             72.0b8-1
   firefox-developer-edition-i18n-et             72.0b6-1             72.0b8-1
   firefox-developer-edition-i18n-eu             72.0b6-1             72.0b8-1
   firefox-developer-edition-i18n-fa             72.0b6-1             72.0b8-1
   firefox-developer-edition-i18n-ff             72.0b6-1             72.0b8-1
   firefox-developer-edition-i18n-fi             72.0b6-1             72.0b8-1
   firefox-developer-edition-i18n-fr             72.0b6-1             72.0b8-1
firefox-developer-edition-i18n-fy-nl             72.0b6-1             72.0b8-1
firefox-developer-edition-i18n-ga-ie             72.0b6-1             72.0b8-1
   firefox-developer-edition-i18n-gd             72.0b6-1             72.0b8-1
   firefox-developer-edition-i18n-gl             72.0b6-1             72.0b8-1
   firefox-developer-edition-i18n-gn             72.0b6-1             72.0b8-1
firefox-developer-edition-i18n-gu-in             72.0b6-1             72.0b8-1
   firefox-developer-edition-i18n-he             72.0b6-1             72.0b8-1
firefox-developer-edition-i18n-hi-in             72.0b6-1             72.0b8-1
   firefox-developer-edition-i18n-hr             72.0b6-1             72.0b8-1
  firefox-developer-edition-i18n-hsb             72.0b6-1             72.0b8-1
   firefox-developer-edition-i18n-hu             72.0b6-1             72.0b8-1
firefox-developer-edition-i18n-hy-am             72.0b6-1             72.0b8-1
   firefox-developer-edition-i18n-ia             72.0b6-1             72.0b8-1
   firefox-developer-edition-i18n-id             72.0b6-1             72.0b8-1
   firefox-developer-edition-i18n-is             72.0b6-1             72.0b8-1
   firefox-developer-edition-i18n-it             72.0b6-1             72.0b8-1
   firefox-developer-edition-i18n-ja             72.0b6-1             72.0b8-1
   firefox-developer-edition-i18n-ka             72.0b6-1             72.0b8-1
  firefox-developer-edition-i18n-kab             72.0b6-1             72.0b8-1
   firefox-developer-edition-i18n-kk             72.0b6-1             72.0b8-1
   firefox-developer-edition-i18n-km             72.0b6-1             72.0b8-1
   firefox-developer-edition-i18n-kn             72.0b6-1             72.0b8-1
   firefox-developer-edition-i18n-ko             72.0b6-1             72.0b8-1
  firefox-developer-edition-i18n-lij             72.0b6-1             72.0b8-1
   firefox-developer-edition-i18n-lt             72.0b6-1             72.0b8-1
   firefox-developer-edition-i18n-lv             72.0b6-1             72.0b8-1
   firefox-developer-edition-i18n-mk             72.0b6-1             72.0b8-1
   firefox-developer-edition-i18n-mr             72.0b6-1             72.0b8-1
   firefox-developer-edition-i18n-ms             72.0b6-1             72.0b8-1
   firefox-developer-edition-i18n-my             72.0b6-1             72.0b8-1
firefox-developer-edition-i18n-nb-no             72.0b6-1             72.0b8-1
firefox-developer-edition-i18n-ne-np             72.0b6-1             72.0b8-1
   firefox-developer-edition-i18n-nl             72.0b6-1             72.0b8-1
firefox-developer-edition-i18n-nn-no             72.0b6-1             72.0b8-1
   firefox-developer-edition-i18n-oc             72.0b6-1             72.0b8-1
firefox-developer-edition-i18n-pa-in             72.0b6-1             72.0b8-1
   firefox-developer-edition-i18n-pl             72.0b6-1             72.0b8-1
firefox-developer-edition-i18n-pt-br             72.0b6-1             72.0b8-1
firefox-developer-edition-i18n-pt-pt             72.0b6-1             72.0b8-1
   firefox-developer-edition-i18n-rm             72.0b6-1             72.0b8-1
   firefox-developer-edition-i18n-ro             72.0b6-1             72.0b8-1
   firefox-developer-edition-i18n-ru             72.0b6-1             72.0b8-1
   firefox-developer-edition-i18n-si             72.0b6-1             72.0b8-1
   firefox-developer-edition-i18n-sk             72.0b6-1             72.0b8-1
   firefox-developer-edition-i18n-sl             72.0b6-1             72.0b8-1
  firefox-developer-edition-i18n-son             72.0b6-1             72.0b8-1
   firefox-developer-edition-i18n-sq             72.0b6-1             72.0b8-1
   firefox-developer-edition-i18n-sr             72.0b6-1             72.0b8-1
firefox-developer-edition-i18n-sv-se             72.0b6-1             72.0b8-1
   firefox-developer-edition-i18n-ta             72.0b6-1             72.0b8-1
   firefox-developer-edition-i18n-te             72.0b6-1             72.0b8-1
   firefox-developer-edition-i18n-th             72.0b6-1             72.0b8-1
   firefox-developer-edition-i18n-tr             72.0b6-1             72.0b8-1
   firefox-developer-edition-i18n-uk             72.0b6-1             72.0b8-1
   firefox-developer-edition-i18n-ur             72.0b6-1             72.0b8-1
   firefox-developer-edition-i18n-uz             72.0b6-1             72.0b8-1
   firefox-developer-edition-i18n-vi             72.0b6-1             72.0b8-1
   firefox-developer-edition-i18n-xh             72.0b6-1             72.0b8-1
firefox-developer-edition-i18n-zh-cn             72.0b6-1             72.0b8-1
firefox-developer-edition-i18n-zh-tw             72.0b6-1             72.0b8-1
                                 fzf             0.19.0-1             0.20.0-1
                           git-annex        7.20191114-25        7.20191114-26
                              gitlab             12.5.4-1             12.5.5-1
                             granite              5.2.5-1              5.3.0-1
                  haskell-aeson-diff            1.1.0.8-5            1.1.0.8-6
                haskell-authenticate              1.3.5-5              1.3.5-6
                         haskell-aws           0.21.1-127           0.21.1-128
              haskell-binary-conduit             1.3.1-67             1.3.1-68
                     haskell-conduit           1.3.1.1-46            1.3.1.2-1
               haskell-conduit-extra             1.3.4-24             1.3.4-25
                   haskell-criterion           1.5.5.0-90           1.5.5.0-91
          haskell-cryptohash-conduit            0.1.1-314            0.1.1-315
          haskell-cryptonite-conduit            0.2.2-208            0.2.2-209
                         haskell-dav            1.3.3-122            1.3.3-123
                        haskell-dbus             1.2.7-52             1.2.7-53
                   haskell-esqueleto              3.2.3-7              3.2.3-8
                  haskell-fdo-notify            0.3.1-212            0.3.1-213
                        haskell-feed           1.2.0.1-14           1.2.0.1-15
                     haskell-githash            0.1.3.3-5            0.1.3.3-6
                      haskell-hakyll         4.12.5.2-139         4.12.5.2-140
                    haskell-hopenpgp                2.9-5                2.9-6
                       haskell-hpack            0.33.0-18            0.33.0-19
                haskell-html-conduit           1.3.2.1-14           1.3.2.1-15
                        haskell-http         4000.3.14-59         4000.3.14-60
                haskell-http-conduit           2.3.7.3-19           2.3.7.3-20
               haskell-http-download           0.1.0.0-53           0.1.0.0-54
                       haskell-ipynb               0.1-86               0.1-87
                   haskell-js-jquery            3.3.1-303            3.3.1-304
                     haskell-libyaml            0.1.1.1-6            0.1.1.1-7
                haskell-monad-logger             0.3.31-8             0.3.31-9
                    haskell-mustache            2.3.0-255            2.3.0-256
             haskell-optparse-simple           0.1.1.2-82           0.1.1.2-83
                      haskell-pantry           0.1.1.1-77           0.1.1.1-78
                  haskell-persistent            2.10.4-11            2.10.4-12
               haskell-persistent-qq             2.9.1-91             2.9.1-92
           haskell-persistent-sqlite            2.10.5-37            2.10.5-38
         haskell-persistent-template             2.7.3-16             2.7.3-17
             haskell-persistent-test           2.0.3.0-42           2.0.3.0-43
            haskell-project-template          0.2.0.1-178          0.2.0.1-179
                 haskell-rio-orphans           0.1.1.0-35           0.1.1.0-36
                       haskell-sandi               0.5-56               0.5-57
                         haskell-sbv                8.5-1                8.5-2
              haskell-servant-server            0.16.2-47            0.16.2-48
                       haskell-shake            0.18.3-56             0.18.4-2
             haskell-simple-sendfile             0.2.30-7             0.2.30-8
           haskell-tagstream-conduit          0.5.5.3-303          0.5.5.3-304
                 haskell-tar-conduit             0.3.2-25             0.3.2-26
              haskell-wai-app-static          3.1.6.3-127          3.1.6.3-128
                 haskell-wai-conduit          3.0.0.4-152          3.0.0.4-153
          haskell-wai-handler-launch          3.0.2.4-238          3.0.2.4-239
                        haskell-warp             3.3.4-14             3.3.4-15
                    haskell-warp-tls             3.2.8-31             3.2.8-32
                 haskell-xml-conduit           1.8.0.1-96           1.8.0.1-97
                  haskell-xml-hamlet           0.5.0.1-19           0.5.0.1-20
                        haskell-yaml          0.11.2.0-10          0.11.2.0-11
                       haskell-yesod            1.6.0-384            1.6.0-385
                  haskell-yesod-auth             1.6.8-56             1.6.8-57
                  haskell-yesod-core             1.6.17-4             1.6.17-5
               haskell-yesod-default            1.2.0-621            1.2.0-622
                  haskell-yesod-form             1.6.7-43             1.6.7-44
            haskell-yesod-persistent           1.6.0.3-18           1.6.0.3-19
                haskell-yesod-static          1.6.0.1-239          1.6.0.1-240
                  haskell-yesod-test              1.6.9-3              1.6.9-4
                           hedgewars              1.0.0-8              1.0.0-9
                             hindent             5.3.1-35             5.3.1-36
                         hledger-web              1.15-60              1.15-61
                               hlint            2.1.14-82            2.1.14-83
                      home-assistant            0.102.3-1            0.103.2-1
                              hoogle         5.0.17.11-36         5.0.17.11-37
                      hopenpgp-tools               0.23-5               0.23-6
                          ibus-table             1.9.21-2             1.9.22-1
                             ipython             7.10.1-1             7.10.2-1
                                jake             10.4.1-1             10.4.2-1
                              kcptun           20191127-1           20191218-1
                              lhapdf              6.2.3-4              6.2.3-5
                            libelfin                0.3-1                0.3-2
                           libratbag               0.11-1               0.12-1
                     libsigrokdecode              0.5.2-3              0.5.3-1
                                mame              0.216-1              0.216-2
                      matrix-synapse              1.6.1-1              1.7.0-1
                               minio         2019.10.12-1         2019.12.17-1
                        minio-client         2019.10.02-2         2019.12.17-1
                      mongo-c-driver             1.15.2-1             1.15.3-1
                           musescore              3.3.3-1              3.3.4-1
                                nemo              4.4.1-1              4.4.2-1
             nextcloud-app-bookmarks            1:2.3.2-1            1:2.3.4-1
                  nextcloud-app-mail             0.20.0-1             0.20.3-1
                              nodejs             13.3.0-1             13.4.0-1
                         offlineimap              7.3.0-1              7.3.1-1
                             osquery              4.1.1-1              4.1.2-1
                            pageedit              0.9.6-1              1.0.0-1
                              pandoc             2.7.3-87             2.7.3-88
                     pandoc-citeproc           0.16.2-155           0.16.2-156
                     pandoc-crossref          0.3.4.1-136          0.3.4.1-137
                     parity-ethereum             2.5.11-1             2.5.12-1
                     perl-b-keywords               1.20-2               1.21-1
                              pifpaf              2.2.2-4              2.3.0-1
                               ponyc             0.33.0-1             0.33.1-1
                           postgrest              6.0.2-4              6.0.2-5
                                 ppl                1.2-3                1.2-4
                      python-anyjson             0.3.3-11             0.3.3-12
                      python-apispec              3.1.0-1              3.1.1-1
                      python-awkward            0.12.17-1            0.12.18-1
                      python-cjkwrap                2.2-4                2.2-5
                        python-cliff             2.16.0-3             2.17.0-1
                     python-daiquiri              1.6.0-3              1.6.1-1
                         python-dkim              1.0.0-1              1.0.1-1
                        python-dukpy                0.3-4                0.3-5
                 python-editorconfig             0.12.2-4             0.12.2-5
                    python-harparser                0.4-4                0.4-5
       python-marshmallow-sqlalchemy             0.19.0-2             0.21.0-1
                    python-ntlm-auth              1.2.0-4              1.2.0-5
                      python-osc-lib             1.14.1-3             1.15.0-1
                      python-oslo-db              5.1.0-1              5.1.1-1
                    python-oslo-i18n             3.24.0-3             3.25.0-1
                      python-pkginfo            1.5.0.1-3            1.5.0.1-4
                      python-pycares              3.0.0-2              3.1.0-1
                    python-responses             0.10.7-1             0.10.8-1
             python-securesystemslib             0.12.2-1             0.13.0-1
                           python-sh            1.12.14-4            1.12.14-5
                   python-sqlalchemy             1.3.11-1             1.3.12-1
            python-translationstring                1.3-5                1.3-6
                    python-uhashring                1.1-3                1.1-4
               python-validate-email                1.3-4                1.3-5
                   python2-aniso8601              8.0.0-3                    -
                     python2-anyjson             0.3.3-11                    -
               python2-canonicaljson              1.1.4-4                    -
                     python2-cjkwrap                2.2-4                    -
                       python2-cliff             2.16.0-3             2.17.0-1
                       python2-clint              0.5.1-8                    -
                       python2-dukpy                0.3-4                    -
                python2-editorconfig             0.12.2-4                    -
                   python2-harparser                0.4-4                    -
                      python2-hidapi          0.7.99.21-4                    -
                   python2-ntlm-auth              1.2.0-4                    -
                 python2-ordereddict                1.1-2                    -
                     python2-oslo-db              5.1.0-1              5.1.1-1
                   python2-oslo-i18n             3.24.0-3             3.25.0-1
                     python2-pkginfo            1.5.0.1-3                    -
                          python2-sh            1.12.14-4                    -
                  python2-sqlalchemy             1.3.11-1             1.3.12-1
           python2-translationstring                1.3-5                    -
                   python2-uhashring                1.1-3                    -
              python2-validate-email                1.3-4                    -
                      python2-whoosh              2.7.4-5                    -
                                qgis             3.10.0-1             3.10.1-1
                          qtkeychain              0.9.1-1             0.10.0-1
                             remmina            1:1.3.6-1            1:1.3.7-2
                               renpy              7.3.2-1              7.3.5-1
                         renpy-demos              7.3.2-1              7.3.5-1
                           rng-tools                6.8-1                6.9-1
                             rocksdb              6.3.6-1              6.5.2-1
                        ruby-bundler              2.0.2-1              2.1.1-1
                     ruby2.5-bundler             1.17.1-1              2.1.1-1
                          shellcheck             0.7.0-71             0.7.0-72
                             shotcut           19.10.20-1           19.12.16-1
                               sigil             0.9.18-3              1.0.0-1
                          skia-sharp             1.68.0-1             1.68.1-1
                             snapper              0.8.6-2              0.8.7-1
                            solidity             0.5.14-1              0.6.0-1
                               stack             2.1.3-91             2.1.3-92
                     stylish-haskell           0.9.4.4-10           0.9.4.4-11
     switchboard-plug-mouse-touchpad              2.3.0-1              2.3.1-1
           switchboard-plug-printers              2.1.6-1              2.1.7-1
                      tamarin-prover            1.4.1-201            1.4.1-202
                             uranium              4.4.0-2              4.4.0-3
                      wireguard-dkms       0.0.20191212-1       0.0.20191219-1
                     wireguard-tools       0.0.20191212-1       0.0.20191219-1
                              xmobar              0.31-28              0.31-29
                             yoshimi            1.6.0.3-1              1.6.1-2
                    yubioath-desktop              5.0.1-1              5.0.1-2
                             element                    -             0.42.0-2


:: Different overlay package(s) in repository core x86_64

-------------------------------------------------------------------------------
                             PACKAGE           2019-12-16           2019-12-19
-------------------------------------------------------------------------------
                            linux414           4.14.158-1           4.14.159-1
                    linux414-headers           4.14.158-1           4.14.159-1
                            linux419            4.19.89-1            4.19.90-1
                    linux419-headers            4.19.89-1            4.19.90-1
                             linux53             5.3.16-1             5.3.18-1
                     linux53-headers             5.3.16-1             5.3.18-1
                             linux54              5.4.3-1              5.4.5-1
                     linux54-headers              5.4.3-1              5.4.5-1
                             systemd            244.1-1.1            242.153-2
                        systemd-libs              244.1-1            242.153-2
                  systemd-resolvconf              244.1-1            242.153-2
                  systemd-sysvcompat              244.1-1            242.153-2
                           amd-ucode                    -   20191215.eefb5f7-1
                      linux-firmware                    -   20191215.eefb5f7-1


:: Different sync package(s) in repository core x86_64

-------------------------------------------------------------------------------
                             PACKAGE           2019-12-16           2019-12-19
-------------------------------------------------------------------------------
                           amd-ucode   20191118.e8a0f4c-2   20191215.eefb5f7-1
                              dialog     1:1.3_20191110-2     1:1.3_20191210-1
                      linux-firmware   20191118.e8a0f4c-2   20191215.eefb5f7-1
                               pcre2              10.34-2              10.34-3


:: Different overlay package(s) in repository extra x86_64

-------------------------------------------------------------------------------
                             PACKAGE           2019-12-16           2019-12-19
-------------------------------------------------------------------------------
                     kdelibs4support           5.64.0-1.1                    -
                  linux414-acpi_call            1.1.0-130            1.1.0-131
                   linux414-bbswitch              0.8-130              0.8-131
                linux414-broadcom-wl     6.30.223.271-130     6.30.223.271-131
                linux414-ndiswrapper              1.62-25              1.62-26
               linux414-nvidia-340xx           340.107-89           340.107-90
               linux414-nvidia-390xx            390.132-7            390.132-8
               linux414-nvidia-418xx            418.113-6            418.113-7
               linux414-nvidia-430xx             430.64-5             430.64-6
               linux414-nvidia-435xx            435.21-15            435.21-16
               linux414-nvidia-440xx             440.44-1             440.44-2
                   linux414-nvidiabl             0.88-130             0.88-131
                      linux414-r8168           8.047.05-3           8.047.05-4
                  linux414-rt3562sta       2.4.1.1_r4-129       2.4.1.1_r4-130
                   linux414-tp_smapi              0.43-22              0.43-23
                linux414-vhba-module          20190831-15          20190831-16
   linux414-virtualbox-guest-modules              6.1.0-2              6.1.0-3
    linux414-virtualbox-host-modules              6.1.0-2              6.1.0-3
                        linux414-zfs             0.8.2-12             0.8.2-13
                  linux419-acpi_call             1.1.0-79             1.1.0-80
                   linux419-bbswitch               0.8-79               0.8-80
                linux419-broadcom-wl      6.30.223.271-78      6.30.223.271-79
                linux419-ndiswrapper              1.62-28              1.62-29
               linux419-nvidia-340xx           340.107-78           340.107-79
               linux419-nvidia-390xx            390.132-8            390.132-9
               linux419-nvidia-418xx            418.113-7            418.113-8
               linux419-nvidia-430xx             430.64-7             430.64-8
               linux419-nvidia-435xx            435.21-18            435.21-19
               linux419-nvidia-440xx             440.44-2             440.44-3
                   linux419-nvidiabl              0.88-78              0.88-79
                      linux419-r8168           8.047.05-4           8.047.05-5
                  linux419-rtl8723bu   4.3.9.3.13200.0-63   4.3.9.3.13200.0-64
                   linux419-tp_smapi              0.43-28              0.43-29
                linux419-vhba-module          20190831-18          20190831-19
   linux419-virtualbox-guest-modules              6.1.0-2              6.1.0-3
    linux419-virtualbox-host-modules              6.1.0-2              6.1.0-3
                        linux419-zfs             0.8.2-14             0.8.2-15
                   linux53-acpi_call             1.1.0-17             1.1.0-19
                    linux53-bbswitch               0.8-17               0.8-19
                 linux53-broadcom-wl      6.30.223.271-17      6.30.223.271-19
                 linux53-ndiswrapper              1.62-17              1.62-19
                linux53-nvidia-340xx           340.107-17           340.107-19
                linux53-nvidia-390xx            390.132-8           390.132-10
                linux53-nvidia-418xx            418.113-7            418.113-9
                linux53-nvidia-430xx             430.64-6             430.64-8
                linux53-nvidia-435xx            435.21-17            435.21-19
                linux53-nvidia-440xx             440.44-2             440.44-4
                    linux53-nvidiabl              0.88-17              0.88-19
                       linux53-r8168           8.047.05-4           8.047.05-6
                   linux53-rtl8723bu     4.3.9.3.13200-17     4.3.9.3.13200-19
                    linux53-tp_smapi              0.43-17              0.43-19
                 linux53-vhba-module          20190831-17          20190831-19
    linux53-virtualbox-guest-modules              6.1.0-2              6.1.0-4
     linux53-virtualbox-host-modules              6.1.0-2              6.1.0-4
                         linux53-zfs             0.8.2-17             0.8.2-19
                   linux54-acpi_call              1.1.0-5              1.1.0-8
                    linux54-bbswitch                0.8-5                0.8-8
                 linux54-broadcom-wl       6.30.223.271-5       6.30.223.271-8
                 linux54-ndiswrapper               1.62-5               1.62-8
                linux54-nvidia-340xx            340.107-5            340.107-8
                linux54-nvidia-390xx            390.132-5            390.132-8
                linux54-nvidia-418xx            418.113-5            418.113-8
                linux54-nvidia-430xx             430.64-5             430.64-8
                linux54-nvidia-435xx             435.21-5             435.21-8
                linux54-nvidia-440xx             440.44-2             440.44-5
                    linux54-nvidiabl               0.88-5               0.88-8
                       linux54-r8168           8.047.05-5           8.047.05-8
                   linux54-rtl8723bu      4.3.9.3.13200-5      4.3.9.3.13200-8
                    linux54-tp_smapi               0.43-5               0.43-8
                 linux54-vhba-module           20190831-5           20190831-8
    linux54-virtualbox-guest-modules              6.1.0-2              6.1.0-5
     linux54-virtualbox-host-modules              6.1.0-2              6.1.0-5
                         linux54-zfs              0.8.2-5              0.8.2-8
                           pamac-cli              9.2.0-2              9.2.1-1
                        pamac-common              9.2.0-2              9.2.1-1
                           pamac-gtk              9.2.0-2              9.2.1-1
                   pamac-snap-plugin              9.2.0-2              9.2.1-1
             pamac-tray-appindicator              9.2.0-2              9.2.1-1


:: Different sync package(s) in repository extra x86_64

-------------------------------------------------------------------------------
                             PACKAGE           2019-12-16           2019-12-19
-------------------------------------------------------------------------------
                              attica             5.64.0-1             5.65.0-2
                               baloo             5.64.0-1             5.65.0-2
                            bluez-qt             5.64.0-1             5.65.0-2
                        breeze-icons             5.64.0-1             5.65.0-2
                            cbindgen             0.11.1-3             0.12.0-1
                            chromium       79.0.3945.79-1       79.0.3945.88-1
                                cups              2.3.0-4              2.3.1-1
                        cups-filters            1.25.13-1             1.26.0-1
                                 exo            0.12.10-1            0.12.11-1
                 extra-cmake-modules             5.64.0-1             5.65.0-2
                                 feh                3.3-1                3.3-2
                frameworkintegration             5.64.0-1             5.65.0-2
                         fuse-common              3.8.0-1              3.9.0-1
                               fuse3              3.8.0-1              3.9.0-1
               gnome-settings-daemon 3.34.1+1+ge1fc4599-1             3.34.2-1
                            grantlee              5.1.0-4              5.2.0-2
                         imagemagick            7.0.9.8-1            7.0.9.9-1
                     imagemagick-doc            7.0.9.8-1            7.0.9.9-1
                           intel-tbb             2019.9-2             2020.0-1
                         kactivities             5.64.0-1             5.65.0-2
                   kactivities-stats             5.64.0-1             5.65.0-2
                             kapidox             5.64.0-2             5.65.0-2
                            karchive             5.64.0-1             5.65.0-2
                               kauth             5.64.0-2             5.65.0-2
                          kbookmarks             5.64.0-1             5.65.0-2
                       kcalendarcore             5.64.0-1             5.65.0-2
                            kcmutils             5.64.0-1             5.65.0-2
                             kcodecs             5.64.0-2             5.65.0-2
                         kcompletion             5.64.0-2             5.65.0-2
                             kconfig             5.64.0-2             5.65.0-2
                      kconfigwidgets             5.64.0-2             5.65.0-2
                           kcontacts           1:5.64.0-1           1:5.65.0-2
                         kcoreaddons             5.64.0-2             5.65.0-2
                              kcrash             5.64.0-1             5.65.0-2
                         kdbusaddons             5.64.0-2             5.65.0-2
                        kdeclarative             5.64.0-1             5.65.0-2
                                kded             5.64.0-1             5.65.0-2
                     kdelibs4support             5.64.0-1             5.65.0-2
                     kdesignerplugin             5.64.0-1             5.65.0-2
                               kdesu             5.64.0-1             5.65.0-2
                           kdewebkit             5.64.0-1             5.65.0-2
                              kdnssd             5.64.0-1             5.65.0-2
                           kdoctools             5.64.0-1             5.65.0-2
                          kemoticons             5.64.0-1             5.65.0-2
                       kfilemetadata             5.64.0-1             5.65.0-2
                        kglobalaccel             5.64.0-1             5.65.0-2
                          kguiaddons             5.64.0-2             5.65.0-2
                           kholidays           1:5.64.0-1           1:5.65.0-2
                               khtml             5.64.0-1             5.65.0-2
                               ki18n             5.64.0-2             5.65.0-2
                         kiconthemes             5.64.0-1             5.65.0-2
                           kidletime             5.64.0-1             5.65.0-2
                       kimageformats             5.64.0-1             5.65.0-2
                               kinit             5.64.0-1             5.65.0-2
                                 kio             5.64.0-1             5.65.0-2
                           kirigami2             5.64.1-1             5.65.0-2
                         kitemmodels             5.64.0-2             5.65.0-2
                          kitemviews             5.64.0-2             5.65.0-2
                         kjobwidgets             5.64.0-2             5.65.0-2
                                 kjs             5.64.0-1             5.65.0-2
                            kjsembed             5.64.0-1             5.65.0-2
                        kmediaplayer             5.64.0-1             5.65.0-2
                           knewstuff             5.64.0-1             5.65.0-2
                      knotifications             5.64.0-1             5.65.0-2
                       knotifyconfig             5.64.0-1             5.65.0-2
                            kpackage             5.64.0-1             5.65.0-2
                              kparts             5.64.0-1             5.65.0-2
                             kpeople             5.64.0-1             5.65.0-2
                           kplotting             5.64.0-1             5.65.0-2
                                kpty             5.64.0-1             5.65.0-2
                               kross             5.64.0-1             5.65.0-2
                             krunner             5.64.0-1             5.65.0-2
                            kservice             5.64.0-1             5.65.0-2
                         ktexteditor             5.64.0-1             5.65.0-2
                        ktextwidgets             5.64.0-1             5.65.0-2
                     kunitconversion             5.64.0-1             5.65.0-2
                             kwallet             5.64.0-1             5.65.0-2
                            kwayland             5.64.0-1             5.65.0-2
                      kwidgetsaddons             5.64.0-2             5.65.0-2
                       kwindowsystem             5.64.0-1             5.65.0-2
                             kxmlgui             5.64.0-1             5.65.0-2
                       kxmlrpcclient             5.64.0-1             5.65.0-2
                             libcups              2.3.0-4              2.3.1-1
                             libebml              1.3.9-1             1.3.10-1
                               libnm             1.20.8-1             1.22.0-1
                  libva-intel-driver              2.3.0-2              2.4.0-1
                   libva-mesa-driver             19.3.0-1             19.3.1-1
                 lightdm-gtk-greeter            1:2.0.6-1            1:2.0.7-1
                                mesa             19.3.0-1             19.3.1-1
                          mesa-vdpau             19.3.0-1             19.3.1-1
                      mkvtoolnix-cli             40.0.0-1             41.0.0-1
                      mkvtoolnix-gui             40.0.0-1             41.0.0-1
                     modemmanager-qt             5.64.0-1             5.65.0-2
                                 mpd            0.21.16-2            0.21.17-1
                      networkmanager             1.20.8-1             1.22.0-1
                   networkmanager-qt             5.64.0-1             5.65.0-2
                         opencl-mesa             19.3.0-1             19.3.1-1
                        oxygen-icons           1:5.64.0-1           1:5.65.0-2
                    oxygen-icons-svg           1:5.64.0-1           1:5.65.0-2
                    perl-alien-build               1.93-1               1.94-1
                  perl-alien-libxml2               0.11-1               0.12-1
                                 php              7.4.0-2              7.4.1-1
                          php-apache              7.4.0-2              7.4.1-1
                             php-cgi              7.4.0-2              7.4.1-1
                           php-dblib              7.4.0-2              7.4.1-1
                           php-embed              7.4.0-2              7.4.1-1
                         php-enchant              7.4.0-2              7.4.1-1
                             php-fpm              7.4.0-2              7.4.1-1
                              php-gd              7.4.0-2              7.4.1-1
                            php-imap              7.4.0-2              7.4.1-1
                            php-intl              7.4.0-2              7.4.1-1
                            php-odbc              7.4.0-2              7.4.1-1
                           php-pgsql              7.4.0-2              7.4.1-1
                          php-phpdbg              7.4.0-2              7.4.1-1
                          php-pspell              7.4.0-2              7.4.1-1
                            php-snmp              7.4.0-2              7.4.1-1
                          php-sodium              7.4.0-2              7.4.1-1
                          php-sqlite              7.4.0-2              7.4.1-1
                            php-tidy              7.4.0-2              7.4.1-1
                             php-xsl              7.4.0-2              7.4.1-1
                    plasma-framework             5.64.0-1             5.65.0-2
                              prison             5.64.0-1             5.65.0-2
                             purpose             5.64.0-1             5.65.0-2
                       python-django              2.2.6-2              2.2.9-1
                         python-speg                0.3-3                0.3-4
                      python2-django            1.11.26-1            1.11.27-1
                        python2-speg                0.3-3                    -
                  qqc2-desktop-style             5.64.0-1             5.65.0-2
                                re2c              1.2.1-1                1.3-1
                               rhash              1.3.8-1              1.3.9-1
                               scons              3.1.1-5              3.1.2-1
                               solid             5.64.0-1             5.65.0-2
                              sonnet             5.64.0-1             5.65.0-2
                         syndication             5.64.0-1             5.65.0-2
                 syntax-highlighting             5.64.0-1             5.65.0-2
                             texmacs            1.99.11-1            1.99.12-1
                        threadweaver             5.64.0-1             5.65.0-2
                        vulkan-intel             19.3.0-1             19.3.1-1
                   vulkan-mesa-layer             19.3.0-1             19.3.1-1
                       vulkan-radeon             19.3.0-1             19.3.1-1
                            xvidcore              1.3.5-1              1.3.6-1
                        kquickcharts                    -             5.65.0-2
                      nm-cloud-setup                    -             1.22.0-1


:: Different overlay package(s) in repository multilib x86_64

-------------------------------------------------------------------------------
                             PACKAGE           2019-12-16           2019-12-19
-------------------------------------------------------------------------------
                       lib32-systemd              244.1-1            242.153-2


:: Different sync package(s) in repository multilib x86_64

-------------------------------------------------------------------------------
                             PACKAGE           2019-12-16           2019-12-19
-------------------------------------------------------------------------------
               lib32-glib-networking             2.62.1-1             2.62.2-1
                          lib32-gtk3            3.24.12-1            3.24.13-1
                       lib32-libcups              2.3.0-1              2.3.1-1
                    lib32-libmm-glib             1.12.0-1             1.12.2-1
                         lib32-libnm             1.20.8-1             1.22.0-1
                        lib32-libqmi             1.24.0-1             1.24.2-1
                       lib32-libsoup             2.68.2-1             2.68.3-1
             lib32-libva-mesa-driver             19.3.0-1             19.3.1-1
                          lib32-mesa             19.3.0-1             19.3.1-1
                    lib32-mesa-vdpau             19.3.0-1             19.3.1-1
                   lib32-openssl-1.0            1.0.2.s-1            1.0.2.t-1
                           lib32-tcl              8.6.9-2             8.6.10-1
                  lib32-vulkan-intel             19.3.0-1             19.3.1-1
                 lib32-vulkan-radeon             19.3.0-1             19.3.1-1

No issue, everything went smoothly
Yes there was an issue. I was able to resolve it myself.(Please post your solution)
Yes i am currently experiencing an issue due to the update. (Please post about it)
Check if your mirror has already synced: