Hello community,
I am happy to announce another Testing Update.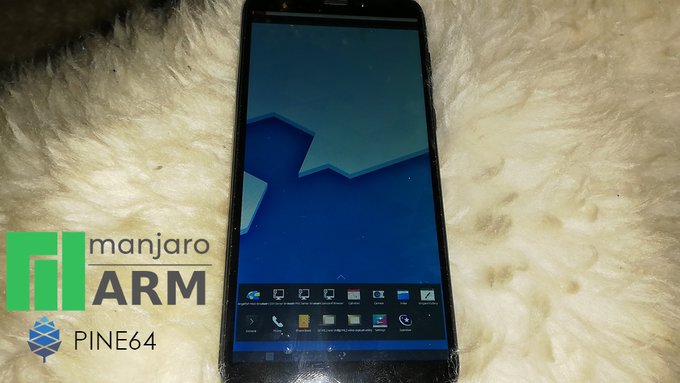 Find out more about the current PinePhone status in our forums
Some feature-updates:
We downgraded back to v242 series of systemd and patched some issues
linux-firmware got renewed and therefore some AMD Navi firmware got updated/added
Pamac v9.2 got finally released
the usual upstream fixes
If you like following latest Plasma development you may also like to check out our current version of mnjaro-kde-vanilla, which we build on a regular basis against kde-git master packages.
As always we appreciate your input and feedback for the updates.
---
Our current supported kernels:
linux316 3.16.78
linux44 4.4.206
linux49 4.9.206
linux414 4.14.158
linux419 4.19.88 (no virtualbox-guest-modules)
linux53 5.3.15
linux54 5.4.2
linux419-rt 4.19.72_rt26
linux52-rt 5.2.21_rt13
Package Changes (Sun Dec 8 09:45:54 CET 2019)
testing community x86_64: 270 new and 268 removed package(s)
testing core x86_64: 10 new and 10 removed package(s)
testing extra x86_64: 32 new and 31 removed package(s)
testing multilib x86_64: 8 new and 8 removed package(s)
:: Different overlay package(s) in repository community x86_64

-------------------------------------------------------------------------------
                             PACKAGE           2019-12-06           2019-12-08
-------------------------------------------------------------------------------
                         edid-decode       r354.2ae93f1-1       r358.77700d6-1
                              etcher             1.5.66-1             1.5.67-1


:: Different sync package(s) in repository community x86_64

-------------------------------------------------------------------------------
                             PACKAGE           2019-12-06           2019-12-08
-------------------------------------------------------------------------------
                      acpi_call-dkms            1.1.0-263            1.1.0-264
                auto-multiple-choice              1.4.0-3              1.4.0-5
                             aws-cli           1.16.292-1           1.16.298-1
                       cabal-install          2.4.0.0-161          2.4.0.0-162
                               cgrep             6.6.30-8             6.6.30-9
                             cryptol             2.8.0-10             2.8.0-11
                               darcs           2.14.2-132           2.14.2-133
                             duktape              2.4.0-2              2.5.0-1
                                dune             1.11.3-1             1.11.4-1
                            edbrowse            3.7.5.1-1            3.7.5.1-2
           firefox-developer-edition             72.0b2-1             72.0b3-1
  firefox-developer-edition-i18n-ach             72.0b2-1             72.0b3-1
   firefox-developer-edition-i18n-af             72.0b2-1             72.0b3-1
   firefox-developer-edition-i18n-an             72.0b2-1             72.0b3-1
   firefox-developer-edition-i18n-ar             72.0b2-1             72.0b3-1
  firefox-developer-edition-i18n-ast             72.0b2-1             72.0b3-1
   firefox-developer-edition-i18n-az             72.0b2-1             72.0b3-1
   firefox-developer-edition-i18n-be             72.0b2-1             72.0b3-1
   firefox-developer-edition-i18n-bg             72.0b2-1             72.0b3-1
   firefox-developer-edition-i18n-bn             72.0b2-1             72.0b3-1
   firefox-developer-edition-i18n-br             72.0b2-1             72.0b3-1
   firefox-developer-edition-i18n-bs             72.0b2-1             72.0b3-1
   firefox-developer-edition-i18n-ca             72.0b2-1             72.0b3-1
  firefox-developer-edition-i18n-cak             72.0b2-1             72.0b3-1
   firefox-developer-edition-i18n-cs             72.0b2-1             72.0b3-1
   firefox-developer-edition-i18n-cy             72.0b2-1             72.0b3-1
   firefox-developer-edition-i18n-da             72.0b2-1             72.0b3-1
   firefox-developer-edition-i18n-de             72.0b2-1             72.0b3-1
  firefox-developer-edition-i18n-dsb             72.0b2-1             72.0b3-1
   firefox-developer-edition-i18n-el             72.0b2-1             72.0b3-1
firefox-developer-edition-i18n-en-ca             72.0b2-1             72.0b3-1
firefox-developer-edition-i18n-en-gb             72.0b2-1             72.0b3-1
firefox-developer-edition-i18n-en-us             72.0b2-1             72.0b3-1
   firefox-developer-edition-i18n-eo             72.0b2-1             72.0b3-1
firefox-developer-edition-i18n-es-ar             72.0b2-1             72.0b3-1
firefox-developer-edition-i18n-es-cl             72.0b2-1             72.0b3-1
firefox-developer-edition-i18n-es-es             72.0b2-1             72.0b3-1
firefox-developer-edition-i18n-es-mx             72.0b2-1             72.0b3-1
   firefox-developer-edition-i18n-et             72.0b2-1             72.0b3-1
   firefox-developer-edition-i18n-eu             72.0b2-1             72.0b3-1
   firefox-developer-edition-i18n-fa             72.0b2-1             72.0b3-1
   firefox-developer-edition-i18n-ff             72.0b2-1             72.0b3-1
   firefox-developer-edition-i18n-fi             72.0b2-1             72.0b3-1
   firefox-developer-edition-i18n-fr             72.0b2-1             72.0b3-1
firefox-developer-edition-i18n-fy-nl             72.0b2-1             72.0b3-1
firefox-developer-edition-i18n-ga-ie             72.0b2-1             72.0b3-1
   firefox-developer-edition-i18n-gd             72.0b2-1             72.0b3-1
   firefox-developer-edition-i18n-gl             72.0b2-1             72.0b3-1
   firefox-developer-edition-i18n-gn             72.0b2-1             72.0b3-1
firefox-developer-edition-i18n-gu-in             72.0b2-1             72.0b3-1
   firefox-developer-edition-i18n-he             72.0b2-1             72.0b3-1
firefox-developer-edition-i18n-hi-in             72.0b2-1             72.0b3-1
   firefox-developer-edition-i18n-hr             72.0b2-1             72.0b3-1
  firefox-developer-edition-i18n-hsb             72.0b2-1             72.0b3-1
   firefox-developer-edition-i18n-hu             72.0b2-1             72.0b3-1
firefox-developer-edition-i18n-hy-am             72.0b2-1             72.0b3-1
   firefox-developer-edition-i18n-ia             72.0b2-1             72.0b3-1
   firefox-developer-edition-i18n-id             72.0b2-1             72.0b3-1
   firefox-developer-edition-i18n-is             72.0b2-1             72.0b3-1
   firefox-developer-edition-i18n-it             72.0b2-1             72.0b3-1
   firefox-developer-edition-i18n-ja             72.0b2-1             72.0b3-1
   firefox-developer-edition-i18n-ka             72.0b2-1             72.0b3-1
  firefox-developer-edition-i18n-kab             72.0b2-1             72.0b3-1
   firefox-developer-edition-i18n-kk             72.0b2-1             72.0b3-1
   firefox-developer-edition-i18n-km             72.0b2-1             72.0b3-1
   firefox-developer-edition-i18n-kn             72.0b2-1             72.0b3-1
   firefox-developer-edition-i18n-ko             72.0b2-1             72.0b3-1
  firefox-developer-edition-i18n-lij             72.0b2-1             72.0b3-1
   firefox-developer-edition-i18n-lt             72.0b2-1             72.0b3-1
   firefox-developer-edition-i18n-lv             72.0b2-1             72.0b3-1
   firefox-developer-edition-i18n-mk             72.0b2-1             72.0b3-1
   firefox-developer-edition-i18n-mr             72.0b2-1             72.0b3-1
   firefox-developer-edition-i18n-ms             72.0b2-1             72.0b3-1
   firefox-developer-edition-i18n-my             72.0b2-1             72.0b3-1
firefox-developer-edition-i18n-nb-no             72.0b2-1             72.0b3-1
firefox-developer-edition-i18n-ne-np             72.0b2-1             72.0b3-1
   firefox-developer-edition-i18n-nl             72.0b2-1             72.0b3-1
firefox-developer-edition-i18n-nn-no             72.0b2-1             72.0b3-1
   firefox-developer-edition-i18n-oc             72.0b2-1             72.0b3-1
firefox-developer-edition-i18n-pa-in             72.0b2-1             72.0b3-1
   firefox-developer-edition-i18n-pl             72.0b2-1             72.0b3-1
firefox-developer-edition-i18n-pt-br             72.0b2-1             72.0b3-1
firefox-developer-edition-i18n-pt-pt             72.0b2-1             72.0b3-1
   firefox-developer-edition-i18n-rm             72.0b2-1             72.0b3-1
   firefox-developer-edition-i18n-ro             72.0b2-1             72.0b3-1
   firefox-developer-edition-i18n-ru             72.0b2-1             72.0b3-1
   firefox-developer-edition-i18n-si             72.0b2-1             72.0b3-1
   firefox-developer-edition-i18n-sk             72.0b2-1             72.0b3-1
   firefox-developer-edition-i18n-sl             72.0b2-1             72.0b3-1
  firefox-developer-edition-i18n-son             72.0b2-1             72.0b3-1
   firefox-developer-edition-i18n-sq             72.0b2-1             72.0b3-1
   firefox-developer-edition-i18n-sr             72.0b2-1             72.0b3-1
firefox-developer-edition-i18n-sv-se             72.0b2-1             72.0b3-1
   firefox-developer-edition-i18n-ta             72.0b2-1             72.0b3-1
   firefox-developer-edition-i18n-te             72.0b2-1             72.0b3-1
   firefox-developer-edition-i18n-th             72.0b2-1             72.0b3-1
   firefox-developer-edition-i18n-tr             72.0b2-1             72.0b3-1
   firefox-developer-edition-i18n-uk             72.0b2-1             72.0b3-1
   firefox-developer-edition-i18n-ur             72.0b2-1             72.0b3-1
   firefox-developer-edition-i18n-uz             72.0b2-1             72.0b3-1
   firefox-developer-edition-i18n-vi             72.0b2-1             72.0b3-1
   firefox-developer-edition-i18n-xh             72.0b2-1             72.0b3-1
firefox-developer-edition-i18n-zh-cn             72.0b2-1             72.0b3-1
firefox-developer-edition-i18n-zh-tw             72.0b2-1             72.0b3-1
                           git-annex        7.20191114-20        7.20191114-23
                                  go           2:1.13.4-1           2:1.13.5-1
                         go-ethereum              1.9.8-1              1.9.9-1
                              go-pie           2:1.13.4-1           2:1.13.5-1
                  haskell-aeson-diff            1.1.0.8-3            1.1.0.8-4
                    haskell-aeson-qq              0.8.3-4              0.8.3-5
                haskell-authenticate              1.3.5-2              1.3.5-3
                         haskell-aws           0.21.1-124           0.21.1-125
              haskell-binary-conduit             1.3.1-65             1.3.1-66
                       haskell-■■■■■               0.48-4               0.49-1
               haskell-clash-prelude            0.99.3-76            0.99.3-77
                     haskell-conduit           1.3.1.1-44           1.3.1.1-45
               haskell-conduit-extra             1.3.4-22             1.3.4-23
                   haskell-criterion           1.5.5.0-87           1.5.5.0-88
          haskell-cryptohash-conduit            0.1.1-312            0.1.1-313
          haskell-cryptonite-conduit            0.2.2-206            0.2.2-207
                         haskell-dav            1.3.3-120            1.3.3-121
                        haskell-dbus             1.2.7-50             1.2.7-51
                         haskell-dns             3.0.4-90             3.0.4-91
                      haskell-errors             2.3.0-34             2.3.0-35
                   haskell-esqueleto              3.2.3-4              3.2.3-5
                  haskell-fdo-notify            0.3.1-210            0.3.1-211
                        haskell-feed           1.2.0.1-12           1.2.0.1-13
                     haskell-githash            0.1.3.3-3            0.1.3.3-4
                      haskell-hakyll         4.12.5.2-136         4.12.5.2-137
                        haskell-here            1.2.13-87            1.2.13-88
                 haskell-hledger-lib             1.15.2-8             1.15.2-9
                    haskell-hopenpgp                2.9-3                2.9-4
                       haskell-hpack            0.33.0-16            0.33.0-17
              haskell-hspec-wai-json             0.9.2-90             0.9.2-91
                haskell-html-conduit           1.3.2.1-12           1.3.2.1-13
                        haskell-http         4000.3.14-56         4000.3.14-57
                haskell-http-conduit           2.3.7.3-16           2.3.7.3-17
               haskell-http-download           0.1.0.0-50           0.1.0.0-51
                 haskell-interpolate            0.2.0-101            0.2.0-102
    haskell-interpolatedstring-perl6              1.0.2-2              1.0.2-3
                       haskell-ipynb               0.1-84               0.1-85
                        haskell-jose          0.7.0.0-139          0.7.0.0-140
                   haskell-js-jquery            3.3.1-300            3.3.1-301
                     haskell-libyaml            0.1.1.1-4            0.1.1.1-5
                haskell-monad-logger             0.3.31-5             0.3.31-6
                    haskell-mustache            2.3.0-253            2.3.0-254
             haskell-optparse-simple           0.1.1.2-80           0.1.1.2-81
                      haskell-pantry           0.1.1.1-74           0.1.1.1-75
                  haskell-persistent             2.10.4-8             2.10.4-9
               haskell-persistent-qq             2.9.1-88             2.9.1-89
           haskell-persistent-sqlite            2.10.5-34            2.10.5-35
         haskell-persistent-template             2.7.3-13             2.7.3-14
             haskell-persistent-test           2.0.3.0-39           2.0.3.0-40
            haskell-project-template          0.2.0.1-176          0.2.0.1-177
                 haskell-rio-orphans           0.1.1.0-32           0.1.1.0-33
                        haskell-safe             0.3.17-7             0.3.18-1
                       haskell-sandi               0.5-54               0.5-55
                         haskell-sbv                8.4-4                8.4-5
              haskell-servant-server            0.16.2-44            0.16.2-45
                       haskell-shake            0.18.3-53            0.18.3-54
             haskell-simple-sendfile             0.2.30-5             0.2.30-6
                  haskell-singletons             2.5.1-33             2.5.1-34
                 haskell-skylighting              0.8.3-1              0.8.3-2
            haskell-skylighting-core              0.8.3-1              0.8.3-2
                    haskell-src-meta             0.8.2-32             0.8.2-33
                       haskell-store           0.5.1.2-27           0.5.1.2-28
           haskell-tagstream-conduit          0.5.5.3-301          0.5.5.3-302
         haskell-tamarin-prover-term             1.4.1-32             1.4.1-33
       haskell-tamarin-prover-theory             1.4.1-45             1.4.1-46
        haskell-tamarin-prover-utils             1.4.1-19             1.4.1-20
                 haskell-tar-conduit             0.3.2-23             0.3.2-24
                  haskell-th-desugar               1.9-36               1.9-37
                  haskell-th-orphans             0.13.9-1             0.13.9-2
               haskell-th-reify-many              0.1.9-4              0.1.9-5
                haskell-th-utilities            0.2.3.1-2            0.2.3.1-3
              haskell-uri-bytestring            0.3.2.2-2            0.3.2.2-3
              haskell-wai-app-static          3.1.6.3-124          3.1.6.3-125
                 haskell-wai-conduit          3.0.0.4-150          3.0.0.4-151
          haskell-wai-handler-launch          3.0.2.4-235          3.0.2.4-236
                        haskell-warp             3.3.4-11             3.3.4-12
                    haskell-warp-tls             3.2.8-28             3.2.8-29
                 haskell-xml-conduit           1.8.0.1-94           1.8.0.1-95
                  haskell-xml-hamlet           0.5.0.1-17           0.5.0.1-18
                        haskell-yaml           0.11.2.0-8           0.11.2.0-9
                       haskell-yesod            1.6.0-380            1.6.0-382
                  haskell-yesod-auth             1.6.8-52             1.6.8-54
                  haskell-yesod-core          1.6.16.1-35             1.6.17-2
               haskell-yesod-default            1.2.0-617            1.2.0-619
                  haskell-yesod-form             1.6.7-39             1.6.7-41
            haskell-yesod-persistent           1.6.0.3-14           1.6.0.3-16
                haskell-yesod-static          1.6.0.1-234          1.6.0.1-237
                  haskell-yesod-test              1.6.8-8              1.6.9-1
                           hedgewars              1.0.0-6              1.0.0-7
                             hindent             5.3.1-33             5.3.1-34
                             hledger            1.15.2-18            1.15.2-19
                          hledger-ui              1.15-21              1.15-23
                         hledger-web              1.15-55              1.15-58
                               hlint            2.1.14-80            2.1.14-81
                              hoogle         5.0.17.11-33         5.0.17.11-34
                      hopenpgp-tools               0.23-3               0.23-4
                               idris             1.3.2-34             1.3.2-35
               intel-compute-runtime        19.44.14658-4        19.48.14977-1
             intel-graphics-compiler         1:1.0.2934-1         1:1.0.2990-1
                               jhead               3.03-1               3.04-1
                                josm              15492-1              15553-1
                               julia            2:1.2.0-2            2:1.3.0-1
                          julia-docs            2:1.2.0-2            2:1.3.0-1
                                 kea             1.5.0-10             1.5.0-11
                             kubectl             1.15.2-1             1.16.3-1
                    libcontentaction             0.3.12-1             0.3.13-1
                             libdsme             0.66.1-1             0.66.2-1
                                 mpv           1:0.30.0-4           1:0.30.0-5
                             neomutt           20191129-3           20191207-1
                             notmuch             0.29.2-3             0.29.3-1
                        notmuch-mutt             0.29.2-3             0.29.3-1
                     notmuch-runtime             0.29.2-3             0.29.3-1
                         notmuch-vim             0.29.2-3             0.29.3-1
                           ocaml-num                1.2-4                1.3-1
                              pandoc             2.7.3-84             2.7.3-85
                     pandoc-citeproc           0.16.2-152           0.16.2-153
                     pandoc-crossref          0.3.4.1-133          0.3.4.1-134
                     parity-ethereum             2.5.10-1             2.5.11-1
                           postgrest             6.0.0-66             6.0.0-67
                            pylibacl              0.5.3-3              0.5.4-1
           python-aws-sam-translator             1.16.0-1             1.19.0-1
                 python-aws-xray-sdk              2.4.2-7              2.4.3-1
                        python-boto3            1.10.28-1            1.10.34-1
                     python-botocore            1.13.28-1            1.13.34-1
                      python-certifi          2019.9.11-1         2019.11.28-1
                     python-cfn-lint             0.25.5-1             0.26.0-1
                     python-envisage              4.8.0-4              4.9.0-1
                    python-fonttools              4.1.0-1              4.2.1-1
                       python-hunter              3.0.4-1              3.0.5-1
                   python-hypothesis             4.48.0-1             4.48.1-1
              python-internetarchive              1.8.5-2              1.9.0-1
                        python-iwlib              1.6.2-3              1.7.0-1
                      python-keyring             19.2.0-3             19.3.0-1
               python-logilab-common              1.5.1-1              1.5.2-1
                     python-openpyxl              3.0.0-2              3.0.1-1
                       python-peewee             3.12.0-1             3.13.0-1
                      python-pikepdf              1.7.1-1              1.8.0-1
                       python-pycdio              2.1.0-2              2.1.0-3
                        python-qt.py              1.2.1-4              1.2.2-1
                 python-scikit-learn             0.21.3-3               0.22-1
         python-sphinxcontrib-bibtex              0.4.2-3              1.0.0-1
                  python-statsmodels             0.10.1-2             0.10.2-1
                       python-traits              5.1.2-3              5.2.0-1
                         python-wand              0.5.7-2              0.5.8-1
                   python-xlsxwriter              1.2.2-2              1.2.6-1
                  python2-hypothesis             4.48.0-1             4.48.1-1
                      python2-pycdio              2.1.0-2                    -
                         qutebrowser              1.8.2-1              1.8.3-1
                           rsnapshot              1.4.2-3              1.4.3-1
                          shellcheck             0.7.0-68             0.7.0-69
                            soapysdr              0.7.1-3              0.7.1-4
                               stack             2.1.3-88             2.1.3-89
                     stylish-haskell            0.9.4.4-8            0.9.4.4-9
                      tamarin-prover            1.4.1-196            1.4.1-199
                                tcsh            6.21.00-1            6.22.02-1
                         tensorboard              2.0.2-1              2.1.0-1
                                 tor            0.4.1.6-1            0.4.1.6-2
                             whipper              0.8.0-2              0.9.0-1
                      wireguard-dkms       0.0.20191205-1       0.0.20191206-1
                     wireguard-tools       0.0.20191205-1       0.0.20191206-1
                              xmobar              0.31-25              0.31-26
                                yodl            4.02.01-2            4.02.02-1
                            openlibm                    -              0.6.0-2
                   perl-locale-codes                    -               3.62-1
                               yaegi                    -              0.7.0-2


:: Different overlay package(s) in repository core x86_64

-------------------------------------------------------------------------------
                             PACKAGE           2019-12-06           2019-12-08
-------------------------------------------------------------------------------
                           amd-ucode   20191022.2b016af-3                    -
                      linux-firmware   20191022.2b016af-3                    -
                             systemd            243.162-1            242.153-2
                        systemd-libs            243.162-1            242.153-2
                  systemd-resolvconf            243.162-1            242.153-2
                  systemd-sysvcompat            243.162-1            242.153-2


:: Different sync package(s) in repository core x86_64

-------------------------------------------------------------------------------
                             PACKAGE           2019-12-06           2019-12-08
-------------------------------------------------------------------------------
                           amd-ucode   20191022.2b016af-3   20191118.e8a0f4c-2
             ca-certificates-mozilla             3.47.1-5               3.48-1
                      linux-firmware   20191022.2b016af-3   20191118.e8a0f4c-2
                                nspr               4.23-2               4.24-1
                                 nss             3.47.1-5               3.48-1
                               pcre2              10.34-1              10.34-2


:: Different overlay package(s) in repository extra x86_64

-------------------------------------------------------------------------------
                             PACKAGE           2019-12-06           2019-12-08
-------------------------------------------------------------------------------
                           pamac-cli            9.2.0rc-3              9.2.0-1
                        pamac-common            9.2.0rc-3              9.2.0-1
                           pamac-gtk            9.2.0rc-3              9.2.0-1
                   pamac-snap-plugin            9.2.0rc-3              9.2.0-1
             pamac-tray-appindicator            9.2.0rc-3              9.2.0-1


:: Different sync package(s) in repository extra x86_64

-------------------------------------------------------------------------------
                             PACKAGE           2019-12-06           2019-12-08
-------------------------------------------------------------------------------
                   black-hole-solver              1.4.0-1              1.6.0-1
                              cantor            19.08.3-2            19.08.3-3
                                 cln              1.3.5-1              1.3.6-1
                           gst-libav             1.16.1-1             1.16.2-1
                     gst-plugins-bad             1.16.1-4             1.16.2-1
                    gst-plugins-base             1.16.1-1             1.16.2-1
               gst-plugins-base-libs             1.16.1-1             1.16.2-1
                    gst-plugins-good             1.16.1-1             1.16.2-1
                    gst-plugins-ugly             1.16.1-2             1.16.2-1
                          gst-python             1.16.1-3             1.16.2-1
                         gst-python2             1.16.1-3             1.16.2-1
                           gstreamer             1.16.1-1             1.16.2-1
                     gstreamer-vaapi             1.16.1-1             1.16.2-1
                    libgnome-keyring 3.12.0+11+g3766bcc-1 3.12.0+13+g4f8ab73-1
                          libmagick6          6.9.10.74-1          6.9.10.77-1
                        libmpdclient               2.16-1               2.17-1
                             libxslt             1.1.34-1             1.1.34-2
                              openal             1.19.1-2             1.20.0-1
                     openal-examples             1.19.1-2             1.20.0-1
                            seahorse             1:3.34-1             1:3.34-2
                        sof-firmware              1.3.1-1              1.4.1-1
                      vulkan-headers          1:1.1.127-1          1:1.1.129-1
                    vulkan-html-docs          1:1.1.127-1          1:1.1.129-1
                   vulkan-icd-loader            1.1.127-1            1.1.129-1
                        vulkan-tools          1.1.126.0-1            1.1.128-1
            vulkan-validation-layers            1.1.127-1            1.1.128-1
                            rinutils                    -              0.1.4-1


:: Different overlay package(s) in repository multilib x86_64

-------------------------------------------------------------------------------
                             PACKAGE           2019-12-06           2019-12-08
-------------------------------------------------------------------------------
                       lib32-systemd            243.162-1            242.153-2


:: Different sync package(s) in repository multilib x86_64

-------------------------------------------------------------------------------
                             PACKAGE           2019-12-06           2019-12-08
-------------------------------------------------------------------------------
                        lib32-gnutls             3.6.10-1           3.6.11.1-1
                          lib32-nspr               4.23-1               4.24-1
                           lib32-nss             3.47.1-4               3.48-1
                        lib32-openal             1.19.1-1             1.20.0-1
             lib32-vulkan-icd-loader            1.1.127-1            1.1.129-1
      lib32-vulkan-validation-layers            1.1.127-1            1.1.128-1
                        wine-staging               4.20-1               4.21-1

No issue, everything went smoothly
Yes there was an issue. I was able to resolve it myself.(Please post your solution)
Yes i am currently experiencing an issue due to the update. (Please post about it)
Check if your mirror has already synced: