Hello community,
I am happy to announce another Testing Update.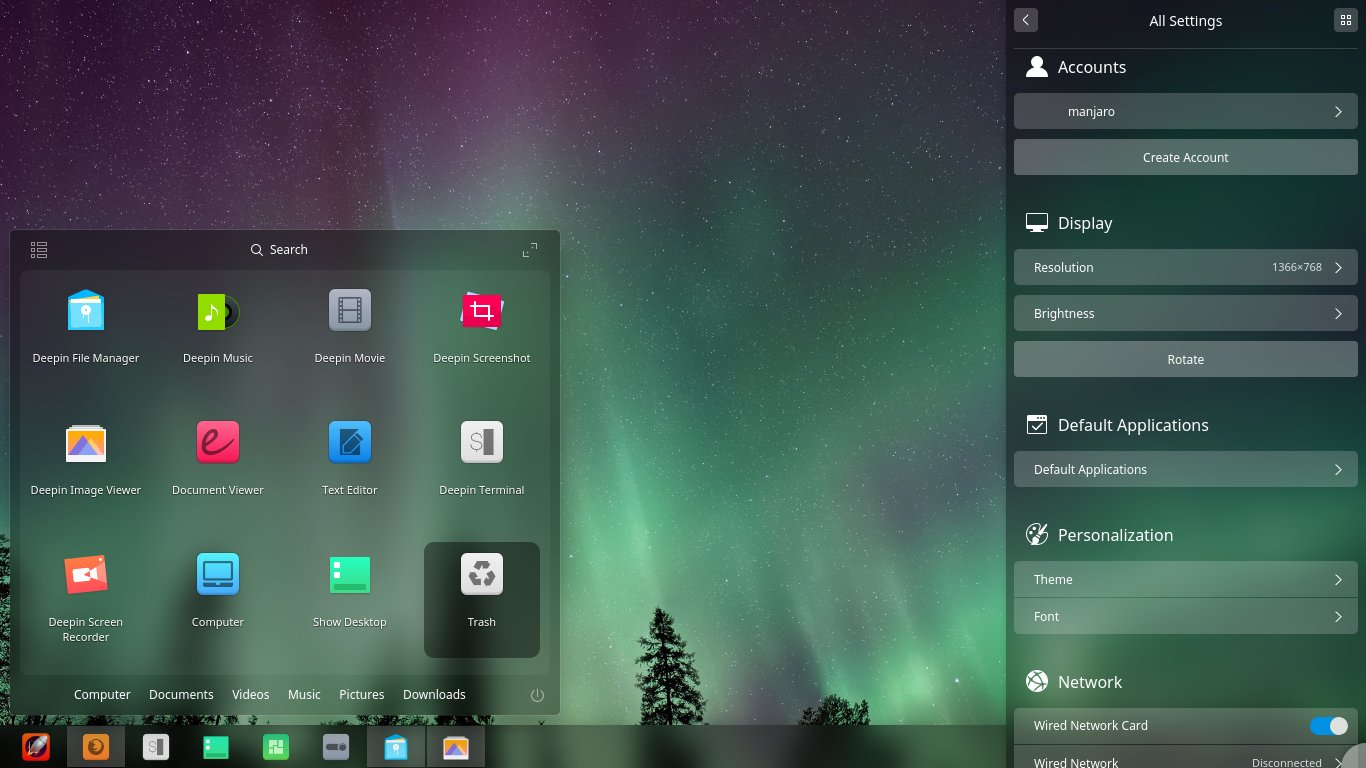 We updated our Deepin ISO with a newer preview.
Some feature-updates:
python 3.8 rebuilds by Arch and Manjaro
we updated most of our kernels
new bauh version
new calamares release
the usual upstream fixes and haskell rebuilds.
If you like following latest Plasma development you may also like to check out our current version of mnjaro-kde-vanilla, which we build on a regular basis against kde-git master packages.
As always we appreciate your input and feedback for the updates.
---
Our current supported kernels:
linux316 3.16.78
linux44 4.4.205
linux49 4.9.205
linux414 4.14.156
linux419 4.19.86
linux53 5.3.14
linux54 5.4.1
linux419-rt 4.19.72_rt26
linux52-rt 5.2.21_rt13
Package Changes (Sat Nov 30 12:05:57 CET 2019)
testing community x86_64: 314 new and 300 removed package(s)
testing core x86_64: 9 new and 9 removed package(s)
testing extra x86_64: 163 new and 161 removed package(s)
testing multilib x86_64: 3 new and 2 removed package(s)
:: Different overlay package(s) in repository community x86_64

-------------------------------------------------------------------------------
                             PACKAGE           2019-11-26           2019-11-30
-------------------------------------------------------------------------------
                                bauh              0.7.2-1              0.7.3-1
                         edid-decode       r227.93fcea8-1       r277.d0a1a41-1
                              etcher             1.5.63-1             1.5.64-1
                        grub-vanilla               2.04-2               2.04-3
                        linux-latest                5.3-3                5.4-1
              linux-latest-acpi_call                5.3-3                5.4-1
               linux-latest-bbswitch                5.3-3                5.4-1
            linux-latest-broadcom-wl                5.3-3                5.4-1
                linux-latest-headers                5.3-3                5.4-1
            linux-latest-ndiswrapper                5.3-3                5.4-1
           linux-latest-nvidia-340xx                5.3-3                5.4-1
           linux-latest-nvidia-390xx                5.3-3                5.4-1
           linux-latest-nvidia-418xx                5.3-3                5.4-1
           linux-latest-nvidia-430xx                5.3-3                5.4-1
           linux-latest-nvidia-435xx                5.3-3                5.4-1
           linux-latest-nvidia-440xx                5.3-3                5.4-1
               linux-latest-nvidiabl                5.3-3                5.4-1
                  linux-latest-r8168                5.3-3                5.4-1
              linux-latest-rt3562sta                5.3-3                5.4-1
              linux-latest-rtl8723bu                5.3-3                5.4-1
               linux-latest-tp_smapi                5.3-3                5.4-1
            linux-latest-vhba-module                5.3-3                5.4-1
linux-latest-virtualbox-guest-modules               5.3-3                5.4-1
linux-latest-virtualbox-host-modules                5.3-3                5.4-1
                    linux-latest-zfs                5.3-3                5.4-1
                          pkgbrowser               0.22-1               0.22-2
                           calindori                    -    1.0+84+g37e1955-1
                               index                    -   0.1+r286.390aab0-2
                              kaidan                    -              0.4.1-1
                                koko                    -   0.1+r452.dc1f35c-2
             kquicksyntaxhighlighter                    -     0.1+r1.69d2f40-1
                             mauikit                    -   0.1+r849.6f82b60-1
                    plasma-angelfish                    -  1.3.0+14+g0026956-1
                          qmlkonsole                    -     0.1+r6.eac8318-1
                               qxmpp                    -              1.1.0-1
                         simplelogin                    -    0.1+r61.ffa841e-1


:: Different sync package(s) in repository community x86_64

-------------------------------------------------------------------------------
                             PACKAGE           2019-11-26           2019-11-30
-------------------------------------------------------------------------------
                                 apm              2.4.3-3              2.4.5-1
                              ardour              5.12-12              5.12-13
                               bazel              1.2.0-1              1.2.1-1
                       cabal-install          2.4.0.0-157          2.4.0.0-159
                              catch2             2.10.2-1             2.11.0-1
                              ccache              3.7.5-1              3.7.6-1
                               cgrep             6.6.30-5             6.6.30-6
                        cmake-fedora              2.9.2-8              2.9.2-9
                         cni-plugins              0.8.2-2              0.8.3-1
                             cockpit                207-1                208-1
                   cockpit-dashboard                207-1                208-1
                         cockpit-pcp                207-1                208-1
                                code             1.40.1-1             1.40.2-1
                              conmon            1:2.0.2-1            1:2.0.3-1
                          converseen            0.9.7.2-4            0.9.8.0-1
                             cryptol              2.8.0-7              2.8.0-8
                               darcs           2.14.2-128           2.14.2-130
                            deja-dup               40.1-3               40.5-1
                              devede             4.15.0-2             4.16.0-1
                          displaycal            3.8.8.0-1            3.8.8.1-1
                               dsdcc              1.8.5-3              1.8.6-1
                           electron5             5.0.11-2             5.0.12-1
                          elfkickers                3.1-3              3.1.a-1
                           espeak-ng             1.49.2-6               1.50-1
                           etckeeper            1.18.10-3            1.18.12-1
                               fwupd              1.3.4-1              1.3.5-1
                                 gap             4.10.2-7             4.10.2-8
                             gap-doc             4.10.2-7             4.10.2-8
                        gap-packages             4.10.2-7             4.10.2-8
                                gdal              3.0.1-4              3.0.2-1
                            geogebra          6.0.541.0-1          6.0.564.0-1
                                geos              3.7.2-1              3.8.0-1
                           git-annex        7.20191114-15        7.20191114-17
                              gitlab             12.5.0-1             12.5.1-1
                       gitlab-runner             12.4.0-1             12.5.0-1
                      gnome-podcasts 0.4.6+185+geb03261-1              0.4.7-1
                         go-ethereum              1.9.7-1              1.9.8-1
                             grafana              6.4.5-1              6.5.1-1
                                grpc             1.25.0-2             1.25.0-3
                            grpc-cli             1.25.0-2             1.25.0-3
                             gtkwave            3.3.102-1            3.3.103-1
                 haskell-adjunctions              4.4-102              4.4-103
                  haskell-aeson-diff           1.1.0.7-50            1.1.0.8-1
                haskell-authenticate            1.3.4-366            1.3.4-368
                         haskell-aws           0.21.1-120           0.21.1-122
                  haskell-bifunctors              5.5.5-4              5.5.6-1
              haskell-binary-conduit             1.3.1-62             1.3.1-63
   haskell-bytestring-strict-builder           0.4.5.3-24           0.4.5.3-25
                  haskell-cheapskate          0.1.1.1-100          0.1.1.1-101
                    haskell-checkers              0.5.2-1              0.5.2-2
               haskell-clash-prelude            0.99.3-73            0.99.3-74
                     haskell-concise          0.1.0.1-126          0.1.0.1-127
                     haskell-conduit           1.3.1.1-41           1.3.1.1-42
               haskell-conduit-extra             1.3.4-19             1.3.4-20
                   haskell-criterion           1.5.5.0-83           1.5.5.0-85
          haskell-cryptohash-conduit            0.1.1-309            0.1.1-310
          haskell-cryptonite-conduit            0.2.2-203            0.2.2-204
                         haskell-dav            1.3.3-116            1.3.3-117
                        haskell-dbus             1.2.7-46             1.2.7-47
              haskell-deferred-folds          0.9.10.1-31          0.9.10.1-32
                 haskell-descriptive             0.9.5-66             0.9.5-67
                         haskell-dns             3.0.4-89             3.0.4-90
                      haskell-either           5.0.1.1-25           5.0.1.1-26
                   haskell-esqueleto              3.2.2-3              3.2.3-2
                  haskell-fdo-notify            0.3.1-206            0.3.1-207
                        haskell-feed            1.2.0.1-9           1.2.0.1-10
                       haskell-foldl             1.4.5-55             1.4.5-56
                        haskell-free              5.1.2-8              5.1.2-9
                     haskell-githash           0.1.3.2-23            0.1.3.3-1
             haskell-haddock-library             1.7.0-75             1.7.0-76
                      haskell-hakyll         4.12.5.2-129         4.12.5.2-132
                       haskell-hasql               1.4-26               1.4-27
                  haskell-hasql-pool             0.5.1-30             0.5.1-31
           haskell-hasql-transaction             0.7.2-26             0.7.2-27
                    haskell-hopenpgp              2.8.4-1              2.8.4-2
                       haskell-hpack            0.33.0-13            0.33.0-14
                   haskell-hspec-wai             0.9.2-78             0.9.2-79
              haskell-hspec-wai-json             0.9.2-89             0.9.2-90
                haskell-html-conduit            1.3.2.1-9           1.3.2.1-10
                        haskell-http         4000.3.14-52         4000.3.14-54
                haskell-http-conduit           2.3.7.3-12           2.3.7.3-14
               haskell-http-download           0.1.0.0-46           0.1.0.0-48
          haskell-incremental-parser              0.3.3-5              0.3.3-6
   haskell-insert-ordered-containers             0.2.2-27             0.2.2-28
                   haskell-invariant             0.5.3-25             0.5.3-26
                     haskell-iproute             1.7.7-25              1.7.8-1
                       haskell-ipynb               0.1-80               0.1-82
                        haskell-jose          0.7.0.0-136          0.7.0.0-137
                   haskell-js-jquery            3.3.1-296            3.3.1-298
              haskell-kan-extensions               5.2-72               5.2-73
                        haskell-keys            3.12.2-27            3.12.2-28
                        haskell-lens            4.17.1-30            4.17.1-31
                  haskell-lens-aeson            1.0.2-172            1.0.2-173
                     haskell-libyaml            0.1.1.1-1            0.1.1.1-2
                       haskell-lucid             2.9.12-2             2.9.12-3
                haskell-monad-logger             0.3.31-2             0.3.31-3
            haskell-mono-traversable           1.0.13.0-5           1.0.13.0-6
                    haskell-mustache            2.3.0-249            2.3.0-250
             haskell-optparse-simple           0.1.1.2-76           0.1.1.2-78
                      haskell-pantry           0.1.1.1-69           0.1.1.1-71
                  haskell-persistent             2.10.4-5             2.10.4-6
               haskell-persistent-qq             2.9.1-85             2.9.1-86
           haskell-persistent-sqlite            2.10.5-31            2.10.5-32
         haskell-persistent-template             2.7.3-10             2.7.3-11
             haskell-persistent-test           2.0.3.0-36           2.0.3.0-37
                     haskell-pointed            5.0.1-108            5.0.1-109
           haskell-postgresql-binary          0.12.1.3-20          0.12.1.3-21
                 haskell-profunctors                5.5-2                5.5-3
            haskell-project-template          0.2.0.1-173          0.2.0.1-174
                      haskell-rebase              1.4.1-2              1.4.1-3
                    haskell-reducers            3.12.3-63            3.12.3-64
                    haskell-rerebase              1.4.1-2              1.4.1-3
                 haskell-rio-orphans           0.1.1.0-29           0.1.1.0-30
                       haskell-sandi               0.5-51               0.5-52
                         haskell-sbv                8.4-1                8.4-2
               haskell-semigroupoids              5.3.3-4              5.3.3-5
                     haskell-servant            0.16.2-13            0.16.2-14
              haskell-servant-server            0.16.2-40            0.16.2-42
             haskell-servant-swagger           1.1.7.1-32           1.1.7.1-33
                       haskell-shake            0.18.3-49            0.18.3-51
             haskell-simple-sendfile             0.2.30-2             0.2.30-3
                       haskell-store           0.5.1.2-23           0.5.1.2-24
                    haskell-swagger2           2.3.1.1-63           2.3.1.1-64
           haskell-tagstream-conduit          0.5.5.3-298          0.5.5.3-299
                 haskell-tar-conduit             0.3.2-19             0.3.2-20
                 haskell-tasty-rerun            1.1.14-33            1.1.14-34
                haskell-text-builder           0.6.5.1-34           0.6.5.1-35
                   haskell-tree-diff               0.1-29               0.1-30
                    haskell-trifecta                 2-65                 2-66
                      haskell-turtle             1.5.15-4             1.5.15-5
            haskell-vector-instances              3.4-142              3.4-143
              haskell-wai-app-static          3.1.6.3-120          3.1.6.3-122
                 haskell-wai-conduit          3.0.0.4-147          3.0.0.4-148
                   haskell-wai-extra            3.0.28-20            3.0.28-21
          haskell-wai-handler-launch          3.0.2.4-231          3.0.2.4-233
                  haskell-wai-logger              2.3.6-1              2.3.6-2
                        haskell-warp              3.3.4-7              3.3.4-9
                    haskell-warp-tls             3.2.8-24             3.2.8-26
            haskell-wl-pprint-extras          3.5.0.5-115          3.5.0.5-116
          haskell-wl-pprint-terminfo          3.7.1.4-115          3.7.1.4-116
                        haskell-wreq           0.5.3.2-91           0.5.3.2-92
                      haskell-xcffib             0.8.1-21             0.8.1-22
                 haskell-xml-conduit           1.8.0.1-91           1.8.0.1-92
                  haskell-xml-hamlet           0.5.0.1-14           0.5.0.1-15
                        haskell-yaml           0.11.2.0-5           0.11.2.0-6
                       haskell-yesod            1.6.0-376            1.6.0-378
                  haskell-yesod-auth             1.6.8-47             1.6.8-49
                  haskell-yesod-core          1.6.16.1-31          1.6.16.1-33
               haskell-yesod-default            1.2.0-613            1.2.0-615
                  haskell-yesod-form             1.6.7-35             1.6.7-37
            haskell-yesod-persistent           1.6.0.3-10           1.6.0.3-12
                haskell-yesod-static          1.6.0.1-230          1.6.0.1-232
                  haskell-yesod-test              1.6.8-4              1.6.8-6
                           hedgewars              1.0.0-3              1.0.0-4
                             hindent             5.3.1-30             5.3.1-31
                             hledger            1.15.2-16            1.15.2-17
                          hledger-ui              1.15-19              1.15-20
                         hledger-web              1.15-51              1.15-53
                               hlint            2.1.14-77            2.1.14-78
                              hoogle         5.0.17.11-29         5.0.17.11-31
                      hopenpgp-tools               0.22-2               0.22-3
                             hostapd                2.9-2                2.9-3
                                hugo             0.59.1-1             0.60.1-1
                               idris             1.3.2-31             1.3.2-33
                            impacket             0.9.19-1             0.9.20-1
               intel-compute-runtime        19.44.14658-3        19.44.14658-4
             intel-graphics-compiler         1:1.0.2878-1         1:1.0.2934-1
                             jenkins              2.205-1              2.206-1
                              kcptun           20191112-1           20191127-1
                             keepass             2.42.1-5               2.43-4
                               kitty             0.14.6-2             0.15.0-1
                      kitty-terminfo             0.14.6-2             0.15.0-1
                              kotlin             1.3.50-1             1.3.61-1
                              kresus             0.14.0-3             0.15.1-1
                       libsemigroups              0.6.7-1              1.0.1-1
       lightdm-webkit-theme-litarvan              2.0.7-3              3.0.0-1
                            lollypop             1.2.15-1             1.2.16-1
                              lutris0.5.3.r5660.a31a0a4-1              0.5.4-1
                                mame              0.215-1              0.216-1
                               maven              3.6.2-1              3.6.3-1
                            minetest              5.0.1-1              5.1.0-1
                     minetest-common              5.0.1-1              5.1.0-1
                     minetest-server              5.0.1-1              5.1.0-1
                             moosefs            3.0.105-1            3.0.107-1
                           musescore              3.3.2-1              3.3.3-1
                                 nim              1.0.2-1              1.0.4-1
                              pandoc             2.7.3-77             2.7.3-80
                     pandoc-citeproc           0.16.2-145           0.16.2-148
                     pandoc-crossref          0.3.4.1-126          0.3.4.1-129
                   pantheon-calendar              5.0.1-1              5.0.3-1
                    perl-perl-critic              1.134-2              1.136-1
                            pgadmin4               4.13-2               4.15-1
                           php-geoip              1.1.1-4              1.1.1-5
                            php-grpc             1.25.0-2             1.25.0-3
                        php-igbinary              3.0.1-2              3.0.1-3
                         php-imagick              3.4.4-4              3.4.4-5
                        php-memcache              3.0.8-7              3.0.8-8
                       php-memcached              3.1.4-1              3.1.4-2
                         php-mongodb              1.6.0-2              1.6.0-3
                           php-redis              5.1.1-2              5.1.1-3
                               picom                7.5-1                7.5-2
                             postgis              2.5.3-2              3.0.0-1
                           postgrest             6.0.0-61             6.0.0-63
                           profanity            1:0.7.0-2            1:0.7.1-1
                       profanity-gtk            1:0.7.0-2            1:0.7.1-1
                             puppet5             5.5.17-2             5.5.17-3
                          pygmentize              2.5.1-1              2.5.2-1
                  python-aiobotocore             0.11.0-2             0.11.0-3
                     python-autobahn            19.11.1-1            19.11.1-2
                     python-cfn-lint             0.25.3-1             0.25.5-1
                        python-funcy               1.13-2               1.14-1
                         python-gdal              3.0.1-4              3.0.2-1
                       python-grpcio             1.25.0-2             1.25.0-3
                   python-hypothesis             4.46.1-1             4.47.1-1
               python-logilab-common              1.4.4-1              1.5.1-1
                      python-mockito              1.1.1-3              1.2.0-1
                    python-multidict              4.5.2-3              4.6.1-1
                     python-oslo-log             3.44.1-3             3.45.0-1
                python-parsedatetime                2.4-5                2.5-1
                          python-pbr              5.4.3-3              5.4.4-1
                 python-phonenumbers            8.10.23-1             8.11.0-1
                       python-psutil              5.6.5-1              5.6.7-1
                     python-pygments              2.5.1-1              2.5.2-1
                       python-pytest              5.3.0-1              5.3.1-1
                    python-tarantool              0.6.4-3              0.6.6-1
                       python-xxhash              1.4.2-3              1.4.3-1
                       python-zopfli              0.1.6-2              0.1.7-1
                  python2-hypothesis             4.46.1-1             4.47.1-1
                    python2-oslo-log             3.44.1-3             3.45.0-1
                         python2-pbr              5.4.3-3              5.4.4-1
                      python2-psutil              5.6.5-1              5.6.7-1
                    python2-pygments              2.5.1-1              2.5.2-1
                   python2-tarantool              0.6.4-3              0.6.6-1
                                qgis              3.8.3-2             3.10.0-1
                          ruby-gpgme             2.0.16-2             2.0.19-1
                            ruby-irb              1.0.0-1              1.1.0-2
                        rust-bindgen             0.51.1-1             0.52.0-1
                            sdrangel             4.11.4-2             4.12.1-1
                            serialdv              1.1.1-2              1.1.4-1
                          shellcheck             0.7.0-61             0.7.0-64
                               smali              2.2.5-1              2.3.4-1
                        spatialindex              1.9.0-1              1.9.3-1
                               stack             2.1.3-80             2.1.3-83
                          strawberry              0.6.6-1              0.6.7-1
                     stylish-haskell            0.9.4.4-5            0.9.4.4-6
                      tamarin-prover            1.4.1-192            1.4.1-194
                           tarantool          2.2.1.r19-2              2.3.0-1
                             tellico              3.2.2-1              3.2.3-1
                              texlab              1.6.0-2              1.7.0-1
                            three.js               r110-1               r111-1
                         tidalcycles              1.4.4-1              1.4.5-1
                               timew              1.1.1-1              1.2.0-1
                                tmux                3.0-1                3.0-2
                             ts-node              8.5.2-1              8.5.4-1
                          uncrustify             0.70.0-1             0.70.1-1
                             uranium              4.3.0-3              4.3.0-4
                                 urh              2.8.0-2              2.8.1-1
         v2ray-domain-list-community         20191121.1-1         20191128.1-1
                          virtualbox             6.0.14-3             6.0.14-4
                  virtualbox-ext-vnc             6.0.14-3             6.0.14-4
               virtualbox-guest-dkms             6.0.14-3             6.0.14-4
              virtualbox-guest-utils             6.0.14-3             6.0.14-4
          virtualbox-guest-utils-nox             6.0.14-3             6.0.14-4
                virtualbox-host-dkms             6.0.14-3             6.0.14-4
                      virtualbox-sdk             6.0.14-3             6.0.14-4
                      wireguard-dkms       0.0.20191012-1       0.0.20191127-1
                     wireguard-tools       0.0.20191012-1       0.0.20191127-1
                                  xa              2.3.9-1             2.3.10-1
                              xdebug              2.8.0-1              2.8.0-2
                              xmobar              0.31-20              0.31-22
                                yapf             0.28.0-2             0.29.0-1
                          youtube-dl         2019.11.22-1         2019.11.28-1
                                  yq              2.8.0-1              2.9.2-1
                              zopfli              1.0.2-2              1.0.3-1
                             osquery                    -              4.1.1-1
               python-flask-compress                    -              1.4.0-2
                         ruby-reline                    -              0.0.7-1
                     sdrangel-sse4.1                    -             4.12.1-1


:: Different overlay package(s) in repository core x86_64

-------------------------------------------------------------------------------
                             PACKAGE           2019-11-26           2019-11-30
-------------------------------------------------------------------------------
                             linux44            4.4.203-1            4.4.205-1
                     linux44-headers            4.4.203-1            4.4.205-1
                             linux49            4.9.203-1            4.9.205-1
                     linux49-headers            4.9.203-1            4.9.205-1
                             linux53             5.3.13-1             5.3.14-1
                     linux53-headers             5.3.13-1             5.3.14-1
                             linux54              5.4.0-2              5.4.1-2
                     linux54-headers              5.4.0-2              5.4.1-2


:: Different sync package(s) in repository core x86_64

-------------------------------------------------------------------------------
                             PACKAGE           2019-11-26           2019-11-30
-------------------------------------------------------------------------------
                            libtasn1               4.14-3             4.15.0-1


:: Different overlay package(s) in repository extra x86_64

-------------------------------------------------------------------------------
                             PACKAGE           2019-11-26           2019-11-30
-------------------------------------------------------------------------------
                           calamares             3.2.16-2             3.2.17-1
               calamares-git 3.2.17.r6737.a9d9a19e3-1 3.2.18.r6778.5b6bc4842-1
                   linux44-acpi_call            1.1.0-135            1.1.0-136
                    linux44-bbswitch              0.8-135              0.8-136
                 linux44-broadcom-wl     6.30.223.271-105     6.30.223.271-106
                 linux44-ndiswrapper              1.62-17              1.62-18
                linux44-nvidia-340xx            340.107-7            340.107-8
                linux44-nvidia-390xx            390.132-5            390.132-6
                linux44-nvidia-418xx            418.113-4            418.113-5
                linux44-nvidia-430xx             430.64-3             430.64-4
                linux44-nvidia-435xx             435.21-5             435.21-6
                linux44-nvidia-440xx             440.31-5             440.31-6
                    linux44-nvidiabl             0.88-135             0.88-136
                       linux44-r8168           8.047.05-1           8.047.05-2
                    linux44-tp_smapi              0.43-14              0.43-15
                 linux44-vhba-module          20190831-10          20190831-11
    linux44-virtualbox-guest-modules             6.0.14-7             6.0.14-8
     linux44-virtualbox-host-modules             6.0.14-7             6.0.14-8
                         linux44-zfs              0.8.2-8              0.8.2-9
                   linux49-acpi_call            1.1.0-148            1.1.0-149
                    linux49-bbswitch              0.8-148              0.8-149
                 linux49-broadcom-wl     6.30.223.271-148     6.30.223.271-149
                 linux49-ndiswrapper              1.62-18              1.62-19
                linux49-nvidia-340xx           340.107-67           340.107-68
                linux49-nvidia-390xx            390.132-5            390.132-6
                linux49-nvidia-418xx            418.113-4            418.113-5
                linux49-nvidia-430xx             430.64-3             430.64-4
                linux49-nvidia-435xx            435.21-10            435.21-11
                linux49-nvidia-440xx             440.31-5             440.31-6
                    linux49-nvidiabl             0.88-148             0.88-149
                       linux49-r8168           8.047.05-1           8.047.05-2
                    linux49-tp_smapi              0.43-16              0.43-17
                 linux49-vhba-module          20190831-12          20190831-13
    linux49-virtualbox-guest-modules             6.0.14-8             6.0.14-9
     linux49-virtualbox-host-modules             6.0.14-8             6.0.14-9
                         linux49-zfs             0.8.2-10             0.8.2-11
                   linux53-acpi_call             1.1.0-14             1.1.0-15
                    linux53-bbswitch               0.8-14               0.8-15
                 linux53-broadcom-wl      6.30.223.271-14      6.30.223.271-15
                 linux53-ndiswrapper              1.62-14              1.62-15
                linux53-nvidia-340xx           340.107-14           340.107-15
                linux53-nvidia-390xx            390.132-5            390.132-6
                linux53-nvidia-418xx            418.113-4            418.113-5
                linux53-nvidia-430xx             430.64-3             430.64-4
                linux53-nvidia-435xx            435.21-14            435.21-15
                linux53-nvidia-440xx             440.31-5             440.31-6
                    linux53-nvidiabl              0.88-14              0.88-15
                       linux53-r8168           8.047.05-1           8.047.05-2
                   linux53-rtl8723bu     4.3.9.3.13200-14     4.3.9.3.13200-15
                    linux53-tp_smapi              0.43-14              0.43-15
                 linux53-vhba-module          20190831-14          20190831-15
    linux53-virtualbox-guest-modules            6.0.14-10            6.0.14-11
     linux53-virtualbox-host-modules            6.0.14-10            6.0.14-11
                         linux53-zfs             0.8.2-14             0.8.2-15
                   linux54-acpi_call              1.1.0-2              1.1.0-3
                    linux54-bbswitch                0.8-2                0.8-3
                 linux54-broadcom-wl       6.30.223.271-2       6.30.223.271-3
                 linux54-ndiswrapper               1.62-2               1.62-3
                linux54-nvidia-340xx            340.107-2            340.107-3
                linux54-nvidia-390xx            390.132-2            390.132-3
                linux54-nvidia-418xx            418.113-2            418.113-3
                linux54-nvidia-430xx             430.64-2             430.64-3
                linux54-nvidia-435xx             435.21-2             435.21-3
                linux54-nvidia-440xx             440.31-2             440.31-3
                    linux54-nvidiabl               0.88-2               0.88-3
                       linux54-r8168           8.047.05-2           8.047.05-3
                   linux54-rtl8723bu      4.3.9.3.13200-2      4.3.9.3.13200-3
                    linux54-tp_smapi               0.43-2               0.43-3
                 linux54-vhba-module           20190831-2           20190831-3
    linux54-virtualbox-guest-modules             6.0.14-2             6.0.14-3
     linux54-virtualbox-host-modules             6.0.14-2             6.0.14-3
                         linux54-zfs              0.8.2-2              0.8.2-3
              manjaro-tools-base-git      r2839.7cb8ca2-1      r2845.9775012-1
               manjaro-tools-iso-git      r2839.7cb8ca2-1      r2845.9775012-1
               manjaro-tools-pkg-git      r2839.7cb8ca2-1      r2845.9775012-1
              manjaro-tools-yaml-git      r2839.7cb8ca2-1      r2845.9775012-1
                           pamac-cli         9.2.0beta2-1         9.2.0beta3-2
                        pamac-common         9.2.0beta2-1         9.2.0beta3-2
                           pamac-gtk         9.2.0beta2-1         9.2.0beta3-2
                   pamac-snap-plugin         9.2.0beta2-1         9.2.0beta3-2
             pamac-tray-appindicator         9.2.0beta2-1         9.2.0beta3-2
                               snapd             2.42.2-1             2.42.4-1


:: Different sync package(s) in repository extra x86_64

-------------------------------------------------------------------------------
                             PACKAGE           2019-11-26           2019-11-30
-------------------------------------------------------------------------------
                             abiword              3.0.3-1              3.0.4-1
                            alsa-lib            1.2.1.1-1            1.2.1.2-1
                              amdvlk          2019.Q4.2-1          2019.Q4.3-1
            archlinux-appstream-data           20191027-1           20191128-1
                              bigloo               4.3e-1               4.3f-1
                          bubblewrap              0.3.3-3              0.4.0-1
                     bubblewrap-suid              0.3.3-3              0.4.0-1
                       calligra-plan              3.2.0-1              3.2.1-1
                               cmake             3.15.5-1             3.16.0-1
                              ffcall                2.1-1                2.2-1
                   ffnvcodec-headers           9.0.18.1-1           9.1.23.1-1
                             flatpak              1.5.0-1              1.5.1-1
                         foomatic-db         3:20191024-1         3:20191127-1
                 foomatic-db-nonfree         3:20191024-1         3:20191127-1
            foomatic-db-nonfree-ppds         3:20191024-1         3:20191127-1
                    foomatic-db-ppds         3:20191024-1         3:20191127-1
                       gnome-session             3.34.1-1             3.34.2-1
                 gnome-shell 1:3.34.1+12+ga43c22e3a-1 1:3.34.1+56+gbb24df2f9-1
               gtk-update-icon-cache 1:3.24.12+32+g39e28ab933-1    1:3.24.13-1
                                gtk3 1:3.24.12+32+g39e28ab933-1    1:3.24.13-1
                               hwloc            1.11.12-1              2.1.0-2
                             hylafax              6.0.7-1              6.0.7-2
                 ibus-typing-booster              2.7.2-3              2.7.3-1
                         imagemagick            7.0.9.5-1            7.0.9.6-1
                     imagemagick-doc            7.0.9.5-1            7.0.9.6-1
                          libmm-glib             1.12.0-1             1.12.0-2
                           libportal              0.0.2-1                0.1-1
                              maxima             5.43.0-3             5.43.0-4
                                md4c              0.4.1-1              0.4.2-1
                           mercurial              5.1.2-1                5.2-1
                               meson             0.52.0-4             0.52.1-1
                        modemmanager             1.12.0-1             1.12.0-2
                                mono          6.0.0.334-1          6.4.0.198-1
                          mutter 3.34.1+52+g403d8fcc6-1 3.34.1+65+g1b75d78c7-1
                               ocaml             4.09.0-1             4.09.0-2
                 ocaml-compiler-libs             4.09.0-1             4.09.0-2
                           openbabel              3.0.0-2              3.0.0-3
                             openmpi              4.0.2-1              4.0.2-2
                              ostree             2019.4-1             2019.5-1
                         perl-libwww               6.42-1               6.43-1
                                 php             7.3.12-1              7.4.0-2
                          php-apache             7.3.12-1              7.4.0-2
                            php-apcu             5.1.18-1             5.1.18-2
                         php-apcu-bc              1.0.5-1              1.0.5-2
                             php-cgi             7.3.12-1              7.4.0-2
                           php-dblib             7.3.12-1              7.4.0-2
                           php-embed             7.3.12-1              7.4.0-2
                         php-enchant             7.3.12-1              7.4.0-2
                             php-fpm             7.3.12-1              7.4.0-2
                              php-gd             7.3.12-1              7.4.0-2
                            php-imap             7.3.12-1              7.4.0-2
                            php-intl             7.3.12-1              7.4.0-2
                            php-odbc             7.3.12-1              7.4.0-2
                           php-pgsql             7.3.12-1              7.4.0-2
                          php-phpdbg             7.3.12-1              7.4.0-2
                          php-pspell             7.3.12-1              7.4.0-2
                            php-snmp             7.3.12-1              7.4.0-2
                          php-sodium             7.3.12-1              7.4.0-2
                          php-sqlite             7.3.12-1              7.4.0-2
                            php-tidy             7.3.12-1              7.4.0-2
                             php-xsl             7.3.12-1              7.4.0-2
              plasma-wayland-session             5.17.3-1             5.17.3-2
                    plasma-workspace             5.17.3-1             5.17.3-2
                          postgresql               12.1-1               12.1-2
                     postgresql-docs               12.1-1               12.1-2
                     postgresql-libs               12.1-1               12.1-2
                         python-lxml              4.4.1-3              4.4.2-1
                    python-lxml-docs              4.4.1-3              4.4.2-1
                    python-openbabel              3.0.0-2              3.0.0-3
                        python-urwid              2.0.1-4              2.1.0-1
                        python2-lxml              4.4.1-3              4.4.2-1
                       python2-urwid              2.0.1-4              2.1.0-1
                                sbcl              1.5.5-1              1.5.9-1
                  xdg-desktop-portal              1.5.2-1              1.5.3-1
              xdg-desktop-portal-gtk              1.5.0-1              1.5.1-1
        xf86-video-intel 1:2.99.917+895+gcb6bff95-1 1:2.99.917+897+g0867eea6-1
                        zabbix-agent              4.4.1-1              4.4.3-1
                 zabbix-frontend-php              4.4.1-1              4.4.3-1
                        zabbix-proxy              4.4.1-1              4.4.3-1
                       zabbix-server              4.4.1-1              4.4.3-1
                           maeparser                    -              1.2.2-2


:: Different sync package(s) in repository multilib x86_64

-------------------------------------------------------------------------------
                             PACKAGE           2019-11-26           2019-11-30
-------------------------------------------------------------------------------
                      lib32-alsa-lib            1.2.1.1-1            1.2.1.2-1
                        lib32-amdvlk          2019.Q4.2-1          2019.Q4.3-1
                                wine               4.20-1               4.21-1

No issue, everything went smoothly
Yes there was an issue. I was able to resolve it myself.(Please post your solution)
Yes i am currently experiencing an issue due to the update. (Please post about it)
Check if your mirror has already synced: