Hello community,
I am happy to announce another Testing Update.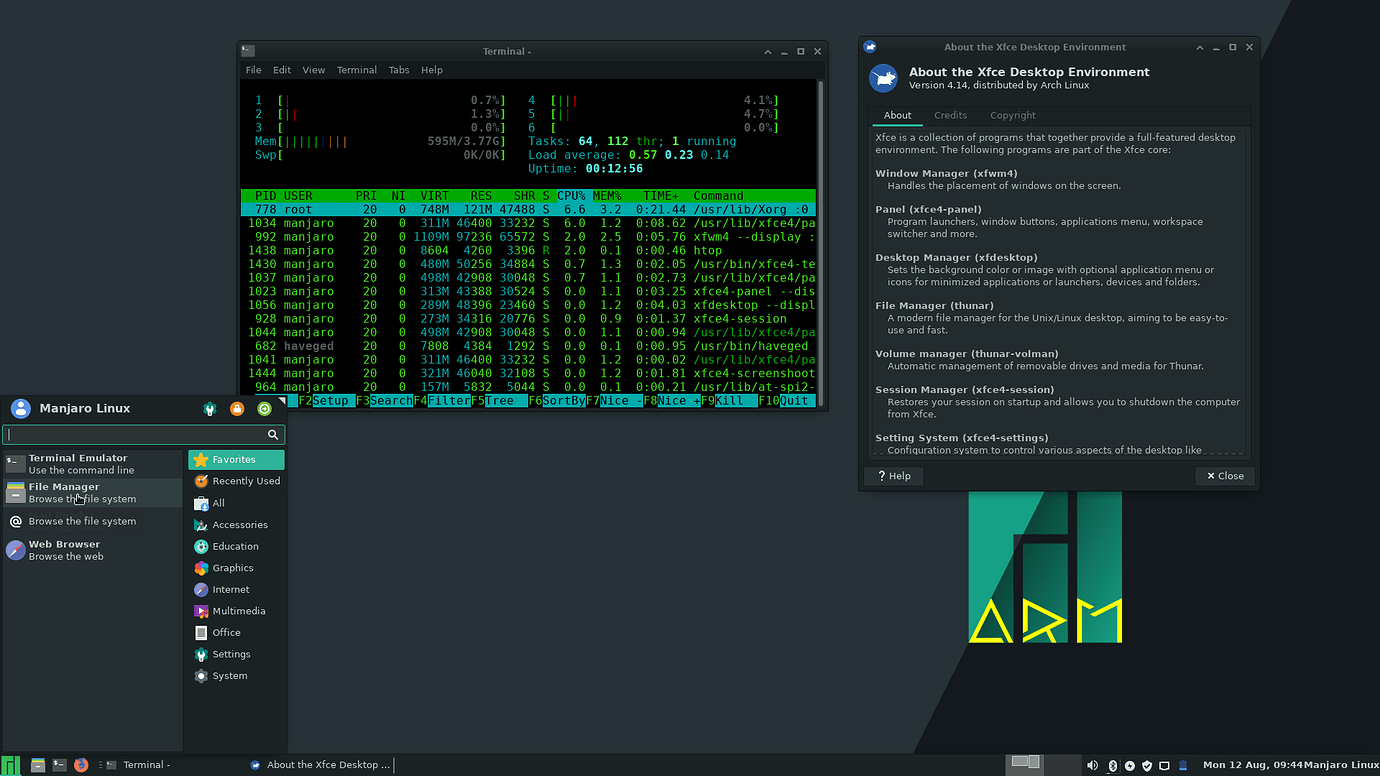 Our work for the Pinebook Pro continues. We managed to get sound working properly now
With this we have new Mesa drivers and latest Kernels. Grub should now auto-update with the new alpm-hook.
Some feature-updates:
Latest Kernel updates
Mesa is at 19.2.5
If you like following latest Plasma development you may also like to check out our current version of manjaro-kde-vanilla, which we build on a regular basis against kde-git master packages.
As always we appreciate your input and feedback for the updates.
---
Our current supported kernels:
linux316 3.16.76
linux44 4.4.202
linux49 4.9.202
linux414 4.14.155
linux419 4.19.85
linux53 5.3.12
linux54 5.4.0-rc7 (not all modules build yet!)
linux419-rt 4.19.72_rt26
linux52-rt 5.2.21_rt13
Package Changes (Wed Nov 13 11:48:51 CET 2019)
-------------------------------------------------------------------------------
                             PACKAGE           2019-11-13           2019-11-22
-------------------------------------------------------------------------------
                            linux414           4.14.154-1           4.14.155-1
                    linux414-headers           4.14.154-1           4.14.155-1
                            linux419            4.19.84-1            4.19.85-1
                    linux419-headers            4.19.84-1            4.19.85-1
                             linux53             5.3.11-1             5.3.12-1
                     linux53-headers             5.3.11-1             5.3.12-1


:: Different overlay package(s) in repository extra x86_64

-------------------------------------------------------------------------------
                             PACKAGE           2019-11-13           2019-11-22
-------------------------------------------------------------------------------
                   libva-mesa-driver           19.2.4-0.1           19.2.5-0.1
                  linux414-acpi_call            1.1.0-126            1.1.0-127
                   linux414-bbswitch              0.8-126              0.8-127
                linux414-broadcom-wl     6.30.223.271-126     6.30.223.271-127
                linux414-ndiswrapper              1.62-21              1.62-22
               linux414-nvidia-340xx           340.107-85           340.107-86
               linux414-nvidia-390xx            390.132-3            390.132-4
               linux414-nvidia-418xx            418.113-2            418.113-3
               linux414-nvidia-430xx             430.64-1             430.64-2
               linux414-nvidia-435xx            435.21-11            435.21-12
                   linux414-nvidiabl             0.88-126             0.88-127
                      linux414-r8168           8.047.04-8           8.047.04-9
                   linux414-tp_smapi              0.43-18              0.43-19
                linux414-vhba-module          20190831-11          20190831-12
   linux414-virtualbox-guest-modules             6.0.14-5             6.0.14-6
    linux414-virtualbox-host-modules             6.0.14-5             6.0.14-6
                        linux414-zfs              0.8.2-8              0.8.2-9
                  linux419-acpi_call             1.1.0-74             1.1.0-75
                   linux419-bbswitch               0.8-74               0.8-75
                linux419-broadcom-wl      6.30.223.271-73      6.30.223.271-74
                linux419-ndiswrapper              1.62-23              1.62-24
               linux419-nvidia-340xx           340.107-73           340.107-74
               linux419-nvidia-390xx            390.132-3            390.132-4
               linux419-nvidia-418xx            418.113-2            418.113-3
               linux419-nvidia-430xx             430.64-2             430.64-3
               linux419-nvidia-435xx            435.21-13            435.21-14
                   linux419-nvidiabl              0.88-73              0.88-74
                      linux419-r8168           8.047.04-9          8.047.04-10
                  linux419-rtl8723bu   4.3.9.3.13200.0-57   4.3.9.3.13200.0-59
                   linux419-tp_smapi              0.43-23              0.43-24
                linux419-vhba-module          20190831-13          20190831-14
   linux419-virtualbox-guest-modules             6.0.14-5             6.0.14-6
    linux419-virtualbox-host-modules             6.0.14-5             6.0.14-6
                        linux419-zfs              0.8.2-9             0.8.2-10
                   linux53-acpi_call             1.1.0-12             1.1.0-13
                    linux53-bbswitch               0.8-12               0.8-13
                 linux53-broadcom-wl      6.30.223.271-12      6.30.223.271-13
                 linux53-ndiswrapper              1.62-12              1.62-13
                linux53-nvidia-340xx           340.107-12           340.107-13
                linux53-nvidia-390xx            390.132-3            390.132-4
                linux53-nvidia-418xx            418.113-2            418.113-3
                linux53-nvidia-430xx             430.64-1             430.64-2
                linux53-nvidia-435xx            435.21-11            435.21-13
                linux53-nvidia-440xx             440.31-3             440.31-4
                    linux53-nvidiabl              0.88-12              0.88-13
                       linux53-r8168          8.047.04-12          8.047.04-13
                   linux53-rtl8723bu     4.3.9.3.13200-12     4.3.9.3.13200-13
                    linux53-tp_smapi              0.43-12              0.43-13
                 linux53-vhba-module          20190831-12          20190831-13
    linux53-virtualbox-guest-modules             6.0.14-8             6.0.14-9
     linux53-virtualbox-host-modules             6.0.14-8             6.0.14-9
                         linux53-zfs             0.8.2-12             0.8.2-13
                                mesa           19.2.4-0.1           19.2.5-0.1
                          mesa-vdpau           19.2.4-0.1           19.2.5-0.1
                         opencl-mesa           19.2.4-0.1           19.2.5-0.1
                        vulkan-intel           19.2.4-0.1           19.2.5-0.1
                   vulkan-mesa-layer           19.2.4-0.1           19.2.5-0.1
                       vulkan-radeon           19.2.4-0.1           19.2.5-0.1


:: Different overlay package(s) in repository multilib x86_64

-------------------------------------------------------------------------------
                             PACKAGE           2019-11-13           2019-11-22
-------------------------------------------------------------------------------
             lib32-libva-mesa-driver           19.2.4-0.1           19.2.5-0.1
                          lib32-mesa           19.2.4-0.1           19.2.5-0.1
                    lib32-mesa-vdpau           19.2.4-0.1           19.2.5-0.1
                  lib32-vulkan-intel           19.2.4-0.1           19.2.5-0.1
                 lib32-vulkan-radeon           19.2.4-0.1           19.2.5-0.1

No issue, everything went smoothly
Yes there was an issue. I was able to resolve it myself.(Please post your solution)
Yes i am currently experiencing an issue due to the update. (Please post about it)
Check if your mirror has already synced: