Hello community,
I am happy to announce another Testing Update. Mostly we have updates for Pacman 5.2 release.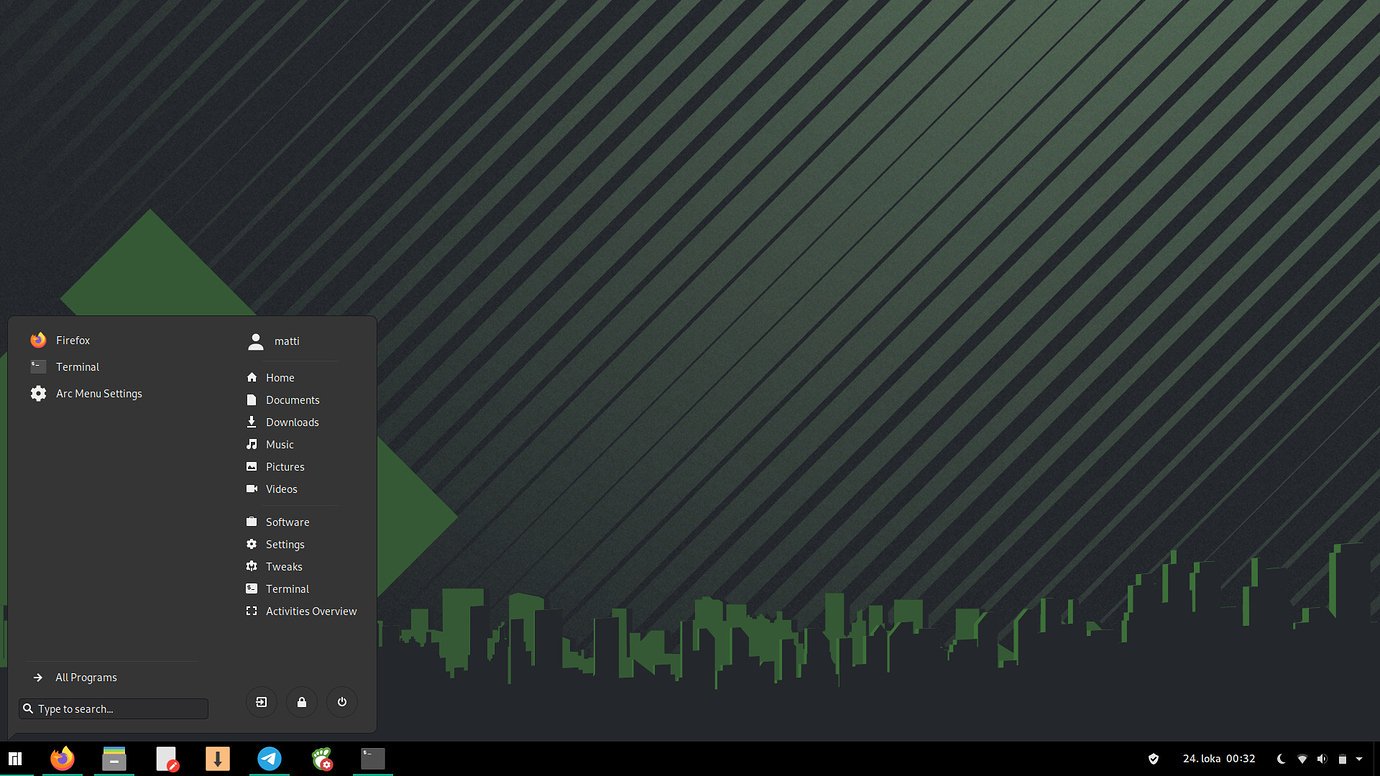 Tell us about the default layout we should use for Gnome
Update news
This update holds the following changes:
Give us the usual feedback and let us know what you think about this update.
---
Current supported Kernels
linux316 3.16.75
linux44 4.4.197 (no legacy nvidia-340 module!)
linux49 4.9.197
linux414 4.14.150
linux419 4.19.80
linux52 5.2.21 [EOL] (no catalyst module!)
linux53 5.3.7 (no catalyst module!)
linux54 5.4.0-rc4 (not all modules build yet!)
linux419-rt 4.19.72_rt26
linux52-rt 5.2.21_rt13
Package Changes (Thu Oct 24 15:19:15 CEST 2019)
:: Different overlay package(s) in repository community x86_64

-------------------------------------------------------------------------------
                             PACKAGE           2019-10-23           2019-10-25
-------------------------------------------------------------------------------
                   alpm-octopi-utils              1.0.0-3              1.0.1-3
                         edid-decode       r200.dc8afbf-1       r204.ad20c30-1
    gnome-shell-extension-arc-menu 34.1+dev+5+gb8bd28f-1 36.0+dev+2+gd687897-1
                      lumina-desktop              1.4.0-3                    -
               manjaro-arm-installer              1.2.5-1              1.2.6-1
                manjaro-gdm-branding           20190608-1           20191024-1
manjaro-gnome-extension-settings-18.0          20190608-1           20191024-1
         manjaro-gnome-settings-18.0           20190806-1           20191024-1
             manjaro-lumina-settings           20160922-1                    -
                       mattercontrol 1.7.5+r5200.1670834-1   2.19.10.10370-1.1
                              mntray              0.1.3-2              0.1.4-1
                              octopi             0.9.0-16             0.9.0-17
          octopi-notifier-frameworks             0.9.0-16             0.9.0-17
                 octopi-notifier-qt5             0.9.0-16             0.9.0-17
                                 yay            9.3.3-1.0              9.4.2-1
                             auracle                    -       r290.d59f80b-1
                              pacaur                    -              4.8.6-1


:: Different sync package(s) in repository community x86_64

-------------------------------------------------------------------------------
                             PACKAGE           2019-10-23           2019-10-25
-------------------------------------------------------------------------------
                             ansible              2.8.5-1              2.8.6-1
                                atom             1.40.1-1             1.41.0-1
                           bleachbit                2.2-2                3.0-1
                           borgmatic             1.3.26-1              1.4.0-1
                       cabal-install          2.4.0.0-149          2.4.0.0-150
                             caprine             2.39.0-1             2.40.0-1
                             cockpit                205-1                205-2
                   cockpit-dashboard                205-1                205-2
                         cockpit-pcp                205-1                205-2
                           ctemplate                2.3-5                2.3-6
                               darcs           2.14.2-120           2.14.2-121
                          diffoscope                126-1                127-1
                            electron             6.0.12-1              6.1.1-1
                           electron4             4.2.11-1             4.2.12-1
                 firefox-dark-reader              4.8.2-1              4.8.3-1
               firefox-ublock-origin             1.22.4-1             1.23.0-1
                            geda-gaf              1.8.2-4             1.10.0-1
                           git-annex         7.20191017-8         7.20191017-9
                              gitlab             12.3.5-1             12.4.0-1
                       gitlab-runner             12.3.0-2             12.4.0-1
                        gitlab-shell           2:10.0.0-2           2:10.2.0-1
                    gitlab-workhorse             8.13.0-1             8.14.0-1
                        gtkimageview              1.6.4-5              1.6.4-6
                    haskell-aeson-qq            0.8.2-138            0.8.2-139
                haskell-authenticate            1.3.4-356            1.3.4-357
                         haskell-aws           0.21.1-110           0.21.1-111
               haskell-clash-prelude            0.99.3-70            0.99.3-71
                   haskell-criterion           1.5.5.0-74           1.5.5.0-75
                     haskell-githash           0.1.3.2-14           0.1.3.2-15
                      haskell-hakyll         4.12.5.2-113         4.12.5.2-114
                        haskell-here            1.2.13-86            1.2.13-87
                       haskell-hpack             0.33.0-4             0.33.0-5
              haskell-hspec-wai-json             0.9.2-82             0.9.2-83
                        haskell-http         4000.3.14-44         4000.3.14-45
                haskell-http-conduit            2.3.7.3-3            2.3.7.3-4
               haskell-http-download           0.1.0.0-37           0.1.0.0-38
                 haskell-interpolate             0.2.0-98             0.2.0-99
    haskell-interpolatedstring-perl6              1.0.2-1              1.0.2-2
                   haskell-js-jquery            3.3.1-288            3.3.1-289
             haskell-optparse-simple           0.1.1.2-67           0.1.1.2-68
                      haskell-pantry           0.1.1.1-50           0.1.1.1-52
               haskell-persistent-qq             2.9.1-74             2.9.1-75
              haskell-servant-server            0.16.2-29            0.16.2-30
                       haskell-shake            0.18.3-41            0.18.3-42
             haskell-simple-sendfile            0.2.28-58             0.2.29-1
                  haskell-singletons             2.5.1-32             2.5.1-33
                    haskell-src-meta             0.8.2-31             0.8.2-32
                       haskell-store           0.5.1.2-20           0.5.1.2-21
                  haskell-th-desugar               1.9-35               1.9-36
                  haskell-th-orphans            0.13.7-24             0.13.9-1
                haskell-th-utilities            0.2.3.1-1            0.2.3.1-2
              haskell-wai-app-static          3.1.6.3-110          3.1.6.3-111
          haskell-wai-handler-launch          3.0.2.4-223          3.0.2.4-224
                        haskell-warp              3.3.3-2              3.3.3-3
                    haskell-warp-tls             3.2.8-15             3.2.8-16
                       haskell-yesod            1.6.0-358            1.6.0-359
                  haskell-yesod-auth             1.6.8-30             1.6.8-31
                  haskell-yesod-core          1.6.16.1-19          1.6.16.1-20
               haskell-yesod-default            1.2.0-601            1.2.0-602
                  haskell-yesod-form             1.6.7-19             1.6.7-20
            haskell-yesod-persistent          1.6.0.2-106          1.6.0.2-107
                haskell-yesod-static          1.6.0.1-212          1.6.0.1-213
                  haskell-yesod-test              1.6.7-3              1.6.7-4
                         hledger-web              1.15-27              1.15-28
                              hoogle         5.0.17.11-17         5.0.17.11-18
                                 iwd               0.22-3               0.23-1
                             klayout             0.25.9-1               0.26-1
                             labplot                2.6-4              2.7.0-1
                             libdnet              1.12-10              1.12-11
                             libgiac           1.5.0.67-1           1.5.0.69-1
                   npm-check-updates             3.1.24-1             3.1.25-1
                              pandoc             2.7.3-63             2.7.3-64
                     pandoc-citeproc           0.16.2-130           0.16.2-131
                     pandoc-crossref          0.3.4.1-112          0.3.4.1-113
                           postgrest             6.0.0-41             6.0.0-43
                     python-cfn-lint             0.24.4-1             0.24.5-1
                          python-irc               16.4-1               17.1-1
               python-keystoneclient             3.21.0-1             3.22.0-1
                   python-novaclient             15.1.0-1             16.0.0-1
                        python-pyzmq             18.0.2-1             18.1.0-1
           python-sqlalchemy-migrate             0.12.0-1             0.13.0-1
                       python2-pyzmq             18.0.2-1             18.1.0-1
          python2-sqlalchemy-migrate             0.12.0-1             0.13.0-1
                         qbittorrent              4.1.7-1              4.1.8-1
                     qbittorrent-nox              4.1.7-1              4.1.8-1
               react-native-debugger             0.10.1-1             0.10.2-1
                          shellcheck             0.7.0-47             0.7.0-48
                               stack             2.1.3-57             2.1.3-59
                     stylish-haskell           0.9.2.2-19            0.9.3.0-1
                          supervisor              4.0.4-1              4.1.0-1
                      tamarin-prover            1.4.1-174            1.4.1-175
                           terraform            0.12.11-1            0.12.12-1
                           uglify-js              3.6.3-1              3.6.4-1
         v2ray-domain-list-community         20191017.1-1         20191024.1-1
                           wordpress              5.2.3-1              5.2.4-1
                                xcas           1.5.0.67-1           1.5.0.69-1
                       xcursor-comix              0.9.0-2              0.9.0-3
                              xmobar              0.31-10              0.31-11
                  go-bindata-assetfs                    -              1.0.0-1
          haskell-ordered-containers                    -              0.2.2-1
              python-sphinx-argparse                    -              0.2.5-1
                              texlab                    -              1.6.0-2


:: Different overlay package(s) in repository core x86_64

-------------------------------------------------------------------------------
                             PACKAGE           2019-10-23           2019-10-25
-------------------------------------------------------------------------------
                              pacman              5.1.3-1              5.2.0-1


:: Different overlay package(s) in repository extra x86_64

-------------------------------------------------------------------------------
                             PACKAGE           2019-10-23           2019-10-25
-------------------------------------------------------------------------------
                             auracle       r261.342de84-1                    -
                   manjaro-arm-tools              2.6.4-1              2.7.0-1
                              pacaur              4.8.6-1                    -
                           pamac-cli              9.0.1-3              9.0.2-1
                        pamac-common              9.0.1-3              9.0.2-1
                           pamac-gtk              9.0.1-3              9.0.2-1
                   pamac-snap-plugin              9.0.1-3              9.0.2-1
             pamac-tray-appindicator              9.0.1-3              9.0.2-1
                              pyalpm              0.8.5-2                    -
                          fontconfig                  - 2:2.13.1+12+g5f5ec56-1


:: Different sync package(s) in repository extra x86_64

-------------------------------------------------------------------------------
                             PACKAGE           2019-10-23           2019-10-25
-------------------------------------------------------------------------------
                        arch-signoff              0.2.1-1                0.3-1
                                 ell               0.24-1               0.25-1
                         foomatic-db         3:20190905-1         3:20191024-1
                 foomatic-db-nonfree         3:20190905-1         3:20191024-1
            foomatic-db-nonfree-ppds         3:20190905-1         3:20191024-1
                    foomatic-db-ppds         3:20190905-1         3:20191024-1
                               gpart                0.3-2                0.3-3
                            graphviz             2.42.2-2             2.42.2-3
                     grml-zsh-config             0.16.0-1             0.16.1-1
               gtk-update-icon-cache    1:3.24.12-1 1:3.24.12+32+g39e28ab933-1
                                gtk3    1:3.24.12-1 1:3.24.12+32+g39e28ab933-1
                              gtkmm3             3.24.1-1             3.24.2-1
                         gtkmm3-docs             3.24.1-1             3.24.2-1
                               hplip           1:3.19.8-1           1:3.19.8-2
                            libglvnd              1.2.0-3              1.2.0-5
                        libqalculate              3.4.0-1              3.5.0-2
                             librsvg           2:2.46.2-1           2:2.46.3-1
                               libuv             1.33.0-1             1.33.1-1
                   libva-mesa-driver             19.2.1-2             19.2.2-1
                                mesa             19.2.1-2             19.2.2-1
                          mesa-vdpau             19.2.1-2             19.2.2-1
                         opencl-mesa             19.2.1-2             19.2.2-1
                                 php             7.3.10-1             7.3.11-1
                          php-apache             7.3.10-1             7.3.11-1
                             php-cgi             7.3.10-1             7.3.11-1
                           php-dblib             7.3.10-1             7.3.11-1
                           php-embed             7.3.10-1             7.3.11-1
                         php-enchant             7.3.10-1             7.3.11-1
                             php-fpm             7.3.10-1             7.3.11-1
                              php-gd             7.3.10-1             7.3.11-1
                            php-imap             7.3.10-1             7.3.11-1
                            php-intl             7.3.10-1             7.3.11-1
                            php-odbc             7.3.10-1             7.3.11-1
                           php-pgsql             7.3.10-1             7.3.11-1
                          php-phpdbg             7.3.10-1             7.3.11-1
                          php-pspell             7.3.10-1             7.3.11-1
                            php-snmp             7.3.10-1             7.3.11-1
                          php-sodium             7.3.10-1             7.3.11-1
                          php-sqlite             7.3.10-1             7.3.11-1
                            php-tidy             7.3.10-1             7.3.11-1
                             php-xsl             7.3.10-1             7.3.11-1
                             python2             2.7.16-1             2.7.17-1
                       qalculate-gtk              3.4.0-1              3.5.0-1
                             varnish              6.3.0-1              6.3.1-1
                        vulkan-intel             19.2.1-2             19.2.2-1
                   vulkan-mesa-layer             19.2.1-2             19.2.2-1
                       vulkan-radeon             19.2.1-2             19.2.2-1
                    xkeyboard-config               2.27-1               2.28-1
                            qt5-mqtt                    -             5.13.1-1


:: Different overlay package(s) in repository multilib x86_64

-------------------------------------------------------------------------------
                             PACKAGE           2019-10-23           2019-10-25
-------------------------------------------------------------------------------
                    lib32-fontconfig                    -2:2.13.1+12+g5f5ec56-1


:: Different sync package(s) in repository multilib x86_64

-------------------------------------------------------------------------------
                             PACKAGE           2019-10-23           2019-10-25
-------------------------------------------------------------------------------
                       lib32-librsvg             2.46.2-1             2.46.3-1
             lib32-libva-mesa-driver             19.2.1-2             19.2.2-1
                          lib32-mesa             19.2.1-2             19.2.2-1
                    lib32-mesa-vdpau             19.2.1-2             19.2.2-1
                  lib32-vulkan-intel             19.2.1-2             19.2.2-1
                 lib32-vulkan-radeon             19.2.1-2             19.2.2-1

No issue, everything went smoothly
Yes there was an issue. I was able to resolve it myself.(Please post your solution)
Yes i am currently experiencing an issue due to the update. (Please post about it)
Check if your mirror has already synced: