Hello community,
I am happy to announce another Testing Update. Mostly we have updates to Gnome, Mate and Kernels.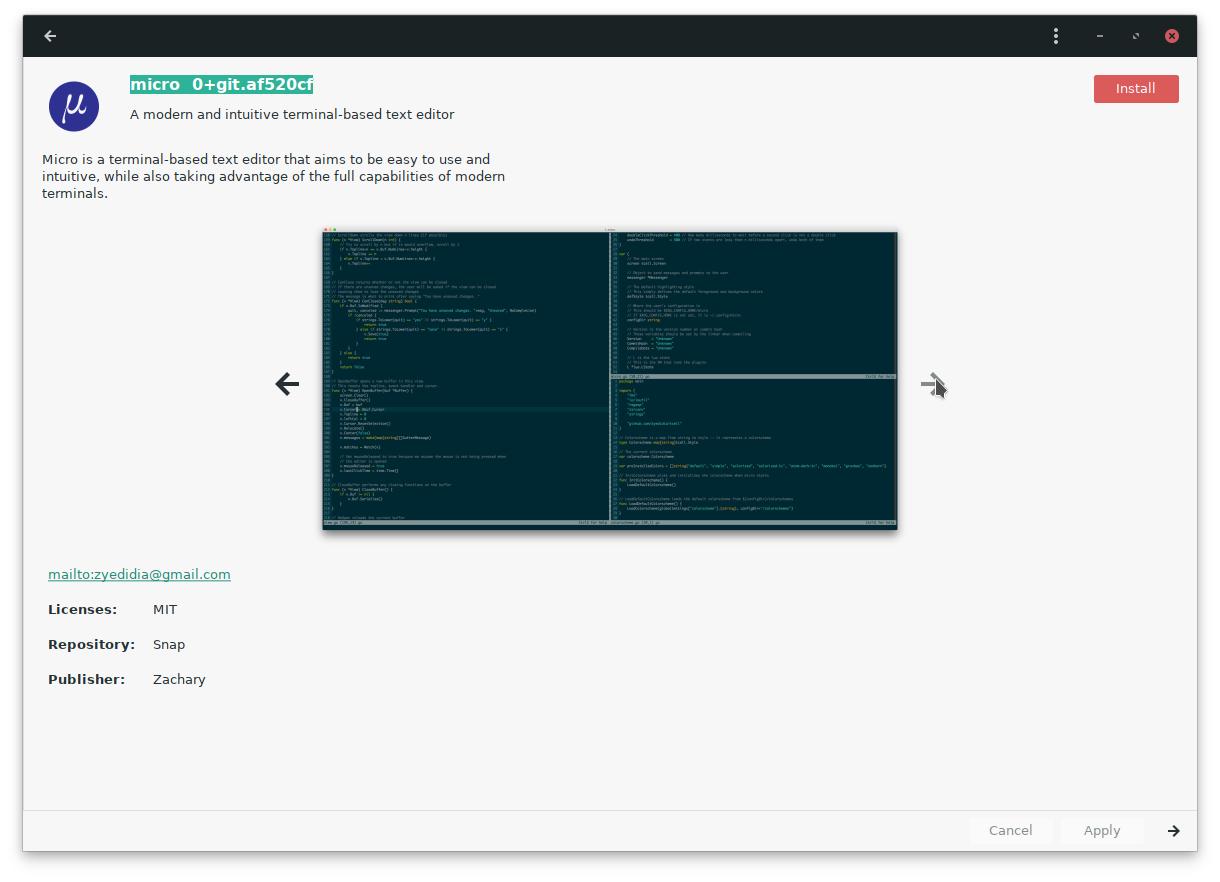 Help us to debug pamac
Update news
This update holds the following changes:
some Gnome 3.34.1 packages got added to our repos plus fixes to Mate.
most of our Kernels got a new point-release
The usual updates and improvements and upstream package renewals
Latest efforts by KDE can be reviewed via our current KDE-Dev ISO or current KDE-Vanilla ISO
Give us the usual feedback and let us know what you think about this update.
---
Current supported Kernels
linux316 3.16.74
linux44 4.4.195 (no legacy nvidia-340 module!)
linux49 4.9.195
linux414 4.14.147
linux419 4.19.77
linux52 5.2.19 (no catalyst module!)
linux53 5.3.4 (no catalyst module!)
linux54 5.4.0-rc1 (not all modules build yet!)
linux419-rt 4.19.72_rt25
linux52-rt 5.2.17_rt9
Package Updates (Sat Oct 5 21:25:52 CEST 2019)
testing community x86_64: 88 new and 87 removed package(s)
testing core x86_64: 13 new and 13 removed package(s)
testing extra x86_64: 119 new and 119 removed package(s)
testing multilib x86_64: 4 new and 4 removed package(s)
:: Different overlay package(s) in repository community x86_64

-------------------------------------------------------------------------------
                             PACKAGE           2019-10-04           2019-10-05
-------------------------------------------------------------------------------
                    matcha-gtk-theme           20190930-1           20191003-1
                mate-session-manager           1.22.1-1.1                    -
                    obmenu-generator               0.84-1               0.85-1
                                 yay            9.3.1-1.0            9.3.3-1.0


:: Different sync package(s) in repository community x86_64

-------------------------------------------------------------------------------
                             PACKAGE           2019-10-04           2019-10-05
-------------------------------------------------------------------------------
                               atril             1.22.2-2             1.22.2-3
                         bluegriffon                3.1-6                3.1-7
                 bluegriffon-i18n-cs                3.1-6                3.1-7
                 bluegriffon-i18n-de                3.1-6                3.1-7
              bluegriffon-i18n-es-es                3.1-6                3.1-7
                 bluegriffon-i18n-fi                3.1-6                3.1-7
                 bluegriffon-i18n-fr                3.1-6                3.1-7
                 bluegriffon-i18n-gl                3.1-6                3.1-7
                 bluegriffon-i18n-he                3.1-6                3.1-7
                 bluegriffon-i18n-hu                3.1-6                3.1-7
                 bluegriffon-i18n-it                3.1-6                3.1-7
                 bluegriffon-i18n-ja                3.1-6                3.1-7
                 bluegriffon-i18n-ko                3.1-6                3.1-7
                 bluegriffon-i18n-nl                3.1-6                3.1-7
                 bluegriffon-i18n-pl                3.1-6                3.1-7
                 bluegriffon-i18n-ru                3.1-6                3.1-7
                 bluegriffon-i18n-sl                3.1-6                3.1-7
                 bluegriffon-i18n-sr                3.1-6                3.1-7
              bluegriffon-i18n-sv-se                3.1-6                3.1-7
              bluegriffon-i18n-zh-cn                3.1-6                3.1-7
              bluegriffon-i18n-zh-tw                3.1-6                3.1-7
                             certbot             0.38.0-1             0.39.0-1
                            collectd              5.9.1-1              5.9.2-1
                          cozy-stack            1:1.3.2-1            1:1.3.2-2
                          displaycal            3.8.7.0-1            3.8.7.1-1
                             drawing              0.4.3-1              0.4.5-1
                              drupal              8.7.7-1              8.7.8-1
                          feedreader             2.10.0-1             2.10.0-2
                              fossil                2.9-1               2.10-1
                         gnome-games             3.32.1-1             3.34.0-1
                      gnome-podcasts              0.4.6-2 0.4.6+185+geb03261-1
                     gnome-subtitles                1.5-1                1.6-1
                         gnome-usage             3.32.0-1             3.33.2-1
                         go-ethereum              1.9.5-1              1.9.6-1
                             gpodder             3.10.9-1            3.10.11-1
                              gpxsee               7.12-1               7.14-1
                         grammalecte              1.4.0-1              1.5.0-1
                              gramps            2:5.1.0-1            2:5.1.1-1
                gst-editing-services             1.16.0-1             1.16.1-1
                  gst-plugins-espeak              0.5.0-1              0.5.0-2
                                 hey              0.1.2-1              0.1.2-2
                         hunspell-hu                1.7-1                1.7-2
                           java-rxtx            2.2pre2-5            2.2pre2-6
                             jenkins              2.197-1              2.198-1
                             libgiac           1.5.0.65-1           1.5.0.67-1
                          libmanette              0.2.2-1              0.2.3-1
                          lximage-qt             0.14.1-1             0.14.1-2
                        mate-applets             1.22.2-1             1.22.2-2
                mate-session-manager             1.22.1-1             1.22.2-1
                      matrix-synapse              1.3.1-1              1.4.0-2
                        matterbridge             1.16.0-1             1.16.0-2
                             mypaint             1.2.1-10             1.2.1-11
                               navit              0.5.3-4              0.5.3-5
                      netcdf-openmpi              4.7.1-1              4.7.1-2
                             openbve            1.6.0.1-1            1.7.0.1-1
                             openttd              1.9.2-1              1.9.3-1
                           osinfo-db           20190805-1           20190920-1
                          photoflare              1.5.9-2              1.6.0-1
                     pnetcdf-openmpi             1.11.2-1             1.12.0-1
                              podman              1.6.0-1              1.6.1-1
                       podman-docker              1.6.0-1              1.6.1-1
                             prosody           1:0.11.2-1           1:0.11.3-1
                         python-acme             0.38.0-1             0.39.0-1
                      python-awkward            0.12.11-1            0.12.12-1
                     python-cfn-lint             0.24.3-1             0.24.4-1
                     python-colorcet              2.0.1-1              2.0.2-1
                    python-maxminddb              1.4.1-1              1.5.1-1
                      python-tomlkit              0.5.5-1              0.5.7-1
                    python2-colorcet              2.0.1-1              2.0.2-1
                                qgis              3.8.2-2              3.8.3-1
                              recoll            1.25.16-1            1.25.22-1
                           retro-gtk             0.16.1-1             0.18.0-1
                        riot-desktop              1.4.0-1              1.4.2-1
                            riot-web              1.4.0-1              1.4.2-1
                            sagemath                8.9-3                8.9-4
                        sagemath-doc                8.9-2                8.9-3
                    sagemath-jupyter                8.9-3                8.9-4
                         slirp4netns              0.4.1-1              0.4.1-2
                    telegram-desktop              1.8.9-1             1.8.13-1
                              vegeta             12.7.0-3             12.7.0-4
                                xcas           1.5.0.65-1           1.5.0.67-1
                                zint              2.6.3-2              2.6.6-1
                             zint-qt              2.6.3-2              2.6.6-1
          networkmanager-fortisslvpn                    -             1.4rc1-1
                        openfortivpn                    -             1.10.0-2


:: Different overlay package(s) in repository core x86_64

-------------------------------------------------------------------------------
                             PACKAGE           2019-10-04           2019-10-05
-------------------------------------------------------------------------------
                            linux414           4.14.146-1           4.14.147-1
                    linux414-headers           4.14.146-1           4.14.147-1
                            linux419            4.19.76-1            4.19.77-1
                    linux419-headers            4.19.76-1            4.19.77-1
                             linux44            4.4.194-1            4.4.195-1
                     linux44-headers            4.4.194-1            4.4.195-1
                             linux49            4.9.194-1            4.9.195-1
                     linux49-headers            4.9.194-1            4.9.195-1
                             linux52             5.2.18-1             5.2.19-1
                     linux52-headers             5.2.18-1             5.2.19-1
                             linux53              5.3.2-1              5.3.4-1
                     linux53-headers              5.3.2-1              5.3.4-1


:: Different sync package(s) in repository core x86_64

-------------------------------------------------------------------------------
                             PACKAGE           2019-10-04           2019-10-05
-------------------------------------------------------------------------------
                                nano                4.4-1                4.5-1


:: Different overlay package(s) in repository extra x86_64

-------------------------------------------------------------------------------
                             PACKAGE           2019-10-04           2019-10-05
-------------------------------------------------------------------------------
                        gtk3-classic            3.24.11-2            3.24.12-1
                  linux414-acpi_call            1.1.0-119            1.1.0-120
                   linux414-bbswitch              0.8-119              0.8-120
                linux414-broadcom-wl     6.30.223.271-119     6.30.223.271-120
                   linux414-catalyst    1:15.201.1151-119    1:15.201.1151-120
                linux414-ndiswrapper              1.62-14              1.62-15
               linux414-nvidia-340xx           340.107-78           340.107-79
               linux414-nvidia-390xx            390.129-9           390.129-10
               linux414-nvidia-418xx             418.88-8             418.88-9
               linux414-nvidia-430xx            430.40-10            430.40-11
               linux414-nvidia-435xx             435.21-4             435.21-5
                   linux414-nvidiabl             0.88-119             0.88-120
                      linux414-r8168           8.047.04-1           8.047.04-2
                  linux414-rt3562sta       2.4.1.1_r4-118       2.4.1.1_r4-119
                   linux414-tp_smapi              0.43-11              0.43-12
                linux414-vhba-module           20190831-4           20190831-5
   linux414-virtualbox-guest-modules             6.0.12-4             6.0.12-5
    linux414-virtualbox-host-modules             6.0.12-4             6.0.12-5
                        linux414-zfs              0.8.2-1              0.8.2-2
                  linux419-acpi_call             1.1.0-67             1.1.0-68
                   linux419-bbswitch               0.8-67               0.8-68
                linux419-broadcom-wl      6.30.223.271-66      6.30.223.271-67
                   linux419-catalyst     1:15.201.1151-64     1:15.201.1151-65
                linux419-ndiswrapper              1.62-16              1.62-17
               linux419-nvidia-340xx           340.107-66           340.107-67
               linux419-nvidia-390xx           390.129-12           390.129-13
               linux419-nvidia-418xx            418.88-10            418.88-11
               linux419-nvidia-430xx            430.40-12            430.40-13
               linux419-nvidia-435xx             435.21-6             435.21-7
                   linux419-nvidiabl              0.88-66              0.88-67
                      linux419-r8168           8.047.04-2           8.047.04-3
                  linux419-rtl8723bu   4.3.9.3.13200.0-51   4.3.9.3.13200.0-52
                   linux419-tp_smapi              0.43-16              0.43-17
                linux419-vhba-module           20190831-6           20190831-7
   linux419-virtualbox-guest-modules             6.0.12-6             6.0.12-7
    linux419-virtualbox-host-modules             6.0.12-6             6.0.12-7
                        linux419-zfs              0.8.2-2              0.8.2-3
                   linux49-acpi_call            1.1.0-139            1.1.0-140
                    linux49-bbswitch              0.8-139              0.8-140
                 linux49-broadcom-wl     6.30.223.271-139     6.30.223.271-140
                    linux49-catalyst    1:15.201.1151-139    1:15.201.1151-140
                 linux49-ndiswrapper               1.62-9              1.62-10
                linux49-nvidia-340xx           340.107-58           340.107-59
                linux49-nvidia-390xx            390.129-5            390.129-6
                linux49-nvidia-418xx             418.88-5             418.88-6
                linux49-nvidia-430xx             430.40-7             430.40-8
                    linux49-nvidiabl             0.88-139             0.88-140
                       linux49-r8168           8.047.04-1           8.047.04-2
                   linux49-rt3562sta       2.4.1.1_r4-137       2.4.1.1_r4-138
                    linux49-tp_smapi               0.43-7               0.43-8
                 linux49-vhba-module           20190831-3           20190831-4
    linux49-virtualbox-guest-modules             6.0.12-3             6.0.12-4
     linux49-virtualbox-host-modules             6.0.12-3             6.0.12-4
                         linux49-zfs              0.8.2-1              0.8.2-2
                   linux52-acpi_call             1.1.0-20             1.1.0-21
                    linux52-bbswitch               0.8-20               0.8-21
                 linux52-broadcom-wl      6.30.223.271-20      6.30.223.271-21
                 linux52-ndiswrapper              1.62-16              1.62-17
                linux52-nvidia-340xx           340.107-21           340.107-22
                linux52-nvidia-390xx           390.129-15           390.129-16
                linux52-nvidia-418xx             418.88-7             418.88-8
                linux52-nvidia-430xx            430.40-11            430.40-12
                linux52-nvidia-435xx             435.21-7             435.21-8
                    linux52-nvidiabl              0.88-20              0.88-21
                       linux52-r8168           8.047.04-2           8.047.04-3
                    linux52-tp_smapi              0.43-20              0.43-21
                 linux52-vhba-module           20190831-7           20190831-8
    linux52-virtualbox-guest-modules             6.0.12-7             6.0.12-8
     linux52-virtualbox-host-modules             6.0.12-7             6.0.12-8
                         linux52-zfs              0.8.2-2              0.8.2-3
                   linux53-acpi_call              1.1.0-2              1.1.0-3
                    linux53-bbswitch                0.8-2                0.8-3
                 linux53-broadcom-wl       6.30.223.271-2     6.30.223.271-3.1
                 linux53-ndiswrapper               1.62-2               1.62-3
                linux53-nvidia-340xx            340.107-2            340.107-3
                linux53-nvidia-390xx            390.129-2            390.129-3
                linux53-nvidia-418xx             418.88-2             418.88-3
                linux53-nvidia-430xx             430.40-2             430.40-3
                linux53-nvidia-435xx             435.21-2             435.21-3
                    linux53-nvidiabl               0.88-2               0.88-3
                       linux53-r8168           8.047.04-2           8.047.04-3
                   linux53-rtl8723bu      4.3.9.3.13200-2      4.3.9.3.13200-3
                    linux53-tp_smapi               0.43-2               0.43-3
                 linux53-vhba-module           20190831-2           20190831-3
    linux53-virtualbox-guest-modules             6.0.12-2             6.0.12-3
     linux53-virtualbox-host-modules             6.0.12-2             6.0.12-3
                         linux53-zfs              0.8.2-2              0.8.2-3
                           pamac-cli           9.0.0rc3-1           9.0.0rc4-1
                        pamac-common           9.0.0rc3-1           9.0.0rc4-1
                           pamac-gtk           9.0.0rc3-1           9.0.0rc4-1
                   pamac-snap-plugin           9.0.0rc3-1           9.0.0rc4-1
             pamac-tray-appindicator           9.0.0rc3-1           9.0.0rc4-1


:: Different sync package(s) in repository extra x86_64

-------------------------------------------------------------------------------
                             PACKAGE           2019-10-04           2019-10-05
-------------------------------------------------------------------------------
                        alertmanager             0.18.0-3             0.18.0-4
                         clutter-gst             3.0.27-1             3.0.27-2
                            epiphany             3.34.0-1             3.34.1-1
                   ffmpegthumbnailer              2.2.0-2              2.2.1-1
                     glib-networking             2.62.0-1             2.62.1-1
                       gnome-builder             3.34.0-1             3.34.1-1
                      gnome-calendar 3.34.0+13+gcb14c3f4-1            3.34.1-1
                gnome-control-center 3.34.0.1+10+g0f8e3f332-1         3.34.1-1
               gtk-update-icon-cache          1:3.24.11-1          1:3.24.12-1
                                gtk3          1:3.24.11-1          1:3.24.12-1
                                jack            0.125.0-7            0.125.0-8
                           libdazzle             3.34.0-1             3.34.1-1
                                qemu              4.1.0-1              4.1.0-2
                     qemu-arch-extra              4.1.0-1              4.1.0-2
                  qemu-block-gluster              4.1.0-1              4.1.0-2
                    qemu-block-iscsi              4.1.0-1              4.1.0-2
                      qemu-block-rbd              4.1.0-1              4.1.0-2
                    qemu-guest-agent              4.1.0-1              4.1.0-2
                       qemu-headless              4.1.0-1              4.1.0-2
            qemu-headless-arch-extra              4.1.0-1              4.1.0-2
                          stellarium             0.19.1-1             0.19.2-1
                               totem             3.34.0-1             3.34.1-1
                       virglrenderer              0.7.0-1              0.8.0-1
                               whois              5.5.1-1              5.5.2-1
                  xdg-desktop-portal              1.4.2-1              1.5.0-1
              xdg-desktop-portal-gtk              1.4.0-1              1.5.0-1
        xf86-video-intel 1:2.99.917+870+g6f4972d5-1 1:2.99.917+892+gc6cb1b19-1


:: Different overlay package(s) in repository multilib x86_64

-------------------------------------------------------------------------------
                             PACKAGE           2019-10-04           2019-10-05
-------------------------------------------------------------------------------
                  lib32-gtk3-classic            3.24.11-2            3.24.12-1


:: Different sync package(s) in repository multilib x86_64

-------------------------------------------------------------------------------
                             PACKAGE           2019-10-04           2019-10-05
-------------------------------------------------------------------------------
                        lib32-gnutls              3.6.9-1             3.6.10-1
                                wine               4.16-1               4.17-1
                        wine-staging               4.16-1               4.17-1

No issue, everything went smoothly
Yes there was an issue. I was able to resolve it myself.(Please post your solution)
Yes i am currently experiencing an issue due to the update. (Please post about it)
Check if your mirror has already synced: