Hello community,
I am happy to announce another Testing Update. Mostly we have Manjaro 18.1.1-pre2, fixed Pamac 9.0 AUR issues and the usual upstream updates.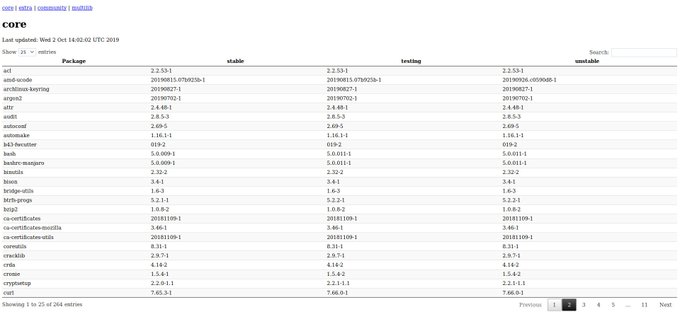 repo-compare is one of our new web-services. Give us your feedback on that new service!
Update news
This update holds the following changes:
Most of the Kernels got updated
repo-compare got a new UI update
We are currently working on repo-compare, a new web-service.
We pushed out Pamac 9.0-rc3 which should fix the AUR issues.
The usual updates and improvements and upstream package renewals
Latest efforts by KDE can be reviewed via our current KDE-Dev ISO or current KDE-Vanilla ISO
Give us the usual feedback and let us know what you think about this update.
---
Current supported Kernels
linux316 3.16.74
linux44 4.4.194 (no legacy nvidia-340 module!)
linux49 4.9.194
linux414 4.14.146
linux419 4.19.76
linux52 5.2.18 (no catalyst module!)
linux53 5.3.2 (no catalyst module!)
linux54 5.4.0-rc1 (not all modules build yet!)
linux419-rt 4.19.72_rt25
linux52-rt 5.2.17_rt9
Package Updates (Wed Oct 2 16:13:45 CEST 2019)
testing community x86_64: 141 new and 133 removed package(s)
testing core x86_64: 13 new and 11 removed package(s)
testing extra x86_64: 85 new and 86 removed package(s)
testing multilib x86_64: 2 new and 2 removed package(s)
:: Different overlay package(s) in repository community x86_64

-------------------------------------------------------------------------------
                             PACKAGE           2019-10-01           2019-10-02
-------------------------------------------------------------------------------
                               cpu-x             3.2.4-13             3.2.4-14
                         deepin-live                2.3-1                3.1-2
                            libcpuid 0.4.1.r18.gf6e4e23-1 0.4.1.r20.g69ed754-1


:: Different sync package(s) in repository community x86_64

-------------------------------------------------------------------------------
                             PACKAGE           2019-10-01           2019-10-02
-------------------------------------------------------------------------------
                       budgie-extras             0.10.0-1             0.10.1-1
                                cimg              2.7.1-1              2.7.2-1
                            cppcheck               1.86-1               1.89-1
                            electron             6.0.10-1             6.0.11-1
           firefox-developer-edition            70.0b10-1            70.0b11-1
  firefox-developer-edition-i18n-ach            70.0b10-1            70.0b11-1
   firefox-developer-edition-i18n-af            70.0b10-1            70.0b11-1
   firefox-developer-edition-i18n-an            70.0b10-1            70.0b11-1
   firefox-developer-edition-i18n-ar            70.0b10-1            70.0b11-1
  firefox-developer-edition-i18n-ast            70.0b10-1            70.0b11-1
   firefox-developer-edition-i18n-az            70.0b10-1            70.0b11-1
   firefox-developer-edition-i18n-be            70.0b10-1            70.0b11-1
   firefox-developer-edition-i18n-bg            70.0b10-1            70.0b11-1
   firefox-developer-edition-i18n-bn            70.0b10-1            70.0b11-1
   firefox-developer-edition-i18n-br            70.0b10-1            70.0b11-1
   firefox-developer-edition-i18n-bs            70.0b10-1            70.0b11-1
   firefox-developer-edition-i18n-ca            70.0b10-1            70.0b11-1
  firefox-developer-edition-i18n-cak            70.0b10-1            70.0b11-1
   firefox-developer-edition-i18n-cs            70.0b10-1            70.0b11-1
   firefox-developer-edition-i18n-cy            70.0b10-1            70.0b11-1
   firefox-developer-edition-i18n-da            70.0b10-1            70.0b11-1
   firefox-developer-edition-i18n-de            70.0b10-1            70.0b11-1
  firefox-developer-edition-i18n-dsb            70.0b10-1            70.0b11-1
   firefox-developer-edition-i18n-el            70.0b10-1            70.0b11-1
firefox-developer-edition-i18n-en-ca            70.0b10-1            70.0b11-1
firefox-developer-edition-i18n-en-gb            70.0b10-1            70.0b11-1
firefox-developer-edition-i18n-en-us            70.0b10-1            70.0b11-1
   firefox-developer-edition-i18n-eo            70.0b10-1            70.0b11-1
firefox-developer-edition-i18n-es-ar            70.0b10-1            70.0b11-1
firefox-developer-edition-i18n-es-cl            70.0b10-1            70.0b11-1
firefox-developer-edition-i18n-es-es            70.0b10-1            70.0b11-1
firefox-developer-edition-i18n-es-mx            70.0b10-1            70.0b11-1
   firefox-developer-edition-i18n-et            70.0b10-1            70.0b11-1
   firefox-developer-edition-i18n-eu            70.0b10-1            70.0b11-1
   firefox-developer-edition-i18n-fa            70.0b10-1            70.0b11-1
   firefox-developer-edition-i18n-ff            70.0b10-1            70.0b11-1
   firefox-developer-edition-i18n-fi            70.0b10-1            70.0b11-1
   firefox-developer-edition-i18n-fr            70.0b10-1            70.0b11-1
firefox-developer-edition-i18n-fy-nl            70.0b10-1            70.0b11-1
firefox-developer-edition-i18n-ga-ie            70.0b10-1            70.0b11-1
   firefox-developer-edition-i18n-gd            70.0b10-1            70.0b11-1
   firefox-developer-edition-i18n-gl            70.0b10-1            70.0b11-1
   firefox-developer-edition-i18n-gn            70.0b10-1            70.0b11-1
firefox-developer-edition-i18n-gu-in            70.0b10-1            70.0b11-1
   firefox-developer-edition-i18n-he            70.0b10-1            70.0b11-1
firefox-developer-edition-i18n-hi-in            70.0b10-1            70.0b11-1
   firefox-developer-edition-i18n-hr            70.0b10-1            70.0b11-1
  firefox-developer-edition-i18n-hsb            70.0b10-1            70.0b11-1
   firefox-developer-edition-i18n-hu            70.0b10-1            70.0b11-1
firefox-developer-edition-i18n-hy-am            70.0b10-1            70.0b11-1
   firefox-developer-edition-i18n-ia            70.0b10-1            70.0b11-1
   firefox-developer-edition-i18n-id            70.0b10-1            70.0b11-1
   firefox-developer-edition-i18n-is            70.0b10-1            70.0b11-1
   firefox-developer-edition-i18n-it            70.0b10-1            70.0b11-1
   firefox-developer-edition-i18n-ja            70.0b10-1            70.0b11-1
   firefox-developer-edition-i18n-ka            70.0b10-1            70.0b11-1
  firefox-developer-edition-i18n-kab            70.0b10-1            70.0b11-1
   firefox-developer-edition-i18n-kk            70.0b10-1            70.0b11-1
   firefox-developer-edition-i18n-km            70.0b10-1            70.0b11-1
   firefox-developer-edition-i18n-kn            70.0b10-1            70.0b11-1
   firefox-developer-edition-i18n-ko            70.0b10-1            70.0b11-1
  firefox-developer-edition-i18n-lij            70.0b10-1            70.0b11-1
   firefox-developer-edition-i18n-lt            70.0b10-1            70.0b11-1
   firefox-developer-edition-i18n-lv            70.0b10-1            70.0b11-1
   firefox-developer-edition-i18n-mk            70.0b10-1            70.0b11-1
   firefox-developer-edition-i18n-mr            70.0b10-1            70.0b11-1
   firefox-developer-edition-i18n-ms            70.0b10-1            70.0b11-1
   firefox-developer-edition-i18n-my            70.0b10-1            70.0b11-1
firefox-developer-edition-i18n-nb-no            70.0b10-1            70.0b11-1
firefox-developer-edition-i18n-ne-np            70.0b10-1            70.0b11-1
   firefox-developer-edition-i18n-nl            70.0b10-1            70.0b11-1
firefox-developer-edition-i18n-nn-no            70.0b10-1            70.0b11-1
   firefox-developer-edition-i18n-oc            70.0b10-1            70.0b11-1
firefox-developer-edition-i18n-pa-in            70.0b10-1            70.0b11-1
   firefox-developer-edition-i18n-pl            70.0b10-1            70.0b11-1
firefox-developer-edition-i18n-pt-br            70.0b10-1            70.0b11-1
firefox-developer-edition-i18n-pt-pt            70.0b10-1            70.0b11-1
   firefox-developer-edition-i18n-rm            70.0b10-1            70.0b11-1
   firefox-developer-edition-i18n-ro            70.0b10-1            70.0b11-1
   firefox-developer-edition-i18n-ru            70.0b10-1            70.0b11-1
   firefox-developer-edition-i18n-si            70.0b10-1            70.0b11-1
   firefox-developer-edition-i18n-sk            70.0b10-1            70.0b11-1
   firefox-developer-edition-i18n-sl            70.0b10-1            70.0b11-1
  firefox-developer-edition-i18n-son            70.0b10-1            70.0b11-1
   firefox-developer-edition-i18n-sq            70.0b10-1            70.0b11-1
   firefox-developer-edition-i18n-sr            70.0b10-1            70.0b11-1
firefox-developer-edition-i18n-sv-se            70.0b10-1            70.0b11-1
   firefox-developer-edition-i18n-ta            70.0b10-1            70.0b11-1
   firefox-developer-edition-i18n-te            70.0b10-1            70.0b11-1
   firefox-developer-edition-i18n-th            70.0b10-1            70.0b11-1
   firefox-developer-edition-i18n-tr            70.0b10-1            70.0b11-1
   firefox-developer-edition-i18n-uk            70.0b10-1            70.0b11-1
   firefox-developer-edition-i18n-ur            70.0b10-1            70.0b11-1
   firefox-developer-edition-i18n-uz            70.0b10-1            70.0b11-1
   firefox-developer-edition-i18n-vi            70.0b10-1            70.0b11-1
   firefox-developer-edition-i18n-xh            70.0b10-1            70.0b11-1
firefox-developer-edition-i18n-zh-cn            70.0b10-1            70.0b11-1
firefox-developer-edition-i18n-zh-tw            70.0b10-1            70.0b11-1
                             kak-lsp              6.2.1-1              7.0.0-1
                                kube              0.7.0-5              0.8.0-1
                                mpop              1.4.4-1              1.4.6-1
                  nextcloud-app-deck            1:0.6.6-1            1:0.7.0-1
                      nginx-mainline             1.17.3-1             1.17.4-1
                     python-autobahn             19.9.3-1            19.10.1-1
                          python-lz4             2.1.10-1              2.2.1-1
                   python-tensorflow             1.14.0-6              2.0.0-1
              python-tensorflow-cuda             1.14.0-6              2.0.0-1
         python-tensorflow-estimator             1.14.0-1              2.0.0-1
               python-tensorflow-opt             1.14.0-6              2.0.0-1
          python-tensorflow-opt-cuda             1.14.0-6              2.0.0-1
         python-voluptuous-serialize              2.2.0-1              2.3.0-1
                         python2-lz4             2.1.10-1              2.2.1-1
                           ruby-rdoc              6.1.1-3              6.2.0-1
                             ruby2.5              2.5.5-2              2.5.7-1
                            sagemath                8.9-1                8.9-2
                        sagemath-doc                8.9-1                8.9-2
                    sagemath-jupyter                8.9-1                8.9-2
                                salt           2019.2.0-2           2019.2.0-3
                            singular           4.1.2.p1-7           4.1.2.p2-1
                                sink              0.7.0-5              0.8.0-1
                            solidity             0.5.11-1             0.5.12-1
                              spdlog              1.3.1-3              1.4.1-1
                              sqlmap              1.3.8-1              1.3.8-2
                          strawberry              0.6.4-1              0.6.5-1
                          tensorflow             1.14.0-6              2.0.0-1
                     tensorflow-cuda             1.14.0-6              2.0.0-1
                      tensorflow-opt             1.14.0-6              2.0.0-1
                 tensorflow-opt-cuda             1.14.0-6              2.0.0-1
                                 tor            0.4.0.5-2            0.4.1.6-1
                               zshdb               0.92-1              1.0.1-1
                           firetools                    -             0.9.58-2
                              fs-uae                    -              3.0.0-1
                     fs-uae-launcher                    -              3.0.0-2
                                  hm                    -              16.20-1
                             htmldoc                    -              1.9.6-1
                     intel-media-sdk                    -             19.2.1-1
                             kvazaar                    -              1.3.0-1
                      python-lhafile                    -              0.2.2-2


:: Different overlay package(s) in repository core x86_64

-------------------------------------------------------------------------------
                             PACKAGE           2019-10-01           2019-10-02
-------------------------------------------------------------------------------
                            linux419            4.19.75-1            4.19.76-1
                    linux419-headers            4.19.75-1            4.19.76-1
                             linux52             5.2.17-1             5.2.18-1
                     linux52-headers             5.2.17-1             5.2.18-1
                             linux53              5.3.1-2              5.3.2-1
                     linux53-headers              5.3.1-2              5.3.2-1
                       linux54 5.4rc0.d0928.gaefcf2f-1 5.4rc1.d0930.g54ecb8f-1
               linux54-headers 5.4rc0.d0928.gaefcf2f-1 5.4rc1.d0930.g54ecb8f-1
                           amd-ucode                    -   20190926.c0590d8-1
                      linux-firmware                    -   20190926.c0590d8-1


:: Different sync package(s) in repository core x86_64

-------------------------------------------------------------------------------
                             PACKAGE           2019-10-01           2019-10-02
-------------------------------------------------------------------------------
                           amd-ucode   20190815.07b925b-1   20190923.417a9c6-1
                      linux-firmware   20190815.07b925b-1   20190923.417a9c6-1
                             p11-kit            0.23.17-2          0.23.18.1-1


:: Different overlay package(s) in repository extra x86_64

-------------------------------------------------------------------------------
                             PACKAGE           2019-10-01           2019-10-02
-------------------------------------------------------------------------------
                           calamares           3.2.13.1-1             3.2.14-1
               calamares-git 3.2.14.r6606.e1618f20a-1 3.2.15.r6633.fcda9f3e6-1
                  linux419-acpi_call             1.1.0-66             1.1.0-67
                   linux419-bbswitch               0.8-66               0.8-67
                linux419-broadcom-wl      6.30.223.271-65      6.30.223.271-66
                   linux419-catalyst     1:15.201.1151-63     1:15.201.1151-64
                linux419-ndiswrapper              1.62-15              1.62-16
               linux419-nvidia-340xx           340.107-65           340.107-66
               linux419-nvidia-390xx           390.129-11           390.129-12
               linux419-nvidia-418xx             418.88-9            418.88-10
               linux419-nvidia-430xx            430.40-11            430.40-12
               linux419-nvidia-435xx             435.21-5             435.21-6
                   linux419-nvidiabl              0.88-65              0.88-66
                      linux419-r8168           8.047.04-1           8.047.04-2
                  linux419-rtl8723bu   4.3.9.3.13200.0-50   4.3.9.3.13200.0-51
                   linux419-tp_smapi              0.43-15              0.43-16
                linux419-vhba-module           20190831-5           20190831-6
   linux419-virtualbox-guest-modules             6.0.12-5             6.0.12-6
    linux419-virtualbox-host-modules             6.0.12-5             6.0.12-6
                        linux419-zfs              0.8.2-1              0.8.2-2
                   linux52-acpi_call             1.1.0-19             1.1.0-20
                    linux52-bbswitch               0.8-19               0.8-20
                 linux52-broadcom-wl      6.30.223.271-19      6.30.223.271-20
                 linux52-ndiswrapper              1.62-15              1.62-16
                linux52-nvidia-340xx           340.107-20           340.107-21
                linux52-nvidia-390xx           390.129-14           390.129-15
                linux52-nvidia-418xx             418.88-6             418.88-7
                linux52-nvidia-430xx            430.40-10            430.40-11
                linux52-nvidia-435xx             435.21-6             435.21-7
                    linux52-nvidiabl              0.88-19              0.88-20
                       linux52-r8168           8.047.04-1           8.047.04-2
                   linux52-rtl8723bu     4.3.9.3.13200-16     4.3.9.3.13200-20
                    linux52-tp_smapi              0.43-19              0.43-20
                 linux52-vhba-module           20190831-6           20190831-7
    linux52-virtualbox-guest-modules             6.0.12-6             6.0.12-7
     linux52-virtualbox-host-modules             6.0.12-6             6.0.12-7
                         linux52-zfs              0.8.2-1              0.8.2-2
                   linux53-acpi_call              1.1.0-1              1.1.0-2
                    linux53-bbswitch                0.8-1                0.8-2
                 linux53-broadcom-wl       6.30.223.271-1       6.30.223.271-2
                 linux53-ndiswrapper               1.62-1               1.62-2
                linux53-nvidia-340xx            340.107-1            340.107-2
                linux53-nvidia-390xx            390.129-1            390.129-2
                linux53-nvidia-418xx             418.88-1             418.88-2
                linux53-nvidia-430xx             430.40-1             430.40-2
                linux53-nvidia-435xx             435.21-1             435.21-2
                    linux53-nvidiabl               0.88-1               0.88-2
                       linux53-r8168           8.047.04-1           8.047.04-2
                   linux53-rtl8723bu      4.3.9.3.13200-1      4.3.9.3.13200-2
                    linux53-tp_smapi               0.43-1               0.43-2
                 linux53-vhba-module           20190831-1           20190831-2
    linux53-virtualbox-guest-modules             6.0.12-1             6.0.12-2
     linux53-virtualbox-host-modules             6.0.12-1             6.0.12-2
                         linux53-zfs              0.8.2-1              0.8.2-2
                   linux54-acpi_call            1.1.0-0.2            1.1.0-0.3
                    linux54-bbswitch              0.8-0.2              0.8-0.3
                 linux54-broadcom-wl     6.30.223.271-0.2     6.30.223.271-0.3
                    linux54-nvidiabl             0.88-0.2             0.88-0.3
                   linux54-rtl8723bu    4.3.9.3.13200-0.2    4.3.9.3.13200-0.3
                    linux54-tp_smapi             0.43-0.2             0.43-0.3
                 linux54-vhba-module         20190831-0.2         20190831-0.3
                         linux54-zfs            0.8.2-0.2            0.8.2-0.3
                       manjaro-hello              0.6.1-4              0.6.2-1
                           pamac-cli           9.0.0rc2-1           9.0.0rc3-1
                        pamac-common           9.0.0rc2-1           9.0.0rc3-1
                           pamac-gtk           9.0.0rc2-1           9.0.0rc3-1
                   pamac-snap-plugin           9.0.0rc2-1           9.0.0rc3-1
             pamac-tray-appindicator           9.0.0rc2-1           9.0.0rc3-1
                               snapd               2.41-1               2.42-1
                           snapd-git 2.41.r423.g7b3f8b8b75-1                 -


:: Different sync package(s) in repository extra x86_64

-------------------------------------------------------------------------------
                             PACKAGE           2019-10-01           2019-10-02
-------------------------------------------------------------------------------
                              dracut                049-3                049-4
                     flatpak-builder              1.0.8-1              1.0.9-1
                             fribidi              1.0.5-1              1.0.7-1
                         fuse-common              3.6.2-2              3.7.0-1
                               fuse3              3.6.2-2              3.7.0-1
                             geoclue              2.5.3-2              2.5.5-2
                               krita              4.2.6-1            4.2.7.1-1
                          noto-fonts           20190111-2           20190926-1
                    noto-fonts-extra           20190111-2           20190926-1
                       python-django              2.2.5-1              2.2.6-1
                      python2-django            1.11.23-1            1.11.25-1
                                ruby              2.6.4-1              2.6.5-1
                           ruby-docs              2.6.4-1              2.6.5-1
                            seahorse           1:3.32.2-1             1:3.34-1
                        ttf-croscore           20190111-2           20190926-1
                             unoconv              0.8.2-1                0.9-1


:: Different sync package(s) in repository multilib x86_64

-------------------------------------------------------------------------------
                             PACKAGE           2019-10-01           2019-10-02
-------------------------------------------------------------------------------
                       lib32-fribidi              1.0.5-1              1.0.7-1
                       lib32-p11-kit            0.23.17-2          0.23.18.1-1


No issue, everything went smoothly
Yes there was an issue. I was able to resolve it myself.(Please post your solution)
Yes i am currently experiencing an issue due to the update. (Please post about it)
Check if your mirror has already synced: