Hello community,
I am happy to announce another Testing Update. Mostly we have Kernels, Gnome 3.34 and needed rebuilds with this one.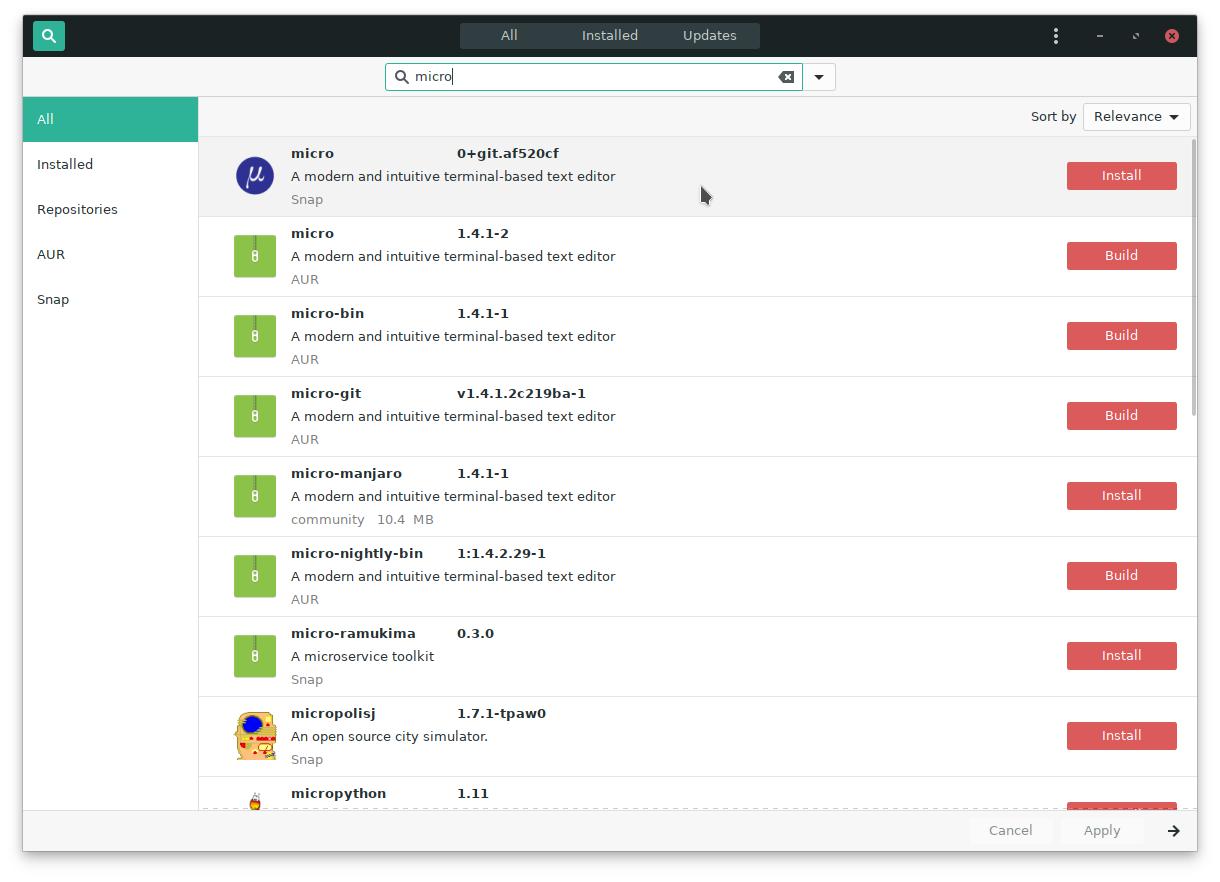 Help us to debug pamac
Update news
This update holds the following changes:
Give us the usual feedback and let us know what you think about this update.
---
Current supported Kernels
linux316 3.16.73
linux44 4.4.194 (no legacy nvidia-340 module!)
linux49 4.9.194
linux414 4.14.146
linux419 4.19.75
linux51 5.1.21 [EOL]
linux52 5.2.17 (no catalyst module!)
linux53 5.3.1 (no catalyst module!)
linux419-rt 4.19.72_rt25
linux52-rt 5.2.14_rt7
Package Updates (Wed Sep 25 07:31:15 CEST 2019)
testing community x86_64: 136 new and 135 removed package(s)
testing core x86_64: 2 new and 2 removed package(s)
testing extra x86_64: 41 new and 42 removed package(s)
:: Different overlay package(s) in repository community x86_64

-------------------------------------------------------------------------------
                             PACKAGE           2019-09-24           2019-09-25
-------------------------------------------------------------------------------
                               brave           0.67.119-1           0.68.141-1
                          brave-beta           0.67.119-1           0.70.101-1
               python-text-unidecode                    -                1.3-1


:: Different sync package(s) in repository community x86_64

-------------------------------------------------------------------------------
                             PACKAGE           2019-09-24           2019-09-25
-------------------------------------------------------------------------------
                 appstream-generator              0.7.7-4              0.8.0-1
                bash-language-server              1.6.0-1              1.6.1-1
                             drumkv1              0.9.9-1             0.9.10-1
                           electron4             4.2.10-1             4.2.11-1
                              facter             3.14.2-2             3.14.4-1
                           filezilla             3.44.2-1             3.45.0-1
           firefox-developer-edition             70.0b8-1             70.0b9-1
  firefox-developer-edition-i18n-ach             70.0b8-1             70.0b9-1
   firefox-developer-edition-i18n-af             70.0b8-1             70.0b9-1
   firefox-developer-edition-i18n-an             70.0b8-1             70.0b9-1
   firefox-developer-edition-i18n-ar             70.0b8-1             70.0b9-1
  firefox-developer-edition-i18n-ast             70.0b8-1             70.0b9-1
   firefox-developer-edition-i18n-az             70.0b8-1             70.0b9-1
   firefox-developer-edition-i18n-be             70.0b8-1             70.0b9-1
   firefox-developer-edition-i18n-bg             70.0b8-1             70.0b9-1
   firefox-developer-edition-i18n-bn             70.0b8-1             70.0b9-1
   firefox-developer-edition-i18n-br             70.0b8-1             70.0b9-1
   firefox-developer-edition-i18n-bs             70.0b8-1             70.0b9-1
   firefox-developer-edition-i18n-ca             70.0b8-1             70.0b9-1
  firefox-developer-edition-i18n-cak             70.0b8-1             70.0b9-1
   firefox-developer-edition-i18n-cs             70.0b8-1             70.0b9-1
   firefox-developer-edition-i18n-cy             70.0b8-1             70.0b9-1
   firefox-developer-edition-i18n-da             70.0b8-1             70.0b9-1
   firefox-developer-edition-i18n-de             70.0b8-1             70.0b9-1
  firefox-developer-edition-i18n-dsb             70.0b8-1             70.0b9-1
   firefox-developer-edition-i18n-el             70.0b8-1             70.0b9-1
firefox-developer-edition-i18n-en-ca             70.0b8-1             70.0b9-1
firefox-developer-edition-i18n-en-gb             70.0b8-1             70.0b9-1
firefox-developer-edition-i18n-en-us             70.0b8-1             70.0b9-1
   firefox-developer-edition-i18n-eo             70.0b8-1             70.0b9-1
firefox-developer-edition-i18n-es-ar             70.0b8-1             70.0b9-1
firefox-developer-edition-i18n-es-cl             70.0b8-1             70.0b9-1
firefox-developer-edition-i18n-es-es             70.0b8-1             70.0b9-1
firefox-developer-edition-i18n-es-mx             70.0b8-1             70.0b9-1
   firefox-developer-edition-i18n-et             70.0b8-1             70.0b9-1
   firefox-developer-edition-i18n-eu             70.0b8-1             70.0b9-1
   firefox-developer-edition-i18n-fa             70.0b8-1             70.0b9-1
   firefox-developer-edition-i18n-ff             70.0b8-1             70.0b9-1
   firefox-developer-edition-i18n-fi             70.0b8-1             70.0b9-1
   firefox-developer-edition-i18n-fr             70.0b8-1             70.0b9-1
firefox-developer-edition-i18n-fy-nl             70.0b8-1             70.0b9-1
firefox-developer-edition-i18n-ga-ie             70.0b8-1             70.0b9-1
   firefox-developer-edition-i18n-gd             70.0b8-1             70.0b9-1
   firefox-developer-edition-i18n-gl             70.0b8-1             70.0b9-1
   firefox-developer-edition-i18n-gn             70.0b8-1             70.0b9-1
firefox-developer-edition-i18n-gu-in             70.0b8-1             70.0b9-1
   firefox-developer-edition-i18n-he             70.0b8-1             70.0b9-1
firefox-developer-edition-i18n-hi-in             70.0b8-1             70.0b9-1
   firefox-developer-edition-i18n-hr             70.0b8-1             70.0b9-1
  firefox-developer-edition-i18n-hsb             70.0b8-1             70.0b9-1
   firefox-developer-edition-i18n-hu             70.0b8-1             70.0b9-1
firefox-developer-edition-i18n-hy-am             70.0b8-1             70.0b9-1
   firefox-developer-edition-i18n-ia             70.0b8-1             70.0b9-1
   firefox-developer-edition-i18n-id             70.0b8-1             70.0b9-1
   firefox-developer-edition-i18n-is             70.0b8-1             70.0b9-1
   firefox-developer-edition-i18n-it             70.0b8-1             70.0b9-1
   firefox-developer-edition-i18n-ja             70.0b8-1             70.0b9-1
   firefox-developer-edition-i18n-ka             70.0b8-1             70.0b9-1
  firefox-developer-edition-i18n-kab             70.0b8-1             70.0b9-1
   firefox-developer-edition-i18n-kk             70.0b8-1             70.0b9-1
   firefox-developer-edition-i18n-km             70.0b8-1             70.0b9-1
   firefox-developer-edition-i18n-kn             70.0b8-1             70.0b9-1
   firefox-developer-edition-i18n-ko             70.0b8-1             70.0b9-1
  firefox-developer-edition-i18n-lij             70.0b8-1             70.0b9-1
   firefox-developer-edition-i18n-lt             70.0b8-1             70.0b9-1
   firefox-developer-edition-i18n-lv             70.0b8-1             70.0b9-1
   firefox-developer-edition-i18n-mk             70.0b8-1             70.0b9-1
   firefox-developer-edition-i18n-mr             70.0b8-1             70.0b9-1
   firefox-developer-edition-i18n-ms             70.0b8-1             70.0b9-1
   firefox-developer-edition-i18n-my             70.0b8-1             70.0b9-1
firefox-developer-edition-i18n-nb-no             70.0b8-1             70.0b9-1
firefox-developer-edition-i18n-ne-np             70.0b8-1             70.0b9-1
   firefox-developer-edition-i18n-nl             70.0b8-1             70.0b9-1
firefox-developer-edition-i18n-nn-no             70.0b8-1             70.0b9-1
   firefox-developer-edition-i18n-oc             70.0b8-1             70.0b9-1
firefox-developer-edition-i18n-pa-in             70.0b8-1             70.0b9-1
   firefox-developer-edition-i18n-pl             70.0b8-1             70.0b9-1
firefox-developer-edition-i18n-pt-br             70.0b8-1             70.0b9-1
firefox-developer-edition-i18n-pt-pt             70.0b8-1             70.0b9-1
   firefox-developer-edition-i18n-rm             70.0b8-1             70.0b9-1
   firefox-developer-edition-i18n-ro             70.0b8-1             70.0b9-1
   firefox-developer-edition-i18n-ru             70.0b8-1             70.0b9-1
   firefox-developer-edition-i18n-si             70.0b8-1             70.0b9-1
   firefox-developer-edition-i18n-sk             70.0b8-1             70.0b9-1
   firefox-developer-edition-i18n-sl             70.0b8-1             70.0b9-1
  firefox-developer-edition-i18n-son             70.0b8-1             70.0b9-1
   firefox-developer-edition-i18n-sq             70.0b8-1             70.0b9-1
   firefox-developer-edition-i18n-sr             70.0b8-1             70.0b9-1
firefox-developer-edition-i18n-sv-se             70.0b8-1             70.0b9-1
   firefox-developer-edition-i18n-ta             70.0b8-1             70.0b9-1
   firefox-developer-edition-i18n-te             70.0b8-1             70.0b9-1
   firefox-developer-edition-i18n-th             70.0b8-1             70.0b9-1
   firefox-developer-edition-i18n-tr             70.0b8-1             70.0b9-1
   firefox-developer-edition-i18n-uk             70.0b8-1             70.0b9-1
   firefox-developer-edition-i18n-ur             70.0b8-1             70.0b9-1
   firefox-developer-edition-i18n-uz             70.0b8-1             70.0b9-1
   firefox-developer-edition-i18n-vi             70.0b8-1             70.0b9-1
   firefox-developer-edition-i18n-xh             70.0b8-1             70.0b9-1
firefox-developer-edition-i18n-zh-cn             70.0b8-1             70.0b9-1
firefox-developer-edition-i18n-zh-tw             70.0b8-1             70.0b9-1
     firefox-extension-privacybadger         2019.7.1.1-1          2019.9.23-1
                              foxdot              0.8.1-1              0.8.3-1
                              gitlab             12.3.0-1             12.3.1-1
                                 hub             2.12.4-1             2.12.7-1
                                 iwd               0.20-3               0.21-1
                             jenkins              2.195-1              2.196-1
                       jitterentropy              2.1.2-1              2.2.0-1
                                kbfs              4.4.2-1              4.5.0-1
                             keepass             2.42.1-4             2.42.1-5
                             keybase              4.4.2-1              4.5.0-1
                         keybase-gui              4.4.2-1              4.5.0-1
                         libwhereami              0.2.2-2              0.3.0-1
                           lttng-ust             2.10.4-1             2.10.5-1
                            minikube              1.3.1-1              1.4.0-1
                            newsboat               2.15-1               2.17-1
                    otf-font-awesome             5.11.1-1             5.11.2-1
                             padthv1              0.9.9-2             0.9.10-1
                     pantheon-camera              1.0.4-2              1.0.5-1
                                peek              1.3.1-3              1.4.0-1
                           plan9port           20190619-1           20190923-1
                         python-cbor              1.0.0-1              1.0.0-2
                     python-lttngust             2.10.4-1             2.10.5-1
               react-native-debugger             0.10.0-1             0.10.1-1
                             samplv1              0.9.9-1             0.9.10-1
                            shotwell           2:0.30.4-1           2:0.30.7-1
              switchboard-plug-about              2.5.2-1              2.6.0-1
                             synthv1              0.9.9-1             0.9.10-1
                           terraform             0.12.8-1             0.12.9-1
                         tidalcycles              1.4.2-6              1.4.2-7
                    ttf-font-awesome             5.11.1-1             5.11.2-1
                                utox             0.17.0-3             0.17.1-1
                             wesnoth           1:1.14.7-1           1:1.14.9-1
                               zcash            2.0.7_2-1            2.0.7_3-1


:: Different sync package(s) in repository core x86_64

-------------------------------------------------------------------------------
                             PACKAGE           2019-09-24           2019-09-25
-------------------------------------------------------------------------------
                            libtasn1               4.14-1               4.14-2
                              tzdata              2019c-1              2019c-2


:: Different overlay package(s) in repository extra x86_64

-------------------------------------------------------------------------------
                             PACKAGE           2019-09-24           2019-09-25
-------------------------------------------------------------------------------
                             haveged              1.9.6-3                    -
                     optimus-manager                1.1-1                1.2-1
                           pamac-cli            9.0.0rc-3            9.0.0rc-4
                        pamac-common            9.0.0rc-3            9.0.0rc-4
                           pamac-gtk            9.0.0rc-3            9.0.0rc-4
                   pamac-snap-plugin            9.0.0rc-3            9.0.0rc-4
             pamac-tray-appindicator            9.0.0rc-3            9.0.0rc-4
                         xfce4-panel           4.14.0-1.2           4.14.0-2.1


:: Different sync package(s) in repository extra x86_64

-------------------------------------------------------------------------------
                             PACKAGE           2019-09-24           2019-09-25
-------------------------------------------------------------------------------
                           appstream             0.12.8-1             0.12.9-1
                        appstream-qt             0.12.8-1             0.12.9-1
                               bluez               5.50-7               5.51-1
                          bluez-cups               5.50-7               5.51-1
                       bluez-hid2hci               5.50-7               5.51-1
                          bluez-libs               5.50-7               5.51-1
                       bluez-plugins               5.50-7               5.51-1
                         bluez-utils               5.50-7               5.51-1
                        cups-filters             1.25.5-1             1.25.6-1
                             ethtool              1:5.2-1              1:5.3-1
                           gst-libav             1.16.0-1             1.16.1-1
                     gst-plugins-bad             1.16.0-5             1.16.1-1
                    gst-plugins-base             1.16.0-3             1.16.1-1
               gst-plugins-base-libs             1.16.0-3             1.16.1-1
                    gst-plugins-good             1.16.0-1             1.16.1-1
                    gst-plugins-ugly             1.16.0-1             1.16.1-1
                          gst-python             1.16.0-1             1.16.1-1
                         gst-python2             1.16.0-1             1.16.1-1
                           gstreamer             1.16.0-2             1.16.1-1
                     gstreamer-vaapi             1.16.0-1             1.16.1-1
                             libxvmc             1.0.11-1             1.0.12-1
                                mono          6.0.0.327-1          6.0.0.334-1
                    noto-fonts-emoji           20180810-2           20190810-1
                             poppler             0.80.0-1             0.80.0-2
                        poppler-glib             0.80.0-1             0.80.0-2
                         poppler-qt5             0.80.0-1             0.80.0-2
                             postfix              3.4.6-1              3.4.7-1
        prometheus-blackbox-exporter             0.15.0-1             0.15.1-1
                    shared-mime-info             1.13.1-2               1.14-1
                                vala             0.46.1-1             0.46.1-2
                         xfce4-panel             4.14.0-1             4.14.0-2
                xfce4-weather-plugin             0.8.11-1             0.10.0-1
                           xorgproto             2019.1-1             2019.1-2
                               xterm                348-1                349-1

No issue, everything went smoothly
Yes there was an issue. I was able to resolve it myself.(Please post your solution)
Yes i am currently experiencing an issue due to the update. (Please post about it)
Check if your mirror has already synced: