Hello community,
I am happy to announce another Testing Update. Mostly we have Firefox, Kernels and Firmware updates with this one.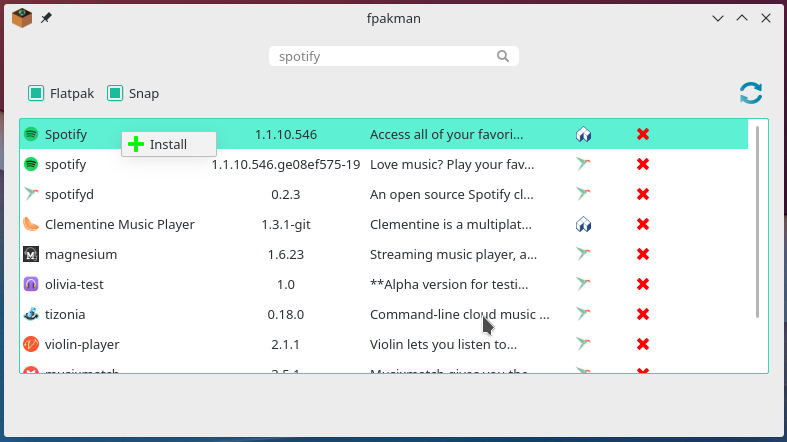 Some might noticed that since the #snapcraftsummit a lot of package changes went into Manjaro and our available RCs. Also we didn't yet announce 18.1.0-rc5 officially yet. We are still polishing the snap experience for our users. XFCE and Gnome will come with Gnome-Software and our KDE edition has Discover, both with snap support enabled.
This way everybody can easily access the snap store by a click and don't has to hassle to get snaps enabled. This enables us to ship even more proprietary software, which we couldn't before. For example check out on how you may install Spotify on Manjaro.
This update holds the following changes:
Introduction of fpakman
Firefox got its latest beta-release
We updated some of KDE-Git
Palemoon is now at version 28.6.1
We also updated linux-firmware, which adds some fixes for Intel WLAN hardware
Some Kernels and Java packages got updated
Latest efforts by KDE can be reviewed via our current KDE-Dev ISO
Give us the usual feedback and let us know what you think about this update.
---
Current supported Kernels
linux316 3.16.70
linux44 4.4.186 (no legacy nvidia-340 module!)
linux49 4.9.186
linux414 4.14.134
linux419 4.19.61
linux51 5.1.20
linux52 5.2.3 (no catalyst module!)
linux53 5.3-rc1 (not all modules build yet!)
linux419-rt 4.19.50_rt22
linux50-rt 5.0.21_rt16
Package Updates (Sat Jul 27 07:10:40 CEST 2019)
testing community x86_64: 279 new and 272 removed package(s)
testing core x86_64: 12 new and 12 removed package(s)
testing extra x86_64: 95 new and 92 removed package(s)
testing multilib x86_64: 3 new and 3 removed package(s)
:: Different overlay package(s) in repository community x86_64

-------------------------------------------------------------------------------
                             PACKAGE           2019-07-24           2019-07-27
-------------------------------------------------------------------------------
                       bluedevil-git5.16.80.r2007.gaed22681-15.16.80.r2008.ge6b34099-1
                          breeze-git5.16.80.r1860.gd6b2a3a3-15.16.80.r1861.gb867c354-1
                            cinnamon              4.2.2-1              4.2.3-1
                        discover-git5.16.80.r7304.gb9bf6a37-15.16.80.r7315.g29fb6ce9-1
                         drkonqi-git5.16.80.r418.g5a59721d-15.16.80.r421.ge264b50a-1
             extra-cmake-modules-git5.61.0.r3079.g5478a88-15.61.0.r3082.g685959c-1
  gnome-shell-extension-arc-menu-dev               31.4-1               31.5-1
 gnome-shell-extension-dash-to-panel    v19+23+g30764fd-1                v20-1
                          guayadeque0.4.5.r68.9688c4d0c-10.4.6.r2121.85c97c95-2
                        karchive-git5.61.0.r366.gd2d60b8-15.61.0.r368.ga0eedc4-1
                        kcmutils-git5.61.0.r312.g4bb80c1-15.61.0.r313.g2583ee9-1
                     kcoreaddons-git5.61.0.r837.g18b54cd-15.61.0.r840.g9d0579d-1
                   kde-cli-tools-git5.16.80.r1699.g6d86fd4-15.16.80.r1700.g2eedadd-1
                    kdeclarative-git5.61.0.r677.g811e78e-15.61.0.r678.g52b1133-1
                kdeplasma-addons-git5.16.80.r8128.g237245610-15.16.80.r8136.g7aa41f22a-1
                   kfilemetadata-git5.61.0.r636.g7b9cb48-15.61.0.r637.g8f23194-1
                        khotkeys-git5.16.80.r1932.gae82bb5-15.16.80.r1934.g3a76c26-1
                           ki18n-git5.61.0.r335.gdff6630-15.61.0.r337.g1dcdd36-1
                     kinfocenter-git5.16.80.r1511.g573df53-15.16.80.r1517.g059b810-1
                             kio-git5.61.0.r3475.g0cc93676-15.61.0.r3482.gbbe3e6ed-1
                       kirigami2-git5.61.0.r1864.gd2d04fdb-15.61.0.r1870.g518444e4-1
                      knetattach-git5.16.80.r6777.ge75f1e50-15.16.80.r6789.geae23d5d-1
                       knewstuff-git5.61.0.r682.g4645577-15.61.0.r683.g45a2d8b-1
                  knotifications-git5.61.0.r436.gbe46618-15.61.0.r437.g7aaf307-1
                        kpackage-git5.61.0.r525.gaa310c6-15.61.0.r526.g40556d1-1
                        kservice-git5.61.0.r656.gb04b8e3-15.61.0.r661.g92cde60-1
                     ksshaskpass-git5.16.80.r138.g66ea9ec-15.16.80.r139.g9d8614e-1
                       ksysguard-git5.16.80.r3117.g5710845d-15.16.80.r3119.g73d48daa-1
            kwayland-integration-git5.16.80.r109.g6b8085c-15.16.80.r117.g1e8696a-1
                  kwidgetsaddons-git5.61.0.r558.g6531924-15.61.0.r562.gd42793f-1
                            kwin-git5.16.80.r17124.g93ab16b99-15.16.80.r17131.g4d41e877c-1
                   kwindowsystem-git5.61.0.r434.g3c5f3f8-15.61.0.r436.gb485043-1
                         kwrited-git5.16.80.r398.ge8398bf-15.16.80.r399.ga3f9d40-1
                    libksysguard-git5.16.80.r1717.gcf1791d-15.16.80.r1718.gfc83b15-1
                              octopi             0.9.0-12             0.9.0-13
          octopi-notifier-frameworks             0.9.0-12             0.9.0-13
                 octopi-notifier-qt5             0.9.0-12             0.9.0-13
                          oxygen-git5.16.80.r4303.gaea26bdb-15.16.80.r4310.gf2b5bb94-1
                        palemoon-bin           28.6.0.1-1             28.6.1-1
                    palemoon-i18n-ar           28.6.0.1-1             28.6.1-1
                    palemoon-i18n-bg           28.6.0.1-1             28.6.1-1
                    palemoon-i18n-cs           28.6.0.1-1             28.6.1-1
                    palemoon-i18n-da           28.6.0.1-1             28.6.1-1
                    palemoon-i18n-de           28.6.0.1-1             28.6.1-1
                    palemoon-i18n-el           28.6.0.1-1             28.6.1-1
                 palemoon-i18n-en-gb           28.6.0.1-1             28.6.1-1
                 palemoon-i18n-es-ar           28.6.0.1-1             28.6.1-1
                 palemoon-i18n-es-es           28.6.0.1-1             28.6.1-1
                 palemoon-i18n-es-mx           28.6.0.1-1             28.6.1-1
                    palemoon-i18n-fi           28.6.0.1-1             28.6.1-1
                    palemoon-i18n-fr           28.6.0.1-1             28.6.1-1
                    palemoon-i18n-gl           28.6.0.1-1             28.6.1-1
                    palemoon-i18n-hr           28.6.0.1-1             28.6.1-1
                    palemoon-i18n-hu           28.6.0.1-1             28.6.1-1
                    palemoon-i18n-id           28.6.0.1-1             28.6.1-1
                    palemoon-i18n-is           28.6.0.1-1             28.6.1-1
                    palemoon-i18n-it           28.6.0.1-1             28.6.1-1
                    palemoon-i18n-ja           28.6.0.1-1             28.6.1-1
                    palemoon-i18n-kn           28.6.0.1-1             28.6.1-1
                    palemoon-i18n-ko           28.6.0.1-1             28.6.1-1
                    palemoon-i18n-nl           28.6.0.1-1             28.6.1-1
                    palemoon-i18n-pl           28.6.0.1-1             28.6.1-1
                 palemoon-i18n-pt-br           28.6.0.1-1             28.6.1-1
                 palemoon-i18n-pt-pt           28.6.0.1-1             28.6.1-1
                    palemoon-i18n-ro           28.6.0.1-1             28.6.1-1
                    palemoon-i18n-ru           28.6.0.1-1             28.6.1-1
                    palemoon-i18n-sk           28.6.0.1-1             28.6.1-1
                    palemoon-i18n-sl           28.6.0.1-1             28.6.1-1
                    palemoon-i18n-sr           28.6.0.1-1             28.6.1-1
                 palemoon-i18n-sv-se           28.6.0.1-1             28.6.1-1
                    palemoon-i18n-tl           28.6.0.1-1             28.6.1-1
                    palemoon-i18n-tr           28.6.0.1-1             28.6.1-1
                    palemoon-i18n-uk           28.6.0.1-1             28.6.1-1
                    palemoon-i18n-vi           28.6.0.1-1             28.6.1-1
                 palemoon-i18n-zh-cn           28.6.0.1-1             28.6.1-1
                 palemoon-i18n-zh-tw           28.6.0.1-1             28.6.1-1
             papirus-maia-icon-theme           20181011-1           20190726-1
      plasma-browser-integration-git5.16.80.r807.ge429cdeb-15.16.80.r825.g06be50c4-1
                  plasma-desktop-git5.16.80.r6777.ge75f1e50-15.16.80.r6789.geae23d5d-1
                plasma-framework-git5.61.0.r15205.gf04584d42-15.61.0.r15218.g17d49c0bc-1
                       plasma-nm-git5.16.80.r2614.g00c78ced-15.16.80.r2630.g1bad1834-1
                       plasma-pa-git5.16.80.r717.g86d3fb9-15.16.80.r718.gaab6306-1
                      plasma-sdk-git5.16.80.r2058.g2b7be75-15.16.80.r2061.g1891299-1
                plasma-workspace-git5.16.80.r7743.g48b09461-15.16.80.r7762.gc29c1be9-1
     plasma-workspace-wallpapers-git5.16.80.r160.g6592c4d-15.16.80.r161.g97fa736-1
                             polybar              3.3.1-2              3.4.0-2
                        sddm-kcm-git5.16.80.r449.ge38a36e-15.16.80.r459.gb5c3ed5-1
                     translate-shell           0.9.6.10-1           0.9.6.11-1
          xdg-desktop-portal-kde-git5.16.80.r182.gecb9108-15.16.80.r183.gc8112eb-1
gnome-shell-extension-appfolders-manager                    -    13.r42.g9a9b819-1


:: Different sync package(s) in repository community x86_64

-------------------------------------------------------------------------------
                             PACKAGE           2019-07-24           2019-07-27
-------------------------------------------------------------------------------
                      acpi_call-dkms            1.1.0-232            1.1.0-233
                           alacritty              0.3.3-2              0.3.3-3
                  alacritty-terminfo              0.3.3-2              0.3.3-3
                       android-tools          9.0.0_r41-1          9.0.0_r45-1
                                axel             2.17.3-1             2.17.5-1
                               bazel             0.28.0-1             0.28.1-1
                             blender         17:2.80rc1-2         17:2.80rc2-1
                              ccache              3.7.1-1              3.7.2-1
                            checksec             1.11.1-1              2.0.1-1
                            cinnamon              4.2.2-1              4.2.3-1
            cinnamon-settings-daemon              4.2.0-1              4.2.2-1
                          cozy-stack            1:1.2.9-1           1:1.2.10-1
                              cython            0.29.12-1            0.29.13-1
                             cython2            0.29.12-1            0.29.13-1
              deepin-desktop-schemas             3.13.8-1             3.13.9-1
                                dune             1.10.0-2             1.11.0-1
                            electron              5.0.7-1              5.0.8-1
                          emscripten            1.38.38-1            1.38.40-1
                        fflas-ffpack              2.4.3-1              2.4.3-2
           firefox-developer-edition             69.0b7-1             69.0b8-1
  firefox-developer-edition-i18n-ach             69.0b7-1             69.0b8-1
   firefox-developer-edition-i18n-af             69.0b7-1             69.0b8-1
   firefox-developer-edition-i18n-an             69.0b7-1             69.0b8-1
   firefox-developer-edition-i18n-ar             69.0b7-1             69.0b8-1
  firefox-developer-edition-i18n-ast             69.0b7-1             69.0b8-1
   firefox-developer-edition-i18n-az             69.0b7-1             69.0b8-1
   firefox-developer-edition-i18n-be             69.0b7-1             69.0b8-1
   firefox-developer-edition-i18n-bg             69.0b7-1             69.0b8-1
   firefox-developer-edition-i18n-bn             69.0b7-1             69.0b8-1
   firefox-developer-edition-i18n-br             69.0b7-1             69.0b8-1
   firefox-developer-edition-i18n-bs             69.0b7-1             69.0b8-1
   firefox-developer-edition-i18n-ca             69.0b7-1             69.0b8-1
  firefox-developer-edition-i18n-cak             69.0b7-1             69.0b8-1
   firefox-developer-edition-i18n-cs             69.0b7-1             69.0b8-1
   firefox-developer-edition-i18n-cy             69.0b7-1             69.0b8-1
   firefox-developer-edition-i18n-da             69.0b7-1             69.0b8-1
   firefox-developer-edition-i18n-de             69.0b7-1             69.0b8-1
  firefox-developer-edition-i18n-dsb             69.0b7-1             69.0b8-1
   firefox-developer-edition-i18n-el             69.0b7-1             69.0b8-1
firefox-developer-edition-i18n-en-ca             69.0b7-1             69.0b8-1
firefox-developer-edition-i18n-en-gb             69.0b7-1             69.0b8-1
firefox-developer-edition-i18n-en-us             69.0b7-1             69.0b8-1
   firefox-developer-edition-i18n-eo             69.0b7-1             69.0b8-1
firefox-developer-edition-i18n-es-ar             69.0b7-1             69.0b8-1
firefox-developer-edition-i18n-es-cl             69.0b7-1             69.0b8-1
firefox-developer-edition-i18n-es-es             69.0b7-1             69.0b8-1
firefox-developer-edition-i18n-es-mx             69.0b7-1             69.0b8-1
   firefox-developer-edition-i18n-et             69.0b7-1             69.0b8-1
   firefox-developer-edition-i18n-eu             69.0b7-1             69.0b8-1
   firefox-developer-edition-i18n-fa             69.0b7-1             69.0b8-1
   firefox-developer-edition-i18n-ff             69.0b7-1             69.0b8-1
   firefox-developer-edition-i18n-fi             69.0b7-1             69.0b8-1
   firefox-developer-edition-i18n-fr             69.0b7-1             69.0b8-1
firefox-developer-edition-i18n-fy-nl             69.0b7-1             69.0b8-1
firefox-developer-edition-i18n-ga-ie             69.0b7-1             69.0b8-1
   firefox-developer-edition-i18n-gd             69.0b7-1             69.0b8-1
   firefox-developer-edition-i18n-gl             69.0b7-1             69.0b8-1
   firefox-developer-edition-i18n-gn             69.0b7-1             69.0b8-1
firefox-developer-edition-i18n-gu-in             69.0b7-1             69.0b8-1
   firefox-developer-edition-i18n-he             69.0b7-1             69.0b8-1
firefox-developer-edition-i18n-hi-in             69.0b7-1             69.0b8-1
   firefox-developer-edition-i18n-hr             69.0b7-1             69.0b8-1
  firefox-developer-edition-i18n-hsb             69.0b7-1             69.0b8-1
   firefox-developer-edition-i18n-hu             69.0b7-1             69.0b8-1
firefox-developer-edition-i18n-hy-am             69.0b7-1             69.0b8-1
   firefox-developer-edition-i18n-ia             69.0b7-1             69.0b8-1
   firefox-developer-edition-i18n-id             69.0b7-1             69.0b8-1
   firefox-developer-edition-i18n-is             69.0b7-1             69.0b8-1
   firefox-developer-edition-i18n-it             69.0b7-1             69.0b8-1
   firefox-developer-edition-i18n-ja             69.0b7-1             69.0b8-1
   firefox-developer-edition-i18n-ka             69.0b7-1             69.0b8-1
  firefox-developer-edition-i18n-kab             69.0b7-1             69.0b8-1
   firefox-developer-edition-i18n-kk             69.0b7-1             69.0b8-1
   firefox-developer-edition-i18n-km             69.0b7-1             69.0b8-1
   firefox-developer-edition-i18n-kn             69.0b7-1             69.0b8-1
   firefox-developer-edition-i18n-ko             69.0b7-1             69.0b8-1
  firefox-developer-edition-i18n-lij             69.0b7-1             69.0b8-1
   firefox-developer-edition-i18n-lt             69.0b7-1             69.0b8-1
   firefox-developer-edition-i18n-lv             69.0b7-1             69.0b8-1
   firefox-developer-edition-i18n-mk             69.0b7-1             69.0b8-1
   firefox-developer-edition-i18n-mr             69.0b7-1             69.0b8-1
   firefox-developer-edition-i18n-ms             69.0b7-1             69.0b8-1
   firefox-developer-edition-i18n-my             69.0b7-1             69.0b8-1
firefox-developer-edition-i18n-nb-no             69.0b7-1             69.0b8-1
firefox-developer-edition-i18n-ne-np             69.0b7-1             69.0b8-1
   firefox-developer-edition-i18n-nl             69.0b7-1             69.0b8-1
firefox-developer-edition-i18n-nn-no             69.0b7-1             69.0b8-1
   firefox-developer-edition-i18n-oc             69.0b7-1             69.0b8-1
firefox-developer-edition-i18n-pa-in             69.0b7-1             69.0b8-1
   firefox-developer-edition-i18n-pl             69.0b7-1             69.0b8-1
firefox-developer-edition-i18n-pt-br             69.0b7-1             69.0b8-1
firefox-developer-edition-i18n-pt-pt             69.0b7-1             69.0b8-1
   firefox-developer-edition-i18n-rm             69.0b7-1             69.0b8-1
   firefox-developer-edition-i18n-ro             69.0b7-1             69.0b8-1
   firefox-developer-edition-i18n-ru             69.0b7-1             69.0b8-1
   firefox-developer-edition-i18n-si             69.0b7-1             69.0b8-1
   firefox-developer-edition-i18n-sk             69.0b7-1             69.0b8-1
   firefox-developer-edition-i18n-sl             69.0b7-1             69.0b8-1
  firefox-developer-edition-i18n-son             69.0b7-1             69.0b8-1
   firefox-developer-edition-i18n-sq             69.0b7-1             69.0b8-1
   firefox-developer-edition-i18n-sr             69.0b7-1             69.0b8-1
firefox-developer-edition-i18n-sv-se             69.0b7-1             69.0b8-1
   firefox-developer-edition-i18n-ta             69.0b7-1             69.0b8-1
   firefox-developer-edition-i18n-te             69.0b7-1             69.0b8-1
   firefox-developer-edition-i18n-th             69.0b7-1             69.0b8-1
   firefox-developer-edition-i18n-tr             69.0b7-1             69.0b8-1
   firefox-developer-edition-i18n-uk             69.0b7-1             69.0b8-1
   firefox-developer-edition-i18n-ur             69.0b7-1             69.0b8-1
   firefox-developer-edition-i18n-uz             69.0b7-1             69.0b8-1
   firefox-developer-edition-i18n-vi             69.0b7-1             69.0b8-1
   firefox-developer-edition-i18n-xh             69.0b7-1             69.0b8-1
firefox-developer-edition-i18n-zh-cn             69.0b7-1             69.0b8-1
firefox-developer-edition-i18n-zh-tw             69.0b7-1             69.0b8-1
               firefox-ublock-origin             1.20.0-1             1.21.2-1
                             git-lfs              2.7.2-1              2.8.0-1
                              gitlab             12.0.3-1             12.1.0-1
                       gitlab-runner             12.0.1-1             12.1.0-1
                         go-ethereum              1.9.0-1              1.9.1-1
                               gpsim             0.30.0-2             0.31.0-1
                              gradle                5.5-1              5.5.1-1
                          gradle-doc                5.5-1              5.5.1-1
                          gradle-src                5.5-1              5.5.1-1
                      grafana-zabbix             3.10.2-1             3.10.3-1
                               gsoap             2.8.86-1             2.8.88-1
                       haskell-■■■■■             0.47.1-3             0.47.1-4
                  haskell-data-clist           0.1.2.2-11            0.1.2.3-1
                         hcxdumptool              5.1.5-1              5.1.7-1
                          hledger-ui            1.14.2-49            1.14.2-50
                      home-assistant             0.96.3-1             0.96.4-1
               intel-compute-runtime        19.28.13502-1        19.29.13530-1
     intellij-idea-community-edition         2:2019.1.3-1           2:2019.2-1
                          jupyterlab              1.0.2-1              1.0.4-1
                              kcptun           20190718-1           20190725-1
                                 lxc            1:3.1.0-2            1:3.2.1-1
                               lxcfs              3.0.4-1              3.1.1-1
                      matrix-synapse              1.1.0-1              1.2.1-1
                               maven              3.6.1-1              3.6.1-2
                               minio         2019.07.17-1         2019.07.24-1
                              muffin              4.2.1-1              4.2.2-1
                                nemo              4.2.1-1              4.2.2-1
                 nextcloud-app-notes              3.0.0-1              3.0.1-1
                    nextcloud-client              2.5.2-1              2.5.3-2
                                 npm             6.10.1-1             6.10.2-1
                         pony-stable              0.2.0-1              0.2.1-1
                          processing              3.5.3-2              3.5.3-3
           pycharm-community-edition           2018.3.5-1           2018.3.5-2
                     python-autobahn             19.7.1-1             19.7.2-1
               python-beautifulsoup4              4.7.1-1              4.8.0-1
                     python-cfn-lint             0.22.3-1             0.22.4-1
                      python-execnet              1.6.0-1              1.6.1-1
                 python-html5-parser              0.4.7-1              0.4.8-1
                   python-hypothesis             4.28.2-1             4.31.0-1
                        python-json5              0.8.5-1              0.8.5-2
              python-language-server             0.27.0-1             0.28.0-1
               python-logilab-common              1.4.2-2              1.4.3-1
                        python-paste              3.0.8-1              3.1.0-1
                       python-pydoe2              1.2.0-1              1.2.1-1
                     python-pygithub             1.43.7-1             1.43.8-1
                  python-pysol_cards              0.8.1-1              0.8.3-1
                  python-ruamel-yaml           0.15.100-1             0.16.0-1
                   python-sqlalchemy              1.3.5-1              1.3.6-1
                       python-tweepy              3.7.0-1              3.8.0-1
              python2-beautifulsoup4              4.7.1-1              4.8.0-1
                     python2-execnet              1.6.0-1              1.6.1-1
                     python2-futures              3.2.0-1              3.3.0-1
                python2-html5-parser              0.4.7-1              0.4.8-1
                  python2-hypothesis             4.28.2-1             4.31.0-1
                       python2-paste              3.0.8-1              3.1.0-1
                  python2-sqlalchemy              1.3.5-1              1.3.6-1
                      python2-tweepy              3.7.0-1              3.8.0-1
                            qtractor              0.9.8-2              0.9.9-2
                              semver              6.2.0-1              6.3.0-1
                              solaar             0.9.2-12              1.0.1-1
                             tellico                3.2-1              3.2.1-1
                            termdown             1.15.0-1             1.16.0-1
                          testssl.sh            2.9.5.7-1            2.9.5.8-1
                         uboot-tools            2019.01-1            2019.07-1
         v2ray-domain-list-community         20190718.1-1         20190725.1-1
                       wireshark-cli              3.0.2-1              3.0.3-1
                        wireshark-qt              3.0.2-1              3.0.3-1
                              wpscan            1:3.5.4-1            1:3.6.1-1
                                 xed              2.2.1-1              2.2.2-1
                               xonsh              0.9.8-1              0.9.9-1
              yubikey-touch-detector              1.2.0-2              1.3.0-1
                     python-colorcet                    -              2.0.1-1
                        python-param                    -              1.9.1-1
                         python-pyct                    -              0.4.6-1
                    python2-colorcet                    -              2.0.1-1
                       python2-param                    -              1.9.1-1
                        python2-pyct                    -              0.4.6-1


:: Different overlay package(s) in repository core x86_64

-------------------------------------------------------------------------------
                             PACKAGE           2019-07-24           2019-07-27
-------------------------------------------------------------------------------
                            linux316            3.16.70-1            3.16.71-1
                    linux316-headers            3.16.70-1            3.16.71-1
                            linux419            4.19.60-1            4.19.61-1
                    linux419-headers            4.19.60-1            4.19.61-1
                             linux51             5.1.19-1             5.1.20-1
                     linux51-headers             5.1.19-1             5.1.20-1
                             linux52              5.2.2-1              5.2.3-1
                     linux52-headers              5.2.2-1              5.2.3-1


:: Different sync package(s) in repository core x86_64

-------------------------------------------------------------------------------
                             PACKAGE           2019-07-24           2019-07-27
-------------------------------------------------------------------------------
                               glib2             2.60.5-1             2.60.6-1
                          glib2-docs             2.60.5-1             2.60.6-1
                              gnutls              3.6.8-3              3.6.9-1
                            libtasn1               4.13-1               4.14-1


:: Different overlay package(s) in repository extra x86_64

-------------------------------------------------------------------------------
                             PACKAGE           2019-07-24           2019-07-27
-------------------------------------------------------------------------------
                  linux419-acpi_call             1.1.0-53             1.1.0-54
                   linux419-bbswitch               0.8-52               0.8-53
                linux419-broadcom-wl      6.30.223.271-52      6.30.223.271-53
                   linux419-catalyst     1:15.201.1151-50     1:15.201.1151-51
                linux419-ndiswrapper              1.61-52              1.61-53
                     linux419-nvidia          1:430.26-10          1:430.26-11
               linux419-nvidia-340xx           340.107-52           340.107-53
               linux419-nvidia-390xx           390.116-32           390.116-33
                   linux419-nvidiabl              0.88-52              0.88-53
                      linux419-r8168           8.047.02-3           8.047.02-4
                  linux419-rtl8723bu   4.3.9.3.13200.0-37   4.3.9.3.13200.0-38
                   linux419-tp_smapi               0.43-2               0.43-3
                linux419-vhba-module          20190410-17          20190410-18
   linux419-virtualbox-guest-modules             6.0.10-2             6.0.10-3
    linux419-virtualbox-host-modules             6.0.10-2             6.0.10-3
                        linux419-zfs              0.8.1-9             0.8.1-10
                   linux51-acpi_call             1.1.0-18             1.1.0-19
                    linux51-bbswitch               0.8-18               0.8-19
                 linux51-broadcom-wl      6.30.223.271-18      6.30.223.271-19
                    linux51-catalyst     1:15.201.1151-15     1:15.201.1151-16
                 linux51-ndiswrapper              1.61-18              1.61-19
                      linux51-nvidia          1:430.26-10          1:430.26-11
                linux51-nvidia-340xx           340.107-15           340.107-16
                linux51-nvidia-390xx           390.116-15           390.116-16
                    linux51-nvidiabl              0.88-18              0.88-19
                       linux51-r8168           8.047.02-3           8.047.02-4
                   linux51-rtl8723bu     4.3.9.3.13200-18     4.3.9.3.13200-19
                    linux51-tp_smapi               0.43-2               0.43-3
                 linux51-vhba-module          20190410-16          20190410-17
    linux51-virtualbox-guest-modules             6.0.10-2             6.0.10-3
     linux51-virtualbox-host-modules             6.0.10-2             6.0.10-3
                         linux51-zfs              0.8.1-9             0.8.1-10
                   linux52-acpi_call              1.1.0-3              1.1.0-5
                    linux52-bbswitch                0.8-3                0.8-5
                 linux52-broadcom-wl       6.30.223.271-3       6.30.223.271-5
                 linux52-ndiswrapper               1.61-3               1.61-5
                      linux52-nvidia           1:430.26-3           1:430.26-5
                linux52-nvidia-340xx            340.107-4            340.107-6
                linux52-nvidia-390xx            390.116-3            390.116-5
                    linux52-nvidiabl               0.88-3               0.88-5
                       linux52-r8168           8.047.02-4           8.047.02-6
                   linux52-rtl8723bu      4.3.9.3.13200-1      4.3.9.3.13200-5
                    linux52-tp_smapi               0.43-3               0.43-5
                 linux52-vhba-module           20190410-3           20190410-5
    linux52-virtualbox-guest-modules             6.0.10-2             6.0.10-4
     linux52-virtualbox-host-modules             6.0.10-2             6.0.10-4
                         linux52-zfs              0.8.1-3              0.8.1-5


:: Different sync package(s) in repository extra x86_64

-------------------------------------------------------------------------------
                             PACKAGE           2019-07-24           2019-07-27
-------------------------------------------------------------------------------
                             akonadi            19.04.3-1            19.04.3-2
                                 aom              1.0.0-1      1.0.0.errata1-1
            archlinux-appstream-data           20190614-1           20190726-1
                               bftpd                5.1-1                5.2-1
                          claws-mail             3.17.3-5             3.17.4-1
                               cmake             3.15.0-1             3.15.1-1
                  desktop-file-utils    0.23+4+g92af410-1               0.24-1
                               eigen              3.3.7-2              3.3.7-4
                                gitg           1:3.30.1-1           1:3.32.1-1
                                 glu              9.0.0-5              9.0.1-1
                        java-openjfx             8.u172-2          11.0.3.u1-1
                    java-openjfx-doc             8.u172-2          11.0.3.u1-1
                    java-openjfx-src             8.u172-2          11.0.3.u1-1
                         jdk-openjdk         12.0.1.u12-1         12.0.2.u10-1
                       jdk11-openjdk          11.0.4.u7-1         11.0.4.u11-1
                         jre-openjdk         12.0.1.u12-1         12.0.2.u10-1
                jre-openjdk-headless         12.0.1.u12-1         12.0.2.u10-1
                       jre11-openjdk          11.0.4.u7-1         11.0.4.u11-1
              jre11-openjdk-headless          11.0.4.u7-1         11.0.4.u11-1
                          knetattach             5.16.3-1             5.16.3-2
                          libakonadi            19.04.3-1            19.04.3-2
                           libdazzle             3.32.2-1             3.32.3-1
                               libnm             1.18.0-1             1.18.2-1
                          libnm-glib             1.18.0-1             1.18.2-1
                      libphonenumber            8.10.13-1            8.10.15-1
                              netpbm           10.73.22-1           10.73.28-1
                      networkmanager             1.18.0-1             1.18.2-1
                              opencv              4.1.0-2              4.1.1-1
                      opencv-samples              4.1.0-2              4.1.1-1
                    opengl-man-pages           20180321-1           20190725-1
                         openjdk-doc         12.0.1.u12-1         12.0.2.u10-1
                         openjdk-src         12.0.1.u12-1         12.0.2.u10-1
                       openjdk11-doc          11.0.4.u7-1         11.0.4.u11-1
                       openjdk11-src          11.0.4.u7-1         11.0.4.u11-1
                perl-class-inspector               1.34-2               1.36-1
            perl-file-copy-recursive               0.44-3               0.45-1
                      plasma-desktop             5.16.3-1             5.16.3-2
                         python-mako             1.0.13-1             1.0.14-1
                        python2-mako             1.0.13-1             1.0.14-1
                                sdl2              2.0.9-1             2.0.10-1
                                 srt              1.3.2-1              1.3.3-1
                 vulkan-extra-layers1.1.97.0+10340+118b2f331-11.1.114+10539+8792090d5-1
                        vulkan-tools            1.1.113-1            1.1.114-1
                        vulkan-trace1.1.97.0+10340+118b2f331-11.1.114+10539+8792090d5-1
                               xterm                347-1                348-1
                       java8-openjfx                    -             8.u202-3
                   java8-openjfx-doc                    -             8.u202-3
                   java8-openjfx-src                    -             8.u202-3


:: Different sync package(s) in repository multilib x86_64

-------------------------------------------------------------------------------
                             PACKAGE           2019-07-24           2019-07-27
-------------------------------------------------------------------------------
                                fasm            1.73.08-1            1.73.13-1
                         lib32-glib2             2.60.5-1             2.60.6-1
                          lib32-zstd              1.4.0-1              1.4.1-1

No issue, everything went smoothly
Yes there was an issue. I was able to resolve it myself.(Please post your solution)
Yes i am currently experiencing an issue due to the update. (Please post about it)
Check if your mirror has already synced: