Hello community,
I am happy to announce another Testing Update. Mostly we have Kernels and Browser updates with this one.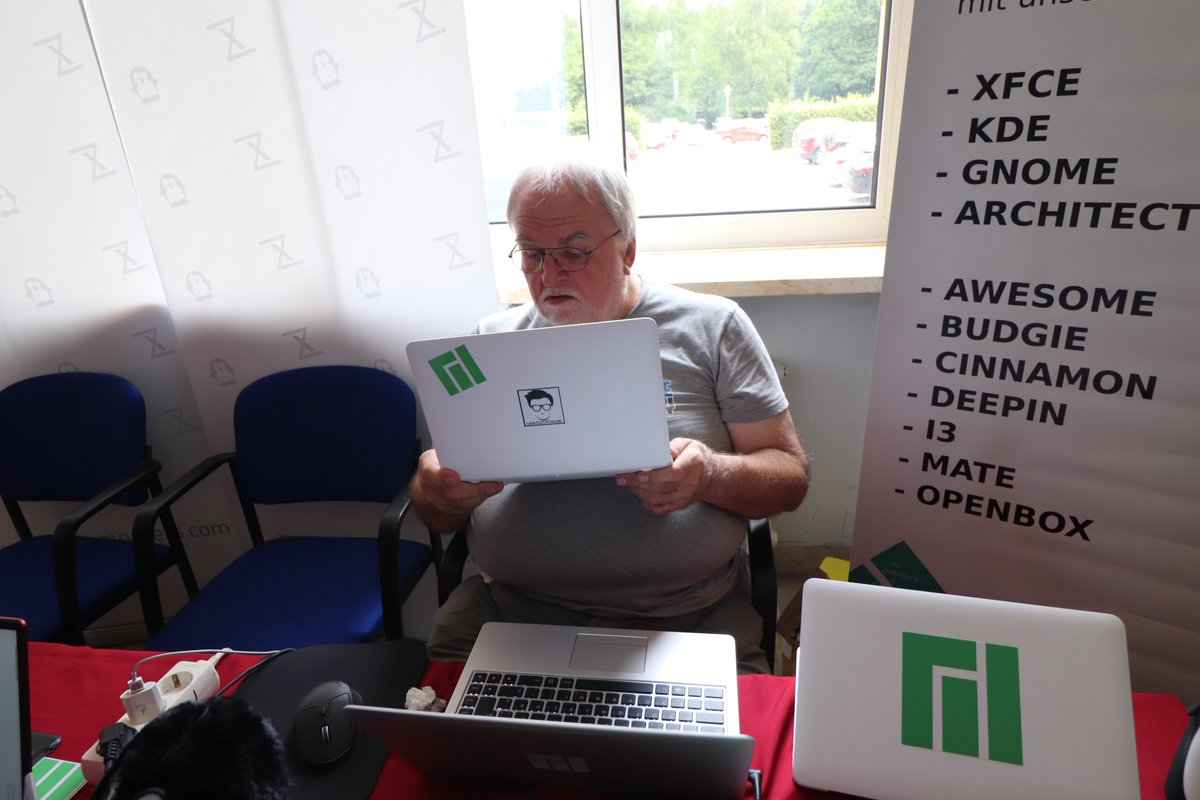 Some might noticed that since the #snapcraftsummit a lot of package changes went into Manjaro and our available RCs. Also we didn't yet announce 18.1.0-rc3 officially yet. We are still polishing the snap experience for our users. XFCE and Gnome will come with Gnome-Software and our KDE edition has Discover, both with snap support enabled.
This way everybody can easily access the snap store by a click and don't has to hassle to get snaps enabled. This enables us to ship even more proprietary software, which we couldn't before. For example check out on how you may install Spotify on Manjaro.
This update holds the following changes:
Calamares got needed security fixes. If you want to use luks encryption, we strongly recommend 18.1-rc4 or later!
Most of our Kernels got updated
Latest version of Firefox and Wine
KDE Apps are now at 19.04.3
Give us the usual feedback and let us know what you think about this update.
---
Current supported Kernels
linux316 3.16.70
linux44 4.4.185 (no legacy nvidia-340 module!)
linux49 4.9.185
linux414 4.14.133
linux419 4.19.58
linux51 5.1.17
linux52 5.2.0 (no catalyst module!)
linux419-rt 4.19.50_rt22
linux50-rt 5.0.21_rt15
Package Updates (Sat Jul 13 07:27:43 CEST 2019)
testing community x86_64: 346 new and 348 removed package(s)
testing core x86_64: 16 new and 16 removed package(s)
testing extra x86_64: 425 new and 424 removed package(s)
testing multilib x86_64: 4 new and 4 removed package(s)
:: Different overlay package(s) in repository community x86_64

-------------------------------------------------------------------------------
                             PACKAGE           2019-07-10           2019-07-13
-------------------------------------------------------------------------------
                            apparmor             2.13.3-4                    -
                   apparmor-profiles             2.13.3-4                    -
                            cinnamon            4.2.0-3.1              4.2.2-1
                 gnome-software-snap             3.32.3-4             3.32.4-1
                            libcpuid  0.4.1.r6.g7a0701d-1  0.4.1.r9.gab3bc3d-1
                   linux419-rt-r8168           8.045.08-5           8.047.02-1
                linux419-rt-tp_smapi               0.41-5               0.43-1
                linux50-rt-acpi_call              1.1.0-7              1.1.0-8
                 linux50-rt-bbswitch                0.8-7                0.8-8
              linux50-rt-broadcom-wl       6.30.223.271-7       6.30.223.271-8
                 linux50-rt-catalyst        15.201.1151-7        15.201.1151-8
             linux50-rt-nvidia-340xx            340.107-7            340.107-8
             linux50-rt-nvidia-390xx            390.116-7            390.116-8
                   linux50-rt-nvidia             430.26-3             430.26-4
                 linux50-rt-nvidiabl               0.88-7               0.88-8
                    linux50-rt-r8168           8.045.08-7           8.047.02-1
                 linux50-rt-tp_smapi               0.41-7               0.43-2
              linux50-rt-vhba-module           20190410-3           20190410-4
 linux50-rt-virtualbox-guest-modules              6.0.8-3              6.0.8-4
  linux50-rt-virtualbox-host-modules              6.0.8-3              6.0.8-4
                             polybar              3.3.0-1              3.3.1-2
                               snapd             2.39.3-3                    -
                           snapd-git 2.39.2.r947.gdbf192fe28-3               -
                          snapd-glib               1.45-2                    -
                linux50-rt-rtl8723bu                    -      4.3.9.3.13200-7


:: Different sync package(s) in repository community x86_64

-------------------------------------------------------------------------------
                             PACKAGE           2019-07-10           2019-07-13
-------------------------------------------------------------------------------
                      acpi_call-dkms            1.1.0-229            1.1.0-230
                            apparmor             2.13.3-2                    -
                             aws-cli           1.16.193-1           1.16.197-1
                               bazel             0.27.1-1             0.28.0-1
                       cabal-install          2.4.0.0-108          2.4.0.0-111
                             calibre             3.44.0-3             3.45.0-1
                             certbot             0.35.1-1             0.36.0-1
                      certbot-apache             0.35.1-1             0.36.0-1
              certbot-dns-cloudflare             0.35.1-1             0.36.0-1
                certbot-dns-cloudxns             0.35.1-1             0.36.0-1
            certbot-dns-digitalocean             0.35.1-1             0.36.0-1
                certbot-dns-dnsimple             0.35.1-1             0.36.0-1
             certbot-dns-dnsmadeeasy             0.35.1-1             0.36.0-1
                  certbot-dns-google             0.35.1-1             0.36.0-1
                  certbot-dns-luadns             0.35.1-1             0.36.0-1
                   certbot-dns-nsone             0.35.1-1             0.36.0-1
                     certbot-dns-ovh             0.35.1-1             0.36.0-1
                 certbot-dns-rfc2136             0.35.1-1             0.36.0-1
                 certbot-dns-route53             0.35.1-1             0.36.0-1
                               cgrep           6.6.25-151           6.6.25-152
                            cinnamon              4.2.0-2              4.2.2-1
             cinnamon-control-center              4.2.0-1              4.2.1-1
               cinnamon-translations              4.0.2-1              4.2.1-1
                             cryptol             2.7.0-17             2.7.0-18
                            csoundqt           0.9.6rc1-2              0.9.6-1
                               darcs            2.14.2-78            2.14.2-81
                 deepin-desktop-base       2:2019.06.19-1       2:2019.07.10-1
                             dovecot              2.3.6-1              2.3.7-1
                           drumgizmo             0.9.16-1             0.9.17-1
                            electrum              3.3.7-1              3.3.8-1
                          emscripten            1.38.37-1            1.38.38-1
                 firefox-dark-reader             4.7.12-1             4.7.13-1
           firefox-developer-edition             69.0b3-1             69.0b4-1
  firefox-developer-edition-i18n-ach             69.0b3-1             69.0b4-1
   firefox-developer-edition-i18n-af             69.0b3-1             69.0b4-1
   firefox-developer-edition-i18n-an             69.0b3-1             69.0b4-1
   firefox-developer-edition-i18n-ar             69.0b3-1             69.0b4-1
  firefox-developer-edition-i18n-ast             69.0b3-1             69.0b4-1
   firefox-developer-edition-i18n-az             69.0b3-1             69.0b4-1
   firefox-developer-edition-i18n-be             69.0b3-1             69.0b4-1
   firefox-developer-edition-i18n-bg             69.0b3-1             69.0b4-1
   firefox-developer-edition-i18n-bn             69.0b3-1             69.0b4-1
   firefox-developer-edition-i18n-br             69.0b3-1             69.0b4-1
   firefox-developer-edition-i18n-bs             69.0b3-1             69.0b4-1
   firefox-developer-edition-i18n-ca             69.0b3-1             69.0b4-1
  firefox-developer-edition-i18n-cak             69.0b3-1             69.0b4-1
   firefox-developer-edition-i18n-cs             69.0b3-1             69.0b4-1
   firefox-developer-edition-i18n-cy             69.0b3-1             69.0b4-1
   firefox-developer-edition-i18n-da             69.0b3-1             69.0b4-1
   firefox-developer-edition-i18n-de             69.0b3-1             69.0b4-1
  firefox-developer-edition-i18n-dsb             69.0b3-1             69.0b4-1
   firefox-developer-edition-i18n-el             69.0b3-1             69.0b4-1
firefox-developer-edition-i18n-en-ca             69.0b3-1             69.0b4-1
firefox-developer-edition-i18n-en-gb             69.0b3-1             69.0b4-1
firefox-developer-edition-i18n-en-us             69.0b3-1             69.0b4-1
   firefox-developer-edition-i18n-eo             69.0b3-1             69.0b4-1
firefox-developer-edition-i18n-es-ar             69.0b3-1             69.0b4-1
firefox-developer-edition-i18n-es-cl             69.0b3-1             69.0b4-1
firefox-developer-edition-i18n-es-es             69.0b3-1             69.0b4-1
firefox-developer-edition-i18n-es-mx             69.0b3-1             69.0b4-1
   firefox-developer-edition-i18n-et             69.0b3-1             69.0b4-1
   firefox-developer-edition-i18n-eu             69.0b3-1             69.0b4-1
   firefox-developer-edition-i18n-fa             69.0b3-1             69.0b4-1
   firefox-developer-edition-i18n-ff             69.0b3-1             69.0b4-1
   firefox-developer-edition-i18n-fi             69.0b3-1             69.0b4-1
   firefox-developer-edition-i18n-fr             69.0b3-1             69.0b4-1
firefox-developer-edition-i18n-fy-nl             69.0b3-1             69.0b4-1
firefox-developer-edition-i18n-ga-ie             69.0b3-1             69.0b4-1
   firefox-developer-edition-i18n-gd             69.0b3-1             69.0b4-1
   firefox-developer-edition-i18n-gl             69.0b3-1             69.0b4-1
   firefox-developer-edition-i18n-gn             69.0b3-1             69.0b4-1
firefox-developer-edition-i18n-gu-in             69.0b3-1             69.0b4-1
   firefox-developer-edition-i18n-he             69.0b3-1             69.0b4-1
firefox-developer-edition-i18n-hi-in             69.0b3-1             69.0b4-1
   firefox-developer-edition-i18n-hr             69.0b3-1             69.0b4-1
  firefox-developer-edition-i18n-hsb             69.0b3-1             69.0b4-1
   firefox-developer-edition-i18n-hu             69.0b3-1             69.0b4-1
firefox-developer-edition-i18n-hy-am             69.0b3-1             69.0b4-1
   firefox-developer-edition-i18n-ia             69.0b3-1             69.0b4-1
   firefox-developer-edition-i18n-id             69.0b3-1             69.0b4-1
   firefox-developer-edition-i18n-is             69.0b3-1             69.0b4-1
   firefox-developer-edition-i18n-it             69.0b3-1             69.0b4-1
   firefox-developer-edition-i18n-ja             69.0b3-1             69.0b4-1
   firefox-developer-edition-i18n-ka             69.0b3-1             69.0b4-1
  firefox-developer-edition-i18n-kab             69.0b3-1             69.0b4-1
   firefox-developer-edition-i18n-kk             69.0b3-1             69.0b4-1
   firefox-developer-edition-i18n-km             69.0b3-1             69.0b4-1
   firefox-developer-edition-i18n-kn             69.0b3-1             69.0b4-1
   firefox-developer-edition-i18n-ko             69.0b3-1             69.0b4-1
  firefox-developer-edition-i18n-lij             69.0b3-1             69.0b4-1
   firefox-developer-edition-i18n-lt             69.0b3-1             69.0b4-1
   firefox-developer-edition-i18n-lv             69.0b3-1             69.0b4-1
   firefox-developer-edition-i18n-mk             69.0b3-1             69.0b4-1
   firefox-developer-edition-i18n-mr             69.0b3-1             69.0b4-1
   firefox-developer-edition-i18n-ms             69.0b3-1             69.0b4-1
   firefox-developer-edition-i18n-my             69.0b3-1             69.0b4-1
firefox-developer-edition-i18n-nb-no             69.0b3-1             69.0b4-1
firefox-developer-edition-i18n-ne-np             69.0b3-1             69.0b4-1
   firefox-developer-edition-i18n-nl             69.0b3-1             69.0b4-1
firefox-developer-edition-i18n-nn-no             69.0b3-1             69.0b4-1
   firefox-developer-edition-i18n-oc             69.0b3-1             69.0b4-1
firefox-developer-edition-i18n-pa-in             69.0b3-1             69.0b4-1
   firefox-developer-edition-i18n-pl             69.0b3-1             69.0b4-1
firefox-developer-edition-i18n-pt-br             69.0b3-1             69.0b4-1
firefox-developer-edition-i18n-pt-pt             69.0b3-1             69.0b4-1
   firefox-developer-edition-i18n-rm             69.0b3-1             69.0b4-1
   firefox-developer-edition-i18n-ro             69.0b3-1             69.0b4-1
   firefox-developer-edition-i18n-ru             69.0b3-1             69.0b4-1
   firefox-developer-edition-i18n-si             69.0b3-1             69.0b4-1
   firefox-developer-edition-i18n-sk             69.0b3-1             69.0b4-1
   firefox-developer-edition-i18n-sl             69.0b3-1             69.0b4-1
  firefox-developer-edition-i18n-son             69.0b3-1             69.0b4-1
   firefox-developer-edition-i18n-sq             69.0b3-1             69.0b4-1
   firefox-developer-edition-i18n-sr             69.0b3-1             69.0b4-1
firefox-developer-edition-i18n-sv-se             69.0b3-1             69.0b4-1
   firefox-developer-edition-i18n-ta             69.0b3-1             69.0b4-1
   firefox-developer-edition-i18n-te             69.0b3-1             69.0b4-1
   firefox-developer-edition-i18n-th             69.0b3-1             69.0b4-1
   firefox-developer-edition-i18n-tr             69.0b3-1             69.0b4-1
   firefox-developer-edition-i18n-uk             69.0b3-1             69.0b4-1
   firefox-developer-edition-i18n-ur             69.0b3-1             69.0b4-1
   firefox-developer-edition-i18n-uz             69.0b3-1             69.0b4-1
   firefox-developer-edition-i18n-vi             69.0b3-1             69.0b4-1
   firefox-developer-edition-i18n-xh             69.0b3-1             69.0b4-1
firefox-developer-edition-i18n-zh-cn             69.0b3-1             69.0b4-1
firefox-developer-edition-i18n-zh-tw             69.0b3-1             69.0b4-1
                    firefox-noscript             10.6.3-1               11.0-1
              firefox-tree-style-tab              3.1.2-1              3.1.5-1
                   firefox-tridactyl             1.16.1-1             1.16.2-1
                              flake8            1:3.7.7-1            1:3.7.8-1
                           git-annex        7.20190615-15        7.20190615-19
                      gnome-software             3.32.3-2             3.32.4-1
    gnome-software-packagekit-plugin             3.32.3-2             3.32.4-1
                                  go           2:1.12.6-1           2:1.12.7-1
                              go-pie           2:1.12.6-1           2:1.12.7-1
                  haskell-aeson-diff           1.1.0.7-19           1.1.0.7-20
                haskell-authenticate            1.3.4-309            1.3.4-312
                 haskell-auto-update              0.1.5-1              0.1.6-1
                         haskell-aws            0.21.1-63            0.21.1-66
        haskell-base-unicode-symbols              0.2.3-4            0.2.4.2-1
              haskell-binary-conduit             1.3.1-43             1.3.1-44
                       haskell-■■■■■              0.46-44              0.46-45
                  haskell-cheapskate           0.1.1.1-67           0.1.1.1-68
                     haskell-conduit           1.3.1.1-22           1.3.1.1-23
               haskell-conduit-extra              1.3.2-4              1.3.2-6
                   haskell-criterion           1.5.5.0-31           1.5.5.0-34
          haskell-cryptohash-conduit            0.1.1-283            0.1.1-285
          haskell-cryptonite-conduit            0.2.2-177            0.2.2-179
                haskell-data-textual          0.3.0.2-106          0.3.0.2-107
                         haskell-dav             1.3.3-74             1.3.3-76
                        haskell-dbus             1.2.7-17             1.2.7-19
                         haskell-dns             3.0.4-72             3.0.4-73
                   haskell-esqueleto             3.0.0-19             3.0.0-22
                 haskell-fast-logger             2.4.16-5             2.4.16-6
                  haskell-fdo-notify            0.3.1-177            0.3.1-179
                        haskell-feed           1.1.0.0-11           1.1.0.0-13
                      haskell-fmlist              0.9.2-8              0.9.3-1
                     haskell-githash           0.1.3.1-64           0.1.3.1-65
                      haskell-hakyll          4.12.5.2-49          4.12.5.2-52
                       haskell-hasql           1.3.0.3-89           1.3.0.3-90
                  haskell-hasql-pool           0.5.0.2-18           0.5.0.2-19
           haskell-hasql-transaction             0.7.1-36             0.7.1-37
                 haskell-hjsonschema            1.9.0-234            1.9.0-237
                    haskell-hopenpgp           2.7.4.1-83           2.7.4.1-85
                       haskell-hpack            0.31.2-42            0.31.2-43
                   haskell-hspec-wai             0.9.2-47             0.9.2-48
              haskell-hspec-wai-json             0.9.2-55             0.9.2-56
                haskell-html-conduit             1.3.2-52             1.3.2-54
                        haskell-http          4000.3.14-4          4000.3.14-7
                haskell-http-conduit           2.3.7.1-34           2.3.7.1-37
                       haskell-ipynb               0.1-49               0.1-50
                   haskell-js-jquery            3.3.1-248            3.3.1-251
                     haskell-libyaml           0.1.1.0-26           0.1.1.0-27
                    haskell-listlike             4.6.2-10             4.6.2-11
          haskell-microlens-platform              0.4.0-3              0.4.0-4
                haskell-microlens-th            0.4.3.1-3            0.4.3.2-1
                haskell-monad-logger            0.3.30-63            0.3.30-66
                    haskell-mustache            2.3.0-203            2.3.0-205
                  haskell-network-ip           0.3.0.2-97           0.3.0.2-98
                       haskell-nonce             1.0.7-59             1.0.7-60
             haskell-optparse-simple           0.1.1.2-33           0.1.1.2-34
                  haskell-persistent             2.9.2-35             2.9.2-38
               haskell-persistent-qq             2.9.1-39             2.9.1-42
           haskell-persistent-sqlite             2.9.3-36             2.9.3-40
         haskell-persistent-template             2.6.0-52             2.6.0-55
           haskell-postgresql-binary          0.12.1.2-50          0.12.1.2-51
              haskell-process-extras             0.7.4-60             0.7.4-61
            haskell-project-template          0.2.0.1-149          0.2.0.1-151
                         haskell-rio           0.1.9.2-19           0.1.9.2-21
              haskell-roman-numerals           0.5.1.5-18           0.5.1.5-19
                       haskell-sandi               0.5-29               0.5-30
                         haskell-sbv                8.3-6                8.3-7
              haskell-servant-server            0.16.1-22            0.16.1-25
                       haskell-shake            0.18.2-26             0.18.3-3
             haskell-simple-sendfile            0.2.28-37            0.2.28-39
           haskell-tagstream-conduit          0.5.5.3-271          0.5.5.3-273
                haskell-text-printer               0.5-24            0.5.0.1-1
         haskell-tls-session-manager            0.0.1.0-6            0.0.1.0-7
               haskell-typed-process            0.2.5.0-2            0.2.6.0-1
                   haskell-unixutils            1.54.1-93            1.54.1-94
                    haskell-unliftio             0.2.11-2             0.2.12-1
                         haskell-vty            5.25.1-29            5.25.1-30
              haskell-wai-app-static           3.1.6.3-67           3.1.6.3-70
                 haskell-wai-conduit          3.0.0.4-125          3.0.0.4-126
                    haskell-wai-cors              0.2.7-4              0.2.7-5
                   haskell-wai-extra           3.0.26.1-4           3.0.26.1-5
          haskell-wai-handler-launch          3.0.2.4-184          3.0.2.4-187
                  haskell-wai-logger              2.3.5-9             2.3.5-10
                        haskell-warp            3.2.27-33            3.2.27-36
                    haskell-warp-tls             3.2.6-10             3.2.6-13
                 haskell-xml-conduit           1.8.0.1-65           1.8.0.1-67
                  haskell-xml-hamlet            0.5.0-133            0.5.0-135
                        haskell-yaml           0.11.1.0-2           0.11.1.0-3
                       haskell-yesod            1.6.0-296            1.6.0-300
                  haskell-yesod-auth             1.6.7-15             1.6.7-19
                  haskell-yesod-core            1.6.14-51            1.6.14-54
               haskell-yesod-default            1.2.0-549            1.2.0-552
                  haskell-yesod-form             1.6.5-13             1.6.5-17
            haskell-yesod-persistent           1.6.0.2-49           1.6.0.2-53
                haskell-yesod-static          1.6.0.1-148          1.6.0.1-152
                  haskell-yesod-test           1.6.6.1-42           1.6.6.1-46
                            hasktags            0.71.2-35            0.71.2-36
                              hcloud             1.12.0-1             1.13.0-1
                           hedgewars            0.9.25-39            0.9.25-40
                             hindent             5.3.0-13             5.3.0-14
                         hledger-api              1.14-84              1.14-88
                          hledger-ui            1.14.2-44            1.14.2-45
                         hledger-web            1.14.1-89            1.14.1-93
                               hlint            2.1.14-46            2.1.14-47
                              hoogle          5.0.17.9-27          5.0.17.9-31
                      hopenpgp-tools            0.21.3-69            0.21.3-71
                                 hub             2.12.1-1             2.12.2-1
                               idris             1.3.1-95             1.3.1-96
                           imagescan             3.55.0-1             3.57.0-1
                     intel-gpu-tools               1.23-1               1.24-1
                          jupyterlab              1.0.1-1              1.0.2-1
                                kbfs              4.1.0-1              4.2.0-1
                              kcptun           20190709-1           20190711-1
                             keybase              4.1.0-1              4.2.0-1
                         keybase-gui              4.1.0-1              4.2.0-1
               kvantum-theme-materia           20190620-1           20190707-1
                            libbloom                1.6-1                1.6-2
                             libgiac           1.5.0.61-1           1.5.0.63-1
                                 lrs              070.a-1              070.a-2
                         materia-kde           20190620-1           20190707-1
                               minio         2019.07.05-1         2019.07.10-1
                              muffin              4.2.0-1              4.2.1-1
                                nemo              4.2.0-1              4.2.1-1
                            node-gyp              5.0.0-1              5.0.2-1
                                 npm             6.10.0-1             6.10.1-1
                   npm-check-updates             3.1.17-1             3.1.18-1
                       open-vm-tools           6:10.3.5-2          6:10.3.10-1
                               opera       62.0.3331.43-1       62.0.3331.66-1
                              packer              1.4.1-1              1.4.2-1
                              pandoc              2.7.3-6              2.7.3-9
                     pandoc-citeproc            0.16.2-73            0.16.2-76
                     pandoc-crossref           0.3.4.1-54           0.3.4.1-58
                  papirus-icon-theme           20190701-1           20190708-1
                  perl-finance-quote               1.48-1               1.49-1
                            perl-ppi              1.269-2              1.270-1
                  perl-text-template               1.55-2               1.56-1
                           php-redis              5.0.0-1              5.0.1-1
                          pigeonhole              0.5.6-2              0.5.7-1
                           postgrest            5.2.0-112            5.2.0-117
                      pycuda-headers             2019.1-1           2019.1.1-1
                               pyenv             1.2.12-1             1.2.13-1
                         python-acme             0.35.1-1             0.36.0-1
                      python-aiorpcx             0.18.0-2             0.18.3-1
                      python-awkward             0.11.1-1             0.12.1-1
                        python-boto3            1.9.183-1            1.9.187-1
                     python-botocore           1.12.183-1           1.12.187-1
                     python-cfn-lint             0.22.1-2             0.22.2-1
                 python-cinderclient              4.2.0-1              4.2.1-1
                      python-etesync              0.8.3-1              0.9.0-1
                   python-hypothesis             4.26.3-1             4.28.1-1
                       python-josepy              1.1.0-2              1.2.0-1
                         python-moto              1.3.8-1             1.3.10-1
             python-orderedmultidict                1.0-2              1.0.1-1
                       python-pycuda             2019.1-1           2019.1.1-1
                       python-pytest              4.4.2-1              4.6.0-1
                  python-ruamel-yaml            0.15.98-1            0.15.99-1
                   python-zope-proxy              4.3.1-1              4.3.2-1
                       python2-boto3            1.9.183-1            1.9.187-1
                    python2-botocore           1.12.183-1           1.12.187-1
                      python2-flake8            1:3.7.7-1            1:3.7.8-1
                  python2-hypothesis             4.26.3-1             4.28.1-1
                      python2-josepy              1.1.0-2              1.2.0-1
            python2-orderedmultidict                1.0-2              1.0.1-1
                      python2-pycuda             2019.1-1           2019.1.1-1
                      python2-pytest              4.4.2-1              4.6.0-1
                  python2-zope-proxy              4.3.1-1              4.3.2-1
                                qcad           3.22.1.3-1           3.22.1.4-1
                            qjackctl              0.5.8-1              0.5.9-1
                            qmidictl              0.5.4-1              0.5.5-1
                            qmidinet              0.5.4-1              0.5.5-1
                            qsampler              0.5.5-1              0.5.6-1
                              qsynth              0.5.6-1              0.5.7-1
                             qxgedit              0.5.4-1              0.5.5-1
                        riot-desktop              1.2.3-1              1.2.4-1
                            riot-web              1.2.3-1              1.2.4-1
                  ruby-public_suffix              3.1.0-1              4.0.0-1
                               scdoc              1.9.4-1              1.9.6-1
                          shellcheck            0.6.0-143            0.6.0-146
                               squid                4.7-2                4.8-1
                               stack           1.9.3.1-76           1.9.3.1-81
                     stylish-haskell           0.9.2.1-44           0.9.2.1-45
                      tamarin-prover            1.4.1-106            1.4.1-110
                           terraform             0.12.3-1             0.12.4-1
                           ttf-droid           20121017-6           20121017-7
                      ttf-liberation             2.00.5-1             2.00.5-2
              ttf-ubuntu-font-family               0.83-4               0.83-5
                               v2ray             4.19.1-2             4.20.0-1
         v2ray-domain-list-community         20190704.1-1         20190711.1-1
                      vim-jellybeans                1.6-2                1.7-1
                              vnstat                2.2-1                2.3-1
                              wcslib                6.2-2                6.3-1
                               xapps              1.4.7-1              1.4.8-1
                                xcas           1.5.0.61-1           1.5.0.63-1
                                 xed              2.2.0-1              2.2.1-1
                              xmobar            0.29.5-26            0.29.5-29
                               xonsh              0.9.7-1              0.9.8-1
                             xreader              2.2.1-1              2.2.2-1
                                yapf             0.27.0-1             0.28.0-1
                                yarn             1.16.0-1             1.17.3-1
                     perl-json-parse                    -               0.55-1
                    perl-number-misc                    -                1.2-2
                    perl-string-util                    -               1.26-1
                             samurai                    -                0.7-1


:: Different overlay package(s) in repository core x86_64

-------------------------------------------------------------------------------
                             PACKAGE           2019-07-10           2019-07-13
-------------------------------------------------------------------------------
                            linux316            3.16.69-1            3.16.70-1
                    linux316-headers            3.16.69-1            3.16.70-1
                            linux414           4.14.132-1           4.14.133-1
                    linux414-headers           4.14.132-1           4.14.133-1
                            linux419            4.19.57-1            4.19.58-1
                    linux419-headers            4.19.57-1            4.19.58-1
                             linux44            4.4.183-1            4.4.185-1
                     linux44-headers            4.4.183-1            4.4.185-1
                             linux51             5.1.16-1             5.1.17-1
                     linux51-headers             5.1.16-1             5.1.17-1


:: Different sync package(s) in repository core x86_64

-------------------------------------------------------------------------------
                             PACKAGE           2019-07-10           2019-07-13
-------------------------------------------------------------------------------
             ca-certificates-mozilla             3.44.1-1               3.45-1
                               glib2             2.60.4-1             2.60.5-1
                          glib2-docs             2.60.4-1             2.60.5-1
                              gnutls              3.6.8-2              3.6.8-3
                            iana-etc           20190531-1           20190702-1
                                 nss             3.44.1-1               3.45-1


:: Different overlay package(s) in repository extra x86_64

-------------------------------------------------------------------------------
                             PACKAGE           2019-07-10           2019-07-13
-------------------------------------------------------------------------------
                           calamares              3.2.9-5           3.2.11-0.1
                  linux316-acpi_call             1.1.0-51             1.1.0-52
                   linux316-bbswitch               0.8-50               0.8-51
                linux316-broadcom-wl      6.30.223.271-30      6.30.223.271-31
                   linux316-catalyst     1:15.201.1151-40     1:15.201.1151-41
                linux316-ndiswrapper              1.61-30              1.61-31
                     linux316-nvidia           1:430.26-2           1:430.26-3
               linux316-nvidia-340xx            340.107-9           340.107-10
               linux316-nvidia-390xx            390.116-4            390.116-5
                   linux316-nvidiabl              0.88-40              0.88-41
                      linux316-r8168           8.047.01-4           8.047.02-1
                  linux316-rt3562sta        2.4.1.1_r4-30        2.4.1.1_r4-31
                   linux316-tp_smapi              0.41-50              0.41-51
                linux316-vhba-module           20190410-1                    -
    linux316-virtualbox-host-modules              6.0.8-2              6.0.8-3
                        linux316-zfs              0.8.1-2              0.8.1-3
                  linux414-acpi_call            1.1.0-108            1.1.0-109
                   linux414-bbswitch              0.8-108              0.8-109
                linux414-broadcom-wl     6.30.223.271-108     6.30.223.271-109
                   linux414-catalyst    1:15.201.1151-108    1:15.201.1151-109
                linux414-ndiswrapper             1.61-108             1.61-109
                     linux414-nvidia           1:430.26-6           1:430.26-7
               linux414-nvidia-340xx           340.107-67           340.107-68
               linux414-nvidia-390xx           390.116-26           390.116-27
                   linux414-nvidiabl             0.88-108             0.88-109
                      linux414-r8168          8.047.01-14           8.047.02-1
                  linux414-rt3562sta       2.4.1.1_r4-107       2.4.1.1_r4-108
                   linux414-tp_smapi             0.41-108             0.41-109
                linux414-vhba-module          20190410-13          20190410-14
   linux414-virtualbox-guest-modules             6.0.8-12             6.0.8-13
    linux414-virtualbox-host-modules             6.0.8-12             6.0.8-13
                        linux414-zfs              0.8.1-5              0.8.1-6
                  linux419-acpi_call             1.1.0-50             1.1.0-51
                   linux419-bbswitch               0.8-49               0.8-50
                linux419-broadcom-wl      6.30.223.271-49      6.30.223.271-50
                   linux419-catalyst     1:15.201.1151-47     1:15.201.1151-48
                linux419-ndiswrapper              1.61-49              1.61-50
                     linux419-nvidia           1:430.26-7           1:430.26-8
               linux419-nvidia-340xx           340.107-49           340.107-50
               linux419-nvidia-390xx           390.116-29           390.116-30
                   linux419-nvidiabl              0.88-49              0.88-50
                      linux419-r8168          8.047.01-15           8.047.02-1
                  linux419-rtl8723bu   4.3.9.3.13200.0-34   4.3.9.3.13200.0-35
                   linux419-tp_smapi              0.41-50              0.41-51
                linux419-vhba-module          20190410-14          20190410-15
   linux419-virtualbox-guest-modules             6.0.8-13             6.0.8-14
    linux419-virtualbox-host-modules             6.0.8-13             6.0.8-14
                        linux419-zfs              0.8.1-6              0.8.1-7
                       linux44-r8168           8.047.01-2           8.047.02-1
                       linux49-r8168           8.047.01-9           8.047.02-1
                   linux51-acpi_call             1.1.0-15             1.1.0-16
                    linux51-bbswitch               0.8-15               0.8-16
                 linux51-broadcom-wl      6.30.223.271-15      6.30.223.271-16
                    linux51-catalyst     1:15.201.1151-12     1:15.201.1151-13
                 linux51-ndiswrapper              1.61-15              1.61-16
                      linux51-nvidia           1:430.26-7           1:430.26-8
                linux51-nvidia-340xx           340.107-12           340.107-13
                linux51-nvidia-390xx           390.116-12           390.116-13
                    linux51-nvidiabl              0.88-15              0.88-16
                       linux51-r8168          8.047.01-14           8.047.02-1
                   linux51-rtl8723bu     4.3.9.3.13200-15     4.3.9.3.13200-16
                    linux51-tp_smapi              0.41-15              0.41-16
                 linux51-vhba-module          20190410-13          20190410-14
    linux51-virtualbox-guest-modules             6.0.8-13             6.0.8-14
     linux51-virtualbox-host-modules             6.0.8-13             6.0.8-14
                         linux51-zfs              0.8.1-6              0.8.1-7
                       linux52-r8168           8.047.01-1           8.047.02-1
                       manjaro-hello              0.6.1-1              0.6.1-2
              manjaro-tools-base-git      r2789.1b32aa2-1      r2790.dfbcb1c-1
               manjaro-tools-iso-git      r2789.1b32aa2-1      r2790.dfbcb1c-1
               manjaro-tools-pkg-git      r2789.1b32aa2-1      r2790.dfbcb1c-1
              manjaro-tools-yaml-git      r2789.1b32aa2-1      r2790.dfbcb1c-1
                         thunar-gtk3              1.8.7-3              1.8.7-4
                    xfce4-panel-gtk3             4.13.6-1             4.13.6-2
                  xfce4-session-gtk3             4.13.3-1             4.13.3-2
                 xfce4-settings-gtk3             4.13.7-1             4.13.7-2
                          xfwm4-gtk3             4.13.3-4             4.13.3-5
                            apparmor                    -             2.13.3-4
                   apparmor-profiles                    -             2.13.3-4
                linux52-nvidia-340xx                    -          340.107-0.9
                linux52-nvidia-390xx                    -         390.116-0.10
                    linux52-tp_smapi                    -             0.43-0.1
                               snapd                    -               2.40-1
                           snapd-git                 - 2.40.r210.g4bb0643f90-1
                          snapd-glib                    -               1.48-1


:: Different sync package(s) in repository extra x86_64

-------------------------------------------------------------------------------
                             PACKAGE           2019-07-10           2019-07-13
-------------------------------------------------------------------------------
                             akonadi            19.04.2-4            19.04.3-1
                    akonadi-calendar            19.04.2-1            19.04.3-1
              akonadi-calendar-tools            19.04.2-1            19.04.3-1
                    akonadi-contacts            19.04.2-1            19.04.3-1
               akonadi-import-wizard            19.04.2-1            19.04.3-1
                        akonadi-mime            19.04.2-1            19.04.3-1
                       akonadi-notes            19.04.2-1            19.04.3-1
                      akonadi-search            19.04.2-1            19.04.3-1
                      akonadiconsole            19.04.2-1            19.04.3-1
                           akregator            19.04.2-1            19.04.3-1
                            analitza            19.04.2-1            19.04.3-1
                                 ark            19.04.2-1            19.04.3-1
                          artikulate            19.04.2-1            19.04.3-1
                         audiocd-kio            19.04.2-1            19.04.3-1
                       baloo-widgets            19.04.2-1            19.04.3-1
                             blinken            19.04.2-1            19.04.3-1
                              bomber            19.04.2-1            19.04.3-1
                                bovo            19.04.2-1            19.04.3-1
                     calendarsupport            19.04.2-1            19.04.3-1
                              cantor            19.04.2-1            19.04.3-1
                            cervisia            19.04.2-1            19.04.3-1
                             dolphin            19.04.2-1            19.04.3-1
                     dolphin-plugins            19.04.2-1            19.04.3-1
                              dragon            19.04.2-1            19.04.3-1
                             enchant              2.2.3-2              2.2.4-1
                          eventviews            19.04.2-1            19.04.3-1
                              falkon              3.1.0-5              3.1.0-6
                        ffmpegthumbs            19.04.2-1            19.04.3-1
                           filelight            19.04.2-1            19.04.3-1
                             firefox             67.0.4-2               68.0-1
                    firefox-i18n-ach             67.0.4-1               68.0-1
                     firefox-i18n-af             67.0.4-1               68.0-1
                     firefox-i18n-an             67.0.4-1               68.0-1
                     firefox-i18n-ar             67.0.4-1               68.0-1
                     firefox-i18n-as             67.0.4-1                    -
                    firefox-i18n-ast             67.0.4-1               68.0-1
                     firefox-i18n-az             67.0.4-1               68.0-1
                     firefox-i18n-be             67.0.4-1               68.0-1
                     firefox-i18n-bg             67.0.4-1               68.0-1
                  firefox-i18n-bn-bd             67.0.4-1                    -
                  firefox-i18n-bn-in             67.0.4-1                    -
                     firefox-i18n-br             67.0.4-1               68.0-1
                     firefox-i18n-bs             67.0.4-1               68.0-1
                     firefox-i18n-ca             67.0.4-1               68.0-1
                    firefox-i18n-cak             67.0.4-1               68.0-1
                     firefox-i18n-cs             67.0.4-1               68.0-1
                     firefox-i18n-cy             67.0.4-1               68.0-1
                     firefox-i18n-da             67.0.4-1               68.0-1
                     firefox-i18n-de             67.0.4-1               68.0-1
                    firefox-i18n-dsb             67.0.4-1               68.0-1
                     firefox-i18n-el             67.0.4-1               68.0-1
                  firefox-i18n-en-ca             67.0.4-1               68.0-1
                  firefox-i18n-en-gb             67.0.4-1               68.0-1
                  firefox-i18n-en-us             67.0.4-1               68.0-1
                  firefox-i18n-en-za             67.0.4-1                    -
                     firefox-i18n-eo             67.0.4-1               68.0-1
                  firefox-i18n-es-ar             67.0.4-1               68.0-1
                  firefox-i18n-es-cl             67.0.4-1               68.0-1
                  firefox-i18n-es-es             67.0.4-1               68.0-1
                  firefox-i18n-es-mx             67.0.4-1               68.0-1
                     firefox-i18n-et             67.0.4-1               68.0-1
                     firefox-i18n-eu             67.0.4-1               68.0-1
                     firefox-i18n-fa             67.0.4-1               68.0-1
                     firefox-i18n-ff             67.0.4-1               68.0-1
                     firefox-i18n-fi             67.0.4-1               68.0-1
                     firefox-i18n-fr             67.0.4-1               68.0-1
                  firefox-i18n-fy-nl             67.0.4-1               68.0-1
                  firefox-i18n-ga-ie             67.0.4-1               68.0-1
                     firefox-i18n-gd             67.0.4-1               68.0-1
                     firefox-i18n-gl             67.0.4-1               68.0-1
                     firefox-i18n-gn             67.0.4-1               68.0-1
                  firefox-i18n-gu-in             67.0.4-1               68.0-1
                     firefox-i18n-he             67.0.4-1               68.0-1
                  firefox-i18n-hi-in             67.0.4-1               68.0-1
                     firefox-i18n-hr             67.0.4-1               68.0-1
                    firefox-i18n-hsb             67.0.4-1               68.0-1
                     firefox-i18n-hu             67.0.4-1               68.0-1
                  firefox-i18n-hy-am             67.0.4-1               68.0-1
                     firefox-i18n-ia             67.0.4-1               68.0-1
                     firefox-i18n-id             67.0.4-1               68.0-1
                     firefox-i18n-is             67.0.4-1               68.0-1
                     firefox-i18n-it             67.0.4-1               68.0-1
                     firefox-i18n-ja             67.0.4-1               68.0-1
                     firefox-i18n-ka             67.0.4-1               68.0-1
                    firefox-i18n-kab             67.0.4-1               68.0-1
                     firefox-i18n-kk             67.0.4-1               68.0-1
                     firefox-i18n-km             67.0.4-1               68.0-1
                     firefox-i18n-kn             67.0.4-1               68.0-1
                     firefox-i18n-ko             67.0.4-1               68.0-1
                    firefox-i18n-lij             67.0.4-1               68.0-1
                     firefox-i18n-lt             67.0.4-1               68.0-1
                     firefox-i18n-lv             67.0.4-1               68.0-1
                    firefox-i18n-mai             67.0.4-1                    -
                     firefox-i18n-mk             67.0.4-1               68.0-1
                     firefox-i18n-ml             67.0.4-1                    -
                     firefox-i18n-mr             67.0.4-1               68.0-1
                     firefox-i18n-ms             67.0.4-1               68.0-1
                     firefox-i18n-my             67.0.4-1               68.0-1
                  firefox-i18n-nb-no             67.0.4-1               68.0-1
                  firefox-i18n-ne-np             67.0.4-1               68.0-1
                     firefox-i18n-nl             67.0.4-1               68.0-1
                  firefox-i18n-nn-no             67.0.4-1               68.0-1
                     firefox-i18n-oc             67.0.4-1               68.0-1
                     firefox-i18n-or             67.0.4-1                    -
                  firefox-i18n-pa-in             67.0.4-1               68.0-1
                     firefox-i18n-pl             67.0.4-1               68.0-1
                  firefox-i18n-pt-br             67.0.4-1               68.0-1
                  firefox-i18n-pt-pt             67.0.4-1               68.0-1
                     firefox-i18n-rm             67.0.4-1               68.0-1
                     firefox-i18n-ro             67.0.4-1               68.0-1
                     firefox-i18n-ru             67.0.4-1               68.0-1
                     firefox-i18n-si             67.0.4-1               68.0-1
                     firefox-i18n-sk             67.0.4-1               68.0-1
                     firefox-i18n-sl             67.0.4-1               68.0-1
                    firefox-i18n-son             67.0.4-1               68.0-1
                     firefox-i18n-sq             67.0.4-1               68.0-1
                     firefox-i18n-sr             67.0.4-1               68.0-1
                  firefox-i18n-sv-se             67.0.4-1               68.0-1
                     firefox-i18n-ta             67.0.4-1               68.0-1
                     firefox-i18n-te             67.0.4-1               68.0-1
                     firefox-i18n-th             67.0.4-1               68.0-1
                     firefox-i18n-tr             67.0.4-1               68.0-1
                     firefox-i18n-uk             67.0.4-1               68.0-1
                     firefox-i18n-ur             67.0.4-1               68.0-1
                     firefox-i18n-uz             67.0.4-1               68.0-1
                     firefox-i18n-vi             67.0.4-1               68.0-1
                     firefox-i18n-xh             67.0.4-1               68.0-1
                  firefox-i18n-zh-cn             67.0.4-1               68.0-1
                  firefox-i18n-zh-tw             67.0.4-1               68.0-1
                             flatpak              1.4.1-2              1.4.2-1
                      gnu-free-fonts           20120503-5           20120503-6
                           granatier            19.04.2-1            19.04.3-1
                     grantlee-editor            19.04.2-1            19.04.3-1
                       grantleetheme            19.04.2-1            19.04.3-1
                               guile              2.2.5-1              2.2.6-1
                            gwenview            19.04.2-1            19.04.3-1
                     incidenceeditor            19.04.2-1            19.04.3-1
                           iso-codes                4.2-1                4.3-1
                                js60             60.7.2-1             60.8.0-1
                                 juk            19.04.2-1            19.04.3-1
                                 k3b          1:19.04.2-1          1:19.04.3-1
               kaccounts-integration            19.04.2-1            19.04.3-1
                 kaccounts-providers            19.04.2-1            19.04.3-1
                        kaddressbook            19.04.2-1            19.04.3-1
                             kajongg            19.04.2-1            19.04.3-1
                              kalarm            19.04.2-1            19.04.3-1
                           kalarmcal            19.04.2-1            19.04.3-1
                            kalgebra            19.04.2-1            19.04.3-1
                             kalzium            19.04.2-1            19.04.3-1
                              kamera            19.04.2-1            19.04.3-1
                              kamoso            19.04.2-1            19.04.3-1
                            kanagram            19.04.2-1            19.04.3-1
                              kapman            19.04.2-1            19.04.3-1
                        kapptemplate            19.04.2-1            19.04.3-1
                                kate            19.04.2-1            19.04.3-1
                             katomic            19.04.2-1            19.04.3-1
                             kbackup            19.04.2-1            19.04.3-1
                           kblackbox            19.04.2-1            19.04.3-1
                             kblocks            19.04.2-1            19.04.3-1
                               kblog            19.04.2-1            19.04.3-1
                             kbounce            19.04.2-1            19.04.3-1
                           kbreakout            19.04.2-1            19.04.3-1
                              kbruch            19.04.2-1            19.04.3-1
                         kcachegrind            19.04.2-1            19.04.3-1
                  kcachegrind-common            19.04.2-1            19.04.3-1
                               kcalc            19.04.2-1            19.04.3-1
                            kcalcore            19.04.2-1            19.04.3-1
                           kcalutils            19.04.2-1            19.04.3-1
                         kcharselect            19.04.2-1            19.04.3-1
                       kcolorchooser            19.04.2-1            19.04.3-1
                           kcontacts            19.04.2-1            19.04.3-1
                               kcron            19.04.2-1            19.04.3-1
                                kdav            19.04.2-1            19.04.3-1
                     kde-dev-scripts            19.04.2-1            19.04.3-1
                       kde-dev-utils            19.04.2-1            19.04.3-1
                      kdebugsettings            19.04.2-1            19.04.3-1
                         kdeedu-data            19.04.2-1            19.04.3-1
              kdegraphics-mobipocket            19.04.2-1            19.04.3-1
            kdegraphics-thumbnailers            19.04.2-1            19.04.3-1
              kdenetwork-filesharing            19.04.2-1            19.04.3-1
                            kdenlive            19.04.2-2            19.04.3-1
                       kdepim-addons            19.04.2-1            19.04.3-1
                    kdepim-apps-libs            19.04.2-1            19.04.3-1
                      kdepim-runtime            19.04.2-1            19.04.3-1
                    kdesdk-kioslaves            19.04.2-1            19.04.3-1
                 kdesdk-thumbnailers            19.04.2-1            19.04.3-1
                                 kdf            19.04.2-1            19.04.3-1
                             kdialog            19.04.2-1            19.04.3-1
                            kdiamond            19.04.2-1            19.04.3-1
                      keditbookmarks            19.04.2-1            19.04.3-1
                               kfind            19.04.2-1            19.04.3-1
                             kfloppy            19.04.2-1            19.04.3-1
                         kfourinline            19.04.2-1            19.04.3-1
                          kgeography            19.04.2-1            19.04.3-1
                                kget            19.04.2-1            19.04.3-1
                         kgoldrunner            19.04.2-1            19.04.3-1
                                kgpg            19.04.2-1            19.04.3-1
                            khangman            19.04.2-1            19.04.3-1
                         khelpcenter            19.04.2-1            19.04.3-1
                 kidentitymanagement            19.04.2-1            19.04.3-1
                                 kig            19.04.2-1            19.04.3-1
                                kigo            19.04.2-1            19.04.3-1
                            killbots            19.04.2-1            19.04.3-1
                     kimagemapeditor            19.04.2-1            19.04.3-1
                               kimap            19.04.2-1            19.04.3-1
                          kio-extras            19.04.2-1            19.04.3-1
                    kirigami-gallery            19.04.2-1            19.04.3-1
                              kiriki            19.04.2-1            19.04.3-1
                               kiten            19.04.2-1            19.04.3-1
                          kitinerary            19.04.2-2            19.04.3-1
                        kjumpingcube            19.04.2-1            19.04.3-1
                               kldap            19.04.2-1            19.04.3-1
                           kleopatra            19.04.2-1            19.04.3-1
                            klettres            19.04.2-1            19.04.3-1
                            klickety            19.04.2-1            19.04.3-1
                              klines            19.04.2-1            19.04.3-1
                                kmag            19.04.2-1            19.04.3-1
                           kmahjongg            19.04.2-1            19.04.3-1
                               kmail            19.04.2-2            19.04.3-1
                kmail-account-wizard            19.04.2-1            19.04.3-1
                      kmailtransport            19.04.2-1            19.04.3-1
                               kmbox            19.04.2-1            19.04.3-1
                               kmime            19.04.2-1            19.04.3-1
                              kmines            19.04.2-1            19.04.3-1
                                kmix            19.04.2-1            19.04.3-1
                          kmousetool            19.04.2-1            19.04.3-1
                              kmouth            19.04.2-1            19.04.3-1
                              kmplot            19.04.2-1            19.04.3-1
                        knavalbattle            19.04.2-1            19.04.3-1
                            knetwalk            19.04.2-1            19.04.3-1
                             knights            19.04.2-1            19.04.3-1
                              knotes            19.04.2-1            19.04.3-1
                                kolf            19.04.2-1            19.04.3-1
                           kollision            19.04.2-1            19.04.3-1
                         kolourpaint            19.04.2-1            19.04.3-1
                             kompare            19.04.2-1            19.04.3-1
                           konqueror            19.04.2-1            19.04.3-1
                            konquest            19.04.2-1            19.04.3-1
                             konsole            19.04.2-1            19.04.3-1
                             kontact            19.04.2-1            19.04.3-1
                    kontactinterface            19.04.2-1            19.04.3-1
                              kopete            19.04.2-1            19.04.3-1
                          korganizer            19.04.2-1            19.04.3-1
                           kpatience            19.04.2-1            19.04.3-1
                        kpimtextedit            19.04.2-1            19.04.3-1
                             kpkpass            19.04.2-1            19.04.3-1
                      kqtquickcharts            19.04.2-1            19.04.3-1
                                krdc            19.04.2-1            19.04.3-1
                            kreversi            19.04.2-1            19.04.3-1
                                krfb            19.04.2-1            19.04.3-1
                               krita              4.2.2-2              4.2.3-1
                  kross-interpreters            19.04.2-1            19.04.3-1
                              kruler            19.04.2-1            19.04.3-1
                             kshisen            19.04.2-1            19.04.3-1
                               ksirk            19.04.2-1            19.04.3-1
                               ksmtp            19.04.2-1            19.04.3-1
                          ksnakeduel            19.04.2-1            19.04.3-1
                          kspaceduel            19.04.2-1            19.04.3-1
                            ksquares            19.04.2-1            19.04.3-1
                             ksudoku            19.04.2-1            19.04.3-1
                          ksystemlog            19.04.2-1            19.04.3-1
                            kteatime            19.04.2-1            19.04.3-1
                              ktimer            19.04.2-1            19.04.3-1
                               ktnef            19.04.2-1            19.04.3-1
                              ktouch            19.04.2-2            19.04.3-1
                          ktuberling            19.04.2-1            19.04.3-1
                             kturtle            19.04.2-1            19.04.3-1
                             kubrick            19.04.2-1            19.04.3-1
                      kwalletmanager            19.04.2-1            19.04.3-1
                               kwave            19.04.2-1            19.04.3-1
                           kwordquiz            19.04.2-1            19.04.3-1
                              kwrite            19.04.2-1            19.04.3-1
                                 ldb            1:1.5.4-2            1:1.5.5-1
                          libakonadi            19.04.2-4            19.04.3-1
                         libgravatar            19.04.2-1            19.04.3-1
                            libkcddb            19.04.2-1            19.04.3-1
                     libkcompactdisc            19.04.2-1            19.04.3-1
                           libkdcraw            19.04.2-1            19.04.3-1
                         libkdegames            19.04.2-1            19.04.3-1
                           libkdepim            19.04.2-1            19.04.3-1
                  libkeduvocdocument            19.04.2-1            19.04.3-1
                           libkexiv2            19.04.2-1            19.04.3-1
                            libkgapi            19.04.2-1            19.04.3-1
                          libkgeomap            19.04.2-1            19.04.3-1
                             libkipi            19.04.2-1            19.04.3-1
                             libkleo            19.04.2-1            19.04.3-1
                        libkmahjongg            19.04.2-1            19.04.3-1
                     libkomparediff2            19.04.2-1            19.04.3-1
                            libksane            19.04.2-1            19.04.3-1
                           libksieve            19.04.2-1            19.04.3-1
                        libpciaccess               0.14-1               0.15-1
                         libwbclient             4.10.5-1             4.10.6-1
                            lokalize            19.04.2-1            19.04.3-1
                               lskat            19.04.2-1            19.04.3-1
                          mailcommon            19.04.2-1            19.04.3-1
                        mailimporter            19.04.2-1            19.04.3-1
                              marble            19.04.2-1            19.04.3-1
                       marble-common            19.04.2-1            19.04.3-1
                           marble-qt            19.04.2-1            19.04.3-1
                       mbox-importer            19.04.2-1            19.04.3-1
                           mercurial              5.0.1-1              5.0.2-1
                          messagelib            19.04.2-1            19.04.3-1
                              minuet            19.04.2-1            19.04.3-1
                              okular            19.04.2-1            19.04.3-1
                            palapeli            19.04.2-1            19.04.3-1
                              parley            19.04.2-1            19.04.3-1
                               picmi            19.04.2-1            19.04.3-1
                   pim-data-exporter            19.04.2-1            19.04.3-1
                    pim-sieve-editor            19.04.2-1            19.04.3-1
                           pimcommon            19.04.2-1            19.04.3-1
                               poxml            19.04.2-1            19.04.3-1
                       print-manager            19.04.2-1            19.04.3-1
                             pyside2             5.12.4-1             5.13.0-2
                       pyside2-tools             5.12.4-1             5.13.0-1
                    python-shiboken2             5.12.4-1             5.13.0-3
                         qcachegrind            19.04.2-1            19.04.3-1
                       qt5-webengine             5.13.0-1             5.13.0-2
                                rocs            19.04.2-1            19.04.3-1
                               samba             4.10.5-1             4.10.6-1
                           shiboken2             5.12.4-1             5.13.0-3
            signon-kwallet-extension            19.04.2-1            19.04.3-1
                           smbclient             4.10.5-1             4.10.6-1
                           spectacle            19.04.2-1            19.04.3-1
                                step            19.04.2-1            19.04.3-1
                             svgpart            19.04.2-1            19.04.3-1
                             sweeper            19.04.2-1            19.04.3-1
          telepathy-kde-accounts-kcm            19.04.2-1            19.04.3-1
              telepathy-kde-approver            19.04.2-1            19.04.3-1
          telepathy-kde-auth-handler            19.04.2-1            19.04.3-1
               telepathy-kde-call-ui            19.04.2-1            19.04.3-1
      telepathy-kde-common-internals            19.04.2-1            19.04.3-1
          telepathy-kde-contact-list            19.04.2-1            19.04.3-1
        telepathy-kde-contact-runner            19.04.2-1            19.04.3-1
       telepathy-kde-desktop-applets            19.04.2-1            19.04.3-1
  telepathy-kde-filetransfer-handler            19.04.2-1            19.04.3-1
    telepathy-kde-integration-module            19.04.2-1            19.04.3-1
             telepathy-kde-send-file            19.04.2-1            19.04.3-1
               telepathy-kde-text-ui            19.04.2-1            19.04.3-1
                               totem             3.32.0-1             3.32.1-1
                         ttf-caladea           20130214-1           20130214-2
                         ttf-carlito           20130920-2           20130920-4
                        ttf-freefont           20120503-5                    -
                            umbrello            19.04.2-1            19.04.3-1
                                wicd              1.7.4-3              1.7.4-4
                            wicd-gtk              1.7.4-3              1.7.4-4
                          xorg-xauth             1.0.10-2                1.1-1
                    zeroconf-ioslave            19.04.2-1            19.04.3-1
                            apparmor                    -             2.13.3-2
                     firefox-i18n-bn                    -               68.0-1


:: Different sync package(s) in repository multilib x86_64

-------------------------------------------------------------------------------
                             PACKAGE           2019-07-10           2019-07-13
-------------------------------------------------------------------------------
                         lib32-glib2             2.60.4-1             2.60.5-1
                           lib32-nss             3.44.1-1               3.45-1
                                wine               4.12-1             4.12.1-1
                        wine-staging               4.11-1             4.12.1-1

No issue, everything went smoothly
Yes there was an issue. I was able to resolve it myself.(Please post your solution)
Yes i am currently experiencing an issue due to the update. (Please post about it)
Check if your mirror has already synced: