Hello community,
I am happy to announce another Testing Update.
We had a blast at Tübix 2019!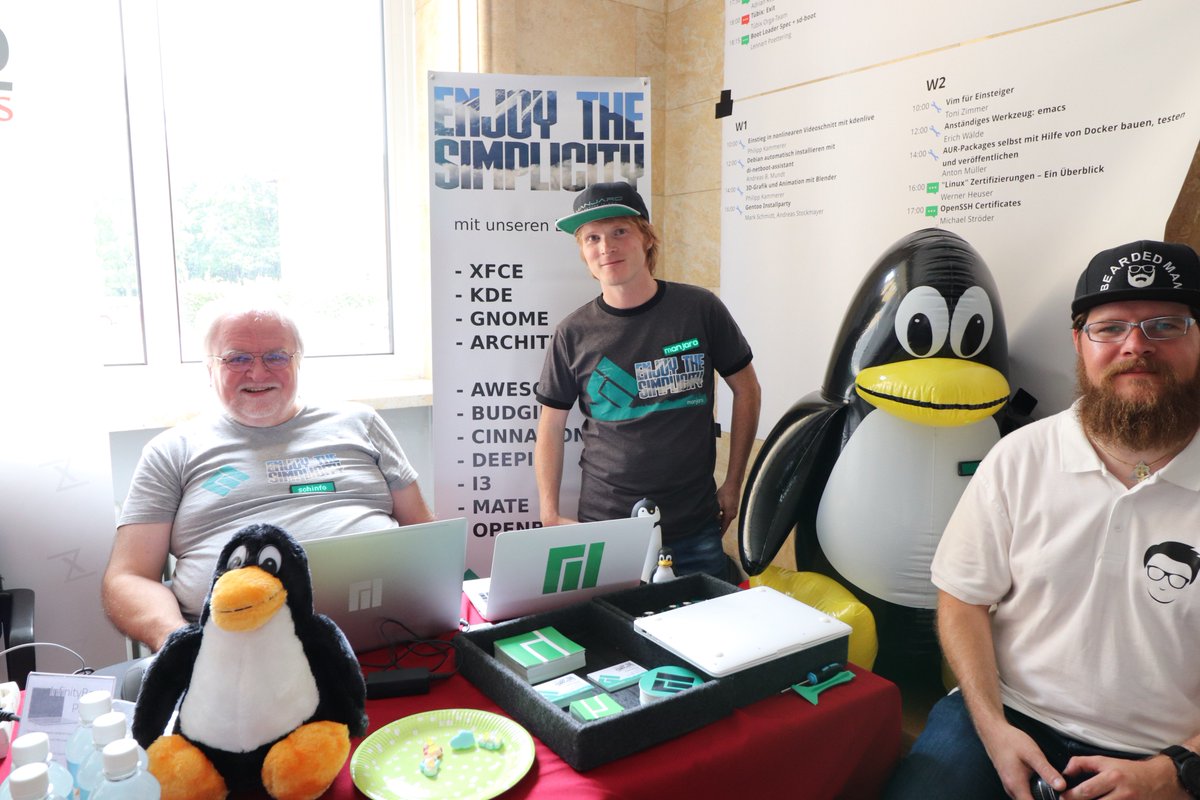 Some might noticed that since the #snapcraftsummit a lot of package changes went into Manjaro and our available RCs. Also we didn't yet announce 18.1.0-rc3 officially yet. We are still polishing the snap experience for our users. XFCE and Gnome will come with Gnome-Software and our KDE edition has Discover, both with snap support enabled.
This way everybody can easily access the snap store by a click and don't has to hassle to get snaps enabled. This enables us to ship even more proprietary software, which we couldn't before. For example check out on how you may install Spotify on Manjaro.
This update holds the following changes:
Qt5 got updated to 5.13.0. Please tell us if we had missed some Qt-based application to be rebuilt against this new series.
more Cinnamon, XFCE and Deepin upgrades
Palemoon and Firefox-Dev got renewed
the usual upstream rebuilds
Give us the usual feedback and let us know what you think about this update.
---
Current supported Kernels
linux316 3.16.69
linux44 4.4.183 (no legacy nvidia-340 module!)
linux49 4.9.183
linux414 4.14.130
linux419 4.19.56
linux51 5.1.16
linux52 5.2-rc6 (few extramodules build, but not all yet!)
linux419-rt 4.19.50_rt22
linux50-rt 5.0.21_rt15
Package Updates (Sun Jul 7 08:55:14 CEST 2019)
testing community x86_64: 499 new and 497 removed package(s)
testing core x86_64: 8 new and 8 removed package(s)
testing extra x86_64: 186 new and 186 removed package(s)
testing multilib x86_64: 9 new and 9 removed package(s)
:: Different overlay package(s) in repository community x86_64

-------------------------------------------------------------------------------
                             PACKAGE           2019-06-30           2019-07-07
-------------------------------------------------------------------------------
                            cinnamon           4.0.10-1.2            4.2.0-2.1
        deepin-file-manager-nomodule            4.8.6.4-1            4.8.6.4-2
                   game-devices-udev                0.3-1                0.4-1
                               hyper              2.1.2-1              3.0.2-1
               lightdm-slick-greeter              1.2.4-1              1.2.5-1
                          linux50-rt        5.0.21_rt14-1        5.0.21_rt15-1
                linux50-rt-acpi_call              1.1.0-6              1.1.0-7
                 linux50-rt-bbswitch                0.8-6                0.8-7
              linux50-rt-broadcom-wl       6.30.223.271-6       6.30.223.271-7
                 linux50-rt-catalyst        15.201.1151-6        15.201.1151-7
                  linux50-rt-headers        5.0.21_rt14-1        5.0.21_rt15-1
             linux50-rt-nvidia-340xx            340.107-6            340.107-7
             linux50-rt-nvidia-390xx            390.116-6            390.116-7
                   linux50-rt-nvidia             430.26-2             430.26-3
                 linux50-rt-nvidiabl               0.88-6               0.88-7
                    linux50-rt-r8168           8.045.08-6           8.045.08-7
                linux50-rt-rtl8723bu      4.3.9.3.13200-6                    -
                 linux50-rt-tp_smapi               0.41-6               0.41-7
              linux50-rt-vhba-module           20190410-2           20190410-3
 linux50-rt-virtualbox-guest-modules              6.0.8-2              6.0.8-3
  linux50-rt-virtualbox-host-modules              6.0.8-2              6.0.8-3
               manjaro-mate-settings           20190609-1           20190704-1
                          mate-tweak            19.10.0-1            19.10.1-2
                           mintstick              1.3.9-1              1.4.0-1
                            pacredir            0.4.2-1.1            0.4.2-1.2
                        palemoon-bin             28.6.0-1           28.6.0.1-1
                    palemoon-i18n-ar             28.6.0-1           28.6.0.1-1
                    palemoon-i18n-bg             28.6.0-1           28.6.0.1-1
                    palemoon-i18n-cs             28.6.0-1           28.6.0.1-1
                    palemoon-i18n-da             28.6.0-1           28.6.0.1-1
                    palemoon-i18n-de             28.6.0-1           28.6.0.1-1
                    palemoon-i18n-el             28.6.0-1           28.6.0.1-1
                 palemoon-i18n-en-gb             28.6.0-1           28.6.0.1-1
                 palemoon-i18n-es-ar             28.6.0-1           28.6.0.1-1
                 palemoon-i18n-es-es             28.6.0-1           28.6.0.1-1
                 palemoon-i18n-es-mx             28.6.0-1           28.6.0.1-1
                    palemoon-i18n-fi             28.6.0-1           28.6.0.1-1
                    palemoon-i18n-fr             28.6.0-1           28.6.0.1-1
                    palemoon-i18n-gl             28.6.0-1           28.6.0.1-1
                    palemoon-i18n-hr             28.6.0-1           28.6.0.1-1
                    palemoon-i18n-hu             28.6.0-1           28.6.0.1-1
                    palemoon-i18n-id             28.6.0-1           28.6.0.1-1
                    palemoon-i18n-is             28.6.0-1           28.6.0.1-1
                    palemoon-i18n-it             28.6.0-1           28.6.0.1-1
                    palemoon-i18n-ja             28.6.0-1           28.6.0.1-1
                    palemoon-i18n-kn             28.6.0-1           28.6.0.1-1
                    palemoon-i18n-ko             28.6.0-1           28.6.0.1-1
                    palemoon-i18n-nl             28.6.0-1           28.6.0.1-1
                    palemoon-i18n-pl             28.6.0-1           28.6.0.1-1
                 palemoon-i18n-pt-br             28.6.0-1           28.6.0.1-1
                 palemoon-i18n-pt-pt             28.6.0-1           28.6.0.1-1
                    palemoon-i18n-ro             28.6.0-1           28.6.0.1-1
                    palemoon-i18n-ru             28.6.0-1           28.6.0.1-1
                    palemoon-i18n-sk             28.6.0-1           28.6.0.1-1
                    palemoon-i18n-sl             28.6.0-1           28.6.0.1-1
                    palemoon-i18n-sr             28.6.0-1           28.6.0.1-1
                 palemoon-i18n-sv-se             28.6.0-1           28.6.0.1-1
                    palemoon-i18n-tl             28.6.0-1           28.6.0.1-1
                    palemoon-i18n-tr             28.6.0-1           28.6.0.1-1
                    palemoon-i18n-uk             28.6.0-1           28.6.0.1-1
                    palemoon-i18n-vi             28.6.0-1           28.6.0.1-1
                 palemoon-i18n-zh-cn             28.6.0-1           28.6.0.1-1
                 palemoon-i18n-zh-tw             28.6.0-1           28.6.0.1-1
                        pocketsphinx          5prealpha-2                    -
         python-jade-application-kit              2.0.6-2              2.0.7-2
                        python3-xcpf            2018.12-1             2019-1.1
                          sphinxbase          5prealpha-2                    -


:: Different sync package(s) in repository community x86_64

-------------------------------------------------------------------------------
                             PACKAGE           2019-06-30           2019-07-07
-------------------------------------------------------------------------------
                                 ack              3.0.1-1              3.0.2-1
                              adrdox              1.0.0-1              1.0.0-2
                                anki             2.1.13-2             2.1.14-1
                             ansible              2.8.1-1              2.8.2-1
                 appstream-generator              0.7.7-2              0.7.7-3
                             argbash              2.8.0-2              2.8.1-1
                           auditbeat              7.1.1-1              7.2.0-1
                             aws-cli           1.16.188-1           1.16.193-1
                               bazel             0.27.0-1             0.27.1-1
                   blender1 7:2.79.b.git6.054dbb83-31 7:2.79.b.git7.054dbb83-2
                               byacc           20180609-1           20190617-1
                             calibre             3.44.0-1             3.44.0-3
                              catch2              2.8.0-1              2.9.1-1
                              catimg              2.5.0-1              2.6.0-1
                      chewing-editor              0.1.1-4              0.1.1-5
                             chezmoi             1.5.6-13             1.5.10-1
                            cinnamon             4.0.10-2              4.2.0-2
                    cinnamon-session              4.2.0-1              4.2.1-1
                        cozy-desktop             3.13.3-1             3.14.0-1
                              cython            0.29.10-1            0.29.11-1
                             cython2            0.29.10-1            0.29.11-1
                        d-containers      0.8.0alpha.13-1      0.8.0alpha.13-2
                          d-mir-core              0.3.0-1              0.3.0-2
                    d-stdx-allocator              3.0.2-3              3.0.2-4
                         deepin-dock             4.10.5-1             4.10.5-2
                 deepin-file-manager          1:4.8.6.4-2          1:4.8.6.4-3
                         deepin-kwin             0.0.11-1           0.0.11.1-1
              deepin-qt-dbus-factory              1.1.5-2              1.1.5-3
               deepin-qt5dxcb-plugin              1.2.2-2              1.2.5-1
               deepin-qt5integration             0.3.12-2             0.3.12-3
                             diet-ng              1.5.0-7              1.5.0-8
                          displaycal            3.8.2.0-1            3.8.3.0-1
                                 dmd          1:2.086.0-1          1:2.087.0-1
                            dmd-docs          1:2.086.0-1          1:2.087.0-1
                              docker          1:18.09.6-1          1:18.09.7-1
                              dosbox             0.74.2-2             0.74.3-1
                    dragonfly-reverb              2.0.0-1              2.0.0-2
                             dtkcore           1:2.0.14-1           1:2.0.15-1
                           dtkwidget             2.0.14-2             2.0.14-3
                               dtkwm             2.0.11-3             2.0.11-4
                              dtools            2.086.0-1            2.087.0-1
                                 dub             1.15.0-1             1.16.0-1
                               dunst              1.4.0-1              1.4.1-1
                       elasticsearch              7.1.1-1              7.2.0-1
                           electron4              4.2.5-1              4.2.6-1
                               elisa              0.4.1-1              0.4.2-1
                          emscripten            1.38.36-5            1.38.37-1
                          fanficfare              3.8.0-1              3.9.0-2
                              faudio           19.06.07-1              19.07-1
                           fcitx-qt5              1.2.3-8              1.2.3-9
                            filebeat              7.1.1-1              7.2.0-1
           firefox-developer-edition            68.0b14-1             69.0b2-1
  firefox-developer-edition-i18n-ach            68.0b14-1             69.0b2-1
   firefox-developer-edition-i18n-af            68.0b14-1             69.0b2-1
   firefox-developer-edition-i18n-an            68.0b14-1             69.0b2-1
   firefox-developer-edition-i18n-ar            68.0b14-1             69.0b2-1
  firefox-developer-edition-i18n-ast            68.0b14-1             69.0b2-1
   firefox-developer-edition-i18n-az            68.0b14-1             69.0b2-1
   firefox-developer-edition-i18n-be            68.0b14-1             69.0b2-1
   firefox-developer-edition-i18n-bg            68.0b14-1             69.0b2-1
   firefox-developer-edition-i18n-bn            68.0b14-1             69.0b2-1
   firefox-developer-edition-i18n-br            68.0b14-1             69.0b2-1
   firefox-developer-edition-i18n-bs            68.0b14-1             69.0b2-1
   firefox-developer-edition-i18n-ca            68.0b14-1             69.0b2-1
  firefox-developer-edition-i18n-cak            68.0b14-1             69.0b2-1
   firefox-developer-edition-i18n-cs            68.0b14-1             69.0b2-1
   firefox-developer-edition-i18n-cy            68.0b14-1             69.0b2-1
   firefox-developer-edition-i18n-da            68.0b14-1             69.0b2-1
   firefox-developer-edition-i18n-de            68.0b14-1             69.0b2-1
  firefox-developer-edition-i18n-dsb            68.0b14-1             69.0b2-1
   firefox-developer-edition-i18n-el            68.0b14-1             69.0b2-1
firefox-developer-edition-i18n-en-ca            68.0b14-1             69.0b2-1
firefox-developer-edition-i18n-en-gb            68.0b14-1             69.0b2-1
firefox-developer-edition-i18n-en-us            68.0b14-1             69.0b2-1
   firefox-developer-edition-i18n-eo            68.0b14-1             69.0b2-1
firefox-developer-edition-i18n-es-ar            68.0b14-1             69.0b2-1
firefox-developer-edition-i18n-es-cl            68.0b14-1             69.0b2-1
firefox-developer-edition-i18n-es-es            68.0b14-1             69.0b2-1
firefox-developer-edition-i18n-es-mx            68.0b14-1             69.0b2-1
   firefox-developer-edition-i18n-et            68.0b14-1             69.0b2-1
   firefox-developer-edition-i18n-eu            68.0b14-1             69.0b2-1
   firefox-developer-edition-i18n-fa            68.0b14-1             69.0b2-1
   firefox-developer-edition-i18n-ff            68.0b14-1             69.0b2-1
   firefox-developer-edition-i18n-fi            68.0b14-1             69.0b2-1
   firefox-developer-edition-i18n-fr            68.0b14-1             69.0b2-1
firefox-developer-edition-i18n-fy-nl            68.0b14-1             69.0b2-1
firefox-developer-edition-i18n-ga-ie            68.0b14-1             69.0b2-1
   firefox-developer-edition-i18n-gd            68.0b14-1             69.0b2-1
   firefox-developer-edition-i18n-gl            68.0b14-1             69.0b2-1
   firefox-developer-edition-i18n-gn            68.0b14-1             69.0b2-1
firefox-developer-edition-i18n-gu-in            68.0b14-1             69.0b2-1
   firefox-developer-edition-i18n-he            68.0b14-1             69.0b2-1
firefox-developer-edition-i18n-hi-in            68.0b14-1             69.0b2-1
   firefox-developer-edition-i18n-hr            68.0b14-1             69.0b2-1
  firefox-developer-edition-i18n-hsb            68.0b14-1             69.0b2-1
   firefox-developer-edition-i18n-hu            68.0b14-1             69.0b2-1
firefox-developer-edition-i18n-hy-am            68.0b14-1             69.0b2-1
   firefox-developer-edition-i18n-ia            68.0b14-1             69.0b2-1
   firefox-developer-edition-i18n-id            68.0b14-1             69.0b2-1
   firefox-developer-edition-i18n-is            68.0b14-1             69.0b2-1
   firefox-developer-edition-i18n-it            68.0b14-1             69.0b2-1
   firefox-developer-edition-i18n-ja            68.0b14-1             69.0b2-1
   firefox-developer-edition-i18n-ka            68.0b14-1             69.0b2-1
  firefox-developer-edition-i18n-kab            68.0b14-1             69.0b2-1
   firefox-developer-edition-i18n-kk            68.0b14-1             69.0b2-1
   firefox-developer-edition-i18n-km            68.0b14-1             69.0b2-1
   firefox-developer-edition-i18n-kn            68.0b14-1             69.0b2-1
   firefox-developer-edition-i18n-ko            68.0b14-1             69.0b2-1
  firefox-developer-edition-i18n-lij            68.0b14-1             69.0b2-1
   firefox-developer-edition-i18n-lt            68.0b14-1             69.0b2-1
   firefox-developer-edition-i18n-lv            68.0b14-1             69.0b2-1
   firefox-developer-edition-i18n-mk            68.0b14-1             69.0b2-1
   firefox-developer-edition-i18n-mr            68.0b14-1             69.0b2-1
   firefox-developer-edition-i18n-ms            68.0b14-1             69.0b2-1
   firefox-developer-edition-i18n-my            68.0b14-1             69.0b2-1
firefox-developer-edition-i18n-nb-no            68.0b14-1             69.0b2-1
firefox-developer-edition-i18n-ne-np            68.0b14-1             69.0b2-1
   firefox-developer-edition-i18n-nl            68.0b14-1             69.0b2-1
firefox-developer-edition-i18n-nn-no            68.0b14-1             69.0b2-1
   firefox-developer-edition-i18n-oc            68.0b14-1             69.0b2-1
firefox-developer-edition-i18n-pa-in            68.0b14-1             69.0b2-1
   firefox-developer-edition-i18n-pl            68.0b14-1             69.0b2-1
firefox-developer-edition-i18n-pt-br            68.0b14-1             69.0b2-1
firefox-developer-edition-i18n-pt-pt            68.0b14-1             69.0b2-1
   firefox-developer-edition-i18n-rm            68.0b14-1             69.0b2-1
   firefox-developer-edition-i18n-ro            68.0b14-1             69.0b2-1
   firefox-developer-edition-i18n-ru            68.0b14-1             69.0b2-1
   firefox-developer-edition-i18n-si            68.0b14-1             69.0b2-1
   firefox-developer-edition-i18n-sk            68.0b14-1             69.0b2-1
   firefox-developer-edition-i18n-sl            68.0b14-1             69.0b2-1
  firefox-developer-edition-i18n-son            68.0b14-1             69.0b2-1
   firefox-developer-edition-i18n-sq            68.0b14-1             69.0b2-1
   firefox-developer-edition-i18n-sr            68.0b14-1             69.0b2-1
firefox-developer-edition-i18n-sv-se            68.0b14-1             69.0b2-1
   firefox-developer-edition-i18n-ta            68.0b14-1             69.0b2-1
   firefox-developer-edition-i18n-te            68.0b14-1             69.0b2-1
   firefox-developer-edition-i18n-th            68.0b14-1             69.0b2-1
   firefox-developer-edition-i18n-tr            68.0b14-1             69.0b2-1
   firefox-developer-edition-i18n-uk            68.0b14-1             69.0b2-1
   firefox-developer-edition-i18n-ur            68.0b14-1             69.0b2-1
   firefox-developer-edition-i18n-uz            68.0b14-1             69.0b2-1
   firefox-developer-edition-i18n-vi            68.0b14-1             69.0b2-1
   firefox-developer-edition-i18n-xh            68.0b14-1             69.0b2-1
firefox-developer-edition-i18n-zh-cn            68.0b14-1             69.0b2-1
firefox-developer-edition-i18n-zh-tw            68.0b14-1             69.0b2-1
  firefox-extension-https-everywhere           2019.6.4-1          2019.6.27-1
     firefox-extension-privacybadger          2019.2.19-1         2019.7.1.1-1
                            flashrom              1.0.1-1                1.1-1
                          flawfinder              2.0.9-1             2.0.10-1
                       gambas3-devel             3.13.0-3             3.13.0-4
                     gambas3-gb-args             3.13.0-3             3.13.0-4
                    gambas3-gb-cairo             3.13.0-3             3.13.0-4
                    gambas3-gb-chart             3.13.0-3             3.13.0-4
                  gambas3-gb-clipper             3.13.0-3             3.13.0-4
                  gambas3-gb-complex             3.13.0-3             3.13.0-4
                 gambas3-gb-compress             3.13.0-3             3.13.0-4
                    gambas3-gb-crypt             3.13.0-3             3.13.0-4
                     gambas3-gb-data             3.13.0-3             3.13.0-4
                       gambas3-gb-db             3.13.0-3             3.13.0-4
                  gambas3-gb-db-form             3.13.0-3             3.13.0-4
                 gambas3-gb-db-mysql             3.13.0-3             3.13.0-4
                  gambas3-gb-db-odbc             3.13.0-3             3.13.0-4
            gambas3-gb-db-postgresql             3.13.0-3             3.13.0-4
               gambas3-gb-db-sqlite3             3.13.0-3             3.13.0-4
                     gambas3-gb-dbus             3.13.0-3             3.13.0-4
                  gambas3-gb-desktop             3.13.0-3             3.13.0-4
            gambas3-gb-desktop-gnome             3.13.0-3             3.13.0-4
              gambas3-gb-desktop-x11             3.13.0-3             3.13.0-4
           gambas3-gb-eval-highlight             3.13.0-3             3.13.0-4
                     gambas3-gb-form             3.13.0-3             3.13.0-4
              gambas3-gb-form-dialog             3.13.0-3             3.13.0-4
              gambas3-gb-form-editor             3.13.0-3             3.13.0-4
                 gambas3-gb-form-mdi             3.13.0-3             3.13.0-4
               gambas3-gb-form-stock             3.13.0-3             3.13.0-4
            gambas3-gb-form-terminal             3.13.0-3             3.13.0-4
                      gambas3-gb-gmp             3.13.0-3             3.13.0-4
                      gambas3-gb-gsl             3.13.0-3             3.13.0-4
                      gambas3-gb-gtk             3.13.0-3             3.13.0-4
               gambas3-gb-gtk-opengl             3.13.0-3             3.13.0-4
                     gambas3-gb-gtk3             3.13.0-3             3.13.0-4
                    gambas3-gb-httpd             3.13.0-3             3.13.0-4
                    gambas3-gb-image             3.13.0-3             3.13.0-4
             gambas3-gb-image-effect             3.13.0-3             3.13.0-4
              gambas3-gb-image-imlib             3.13.0-3             3.13.0-4
                 gambas3-gb-image-io             3.13.0-3             3.13.0-4
                  gambas3-gb-inotify             3.13.0-3             3.13.0-4
                   gambas3-gb-libxml             3.13.0-3             3.13.0-4
                  gambas3-gb-logging             3.13.0-3             3.13.0-4
                      gambas3-gb-map             3.13.0-3             3.13.0-4
                 gambas3-gb-markdown             3.13.0-3             3.13.0-4
                    gambas3-gb-media             3.13.0-3             3.13.0-4
               gambas3-gb-media-form             3.13.0-3             3.13.0-4
                gambas3-gb-memcached             3.13.0-3             3.13.0-4
                     gambas3-gb-mime             3.13.0-3             3.13.0-4
                    gambas3-gb-mysql             3.13.0-3             3.13.0-4
                  gambas3-gb-ncurses             3.13.0-3             3.13.0-4
                      gambas3-gb-net             3.13.0-3             3.13.0-4
                 gambas3-gb-net-curl             3.13.0-3             3.13.0-4
                 gambas3-gb-net-pop3             3.13.0-3             3.13.0-4
                 gambas3-gb-net-smtp             3.13.0-3             3.13.0-4
                   gambas3-gb-openal             3.13.0-3             3.13.0-4
                   gambas3-gb-opengl             3.13.0-3             3.13.0-4
              gambas3-gb-opengl-glsl             3.13.0-3             3.13.0-4
               gambas3-gb-opengl-glu             3.13.0-3             3.13.0-4
               gambas3-gb-opengl-sge             3.13.0-3             3.13.0-4
                  gambas3-gb-openssl             3.13.0-3             3.13.0-4
                   gambas3-gb-option             3.13.0-3             3.13.0-4
                     gambas3-gb-pcre             3.13.0-3             3.13.0-4
                      gambas3-gb-pdf             3.13.0-3             3.13.0-4
                      gambas3-gb-qt5             3.13.0-3             3.13.0-4
               gambas3-gb-qt5-opengl             3.13.0-3             3.13.0-4
               gambas3-gb-qt5-webkit             3.13.0-3             3.13.0-4
                   gambas3-gb-report             3.13.0-3             3.13.0-4
                  gambas3-gb-scanner             3.13.0-3             3.13.0-4
                      gambas3-gb-sdl             3.13.0-3             3.13.0-4
                gambas3-gb-sdl-sound             3.13.0-3             3.13.0-4
                     gambas3-gb-sdl2             3.13.0-3             3.13.0-4
               gambas3-gb-sdl2-audio             3.13.0-3             3.13.0-4
                 gambas3-gb-settings             3.13.0-3             3.13.0-4
                   gambas3-gb-signal             3.13.0-3             3.13.0-4
                     gambas3-gb-term             3.13.0-3             3.13.0-4
                     gambas3-gb-util             3.13.0-3             3.13.0-4
                 gambas3-gb-util-web             3.13.0-3             3.13.0-4
                      gambas3-gb-v4l             3.13.0-3             3.13.0-4
                       gambas3-gb-vb             3.13.0-3             3.13.0-4
                      gambas3-gb-web             3.13.0-3             3.13.0-4
                 gambas3-gb-web-feed             3.13.0-3             3.13.0-4
                 gambas3-gb-web-form             3.13.0-3             3.13.0-4
                      gambas3-gb-xml             3.13.0-3             3.13.0-4
                 gambas3-gb-xml-html             3.13.0-3             3.13.0-4
                  gambas3-gb-xml-rpc             3.13.0-3             3.13.0-4
                 gambas3-gb-xml-xslt             3.13.0-3             3.13.0-4
                         gambas3-ide             3.13.0-3             3.13.0-4
                     gambas3-runtime             3.13.0-3             3.13.0-4
                      gambas3-script             3.13.0-3             3.13.0-4
                            gammaray             2.10.0-1             2.11.0-1
                                gcin              2.8.9-2              2.8.9-3
                                gdal              2.4.1-3              3.0.0-1
                                geos              3.7.1-1              3.7.2-1
                            gir-to-d             0.19.0-2             0.19.0-3
                           git-annex        7.20190615-12        7.20190615-13
                              gitlab             12.0.2-1             12.0.3-1
                       gitlab-runner             12.0.0-1             12.0.1-1
                               glibd              2.1.0-2              2.1.0-3
                          googlemaps           20180602-6           20180602-7
                              gradle              5.4.1-1                5.5-1
                          gradle-doc              5.4.1-1                5.5-1
                          gradle-src              5.4.1-1                5.5-1
                                grpc             1.21.4-1             1.22.0-1
                            grpc-cli             1.21.4-1             1.22.0-1
                                gtkd              3.9.0-1              3.9.0-2
                       haskell-■■■■■              0.46-41              0.46-42
                  haskell-config-ini           0.2.4.0-39           0.2.4.0-40
                      haskell-hakyll          4.12.5.2-46          4.12.5.2-47
                       haskell-ipynb               0.1-46               0.1-47
                   haskell-microlens             0.4.10-5           0.4.11.1-1
             haskell-microlens-aeson            2.3.0.4-4            2.3.0.4-5
               haskell-microlens-ghc             0.4.10-5           0.4.11.1-1
               haskell-microlens-mtl          0.1.11.1-16            0.2.0.1-1
          haskell-microlens-platform            0.3.11-25              0.4.0-1
                haskell-microlens-th            0.4.2.3-9            0.4.3.1-2
           haskell-persistent-sqlite             2.9.3-33             2.9.3-34
                         haskell-rio           0.1.9.2-16           0.1.9.2-17
                         haskell-vty            5.25.1-26            5.25.1-27
                       haskell-yesod            1.6.0-293            1.6.0-294
                  haskell-yesod-auth             1.6.7-12             1.6.7-13
                  haskell-yesod-core            1.6.14-48            1.6.14-49
               haskell-yesod-default            1.2.0-546            1.2.0-547
                  haskell-yesod-form             1.6.5-10             1.6.5-11
            haskell-yesod-persistent           1.6.0.2-46           1.6.0.2-47
                haskell-yesod-static          1.6.0.1-145          1.6.0.1-146
                  haskell-yesod-test           1.6.6.1-39           1.6.6.1-40
                            hasktags            0.71.2-32            0.71.2-33
                   heartbeat-elastic              7.1.1-1              7.2.0-1
                          hexer-hobu              1.4.0-2              1.4.0-3
                         hledger-api              1.14-81              1.14-82
                          hledger-ui            1.14.2-41            1.14.2-42
                         hledger-web            1.14.1-86            1.14.1-87
                                 hub             2.12.0-1             2.12.1-1
                            i3status               2.12-2               2.13-1
               intel-compute-runtime        19.25.13237-1        19.26.13286-1
                  intel-media-driver             19.1.0-1             19.2.0-1
                              iperf3                3.6-1                3.7-1
                             ipvsadm               1.29-2               1.30-1
                                jadx              0.9.0-1              1.0.0-1
                         jami-daemon           20190503-1           20190603-1
                          jami-gnome           20190503-1           20190603-1
                         journalbeat              7.1.1-1              7.2.0-1
                          jupyterlab              1.0.0-1              1.0.1-1
                             kak-lsp              6.1.0-1              6.2.1-1
                             kakoune         2019.01.20-1         2019.07.01-1
                          keepalived             2.0.16-2             2.0.17-1
                               khard             0.13.0-1             0.14.0-1
                              kibana              7.1.1-1              7.2.0-1
                               kitty             0.14.2-1             0.14.2-2
                              kstars            1:3.3.1-1            1:3.3.2-1
               kvantum-theme-materia           20190613-1           20190620-1
                                 ldc           2:1.15.0-1           2:1.16.0-1
                          libgeotiff              1.4.3-1              1.5.1-1
                       libjamiclient           20190503-1           20190603-1
                          liblphobos           2:1.15.0-1           2:1.16.0-1
                       libmicrohttpd             0.9.64-1             0.9.65-1
                           libphobos          1:2.086.0-1          1:2.087.0-1
                            libqtxdg              3.3.1-4              3.3.1-5
                       libspatialite            4.3.0.a-4            4.3.0.a-5
                                lmms              1.2.0-1              1.2.0-2
                            logstash              7.1.1-1              7.2.0-1
                           lua-mpack              1.0.7-2              1.0.8-1
                         lua51-mpack              1.0.7-2              1.0.8-1
                         lua52-mpack              1.0.7-2              1.0.8-1
                       lxqt-qtplugin             0.14.0-1             0.14.0-2
                               lynis              2.7.4-1              2.7.5-1
                              mapnik             3.0.21-4             3.0.22-1
                         materia-kde           20190613-1           20190620-1
                      matrix-synapse             0.99.5-1              1.1.0-1
                          merkaartor             0.18.3-7             0.18.3-8
                          metricbeat              7.1.1-1              7.2.0-1
                                mill              0.4.1-1              0.4.2-1
                            minikube              1.2.0-1              1.2.0-2
                               minio         2019.06.27-1         2019.07.05-1
                              muffin              4.0.7-1              4.2.0-1
                     multipath-tools              0.8.1-2              0.8.2-1
                              mumble           1.3.0rc2-1           1.3.0rc2-2
                              murmur           1.3.0rc2-1           1.3.0rc2-2
                           musescore              3.2.1-1              3.2.2-1
                          mustache-d             0.1.3-13             0.1.3-14
                              neovim              0.3.7-3              0.3.8-1
                  nextcloud-app-deck              0.6.2-1              0.6.4-1
                                nmon                16j-1                16k-1
                            node-gyp              4.0.0-1              5.0.0-1
                                 npm              6.9.2-1             6.10.0-1
                   npm-check-updates             3.1.12-1             3.1.15-1
                             opendht            1:1.9.4-1            1:1.9.5-1
                            openshot              2.4.4-1              2.4.4-2
                          opensubdiv              3.3.3-1              3.4.0-1
                          packetbeat              7.1.1-1              7.2.0-1
                            pacredir              0.4.1-1              0.4.2-1
                              pandoc              2.7.3-3              2.7.3-4
                     pandoc-citeproc            0.16.2-70            0.16.2-71
                     pandoc-crossref           0.3.4.1-51           0.3.4.1-52
                  papirus-icon-theme           20190615-1           20190701-1
                            paraview              5.6.1-1              5.6.1-2
                     parity-ethereum              2.4.8-1              2.4.9-1
                                pdal              1.9.1-1              1.9.1-2
                            pgadmin4                4.8-1               4.10-1
                            php-grpc             1.21.4-1             1.22.0-1
                          pigeonhole              0.5.6-1              0.5.6-2
                                pius              2.2.7-1              3.0.0-1
     plasma5-applets-thermal-monitor              1.2.9-1              1.2.9-2
                                poco              1.9.0-2              1.9.2-1
                               ponyc             0.28.1-1             0.29.0-1
                             postgis              2.5.1-2              2.5.2-1
                                proj              5.2.0-1              6.1.0-1
                 python-aws-xray-sdk              2.4.2-1              2.4.2-2
                        python-boto3            1.9.178-1            1.9.183-1
                     python-botocore           1.12.178-1           1.12.183-1
                         python-cmd2             0.9.13-1             0.9.14-1
                      python-etesync              0.8.1-1              0.8.3-1
                         python-gdal              2.4.1-3              3.0.0-1
                       python-grpcio             1.21.4-1             1.22.0-1
                   python-hypothesis             4.24.6-1             4.26.1-1
                        python-json5              0.8.4-2              0.8.5-1
               python-jsonrpc-server              0.1.2-2              0.2.0-1
                   python-matplotlib              3.1.0-1              3.1.1-1
                     python-micawber              0.4.1-1              0.5.0-1
                       python-mpi4py              3.0.1-1              3.0.2-1
                          python-pbr              5.3.1-1              5.4.0-1
                       python-pg8000             1.13.1-1             1.13.2-1
                       python-piexif              1.1.2-1              1.1.3-1
                       python-pyproj              1.9.6-1              2.2.0-1
     python-sphinxcontrib-websupport              1.1.0-2              1.1.2-1
                    python-texttable              1.6.1-2              1.6.2-1
                      python-tomlkit              0.5.3-3              0.5.5-1
                       python2-boto3            1.9.178-1            1.9.183-1
                    python2-botocore           1.12.178-1           1.12.183-1
                        python2-gdal              2.4.1-3              3.0.0-1
                  python2-hypothesis             4.24.6-1             4.26.1-1
                      python2-mpi4py              3.0.1-1              3.0.2-1
                    python2-networkx                2.2-1                2.2-2
                         python2-pbr              5.3.1-1              5.4.0-1
                      python2-pyproj              1.9.6-1              2.2.0-1
                     python2-pysaml2              4.6.5-1                    -
    python2-sphinxcontrib-websupport              1.1.0-2              1.1.2-1
                                qcad           3.22.1.2-1           3.22.1.3-1
                                qgis              3.6.3-1              3.8.0-1
                           qmapshack             1.13.0-1             1.13.0-2
                    qt5-styleplugins    5.0.0.20170311-14    5.0.0.20170311-15
                               qt5ct               0.39-1               0.39-2
                             radare2              3.5.1-1              3.6.0-1
                      radare2-cutter              1.8.2-1           2feb8d12-1
                                repo             1.13.2-1             1.13.3-1
                             restbed    4.6+89+ga1e9c97-1   4.6+104+gf74f932-1
                            sagemath                8.8-1                8.8-2
                    sagemath-jupyter                8.8-1                8.8-2
                               scala             2.12.8-1             2.13.0-1
                          scala-docs             2.12.8-1             2.13.0-1
                       scala-sources             2.12.8-1             2.13.0-1
                              semver              6.1.2-1              6.2.0-1
                            shapelib              1.4.1-2              1.5.0-2
                          shellcheck            0.6.0-140            0.6.0-141
                             skrooge             2.19.1-2             2.20.0-1
                              sqlmap              1.3.6-1              1.3.7-1
                               stack           1.9.3.1-73           1.9.3.1-74
                      tamarin-prover            1.4.1-103            1.4.1-104
                   teamspeak3-server              3.8.0-1              3.9.1-1
                    telegram-desktop             1.7.10-5             1.7.10-6
                           termtosvg              0.8.0-1              0.9.0-1
                            three.js               r106-1               r106-2
                               tilix              1.9.3-2              1.9.3-3
                          tpm2-tools              3.1.4-1              3.2.0-1
                   translate-toolkit              2.3.1-1              2.4.0-1
                        ttf-ionicons              4.5.8-1              4.6.1-1
                       ttf-joypixels              5.0.2-1              5.0.2-2
         v2ray-domain-list-community         20190627.1-1         20190704.1-1
                              vibe-d              0.8.5-1              0.8.5-2
                              viking              1.6.2-7                1.7-1
                              vsftpd              3.0.3-4              3.0.3-6
                                 vtk              8.2.0-3              8.2.0-5
                          wanderlust           20190416-1           20190702-1
                              weston              6.0.0-1              6.0.1-1
                        wire-desktop           3.9.2895-3           3.9.2895-4
                      wireguard-dkms       0.0.20190601-1       0.0.20190702-1
                     wireguard-tools       0.0.20190601-1       0.0.20190702-1
                              wpscan            1:3.5.3-1            1:3.5.4-1
                               xonsh              0.9.6-1              0.9.7-1
                             xreader              2.0.2-1              2.2.1-1
                          xwallpaper              0.5.0-1              0.6.2-1
                          youtube-dl         2019.06.21-1         2019.07.02-1
             yubikey-personalization             1.19.3-1             1.20.0-1
                               zcash            2.0.5_2-1              2.0.6-1
                         baidupcs-go                    -              3.5.6-1
                              coturn                    -            4.5.1.1-5
                        emptyepsilon                    -         2019.05.21-2
                              menhir                    -           20190626-1
                              motion                    -              4.2.2-1
                   python-sshpubkeys                    -              3.1.0-1
                      python-tinycss                    -                0.4-3


:: Different overlay package(s) in repository core x86_64

-------------------------------------------------------------------------------
                             PACKAGE           2019-06-30           2019-07-07
-------------------------------------------------------------------------------
                                grub             2.03.6-4               2.04-1
                             linux51             5.1.15-1             5.1.16-1
                     linux51-headers             5.1.15-1             5.1.16-1
                             linux525.2rc6.d0623.g4b972a0-15.2rc7.d0630.g6fbc727-1
                     linux52-headers5.2rc6.d0623.g4b972a0-15.2rc7.d0630.g6fbc727-1


:: Different sync package(s) in repository core x86_64

-------------------------------------------------------------------------------
                             PACKAGE           2019-06-30           2019-07-07
-------------------------------------------------------------------------------
                              argon2           20171227-3           20190702-1
                               bzip2              1.0.6-8              1.0.7-2
                      dnssec-anchors           20181003-1           20190629-1
                              tzdata              2019a-1              2019b-1


:: Different overlay package(s) in repository extra x86_64

-------------------------------------------------------------------------------
                             PACKAGE           2019-06-30           2019-07-07
-------------------------------------------------------------------------------
                           calamares              3.2.9-4              3.2.9-5
               calamares-git 3.2.10.r6133.da8f45ae1-1 3.2.11.r6142.d07b529c9-1
                  linux414-acpi_call            1.1.0-106            1.1.0-107
                   linux414-bbswitch              0.8-106              0.8-107
                linux414-broadcom-wl     6.30.223.271-106     6.30.223.271-107
                   linux414-catalyst    1:15.201.1151-106    1:15.201.1151-107
                linux414-ndiswrapper             1.61-106             1.61-107
                     linux414-nvidia           1:430.26-4           1:430.26-5
               linux414-nvidia-340xx           340.107-65           340.107-66
               linux414-nvidia-390xx           390.116-24           390.116-25
                   linux414-nvidiabl             0.88-106             0.88-107
                      linux414-r8168          8.047.01-12          8.047.01-13
                  linux414-rt3562sta       2.4.1.1_r4-105       2.4.1.1_r4-106
                   linux414-tp_smapi             0.41-106             0.41-107
                linux414-vhba-module          20190410-11          20190410-12
   linux414-virtualbox-guest-modules             6.0.8-10             6.0.8-11
    linux414-virtualbox-host-modules             6.0.8-10             6.0.8-11
                        linux414-zfs              0.8.1-3              0.8.1-4
                      linux419-r8168          8.047.01-13          8.047.01-14
                  linux419-rtl8723bu   4.3.9.3.13200.0-32   4.3.9.3.13200.0-33
                   linux419-tp_smapi              0.41-48              0.41-49
                linux419-vhba-module          20190410-12          20190410-13
   linux419-virtualbox-guest-modules             6.0.8-11             6.0.8-12
    linux419-virtualbox-host-modules             6.0.8-11             6.0.8-12
                   linux51-acpi_call             1.1.0-14             1.1.0-15
                    linux51-bbswitch               0.8-14               0.8-15
                 linux51-broadcom-wl      6.30.223.271-14      6.30.223.271-15
                    linux51-catalyst     1:15.201.1151-11     1:15.201.1151-12
                 linux51-ndiswrapper              1.61-14              1.61-15
                      linux51-nvidia           1:430.26-6           1:430.26-7
                linux51-nvidia-340xx           340.107-11           340.107-12
                linux51-nvidia-390xx           390.116-11           390.116-12
                    linux51-nvidiabl              0.88-14              0.88-15
                       linux51-r8168          8.047.01-13          8.047.01-14
                   linux51-rtl8723bu     4.3.9.3.13200-14     4.3.9.3.13200-15
                    linux51-tp_smapi              0.41-14              0.41-15
                 linux51-vhba-module          20190410-12          20190410-13
    linux51-virtualbox-guest-modules             6.0.8-12             6.0.8-13
     linux51-virtualbox-host-modules             6.0.8-12             6.0.8-13
                         linux51-zfs              0.8.1-5              0.8.1-6
                   linux52-acpi_call           1.1.0-0.10           1.1.0-0.11
                    linux52-bbswitch             0.8-0.10             0.8-0.11
                 linux52-broadcom-wl    6.30.223.271-0.10    6.30.223.271-0.11
                 linux52-ndiswrapper            1.61-0.10            1.61-0.11
                      linux52-nvidia        1:430.26-0.10        1:430.26-0.11
                    linux52-nvidiabl            0.88-0.10            0.88-0.11
                       linux52-r8168        8.047.01-0.10        8.047.01-0.11
                   linux52-rtl8723bu   4.3.9.3.13200-0.10   4.3.9.3.13200-0.11
                 linux52-vhba-module        20190410-0.10        20190410-0.11
    linux52-virtualbox-guest-modules           6.0.8-0.10           6.0.8-0.11
     linux52-virtualbox-host-modules           6.0.8-0.10           6.0.8-0.11
                         linux52-zfs           0.8.1-0.10           0.8.1-0.11
              manjaro-tools-base-git      r2788.ba2ffeb-1      r2789.1b32aa2-1
               manjaro-tools-iso-git      r2788.ba2ffeb-1      r2789.1b32aa2-1
               manjaro-tools-pkg-git      r2788.ba2ffeb-1      r2789.1b32aa2-1
              manjaro-tools-yaml-git      r2788.ba2ffeb-1      r2789.1b32aa2-1
                            pamac-qt              0.2.0-4              0.2.0-5
                            qt5-base           5.12.4-2.2           5.13.0-7.1
             qt5-xcb-private-headers           5.12.4-2.2           5.13.0-7.1
                         thunar-gtk3              1.8.7-2              1.8.7-3
                    xfce4-panel-gtk3             4.13.5-5             4.13.5-6
                      xfdesktop-gtk3             4.13.5-1             4.13.5-2
                          xfwm4-gtk3             4.13.3-1             4.13.3-2


:: Different sync package(s) in repository extra x86_64

-------------------------------------------------------------------------------
                             PACKAGE           2019-06-30           2019-07-07
-------------------------------------------------------------------------------
                             akonadi            19.04.2-2            19.04.2-4
                   black-hole-solver              1.0.0-1              1.2.1-1
                        cups-filters             1.25.0-1             1.25.1-1
                             firefox             67.0.4-1             67.0.4-2
                           freetype2             2.10.0-2             2.10.1-1
                     freetype2-demos             2.10.0-2             2.10.1-1
                      freetype2-docs             2.10.0-2             2.10.1-1
                              garcon              0.6.2-1              0.6.3-1
                      graphicsmagick             1.3.31-3             1.3.32-1
               gtk-update-icon-cache           1:3.24.9-1          1:3.24.10-1
                                gtk3           1:3.24.9-1          1:3.24.10-1
                                gvim           8.1.1467-2           8.1.1635-1
                         imagemagick           7.0.8.50-1           7.0.8.53-1
                     imagemagick-doc           7.0.8.50-1           7.0.8.53-1
                               irssi              1.2.0-4              1.2.1-1
                            kdenlive            19.04.2-1            19.04.2-2
                                kile             2.9.92-1             2.9.92-2
                                kwin             5.16.2-3             5.16.2-4
                             leveldb               1.21-1               1.22-1
                          libakonadi            19.04.2-2            19.04.2-4
                              libdrm             2.4.98-1             2.4.99-1
                         libgweather             3.32.1-1             3.32.2-1
                          libmagick6          6.9.10.49-1          6.9.10.53-1
                          libmm-glib             1.10.2-1             1.10.4-1
                         libnitrokey              3.4.1-2                3.5-1
                              libraw             0.19.2-1             0.19.3-1
                              libssh              0.8.7-1              0.9.0-1
                         libssh-docs              0.8.7-1              0.9.0-1
                               libuv             1.30.0-1             1.30.1-1
                               libva              2.4.1-1              2.5.0-1
                          libxfce4ui             4.13.5-1             4.13.6-1
                        libxfce4util             4.13.3-1             4.13.4-1
                        modemmanager             1.10.2-1             1.10.4-1
                                 mpc               0.31-1               0.32-1
                                 mpd            0.21.10-1            0.21.11-1
                            nftables            1:0.9.0-4            1:0.9.1-1
                        nitrokey-app              1.3.2-3                1.4-1
                              okteta           1:0.26.1-1           1:0.26.2-1
                    perl-alien-build               1.76-1               1.78-1
                                 php              7.3.6-1              7.3.7-2
                          php-apache              7.3.6-1              7.3.7-2
                             php-cgi              7.3.6-1              7.3.7-2
                           php-dblib              7.3.6-1              7.3.7-2
                           php-embed              7.3.6-1              7.3.7-2
                         php-enchant              7.3.6-1              7.3.7-2
                             php-fpm              7.3.6-1              7.3.7-2
                              php-gd              7.3.6-1              7.3.7-2
                            php-imap              7.3.6-1              7.3.7-2
                            php-intl              7.3.6-1              7.3.7-2
                            php-odbc              7.3.6-1              7.3.7-2
                           php-pgsql              7.3.6-1              7.3.7-2
                          php-phpdbg              7.3.6-1              7.3.7-2
                          php-pspell              7.3.6-1              7.3.7-2
                            php-snmp              7.3.6-1              7.3.7-2
                          php-sodium              7.3.6-1              7.3.7-2
                          php-sqlite              7.3.6-1              7.3.7-2
                            php-tidy              7.3.6-1              7.3.7-2
                             php-xsl              7.3.6-1              7.3.7-2
                    plasma-framework             5.59.0-1             5.59.0-2
                  plasma-integration             5.16.2-1             5.16.2-2
                             postfix              3.4.5-2              3.4.6-1
                        pyqt5-common             5.12.2-1             5.12.3-2
                       python-django              2.2.2-1              2.2.3-1
                         python-mako             1.0.12-1             1.0.13-1
                        python-pyqt5             5.12.2-1             5.12.3-2
                      python2-django            1.11.21-1            1.11.22-1
                        python2-mako             1.0.12-1             1.0.13-1
                       python2-pyqt5             5.12.2-1             5.12.3-2
                  qqc2-desktop-style             5.59.0-1             5.59.0-2
                              qt5-3d             5.12.4-1             5.13.0-1
                            qt5-base             5.12.4-2             5.13.0-7
                        qt5-canvas3d             5.12.4-1                    -
                          qt5-charts             5.12.4-1             5.13.0-1
                    qt5-connectivity             5.12.4-1             5.13.0-1
                       qt5-datavis3d             5.12.4-1             5.13.0-1
                     qt5-declarative             5.12.4-1             5.13.0-1
                             qt5-doc             5.12.4-1             5.13.0-1
                        qt5-examples             5.12.4-1             5.13.0-1
                         qt5-gamepad             5.12.4-1             5.13.0-1
                qt5-graphicaleffects             5.12.4-1             5.13.0-1
                    qt5-imageformats             5.12.4-1             5.13.0-1
                        qt5-location             5.12.4-1             5.13.0-1
                      qt5-multimedia             5.12.4-1             5.13.0-1
                     qt5-networkauth             5.12.4-1             5.13.0-1
                      qt5-purchasing             5.12.4-1             5.13.0-1
                   qt5-quickcontrols             5.12.4-1             5.13.0-1
                  qt5-quickcontrols2             5.12.4-1             5.13.0-1
                   qt5-remoteobjects             5.12.4-1             5.13.0-1
                          qt5-script             5.12.4-1             5.13.0-1
                           qt5-scxml             5.12.4-1             5.13.0-1
                         qt5-sensors             5.12.4-1             5.13.0-1
                       qt5-serialbus             5.12.4-1             5.13.0-1
                      qt5-serialport             5.12.4-1             5.13.0-1
                          qt5-speech             5.12.4-1             5.13.0-1
                             qt5-svg             5.12.4-1             5.13.0-1
                           qt5-tools             5.12.4-1             5.13.0-1
                    qt5-translations             5.12.4-1             5.13.0-1
                 qt5-virtualkeyboard             5.12.4-1             5.13.0-1
                         qt5-wayland             5.12.4-1             5.13.0-3
                      qt5-webchannel             5.12.4-1             5.13.0-1
                       qt5-webengine             5.12.4-1             5.13.0-1
                     qt5-webglplugin             5.12.4-1             5.13.0-1
                   qt5-webkit 5.212.0alpha2+156+g95401fe3908-3 5.212.0alpha3-3
                      qt5-websockets             5.12.4-1             5.13.0-1
                         qt5-webview             5.12.4-1             5.13.0-1
                       qt5-x11extras             5.12.4-1             5.13.0-1
             qt5-xcb-private-headers             5.12.4-2             5.13.0-7
                     qt5-xmlpatterns             5.12.4-1             5.13.0-1
                           qtcreator              4.9.1-1              4.9.2-2
                                   r              3.6.0-1              3.6.1-1
                                 re2           20190601-1           20190701-1
                          sdl2_image              2.0.4-2              2.0.5-1
                              spglib             1.12.2-1             1.13.0-1
                             texmacs             1.99.9-1            1.99.10-1
                             varnish              5.2.1-3              6.2.0-2
                                 vim           8.1.1467-2           8.1.1635-1
                         vim-runtime           8.1.1467-2           8.1.1635-1
            vulkan-validation-layers            1.1.112-1            1.1.112-2
                          webkit2gtk             2.24.2-1             2.24.3-1
               xfce4-cpugraph-plugin              1.0.5-5              1.1.0-1
                 xfce4-power-manager              1.6.2-1              1.6.3-1
                      xfce4-terminal            0.8.7.4-1              0.8.8-1
                               xterm                346-1                347-1
                          qt5-lottie                    -             5.13.0-1


:: Different sync package(s) in repository multilib x86_64

-------------------------------------------------------------------------------
                             PACKAGE           2019-06-30           2019-07-07
-------------------------------------------------------------------------------
                         lib32-bzip2              1.0.6-3              1.0.7-2
                        lib32-faudio           19.06.07-1              19.07-1
                     lib32-freetype2             2.10.0-2             2.10.1-1
                          lib32-gtk3             3.24.9-1            3.24.10-1
                          lib32-krb5             1.16.2-1               1.17-1
                        lib32-libdrm             2.4.98-1             2.4.99-1
                         lib32-libxt              1.1.5-2              1.2.0-1
             lib32-vulkan-icd-loader            1.1.107-1            1.1.112-1
      lib32-vulkan-validation-layers            1.1.107-1            1.1.112-1

No issue, everything went smoothly
Yes there was an issue. I was able to resolve it myself.(Please post your solution)
Yes i am currently experiencing an issue due to the update. (Please post about it)
Check if your mirror has already synced: