Hi community,
Welcome to our eleventh testing update for 2019. These are additional package needed to our last update. So what do we have with this one?
we updated systemd to v241 - it has issues with encrypted devices (upstream needs your feedback to solve it properly). However, we added 159 additional patches so far to v241 series.
wine-staging-nine is now at 4.1
the usual python updates
We hope with all these changes Manjaro to be more efficient for you all.
---
CLT19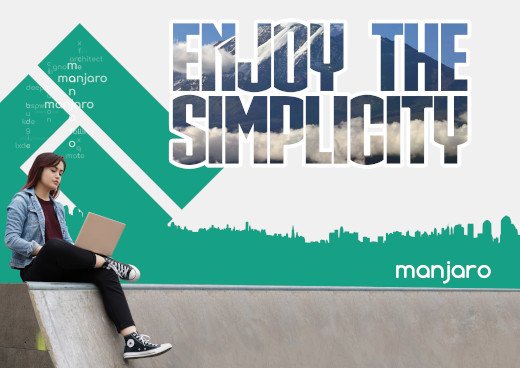 Manjaro will take part on the Chemnitz Linux Days in March this year. You may want to visit our booth with the latest Manjaro hardware and Core Developers present to answer your questions. Feel free to bring your devices if you want to have Manjaro installed on them or problems fixed from our experts.
Partnership with FCS Linux Aarhus
We are happy to announce a new partnership with FCS Linux Aarhus owned by @fhdk. This enables us to offer you Laptops with Manjaro pre-installed and Manjaro Stickers you can use on your own hardware or gift them to a friend. For each sale FCS will donate a percentage to the Manjaro project.
Manjaro v18.0.3-pre3 released!
We updated our flagship ISOs of Manjaro Illyria with the latest packages. It comes with refreshed packages and updated tools. You may want to download our XFCE Edition with the latest 4.13 packages, aswell as our most recent styling efforts. Our KDE fans may try our KDE Edition with the latest KDE v5.15 instead. And our GNOME fans may try our Gnome Edition with the latest GNOME v3.30.
---
Current supported Kernels
linux316 3.16.62
linux318 3.18.134 [EOL]
linux44 4.4.167 [FZN]
linux49 4.9.158
linux414 4.14.101
linux419 4.19.22
linux420 4.20.10
linux414-rt 4.14.93_rt53
linux418-rt 4.18.16_rt9
Package Updates (Tue Feb 19 10:20:57 CET 2019)
testing community x86_64: 31 new and 49 removed package(s)
testing core x86_64: 5 new and 5 removed package(s)
testing extra x86_64: 5 new and 6 removed package(s)
testing multilib x86_64: 3 new and 3 removed package(s)
:: Different sync package(s) in repository community x86_64

-------------------------------------------------------------------------------
                             PACKAGE           2019-02-18           2019-02-19
-------------------------------------------------------------------------------
                                agda    2.5.99.20190207-4    2.5.99.20190207-5
                      doublecmd-gtk2              0.9.0-2              0.9.1-1
                       doublecmd-qt5              0.9.0-2              0.9.1-1
                              eslint             5.14.0-1             5.14.1-1
                          fingerterm              1.3.7-1              1.3.8-1
              firefox-tree-style-tab             2.7.18-1             2.7.20-1
                              flake8            1:3.7.5-1            1:3.7.6-1
                               ginac              1.7.4-2              1.7.5-1
                 haskell-equivalence              0.3.3-4              0.3.4-1
                         offlineimap              7.2.2-1              7.2.3-1
                     percona-toolkit             3.0.12-1             3.0.13-1
                         python-acme             0.31.0-1             0.31.0-2
                    python-braintree             3.51.0-1             3.51.0-2
                     python-cchardet              2.1.4-1              2.1.4-2
                 python-linux-procfs                0.6-1                0.6-2
                       python-pytest              4.2.1-1              4.3.0-1
                        python-regex         2019.02.06-1         2019.02.18-1
                   python-schedutils                0.6-4                0.6-5
                 python-testfixtures              6.5.0-1              6.5.2-1
                    python-typogrify              2.0.7-5              2.0.7-6
                        python2-acme             0.31.0-1                    -
                      python2-augeas              0.5.0-2                    -
                   python2-braintree             3.51.0-1                    -
                    python2-cchardet              2.1.4-1                    -
                      python2-flake8            1:3.7.5-1            1:3.7.6-1
                python2-linux-procfs                0.6-1                    -
                       python2-nose2              0.8.0-1                    -
                      python2-piexif              1.1.2-1                    -
                      python2-pyalsa              1.1.6-4                    -
                     python2-pyliblo             0.10.0-5                    -
                 python2-pymediainfo                3.0-1                    -
                   python2-pyrss2gen                1.1-8                    -
                      python2-pytest              4.2.1-1              4.3.0-1
        python2-pytest-rerunfailures                6.0-1                    -
             python2-pytest-xprocess             0.12.1-4                    -
                       python2-regex         2019.02.06-1         2019.02.18-1
                  python2-schedutils                0.6-4                    -
      python2-sphinxcontrib-newsfeed              0.1.4-6                    -
                    python2-tabulate              0.8.3-2                    -
                python2-testfixtures              6.5.0-1              6.5.2-1
                   python2-typogrify              2.0.7-5                    -
                     python2-vobject            0.9.6.1-2                    -
              python2-wsgi-intercept              1.8.0-3                    -
                           rng-tools                6.6-2                6.7-1
                               sigil             0.9.10-3             0.9.12-1
                            solidity              0.5.3-1              0.5.4-1
                       speakup-utils              3.1.6-4              3.1.6-5
                      udp2raw-tunnel         20180225.1-1         20181113.0-1
                          youtube-dl         2019.02.08-1         2019.02.18-1
                              libp11                    -              0.4.9-1


:: Different overlay package(s) in repository core x86_64

-------------------------------------------------------------------------------
                             PACKAGE           2019-02-18           2019-02-19
-------------------------------------------------------------------------------
                     manjaro-release             18.0.2-1             18.0.3-1
                             systemd            241.155-1            241.159-1
                        systemd-libs            241.155-1            241.159-1
                  systemd-resolvconf            241.155-1            241.159-1
                  systemd-sysvcompat            241.155-1            241.159-1


:: Different sync package(s) in repository extra x86_64

-------------------------------------------------------------------------------
                             PACKAGE           2019-02-18           2019-02-19
-------------------------------------------------------------------------------
                            graphene              1.8.2-1              1.8.4-1
                         imagemagick           7.0.8.27-1           7.0.8.28-1
                     imagemagick-doc           7.0.8.27-1           7.0.8.28-1
                           libmagick           7.0.8.27-1           7.0.8.28-1
                      python2-pysmbc           1.0.15.8-2                    -
                xfce4-sensors-plugin              1.3.0-2             1.3.92-1


:: Different overlay package(s) in repository multilib x86_64

-------------------------------------------------------------------------------
                             PACKAGE           2019-02-18           2019-02-19
-------------------------------------------------------------------------------
                       lib32-systemd            241.155-1            241.159-1


:: Different sync package(s) in repository multilib x86_64

-------------------------------------------------------------------------------
                             PACKAGE           2019-02-18           2019-02-19
-------------------------------------------------------------------------------
                          lib32-rust             1.32.0-2             1.32.0-3
                   wine-staging-nine                4.0-1                4.1-1

No issue, everything went smoothly
Yes there was an issue. I was able to resolve it myself.(Please post your solution)
Yes i am currently experiencing an issue due to the update. (Please post about it)
Check if your mirror has already synced: