Hi community,
Welcome to our nineth testing update for 2019. These are additional package needed to our last update. So what do we have with this one?
we updated the brave browser to its latest release in standard and beta release series
some deepin packages got renewed
wine is now at 4.2
the usual python and haskell updates
We hope with all these changes Manjaro to be more efficient for you all.
---
CLT19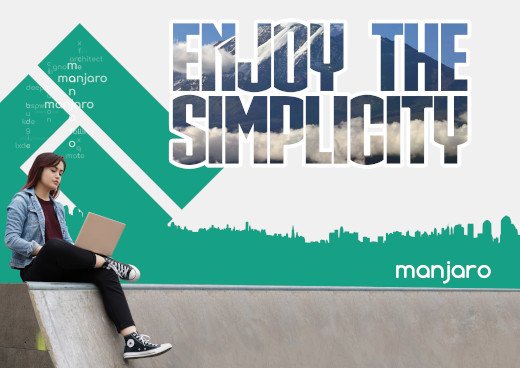 Manjaro will take part on the Chemnitz Linux Days in March this year. You may want to visit our booth with the latest Manjaro hardware and Core Developers present to answer your questions. Feel free to bring your devices if you want to have Manjaro installed on them or problems fixed from our experts.
Partnership with FCS Linux Aarhus
We are happy to announce a new partnership with FCS Linux Aarhus owned by @linux-aarhus. This enables us to offer you Laptops with Manjaro pre-installed and Manjaro Stickers you can use on your own hardware or gift them to a friend. For each sale FCS will donate a percentage to the Manjaro project.
Manjaro v18.0.2 released!
To end the year with a high note we updated our flagship ISOs of Manjaro Illyria with the latest packages. It comes with refreshed packages and updated tools. You may want to download our XFCE Edition with the latest 4.13 packages, aswell as our most recent styling efforts. Our KDE fans may try our KDE Edition with the latest KDE v5.14 instead. And our GNOME fans may try our Gnome Edition with the latest GNOME v3.30.
---
Current supported Kernels
linux316 3.16.62
linux318 3.18.134 [EOL]
linux44 4.4.167 [FZN]
linux49 4.9.158
linux414 4.14.101
linux419 4.19.22
linux420 4.20.10
linux414-rt 4.14.93_rt53
linux418-rt 4.18.16_rt9
Package Updates (Sun Feb 17 11:22:37 CET 2019)
testing community x86_64: 465 new and 476 removed package(s)
testing core x86_64: 2 new and 2 removed package(s)
testing extra x86_64: 12 new and 12 removed package(s)
testing multilib x86_64: 2 new and 2 removed package(s)
:: Different overlay package(s) in repository community x86_64

-------------------------------------------------------------------------------
                             PACKAGE           2019-02-16           2019-02-17
-------------------------------------------------------------------------------
                               brave            0.58.18-1            0.59.35-1
                          brave-beta            0.59.26-1            0.60.28-1
             breeze-maia-icon-themes             5.53.0-1             5.55.0-1


:: Different sync package(s) in repository community x86_64

-------------------------------------------------------------------------------
                             PACKAGE           2019-02-16           2019-02-17
-------------------------------------------------------------------------------
                               abcde              2.9.2-1              2.9.3-1
                                agda    2.5.99.20190207-2    2.5.99.20190207-4
                               alure                1.2-5                1.2-6
                                bamf              0.5.3-2              0.5.4-1
                              batctl             2018.4-1             2019.0-1
                                bolt                0.7-1                0.7-2
                                c2hs            0.28.6-13            0.28.6-14
                       cabal-install           2.4.0.0-44           2.4.0.0-46
                               cgrep           6.6.25-116           6.6.25-118
                                cimg              2.4.0-1              2.4.1-1
                             cryptol             2.6.0-81             2.6.0-84
                            cuetools              1.4.1-2              1.4.1-3
                               darcs             2.14.2-8            2.14.2-10
                                 dcd             0.10.2-1             0.11.2-1
                     deepin-anything              0.0.3-5              0.0.4-1
                deepin-anything-arch             0.0.3-12                    -
                deepin-anything-dkms              0.0.3-5              0.0.4-1
               deepin-control-center            4.9.2.1-1            4.9.2.1-2
                 deepin-file-manager            1:4.7.5-3            1:4.7.6-2
                   deepin-session-ui              4.8.7-2              4.8.9-1
                            dscanner              0.6.0-1              0.7.0-1
                              dtools            2.084.0-1            2.084.1-1
                              eslint             5.13.0-1             5.14.0-1
                                exim               4.91-2               4.92-1
                           git-annex        7.20190129-11        7.20190129-14
                          git-repair        1.20170626-58        1.20170626-59
                               glibd              2.0.0-5              2.0.2-1
                    gnuradio-osmosdr  0.1.4.r127.4d83c6-1  0.1.5.r127.4d83c6-1
                               gnurl             7.62.0-2             7.63.0-1
                                gqrx             2.11.5-3             2.11.5-4
                 haskell-adjunctions               4.4-63               4.4-64
                       haskell-aeson            1.4.2.0-7            1.4.2.0-9
         haskell-aeson-better-errors           0.9.1.0-98          0.9.1.0-100
                haskell-aeson-compat             0.3.9-17             0.3.9-19
                  haskell-aeson-diff            1.1.0.5-3            1.1.0.5-5
                haskell-aeson-pretty             0.8.7-50             0.8.7-52
                    haskell-aeson-qq             0.8.2-92             0.8.2-94
               haskell-asn1-encoding             0.9.5-78             0.9.5-79
                  haskell-asn1-parse             0.9.4-89             0.9.4-90
                  haskell-asn1-types             0.3.2-85             0.3.2-86
                  haskell-attoparsec          0.13.2.2-36          0.13.2.2-37
          haskell-attoparsec-iso8601           1.0.1.0-10           1.0.1.0-11
                haskell-authenticate            1.3.4-241            1.3.4-243
          haskell-authenticate-oauth               1.6-64               1.6-65
                         haskell-aws              0.21-22              0.21-24
       haskell-base-compat-batteries             0.10.5-1             0.10.5-2
                haskell-base-orphans               0.8-16               0.8-17
                  haskell-bifunctors             5.5.3-19             5.5.3-20
              haskell-binary-conduit             1.3.1-18             1.3.1-19
              haskell-binary-orphans           0.1.8.0-74           0.1.8.0-76
               haskell-binary-tagged           0.1.5.1-16           0.1.5.1-18
                  haskell-blaze-html           0.9.1.1-14           0.9.1.1-15
                haskell-blaze-markup            0.8.2.2-8            0.8.2.2-9
                  haskell-bower-json           1.0.0.1-96           1.0.0.1-98
                       haskell-■■■■■               0.46-9              0.46-10
            haskell-bsb-http-chunked           0.0.0.4-10           0.0.0.4-11
   haskell-bytestring-strict-builder           0.4.5.1-47           0.4.5.1-48
     haskell-bytestring-tree-builder           0.2.7.2-16           0.2.7.2-17
                       haskell-cairo           0.13.6.0-1           0.13.6.0-2
                     haskell-cassava           0.5.1.0-52           0.5.1.0-53
          haskell-cassava-megaparsec              2.0.0-6              2.0.0-7
                  haskell-cheapskate           0.1.1.1-23           0.1.1.1-25
                    haskell-checkers            0.4.11-18            0.4.11-19
                haskell-chunked-data             0.3.1-13             0.3.1-14
                  haskell-cipher-aes            0.2.11-77            0.2.11-78
               haskell-clash-prelude            0.99.3-19            0.99.3-20
               haskell-clientsession           0.9.1.2-90           0.9.1.2-91
                     haskell-comonad             5.0.4-21             5.0.4-22
                     haskell-concise           0.1.0.1-77           0.1.0.1-78
                     haskell-conduit             1.3.1-21             1.3.1-22
               haskell-conduit-extra             1.3.0-86             1.3.0-87
                  haskell-config-ini           0.2.4.0-10           0.2.4.0-11
                  haskell-configfile             1.1.4-49             1.1.4-50
                haskell-configurator           0.3.0.0-62           0.3.0.0-63
             haskell-configurator-ng           0.0.0.1-51           0.0.0.1-52
                  haskell-connection            0.2.8-112            0.2.8-113
                 haskell-constraints            0.10.1-16            0.10.1-17
                   haskell-cprng-aes             0.6.1-81             0.6.1-82
                     haskell-critbit           0.2.0.0-16           0.2.0.0-17
                   haskell-criterion            1.5.4.0-1            1.5.4.0-3
       haskell-criterion-measurement           0.1.1.0-23           0.1.1.0-25
         haskell-crypto-cipher-types             0.0.9-77             0.0.9-78
              haskell-crypto-numbers             0.2.7-80             0.2.7-81
               haskell-crypto-pubkey             0.2.8-93             0.2.8-94
         haskell-crypto-pubkey-types             0.4.3-81             0.4.3-82
               haskell-crypto-random             0.0.9-82             0.0.9-83
                  haskell-cryptohash            0.11.9-87            0.11.9-88
          haskell-cryptohash-conduit            0.1.1-249            0.1.1-250
        haskell-cryptohash-cryptoapi             0.1.4-39             0.1.4-40
                  haskell-cryptonite              0.25-31              0.25-32
          haskell-cryptonite-conduit            0.2.2-143            0.2.2-144
                    haskell-css-text           0.1.3.0-34           0.1.3.0-35
                  haskell-data-dword           0.3.1.2-28           0.3.1.2-29
             haskell-data-serializer             0.3.4-44             0.3.4-45
                haskell-data-textual           0.3.0.2-83           0.3.0.2-84
                         haskell-dav             1.3.3-21             1.3.3-23
                        haskell-dbus              1.2.3-5              1.2.4-1
              haskell-deferred-folds             0.9.10-8             0.9.10-9
        haskell-dense-linear-algebra            0.1.0.0-1            0.1.0.0-2
                 haskell-descriptive             0.9.5-21             0.9.5-23
                haskell-distributive               0.6-13               0.6-14
                         haskell-dns             3.0.4-48             3.0.4-49
                haskell-doctemplates           0.2.2.1-55           0.2.2.1-57
                     haskell-doctest          0.16.0.1-10          0.16.0.1-11
                        haskell-drbg             0.5.5-41             0.5.5-42
        haskell-edit-distance-vector            1.0.0.4-1            1.0.0.4-2
                      haskell-either             5.0.1-30             5.0.1-31
              haskell-email-validate           2.3.2.10-1           2.3.2.10-2
         haskell-enclosed-exceptions             1.0.3-13             1.0.3-14
                   haskell-esqueleto              2.6.0-7              2.6.0-9
                 haskell-fast-logger             2.4.13-3             2.4.13-4
                  haskell-fdo-notify            0.3.1-130            0.3.1-132
                        haskell-feed           1.0.1.0-17           1.0.1.0-18
                       haskell-foldl             1.4.5-16             1.4.5-17
                  haskell-foundation             0.0.23-1             0.0.23-2
                        haskell-free               5.1-28               5.1-29
                    haskell-fsnotify           0.3.0.1-28           0.3.0.1-29
                       haskell-gauge              0.2.4-8              0.2.4-9
            haskell-generic-deriving             1.12.3-1             1.12.3-2
          haskell-ghc-typelits-extra                0.3-9               0.3-10
       haskell-ghc-typelits-knownnat                0.6-9               0.6-10
   haskell-ghc-typelits-natnormalise              0.6.2-9             0.6.2-10
                     haskell-githash           0.1.3.1-12           0.1.3.1-14
                        haskell-glib           0.13.7.0-1           0.13.7.0-2
                      haskell-gnuidn             0.2.2-88             0.2.2-89
                    haskell-graphviz        2999.20.0.3-2        2999.20.0.3-3
                         haskell-gtk             0.15.1-2             0.15.1-3
           haskell-gtk2hs-buildtools           0.13.5.0-1           0.13.5.0-2
            haskell-hackage-security           0.5.3.0-38           0.5.3.0-39
             haskell-haddock-library             1.7.0-13             1.7.0-15
                      haskell-hakyll           4.12.5.1-5           4.12.5.1-7
                        haskell-half               0.3-10               0.3-11
               haskell-hashable-time            0.2.0.1-5            0.2.0.2-1
                  haskell-hashtables            1.2.3.1-9           1.2.3.1-10
                       haskell-hasql           1.3.0.3-45           1.3.0.3-47
                  haskell-hasql-pool            0.5.0.1-4            0.5.0.1-6
           haskell-hasql-transaction               0.7-45               0.7-47
                    haskell-hedgehog             0.6.1-17             0.6.1-18
                        haskell-here            1.2.13-52            1.2.13-53
                haskell-hjsonpointer             1.5.0-11             1.5.0-13
                 haskell-hjsonschema            1.9.0-162            1.9.0-164
                 haskell-hledger-lib             1.13.1-1             1.13.1-2
                    haskell-hopenpgp           2.7.4.1-29           2.7.4.1-31
                   haskell-hourglass            0.2.12-10            0.2.12-11
                       haskell-hpack            0.31.1-28            0.31.1-30
                    haskell-hslogger            1.2.12-12            1.2.12-13
                       haskell-hslua              1.0.2-2              1.0.2-3
           haskell-hslua-module-text             0.2.0-13             0.2.0-14
                   haskell-hsopenssl          0.11.4.16-2          0.11.4.16-3
                       haskell-hspec              2.7.0-1              2.7.0-2
               haskell-hspec-contrib              0.5.1-1              0.5.1-2
                  haskell-hspec-core              2.7.0-1              2.7.0-2
            haskell-hspec-megaparsec              2.0.0-4              2.0.0-5
            haskell-hspec-smallcheck             0.5.2-32             0.5.2-33
                   haskell-hspec-wai              0.9.2-4              0.9.2-6
              haskell-hspec-wai-json              0.9.2-5              0.9.2-7
                haskell-html-conduit             1.3.2-19             1.3.2-20
                        haskell-http        4000.3.12-115        4000.3.12-117
               haskell-http-api-data                0.4-1                0.4-2
                 haskell-http-client              0.6.1-4              0.6.1-5
             haskell-http-client-tls           0.3.5.3-96           0.3.5.3-97
                 haskell-http-common           0.8.2.0-37           0.8.2.0-38
                haskell-http-conduit              2.3.5-7              2.3.5-9
                   haskell-http-date             0.0.8-13             0.0.8-14
                haskell-http-streams           0.8.6.1-91           0.8.6.1-93
                  haskell-http-types            0.12.2-13            0.12.2-14
                       haskell-http2             1.6.4-13             1.6.4-15
                  haskell-httpd-shed           0.4.0.3-46           0.4.0.3-47
          haskell-incremental-parser            0.3.2.1-7            0.3.2.1-8
               haskell-infer-license             0.2.0-13             0.2.0-14
                         haskell-ini              0.4.1-1              0.4.1-2
   haskell-insert-ordered-containers          0.2.1.0-134          0.2.1.0-136
                 haskell-interpolate             0.2.0-60             0.2.0-61
    haskell-interpolatedstring-perl6             1.0.1-10             1.0.1-11
                   haskell-invariant             0.5.1-17             0.5.1-18
                  haskell-io-streams            1.5.1.0-2            1.5.1.0-3
          haskell-io-streams-haproxy            1.0.1.0-2            1.0.1.0-3
                     haskell-iproute              1.7.7-3              1.7.7-4
                       haskell-ipynb                0.1-3                0.1-5
                 haskell-ixset-typed            0.4.0.1-9           0.4.0.1-10
                        haskell-jose           0.7.0.0-74           0.7.0.0-76
                   haskell-js-jquery            3.3.1-185            3.3.1-187
                    haskell-json-ast             0.3.1-15             0.3.1-16
                 haskell-juicypixels              3.3.3-2              3.3.3-3
              haskell-kan-extensions               5.2-31               5.2-32
                        haskell-keys            3.12.1-31            3.12.1-32
                        haskell-lens              4.17-30              4.17-31
                  haskell-lens-aeson            1.0.2-116            1.0.2-118
                      haskell-libmpd           0.9.0.8-46           0.9.0.8-47
                     haskell-libyaml            0.1.1.0-1            0.1.1.0-2
                haskell-lifted-async          0.10.0.3-12          0.10.0.3-13
                 haskell-lifted-base          0.2.3.12-26          0.2.3.12-27
                    haskell-listlike               4.6-14               4.6-15
              haskell-logging-facade             0.3.0-32             0.3.0-33
                        haskell-loop             0.3.0-11             0.3.0-12
                       haskell-lucid             2.9.11-7             2.9.11-8
              haskell-markdown-unlit              0.5.0-3              0.5.0-4
              haskell-math-functions            0.3.1.0-4            0.3.1.0-5
                  haskell-megaparsec              7.0.4-4              7.0.4-5
                 haskell-megaparsec6              6.5.0-4              6.5.0-5
                      haskell-memory           0.14.18-11           0.14.18-12
                    haskell-memotrie             0.6.9-25             0.6.9-26
             haskell-microlens-aeson            2.3.0.1-4            2.3.0.1-6
          haskell-microlens-platform             0.3.11-6             0.3.11-7
                 haskell-microstache           1.0.1.1-74           1.0.1.1-76
                    haskell-missingh            1.4.1.0-9           1.4.1.0-10
                     haskell-mockery             0.3.5-38             0.3.5-39
               haskell-monad-control           1.0.2.3-26           1.0.2.3-27
               haskell-monad-journal             0.8.1-29             0.8.1-30
                haskell-monad-logger            0.3.30-23            0.3.30-24
                   haskell-monad-par           0.3.4.8-29           0.3.4.8-30
                haskell-monad-unlift             0.2.0-51             0.2.0-52
            haskell-mono-traversable           1.0.11.0-2           1.0.11.0-3
           haskell-monoid-subclasses            0.4.6.1-6            0.4.6.1-7
                    haskell-mustache            2.3.0-149            2.3.0-151
                  haskell-mwc-random           0.14.0.0-9          0.14.0.0-10
          haskell-neat-interpolation            0.3.2.4-4            0.3.2.4-5
                      haskell-nettle             0.3.0-25             0.3.0-26
                     haskell-network            2.8.0.0-1            2.8.0.0-2
          haskell-network-byte-order            0.0.0.0-6            0.0.0.0-7
                  haskell-network-ip           0.3.0.2-73           0.3.0.2-74
           haskell-network-multicast             0.2.0-48             0.2.0-49
       haskell-network-protocol-xmpp            0.4.8-102            0.4.8-103
            haskell-newtype-generics             0.5.3-25             0.5.3-26
                       haskell-nonce             1.0.7-42             1.0.7-43
          haskell-openpgp-asciiarmor             0.1.1-22             0.1.1-23
             haskell-openssl-streams            1.2.2.0-3            1.2.2.0-4
             haskell-optparse-simple            0.1.1.1-7            0.1.1.1-9
                haskell-pandoc-types          1.17.5.4-10          1.17.5.4-12
                       haskell-pango           0.13.6.0-1           0.13.6.0-2
                     haskell-parsers            0.12.9-21            0.12.9-22
                        haskell-path             0.6.1-79             0.6.1-81
                     haskell-path-io              1.4.2-1              1.4.2-3
                  haskell-pcre-heavy           1.0.0.2-42           1.0.0.2-43
                         haskell-pem             0.2.4-37             0.2.4-38
                  haskell-persistent              2.9.1-6              2.9.1-8
           haskell-persistent-sqlite              2.9.2-7              2.9.2-9
         haskell-persistent-template              2.6.0-3              2.6.0-5
                haskell-pgp-wordlist           0.1.0.2-33           0.1.0.2-34
                  haskell-pipes-http              1.0.6-2              1.0.6-3
                     haskell-pointed             5.0.1-67             5.0.1-68
           haskell-postgresql-binary          0.12.1.2-10          0.12.1.2-12
               haskell-prettyprinter             1.2.1-23             1.2.1-24
 haskell-prettyprinter-ansi-terminal           1.1.1.2-33           1.1.1.2-34
haskell-prettyprinter-convert-ansi-wl-pprint       1.1-30               1.1-31
              haskell-process-extras             0.7.4-38             0.7.4-39
                 haskell-profunctors               5.3-21               5.3-22
            haskell-project-template          0.2.0.1-116          0.2.0.1-117
       haskell-quickcheck-assertions             0.3.0-41             0.3.0-42
        haskell-quickcheck-instances             0.3.19-9            0.3.19-10
                      haskell-rebase               1.3-15               1.3-16
                    haskell-reducers            3.12.3-30            3.12.3-31
            haskell-reinterpret-cast             0.1.0-11             0.1.0-12
                    haskell-rerebase               1.3-15               1.3-16
                      haskell-resolv           0.1.1.1-19           0.1.1.1-20
               haskell-resource-pool           0.2.3.2-55           0.2.3.2-56
                   haskell-resourcet              1.2.2-8              1.2.2-9
                       haskell-retry           0.7.7.0-22           0.7.7.0-23
                         haskell-rio            0.1.8.0-4            0.1.8.0-5
                         haskell-rsa              2.3.1-4              2.3.1-5
             haskell-safe-exceptions           0.1.7.0-34           0.1.7.0-35
                    haskell-safecopy            0.9.4.3-3            0.9.4.3-4
                       haskell-sandi             0.4.3-17             0.4.3-18
                         haskell-sbv              7.13-14              7.13-16
                   haskell-securemem            0.1.10-39            0.1.10-40
               haskell-semigroupoids              5.3.2-3              5.3.2-4
                     haskell-servant               0.15-2               0.15-4
              haskell-servant-server              0.15-13              0.15-15
             haskell-servant-swagger              1.1.7-6              1.1.7-8
                       haskell-shake             0.17.5-5             0.17.5-7
                 haskell-shakespeare             2.0.20-8            2.0.20-10
                      haskell-shelly             1.8.1-38             1.8.1-39
        haskell-should-not-typecheck             2.1.0-27             2.1.0-28
             haskell-simple-sendfile             0.2.28-4             0.2.28-5
                  haskell-simple-smt              0.9.3-3              0.9.4-1
                  haskell-singletons              2.5.1-5              2.5.1-6
                 haskell-skylighting              0.7.6-1              0.7.6-3
            haskell-skylighting-core              0.7.6-1              0.7.6-3
                   haskell-snap-core            1.0.4.0-3            1.0.4.0-4
                 haskell-snap-server            1.1.1.0-5            1.1.1.0-9
                       haskell-socks             0.5.6-46             0.5.6-47
                   haskell-sourcemap            0.1.6-106            0.1.6-108
                        haskell-spdx                  1-4                  1-5
                    haskell-src-exts             1.21.0-1             1.21.0-2
               haskell-src-exts-util              0.2.4-6              0.2.4-7
                    haskell-src-meta           0.8.0.3-32           0.8.0.3-33
                  haskell-statistics           0.15.0.0-2           0.15.0.0-4
            haskell-storable-complex            0.2.3.0-4            0.2.3.0-5
              haskell-storable-tuple           0.0.3.3-28           0.0.3.3-29
                       haskell-store          0.4.3.2-177          0.4.3.2-178
           haskell-streaming-commons           0.2.1.0-17           0.2.1.0-18
               haskell-stringbuilder             0.5.1-39             0.5.1-40
                     haskell-success             0.2.6-36             0.2.6-37
                    haskell-swagger2            2.3.1.1-3            2.3.1.1-5
           haskell-tagstream-conduit          0.5.5.3-236          0.5.5.3-237
         haskell-tamarin-prover-term              1.4.1-2              1.4.1-3
       haskell-tamarin-prover-theory              1.4.1-3              1.4.1-5
                       haskell-tasty            1.1.0.4-6                1.2-1
      haskell-tasty-expected-failure          0.11.1.1-20          0.11.1.1-21
                haskell-tasty-golden             2.3.2-15             2.3.2-16
              haskell-tasty-hedgehog           0.2.0.0-63           0.2.0.0-64
                 haskell-tasty-hunit          0.10.0.1-32          0.10.0.1-33
            haskell-tasty-quickcheck              0.10-24              0.10-25
                 haskell-tasty-rerun            1.1.13-14             1.1.14-1
            haskell-tasty-smallcheck             0.8.1-26             0.8.1-27
                    haskell-tasty-th             0.1.7-46             0.1.7-47
                   haskell-temporary               1.3-18               1.3-19
                     haskell-texmath             0.11.2-2             0.11.2-4
                haskell-text-builder              0.6.5-2              0.6.5-3
                haskell-text-metrics             0.3.0-15             0.3.0-16
                  haskell-text-short             0.1.2-37             0.1.2-38
                 haskell-text-zipper            0.10.1-15            0.10.1-16
                  haskell-th-desugar                1.9-8                1.9-9
           haskell-th-lift-instances            0.1.11-27            0.1.11-28
                  haskell-th-orphans            0.13.6-19            0.13.6-20
                haskell-th-utilities            0.2.1.0-2            0.2.1.0-3
                         haskell-tls             1.4.1-57             1.4.1-58
         haskell-tls-session-manager           0.0.0.2-85           0.0.0.2-86
           haskell-transformers-base           0.4.5.2-24           0.4.5.2-25
                   haskell-tree-diff             0.0.2-11             0.0.2-13
                    haskell-trifecta                 2-12                 2-13
                      haskell-turtle             1.5.13-7             1.5.13-8
               haskell-typed-process            0.2.4.0-2            0.2.4.0-3
                   haskell-unix-time              0.4.5-1              0.4.5-2
                   haskell-unixutils            1.54.1-71            1.54.1-72
                    haskell-unliftio             0.2.10-2             0.2.10-3
              haskell-uri-bytestring           0.3.2.1-11           0.3.2.1-12
                      haskell-vector           0.12.0.2-3           0.12.0.2-4
           haskell-vector-algorithms            0.8.0.1-6            0.8.0.1-7
     haskell-vector-binary-instances            0.2.5.1-5            0.2.5.1-6
              haskell-vector-builder            0.3.7.2-1            0.3.7.2-2
            haskell-vector-instances               3.4-99              3.4-100
             haskell-vector-th-unbox           0.2.1.6-17           0.2.1.6-18
                         haskell-vty             5.25.1-7             5.25.1-8
                         haskell-wai              3.2.2-2              3.2.2-3
              haskell-wai-app-static          3.1.6.2-173          3.1.6.2-175
                 haskell-wai-conduit           3.0.0.4-96           3.0.0.4-97
                    haskell-wai-cors             0.2.6-75             0.2.6-76
                   haskell-wai-extra             3.0.25-4             3.0.25-6
          haskell-wai-handler-launch          3.0.2.4-126          3.0.2.4-128
                  haskell-wai-logger              2.3.4-9             2.3.4-11
       haskell-wai-middleware-static             0.8.2-52             0.8.2-53
              haskell-wai-websockets           3.0.1.2-65           3.0.1.2-66
                        haskell-warp             3.2.26-7             3.2.26-9
                    haskell-warp-tls          3.2.4.3-146          3.2.4.3-148
                  haskell-websockets           0.12.5.3-2           0.12.5.3-3
               haskell-with-location             0.1.0-32             0.1.0-33
         haskell-wl-pprint-annotated           0.1.0.1-10           0.1.0.1-11
            haskell-wl-pprint-extras           3.5.0.5-82           3.5.0.5-83
          haskell-wl-pprint-terminfo           3.7.1.4-82           3.7.1.4-83
                   haskell-word-wrap             0.4.1-33             0.4.1-34
                        haskell-wreq            0.5.3.2-7            0.5.3.2-9
                        haskell-x509              1.7.5-6              1.7.5-7
                  haskell-x509-store              1.6.7-5              1.6.7-6
                 haskell-x509-system             1.6.6-73             1.6.6-74
             haskell-x509-validation             1.6.11-5             1.6.11-6
                      haskell-xcffib             0.6.0-80              0.7.0-1
                 haskell-xml-conduit           1.8.0.1-32           1.8.0.1-33
                  haskell-xml-hamlet             0.5.0-94             0.5.0-96
                haskell-xss-sanitize             0.3.6-14             0.3.6-15
                        haskell-yaml          0.11.0.0-20          0.11.0.0-22
                       haskell-yesod            1.6.0-216            1.6.0-218
                  haskell-yesod-auth              1.6.6-1              1.6.6-3
                  haskell-yesod-core             1.6.12-1             1.6.12-3
               haskell-yesod-default            1.2.0-476            1.2.0-478
                  haskell-yesod-form             1.6.4-11             1.6.4-13
            haskell-yesod-persistent           1.6.0.1-66           1.6.0.1-68
                haskell-yesod-static           1.6.0.1-64           1.6.0.1-66
                  haskell-yesod-test             1.6.6-24             1.6.6-26
                 haskell-zip-archive                0.4-1                0.4-2
                            hasktags            0.71.2-15            0.71.2-16
                           hedgewars             0.9.25-7             0.9.25-8
                            hiawatha             10.8.3-1             10.8.4-1
                             hindent             5.2.7-68             5.2.7-70
                             hledger             1.13.2-2             1.13.2-4
                         hledger-api               1.13-8              1.13-10
                          hledger-ui             1.13.1-2             1.13.1-4
                         hledger-web              1.13-10              1.13-12
                               hlint             2.1.14-5             2.1.14-7
                              hoogle           5.0.17.5-5           5.0.17.5-7
                      hopenpgp-tools             0.21.3-7             0.21.3-9
                              hwinfo              21.58-1              21.59-1
                               idris             1.3.1-36             1.3.1-38
                                 inn              2.6.2-2              2.6.3-1
                        libextractor                1.8-1                1.9-1
                        mate-applets             1.20.2-1             1.20.3-1
                             mutagen             1.42.0-1                    -
                             netdata             1.11.1-1             1.12.0-1
                              pandoc                2.6-5                2.6-7
                     pandoc-citeproc           0.16.0.2-5           0.16.0.2-7
                     pandoc-crossref           0.3.4.0-44           0.3.4.0-46
              perl-term-readline-gnu               1.35-6               1.36-1
                            pianobar         2018.06.22-1         2019.02.14-1
                                piep              0.8.1-1              0.9.2-1
                                pius              2.2.6-1              2.2.7-1
                           postgrest              5.2.0-6              5.2.0-8
                             privoxy             3.0.26-3             3.0.27-1
                    python-cairocffi              1.0.0-1              1.0.1-1
                       python-discid              1.1.1-2              1.1.1-3
                      python-dropbox              9.0.0-1              9.1.0-1
                           python-fs              2.3.1-1              2.4.0-1
               python-jsonrpc-server              0.1.2-1              0.1.2-2
              python-language-server             0.23.2-1             0.23.2-2
                        python-magic               5.34-1               5.35-1
                  python-marshmallow             2.18.0-1             2.18.1-1
                      python-mutagen             1.42.0-1             1.42.0-2
                       python-neovim              0.3.2-1              0.3.2-2
                python-nose-randomly              1.2.5-2              1.2.6-1
             python-ovirt-engine-sdk              4.3.0-1              4.3.0-2
                python-parameterized              0.6.3-1              0.7.0-1
                        python-polib              1.1.0-2                    -
                       python-pydbus              0.6.0-2              0.6.0-3
        python-pytest-fixture-config              1.6.0-1              1.6.1-1
               python-pytest-httpbin              0.3.0-3              1.0.0-1
                python-pytest-shutil              1.6.0-1              1.6.1-1
            python-pytest-virtualenv              1.6.0-1              1.6.1-1
                      python-pywinrm              0.3.0-2              0.3.0-3
             python-requests-credssp              1.0.2-1              1.0.2-2
                python-requests-ntlm              1.1.0-2              1.1.0-3
                         python-rply              0.7.6-2              0.7.7-1
                    python-softlayer              5.6.4-1              5.7.0-1
                   python-sqlalchemy             1.2.17-1             1.2.18-1
                    python-structlog             18.2.0-1             19.1.0-1
                    python-texttable              1.6.0-1              1.6.1-1
                         python-wand              0.5.0-1              0.5.1-1
                       python-xcffib              0.6.0-3              0.7.0-1
                       python-xmlsec              1.3.3-1              1.3.4-1
                    python2-cssutils              1.0.2-2                    -
                      python2-discid              1.1.1-2                    -
                     python2-dropbox              9.0.0-1              9.1.0-1
              python2-flask-talisman              0.6.0-1                    -
                          python2-fs              2.3.1-1              2.4.0-1
              python2-jsonrpc-server              0.1.2-1                    -
             python2-language-server             0.23.2-1                    -
                       python2-magic               5.34-1               5.35-1
                 python2-marshmallow             2.18.0-1             2.18.1-1
                      python2-neovim              0.3.2-1                    -
               python2-nose-randomly              1.2.5-2              1.2.6-1
                       python2-polib              1.1.0-2                    -
                     python2-pyaudio             0.2.11-2                    -
                      python2-pydbus              0.6.0-2                    -
       python2-pytest-fixture-config              1.6.0-1              1.6.1-1
              python2-pytest-httpbin              0.3.0-3              1.0.0-1
               python2-pytest-shutil              1.6.0-1              1.6.1-1
           python2-pytest-virtualenv              1.6.0-1              1.6.1-1
                      python2-pyudev             0.21.0-4                    -
                     python2-pywinrm              0.3.0-2                    -
            python2-requests-credssp              1.0.2-1                    -
               python2-requests-ntlm              1.1.0-2                    -
                        python2-rply              0.7.6-2              0.7.7-1
                    python2-selenium            3.141.0-1                    -
                  python2-sqlalchemy             1.2.17-1             1.2.18-1
                   python2-structlog             18.2.0-1             19.1.0-1
                   python2-texttable              1.6.0-1              1.6.1-1
                      python2-xcffib              0.6.0-3              0.7.0-1
                              recoll             1.24.3-1             1.24.4-1
                           ruby-sass              3.7.2-2              3.7.3-1
                        rust-bindgen             0.47.0-1             0.47.1-1
                            sdrangel              4.4.3-1              4.4.4-1
                          shellcheck             0.6.0-41             0.6.0-43
                           shorewall              5.2.2-1              5.2.3-1
                      shorewall-core              5.2.2-1              5.2.3-1
                          shorewall6              5.2.2-1              5.2.3-1
                               stack             1.9.3-61             1.9.3-63
                             stunnel               5.49-1               5.50-1
                     stylish-haskell            0.9.2.1-6            0.9.2.1-8
                      tamarin-prover             1.4.1-22             1.4.1-24
                     tuxpaint-config             0.0.13-4             0.0.14-1
                      udp2raw-tunnel         20180225.0-3         20180225.1-1
                            umockdev               0.12-1             0.12.1-1
                              xmobar            0.29.4-19            0.29.4-22
                             you-get           0.4.1205-1           0.4.1210-1
                                   z                1.9-1               1.10-1
                  deepin-screensaver                    -              0.0.6-1
               deepin-screensaver-pp                    -              0.0.2-1
        golang-github-burntsushi-xgb                    -       0.0.20160523-1
                       mutagen-tools                    -             1.42.0-2
                network-manager-sstp                    -              1.2.6-1
                     python2-mutagen                    -             1.42.0-2


:: Different sync package(s) in repository core x86_64

-------------------------------------------------------------------------------
                             PACKAGE           2019-02-16           2019-02-17
-------------------------------------------------------------------------------
                   archlinux-keyring           20190123-1           20190123-2
                              dialog     1:1.3_20181107-1     1:1.3_20190211-1


:: Different sync package(s) in repository extra x86_64

-------------------------------------------------------------------------------
                             PACKAGE           2019-02-16           2019-02-17
-------------------------------------------------------------------------------
                               cairo             1.16.0-1             1.16.0-2
                            cbindgen              0.7.1-1              0.8.0-1
                          claws-mail             3.17.3-1             3.17.3-2
                             freetds            1.00.96-2            1.00.97-1
                 java-activation-gnu              1.1.1-3              1.1.2-1
                           java-jsch             0.1.54-1             0.1.55-1
                          latex2html             2017.2-3               2019-1
                          libspeechd              0.8.8-3              0.9.0-1
                               msmtp              1.8.2-1              1.8.3-1
                           msmtp-mta              1.8.2-1              1.8.3-1
                   speech-dispatcher              0.8.8-3              0.9.0-1
                             tomcat7             7.0.84-1             7.0.85-1


:: Different sync package(s) in repository multilib x86_64

-------------------------------------------------------------------------------
                             PACKAGE           2019-02-16           2019-02-17
-------------------------------------------------------------------------------
                 lib32-libjpeg-turbo              2.0.1-1              2.0.2-1
                                wine                4.1-1                4.2-1

No issue, everything went smoothly
Yes there was an issue. I was able to resolve it myself.(Please post your solution)
Yes i am currently experiencing an issue due to the update. (Please post about it)
Check if your mirror has already synced: