Hello there,
On a new machine with a fresh Manjaro install I started installing my software using pamac,
One of the selected packages was "wps-office-all-lang-no-internet", and I got the following error: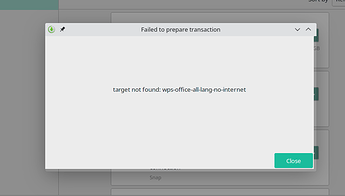 Ever since then I started to get this error every time I try to install/build an AUR package.
Logs:
Preparing...
Checking xfe dependencies...
Resolving dependencies...
Checking inter-conflicts...
Failed to prepare transaction:
target not found: wps-office-all-lang-no-internet

It works fine from the command line,
sudo pamac install xfe
Please inform me on any additional info that is needed.
I would appreciate any help, thanks.