Hello.
I'm experiencing something that didn't happened before last update (or the update before? I don't recall after which update, but a month ago everything was fine).
During updates and even after an update the system becomes unresponsive for a few minutes. Everything freezes, the cooling fans begin to spin and nothing happens. After ~5 minutes the system unfreezes and everything is working as expected. This happens during and after pacman and pamac updates.
I did some investigations, run htop during update and made a screenshot during the freeze and after a few minutes (after the system unfroze) this landed in my clipboard.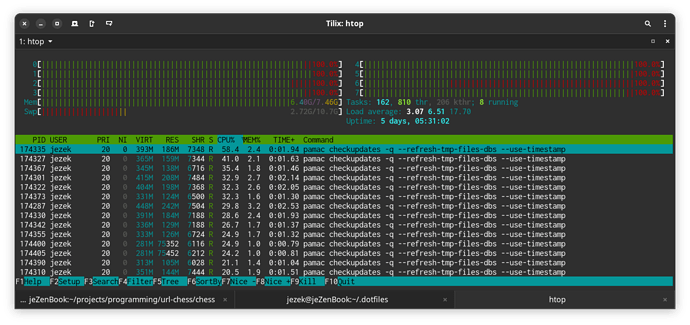 There are tons of pamac checkupdates -q --refresh-tmp-files-dbs --use-timestamp running commands which are causing the freezes.
Does anyone has a similar troubles or does anyone know why this happens to me and how to prevent it?
Thank you.
Note: I'm using fully updated manjaro gnome with btrfs and timeshift is setup to make a snapshot during updates.
Edit: pacmac → pamac typo