Preamble
A common issue for help requests is the user not seeing the announcements and more importantly, at least concerning help requests, the wiki posts accompanying the announcements.
I'd like to put forward a Feature Request to help remedy that a bit. Nothing can replace the user taking an active role in updating their systems on a rolling release and keeping apprised of important changes and fixes/workarounds.
The Concept
Obviously there have been efforts to put this information more upfront for the user who is unaware that such announcements for each release are posted on the forums.
Octopi has a tab for news. Which is a good idea but I think there's a better way.
EndeavourOS (And I believe Antergos before) had an Arch-like icon in the tray that would alert you to news and important interventions needed for updates.
While a good idea to get those important pieces of information in-front of the user it was spammy.
Here' a couple of screenshots from EndeavourOS (Kindly provided by @kdemeoz

)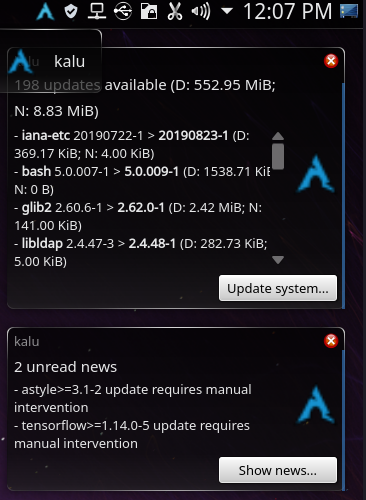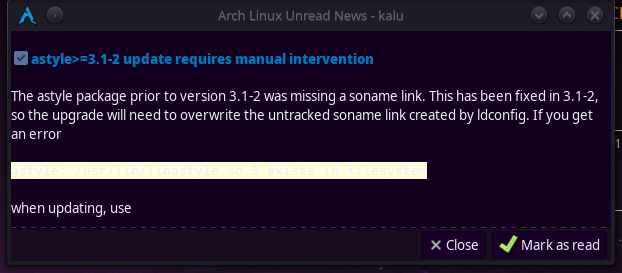 The Feature Request Suggestion
@linux-aarhus has a great post about setting up rss feeds to help get that info to the user. Sadly I doubt many will use this excellent guide if even knowing the announcements are there is beyond their knowledge.

My thought was this. By using that rss feed technology, making some sort of tray notification that works with pamac notifier. So that when pamac does the check for updates (Default is every 6 hours I believe?) it lets the user know there is updates as it always has but it also lets them know there is an announcement to be read.
Unless it's something that people think should be included, I don't think it should pull the whole announcements/wiki post down (Let's not tax the forums anymore than they are). It gets into spammy territory like the EndeavourOS tray alert. Just a clickable notification that opens the web browser. Or heck, it doesn't even need to be clickable really, although that would be optimal, just a notice to please see the Announcements section of the forums for complete information.
Wrapping up
I honestly think this is a good way to help with some of the help issues. Many of the helpers and mods end up merely linking wiki posts in thread after thread for people who honestly have no idea this information exists.
I think as long as there is a way to turn the notification off easily then it would do much more good than harm. Enjoy the Simplicity should also help get the users involved or at least informed.
I can't code but I would be willing to help in any way I can. If it's something I can do, I'll do it.
I hope I haven't wasted your time.
Thanks for reading.
Fire away.