The articel shows thats a feature from CPU's above kabylake, but i have skylake.
I'm just curious about it. I just want to know if this could lead to a security problem.
I had a scary Nvidia GPU issue on my system since updating, I think I should share it here.
that something crashes is always possible, but i'm concerned because even a crashed instance should have a pid and there is no if i search vor with 'ps -ax'. that's a serious problem in my mind. every instance should have a pid nevertheless if it's working or stuck.
Not sure, how you define 'crash'. For me, if an app crashes, it aborts and stops. In that case, there is no process anymore and hence no pid. There still might be some graphical remnants displayed on the screen/desktop, but this is only due to a bug in the window manager and does not imply, that the app, or parts of it are still running.
There are other situations where an app encounters a (serious) error, which is somehow handled by the app. In that case the app is still running, i.e. it's NOT crashed. It might, however, be unresponsive, but you will be able to find a pid for it.
If set "Icon View" in System Settings, then there are two "Global Theme" in Appearance: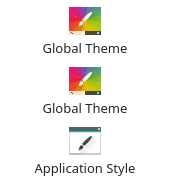 I can confirm this.

Current info:
KDE Plasma Version: 5.22.5
KDE Frameworks Version: 5.87.0
Qt Version: 5.15.2
Kernel Version: 5.14.10-1-MANJARO (64-bit)
Graphics Platform: X11

Sometimes if a couple users sees that, it is not means that all does: it is the case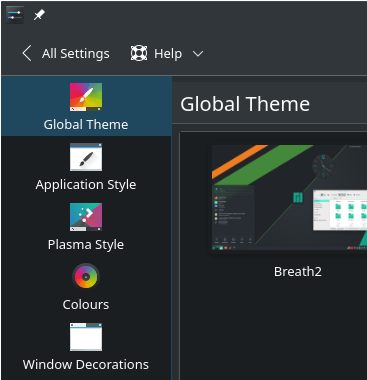 Operating System: Manjaro Linux
KDE Plasma Version: 5.23.1
KDE Frameworks Version: 5.87.0
Qt Version: 5.15.2
Kernel Version: 5.15.0-1-MANJARO (64-bit)
Graphics Platform: X11

I even restarted a system setting window after change to icon view.
Global theme: Breeze Dark.
winnie you are so advanced and you are not in the unstable branch? unstable got 5.23.1 a long time ago.
Could be some 5.22-specific issue though… Let me check
UPD: I can confirm this as well. Not sure if it's our or KDE bug…
Do I need still? It's upstream bug that's fixed in 5.23.
Latte dock 0.10.3 is released. Can we have that one in the stable branch soon ?
Thanks.
I'm pretty sure you've been around long enough to know how things work.

Well, I see that Latte dock 0.13.3 is in the testing branch. No problem, I will waiting that it be available in the next stable branch.

After update soundcard is not detected. Bluetooth audio works fine but no onboard devices, neither speaker nor mic.
I tried to switch to pipe wire but this made no difference.
Installing sof-firmware brought audio back but audio control keys are not working; speaker mute, mic mute, volume up, volume down.
I suspect this is kde related but I don't know which package(s) to downgrade.
EDIT: So above was all done late last night, or rather early this morning. Testing now after after a few hour of sleep it is all working. The solution is to install sof-firmware
AltGr +shift + z(or x) does not show less than and greater than symbols anymore.
I am using gnome 40 Wayland sesion and a spanish keyboard with Spanish layout (Spain) 3 weeks ago, before the update the symbols < and > use to work just fine but after the update there changed to the "smaller" versions used for quotes ‹ and ›
Haven't been able to fix this. Any suggestions?