Hello community,
I am happy to announce another Stable Update.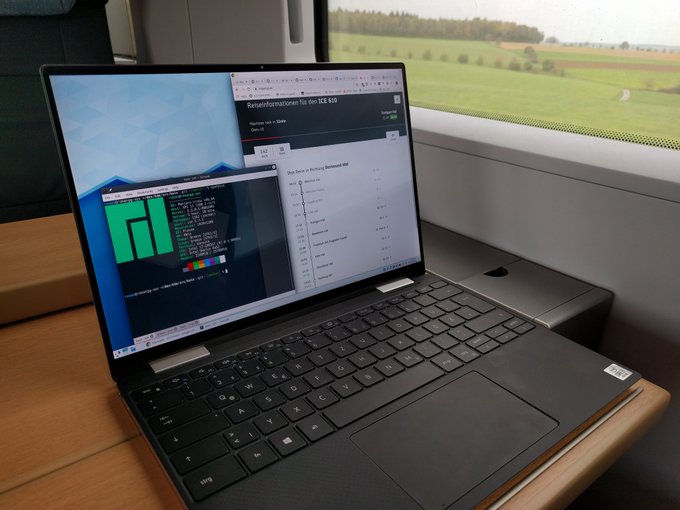 With this we have rebuilt most of our Kernels with extramodules and ship the latest packages of KDE-Plasma 5.17.2
If you like following latest Plasma development you may also like to check out our current version of manjaro-kde-vanilla, which we build on a regular basis against kde-git master packages.
As always we appreciate your input and feedback for the updates.
---
Our current supported kernels:
linux316 3.16.76
linux44 4.4.198 (no legacy nvidia-340 module!)
linux49 4.9.198
linux414 4.14.151
linux419 4.19.81
linux52 5.2.21 [EOL] (no catalyst module!)
linux53 5.3.8 (no catalyst module!)
linux54 5.4.0-rc5 (not all modules build yet!)
linux419-rt 4.19.72_rt26
linux52-rt 5.2.21_rt13
Package Changes (Thu Oct 31 17:25:03 CET 2019)
stable community x86_64: 422 new and 419 removed package(s)
stable core x86_64: 28 new and 28 removed package(s)
stable extra x86_64: 321 new and 322 removed package(s)
stable multilib x86_64: 4 new and 4 removed package(s)
Detailed list of changes:
:: Different overlay package(s) in repository community x86_64

-------------------------------------------------------------------------------
                             PACKAGE           2019-10-28           2019-11-05
-------------------------------------------------------------------------------
                   alpm-octopi-utils              1.0.1-3              1.0.2-1
                          attica-git5.64.0.r720.gc2cf236-15.64.0.r722.g92686a0-1
                           baloo-git5.64.0.r2659.g2076190c-15.64.0.r2662.g363fcf36-1
                       bluedevil-git5.17.80.r2027.g1adbd6d7-15.17.80.r2029.g405d1294-1
                        bluez-qt-git5.64.0.r564.gd543051-15.64.0.r566.g6f38115-1
                          breeze-git5.17.80.r1893.g621a4a40-15.17.80.r1895.g4a6da365-1
                      breeze-gtk-git5.17.80.r353.g91c16f2-15.17.80.r358.g51968f9-1
                        discover-git5.17.80.r7414.g5d1b3718-15.17.80.r7433.gffd8813e-1
                         drkonqi-git5.17.80.r449.gfff04078-15.17.80.r451.g5599273f-1
                         edid-decode       r204.ad20c30-1       r205.3a6108a-1
             extra-cmake-modules-git5.64.0.r3109.gfd6e98b-15.64.0.r3113.gd281074-1
            frameworkintegration-git5.64.0.r480.g5f45eb0-15.64.0.r482.g3f52a3b-1
                     kactivities-git5.64.0.r1252.g41f1aa00-15.64.0.r1254.g6f6111dd-1
               kactivities-stats-git5.64.0.r250.g61ece45-15.64.0.r252.g81650c7-1
               kactivitymanagerd-git5.15.80.r1243.gc7286de-15.15.80.r1248.gef0adc9-1
                        karchive-git5.64.0.r390.gff04258-15.64.0.r395.g863d399-1
                           kauth-git5.64.0.r314.gf5cc4e8-15.64.0.r316.g1e9cb93-1
                      kbookmarks-git5.64.0.r287.g06de7be-15.64.0.r289.g813d8bb-1
                        kcmutils-git5.64.0.r335.g1b4ac1c-15.64.0.r342.gf2f04d6-1
                         kcodecs-git5.64.0.r277.g0141f96-15.64.0.r279.gd61e8a6-1
                     kcompletion-git5.64.0.r326.g5076762-15.64.0.r328.g3ae266b-1
                         kconfig-git5.64.0.r609.gd704d7a-15.64.0.r614.g8d29e26-1
                  kconfigwidgets-git5.64.0.r405.gbb97a37-15.64.0.r408.g0762203-1
                     kcoreaddons-git5.64.0.r891.gff99d35-15.64.0.r896.g31118e2-1
                          kcrash-git5.64.0.r268.g4a1362d-15.64.0.r270.g75abc57-1
                     kdbusaddons-git5.64.0.r280.gc7be75b-15.64.0.r282.g5fd1ab6-1
                  kde-gtk-config-git5.17.80.r736.gace3259-15.17.80.r738.g59ad3f6-1
                    kdeclarative-git5.64.0.r711.g3ea5611-15.64.0.r717.gb2c1a64-1
                            kded-git5.64.0.r279.gb9d9ac7-15.64.0.r281.gbf0268c-1
                 kdelibs4support-git5.64.0.r904.g8f9d9f65-15.64.0.r906.g0eaef280-1
                kdeplasma-addons-git5.17.80.r8185.gb91b56d28-15.17.80.r8196.ge2d584a13-1
                           kdesu-git5.64.0.r367.gebc428c-15.64.0.r369.g70cf592-1
                          kdnssd-git5.64.0.r234.g0b9088a-15.64.0.r236.g666285c-1
                       kdoctools-git5.64.0.r504.g3b50090-15.64.0.r506.g51c7e65-1
                      kemoticons-git5.64.0.r289.gb583e9d-15.64.0.r291.ge51463a-1
                   kfilemetadata-git5.64.0.r653.g22c2cd9-15.64.0.r655.g8a3b8d8-1
                         kgamma5-git5.17.80.r400.g6ac09de-15.17.80.r401.g867ea36-1
                    kglobalaccel-git5.64.0.r327.g3b3402d-15.64.0.r329.gc276a74-1
                      kguiaddons-git5.64.0.r248.gf69fb55-15.64.0.r250.g8d5834a-1
                       kholidays-git5.64.0.r826.gf057dd8-15.64.0.r828.g4776377-1
                           khtml-git5.64.0.r471.gf18eeec-15.64.0.r473.g90f610a-1
                           ki18n-git5.64.0.r355.g9aab9cc-15.64.0.r358.g165484c-1
                     kiconthemes-git5.64.0.r387.g1afb596-15.64.0.r390.ga77ebe3-1
                       kidletime-git5.64.0.r224.g324688e-15.64.0.r226.g845fc3d-1
                   kimageformats-git5.57.0.r247.gdd98b2b-15.57.0.r249.gbdf23e4-1
                     kinfocenter-git5.17.80.r1566.ga6f36b6-15.17.80.r1569.gf5afde7-1
                           kinit-git5.64.0.r312.gffac452-15.64.0.r314.g9eed491-1
                             kio-git5.64.0.r3638.gde3ca85f-15.64.0.r3650.gc3dded12-1
                       kirigami2-git5.64.0.r1960.ge20eef08-15.64.0.r1967.g481f72d9-1
                     kitemmodels-git5.64.0.r374.gecaa9e1-15.64.0.r376.g1d9d288-1
                      kitemviews-git5.64.0.r243.gb3073b4-15.64.0.r245.g5eb579e-1
                     kjobwidgets-git5.64.0.r266.ga45eb1e-15.64.0.r268.g6e96100-1
                             kjs-git5.64.0.r243.g0ad8989-15.64.0.r250.g3546510-1
                    kmediaplayer-git5.64.0.r211.gc63efa2-15.64.0.r213.ge69a075-1
                      knetattach-git5.17.80.r7015.g8b9511db3-15.17.80.r7044.g0b8ef770d-1
                       knewstuff-git5.64.0.r710.gf21a3f8-15.64.0.r714.g6c40709-1
                  knotifications-git5.64.0.r469.g6e0fb81-15.64.0.r471.g4875b7f-1
                   knotifyconfig-git5.64.0.r252.g79d485b-15.64.0.r254.g615451a-1
                        kpackage-git5.64.0.r540.g95906c6-15.64.0.r542.gfce9bb3-1
                          kparts-git5.64.0.r350.ge1caa55-15.64.0.r357.g58722fa-1
                         kpeople-git5.64.0.r1211.g414261e-15.64.0.r1215.g1bc7b0b-1
                       kplotting-git5.64.0.r210.g1627b67-15.64.0.r212.g1a2fd7a-1
                            kpty-git5.64.0.r231.g988460d-15.64.0.r233.gee4216f-1
                           kross-git5.64.0.r255.g5e17d50-15.64.0.r257.gd992499-1
                         krunner-git5.64.0.r384.gbe15717-15.64.0.r385.ga30df4b-1
                   kscreenlocker-git5.17.80.r739.g8bcb0ec-15.17.80.r741.g33e21fb-1
                        kservice-git5.64.0.r695.ga631243-15.64.0.r700.gda9563c-1
                     ksshaskpass-git5.17.80.r144.g263957e-15.17.80.r145.g99b444d-1
                       ksysguard-git5.17.80.r3170.gf9255000-15.17.80.r3174.g75c0b315-1
                     ktexteditor-git5.64.0.r2266.g03ce7332-15.64.0.r2281.g11ebecd1-1
                    ktextwidgets-git5.64.0.r276.gb5252fc-15.64.0.r279.g9575f45-1
                 kunitconversion-git5.64.0.r277.gfb71cd2-15.64.0.r279.gf49bb5f-1
                         kwallet-git5.64.0.r924.g3a86b4b-15.64.0.r927.geff45af-1
                        kwayland-git5.64.0.r956.ga45233a-15.64.0.r958.gad18d27-1
                  kwidgetsaddons-git5.64.0.r606.gd400413-15.64.0.r608.ga2adad2-1
                            kwin-git5.17.80.r17440.g69a3517e0-15.17.80.r17464.ga0d98a61c-1
                   kwindowsystem-git5.64.0.r474.ge04d00f-15.64.0.r476.g6ea4f60-1
                         kwrited-git5.17.80.r408.gf1bde59-15.17.80.r409.gd873d5d-1
                         kxmlgui-git5.64.0.r558.ge9387f5-15.64.0.r563.g1b802df-1
                   kxmlrpcclient-git5.64.0.r367.gcd688f7bc-15.64.0.r369.gccf44068d-1
                            libcpuid 0.4.1.r20.g69ed754-1 0.4.1.r24.ga7d14af-1
                      libkscreen-git5.17.80.r1492.gf948b5b-15.17.80.r1493.gee67653-1
                    libksysguard-git5.17.80.r1744.gd79c8e8-15.17.80.r1746.g482808c-1
                         linux419-rt       4.19.72_rt26-1       4.19.72_rt26-2
               linux419-rt-acpi_call              1.1.0-8              1.1.0-9
                linux419-rt-bbswitch                0.8-8                0.8-9
             linux419-rt-broadcom-wl       6.30.223.271-8       6.30.223.271-9
                linux419-rt-catalyst      1:15.201.1151-8      1:15.201.1151-9
                 linux419-rt-headers       4.19.72_rt26-1       4.19.72_rt26-2
            linux419-rt-nvidia-340xx            340.107-8            340.107-9
            linux419-rt-nvidia-390xx            390.129-4            390.129-5
            linux419-rt-nvidia-418xx             418.88-3             418.88-4
            linux419-rt-nvidia-430xx             430.40-3             430.40-4
            linux419-rt-nvidia-435xx             435.21-3             435.21-4
            linux419-rt-nvidia-440xx             440.26-1             440.26-2
                linux419-rt-nvidiabl               0.88-8               0.88-9
                   linux419-rt-r8168           8.047.02-4           8.047.02-5
                linux419-rt-tp_smapi               0.43-4               0.43-5
             linux419-rt-vhba-module           20190831-3           20190831-4
linux419-rt-virtualbox-guest-modules             6.0.14-1             6.0.14-2
 linux419-rt-virtualbox-host-modules             6.0.14-1             6.0.14-2
                          linux52-rt        5.2.21_rt13-1        5.2.21_rt13-2
                linux52-rt-acpi_call              1.1.0-6              1.1.0-7
                 linux52-rt-bbswitch                0.8-6                0.8-7
              linux52-rt-broadcom-wl       6.30.223.271-6       6.30.223.271-7
                  linux52-rt-headers        5.2.21_rt13-1        5.2.21_rt13-2
             linux52-rt-nvidia-340xx            340.107-6            340.107-7
             linux52-rt-nvidia-390xx            390.129-6            390.129-7
             linux52-rt-nvidia-418xx             418.88-6             418.88-7
             linux52-rt-nvidia-430xx             430.40-6             430.40-7
             linux52-rt-nvidia-435xx             435.21-5             435.21-6
             linux52-rt-nvidia-440xx             440.26-1             440.26-2
                 linux52-rt-nvidiabl               0.88-6               0.88-7
                    linux52-rt-r8168           8.047.02-6           8.047.02-7
                linux52-rt-rtl8723bu    4.3.9.3.13200.0-5    4.3.9.3.13200.0-6
                 linux52-rt-tp_smapi               0.43-7               0.43-8
              linux52-rt-vhba-module           20190831-5           20190831-6
 linux52-rt-virtualbox-guest-modules             6.0.14-1             6.0.14-2
  linux52-rt-virtualbox-host-modules             6.0.14-1             6.0.14-2
               manjaro-arm-installer              1.2.6-1              1.2.7-1
                manjaro-gdm-branding           20191024-1           20191029-1
manjaro-gnome-extension-settings-18.0           20191024-1           20191029-1
         manjaro-gnome-settings-18.0           20191025-2           20191029-1
                           milou-git5.17.80.r655.geda3d27-15.17.80.r657.gb5ed858-1
                 modemmanager-qt-git5.64.0.r433.gb00077a-15.64.0.r435.gf7cea6d-1
                                 mpv          1:0.29.1-11                    -
               networkmanager-qt-git5.64.0.r1015.g63e806c-15.64.0.r1017.g86bfd7e-1
                              octopi             0.9.0-17             0.9.0-18
          octopi-notifier-frameworks             0.9.0-17             0.9.0-18
                 octopi-notifier-qt5             0.9.0-17             0.9.0-18
                        palemoon-bin             28.7.1-1             28.7.2-1
                    palemoon-i18n-ar             28.7.1-1             28.7.2-1
                    palemoon-i18n-bg             28.7.1-1             28.7.2-1
                    palemoon-i18n-cs             28.7.1-1             28.7.2-1
                    palemoon-i18n-da             28.7.1-1             28.7.2-1
                    palemoon-i18n-de             28.7.1-1             28.7.2-1
                    palemoon-i18n-el             28.7.1-1             28.7.2-1
                 palemoon-i18n-en-gb             28.7.1-1             28.7.2-1
                 palemoon-i18n-es-ar             28.7.1-1             28.7.2-1
                 palemoon-i18n-es-es             28.7.1-1             28.7.2-1
                 palemoon-i18n-es-mx             28.7.1-1             28.7.2-1
                    palemoon-i18n-fi             28.7.1-1             28.7.2-1
                    palemoon-i18n-fr             28.7.1-1             28.7.2-1
                    palemoon-i18n-gl             28.7.1-1             28.7.2-1
                    palemoon-i18n-hr             28.7.1-1             28.7.2-1
                    palemoon-i18n-hu             28.7.1-1             28.7.2-1
                    palemoon-i18n-id             28.7.1-1             28.7.2-1
                    palemoon-i18n-is             28.7.1-1             28.7.2-1
                    palemoon-i18n-it             28.7.1-1             28.7.2-1
                    palemoon-i18n-ja             28.7.1-1             28.7.2-1
                    palemoon-i18n-kn             28.7.1-1             28.7.2-1
                    palemoon-i18n-ko             28.7.1-1             28.7.2-1
                    palemoon-i18n-nl             28.7.1-1             28.7.2-1
                    palemoon-i18n-pl             28.7.1-1             28.7.2-1
                 palemoon-i18n-pt-br             28.7.1-1             28.7.2-1
                 palemoon-i18n-pt-pt             28.7.1-1             28.7.2-1
                    palemoon-i18n-ro             28.7.1-1             28.7.2-1
                    palemoon-i18n-ru             28.7.1-1             28.7.2-1
                    palemoon-i18n-sk             28.7.1-1             28.7.2-1
                    palemoon-i18n-sl             28.7.1-1             28.7.2-1
                    palemoon-i18n-sr             28.7.1-1             28.7.2-1
                 palemoon-i18n-sv-se             28.7.1-1             28.7.2-1
                    palemoon-i18n-tl             28.7.1-1             28.7.2-1
                    palemoon-i18n-tr             28.7.1-1             28.7.2-1
                    palemoon-i18n-uk             28.7.1-1             28.7.2-1
                    palemoon-i18n-vi             28.7.1-1             28.7.2-1
                 palemoon-i18n-zh-cn             28.7.1-1             28.7.2-1
                 palemoon-i18n-zh-tw             28.7.1-1             28.7.2-1
      plasma-browser-integration-git5.17.80.r942.gfcfab76f-15.17.80.r946.g428197fb-1
                  plasma-desktop-git5.17.80.r7015.g8b9511db3-15.17.80.r7044.g0b8ef770d-1
                plasma-framework-git5.64.0.r15275.g12edce87b-15.64.0.r15281.ge3abfcfc1-1
              plasma-integration-git5.17.80.r436.g5cad9b0-15.17.80.r438.ge37cd4d-1
                       plasma-nm-git5.17.80.r2692.g6dfa9704-15.17.80.r2699.g2f597573-1
                       plasma-pa-git5.17.80.r775.gd9eb1ad-15.17.80.r777.ga8a8749-1
                    plasma-vault-git5.17.80.r236.g9a02f98-15.17.80.r237.g49bba96-1
          plasma-wayland-session-git5.17.80.r8429.ga53e8065f-15.17.80.r8452.gee25d4705-1
                plasma-workspace-git5.17.80.r8429.ga53e8065f-15.17.80.r8452.gee25d4705-1
     plasma-workspace-wallpapers-git5.17.80.r169.g5941105-15.17.80.r170.g8c68a76-1
                polkit-kde-agent-git5.17.80.r420.g70949ea-15.17.80.r421.gb4a2202-1
                             polybar              3.4.0-5              3.4.1-1
                      powerdevil-git5.16.80.r2207.g37c44b33-15.17.80.r2218.g1e0baeaa-1
                          prison-git5.64.0.r222.g0528ec9-15.64.0.r225.gc985f95-1
              qqc2-desktop-style-git5.64.0.r302.gbeba369-15.64.0.r307.g5dc1c74-1
                           solid-git5.64.0.r514.g330f6f5-15.64.0.r516.g98fc2f5-1
                          sonnet-git5.64.0.r490.ga418820-15.64.0.r494.gbe0414d-1
                     syndication-git5.64.0.r726.gd29810a-15.64.0.r728.g4bfc1db-1
             syntax-highlighting-git5.64.0.r1034.g0b6e014-15.64.0.r1041.g467bea3-1
                  systemsettings-git5.17.80.r2141.g1f929dda-15.17.80.r2144.g0584eb76-1
                    threadweaver-git5.64.0.r413.g74ecaf2-15.64.0.r416.g709f834-1
                    user-manager-git5.17.80.r458.g0468922-15.17.80.r459.gb5da60d-1
        konsole-colorscheme-matchama                    -           20191029-1
         konversation-theme-matchama                    -           20191029-1
              kvantum-theme-matchama                    -           20191029-1
               linux419-rt-rtl8723bu                    -   4.3.9.3.13200.0-56
                        matchama-kde                    -           20191029-1
             matchama-kde-wallpapers                    -           20191029-1
                 whatsapp-online-jak                    -             v1.0.1-1
               yakuake-skin-matchama                    -           20191029-1


:: Different sync package(s) in repository community x86_64

-------------------------------------------------------------------------------
                             PACKAGE           2019-10-28           2019-11-05
-------------------------------------------------------------------------------
                      acpi_call-dkms            1.1.0-254            1.1.0-255
                             alembic             1.7.11-2             1.7.12-1
                               arcus              4.3.0-1              4.3.0-2
                              autofs              5.1.4-3              5.1.6-1
                         bitcoin-cli             0.18.1-2             0.18.1-3
                      bitcoin-daemon             0.18.1-2             0.18.1-3
                          bitcoin-qt             0.18.1-2             0.18.1-3
                          bitcoin-tx             0.18.1-2             0.18.1-3
                             blender            17:2.80-6            17:2.80-7
                             buildah             1.11.3-1             1.11.4-1
                             busybox             1.30.1-4             1.31.1-1
                             calibre              4.1.0-1              4.2.0-2
                              cereal              1.2.2-5              1.3.0-1
                               chafa              1.2.1-1              1.2.1-2
                          clementine1.3.1.r771.75f18dab2-11.3.1.r831.664c5a31f-2
                          cockatrice              2.7.2-1              2.7.2-2
                            collectd              5.9.2-1              5.9.2-2
                              conmon            1:2.0.1-1            1:2.0.2-1
                          converseen            0.9.7.2-3            0.9.7.2-4
                                cuda           10.1.243-1           10.1.243-2
                          curaengine              4.3.0-1              4.3.0-2
                      dnscrypt-proxy             2.0.28-1             2.0.30-1
                           dvdauthor              0.7.2-5              0.7.2-6
                            electron              6.1.1-1              7.0.0-1
                           etckeeper            1.18.10-1            1.18.10-3
                           etherwall              2.4.0-1              2.4.0-2
           firefox-developer-edition             71.0b4-1             71.0b5-1
  firefox-developer-edition-i18n-ach             71.0b4-1             71.0b5-1
   firefox-developer-edition-i18n-af             71.0b4-1             71.0b5-1
   firefox-developer-edition-i18n-an             71.0b4-1             71.0b5-1
   firefox-developer-edition-i18n-ar             71.0b4-1             71.0b5-1
  firefox-developer-edition-i18n-ast             71.0b4-1             71.0b5-1
   firefox-developer-edition-i18n-az             71.0b4-1             71.0b5-1
   firefox-developer-edition-i18n-be             71.0b4-1             71.0b5-1
   firefox-developer-edition-i18n-bg             71.0b4-1             71.0b5-1
   firefox-developer-edition-i18n-bn             71.0b4-1             71.0b5-1
   firefox-developer-edition-i18n-br             71.0b4-1             71.0b5-1
   firefox-developer-edition-i18n-bs             71.0b4-1             71.0b5-1
   firefox-developer-edition-i18n-ca             71.0b4-1             71.0b5-1
  firefox-developer-edition-i18n-cak             71.0b4-1             71.0b5-1
   firefox-developer-edition-i18n-cs             71.0b4-1             71.0b5-1
   firefox-developer-edition-i18n-cy             71.0b4-1             71.0b5-1
   firefox-developer-edition-i18n-da             71.0b4-1             71.0b5-1
   firefox-developer-edition-i18n-de             71.0b4-1             71.0b5-1
  firefox-developer-edition-i18n-dsb             71.0b4-1             71.0b5-1
   firefox-developer-edition-i18n-el             71.0b4-1             71.0b5-1
firefox-developer-edition-i18n-en-ca             71.0b4-1             71.0b5-1
firefox-developer-edition-i18n-en-gb             71.0b4-1             71.0b5-1
firefox-developer-edition-i18n-en-us             71.0b4-1             71.0b5-1
   firefox-developer-edition-i18n-eo             71.0b4-1             71.0b5-1
firefox-developer-edition-i18n-es-ar             71.0b4-1             71.0b5-1
firefox-developer-edition-i18n-es-cl             71.0b4-1             71.0b5-1
firefox-developer-edition-i18n-es-es             71.0b4-1             71.0b5-1
firefox-developer-edition-i18n-es-mx             71.0b4-1             71.0b5-1
   firefox-developer-edition-i18n-et             71.0b4-1             71.0b5-1
   firefox-developer-edition-i18n-eu             71.0b4-1             71.0b5-1
   firefox-developer-edition-i18n-fa             71.0b4-1             71.0b5-1
   firefox-developer-edition-i18n-ff             71.0b4-1             71.0b5-1
   firefox-developer-edition-i18n-fi             71.0b4-1             71.0b5-1
   firefox-developer-edition-i18n-fr             71.0b4-1             71.0b5-1
firefox-developer-edition-i18n-fy-nl             71.0b4-1             71.0b5-1
firefox-developer-edition-i18n-ga-ie             71.0b4-1             71.0b5-1
   firefox-developer-edition-i18n-gd             71.0b4-1             71.0b5-1
   firefox-developer-edition-i18n-gl             71.0b4-1             71.0b5-1
   firefox-developer-edition-i18n-gn             71.0b4-1             71.0b5-1
firefox-developer-edition-i18n-gu-in             71.0b4-1             71.0b5-1
   firefox-developer-edition-i18n-he             71.0b4-1             71.0b5-1
firefox-developer-edition-i18n-hi-in             71.0b4-1             71.0b5-1
   firefox-developer-edition-i18n-hr             71.0b4-1             71.0b5-1
  firefox-developer-edition-i18n-hsb             71.0b4-1             71.0b5-1
   firefox-developer-edition-i18n-hu             71.0b4-1             71.0b5-1
firefox-developer-edition-i18n-hy-am             71.0b4-1             71.0b5-1
   firefox-developer-edition-i18n-ia             71.0b4-1             71.0b5-1
   firefox-developer-edition-i18n-id             71.0b4-1             71.0b5-1
   firefox-developer-edition-i18n-is             71.0b4-1             71.0b5-1
   firefox-developer-edition-i18n-it             71.0b4-1             71.0b5-1
   firefox-developer-edition-i18n-ja             71.0b4-1             71.0b5-1
   firefox-developer-edition-i18n-ka             71.0b4-1             71.0b5-1
  firefox-developer-edition-i18n-kab             71.0b4-1             71.0b5-1
   firefox-developer-edition-i18n-kk             71.0b4-1             71.0b5-1
   firefox-developer-edition-i18n-km             71.0b4-1             71.0b5-1
   firefox-developer-edition-i18n-kn             71.0b4-1             71.0b5-1
   firefox-developer-edition-i18n-ko             71.0b4-1             71.0b5-1
  firefox-developer-edition-i18n-lij             71.0b4-1             71.0b5-1
   firefox-developer-edition-i18n-lt             71.0b4-1             71.0b5-1
   firefox-developer-edition-i18n-lv             71.0b4-1             71.0b5-1
   firefox-developer-edition-i18n-mk             71.0b4-1             71.0b5-1
   firefox-developer-edition-i18n-mr             71.0b4-1             71.0b5-1
   firefox-developer-edition-i18n-ms             71.0b4-1             71.0b5-1
   firefox-developer-edition-i18n-my             71.0b4-1             71.0b5-1
firefox-developer-edition-i18n-nb-no             71.0b4-1             71.0b5-1
firefox-developer-edition-i18n-ne-np             71.0b4-1             71.0b5-1
   firefox-developer-edition-i18n-nl             71.0b4-1             71.0b5-1
firefox-developer-edition-i18n-nn-no             71.0b4-1             71.0b5-1
   firefox-developer-edition-i18n-oc             71.0b4-1             71.0b5-1
firefox-developer-edition-i18n-pa-in             71.0b4-1             71.0b5-1
   firefox-developer-edition-i18n-pl             71.0b4-1             71.0b5-1
firefox-developer-edition-i18n-pt-br             71.0b4-1             71.0b5-1
firefox-developer-edition-i18n-pt-pt             71.0b4-1             71.0b5-1
   firefox-developer-edition-i18n-rm             71.0b4-1             71.0b5-1
   firefox-developer-edition-i18n-ro             71.0b4-1             71.0b5-1
   firefox-developer-edition-i18n-ru             71.0b4-1             71.0b5-1
   firefox-developer-edition-i18n-si             71.0b4-1             71.0b5-1
   firefox-developer-edition-i18n-sk             71.0b4-1             71.0b5-1
   firefox-developer-edition-i18n-sl             71.0b4-1             71.0b5-1
  firefox-developer-edition-i18n-son             71.0b4-1             71.0b5-1
   firefox-developer-edition-i18n-sq             71.0b4-1             71.0b5-1
   firefox-developer-edition-i18n-sr             71.0b4-1             71.0b5-1
firefox-developer-edition-i18n-sv-se             71.0b4-1             71.0b5-1
   firefox-developer-edition-i18n-ta             71.0b4-1             71.0b5-1
   firefox-developer-edition-i18n-te             71.0b4-1             71.0b5-1
   firefox-developer-edition-i18n-th             71.0b4-1             71.0b5-1
   firefox-developer-edition-i18n-tr             71.0b4-1             71.0b5-1
   firefox-developer-edition-i18n-uk             71.0b4-1             71.0b5-1
   firefox-developer-edition-i18n-ur             71.0b4-1             71.0b5-1
   firefox-developer-edition-i18n-uz             71.0b4-1             71.0b5-1
   firefox-developer-edition-i18n-vi             71.0b4-1             71.0b5-1
   firefox-developer-edition-i18n-xh             71.0b4-1             71.0b5-1
firefox-developer-edition-i18n-zh-cn             71.0b4-1             71.0b5-1
firefox-developer-edition-i18n-zh-tw             71.0b4-1             71.0b5-1
              firefox-tree-style-tab              3.1.8-1              3.2.1-1
                                 gdc      8.2.1+2.068.2-2                    -
                    gimp-plugin-gmic              2.7.4-2              2.7.5-1
                               gitea              1.9.4-2              1.9.5-1
                        gitlab-shell           2:10.2.0-1           2:10.2.0-2
                                gmic              2.7.4-2              2.7.5-1
                                grpc             1.24.3-1             1.24.3-2
                            grpc-cli             1.24.3-1             1.24.3-2
                            hyperion            1.03.2-17            1.03.2-18
                             icecast              2.4.3-3              2.4.4-1
               intel-compute-runtime        19.42.14504-1        19.43.14583-1
                                 iwd               0.23-1                1.0-3
                                jake             10.0.6-1             10.1.4-1
                                jmol           14.29.54-1           14.29.55-1
                               jruby            9.2.8.0-1            9.2.9.0-1
                               jsmol           14.29.54-1           14.29.55-1
                          jupyterlab              1.1.4-1              1.2.0-1
                                kbfs              4.6.0-1              4.7.1-1
                           keepassxc              2.5.0-1              2.5.0-2
                             keybase              4.6.0-1              4.7.1-1
                         keybase-gui              4.6.0-1              4.7.1-1
                                knot              2.8.4-1              2.9.0-1
                   krita-plugin-gmic              2.7.4-2              2.7.5-1
                          latte-dock              0.9.3-1              0.9.4-1
                              libaec              1.0.2-1              1.0.4-1
                         libfaketime              0.9.7-1              0.9.8-1
                          libgphobos      8.2.1+2.068.2-2                    -
                             libmgba              0.7.3-1              0.7.3-2
                                love               11.2-1               11.3-1
                 mailnag-gnome-shell             3.32.1-1             3.34.0-1
                                mame              0.214-1              0.215-1
                        matterbridge             1.16.0-2             1.16.1-1
                             mgba-qt              0.7.3-1              0.7.3-2
                            mgba-sdl              0.7.3-1              0.7.3-2
                               mixxx              2.2.2-1              2.2.2-2
                                mosh              1.3.2-8             1.3.2-10
                              mumble              1.3.0-3              1.3.0-4
                              murmur              1.3.0-2              1.3.0-3
                              nageru              1.8.6-1              1.8.6-2
                              nickle               2.84-1               2.85-1
                             notmuch             0.29.1-1             0.29.2-1
                        notmuch-mutt             0.29.1-1             0.29.2-1
                     notmuch-runtime             0.29.1-1             0.29.2-1
                         notmuch-vim             0.29.1-1             0.29.2-1
                                 npm             6.12.0-1             6.12.1-1
                   npm-check-updates             3.1.25-1             3.1.26-1
                              nsjail                2.9-1                2.9-3
                                paps              0.7.0-1              0.7.1-1
                            paraview              5.6.2-3              5.7.0-1
                              pd-gem               0.94-2               0.94-3
                    perl-test-script               1.25-2               1.26-1
                            php-grpc             1.24.3-1             1.24.3-2
                         php-imagick              3.4.4-2              3.4.4-3
                              podman              1.6.1-1              1.6.2-1
                       podman-docker              1.6.1-1              1.6.2-1
                             postgis              2.5.3-1              2.5.3-2
                            powerdns              4.2.0-5              4.2.0-6
                   powerdns-recursor              4.2.0-2              4.2.0-3
                            powertop               2.10-1               2.11-1
                              puppet              6.9.0-1              6.9.0-3
                             puppet5             5.5.17-1             5.5.17-2
                      python-dropbox              9.2.0-1              9.4.0-1
                       python-grpcio             1.24.3-1             1.24.3-2
              python-mysql-connector             8.0.15-1             8.0.18-1
                      python-pygpgme                0.3-6                0.3-7
                     python-pytables              3.6.0-1              3.6.1-1
                     python2-dropbox              9.2.0-1              9.4.0-1
         python2-flake8-blind-except              0.1.1-2                    -
              python2-gnupginterface              0.3.2-4                    -
                      python2-invoke              1.3.0-1                    -
                     python2-mockito              1.1.1-1                    -
             python2-mysql-connector             8.0.15-1             8.0.18-1
                     python2-pygpgme                0.3-6                    -
                         qbittorrent              4.1.8-1              4.1.9-1
                     qbittorrent-nox              4.1.8-1              4.1.9-1
                             radare2              3.9.0-1              4.0.0-1
                      radare2-cutter            1:1.9.0-2            1:1.9.0-3
                      rapydscript-ng             0.7.19-1             0.7.20-1
               react-native-debugger             0.10.2-1  0.10.2+9+ga9e4a9f-1
                                rink              0.4.4-1              0.4.5-1
                              rspamd                2.0-1                2.1-1
                      shairport-sync              3.3.2-2              3.3.4-1
                                 sk1           1:2.0rc4-3           1:2.0rc4-4
                              skopeo             0.1.39-3             0.1.40-1
                         slirp4netns              0.4.1-2              0.4.2-1
                            smplayer             19.5.0-1            19.10.0-1
                             snapper              0.8.4-1              0.8.5-1
                          stone-soup             0.23.2-1             0.24.0-1
                         stratis-cli              1.0.4-1              1.1.0-1
                            stratisd              1.0.5-1              1.0.6-1
                          strawberry              0.6.5-1              0.6.5-3
                            sysbench             1.0.17-1             1.0.18-1
                              sysdig             0.26.4-2             0.26.4-3
                            three.js               r109-1               r110-1
      thunderbird-extension-enigmail              2.1.2-1              2.1.3-1
                             toolbox             0.0.15-1             0.0.16-1
                          tpm2-tools                4.0-2              4.0.1-1
                           transcode             1.1.7-30             1.1.7-31
                           uglify-js              3.6.4-1              3.6.5-1
                             umurmur            0.2.17-14            0.2.17-16
                             unbound              1.9.4-1              1.9.4-3
                                 urh              2.7.5-1              2.8.0-1
                               v2ray             4.21.1-1             4.21.3-1
                       vim-syntastic              3.9.0-1             3.10.0-1
                           watchexec             1.10.3-1             1.11.1-1
                                 yad                4.1-2                5.0-1
                          youtube-dl         2019.10.22-1         2019.10.29-1
                                zart              2.7.4-2              2.7.5-1
        zsh-history-substring-search              1.0.1-2              1.0.2-1
               python-gnupginterface                    -              0.3.2-7
                        python-pasta                    -              0.1.7-1
                 python2-ruamel.yaml                    -             0.16.5-1


:: Different overlay package(s) in repository core x86_64

-------------------------------------------------------------------------------
                             PACKAGE           2019-10-28           2019-11-05
-------------------------------------------------------------------------------
                         btrfs-progs              5.3.1-0                    -
                            linux316            3.16.75-1            3.16.76-1
                    linux316-headers            3.16.75-1            3.16.76-1
                            linux414           4.14.150-1           4.14.151-1
                    linux414-headers           4.14.150-1           4.14.151-1
                            linux419            4.19.80-1            4.19.81-1
                    linux419-headers            4.19.80-1            4.19.81-1
                             linux44            4.4.197-1            4.4.198-1
                     linux44-headers            4.4.197-1            4.4.198-1
                             linux49            4.9.197-1            4.9.198-1
                     linux49-headers            4.9.197-1            4.9.198-1
                             linux53              5.3.7-2              5.3.8-3
                     linux53-headers              5.3.7-2              5.3.8-3
                             linux545.4rc4.d1020.g7d194c2-15.4rc5.d1028.g0365fb6-2
                     linux54-headers5.4rc4.d1020.g7d194c2-15.4rc5.d1028.g0365fb6-2


:: Different sync package(s) in repository core x86_64

-------------------------------------------------------------------------------
                             PACKAGE           2019-10-28           2019-11-05
-------------------------------------------------------------------------------
                            binutils               2.32-3             2.33.1-1
                         btrfs-progs                5.3-1              5.3.1-1
                              dhcpcd              8.0.6-1              8.1.1-1
                                 gcc              9.2.0-2              9.2.0-3
                             gcc-ada              9.2.0-2              9.2.0-3
                         gcc-fortran              9.2.0-2              9.2.0-3
                              gcc-go              9.2.0-2              9.2.0-3
                            gcc-libs              9.2.0-2              9.2.0-3
                            gcc-objc              9.2.0-2              9.2.0-3
                               glibc               2.30-1               2.30-2
                      lib32-gcc-libs              9.2.0-2              9.2.0-3
                         lib32-glibc               2.30-1               2.30-2
                                sudo          1.8.28.p1-1             1.8.29-1
                               gcc-d                    -              9.2.0-3


:: Different overlay package(s) in repository extra x86_64

-------------------------------------------------------------------------------
                             PACKAGE           2019-10-28           2019-11-05
-------------------------------------------------------------------------------
                             firefox             70.0-1.1                    -
                  linux316-acpi_call             1.1.0-55             1.1.0-56
                   linux316-bbswitch               0.8-54               0.8-55
                linux316-broadcom-wl      6.30.223.271-34      6.30.223.271-35
                   linux316-catalyst     1:15.201.1151-44     1:15.201.1151-45
                linux316-ndiswrapper               1.62-8               1.62-9
               linux316-nvidia-340xx           340.107-13           340.107-14
               linux316-nvidia-390xx            390.129-4            390.129-5
               linux316-nvidia-418xx             418.88-5             418.88-6
               linux316-nvidia-430xx             430.40-7             430.40-8
               linux316-nvidia-435xx             435.21-3             435.21-4
               linux316-nvidia-440xx             440.26-1             440.26-2
                   linux316-nvidiabl              0.88-44              0.88-45
                      linux316-r8168           8.047.04-2           8.047.04-3
                  linux316-rt3562sta        2.4.1.1_r4-34        2.4.1.1_r4-35
                   linux316-tp_smapi               0.43-4               0.43-5
   linux316-virtualbox-guest-modules             6.0.14-1             6.0.14-2
    linux316-virtualbox-host-modules             6.0.14-1             6.0.14-2
                        linux316-zfs              0.8.2-3              0.8.2-4
                  linux414-acpi_call            1.1.0-123            1.1.0-124
                   linux414-bbswitch              0.8-123              0.8-124
                linux414-broadcom-wl     6.30.223.271-123     6.30.223.271-124
                   linux414-catalyst    1:15.201.1151-123    1:15.201.1151-124
                linux414-ndiswrapper              1.62-18              1.62-19
               linux414-nvidia-340xx           340.107-82           340.107-83
               linux414-nvidia-390xx           390.129-13           390.129-14
               linux414-nvidia-430xx            430.40-14            430.40-15
               linux414-nvidia-435xx             435.21-8             435.21-9
               linux414-nvidia-440xx             440.26-1             440.26-2
                   linux414-nvidiabl             0.88-123             0.88-124
                      linux414-r8168           8.047.04-5           8.047.04-6
                   linux414-tp_smapi              0.43-15              0.43-16
                linux414-vhba-module           20190831-8           20190831-9
   linux414-virtualbox-guest-modules             6.0.14-2             6.0.14-3
    linux414-virtualbox-host-modules             6.0.14-2             6.0.14-3
                        linux414-zfs              0.8.2-5              0.8.2-6
                  linux419-acpi_call             1.1.0-71             1.1.0-72
                   linux419-bbswitch               0.8-71               0.8-72
                linux419-broadcom-wl      6.30.223.271-70      6.30.223.271-71
                   linux419-catalyst     1:15.201.1151-68     1:15.201.1151-69
                linux419-ndiswrapper              1.62-20              1.62-21
               linux419-nvidia-340xx           340.107-70           340.107-71
               linux419-nvidia-390xx           390.129-16           390.129-17
               linux419-nvidia-418xx            418.88-14            418.88-15
               linux419-nvidia-430xx            430.40-16            430.40-17
               linux419-nvidia-435xx            435.21-10            435.21-11
               linux419-nvidia-440xx             440.26-1             440.26-2
                   linux419-nvidiabl              0.88-70              0.88-71
                      linux419-r8168           8.047.04-6           8.047.04-7
                  linux419-rtl8723bu   4.3.9.3.13200.0-55   4.3.9.3.13200.0-56
                   linux419-tp_smapi              0.43-20              0.43-21
                linux419-vhba-module          20190831-10          20190831-11
   linux419-virtualbox-guest-modules             6.0.14-2             6.0.14-3
    linux419-virtualbox-host-modules             6.0.14-2             6.0.14-3
                        linux419-zfs              0.8.2-6              0.8.2-7
                   linux44-acpi_call            1.1.0-130            1.1.0-131
                    linux44-bbswitch              0.8-130              0.8-131
                 linux44-broadcom-wl     6.30.223.271-100     6.30.223.271-101
                    linux44-catalyst    1:15.201.1151-130    1:15.201.1151-131
                 linux44-ndiswrapper              1.62-12              1.62-13
                linux44-nvidia-340xx            340.107-2            340.107-3
                linux44-nvidia-390xx            390.129-8            390.129-9
                linux44-nvidia-440xx             440.26-1             440.26-2
                    linux44-nvidiabl             0.88-130             0.88-131
                       linux44-r8168           8.047.04-3           8.047.04-4
                    linux44-tp_smapi               0.43-9              0.43-10
                 linux44-vhba-module           20190831-5           20190831-6
    linux44-virtualbox-guest-modules             6.0.14-2             6.0.14-3
     linux44-virtualbox-host-modules             6.0.14-2             6.0.14-3
                         linux44-zfs              0.8.2-3              0.8.2-4
                   linux49-acpi_call            1.1.0-142            1.1.0-143
                    linux49-bbswitch              0.8-142              0.8-143
                 linux49-broadcom-wl     6.30.223.271-142     6.30.223.271-143
                    linux49-catalyst    1:15.201.1151-142    1:15.201.1151-143
                 linux49-ndiswrapper              1.62-12              1.62-13
                linux49-nvidia-340xx           340.107-61           340.107-62
                linux49-nvidia-390xx            390.129-8            390.129-9
                linux49-nvidia-418xx             418.88-8             418.88-9
                linux49-nvidia-430xx            430.40-10            430.40-11
                linux49-nvidia-435xx             435.21-4             435.21-5
                    linux49-nvidiabl             0.88-142             0.88-143
                       linux49-r8168           8.047.04-4           8.047.04-5
                    linux49-tp_smapi              0.43-10              0.43-11
                 linux49-vhba-module           20190831-6           20190831-7
    linux49-virtualbox-guest-modules             6.0.14-2             6.0.14-3
     linux49-virtualbox-host-modules             6.0.14-2             6.0.14-3
                         linux49-zfs              0.8.2-4              0.8.2-5
                   linux53-acpi_call              1.1.0-7              1.1.0-9
                    linux53-bbswitch                0.8-7                0.8-9
                 linux53-broadcom-wl       6.30.223.271-7       6.30.223.271-9
                 linux53-ndiswrapper               1.62-7               1.62-9
                linux53-nvidia-340xx            340.107-7            340.107-9
                linux53-nvidia-390xx            390.129-7            390.129-9
                linux53-nvidia-418xx             418.88-7             418.88-9
                linux53-nvidia-430xx             430.40-7             430.40-9
                linux53-nvidia-435xx             435.21-7             435.21-9
                linux53-nvidia-440xx             440.26-1             440.26-4
                    linux53-nvidiabl               0.88-7               0.88-9
                       linux53-r8168           8.047.04-7           8.047.04-9
                   linux53-rtl8723bu      4.3.9.3.13200-7      4.3.9.3.13200-9
                    linux53-tp_smapi               0.43-7               0.43-9
                 linux53-vhba-module           20190831-7           20190831-9
    linux53-virtualbox-guest-modules             6.0.14-3             6.0.14-5
     linux53-virtualbox-host-modules             6.0.14-3             6.0.14-5
                         linux53-zfs              0.8.2-7              0.8.2-9
                   linux54-acpi_call            1.1.0-0.6            1.1.0-0.9
                    linux54-bbswitch              0.8-0.6              0.8-0.9
                 linux54-broadcom-wl     6.30.223.271-0.6     6.30.223.271-0.9
                linux54-nvidia-418xx           418.88-0.6           418.88-0.9
                linux54-nvidia-430xx           430.40-0.6           430.40-0.9
                linux54-nvidia-435xx           435.21-0.6           435.21-0.9
                linux54-nvidia-440xx           440.26-0.1           440.26-0.9
                    linux54-nvidiabl             0.88-0.6             0.88-0.9
                    linux54-tp_smapi             0.43-0.6             0.43-0.9
                 linux54-vhba-module         20190831-0.6         20190831-0.9
    linux54-virtualbox-guest-modules           6.0.14-0.3           6.0.14-0.9
     linux54-virtualbox-host-modules           6.0.14-0.3           6.0.14-0.9
                         linux54-zfs            0.8.2-0.6            0.8.2-0.9
                   manjaro-hello-dev             0.5.99-1              0.6.2-1
                           pamac-cli              9.0.2-1              9.0.2-2
                        pamac-common              9.0.2-1              9.0.2-2
                           pamac-gtk              9.0.2-1              9.0.2-2
                   pamac-snap-plugin              9.0.2-1              9.0.2-2
             pamac-tray-appindicator              9.0.2-1              9.0.2-2


:: Different sync package(s) in repository extra x86_64

-------------------------------------------------------------------------------
                             PACKAGE           2019-10-28           2019-11-05
-------------------------------------------------------------------------------
                        alertmanager             0.18.0-4             0.19.0-1
                        avidemux-cli              2.7.4-1              2.7.4-2
                         avidemux-qt              2.7.4-1              2.7.4-2
                           bluedevil           1:5.17.1-1           1:5.17.2-1
                              breeze             5.17.1-1             5.17.2-1
                         breeze-grub             5.17.1-1             5.17.2-1
                          breeze-gtk             5.17.1-1             5.17.2-1
                               cmake             3.15.4-1             3.15.5-1
                            discover             5.17.1-1             5.17.2-1
                             drkonqi             5.17.1-1             5.17.2-1
                                 ell               0.25-1               0.26-1
                              ffmpeg            1:4.2.1-2            1:4.2.1-3
                             firefox               70.0-1             70.0.1-1
                    firefox-i18n-ach               70.0-1             70.0.1-1
                     firefox-i18n-af               70.0-1             70.0.1-1
                     firefox-i18n-an               70.0-1             70.0.1-1
                     firefox-i18n-ar               70.0-1             70.0.1-1
                    firefox-i18n-ast               70.0-1             70.0.1-1
                     firefox-i18n-az               70.0-1             70.0.1-1
                     firefox-i18n-be               70.0-1             70.0.1-1
                     firefox-i18n-bg               70.0-1             70.0.1-1
                     firefox-i18n-bn               70.0-1             70.0.1-1
                     firefox-i18n-br               70.0-1             70.0.1-1
                     firefox-i18n-bs               70.0-1             70.0.1-1
                     firefox-i18n-ca               70.0-1             70.0.1-1
                    firefox-i18n-cak               70.0-1             70.0.1-1
                     firefox-i18n-cs               70.0-1             70.0.1-1
                     firefox-i18n-cy               70.0-1             70.0.1-1
                     firefox-i18n-da               70.0-1             70.0.1-1
                     firefox-i18n-de               70.0-1             70.0.1-1
                    firefox-i18n-dsb               70.0-1             70.0.1-1
                     firefox-i18n-el               70.0-1             70.0.1-1
                  firefox-i18n-en-ca               70.0-1             70.0.1-1
                  firefox-i18n-en-gb               70.0-1             70.0.1-1
                  firefox-i18n-en-us               70.0-1             70.0.1-1
                     firefox-i18n-eo               70.0-1             70.0.1-1
                  firefox-i18n-es-ar               70.0-1             70.0.1-1
                  firefox-i18n-es-cl               70.0-1             70.0.1-1
                  firefox-i18n-es-es               70.0-1             70.0.1-1
                  firefox-i18n-es-mx               70.0-1             70.0.1-1
                     firefox-i18n-et               70.0-1             70.0.1-1
                     firefox-i18n-eu               70.0-1             70.0.1-1
                     firefox-i18n-fa               70.0-1             70.0.1-1
                     firefox-i18n-ff               70.0-1             70.0.1-1
                     firefox-i18n-fi               70.0-1             70.0.1-1
                     firefox-i18n-fr               70.0-1             70.0.1-1
                  firefox-i18n-fy-nl               70.0-1             70.0.1-1
                  firefox-i18n-ga-ie               70.0-1             70.0.1-1
                     firefox-i18n-gd               70.0-1             70.0.1-1
                     firefox-i18n-gl               70.0-1             70.0.1-1
                     firefox-i18n-gn               70.0-1             70.0.1-1
                  firefox-i18n-gu-in               70.0-1             70.0.1-1
                     firefox-i18n-he               70.0-1             70.0.1-1
                  firefox-i18n-hi-in               70.0-1             70.0.1-1
                     firefox-i18n-hr               70.0-1             70.0.1-1
                    firefox-i18n-hsb               70.0-1             70.0.1-1
                     firefox-i18n-hu               70.0-1             70.0.1-1
                  firefox-i18n-hy-am               70.0-1             70.0.1-1
                     firefox-i18n-ia               70.0-1             70.0.1-1
                     firefox-i18n-id               70.0-1             70.0.1-1
                     firefox-i18n-is               70.0-1             70.0.1-1
                     firefox-i18n-it               70.0-1             70.0.1-1
                     firefox-i18n-ja               70.0-1             70.0.1-1
                     firefox-i18n-ka               70.0-1             70.0.1-1
                    firefox-i18n-kab               70.0-1             70.0.1-1
                     firefox-i18n-kk               70.0-1             70.0.1-1
                     firefox-i18n-km               70.0-1             70.0.1-1
                     firefox-i18n-kn               70.0-1             70.0.1-1
                     firefox-i18n-ko               70.0-1             70.0.1-1
                    firefox-i18n-lij               70.0-1             70.0.1-1
                     firefox-i18n-lt               70.0-1             70.0.1-1
                     firefox-i18n-lv               70.0-1             70.0.1-1
                     firefox-i18n-mk               70.0-1             70.0.1-1
                     firefox-i18n-mr               70.0-1             70.0.1-1
                     firefox-i18n-ms               70.0-1             70.0.1-1
                     firefox-i18n-my               70.0-1             70.0.1-1
                  firefox-i18n-nb-no               70.0-1             70.0.1-1
                  firefox-i18n-ne-np               70.0-1             70.0.1-1
                     firefox-i18n-nl               70.0-1             70.0.1-1
                  firefox-i18n-nn-no               70.0-1             70.0.1-1
                     firefox-i18n-oc               70.0-1             70.0.1-1
                  firefox-i18n-pa-in               70.0-1             70.0.1-1
                     firefox-i18n-pl               70.0-1             70.0.1-1
                  firefox-i18n-pt-br               70.0-1             70.0.1-1
                  firefox-i18n-pt-pt               70.0-1             70.0.1-1
                     firefox-i18n-rm               70.0-1             70.0.1-1
                     firefox-i18n-ro               70.0-1             70.0.1-1
                     firefox-i18n-ru               70.0-1             70.0.1-1
                     firefox-i18n-si               70.0-1             70.0.1-1
                     firefox-i18n-sk               70.0-1             70.0.1-1
                     firefox-i18n-sl               70.0-1             70.0.1-1
                    firefox-i18n-son               70.0-1             70.0.1-1
                     firefox-i18n-sq               70.0-1             70.0.1-1
                     firefox-i18n-sr               70.0-1             70.0.1-1
                  firefox-i18n-sv-se               70.0-1             70.0.1-1
                     firefox-i18n-ta               70.0-1             70.0.1-1
                     firefox-i18n-te               70.0-1             70.0.1-1
                     firefox-i18n-th               70.0-1             70.0.1-1
                     firefox-i18n-tr               70.0-1             70.0.1-1
                     firefox-i18n-uk               70.0-1             70.0.1-1
                     firefox-i18n-ur               70.0-1             70.0.1-1
                     firefox-i18n-uz               70.0-1             70.0.1-1
                     firefox-i18n-vi               70.0-1             70.0.1-1
                     firefox-i18n-xh               70.0-1             70.0.1-1
                  firefox-i18n-zh-cn               70.0-1             70.0.1-1
                  firefox-i18n-zh-tw               70.0-1             70.0.1-1
                          fluidsynth              2.0.7-1              2.0.8-1
                          gnome-2048             3.34.2-1             3.34.3-1
              gnome-epub-thumbnailer     1.5+3+g0694740-1                1.6-1
          gnome-getting-started-docs             3.34.0-1             3.34.1-1
                       gnome-keyring           1:3.34.0-1           1:3.34.0-2
                     gnome-user-docs             3.34.0-1             3.34.1-1
                     gst-plugins-bad             1.16.1-2             1.16.1-3
                            harfbuzz              2.6.2-1              2.6.4-1
                        harfbuzz-icu              2.6.2-1              2.6.4-1
                               hefur                0.6-7                0.6-8
                         imagemagick           7.0.8.68-2            7.0.9.2-1
                     imagemagick-doc           7.0.8.68-2            7.0.9.2-1
                   kactivitymanagerd             5.17.1-1             5.17.2-1
                       kde-cli-tools             5.17.1-1             5.17.2-1
                      kde-gtk-config             5.17.1-1             5.17.2-1
                         kdecoration             5.17.1-1             5.17.2-1
                    kdeplasma-addons             5.17.1-1             5.17.2-1
                             kgamma5             5.17.1-1             5.17.2-1
                            khotkeys             5.17.1-1             5.17.2-1
                         kinfocenter             5.17.1-1             5.17.2-1
                              kismet         2019_09_R1-2         2019_09_R1-3
                           kmenuedit             5.17.1-1             5.17.2-1
                          knetattach             5.17.1-1             5.17.2-1
                             kscreen             5.17.1-1             5.17.2-1
                       kscreenlocker             5.17.1-1             5.17.2-1
                         ksshaskpass             5.17.1-1             5.17.2-1
                           ksysguard             5.17.1-1             5.17.2-1
                         kwallet-pam             5.17.1-1             5.17.2-1
                kwayland-integration             5.17.1-1             5.17.2-1
                                kwin             5.17.1-1             5.17.2-1
                             kwrited             5.17.1-1             5.17.2-1
                              libbsd              0.9.1-1             0.10.0-1
                             libburn              1.5.0-1              1.5.2-1
                        libchamplain            0.12.19-1            0.12.20-1
                             libgadu             1.12.2-8             1.12.2-9
                             libheif              1.5.1-1              1.5.1-2
                            libinput             1.14.2-1             1.14.3-1
                          libisoburn              1.5.0-2              1.5.2-1
                            libisofs              1.5.0-1              1.5.2-1
                          libkscreen             5.17.1-1             5.17.2-1
                        libksysguard             5.17.1-1             5.17.2-1
                          libmagick6          6.9.10.68-2          6.9.10.70-1
                          libmm-glib             1.10.6-1             1.10.8-1
                      libphonenumber            8.10.18-2            8.10.20-2
                           libportal              0.0.1-1              0.0.2-1
                               milou             5.17.1-1             5.17.2-1
                           mm-common             0.9.12-1              1.0.0-1
                        modemmanager             1.10.6-1             1.10.8-1
                               ndctl                 66-1                 67-1
                              oxygen             5.17.1-1             5.17.2-1
                  perl-alien-libxml2               0.09-2               0.11-1
          plasma-browser-integration             5.17.1-1             5.17.2-1
                      plasma-desktop             5.17.1-1             5.17.2-1
                  plasma-integration             5.17.1-1             5.17.2-1
                           plasma-nm             5.17.1-1             5.17.2-1
                           plasma-pa             5.17.1-1             5.17.2-1
                          plasma-sdk             5.17.1-1             5.17.2-1
                  plasma-thunderbolt             5.17.1-1             5.17.2-1
                        plasma-vault             5.17.1-1             5.17.2-1
              plasma-wayland-session             5.17.1-1             5.17.2-1
                    plasma-workspace             5.17.1-1             5.17.2-1
         plasma-workspace-wallpapers             5.17.1-1             5.17.2-1
                    polkit-kde-agent             5.17.1-1             5.17.2-1
                          powerdevil             5.17.1-1             5.17.2-1
                          prometheus             2.13.0-1             2.13.1-1
                            protobuf              3.7.0-1             3.10.0-1
                          protobuf-c              1.3.1-2              1.3.2-1
                            pstoedit               3.74-1               3.74-2
                             psutils               1.17-6               1.90-1
                     python-protobuf              3.7.0-1             3.10.0-1
                    python2-protobuf              3.7.0-1             3.10.0-1
                        python2-zbar               0.23-1               0.23-2
                            sddm-kcm             5.17.1-1             5.17.2-1
                    shared-mime-info               1.14-1               1.15-1
                      systemsettings             5.17.1-1             5.17.2-1
           telepathy-mission-control             5.16.4-3             5.16.5-1
                            usbguard              0.7.4-5              0.7.5-1
                        user-manager             5.17.1-1             5.17.2-1
                                 vlc              3.0.8-1              3.0.8-3
                                x264 2:157.r72db4377-1 3:0.157.r2980.34c06d1-1
                                x265              3.1.2-1              3.2.1-1
                  xdg-desktop-portal              1.5.1-1              1.5.2-1
              xdg-desktop-portal-kde             5.17.1-1             5.17.2-1
                    xf86-input-wacom             0.37.0-1             0.38.0-1
                            xine-lib              1.2.9-9             1.2.9-10
                        zabbix-agent              4.4.0-1              4.4.1-1
                 zabbix-frontend-php              4.4.0-1              4.4.1-1
                        zabbix-proxy              4.4.0-1              4.4.1-1
                       zabbix-server              4.4.0-1              4.4.1-1
                                zbar               0.23-1               0.23-2
                            zbar-gtk               0.23-1               0.23-2
                             zbar-qt               0.23-1               0.23-2


:: Different sync package(s) in repository multilib x86_64

-------------------------------------------------------------------------------
                             PACKAGE           2019-10-28           2019-11-05
-------------------------------------------------------------------------------
                    lib32-fluidsynth              2.0.7-1              2.0.8-1
                      lib32-harfbuzz              2.6.2-1              2.6.4-1
                  lib32-harfbuzz-icu              2.6.2-1              2.6.4-1
                        lib32-mpg123            1.25.12-1            1.25.13-1



No issue, everything went smoothly
Yes there was an issue. I was able to resolve it myself.(Please post your solution)
Yes i am currently experiencing an issue due to the update. (Please post about it)
Check if your mirror has already synced: