Hello community,
I am happy to announce another Stable Update. It took us over a month to complete this update-pack for our stable branch. We had a little struggle to get Gnome 3.34 stable enough, so we decided to polish that before we do another update to this branch. Also we managed to get Snap support into Pamac 9.0 series. You may install a new plugin for that function. As usual we also updated KDE and Budgie plus added further updates to XFCE 4.14. Enjoy the latest changes in 18.1.1-rc2 Install-Medias.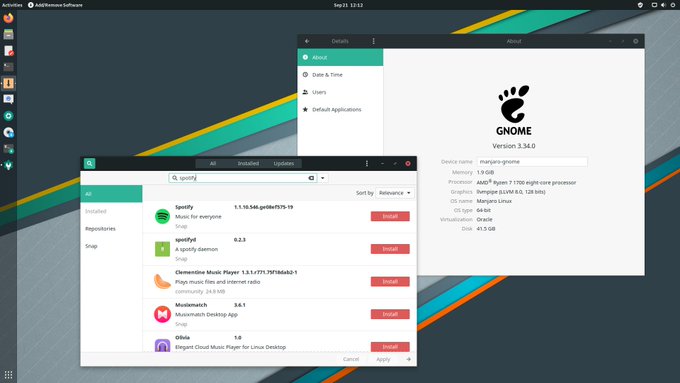 Update news
This update holds the following changes:
All Kernels got updated and rebuilt against the new toolchain. We dropped Kernel 5.1 series
Beginning with Pamac 9.0 series, we now support snaps via a plugin. We focused on fixing reported issues of this series.
Gnome got updated to 3.34.1. Tell us your findings!
Budgie got updated to work with Gnome 3.34
We have now KDE Plasma 5.16.5
KDE Apps are now at 19.08.1
KDE Framework is now at 5.62 and we updated most or our KDE-git packages
Mesa got updated to 19.2.1
The long waited for LibreOffice 6.3.2 update got added.
LibreOffice got needed security updates
coding environment Gambas got updated to 3.14.0
Firefox got fixed for crashes during playing Youtube videos
Some work went into Octopi. Give us some feedback if there are some improvements.
We are currently working on repo-compare, a new web-service.
Kodi is now at 18.4
We are currently working on repo-compare, a new web-service.
bauh is now at 0.6.1
We worked on our Gnome Themes
Calamares gained some fixes in regard of GeoIP
ZFS got updated to 0.8.2
Gstreamer got updated to 1.16.1
Bluez is now at 5.51
Some Browser got updated as needed
Thunderbird is now at 68.1.0. We pushed this also to our stable branch.
We managed to renew our KDE-Dev packages
Qt5 got bumped to 5.13.1 which brings needed fixes. Report if we still have to rebuild some packages against it.
The usual haskell, php and regular python updates
Additional regular improvements and upstream package renewals
Latest efforts by KDE can be reviewed via our current KDE-Dev ISO or current KDE-Vanilla ISO
Give us the usual feedback and let us know what you think about this update.
---
Current supported Kernels
linux316 3.16.75
linux44 4.4.196 (no legacy nvidia-340 module!)
linux49 4.9.196
linux414 4.14.148
linux419 4.19.78
linux52 5.2.20 [EOL] (no catalyst module!)
linux53 5.3.5 (no catalyst module!)
linux54 5.4.0-rc2 (not all modules build yet!)
linux419-rt 4.19.72_rt25
linux52-rt 5.2.19_rt11
Package Updates (Thu Oct 10 13:58:42 CEST 2019)
stable community x86_64: 2099 new and 2058 removed package(s)
stable core x86_64: 99 new and 97 removed package(s)
stable extra x86_64: 1460 new and 1545 removed package(s)
stable multilib x86_64: 63 new and 58 removed package(s)
A detailed list of all packages changes can be found here.
No issue, everything went smoothly
Yes there was an issue. I was able to resolve it myself.(Please post your solution)
Yes i am currently experiencing an issue due to the update. (Please post about it)
Check if your mirror has already synced: