Hello community,
Another stable-staging branch update with some usual updates for you. Since most of our team is focusing on ARM architecture and the pinephone, updates to Manjaro x64 might be more delayed for February. However we managed to squeeze this one in.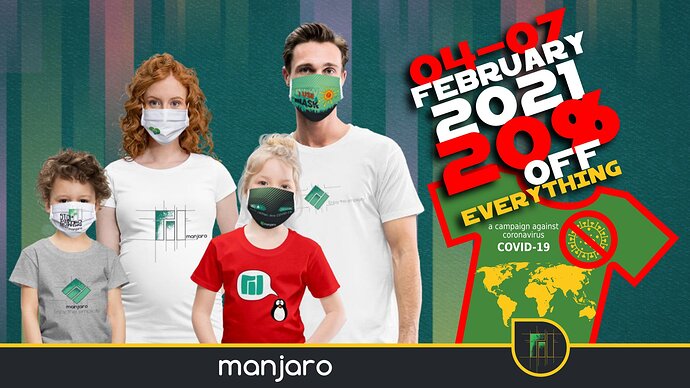 Get 20% discount this weekend at our Merch shops!

#stayhome

,

#staysafe

,

#stayhealthy
Most of the Kernels go updated
A lot of effort went into Gnome 40
Some Deepin packages got updated
Systemd is now at 247.3
Nvidia driver got updated to 460.39
ZFS is now updated to 2.0.2
A new point-release of KDE-Apps 20.12 landed in our repos
AMDVLK is now at 2021.Q1.2
Mesa is now at 20.3.4
Most of LibRetro got renewed
Another bug-fix release of Gstreamer
Virtualbox is now at 6.1.18
Other regular upstream updates including python and haskell
Get our latest daily developer images now from Github: Plasma, Gnome, XFCE
---
Our current supported kernels
linux44 4.4.255
linux49 4.9.255
linux414 4.14.219
linux419 4.19.173
linux54 5.4.95
linux59 5.9.16 [EOL]
linux510 5.10.13
linux511 5.11-rc6
linux54-rt 5.4.93_rt51
linux59-rt 5.9.1_rt19
Packages Changes (Sat Feb 6 10:58:24 CET 2021)
stable-staging community x86_64: 1692 new and 1612 removed package(s)
stable-staging core x86_64: 51 new and 52 removed package(s)
stable-staging extra x86_64: 1019 new and 1105 removed package(s)
stable-staging multilib x86_64: 43 new and 43 removed package(s)
A detailed list of all package changes can be found here.
No issue, everything went smoothly
Yes there was an issue. I was able to resolve it myself.(Please post your solution)
Yes i am currently experiencing an issue due to the update. (Please post about it)
Check if your mirror has already synced: