Occasionally (perhaps one in twenty times) when I wake up the machine after the screen has blanked, the display is broken up into disjointed blocks (see the attached image).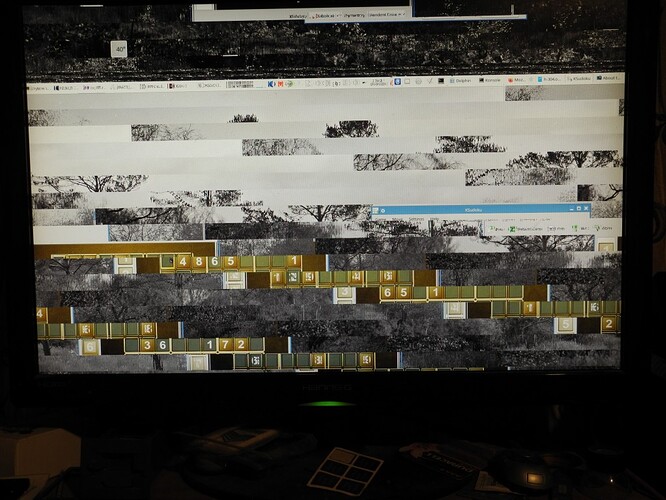 This is not only on the KDE/Plasma desktop but also on the text consoles. The only solution that I have found is to switch to a text console and re-boot with Ctrl-Alt-Delete, as logging out (if I can find the menu) or restarting X does not restore the mapping.
System info:
Video Card:
01:05.0 VGA compatible controller: Advanced Micro Devices, Inc. [AMD/ATI] RS880 [Radeon HD 4250] (prog-if 00 [VGA controller])
	Subsystem: ASUSTeK Computer Inc. M5A88-V EVO
	Flags: bus master, fast devsel, latency 0, IRQ 18, NUMA node 0
	Memory at d0000000 (32-bit, prefetchable) [size=256M]
	I/O ports at c000 [size=256]
	Memory at fe8f0000 (32-bit, non-prefetchable) [size=64K]
	Memory at fe700000 (32-bit, non-prefetchable) [size=1M]
	Expansion ROM at 000c0000 [virtual] [disabled] [size=128K]
	Capabilities: <access denied>
	Kernel driver in use: radeon
	Kernel modules: radeon, amdgpu

CPU:
Architecture:                    x86_64
CPU op-mode(s):                  32-bit, 64-bit
Address sizes:                   48 bits physical, 48 bits virtual
Byte Order:                      Little Endian
CPU(s):                          6
On-line CPU(s) list:             0-5
Vendor ID:                       AuthenticAMD
Model name:                      AMD Phenom(tm) II X6 1055T Processor

Kernel:
6.2.9-1-MANJARO #1 SMP PREEMPT_DYNAMIC Fri Mar 31 07:15:15 UTC 2023 x86_64 GNU/Linux

Desktop:
Version
=======
KWin version: 5.27.3
Qt Version: 5.15.8
Qt compile version: 5.15.8
XCB compile version: 1.15

Operation Mode: X11 only

Does anyone have any idea what the problem might be?