Hello everyone,
I put my laptop into suspend. While it was going into suspend, I disconnected the usb C cable (external display). I am not sure if this has an effect but I wanted to mention it.
An hour or so later, I wanted to wake the laptop but it I received a red screen and I couldn't unlock it. (While waking, I also connected a different usb cable with a different external display… just want to mention it, again not sure if this has an effect).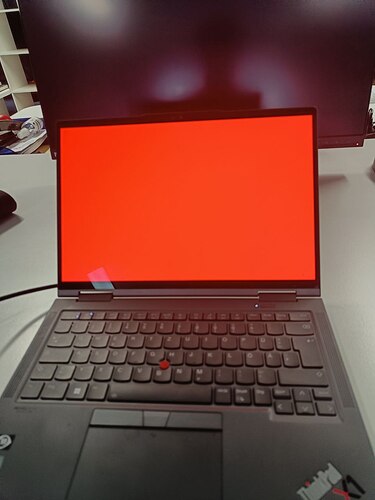 journalctl --since "2023-04-27 10:59:00" --until "2023-04-27 12:13:00" | grep --line-buffered -v "dockerd" > red_screen.log

(I filtered all the dockerd messages since it seems like pollution to me)
I suspended it at around 11:00 and woke it at 12:10.
Is there anything in the log that shows what has happened?
Apr 27 11:00:01 X1 CROND[2082527]: (root) CMD (timeshift --check --scripted)
Apr 27 11:00:01 X1 CROND[2082526]: (root) CMDOUT (Mounted '/dev/nvme0n1p5' at '/run/timeshift/2082527/backup')
Apr 27 11:00:01 X1 CROND[2082526]: (root) CMDOUT (Weekly snapshots are enabled)
Apr 27 11:00:01 X1 CROND[2082526]: (root) CMDOUT (Last weekly snapshot is 2 days old)
Apr 27 11:00:01 X1 CROND[2082526]: (root) CMDOUT (------------------------------------------------------------------------------)
Apr 27 11:00:01 X1 crontab[2082556]: (root) LIST (root)
Apr 27 11:00:01 X1 crontab[2082557]: (root) LIST (root)
Apr 27 11:00:01 X1 systemd[1]: run-timeshift-2082527-backup.mount: Deactivated successfully.
Apr 27 11:00:01 X1 CROND[2082526]: (root) CMDEND (timeshift --check --scripted)
Apr 27 11:00:25 X1 systemd-logind[791]: The system will suspend now!
Apr 27 11:00:25 X1 NetworkManager[793]: <info>  [1682586025.9168] manager: sleep: sleep requested (sleeping: no  enabled: yes)
Apr 27 11:00:26 X1 kernel: r8152 2-3.1:1.0: load rtl8153b-2 v1 10/23/19 successfully
Apr 27 11:00:26 X1 NetworkManager[793]: <info>  [1682586026.2450] device (enp0s13f0u3u1): state change: unavailable -> unmanaged (reason 'sleeping', sys-iface-state: 'managed')
Apr 27 11:00:26 X1 NetworkManager[793]: <info>  [1682586026.2507] device (p2p-dev-wlp0s20f3): state change: disconnected -> unmanaged (reason 'sleeping', sys-iface-state: 'managed')
Apr 27 11:00:26 X1 NetworkManager[793]: <info>  [1682586026.2510] manager: NetworkManager state is now ASLEEP
Apr 27 11:00:26 X1 NetworkManager[793]: <info>  [1682586026.2511] device (wlp0s20f3): state change: activated -> deactivating (reason 'sleeping', sys-iface-state: 'managed')
Apr 27 11:00:26 X1 dbus-daemon[790]: [system] Activating via systemd: service name='org.freedesktop.nm_dispatcher' unit='dbus-org.freedesktop.nm-dispatcher.service' requested by ':1.4' (uid=0 pid=793 comm="/usr/bin/NetworkManager --no-daemon")
Apr 27 11:00:26 X1 systemd[1]: Starting Network Manager Script Dispatcher Service...
Apr 27 11:00:26 X1 dbus-daemon[790]: [system] Successfully activated service 'org.freedesktop.nm_dispatcher'
Apr 27 11:00:26 X1 systemd[1]: Started Network Manager Script Dispatcher Service.
Apr 27 11:00:26 X1 audit[1]: SERVICE_START pid=1 uid=0 auid=4294967295 ses=4294967295 subj=unconfined msg='unit=NetworkManager-dispatcher comm="systemd" exe="/usr/lib/systemd/systemd" hostname=? addr=? terminal=? res=success'
Apr 27 11:00:26 X1 kernel: audit: type=1130 audit(1682586026.325:908): pid=1 uid=0 auid=4294967295 ses=4294967295 subj=unconfined msg='unit=NetworkManager-dispatcher comm="systemd" exe="/usr/lib/systemd/systemd" hostname=? addr=? terminal=? res=success'
Apr 27 11:00:26 X1 kernel: wlp0s20f3: deauthenticating from b0:f2:08:32:c2:ea by local choice (Reason: 3=DEAUTH_LEAVING)
Apr 27 11:00:26 X1 wpa_supplicant[1157]: wlp0s20f3: CTRL-EVENT-DISCONNECTED bssid=b0:f2:08:32:c2:ea reason=3 locally_generated=1
Apr 27 11:00:26 X1 wpa_supplicant[1157]: wlp0s20f3: CTRL-EVENT-DSCP-POLICY clear_all
Apr 27 11:00:26 X1 NetworkManager[793]: <info>  [1682586026.4753] device (wlp0s20f3): supplicant interface state: completed -> disconnected
Apr 27 11:00:26 X1 NetworkManager[793]: <info>  [1682586026.4755] device (wlp0s20f3): state change: deactivating -> disconnected (reason 'sleeping', sys-iface-state: 'managed')
Apr 27 11:00:26 X1 avahi-daemon[788]: Withdrawing address record for 2003:ee:572c:3900:a477:a6ca:9d2e:dc10 on wlp0s20f3.
Apr 27 11:00:26 X1 avahi-daemon[788]: Leaving mDNS multicast group on interface wlp0s20f3.IPv6 with address 2003:ee:572c:3900:a477:a6ca:9d2e:dc10.
Apr 27 11:00:26 X1 avahi-daemon[788]: Joining mDNS multicast group on interface wlp0s20f3.IPv6 with address fe80::20cc:9837:9d7e:51a7.
Apr 27 11:00:26 X1 avahi-daemon[788]: Registering new address record for fe80::20cc:9837:9d7e:51a7 on wlp0s20f3.*.
Apr 27 11:00:26 X1 NetworkManager[793]: <info>  [1682586026.4765] dhcp4 (wlp0s20f3): canceled DHCP transaction
Apr 27 11:00:26 X1 NetworkManager[793]: <info>  [1682586026.4765] dhcp4 (wlp0s20f3): activation: beginning transaction (timeout in 45 seconds)
Apr 27 11:00:26 X1 NetworkManager[793]: <info>  [1682586026.4765] dhcp4 (wlp0s20f3): state changed no lease
Apr 27 11:00:26 X1 avahi-daemon[788]: Withdrawing address record for fe80::20cc:9837:9d7e:51a7 on wlp0s20f3.
Apr 27 11:00:26 X1 NetworkManager[793]: <info>  [1682586026.4769] dhcp6 (wlp0s20f3): canceled DHCP transaction
Apr 27 11:00:26 X1 avahi-daemon[788]: Leaving mDNS multicast group on interface wlp0s20f3.IPv6 with address fe80::20cc:9837:9d7e:51a7.
Apr 27 11:00:26 X1 NetworkManager[793]: <info>  [1682586026.4769] dhcp6 (wlp0s20f3): activation: beginning transaction (timeout in 45 seconds)
Apr 27 11:00:26 X1 avahi-daemon[788]: Interface wlp0s20f3.IPv6 no longer relevant for mDNS.
Apr 27 11:00:26 X1 NetworkManager[793]: <info>  [1682586026.4769] dhcp6 (wlp0s20f3): state changed no lease
Apr 27 11:00:26 X1 avahi-daemon[788]: Interface wlp0s20f3.IPv4 no longer relevant for mDNS.
Apr 27 11:00:26 X1 avahi-daemon[788]: Leaving mDNS multicast group on interface wlp0s20f3.IPv4 with address 192.168.178.40.
Apr 27 11:00:26 X1 avahi-daemon[788]: Withdrawing address record for 192.168.178.40 on wlp0s20f3.
Apr 27 11:00:26 X1 NetworkManager[793]: <info>  [1682586026.5229] device (wlp0s20f3): set-hw-addr: set MAC address to 8E:E1:D7:5C:AF:8A (scanning)
Apr 27 11:00:26 X1 avahi-daemon[788]: Joining mDNS multicast group on interface wlp0s20f3.IPv4 with address 192.168.178.40.
Apr 27 11:00:26 X1 avahi-daemon[788]: New relevant interface wlp0s20f3.IPv4 for mDNS.
Apr 27 11:00:26 X1 avahi-daemon[788]: Registering new address record for 192.168.178.40 on wlp0s20f3.IPv4.
Apr 27 11:00:26 X1 avahi-daemon[788]: Withdrawing address record for 192.168.178.40 on wlp0s20f3.
Apr 27 11:00:26 X1 avahi-daemon[788]: Leaving mDNS multicast group on interface wlp0s20f3.IPv4 with address 192.168.178.40.
Apr 27 11:00:26 X1 avahi-daemon[788]: Interface wlp0s20f3.IPv4 no longer relevant for mDNS.
Apr 27 11:00:26 X1 NetworkManager[793]: <info>  [1682586026.6127] device (wlp0s20f3): state change: disconnected -> unmanaged (reason 'sleeping', sys-iface-state: 'managed')
Apr 27 11:00:26 X1 NetworkManager[793]: <info>  [1682586026.7560] device (wlp0s20f3): set-hw-addr: reset MAC address to A0:29:42:58:C8:FC (unmanage)
Apr 27 11:00:26 X1 wpa_supplicant[1157]: p2p-dev-wlp0s20: CTRL-EVENT-DSCP-POLICY clear_all
Apr 27 11:00:26 X1 wpa_supplicant[1157]: p2p-dev-wlp0s20: CTRL-EVENT-DSCP-POLICY clear_all
Apr 27 11:00:26 X1 wpa_supplicant[1157]: nl80211: deinit ifname=p2p-dev-wlp0s20 disabled_11b_rates=0
Apr 27 11:00:26 X1 wpa_supplicant[1157]: wlp0s20f3: CTRL-EVENT-DSCP-POLICY clear_all
Apr 27 11:00:26 X1 systemd[1]: Reached target Sleep.
Apr 27 11:00:26 X1 wpa_supplicant[1157]: wlp0s20f3: CTRL-EVENT-DSCP-POLICY clear_all
Apr 27 11:00:26 X1 wpa_supplicant[1157]: nl80211: deinit ifname=wlp0s20f3 disabled_11b_rates=0
Apr 27 11:00:26 X1 systemd[1]: Starting System Suspend...
Apr 27 11:00:26 X1 systemd-sleep[2082981]: Entering sleep state 'suspend'...
Apr 27 11:00:26 X1 kernel: PM: suspend entry (deep)
Apr 27 11:00:26 X1 kernel: Filesystems sync: 0.007 seconds
Apr 27 12:10:30 X1 kernel: Freezing user space processes
Apr 27 12:10:30 X1 kernel: Freezing user space processes completed (elapsed 0.002 seconds)
Apr 27 12:10:30 X1 kernel: OOM killer disabled.
Apr 27 12:10:30 X1 kernel: Freezing remaining freezable tasks
Apr 27 12:10:30 X1 kernel: Freezing remaining freezable tasks completed (elapsed 0.001 seconds)
Apr 27 12:10:30 X1 kernel: printk: Suspending console(s) (use no_console_suspend to debug)
Apr 27 12:10:30 X1 kernel: ACPI: EC: interrupt blocked
Apr 27 12:10:30 X1 kernel: ACPI: PM: Preparing to enter system sleep state S3
Apr 27 12:10:30 X1 kernel: ACPI: EC: event blocked
Apr 27 12:10:30 X1 kernel: ACPI: EC: EC stopped
Apr 27 12:10:30 X1 kernel: ACPI: PM: Saving platform NVS memory
Apr 27 12:10:30 X1 kernel: Disabling non-boot CPUs ...
Apr 27 12:10:30 X1 kernel: smpboot: CPU 1 is now offline
Apr 27 12:10:30 X1 kernel: smpboot: CPU 2 is now offline
Apr 27 12:10:30 X1 kernel: smpboot: CPU 3 is now offline
Apr 27 12:10:30 X1 kernel: smpboot: CPU 4 is now offline
Apr 27 12:10:30 X1 kernel: smpboot: CPU 5 is now offline
Apr 27 12:10:30 X1 kernel: smpboot: CPU 6 is now offline
Apr 27 12:10:30 X1 kernel: smpboot: CPU 7 is now offline
Apr 27 12:10:30 X1 kernel: smpboot: CPU 8 is now offline
Apr 27 12:10:30 X1 kernel: smpboot: CPU 9 is now offline
Apr 27 12:10:30 X1 kernel: smpboot: CPU 10 is now offline
Apr 27 12:10:30 X1 kernel: smpboot: CPU 11 is now offline
Apr 27 12:10:30 X1 kernel: smpboot: CPU 12 is now offline
Apr 27 12:10:30 X1 kernel: smpboot: CPU 13 is now offline
Apr 27 12:10:30 X1 kernel: smpboot: CPU 14 is now offline
Apr 27 12:10:30 X1 kernel: smpboot: CPU 15 is now offline
Apr 27 12:10:30 X1 kernel: ACPI: PM: Low-level resume complete
Apr 27 12:10:30 X1 kernel: ACPI: EC: EC started
Apr 27 12:10:30 X1 kernel: ACPI: PM: Restoring platform NVS memory
Apr 27 12:10:30 X1 kernel: Enabling non-boot CPUs ...
Apr 27 12:10:30 X1 kernel: x86: Booting SMP configuration:
Apr 27 12:10:30 X1 kernel: smpboot: Booting Node 0 Processor 1 APIC 0x1
Apr 27 12:10:30 X1 kernel: CPU1 is up
Apr 27 12:10:30 X1 kernel: smpboot: Booting Node 0 Processor 2 APIC 0x8
Apr 27 12:10:30 X1 kernel: CPU2 is up
Apr 27 12:10:30 X1 kernel: smpboot: Booting Node 0 Processor 3 APIC 0x9
Apr 27 12:10:30 X1 kernel: CPU3 is up
Apr 27 12:10:30 X1 kernel: smpboot: Booting Node 0 Processor 4 APIC 0x10
Apr 27 12:10:30 X1 kernel: CPU4 is up
Apr 27 12:10:30 X1 kernel: smpboot: Booting Node 0 Processor 5 APIC 0x11
Apr 27 12:10:30 X1 kernel: CPU5 is up
Apr 27 12:10:30 X1 kernel: smpboot: Booting Node 0 Processor 6 APIC 0x18
Apr 27 12:10:30 X1 kernel: CPU6 is up
Apr 27 12:10:30 X1 kernel: smpboot: Booting Node 0 Processor 7 APIC 0x19
Apr 27 12:10:30 X1 kernel: CPU7 is up
Apr 27 12:10:30 X1 kernel: smpboot: Booting Node 0 Processor 8 APIC 0x20
Apr 27 12:10:30 X1 kernel: core: cpu_atom PMU driver: PEBS-via-PT 
Apr 27 12:10:30 X1 kernel: ... version:                5
Apr 27 12:10:30 X1 kernel: ... bit width:              48
Apr 27 12:10:30 X1 kernel: ... generic registers:      6
Apr 27 12:10:30 X1 kernel: ... value mask:             0000ffffffffffff
Apr 27 12:10:30 X1 kernel: ... max period:             00007fffffffffff
Apr 27 12:10:30 X1 kernel: ... fixed-purpose events:   3
Apr 27 12:10:30 X1 kernel: ... event mask:             000000070000003f
Apr 27 12:10:30 X1 kernel: CPU8 is up
Apr 27 12:10:30 X1 kernel: smpboot: Booting Node 0 Processor 9 APIC 0x22
Apr 27 12:10:30 X1 kernel: CPU9 is up
Apr 27 12:10:30 X1 kernel: smpboot: Booting Node 0 Processor 10 APIC 0x24
Apr 27 12:10:30 X1 kernel: CPU10 is up
Apr 27 12:10:30 X1 kernel: smpboot: Booting Node 0 Processor 11 APIC 0x26
Apr 27 12:10:30 X1 kernel: CPU11 is up
Apr 27 12:10:30 X1 kernel: smpboot: Booting Node 0 Processor 12 APIC 0x28
Apr 27 12:10:30 X1 kernel: CPU12 is up
Apr 27 12:10:30 X1 kernel: smpboot: Booting Node 0 Processor 13 APIC 0x2a
Apr 27 12:10:30 X1 kernel: CPU13 is up
Apr 27 12:10:30 X1 kernel: smpboot: Booting Node 0 Processor 14 APIC 0x2c
Apr 27 12:10:30 X1 kernel: CPU14 is up
Apr 27 12:10:30 X1 kernel: smpboot: Booting Node 0 Processor 15 APIC 0x2e
Apr 27 12:10:30 X1 kernel: CPU15 is up
Apr 27 12:10:30 X1 kernel: ACPI: PM: Waking up from system sleep state S3
Apr 27 12:10:30 X1 kernel: ACPI: EC: interrupt unblocked
Apr 27 12:10:30 X1 kernel: ACPI: EC: event unblocked
Apr 27 12:10:30 X1 kernel: i915 0000:00:02.0: [drm] GuC firmware i915/adlp_guc_70.bin version 70.5.1
Apr 27 12:10:30 X1 kernel: i915 0000:00:02.0: [drm] HuC firmware i915/tgl_huc.bin version 7.9.3
Apr 27 12:10:30 X1 kernel: i915 0000:00:02.0: [drm] HuC authenticated
Apr 27 12:10:30 X1 kernel: i915 0000:00:02.0: [drm] GuC submission enabled
Apr 27 12:10:30 X1 kernel: i915 0000:00:02.0: [drm] GuC SLPC enabled
Apr 27 12:10:30 X1 kernel: i915 0000:00:02.0: [drm] GuC RC: enabled
Apr 27 12:10:30 X1 kernel: nvme nvme0: Shutdown timeout set to 10 seconds
Apr 27 12:10:30 X1 kernel: nvme nvme0: 16/0/0 default/read/poll queues
Apr 27 12:10:30 X1 kernel: usb 3-8: reset full-speed USB device number 5 using xhci_hcd
Apr 27 12:10:30 X1 kernel: ish-hid {33AECD58-B679-4E54-9BD9-A04D34F0C226}: [hid-ish]: enum_devices_done OK, num_hid_devices=4
Apr 27 12:10:30 X1 kernel: ------------[ cut here ]------------
Apr 27 12:10:30 X1 kernel: i915 0000:00:02.0: drm_WARN_ON(dig_port->tc_mode != TC_PORT_DISCONNECTED)
Apr 27 12:10:30 X1 kernel: WARNING: CPU: 2 PID: 2083020 at drivers/gpu/drm/i915/display/intel_tc.c:711 intel_tc_port_sanitize+0x2d8/0x4a0 [i915]
Apr 27 12:10:30 X1 kernel: Modules linked in: tls xt_nat xt_tcpudp veth rfcomm snd_seq_dummy snd_hrtimer snd_seq xt_conntrack xt_MASQUERADE nf_conntrack_netlink nfnetlink iptable_nat nf_nat nf_conntrack nf_defrag_ipv6 nf_defrag_ipv4 libcrc32c xt_addrtype iptable_filter br_netfilter bridge stp llc ccm cmac algif_hash algif_skcipher af_alg uvcvideo videobuf2_vmalloc videobuf2_memops videobuf2_v4l2 videobuf2_common snd_ctl_led snd_soc_skl_hda_dsp snd_soc_intel_hda_dsp_common snd_sof_probes snd_soc_hdac_hdmi snd_hda_codec_hdmi snd_hda_codec_realtek snd_hda_codec_generic r8153_ecm cdc_ether usbnet snd_usb_audio snd_usbmidi_lib snd_rawmidi snd_seq_device r8152 mii bnep hid_sensor_custom_intel_hinge hid_sensor_gyro_3d hid_sensor_accel_3d hid_sensor_trigger industrialio_triggered_buffer btusb kfifo_buf hid_sensor_iio_common btrtl industrialio btbcm hid_sensor_custom btintel btmtk hid_sensor_hub bluetooth ecdh_generic intel_ishtp_hid overlay snd_soc_dmic snd_sof_pci_intel_tgl snd_sof_intel_hda_common joydev
Apr 27 12:10:30 X1 kernel:  soundwire_intel mousedev soundwire_generic_allocation soundwire_cadence snd_sof_intel_hda snd_sof_pci snd_sof_xtensa_dsp snd_sof snd_sof_utils snd_soc_hdac_hda snd_hda_ext_core snd_soc_acpi_intel_match intel_tcc_cooling snd_soc_acpi x86_pkg_temp_thermal intel_powerclamp soundwire_bus coretemp snd_soc_core snd_compress ac97_bus snd_pcm_dmaengine kvm_intel snd_hda_intel kvm iwlmvm snd_intel_dspcfg irqbypass snd_intel_sdw_acpi i915 crct10dif_pclmul snd_hda_codec wacom iTCO_wdt crc32_pclmul snd_hda_core mac80211 polyval_clmulni pmt_telemetry polyval_generic processor_thermal_device_pci hid_multitouch processor_thermal_device drm_buddy gf128mul usbhid think_lmi intel_pmc_bxt snd_hwdep ghash_clmulni_intel sha512_ssse3 aesni_intel nxp_nci_i2c crypto_simd mei_pxp cryptd mei_hdcp iTCO_vendor_support libarc4 rapl thinkpad_acpi intel_rapl_msr pmt_class firmware_attributes_class wmi_bmof iwlwifi snd_pcm intel_cstate ov2740 ttm processor_thermal_rfim ledtrig_audio nxp_nci intel_uncore
Apr 27 12:10:30 X1 kernel:  psmouse pcspkr processor_thermal_mbox i2c_i801 ucsi_acpi cfg80211 nci v4l2_fwnode drm_display_helper spi_nor snd_timer intel_ish_ipc processor_thermal_rapl platform_profile intel_lpss_pci mei_me vfat nfc cec typec_ucsi v4l2_async snd intel_lpss typec intel_rapl_common mtd i2c_smbus i2c_hid_acpi intel_skl_int3472_tps68470 int3403_thermal video fat tps68470_regulator mei thunderbolt idma64 intel_ishtp roles intel_gtt intel_vsec igen6_edac soundcore rfkill i2c_hid soc_button_array int340x_thermal_zone videodev clk_tps68470 int3400_thermal intel_hid mc wmi intel_skl_int3472_discrete acpi_pad acpi_thermal_rel sparse_keymap acpi_tad mac_hid crypto_user dm_mod loop fuse bpf_preload ip_tables x_tables ext4 crc32c_generic crc16 mbcache jbd2 serio_raw atkbd libps2 nvme vivaldi_fmap nvme_core spi_intel_pci xhci_pci crc32c_intel spi_intel nvme_common xhci_pci_renesas i8042 serio
Apr 27 12:10:30 X1 kernel: CPU: 2 PID: 2083020 Comm: kworker/u32:14 Tainted: G        W          6.1.25-1-MANJARO #1 8153f3be3a95772792068f0c6a37717e403574d0
Apr 27 12:10:30 X1 kernel: Hardware name: LENOVO 21CD006YGE/21CD006YGE, BIOS N3AET65W (1.30 ) 08/02/2022
Apr 27 12:10:30 X1 kernel: Workqueue: events_unbound async_run_entry_fn
Apr 27 12:10:30 X1 kernel: RIP: 0010:intel_tc_port_sanitize+0x2d8/0x4a0 [i915]
Apr 27 12:10:30 X1 kernel: Code: 4c 8b 6f 50 4d 85 ed 75 03 4c 8b 2f e8 81 ce dc e9 48 c7 c1 78 de 4e c1 4c 89 ea 48 c7 c7 72 aa 50 c1 48 89 c6 e8 f8 e6 68 e9 <0f> 0b 41 8b b4 24 70 0f 00 00 85 f6 0f 84 a0 fd ff ff 48 8b 7b 08
Apr 27 12:10:30 X1 kernel: RSP: 0000:ffffaabd0cba3bf8 EFLAGS: 00010282
Apr 27 12:10:30 X1 kernel: RAX: 0000000000000000 RBX: ffff90781afa0000 RCX: 0000000000000027
Apr 27 12:10:30 X1 kernel: RDX: ffff907f3f4a1668 RSI: 0000000000000001 RDI: ffff907f3f4a1660
Apr 27 12:10:30 X1 kernel: RBP: 0000000000000000 R08: ffffffffac85c7a0 R09: 00000000ad166faa
Apr 27 12:10:30 X1 kernel: R10: ffffffffffffffff R11: ffffffffac8b9d08 R12: ffff90781b5e8000
Apr 27 12:10:30 X1 kernel: R13: ffff907802ec3b00 R14: 0000000000000000 R15: ffff90781b5e8000
Apr 27 12:10:30 X1 kernel: FS:  0000000000000000(0000) GS:ffff907f3f480000(0000) knlGS:0000000000000000
Apr 27 12:10:30 X1 kernel: CS:  0010 DS: 0000 ES: 0000 CR0: 0000000080050033
Apr 27 12:10:30 X1 kernel: CR2: 0000000000000000 CR3: 00000003e3210001 CR4: 0000000000f70ee0
Apr 27 12:10:30 X1 kernel: PKRU: 55555554
Apr 27 12:10:30 X1 kernel: Call Trace:
Apr 27 12:10:30 X1 kernel:  <TASK>
Apr 27 12:10:30 X1 kernel:  intel_ddi_sync_state+0x43/0x90 [i915 cf8b46159db32e9c8558ee2bc1854ce6d63bc524]
Apr 27 12:10:30 X1 kernel:  intel_modeset_setup_hw_state+0x3c0/0x1440 [i915 cf8b46159db32e9c8558ee2bc1854ce6d63bc524]
Apr 27 12:10:30 X1 kernel:  ? sched_clock_cpu+0xd/0xb0
Apr 27 12:10:30 X1 kernel:  ? __smp_call_single_queue+0x27/0x40
Apr 27 12:10:30 X1 kernel:  ? ttwu_queue_wakelist+0xef/0x110
Apr 27 12:10:30 X1 kernel:  ? drm_modeset_lock+0x67/0xe0
Apr 27 12:10:30 X1 kernel:  ? __intel_display_resume+0x1a/0xe0 [i915 cf8b46159db32e9c8558ee2bc1854ce6d63bc524]
Apr 27 12:10:30 X1 kernel:  __intel_display_resume+0x1a/0xe0 [i915 cf8b46159db32e9c8558ee2bc1854ce6d63bc524]
Apr 27 12:10:30 X1 kernel:  intel_display_resume+0x100/0x150 [i915 cf8b46159db32e9c8558ee2bc1854ce6d63bc524]
Apr 27 12:10:30 X1 kernel:  i915_drm_resume+0xe5/0x150 [i915 cf8b46159db32e9c8558ee2bc1854ce6d63bc524]
Apr 27 12:10:30 X1 kernel:  ? pci_legacy_resume+0x80/0x80
Apr 27 12:10:30 X1 kernel:  dpm_run_callback+0x47/0x150
Apr 27 12:10:30 X1 kernel:  device_resume+0xa2/0x1f0
Apr 27 12:10:30 X1 kernel:  async_resume+0x1d/0x30
Apr 27 12:10:30 X1 kernel:  async_run_entry_fn+0x31/0x130
Apr 27 12:10:30 X1 kernel:  process_one_work+0x1c4/0x380
Apr 27 12:10:30 X1 kernel:  worker_thread+0x51/0x390
Apr 27 12:10:30 X1 kernel:  ? rescuer_thread+0x3b0/0x3b0
Apr 27 12:10:30 X1 kernel:  kthread+0xdb/0x110
Apr 27 12:10:30 X1 kernel:  ? kthread_complete_and_exit+0x20/0x20
Apr 27 12:10:30 X1 kernel:  ret_from_fork+0x1f/0x30
Apr 27 12:10:30 X1 kernel:  </TASK>
Apr 27 12:10:30 X1 kernel: ---[ end trace 0000000000000000 ]---
Apr 27 12:10:30 X1 kernel: ------------[ cut here ]------------
Apr 27 12:10:30 X1 kernel: i915 0000:00:02.0: drm_WARN_ON(dig_port->tc_lock_wakeref)
Apr 27 12:10:30 X1 kernel: WARNING: CPU: 2 PID: 2083020 at drivers/gpu/drm/i915/display/intel_tc.c:712 intel_tc_port_sanitize+0x318/0x4a0 [i915]
Apr 27 12:10:30 X1 kernel: Modules linked in: tls xt_nat xt_tcpudp veth rfcomm snd_seq_dummy snd_hrtimer snd_seq xt_conntrack xt_MASQUERADE nf_conntrack_netlink nfnetlink iptable_nat nf_nat nf_conntrack nf_defrag_ipv6 nf_defrag_ipv4 libcrc32c xt_addrtype iptable_filter br_netfilter bridge stp llc ccm cmac algif_hash algif_skcipher af_alg uvcvideo videobuf2_vmalloc videobuf2_memops videobuf2_v4l2 videobuf2_common snd_ctl_led snd_soc_skl_hda_dsp snd_soc_intel_hda_dsp_common snd_sof_probes snd_soc_hdac_hdmi snd_hda_codec_hdmi snd_hda_codec_realtek snd_hda_codec_generic r8153_ecm cdc_ether usbnet snd_usb_audio snd_usbmidi_lib snd_rawmidi snd_seq_device r8152 mii bnep hid_sensor_custom_intel_hinge hid_sensor_gyro_3d hid_sensor_accel_3d hid_sensor_trigger industrialio_triggered_buffer btusb kfifo_buf hid_sensor_iio_common btrtl industrialio btbcm hid_sensor_custom btintel btmtk hid_sensor_hub bluetooth ecdh_generic intel_ishtp_hid overlay snd_soc_dmic snd_sof_pci_intel_tgl snd_sof_intel_hda_common joydev
Apr 27 12:10:30 X1 kernel:  soundwire_intel mousedev soundwire_generic_allocation soundwire_cadence snd_sof_intel_hda snd_sof_pci snd_sof_xtensa_dsp snd_sof snd_sof_utils snd_soc_hdac_hda snd_hda_ext_core snd_soc_acpi_intel_match intel_tcc_cooling snd_soc_acpi x86_pkg_temp_thermal intel_powerclamp soundwire_bus coretemp snd_soc_core snd_compress ac97_bus snd_pcm_dmaengine kvm_intel snd_hda_intel kvm iwlmvm snd_intel_dspcfg irqbypass snd_intel_sdw_acpi i915 crct10dif_pclmul snd_hda_codec wacom iTCO_wdt crc32_pclmul snd_hda_core mac80211 polyval_clmulni pmt_telemetry polyval_generic processor_thermal_device_pci hid_multitouch processor_thermal_device drm_buddy gf128mul usbhid think_lmi intel_pmc_bxt snd_hwdep ghash_clmulni_intel sha512_ssse3 aesni_intel nxp_nci_i2c crypto_simd mei_pxp cryptd mei_hdcp iTCO_vendor_support libarc4 rapl thinkpad_acpi intel_rapl_msr pmt_class firmware_attributes_class wmi_bmof iwlwifi snd_pcm intel_cstate ov2740 ttm processor_thermal_rfim ledtrig_audio nxp_nci intel_uncore
Apr 27 12:10:30 X1 kernel:  psmouse pcspkr processor_thermal_mbox i2c_i801 ucsi_acpi cfg80211 nci v4l2_fwnode drm_display_helper spi_nor snd_timer intel_ish_ipc processor_thermal_rapl platform_profile intel_lpss_pci mei_me vfat nfc cec typec_ucsi v4l2_async snd intel_lpss typec intel_rapl_common mtd i2c_smbus i2c_hid_acpi intel_skl_int3472_tps68470 int3403_thermal video fat tps68470_regulator mei thunderbolt idma64 intel_ishtp roles intel_gtt intel_vsec igen6_edac soundcore rfkill i2c_hid soc_button_array int340x_thermal_zone videodev clk_tps68470 int3400_thermal intel_hid mc wmi intel_skl_int3472_discrete acpi_pad acpi_thermal_rel sparse_keymap acpi_tad mac_hid crypto_user dm_mod loop fuse bpf_preload ip_tables x_tables ext4 crc32c_generic crc16 mbcache jbd2 serio_raw atkbd libps2 nvme vivaldi_fmap nvme_core spi_intel_pci xhci_pci crc32c_intel spi_intel nvme_common xhci_pci_renesas i8042 serio
Apr 27 12:10:30 X1 kernel: CPU: 2 PID: 2083020 Comm: kworker/u32:14 Tainted: G        W          6.1.25-1-MANJARO #1 8153f3be3a95772792068f0c6a37717e403574d0
Apr 27 12:10:30 X1 kernel: Hardware name: LENOVO 21CD006YGE/21CD006YGE, BIOS N3AET65W (1.30 ) 08/02/2022
Apr 27 12:10:30 X1 kernel: Workqueue: events_unbound async_run_entry_fn
Apr 27 12:10:30 X1 kernel: RIP: 0010:intel_tc_port_sanitize+0x318/0x4a0 [i915]
Apr 27 12:10:30 X1 kernel: Code: 4c 8b 6f 50 4d 85 ed 75 03 4c 8b 2f e8 41 ce dc e9 48 c7 c1 b0 de 4e c1 4c 89 ea 48 c7 c7 72 aa 50 c1 48 89 c6 e8 b8 e6 68 e9 <0f> 0b e9 6b fd ff ff 41 89 84 24 e0 0f 00 00 85 ed 0f 85 c9 fe ff
Apr 27 12:10:30 X1 kernel: RSP: 0000:ffffaabd0cba3bf8 EFLAGS: 00010282
Apr 27 12:10:30 X1 kernel: RAX: 0000000000000000 RBX: ffff90781afa0000 RCX: 0000000000000027
Apr 27 12:10:30 X1 kernel: RDX: ffff907f3f4a1668 RSI: 0000000000000001 RDI: ffff907f3f4a1660
Apr 27 12:10:30 X1 kernel: RBP: 0000000000000000 R08: ffffffffac85c7a0 R09: 00000000ad16862a
Apr 27 12:10:30 X1 kernel: R10: ffffffffffffffff R11: ffffffffac8ba3c8 R12: ffff90781b5e8000
Apr 27 12:10:30 X1 kernel: R13: ffff907802ec3b00 R14: 0000000000000000 R15: ffff90781b5e8000
Apr 27 12:10:30 X1 kernel: FS:  0000000000000000(0000) GS:ffff907f3f480000(0000) knlGS:0000000000000000
Apr 27 12:10:30 X1 kernel: CS:  0010 DS: 0000 ES: 0000 CR0: 0000000080050033
Apr 27 12:10:30 X1 kernel: CR2: 0000000000000000 CR3: 00000003e3210001 CR4: 0000000000f70ee0
Apr 27 12:10:30 X1 kernel: PKRU: 55555554
Apr 27 12:10:30 X1 kernel: Call Trace:
Apr 27 12:10:30 X1 kernel:  <TASK>
Apr 27 12:10:30 X1 kernel:  intel_ddi_sync_state+0x43/0x90 [i915 cf8b46159db32e9c8558ee2bc1854ce6d63bc524]
Apr 27 12:10:30 X1 kernel:  intel_modeset_setup_hw_state+0x3c0/0x1440 [i915 cf8b46159db32e9c8558ee2bc1854ce6d63bc524]
Apr 27 12:10:30 X1 kernel:  ? sched_clock_cpu+0xd/0xb0
Apr 27 12:10:30 X1 kernel:  ? __smp_call_single_queue+0x27/0x40
Apr 27 12:10:30 X1 kernel:  ? ttwu_queue_wakelist+0xef/0x110
Apr 27 12:10:30 X1 kernel:  ? drm_modeset_lock+0x67/0xe0
Apr 27 12:10:30 X1 kernel:  ? __intel_display_resume+0x1a/0xe0 [i915 cf8b46159db32e9c8558ee2bc1854ce6d63bc524]
Apr 27 12:10:30 X1 kernel:  __intel_display_resume+0x1a/0xe0 [i915 cf8b46159db32e9c8558ee2bc1854ce6d63bc524]
Apr 27 12:10:30 X1 kernel:  intel_display_resume+0x100/0x150 [i915 cf8b46159db32e9c8558ee2bc1854ce6d63bc524]
Apr 27 12:10:30 X1 kernel:  i915_drm_resume+0xe5/0x150 [i915 cf8b46159db32e9c8558ee2bc1854ce6d63bc524]
Apr 27 12:10:30 X1 kernel:  ? pci_legacy_resume+0x80/0x80
Apr 27 12:10:30 X1 kernel:  dpm_run_callback+0x47/0x150
Apr 27 12:10:30 X1 kernel:  device_resume+0xa2/0x1f0
Apr 27 12:10:30 X1 kernel:  async_resume+0x1d/0x30
Apr 27 12:10:30 X1 kernel:  async_run_entry_fn+0x31/0x130
Apr 27 12:10:30 X1 kernel:  process_one_work+0x1c4/0x380
Apr 27 12:10:30 X1 kernel:  worker_thread+0x51/0x390
Apr 27 12:10:30 X1 kernel:  ? rescuer_thread+0x3b0/0x3b0
Apr 27 12:10:30 X1 kernel:  kthread+0xdb/0x110
Apr 27 12:10:30 X1 kernel:  ? kthread_complete_and_exit+0x20/0x20
Apr 27 12:10:30 X1 kernel:  ret_from_fork+0x1f/0x30
Apr 27 12:10:30 X1 kernel:  </TASK>
Apr 27 12:10:30 X1 kernel: ---[ end trace 0000000000000000 ]---
Apr 27 12:10:30 X1 kernel: typec port1-partner: PM: parent port1 should not be sleeping
Apr 27 12:10:30 X1 kernel: i915 0000:00:02.0: [drm] *ERROR* [ENCODER:272:DDI TC3/PHY TC3][DPRX] Failed to enable link training
Apr 27 12:10:30 X1 kernel: OOM killer enabled.
Apr 27 12:10:30 X1 kernel: Restarting tasks ... 
Apr 27 12:10:30 X1 kernel: usb 2-3: USB disconnect, device number 2
Apr 27 12:10:30 X1 kernel: usb 2-3.1: USB disconnect, device number 3
Apr 27 12:10:30 X1 kernel: usb 3-3: USB disconnect, device number 2
Apr 27 12:10:30 X1 kernel: usb 3-3.1: USB disconnect, device number 4
Apr 27 12:10:30 X1 kernel: usb 3-3.1.3: USB disconnect, device number 9
Apr 27 12:10:30 X1 kernel: usb 3-3.1.3.1: USB disconnect, device number 10
Apr 27 12:10:30 X1 kernel: done.
Apr 27 12:10:30 X1 kernel: random: crng reseeded on system resumption
Apr 27 12:10:30 X1 kernel: mei_hdcp 0000:00:16.0-b638ab7e-94e2-4ea2-a552-d1c54b627f04: bound 0000:00:02.0 (ops i915_hdcp_component_ops [i915])
Apr 27 12:10:30 X1 kernel: mei_pxp 0000:00:16.0-fbf6fcf1-96cf-4e2e-a6a6-1bab8cbe36b1: bound 0000:00:02.0 (ops i915_pxp_tee_component_ops [i915])
Apr 27 12:10:30 X1 rtkit-daemon[2094]: The canary thread is apparently starving. Taking action.
Apr 27 12:10:30 X1 systemd[1]: NetworkManager-dispatcher.service: Deactivated successfully.
Apr 27 12:10:30 X1 rtkit-daemon[2094]: Demoting known real-time threads.
Apr 27 12:10:30 X1 rtkit-daemon[2094]: Successfully demoted thread 14920 of process 14895.
Apr 27 12:10:30 X1 rtkit-daemon[2094]: Successfully demoted thread 2328 of process 2300.
Apr 27 12:10:30 X1 rtkit-daemon[2094]: Successfully demoted thread 2300 of process 2300.
Apr 27 12:10:30 X1 rtkit-daemon[2094]: Successfully demoted thread 2113 of process 2111.
Apr 27 12:10:30 X1 rtkit-daemon[2094]: Successfully demoted thread 2114 of process 2110.
Apr 27 12:10:30 X1 rtkit-daemon[2094]: Successfully demoted thread 2110 of process 2110.
Apr 27 12:10:30 X1 rtkit-daemon[2094]: Demoted 6 threads.
Apr 27 12:10:30 X1 kernel: usb 3-3.1.3.2: USB disconnect, device number 11
Apr 27 12:10:30 X1 audit[1]: SERVICE_STOP pid=1 uid=0 auid=4294967295 ses=4294967295 subj=unconfined msg='unit=NetworkManager-dispatcher comm="systemd" exe="/usr/lib/systemd/systemd" hostname=? addr=? terminal=? res=success'
Apr 27 12:10:30 X1 kernel: audit: type=1131 audit(1682590230.400:909): pid=1 uid=0 auid=4294967295 ses=4294967295 subj=unconfined msg='unit=NetworkManager-dispatcher comm="systemd" exe="/usr/lib/systemd/systemd" hostname=? addr=? terminal=? res=success'
Apr 27 12:10:30 X1 kernel: usb 2-3.3: USB disconnect, device number 4
Apr 27 12:10:30 X1 systemd-sleep[2082981]: System returned from sleep state.
Apr 27 12:10:30 X1 kernel: PM: suspend exit
Apr 27 12:10:30 X1 bluetoothd[1013]: Controller resume with wake event 0x0
Apr 27 12:10:30 X1 kernel: usb 3-3.2: USB disconnect, device number 6
Apr 27 12:10:30 X1 kernel: usb 3-3.3: USB disconnect, device number 8
Apr 27 12:10:30 X1 audit[793]: USYS_CONFIG pid=793 uid=0 auid=4294967295 ses=4294967295 subj=unconfined msg='op=radio-control arg="wwan-enabled:on" pid=2083438 uid=0 result=success exe="/usr/bin/NetworkManager" hostname=? addr=? terminal=? res=success'
Apr 27 12:10:30 X1 NetworkManager[793]: <info>  [1682590230.5429] audit: op="radio-control" arg="wwan-enabled:on" pid=2083438 uid=0 result="success"
Apr 27 12:10:30 X1 kernel: audit: type=1111 audit(1682590230.537:910): pid=793 uid=0 auid=4294967295 ses=4294967295 subj=unconfined msg='op=radio-control arg="wwan-enabled:on" pid=2083438 uid=0 result=success exe="/usr/bin/NetworkManager" hostname=? addr=? terminal=? res=success'
Apr 27 12:10:30 X1 systemd[1]: systemd-suspend.service: Deactivated successfully.
Apr 27 12:10:30 X1 kernel: usb 3-3: new high-speed USB device number 14 using xhci_hcd
Apr 27 12:10:30 X1 systemd[1]: Finished System Suspend.
Apr 27 12:10:30 X1 audit[1]: SERVICE_START pid=1 uid=0 auid=4294967295 ses=4294967295 subj=unconfined msg='unit=systemd-suspend comm="systemd" exe="/usr/lib/systemd/systemd" hostname=? addr=? terminal=? res=success'
Apr 27 12:10:30 X1 audit[1]: SERVICE_STOP pid=1 uid=0 auid=4294967295 ses=4294967295 subj=unconfined msg='unit=systemd-suspend comm="systemd" exe="/usr/lib/systemd/systemd" hostname=? addr=? terminal=? res=success'
Apr 27 12:10:30 X1 systemd[1]: Stopped target Sleep.
Apr 27 12:10:30 X1 systemd[1]: Reached target Suspend.
Apr 27 12:10:30 X1 systemd[1]: Stopped target Suspend.
Apr 27 12:10:30 X1 systemd-logind[791]: Operation 'sleep' finished.
Apr 27 12:10:30 X1 NetworkManager[793]: <info>  [1682590230.7653] manager: sleep: wake requested (sleeping: yes  enabled: yes)
Apr 27 12:10:30 X1 NetworkManager[793]: <info>  [1682590230.7654] device (wlp0s20f3): state change: unmanaged -> unavailable (reason 'managed', sys-iface-state: 'external')
Apr 27 12:10:30 X1 kernel: audit: type=1130 audit(1682590230.760:911): pid=1 uid=0 auid=4294967295 ses=4294967295 subj=unconfined msg='unit=systemd-suspend comm="systemd" exe="/usr/lib/systemd/systemd" hostname=? addr=? terminal=? res=success'
Apr 27 12:10:30 X1 kernel: audit: type=1131 audit(1682590230.760:912): pid=1 uid=0 auid=4294967295 ses=4294967295 subj=unconfined msg='unit=systemd-suspend comm="systemd" exe="/usr/lib/systemd/systemd" hostname=? addr=? terminal=? res=success'
Apr 27 12:10:30 X1 NetworkManager[793]: <info>  [1682590230.8224] device (wlp0s20f3): set-hw-addr: set MAC address to 2A:84:D7:8D:86:24 (scanning)
Apr 27 12:10:30 X1 kernel: usb 3-3: New USB device found, idVendor=0bda, idProduct=5411, bcdDevice= 1.18
Apr 27 12:10:30 X1 kernel: usb 3-3: New USB device strings: Mfr=1, Product=2, SerialNumber=0
Apr 27 12:10:30 X1 kernel: usb 3-3: Product: 4-Port USB 2.1 Hub
Apr 27 12:10:30 X1 kernel: usb 3-3: Manufacturer: Generic
Apr 27 12:10:30 X1 kernel: hub 3-3:1.0: USB hub found
Apr 27 12:10:30 X1 kernel: hub 3-3:1.0: 4 ports detected
Apr 27 12:10:30 X1 kernel: usb 3-6: USB disconnect, device number 13
Apr 27 12:10:31 X1 kernel: usb 3-6: new full-speed USB device number 15 using xhci_hcd
Apr 27 12:10:31 X1 NetworkManager[793]: <info>  [1682590231.0856] device (p2p-dev-wlp0s20f3): state change: unmanaged -> unavailable (reason 'managed', sys-iface-state: 'external')
Apr 27 12:10:31 X1 NetworkManager[793]: <info>  [1682590231.0858] manager: NetworkManager state is now CONNECTED_LOCAL
Apr 27 12:10:31 X1 NetworkManager[793]: <info>  [1682590231.1317] device (wlp0s20f3): supplicant interface state: internal-starting -> disconnected
Apr 27 12:10:31 X1 NetworkManager[793]: <info>  [1682590231.1317] device (p2p-dev-wlp0s20f3): state change: unavailable -> unmanaged (reason 'removed', sys-iface-state: 'removed')
Apr 27 12:10:31 X1 NetworkManager[793]: <info>  [1682590231.1322] Wi-Fi P2P device controlled by interface wlp0s20f3 created
Apr 27 12:10:31 X1 NetworkManager[793]: <info>  [1682590231.1324] manager: (p2p-dev-wlp0s20f3): new 802.11 Wi-Fi P2P device (/org/freedesktop/NetworkManager/Devices/79)
Apr 27 12:10:31 X1 NetworkManager[793]: <info>  [1682590231.1327] device (p2p-dev-wlp0s20f3): state change: unmanaged -> unavailable (reason 'managed', sys-iface-state: 'external')
Apr 27 12:10:31 X1 NetworkManager[793]: <info>  [1682590231.1330] device (wlp0s20f3): state change: unavailable -> disconnected (reason 'supplicant-available', sys-iface-state: 'managed')
Apr 27 12:10:31 X1 NetworkManager[793]: <info>  [1682590231.1334] device (p2p-dev-wlp0s20f3): state change: unavailable -> disconnected (reason 'none', sys-iface-state: 'managed')
Apr 27 12:10:31 X1 kernel: usb 3-6: New USB device found, idVendor=06cb, idProduct=00fc, bcdDevice= 0.00
Apr 27 12:10:31 X1 kernel: usb 3-6: New USB device strings: Mfr=0, Product=0, SerialNumber=1
Apr 27 12:10:31 X1 kernel: usb 3-6: SerialNumber: 298a40037100
Apr 27 12:10:31 X1 mtp-probe[2084002]: checking bus 3, device 15: "/sys/devices/pci0000:00/0000:00:14.0/usb3/3-6"
Apr 27 12:10:31 X1 mtp-probe[2084002]: bus: 3, device: 15 was not an MTP device
Apr 27 12:10:31 X1 kernel: usb 3-3.3: new high-speed USB device number 16 using xhci_hcd
Apr 27 12:10:31 X1 kernel: usb 3-3.3: New USB device found, idVendor=17ef, idProduct=4831, bcdDevice=50.02
Apr 27 12:10:31 X1 kernel: usb 3-3.3: New USB device strings: Mfr=2, Product=1, SerialNumber=3
Apr 27 12:10:31 X1 kernel: usb 3-3.3: Product: Lenovo FHD Webcam Audio
Apr 27 12:10:31 X1 kernel: usb 3-3.3: Manufacturer: Sonix Technology Co., Ltd.
Apr 27 12:10:31 X1 kernel: usb 3-3.3: SerialNumber: SN0001
Apr 27 12:10:31 X1 kernel: usb 3-3.3: Found UVC 1.00 device Lenovo FHD Webcam Audio (17ef:4831)
Apr 27 12:10:31 X1 kernel: input: Lenovo FHD Webcam Audio: Lenovo as /devices/pci0000:00/0000:00:14.0/usb3/3-3/3-3.3/3-3.3:1.0/input/input31
Apr 27 12:10:31 X1 kernel: usb 3-3.3: 3:1: cannot get freq at ep 0x84
Apr 27 12:10:31 X1 kernel: usb 3-3.4: new low-speed USB device number 17 using xhci_hcd
Apr 27 12:10:31 X1 kernel: usb 3-3.4: New USB device found, idVendor=1a7c, idProduct=0191, bcdDevice= 3.30
Apr 27 12:10:31 X1 kernel: usb 3-3.4: New USB device strings: Mfr=1, Product=2, SerialNumber=0
Apr 27 12:10:31 X1 kernel: usb 3-3.4: Product: Evoluent VerticalMouse 4
Apr 27 12:10:31 X1 kernel: usb 3-3.4: Manufacturer: SONiX
Apr 27 12:10:31 X1 kernel: input: SONiX Evoluent VerticalMouse 4 as /devices/pci0000:00/0000:00:14.0/usb3/3-3/3-3.4/3-3.4:1.0/0003:1A7C:0191.0009/input/input32
Apr 27 12:10:31 X1 kernel: hid-generic 0003:1A7C:0191.0009: input,hidraw2: USB HID v1.00 Mouse [SONiX Evoluent VerticalMouse 4] on usb-0000:00:14.0-3.4/input0
Apr 27 12:10:31 X1 mtp-probe[2084263]: checking bus 3, device 16: "/sys/devices/pci0000:00/0000:00:14.0/usb3/3-3/3-3.3"
Apr 27 12:10:31 X1 mtp-probe[2084264]: checking bus 3, device 17: "/sys/devices/pci0000:00/0000:00:14.0/usb3/3-3/3-3.4"
Apr 27 12:10:31 X1 mtp-probe[2084264]: bus: 3, device: 17 was not an MTP device
Apr 27 12:10:31 X1 mtp-probe[2084263]: bus: 3, device: 16 was not an MTP device
Apr 27 12:10:31 X1 mtp-probe[2084387]: checking bus 3, device 15: "/sys/devices/pci0000:00/0000:00:14.0/usb3/3-6"
Apr 27 12:10:31 X1 mtp-probe[2084387]: bus: 3, device: 15 was not an MTP device
Apr 27 12:10:32 X1 systemd[1489]: Reached target Sound Card.
Apr 27 12:10:32 X1 mtp-probe[2084646]: checking bus 3, device 16: "/sys/devices/pci0000:00/0000:00:14.0/usb3/3-3/3-3.3"
Apr 27 12:10:32 X1 mtp-probe[2084646]: bus: 3, device: 16 was not an MTP device
Apr 27 12:10:32 X1 kernel: usb 3-3.3: 3:1: cannot get freq at ep 0x84
Apr 27 12:10:32 X1 kernel: usb 3-3.3: 3:1: cannot get freq at ep 0x84
Apr 27 12:10:32 X1 mtp-probe[2084670]: checking bus 3, device 17: "/sys/devices/pci0000:00/0000:00:14.0/usb3/3-3/3-3.4"
Apr 27 12:10:32 X1 mtp-probe[2084670]: bus: 3, device: 17 was not an MTP device
Apr 27 12:10:34 X1 wpa_supplicant[1157]: wlp0s20f3: CTRL-EVENT-REGDOM-CHANGE init=DRIVER type=COUNTRY alpha2=DE
Apr 27 12:10:34 X1 NetworkManager[793]: <info>  [1682590234.3788] policy: auto-activating connection 'webedia-public' (46b1c48c-a9bc-4899-bed3-02578e38ecee)
Apr 27 12:10:34 X1 NetworkManager[793]: <info>  [1682590234.3790] device (wlp0s20f3): Activation: starting connection 'webedia-public' (46b1c48c-a9bc-4899-bed3-02578e38ecee)
Apr 27 12:10:34 X1 NetworkManager[793]: <info>  [1682590234.3790] device (wlp0s20f3): state change: disconnected -> prepare (reason 'none', sys-iface-state: 'managed')
Apr 27 12:10:34 X1 NetworkManager[793]: <info>  [1682590234.3791] manager: NetworkManager state is now CONNECTING
Apr 27 12:10:34 X1 NetworkManager[793]: <info>  [1682590234.4245] device (wlp0s20f3): set-hw-addr: reset MAC address to A0:29:42:58:C8:FC (preserve)
Apr 27 12:10:34 X1 NetworkManager[793]: <info>  [1682590234.4255] device (wlp0s20f3): state change: prepare -> config (reason 'none', sys-iface-state: 'managed')
Apr 27 12:10:34 X1 NetworkManager[793]: <info>  [1682590234.4256] device (wlp0s20f3): Activation: (wifi) access point 'webedia-public' has security, but secrets are required.
Apr 27 12:10:34 X1 NetworkManager[793]: <info>  [1682590234.4256] device (wlp0s20f3): state change: config -> need-auth (reason 'none', sys-iface-state: 'managed')
Apr 27 12:10:34 X1 NetworkManager[793]: <info>  [1682590234.4260] device (wlp0s20f3): state change: need-auth -> prepare (reason 'none', sys-iface-state: 'managed')
Apr 27 12:10:34 X1 NetworkManager[793]: <info>  [1682590234.4261] device (wlp0s20f3): state change: prepare -> config (reason 'none', sys-iface-state: 'managed')
Apr 27 12:10:34 X1 NetworkManager[793]: <info>  [1682590234.4262] device (wlp0s20f3): Activation: (wifi) connection 'webedia-public' has security, and secrets exist.  No new secrets needed.
Apr 27 12:10:34 X1 NetworkManager[793]: <info>  [1682590234.4262] Config: added 'ssid' value 'webedia-public'
Apr 27 12:10:34 X1 NetworkManager[793]: <info>  [1682590234.4262] Config: added 'scan_ssid' value '1'
Apr 27 12:10:34 X1 NetworkManager[793]: <info>  [1682590234.4262] Config: added 'bgscan' value 'simple:30:-70:86400'
Apr 27 12:10:34 X1 NetworkManager[793]: <info>  [1682590234.4263] Config: added 'key_mgmt' value 'WPA-PSK WPA-PSK-SHA256 FT-PSK SAE FT-SAE'
Apr 27 12:10:34 X1 NetworkManager[793]: <info>  [1682590234.4263] Config: added 'auth_alg' value 'OPEN'
Apr 27 12:10:34 X1 NetworkManager[793]: <info>  [1682590234.4263] Config: added 'psk' value '<hidden>'
Apr 27 12:10:34 X1 NetworkManager[793]: <info>  [1682590234.4633] device (wlp0s20f3): supplicant interface state: disconnected -> inactive
Apr 27 12:10:34 X1 NetworkManager[793]: <info>  [1682590234.4633] device (p2p-dev-wlp0s20f3): supplicant management interface state: disconnected -> inactive
Apr 27 12:10:34 X1 wpa_supplicant[1157]: wlp0s20f3: SME: Trying to authenticate with 12:a0:57:6f:97:62 (SSID='webedia-public' freq=5240 MHz)
Apr 27 12:10:34 X1 kernel: wlp0s20f3: authenticate with 12:a0:57:6f:97:62
Apr 27 12:10:34 X1 NetworkManager[793]: <info>  [1682590234.4699] device (wlp0s20f3): supplicant interface state: inactive -> authenticating
Apr 27 12:10:34 X1 NetworkManager[793]: <info>  [1682590234.4699] device (p2p-dev-wlp0s20f3): supplicant management interface state: inactive -> authenticating
Apr 27 12:10:34 X1 kernel: wlp0s20f3: send auth to 12:a0:57:6f:97:62 (try 1/3)
Apr 27 12:10:34 X1 wpa_supplicant[1157]: wlp0s20f3: Trying to associate with 12:a0:57:6f:97:62 (SSID='webedia-public' freq=5240 MHz)
Apr 27 12:10:34 X1 NetworkManager[793]: <info>  [1682590234.5257] device (wlp0s20f3): supplicant interface state: authenticating -> associating
Apr 27 12:10:34 X1 NetworkManager[793]: <info>  [1682590234.5257] device (p2p-dev-wlp0s20f3): supplicant management interface state: authenticating -> associating
Apr 27 12:10:34 X1 kernel: wlp0s20f3: authenticated
Apr 27 12:10:34 X1 kernel: wlp0s20f3: associate with 12:a0:57:6f:97:62 (try 1/3)
Apr 27 12:10:34 X1 kernel: wlp0s20f3: RX AssocResp from 12:a0:57:6f:97:62 (capab=0x511 status=0 aid=3)
Apr 27 12:10:34 X1 wpa_supplicant[1157]: wlp0s20f3: Associated with 12:a0:57:6f:97:62
Apr 27 12:10:34 X1 wpa_supplicant[1157]: wlp0s20f3: CTRL-EVENT-SUBNET-STATUS-UPDATE status=0
Apr 27 12:10:34 X1 kernel: wlp0s20f3: associated
Apr 27 12:10:34 X1 NetworkManager[793]: <info>  [1682590234.5409] device (wlp0s20f3): supplicant interface state: associating -> associated
Apr 27 12:10:34 X1 NetworkManager[793]: <info>  [1682590234.5409] device (p2p-dev-wlp0s20f3): supplicant management interface state: associating -> associated
Apr 27 12:10:34 X1 NetworkManager[793]: <info>  [1682590234.5466] device (wlp0s20f3): supplicant interface state: associated -> 4way_handshake
Apr 27 12:10:34 X1 NetworkManager[793]: <info>  [1682590234.5466] device (p2p-dev-wlp0s20f3): supplicant management interface state: associated -> 4way_handshake
Apr 27 12:10:34 X1 wpa_supplicant[1157]: wlp0s20f3: WPA: Key negotiation completed with 12:a0:57:6f:97:62 [PTK=CCMP GTK=CCMP]
Apr 27 12:10:34 X1 wpa_supplicant[1157]: wlp0s20f3: CTRL-EVENT-CONNECTED - Connection to 12:a0:57:6f:97:62 completed [id=0 id_str=]
Apr 27 12:10:34 X1 NetworkManager[793]: <info>  [1682590234.6189] device (wlp0s20f3): supplicant interface state: 4way_handshake -> completed
Apr 27 12:10:34 X1 NetworkManager[793]: <info>  [1682590234.6189] device (wlp0s20f3): Activation: (wifi) Stage 2 of 5 (Device Configure) successful. Connected to wireless network "webedia-public"
Apr 27 12:10:34 X1 NetworkManager[793]: <info>  [1682590234.6189] device (p2p-dev-wlp0s20f3): supplicant management interface state: 4way_handshake -> completed
Apr 27 12:10:34 X1 NetworkManager[793]: <info>  [1682590234.6190] device (wlp0s20f3): state change: config -> ip-config (reason 'none', sys-iface-state: 'managed')
Apr 27 12:10:34 X1 NetworkManager[793]: <info>  [1682590234.6193] dhcp4 (wlp0s20f3): activation: beginning transaction (timeout in 45 seconds)
Apr 27 12:10:34 X1 kernel: IPv6: ADDRCONF(NETDEV_CHANGE): wlp0s20f3: link becomes ready
Apr 27 12:10:34 X1 avahi-daemon[788]: Joining mDNS multicast group on interface wlp0s20f3.IPv6 with address fe80::de46:efae:bdae:1a0c.
Apr 27 12:10:34 X1 avahi-daemon[788]: New relevant interface wlp0s20f3.IPv6 for mDNS.
Apr 27 12:10:34 X1 avahi-daemon[788]: Registering new address record for fe80::de46:efae:bdae:1a0c on wlp0s20f3.*.
Apr 27 12:10:34 X1 kernel: wlp0s20f3: Limiting TX power to 20 (23 - 3) dBm as advertised by 12:a0:57:6f:97:62
Apr 27 12:10:34 X1 wpa_supplicant[1157]: wlp0s20f3: CTRL-EVENT-SIGNAL-CHANGE above=1 signal=-51 noise=9999 txrate=245000
Apr 27 12:10:37 X1 NetworkManager[793]: <info>  [1682590237.3010] dhcp4 (wlp0s20f3): state changed new lease, address=10.10.4.78
Apr 27 12:10:37 X1 NetworkManager[793]: <info>  [1682590237.3012] policy: set 'webedia-public' (wlp0s20f3) as default for IPv4 routing and DNS
Apr 27 12:10:37 X1 avahi-daemon[788]: Joining mDNS multicast group on interface wlp0s20f3.IPv4 with address 10.10.4.78.
Apr 27 12:10:37 X1 avahi-daemon[788]: New relevant interface wlp0s20f3.IPv4 for mDNS.
Apr 27 12:10:37 X1 avahi-daemon[788]: Registering new address record for 10.10.4.78 on wlp0s20f3.IPv4.
Apr 27 12:10:37 X1 NetworkManager[793]: <info>  [1682590237.3377] device (wlp0s20f3): state change: ip-config -> ip-check (reason 'none', sys-iface-state: 'managed')
Apr 27 12:10:37 X1 dbus-daemon[790]: [system] Activating via systemd: service name='org.freedesktop.nm_dispatcher' unit='dbus-org.freedesktop.nm-dispatcher.service' requested by ':1.4' (uid=0 pid=793 comm="/usr/bin/NetworkManager --no-daemon")
Apr 27 12:10:37 X1 systemd[1]: Starting Network Manager Script Dispatcher Service...
Apr 27 12:10:37 X1 dbus-daemon[790]: [system] Successfully activated service 'org.freedesktop.nm_dispatcher'
Apr 27 12:10:37 X1 systemd[1]: Started Network Manager Script Dispatcher Service.
Apr 27 12:10:37 X1 audit[1]: SERVICE_START pid=1 uid=0 auid=4294967295 ses=4294967295 subj=unconfined msg='unit=NetworkManager-dispatcher comm="systemd" exe="/usr/lib/systemd/systemd" hostname=? addr=? terminal=? res=success'
Apr 27 12:10:37 X1 NetworkManager[793]: <info>  [1682590237.4340] device (wlp0s20f3): state change: ip-check -> secondaries (reason 'none', sys-iface-state: 'managed')
Apr 27 12:10:37 X1 NetworkManager[793]: <info>  [1682590237.4342] device (wlp0s20f3): state change: secondaries -> activated (reason 'none', sys-iface-state: 'managed')
Apr 27 12:10:37 X1 NetworkManager[793]: <info>  [1682590237.4344] manager: NetworkManager state is now CONNECTED_SITE
Apr 27 12:10:37 X1 NetworkManager[793]: <info>  [1682590237.4350] device (wlp0s20f3): Activation: successful, device activated.
Apr 27 12:10:37 X1 kernel: audit: type=1130 audit(1682590237.430:913): pid=1 uid=0 auid=4294967295 ses=4294967295 subj=unconfined msg='unit=NetworkManager-dispatcher comm="systemd" exe="/usr/lib/systemd/systemd" hostname=? addr=? terminal=? res=success'
Apr 27 12:10:37 X1 NetworkManager[793]: <info>  [1682590237.4730] manager: NetworkManager state is now CONNECTED_GLOBAL
Apr 27 12:10:42 X1 kernel: usb 3-3: USB disconnect, device number 14
Apr 27 12:10:42 X1 kernel: usb 3-3.3: USB disconnect, device number 16
Apr 27 12:10:42 X1 kernel: usb 3-3.4: USB disconnect, device number 17
Apr 27 12:10:47 X1 systemd[1]: NetworkManager-dispatcher.service: Deactivated successfully.
Apr 27 12:10:47 X1 audit[1]: SERVICE_STOP pid=1 uid=0 auid=4294967295 ses=4294967295 subj=unconfined msg='unit=NetworkManager-dispatcher comm="systemd" exe="/usr/lib/systemd/systemd" hostname=? addr=? terminal=? res=success'
Apr 27 12:10:47 X1 kernel: audit: type=1131 audit(1682590247.474:914): pid=1 uid=0 auid=4294967295 ses=4294967295 subj=unconfined msg='unit=NetworkManager-dispatcher comm="systemd" exe="/usr/lib/systemd/systemd" hostname=? addr=? terminal=? res=success'
Apr 27 12:10:54 X1 bluetoothd[1013]: Endpoint unregistered: sender=:1.36 path=/MediaEndpoint/A2DPSource/ldac
Apr 27 12:10:54 X1 bluetoothd[1013]: Endpoint unregistered: sender=:1.36 path=/MediaEndpoint/A2DPSink/aptx_hd
Apr 27 12:10:54 X1 bluetoothd[1013]: Endpoint unregistered: sender=:1.36 path=/MediaEndpoint/A2DPSource/aptx_hd
Apr 27 12:10:54 X1 bluetoothd[1013]: Endpoint unregistered: sender=:1.36 path=/MediaEndpoint/A2DPSink/aptx
Apr 27 12:10:54 X1 bluetoothd[1013]: Endpoint unregistered: sender=:1.36 path=/MediaEndpoint/A2DPSource/aptx
Apr 27 12:10:54 X1 bluetoothd[1013]: Endpoint unregistered: sender=:1.36 path=/MediaEndpoint/A2DPSink/aac
Apr 27 12:10:54 X1 bluetoothd[1013]: Endpoint unregistered: sender=:1.36 path=/MediaEndpoint/A2DPSource/aac
Apr 27 12:10:54 X1 bluetoothd[1013]: Endpoint unregistered: sender=:1.36 path=/MediaEndpoint/A2DPSink/sbc
Apr 27 12:10:54 X1 bluetoothd[1013]: Endpoint unregistered: sender=:1.36 path=/MediaEndpoint/A2DPSource/sbc
Apr 27 12:10:54 X1 bluetoothd[1013]: Endpoint unregistered: sender=:1.36 path=/MediaEndpoint/A2DPSink/sbc_xq
Apr 27 12:10:54 X1 bluetoothd[1013]: Endpoint unregistered: sender=:1.36 path=/MediaEndpoint/A2DPSource/sbc_xq
Apr 27 12:10:54 X1 bluetoothd[1013]: Endpoint unregistered: sender=:1.36 path=/MediaEndpoint/A2DPSource/aptx_ll_1
Apr 27 12:10:54 X1 bluetoothd[1013]: Endpoint unregistered: sender=:1.36 path=/MediaEndpoint/A2DPSource/aptx_ll_0
Apr 27 12:10:54 X1 bluetoothd[1013]: Endpoint unregistered: sender=:1.36 path=/MediaEndpoint/A2DPSource/aptx_ll_duplex_1
Apr 27 12:10:54 X1 bluetoothd[1013]: Endpoint unregistered: sender=:1.36 path=/MediaEndpoint/A2DPSource/aptx_ll_duplex_0
Apr 27 12:10:54 X1 bluetoothd[1013]: Endpoint unregistered: sender=:1.36 path=/MediaEndpoint/A2DPSource/faststream
Apr 27 12:10:54 X1 bluetoothd[1013]: Endpoint unregistered: sender=:1.36 path=/MediaEndpoint/A2DPSource/faststream_duplex
Apr 27 12:10:54 X1 bluetoothd[1013]: Endpoint unregistered: sender=:1.36 path=/MediaEndpoint/A2DPSink/opus_05
Apr 27 12:10:54 X1 bluetoothd[1013]: Endpoint unregistered: sender=:1.36 path=/MediaEndpoint/A2DPSource/opus_05
Apr 27 12:10:54 X1 bluetoothd[1013]: Endpoint unregistered: sender=:1.36 path=/MediaEndpoint/A2DPSink/opus_05_duplex
Apr 27 12:10:54 X1 bluetoothd[1013]: Endpoint unregistered: sender=:1.36 path=/MediaEndpoint/A2DPSource/opus_05_duplex
Apr 27 12:10:56 X1 bluetoothd[1013]: Endpoint registered: sender=:1.395 path=/MediaEndpoint/A2DPSource/ldac
Apr 27 12:10:56 X1 bluetoothd[1013]: Endpoint registered: sender=:1.395 path=/MediaEndpoint/A2DPSink/aptx_hd
Apr 27 12:10:56 X1 bluetoothd[1013]: Endpoint registered: sender=:1.395 path=/MediaEndpoint/A2DPSource/aptx_hd
Apr 27 12:10:56 X1 bluetoothd[1013]: Endpoint registered: sender=:1.395 path=/MediaEndpoint/A2DPSink/aptx
Apr 27 12:10:56 X1 bluetoothd[1013]: Endpoint registered: sender=:1.395 path=/MediaEndpoint/A2DPSource/aptx
Apr 27 12:10:56 X1 bluetoothd[1013]: Endpoint registered: sender=:1.395 path=/MediaEndpoint/A2DPSink/aac
Apr 27 12:10:56 X1 bluetoothd[1013]: Endpoint registered: sender=:1.395 path=/MediaEndpoint/A2DPSource/aac
Apr 27 12:10:56 X1 bluetoothd[1013]: Endpoint registered: sender=:1.395 path=/MediaEndpoint/A2DPSink/sbc
Apr 27 12:10:56 X1 bluetoothd[1013]: Endpoint registered: sender=:1.395 path=/MediaEndpoint/A2DPSource/sbc
Apr 27 12:10:56 X1 bluetoothd[1013]: Endpoint registered: sender=:1.395 path=/MediaEndpoint/A2DPSink/sbc_xq
Apr 27 12:10:56 X1 bluetoothd[1013]: Endpoint registered: sender=:1.395 path=/MediaEndpoint/A2DPSource/sbc_xq
Apr 27 12:10:56 X1 bluetoothd[1013]: Endpoint registered: sender=:1.395 path=/MediaEndpoint/A2DPSource/aptx_ll_1
Apr 27 12:10:56 X1 bluetoothd[1013]: Endpoint registered: sender=:1.395 path=/MediaEndpoint/A2DPSource/aptx_ll_0
Apr 27 12:10:56 X1 bluetoothd[1013]: Endpoint registered: sender=:1.395 path=/MediaEndpoint/A2DPSource/aptx_ll_duplex_1
Apr 27 12:10:56 X1 bluetoothd[1013]: Endpoint registered: sender=:1.395 path=/MediaEndpoint/A2DPSource/aptx_ll_duplex_0
Apr 27 12:10:56 X1 bluetoothd[1013]: Endpoint registered: sender=:1.395 path=/MediaEndpoint/A2DPSource/faststream
Apr 27 12:10:56 X1 bluetoothd[1013]: Endpoint registered: sender=:1.395 path=/MediaEndpoint/A2DPSource/faststream_duplex
Apr 27 12:10:56 X1 bluetoothd[1013]: Endpoint registered: sender=:1.395 path=/MediaEndpoint/A2DPSink/opus_05
Apr 27 12:10:56 X1 bluetoothd[1013]: Endpoint registered: sender=:1.395 path=/MediaEndpoint/A2DPSource/opus_05
Apr 27 12:10:56 X1 bluetoothd[1013]: Endpoint registered: sender=:1.395 path=/MediaEndpoint/A2DPSink/opus_05_duplex
Apr 27 12:10:56 X1 bluetoothd[1013]: Endpoint registered: sender=:1.395 path=/MediaEndpoint/A2DPSource/opus_05_duplex
Apr 27 12:10:59 X1 bluetoothd[1013]: Endpoint unregistered: sender=:1.395 path=/MediaEndpoint/A2DPSource/ldac
Apr 27 12:10:59 X1 bluetoothd[1013]: Endpoint unregistered: sender=:1.395 path=/MediaEndpoint/A2DPSink/aptx_hd
Apr 27 12:10:59 X1 bluetoothd[1013]: Endpoint unregistered: sender=:1.395 path=/MediaEndpoint/A2DPSource/aptx_hd
Apr 27 12:10:59 X1 bluetoothd[1013]: Endpoint unregistered: sender=:1.395 path=/MediaEndpoint/A2DPSink/aptx
Apr 27 12:10:59 X1 bluetoothd[1013]: Endpoint unregistered: sender=:1.395 path=/MediaEndpoint/A2DPSource/aptx
Apr 27 12:10:59 X1 bluetoothd[1013]: Endpoint unregistered: sender=:1.395 path=/MediaEndpoint/A2DPSink/aac
Apr 27 12:10:59 X1 bluetoothd[1013]: Endpoint unregistered: sender=:1.395 path=/MediaEndpoint/A2DPSource/aac
Apr 27 12:10:59 X1 bluetoothd[1013]: Endpoint unregistered: sender=:1.395 path=/MediaEndpoint/A2DPSink/sbc
Apr 27 12:10:59 X1 bluetoothd[1013]: Endpoint unregistered: sender=:1.395 path=/MediaEndpoint/A2DPSource/sbc
Apr 27 12:10:59 X1 bluetoothd[1013]: Endpoint unregistered: sender=:1.395 path=/MediaEndpoint/A2DPSink/sbc_xq
Apr 27 12:10:59 X1 bluetoothd[1013]: Endpoint unregistered: sender=:1.395 path=/MediaEndpoint/A2DPSource/sbc_xq
Apr 27 12:10:59 X1 bluetoothd[1013]: Endpoint unregistered: sender=:1.395 path=/MediaEndpoint/A2DPSource/aptx_ll_1
Apr 27 12:10:59 X1 bluetoothd[1013]: Endpoint unregistered: sender=:1.395 path=/MediaEndpoint/A2DPSource/aptx_ll_0
Apr 27 12:10:59 X1 bluetoothd[1013]: Endpoint unregistered: sender=:1.395 path=/MediaEndpoint/A2DPSource/aptx_ll_duplex_1
Apr 27 12:10:59 X1 bluetoothd[1013]: Endpoint unregistered: sender=:1.395 path=/MediaEndpoint/A2DPSource/aptx_ll_duplex_0
Apr 27 12:10:59 X1 bluetoothd[1013]: Endpoint unregistered: sender=:1.395 path=/MediaEndpoint/A2DPSource/faststream
Apr 27 12:10:59 X1 bluetoothd[1013]: Endpoint unregistered: sender=:1.395 path=/MediaEndpoint/A2DPSource/faststream_duplex
Apr 27 12:10:59 X1 bluetoothd[1013]: Endpoint unregistered: sender=:1.395 path=/MediaEndpoint/A2DPSink/opus_05
Apr 27 12:10:59 X1 bluetoothd[1013]: Endpoint unregistered: sender=:1.395 path=/MediaEndpoint/A2DPSource/opus_05
Apr 27 12:10:59 X1 bluetoothd[1013]: Endpoint unregistered: sender=:1.395 path=/MediaEndpoint/A2DPSink/opus_05_duplex
Apr 27 12:10:59 X1 bluetoothd[1013]: Endpoint unregistered: sender=:1.395 path=/MediaEndpoint/A2DPSource/opus_05_duplex
Apr 27 12:10:59 X1 systemd[1]: Started Getty on tty3.
Apr 27 12:10:59 X1 audit[1]: SERVICE_START pid=1 uid=0 auid=4294967295 ses=4294967295 subj=unconfined msg='unit=getty@tty3 comm="systemd" exe="/usr/lib/systemd/systemd" hostname=? addr=? terminal=? res=success'
Apr 27 12:10:59 X1 kernel: audit: type=1130 audit(1682590259.507:915): pid=1 uid=0 auid=4294967295 ses=4294967295 subj=unconfined msg='unit=getty@tty3 comm="systemd" exe="/usr/lib/systemd/systemd" hostname=? addr=? terminal=? res=success'
Apr 27 12:11:01 X1 dbus-daemon[790]: [system] Activating via systemd: service name='org.freedesktop.home1' unit='dbus-org.freedesktop.home1.service' requested by ':1.396' (uid=0 pid=2098838 comm="/bin/login -p --       ")
Apr 27 12:11:01 X1 dbus-daemon[790]: [system] Activation via systemd failed for unit 'dbus-org.freedesktop.home1.service': Unit dbus-org.freedesktop.home1.service not found.
Apr 27 12:11:01 X1 login[2098838]: pam_systemd_home(login:auth): systemd-homed is not available: Unit dbus-org.freedesktop.home1.service not found.
Apr 27 12:11:03 X1 audit[2098838]: USER_AUTH pid=2098838 uid=0 auid=4294967295 ses=4294967295 subj=unconfined msg='op=PAM:authentication grantors=pam_securetty,pam_shells,pam_faillock,pam_permit,pam_faillock acct="nikhil" exe="/usr/bin/login" hostname=X1 addr=? terminal=/dev/tty3 res=success'
Apr 27 12:11:03 X1 kernel: audit: type=1100 audit(1682590263.568:916): pid=2098838 uid=0 auid=4294967295 ses=4294967295 subj=unconfined msg='op=PAM:authentication grantors=pam_securetty,pam_shells,pam_faillock,pam_permit,pam_faillock acct="nikhil" exe="/usr/bin/login" hostname=X1 addr=? terminal=/dev/tty3 res=success'
Apr 27 12:11:03 X1 audit[2098838]: USER_ACCT pid=2098838 uid=0 auid=4294967295 ses=4294967295 subj=unconfined msg='op=PAM:accounting grantors=pam_access,pam_unix,pam_permit,pam_time acct="nikhil" exe="/usr/bin/login" hostname=X1 addr=? terminal=/dev/tty3 res=success'
Apr 27 12:11:03 X1 audit[2098838]: CRED_ACQ pid=2098838 uid=0 auid=4294967295 ses=4294967295 subj=unconfined msg='op=PAM:setcred grantors=pam_securetty,pam_shells,pam_faillock,pam_permit,pam_faillock acct="nikhil" exe="/usr/bin/login" hostname=X1 addr=? terminal=/dev/tty3 res=success'
Apr 27 12:11:03 X1 audit[2098838]: SYSCALL arch=c000003e syscall=1 success=yes exit=4 a0=5 a1=7ffc6570e000 a2=4 a3=0 items=0 ppid=1 pid=2098838 auid=1000 uid=0 gid=0 euid=0 suid=0 fsuid=0 egid=0 sgid=1000 fsgid=0 tty=tty3 ses=5 comm="login" exe="/usr/bin/login" subj=unconfined key=(null)
Apr 27 12:11:03 X1 audit: PROCTITLE proctitle=2F62696E2F6C6F67696E002D70002D2D
Apr 27 12:11:03 X1 login[2098838]: pam_unix(login:session): session opened for user nikhil(uid=1000) by LOGIN(uid=0)
Apr 27 12:11:03 X1 kernel: audit: type=1101 audit(1682590263.578:917): pid=2098838 uid=0 auid=4294967295 ses=4294967295 subj=unconfined msg='op=PAM:accounting grantors=pam_access,pam_unix,pam_permit,pam_time acct="nikhil" exe="/usr/bin/login" hostname=X1 addr=? terminal=/dev/tty3 res=success'
Apr 27 12:11:03 X1 kernel: audit: type=1103 audit(1682590263.578:918): pid=2098838 uid=0 auid=4294967295 ses=4294967295 subj=unconfined msg='op=PAM:setcred grantors=pam_securetty,pam_shells,pam_faillock,pam_permit,pam_faillock acct="nikhil" exe="/usr/bin/login" hostname=X1 addr=? terminal=/dev/tty3 res=success'
Apr 27 12:11:03 X1 kernel: audit: type=1006 audit(1682590263.578:919): pid=2098838 uid=0 subj=unconfined old-auid=4294967295 auid=1000 tty=tty3 old-ses=4294967295 ses=5 res=1
Apr 27 12:11:03 X1 kernel: audit: type=1300 audit(1682590263.578:919): arch=c000003e syscall=1 success=yes exit=4 a0=5 a1=7ffc6570e000 a2=4 a3=0 items=0 ppid=1 pid=2098838 auid=1000 uid=0 gid=0 euid=0 suid=0 fsuid=0 egid=0 sgid=1000 fsgid=0 tty=tty3 ses=5 comm="login" exe="/usr/bin/login" subj=unconfined key=(null)
Apr 27 12:11:03 X1 kernel: audit: type=1327 audit(1682590263.578:919): proctitle=2F62696E2F6C6F67696E002D70002D2D
Apr 27 12:11:03 X1 systemd-logind[791]: New session 5 of user nikhil.
Apr 27 12:11:03 X1 systemd[1]: Started Session 5 of User nikhil.
Apr 27 12:11:03 X1 audit[2098838]: USER_START pid=2098838 uid=0 auid=1000 ses=5 subj=unconfined msg='op=PAM:session_open grantors=pam_loginuid,pam_keyinit,pam_systemd_home,pam_limits,pam_unix,pam_permit,pam_mail,pam_systemd,pam_env acct="nikhil" exe="/usr/bin/login" hostname=X1 addr=? terminal=/dev/tty3 res=success'
Apr 27 12:11:03 X1 audit[2098838]: CRED_REFR pid=2098838 uid=0 auid=1000 ses=5 subj=unconfined msg='op=PAM:setcred grantors=pam_securetty,pam_shells,pam_faillock,pam_permit,pam_faillock acct="nikhil" exe="/usr/bin/login" hostname=X1 addr=? terminal=/dev/tty3 res=success'
Apr 27 12:11:03 X1 login[2098838]: LOGIN ON tty3 BY nikhil
Apr 27 12:11:03 X1 kernel: audit: type=1105 audit(1682590263.644:920): pid=2098838 uid=0 auid=1000 ses=5 subj=unconfined msg='op=PAM:session_open grantors=pam_loginuid,pam_keyinit,pam_systemd_home,pam_limits,pam_unix,pam_permit,pam_mail,pam_systemd,pam_env acct="nikhil" exe="/usr/bin/login" hostname=X1 addr=? terminal=/dev/tty3 res=success'
Apr 27 12:11:03 X1 kernel: audit: type=1110 audit(1682590263.644:921): pid=2098838 uid=0 auid=1000 ses=5 subj=unconfined msg='op=PAM:setcred grantors=pam_securetty,pam_shells,pam_faillock,pam_permit,pam_faillock acct="nikhil" exe="/usr/bin/login" hostname=X1 addr=? terminal=/dev/tty3 res=success'
Apr 27 12:11:03 X1 bluetoothd[1013]: Endpoint registered: sender=:1.397 path=/MediaEndpoint/A2DPSource/ldac
Apr 27 12:11:03 X1 bluetoothd[1013]: Endpoint registered: sender=:1.397 path=/MediaEndpoint/A2DPSink/aptx_hd
Apr 27 12:11:03 X1 bluetoothd[1013]: Endpoint registered: sender=:1.397 path=/MediaEndpoint/A2DPSource/aptx_hd
Apr 27 12:11:03 X1 bluetoothd[1013]: Endpoint registered: sender=:1.397 path=/MediaEndpoint/A2DPSink/aptx
Apr 27 12:11:03 X1 bluetoothd[1013]: Endpoint registered: sender=:1.397 path=/MediaEndpoint/A2DPSource/aptx
Apr 27 12:11:03 X1 bluetoothd[1013]: Endpoint registered: sender=:1.397 path=/MediaEndpoint/A2DPSink/aac
Apr 27 12:11:03 X1 bluetoothd[1013]: Endpoint registered: sender=:1.397 path=/MediaEndpoint/A2DPSource/aac
Apr 27 12:11:03 X1 bluetoothd[1013]: Endpoint registered: sender=:1.397 path=/MediaEndpoint/A2DPSink/sbc
Apr 27 12:11:03 X1 bluetoothd[1013]: Endpoint registered: sender=:1.397 path=/MediaEndpoint/A2DPSource/sbc
Apr 27 12:11:03 X1 bluetoothd[1013]: Endpoint registered: sender=:1.397 path=/MediaEndpoint/A2DPSink/sbc_xq
Apr 27 12:11:03 X1 bluetoothd[1013]: Endpoint registered: sender=:1.397 path=/MediaEndpoint/A2DPSource/sbc_xq
Apr 27 12:11:03 X1 bluetoothd[1013]: Endpoint registered: sender=:1.397 path=/MediaEndpoint/A2DPSource/aptx_ll_1
Apr 27 12:11:03 X1 bluetoothd[1013]: Endpoint registered: sender=:1.397 path=/MediaEndpoint/A2DPSource/aptx_ll_0
Apr 27 12:11:03 X1 bluetoothd[1013]: Endpoint registered: sender=:1.397 path=/MediaEndpoint/A2DPSource/aptx_ll_duplex_1
Apr 27 12:11:03 X1 bluetoothd[1013]: Endpoint registered: sender=:1.397 path=/MediaEndpoint/A2DPSource/aptx_ll_duplex_0
Apr 27 12:11:03 X1 bluetoothd[1013]: Endpoint registered: sender=:1.397 path=/MediaEndpoint/A2DPSource/faststream
Apr 27 12:11:03 X1 bluetoothd[1013]: Endpoint registered: sender=:1.397 path=/MediaEndpoint/A2DPSource/faststream_duplex
Apr 27 12:11:03 X1 bluetoothd[1013]: Endpoint registered: sender=:1.397 path=/MediaEndpoint/A2DPSink/opus_05
Apr 27 12:11:03 X1 bluetoothd[1013]: Endpoint registered: sender=:1.397 path=/MediaEndpoint/A2DPSource/opus_05
Apr 27 12:11:03 X1 bluetoothd[1013]: Endpoint registered: sender=:1.397 path=/MediaEndpoint/A2DPSink/opus_05_duplex
Apr 27 12:11:03 X1 bluetoothd[1013]: Endpoint registered: sender=:1.397 path=/MediaEndpoint/A2DPSource/opus_05_duplex