Hello,
Info:
System: Manjaro KDE
KDE version: 5.21.4
CPU: i5-4460
RAM: 16 GB
Swap: 16 GB
Kernel version: 5.11.14-1-MANJARO
Problem:
After some time the RAM usage (cache) is very high. I read somewhere that this might be the Kernel caching disk I/O or other Application's caches but if that's the case, shouldn't it be freed if it's needed?
I also ran this command: sudo lsof -s | sort -rnk 7 | numfmt --field=7 --to=iec | less but nothing obvious showed up. Htop doesn't show anything interesting. Also, none of the tmpfs listed in df -h is filled up.
Example:
I closed every app except terminal, disabled the swap, dropped the caches (sync; echo 3 > /proc/sys/vm/drop_caches), ran the memory allocation program (from Experiments and fun with the Linux disk cache) which was killed at 5800MB and took this screenshot.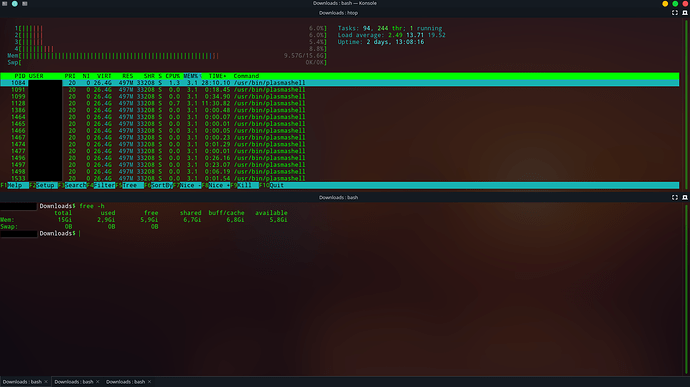 Now i opened by browser back to write this post, and the cache usage is even higher:
$ free -h
               total        used        free      shared  buff/cache   available
Mem:            15Gi       4,7Gi       560Mi       6,9Gi        10Gi       3,6Gi
Swap:           15Gi        30Mi        15Gi

Another example:
I have browser, file manager and couple of terminal emulators opened and htop shows 10GB (for some reason) used. Then I open a VM (with 4 GB ram) and the system becomes unresponsive because the ram is ~98% full. When I close the VM, the cache usage stays where it was before I ran the VM. Shouldn't the cache be freed when it's needed?? My PC should handle this workflow pretty easily but it doesn't.
Thanks for any help.